***
Asian Art Museum: Phantoms of Asia - Contemporary Awakens the Past.
Artists: Poklong Anading, Ringo Bunoan, Heman Chong, Lin Chuan-Chu, Guo Fengyi, Hyon Gyon, NS Harsha, Choi Jeong Hwa, Pouran Jinchi, Jompet, Aki Kondo, Sun K. Kwak, Fuyuko Matsui, Prabhavathi Meppayil, Motohiko Odani, Jagannath Panda, Araya Radsjarmrearnsook, Varunika Saraf, Raqib Shaw, Jakkai Siributr, Yoshihiro Suda, Hiroshi Sugimoto, Adeela Suleman, Charwei Tsai, Howie Tsui, Apichatpong Weerasethakul, Palden Weinreb, Bae Young Whan, Adrian Wong, Lin Xue, Takayuki Yamamoto.
Review and images by Yvonne Chu: It is exciting to see the Asian Art Museum organize its first large-scale contemporary art show-- 31 artists from 15 countries including the Philippines, India, Korea, Japan, Thailand, Hong Kong and China.
This show explores the diverse cross-cultural perspectives of Asian cosmology and spirituality-- ambitious. In cross-cultural contemporary art, it is often not clear who the audience is. An artist may make work from her/his point of view that is implicitly for an audience in her/his home country or immigrant community, not a Western audience. When shown in the West, however, the phantoms of exoticization hover over it. On the exoticization of Chinese philosophy, Professor of Sinology and Philosophy François Jullien writes, "[P]hilosophy sections of bookstores have been replaced with shelves devoted to an amorphous subject located somewhere between 'Health' and 'Spirituality' . . . filled with books on 'breathing,' 'energetic harmony,' the 'Dao of sex,' ginseng, and soy. It hardly needs saying that this bastardized philosophy vaguely linked to the 'East' and proliferating under cover of cloudy mysticism is terrifying." Several pieces in the show reenforce this form of exoticization, but overall the show works, one of the most successful examples being Poklong Anading's photo series of people reflecting flashes of light (see below).
Phantoms of Asia achieves its goal. Lured by the contemporary works into the permanent collection galleries, I am surprised to see many traditional works outshine the contemporary works. Not easy to do, for the contemporary works are dazzling. Raqib Shaw's paintings alone are worth a visit, not to mention thoughtful works by Poklong Anading, Apichatpong Weerasethakul, and Hiroshi Sugimoto. Go see this show; it runs through September 2, 2012.


Detail of Untying Space_Sala Alcala 31 by Sun K. Kwak (Korea), using black masking tape to paint the "invisible energies" in the space. Museum visitors are encouraged to snap away, a great way to generate publicity for the show.


Anno Domini by Jompet (Indonesia), an installation with kinetic soldier figures, sound, and video screens. The costumes of these bodiless colonial soldiers combine Hindu, Islamic, Western, and Javanese dress, to reflect Indonesia's hybrid cultural and religious traditions as well as its history of Dutch colonialism.


What Kind of Hell Will We Go by Takayuki Yamamoto (Japan), in collaboration with ArtSeed, an after-school program in San Francisco's Bayview area. The children imagined and built cardboard dioramas of their ideas of "hell," and explained their creations in the accompanying video.


Takayuki Yamamoto (artist), Trey Houston (video artist for this piece), Joseta Vaughan (executive director of ArtSeed)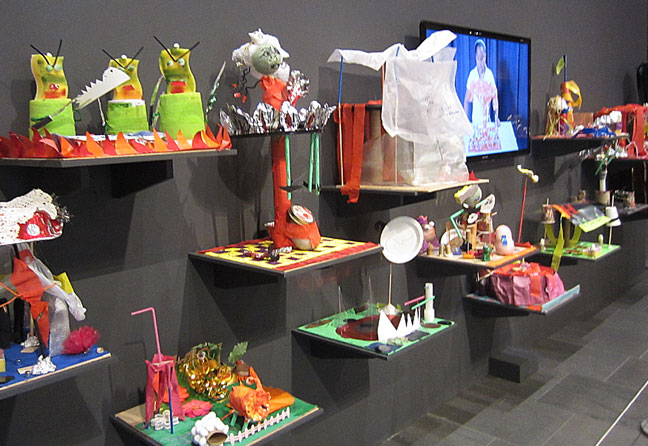 The staggered placement of the "hell" dioramas reflects the composition of the Kumano kanjin jikkai mandala, traditional Japanese paintings depicting life from birth to death to afterlife, which the children saw before they created their dioramas.


Detail of Absence of God VII by Kaqib Shaw. Materials include glitter, enamel, rhinestones, and acrylic applied with a porcupine quill.


Absence of God VII by Kaqib Shaw (on the third floor). The phantasmagoric scene fuses animals and humans, and Kashmiri and Western traditions.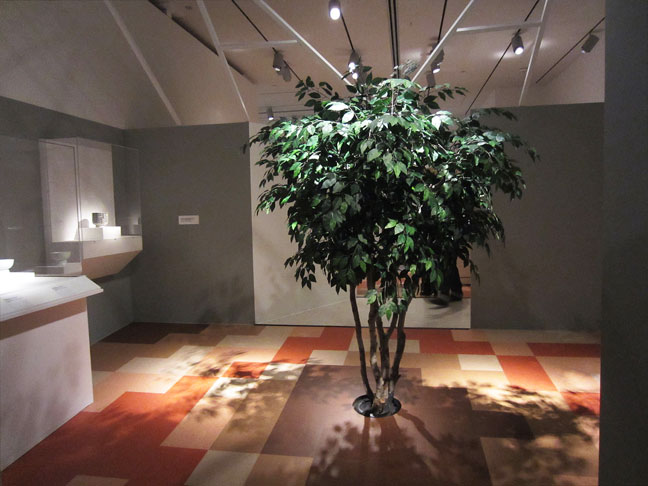 Geo Intervention I, II by Adrian Wong (USA/Hong Kong). Following recommendations by local feng shui experts, Wong created two rooms, one harmonious and the other disharmonious. Can you tell which room this is? (In person it will be obvious.)


Untitled 1 (Peacock with Missiles) by Adeela Suleman (Pakistan), stainless steel reliefs of natural motifs—birds, flowers, trees—and suicide vests and missiles.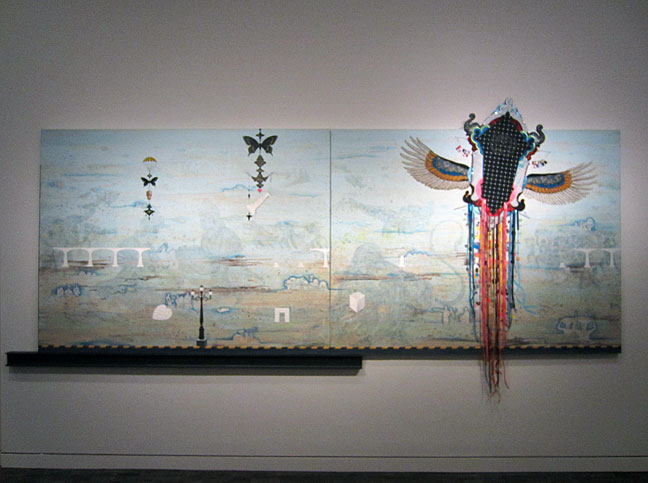 The Cult of Appearance III by Jagannath Panda (India). The tail of the kite is made with multicolored ribbons and painted automobile logos.


The Buddhist diety Simhavaktra Dakini (China, Qing dynasty). Contemporary works are juxtaposed with traditional works in the permanent collection galleries, leading to an encounter with this human-scale diety. She clears obstacles for people who seek enlightenment; her hair blazes with the fire of wisdom; her lion head inspires fearlessness. In the background is Palden Weinreb's Astral Invert.


Astral Invert by Palden Weinreb (Tibet).


Entry (Gradation) by Palden Weinreb.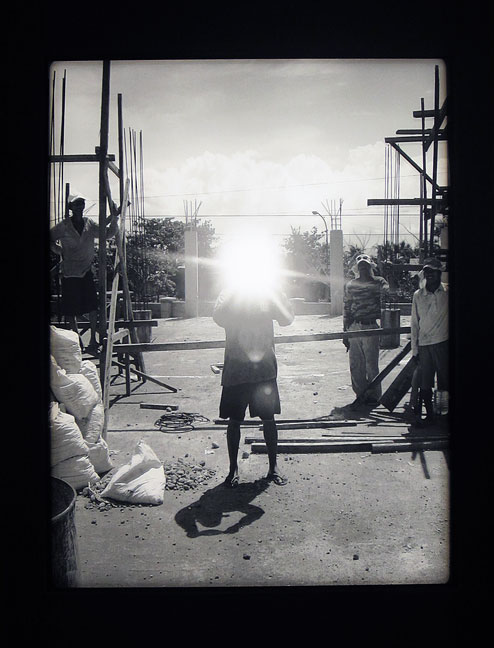 Detail of Anonymity by Poklong Anading (Philippines). Pick of the show. Participants hold circular mirrors to reflect flashes of light, transforming their image in the photos. This piece brings to mind spiritual illumination, and the way mystics from traditions such as Buddhism and Christianity see that every person is, at the core, luminous like a shining star. Also, it does not reenforce the exoticizing of Philippine culture: It avoids alluding to or echoing the language of new-age pseudophilosophy. And on top of that, it is set in contemporary-- not mythic-- time and place, in the streets of Metro Manila and other locales. Various Asian cultures have been exoticized by being placed in mythic time: viewed not as changing or developing, as opposed to Western time, which is grounded in historical specificity. Guest curator Mami Kataoka also suggests that "Asia is not a timeless construct."


The Class by Araya Radsjarmrearnsook (Thailand). In this video, she is speaking to an audience of people who have died, about the meanings of death and expectations of the afterlife. It is thought, in some versions of Thai Buddhism, that one hangs around one's body for a period of time after death before moving on.


Chocolate chip cookies were served to keep visitors energized and happy.


Why is the 'A' upside down in the museum's new logo? Some explanations: contemporary art shakes things up to provoke their questioning and re-examination; the inverted 'A' symbolizes "for all" in mathematics, and thus suggests the inclusiveness of diverse cultures in Asia.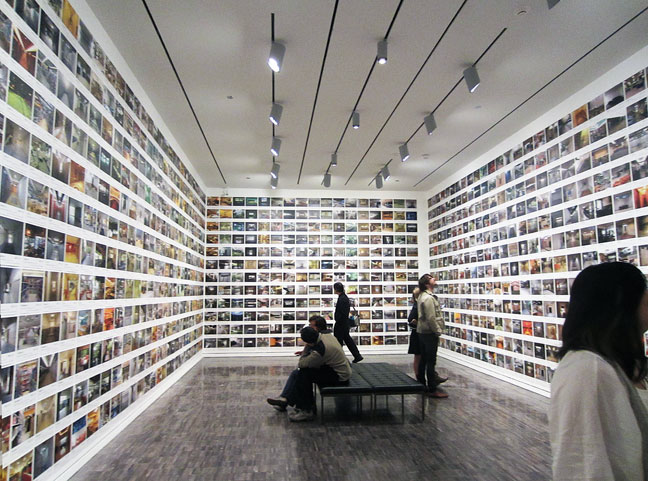 Calendars (2020-2096) by Heman Chong (Singapore). An installation of 1001 photos, each a calendar page of a mostly empty room, capturing a moment of stillness in the future. Perhaps it expresses a desire for respite from the noise in crowded, bustling Singapore.


Untitled—CU3—2011 by Prabhavathi Meppayil (India), h48" x w72". Coming from a family of goldsmiths, she embeds copper strands into lime gesso, to bring about a "resonance of silence."


Detail of Mount Abundance and the TipToe People #2 by Howie Tsui (Hong Kong/Canada). Human, monster, and ghost hybrids from traditional Asian folklore—Buddhist hell scrolls, Japanese monster culture, Hong Kong vampire films—and contemporary pop culture intermingle.


Mount Abundance and the TipToe People #1 by Howie Tsui.


Detail of Mount Abundance and the TipToe People #1 by Howie Tsui. The headless figure from Chinese mythology (A Chinese Bestiary)—variously known as Xingtian, Chiyou and Kuafu—makes an appearance here. Xingtian struggled with the Yellow Thearch, lost, and was decapitated. However, he refused to die. Instead, he grew eyes and a mouth on his body and continued his defiance.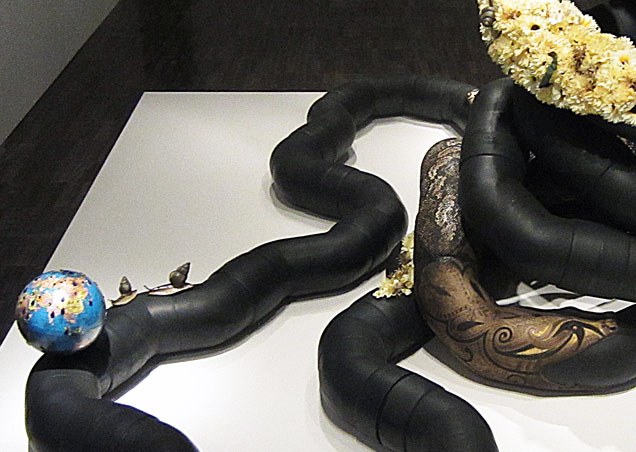 Detail of Cult of Survival II by Jagannath Panda (India), sculpture of a snake, made of sewage pipes, critiques becoming addicted to production and consumption.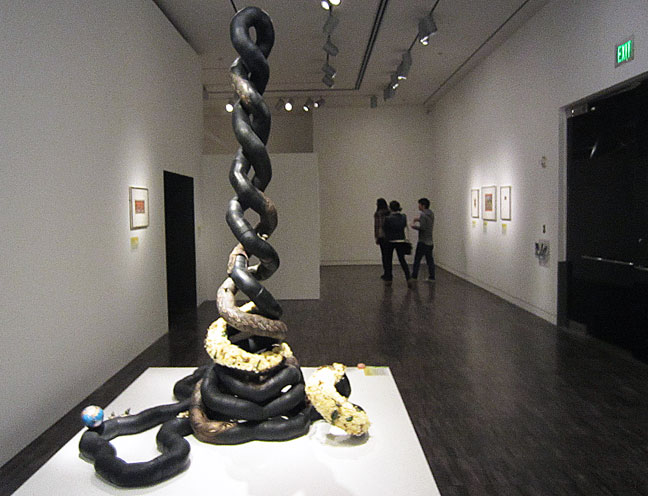 Cult of Survival II by Jagannath Panda.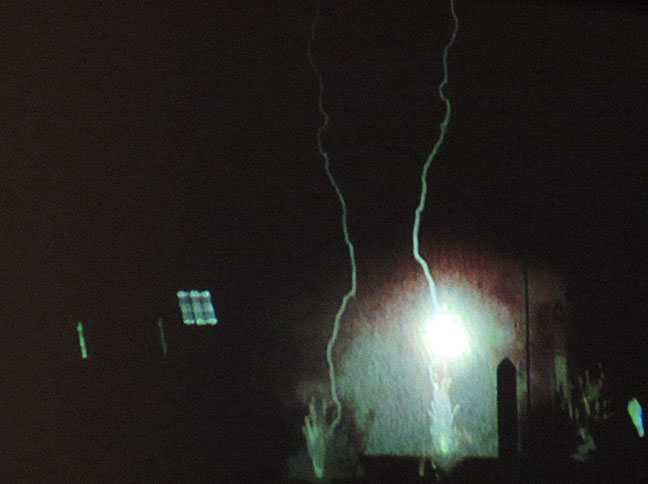 Phantoms of Nabua by Apichatpong Weerasethakul, an evocative film by one of my favorite filmmakers, who also directed Tropical Malady and Mysterious Object at Noon. Nabua was a site of fierce violence in the 1960's-1980's, resulting in a town of mostly women and children. This inspired a local legend about a "widow ghost," the phantom of Nabua, who abducts men. In his statement, Weerasethakul writes, "The film's setting is a rear projection of Nabua... and a recreation of a fluorescent light pole back in my hometown. I used this setting as a playground for the teens who emerged from the dark with a football raging with fire... Finally they burned the screen, which revealed behind it a ghostly white beam of a projector."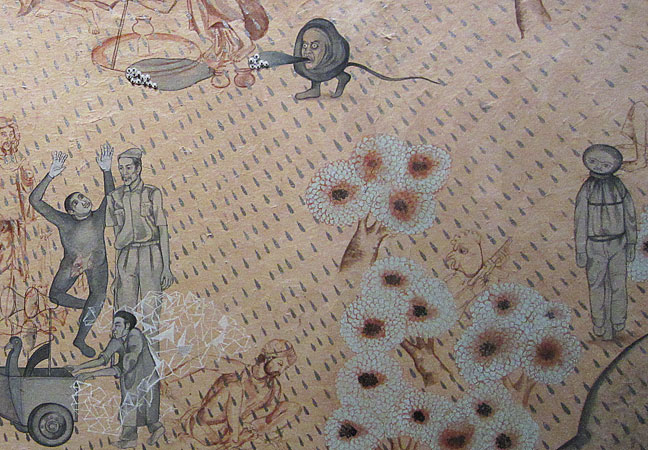 Detail of Cloudburst by Varunika Saraf (India), inspired by the Indian miniature traditions of Mughal and Kangra courts.


Cloudburst by Varunika Saraf. Saraf reinterprets an iconic Indian miniature Dying Inayat Khan, painted in 1618 to record the Mughal court official's death, to picture Inayat Khan flying among the clouds.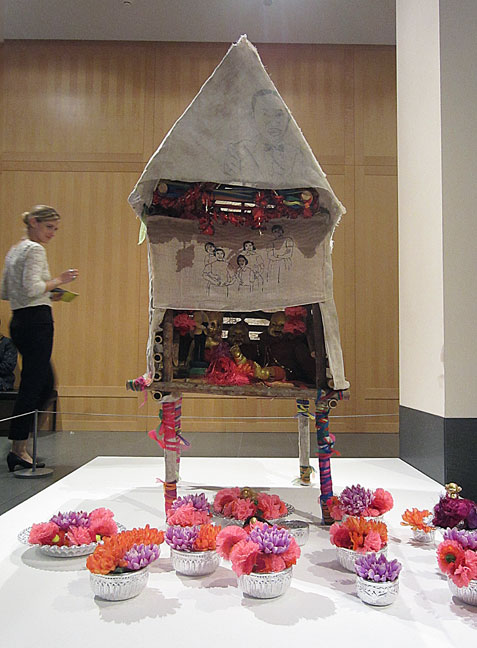 Karma Cash & Carry by Jakkai Siributr (Thailand).


Detail of Karma Cash & Carry by Jakkai Siributr.


Breathing Flower by Choi Jeong Hwa (Korea).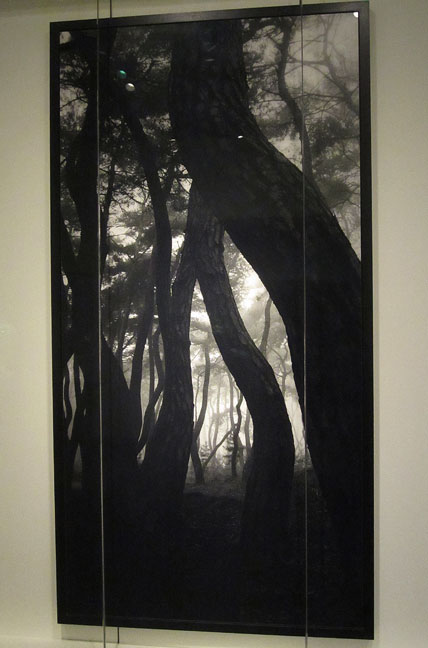 Gyeongju (from Sonamu series) by Bae Bien-U (Korea). In Korea, pine trees (sonamu) are associated with integrity.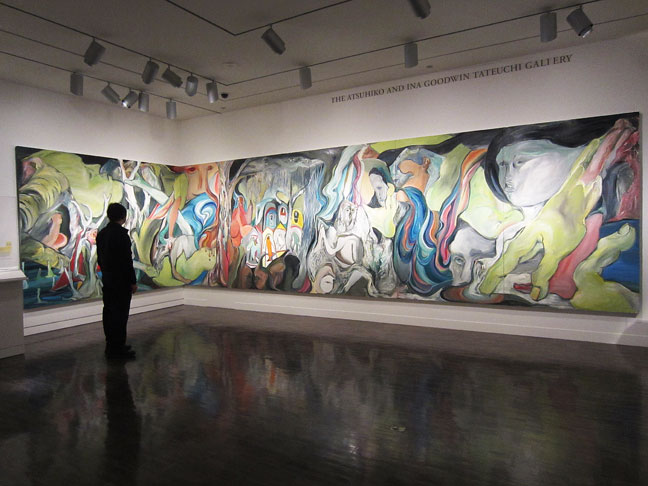 Mountain Gods by Aki Kondo (Japan).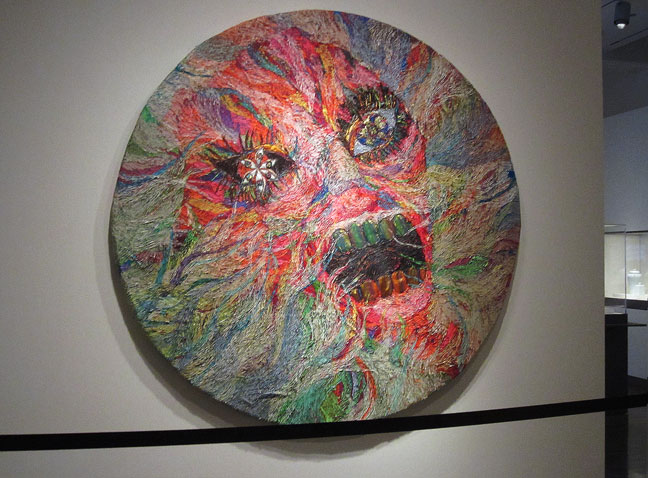 Dohatsu Shoten by Hyon Gyon (Korea), portrait of a shaman made from individual strands of satin. Dohatsu Shoten translates to "the anger that makes one's hair stand on end and even reach up to the sky."


***