SAN FRANCISCO ART GALLERIES - OPENINGS
LISA DENT - JOHNS' WESTERN GALLERY - MICHAEL MARTIN GALLERIES
AMPERSAND INTERNATIONAL - NEW LANGTON ARTS - HOTEL DES ARTS
RUBY SKYE - TOGONON GALLERY
05.18.06
Lisa Dent Gallery: Basil Twist.
Comment: Puppeteer Basil Twist is the only American to graduate from the École Supérieure Nationale des Arts de la Marionnette in Charleville-Mezieres, France, one of the world's top puppetry training programs. In case you think puppets are for kiddies or anything like that, you might check out a video of Twist's art in action in the gallery's back room. I saw a scene where a puppet ballerina performed dance movements so lifelike, it was almost like watching a human. And the ballerina puppet is part of Twist's show, so you can go right up to it and try to figure out how he makes it dance. The show coincides with the West Coast premiere of "The Long Christmas Ride Home," directed by Twist, written by Pulitzer Prize winning playwright Paula Vogel, and playing at The Magic Theatre from May 13th ­ June 11th.
Dancing ballerina art.


Art.


Basil Twist - art.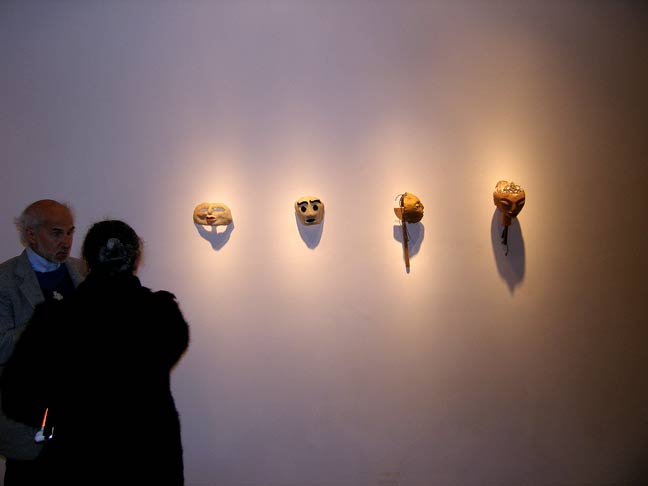 Art.


Art.


Art.


Art.


***
Johns' Western Gallery: Oil Paintings by Zhiwei Tu.
Comment: Johns' Western Gallery (the apostrophe's after the 's' because the owner's last name is Johns), one of San Francisco's better kept art secrets, deals, appraises, and auctions historical and contemporary books, maps, manuscript materials, ephemera, and traditional art of The American West. Tonight it's all about Chinese-born painter Zhiwei Tu, educated in China and America, now living in America, current President of the Oil Painters of America, and best known for individual portraits and expansive genre scenes with historical and contemporary Chinese themes. The centerpiece of the show is a large painting depicting early Chinese immigrants building American railroads out West ($185K). Tu is exceptionally prolific, has won numerous awards, has an extensive international exhibition history, and has recently had a large museum constructed in his honor in his home town in China. Johns' is the only gallery of its kind here in Ess Eff.
Art (Rick Wilkinson, gallery associate).


Art (Doug Johns, owner).


Earle Heikka bronze selection, foreground.


Gallery main room.


***
Michael Martin Galleries: David Magnussn, Steve Wrubel, Steve Hough - Wanderlust.
Comment: You think this is a three-person photography show, but then you realize Steve Hough doesn't do photographs. He subtly carves and sands plastic panels to look like gently rippling water, then paints 'em up with super high-end "Chromalusion" color-shifting auto paint, then finishes 'em in high-gloss urethane. The results are deep metallic reflective dimensional surfaces that appear to undulate and change color and texture as you walk past-- a smooth illusion and worth a look ($3500-$6500). Rounding out this satisfying triumvirate, Steve Wrubel waxes idyllicly abstract with his sparse tropical waterscapes, and David Magnussen sections his compositions into barely detectable tile-like patterns.
Photograph (David Magnussen).


Photography (Steve Hough - like it).


Photo (Steve Wrubel).


Photo (Steve Wrubel).


Photography (Steve Hough - like it).


Photography (David Magnussen).


Photo (Steve Wrubel).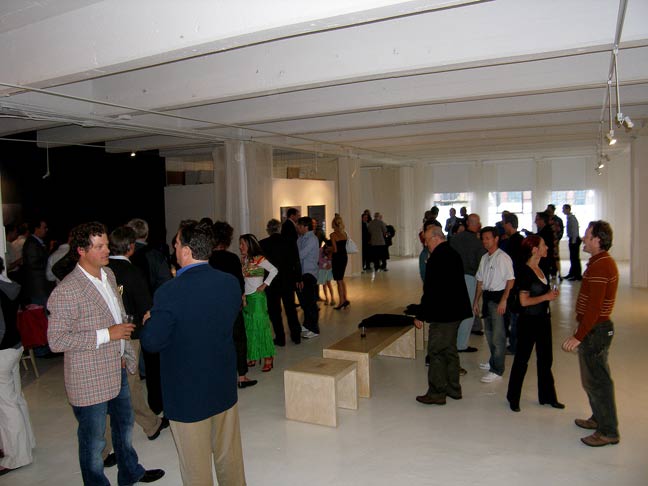 Situation.


***
Ampersand International Arts: Tanya Hastings Gill - Under Skin; Laura Heyman - The Photographer's Wife.
Comment: Laura Heyman appropriates various aspects of various images that various well-known photographers have taken of their various wives and/or lovers, then twists 'em up a bit, then reconstitutes 'em substituting herself as subject. Tanya Gill creates cut paper images of children, two or three per child, then layers them over each other to represent and contrast outer appearances with inner actualities.
Laura Heyman - photography.


Tanya Gill - art.


Photographs (Laura Heyman).


Art (Tanya Gill).


Photo (Laura Heyman).


Art (Tanya Gill).


Images (Laura Heyman).


***
New Langton Arts: Textual Works - Eight Points of Entry: Around the Works of Bethan Juws and Frances Stark.
Comment: I can't remember bumbling through a more pompous pointless incomprehensibly impenetrable cataract of babble than the statement Maria del Carmen Carrion writes for this show. Here's a snippet for you-- "Frances Stark's work inhabits the space of writing. Her work is about a surface to write on..." Uh, you mean she writes? She writes on something? This show is about writing? The show is about what she writes on? She incorporates writing into her art? She incorporates art into her writing? Erk. Here's another-- "I have never had my picture taken at latitude 0 degrees, at the Equator..." Excuse me, but isn't the show about Bethan Juws and Frances Stark? Who cares where you've never had your picture taken?
That's not enough? You want more? Fine... "Here is what is known. Bethan Huws was born in Bangor, North Wales. Her work is written in English, the language of her schooling." I was born in Cleveland, Ohio, and also write in English, the language of my schooling. So what?
New Langton Arts and Maria del Carmen Carrion-- the best show statement is the kind everyone can understand. It's also the most difficult to write. Next time take the challenge, not the shortcut. That said, I like the art.
Art.


Art.


Art.


Art.


Art.


Art.


***
Hotel des Arts and Start Mobile: Rockstars.
Artists: Baron Wolman, Richard E. Aaron, Michael Zagaris, Dale Smith, Ernie Paniccioli, Ricky Powell, Carlos Batts, Joseph Sia, Joel Brodsky, Robert Knight, Gered Mankowitz, Terry O¹Neill, Maryanne Bilham, David Wedgebury, Jerry Schatzberg, Victoria Smith, Karl Ferris.
Comment: Forty years of rockstar photographs taken by some of the most famous names in the business line the hallways of all five floors of Hotel des Arts. My favorite photographer-- Baron Wolman-- as good as it gets. Go see.
Photography (Baron Wolman).


Photo (Baron Wolman).


Image.


Photograph.


Photography.


John Doffing of Start Mobile and associate Cate Corbitt.


Photograph.


Photography.


Image.


Ambiance.


***
Ruby Skye: Party for Best of San Francisco 2006 presented by SF Weekly.
Artists: Keli Reule, Stephanie Schmitt, Brian Barneclo, Todd Brown (Red Poppy Gallery), Tilman Hilbish, Carlos Castillo, Chris Stokes, Amanda Lynn, Rob Racine, Lee Harvey Roswell, Todd Williams, more.
Comment: SF Weekly dissects every conceivable aspect of life in San Francisco, then disseminates awards for the best everything everywhere including places to play, shop, eat, drink, hear music, see art, watch theater, go hiking, play sports, and much much more. They also honor people and services including yours truly, ArtBusiness.com, for the "Best Art Web Site." Thank you SF Weekly. Much appreciated.
Keli Reule - art.


Brian Barneclo - Lee Harvey Roswell.


Stephanie Schmitt - art.


Rob Racine - art.


Lee Harvey Roswell - art.


Brian Barneclo - art.


Jewelry.


Art (Amanda Lynn).


Partial head count.


***
Addendum:
Hildegarde Haas, Hilda Robinson, Melba Abela, Servando Garcia
at Togonon Gallery (art, Servando Garcia).


Art (Hilda Robinson) at Togonon Gallery.


Art (Hildagarde Haas) at Togonon Gallery.


Art (Servando Garcia) atTogonon Gallery.


***