SAN FRANCISCO ART GALLERIES - OPENINGS
COHEN RESE - GERAS TOUSIGNANT
AFTERMODERN - MELTING POINT - ELEANOR HARWOOD
05.19.07
Cohen Rese Gallery: Cheryl Kline - Dancing in the Clouds.
Comment: The title tells it-- cloudscapes by Cheryl Kline, tranquil to dramatic. That simple and no more complicated. Of note are two oblong paintings that convert into a standing sculpture when taken off the wall and placed on the floor at right angles to each other.
Art.


Art.


The pair on the left as paintings.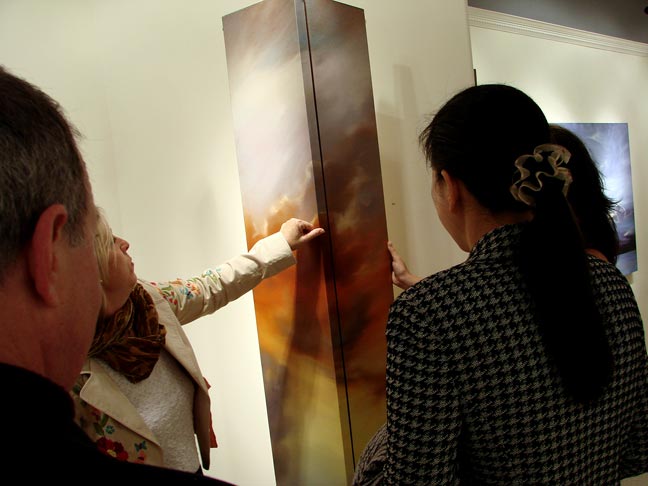 The pair off the wall and on the floor as sculpture.


Art.


Art.


***
Geras Tousignant Gallery: Daniel Tousignant - Single Tree / Double Tree.
Comment: Serene arcadian landscapes feature either one or two trees at various times of year, the paintings finished and framed in such a way as to appear classic or perhaps even antique. Enticingly spacious perspectives for such diminutive works-- you can practically walk right into them.
Art.


Art.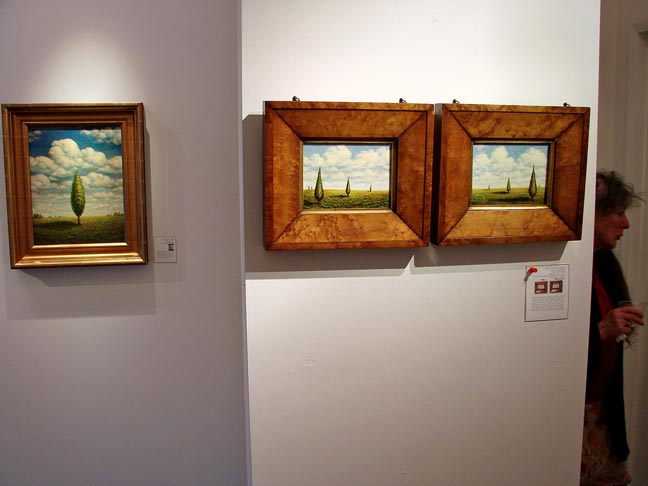 Art.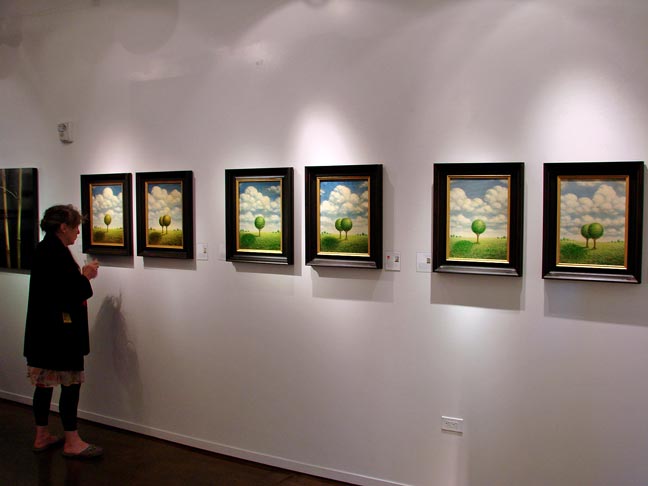 Art.


***
Aftermodern Gallery: The Secretariat.
Artists: Walead Beshty, Tim Davis, Desiree Holman, Olga Koumoundouros, Yoshua Okon, Patrick Rock.
Comment: The show purports to explore "the various social, political, sexual and cultural ambiguities that characterize today's world." The art certainly engages on a piece-by-piece basis, but the premise is so expansive as to render the aggregate disjointed.
Art.


Art.


Curious hotdog mustard ketchup bun prison toilet contraption.


One-stop ingestion digestion excretion station? Could be.


Art.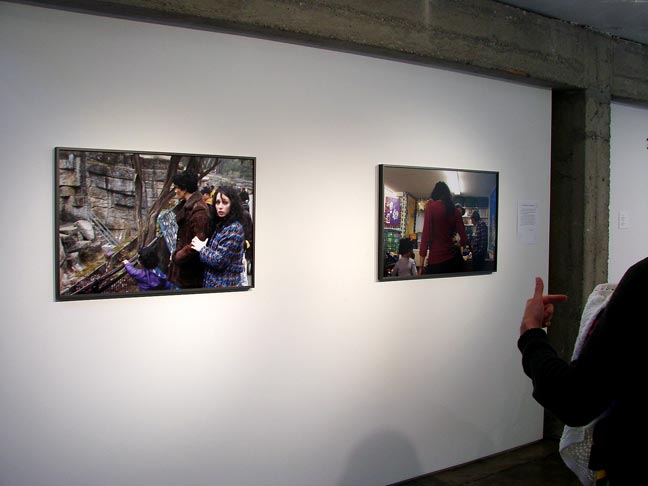 Art.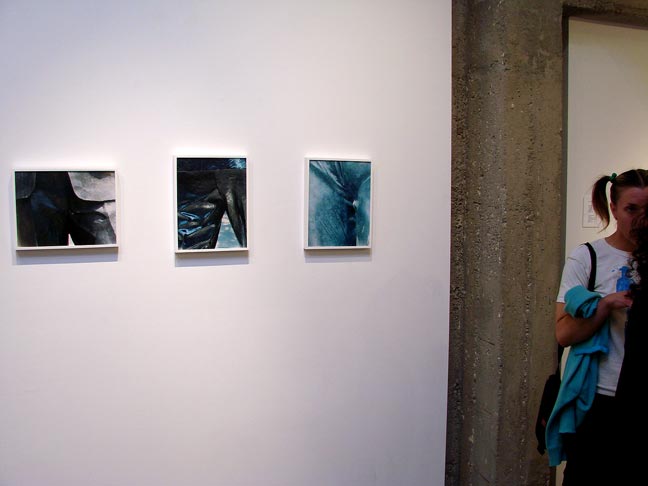 Art.


***
Melting Point Gallery, 1340 Bryant Street, San Francisco, CA 94103; 415.769.2939: Ilgin Seymen - Nothing Personal.
Comment: Every once in a while, I stumble across a delightfully unexpected artcident and this is once in those whiles. Ilgin Seymen essays on the platitudes of consumerism with competent on-the-mark mixed-media works and installations. My favorite is a set of shelves scrupulously stocked with monotonous bantamweight mock-ups of ordinary household furnishings. Seyman tells me she casts them in plastic resin. Nice work.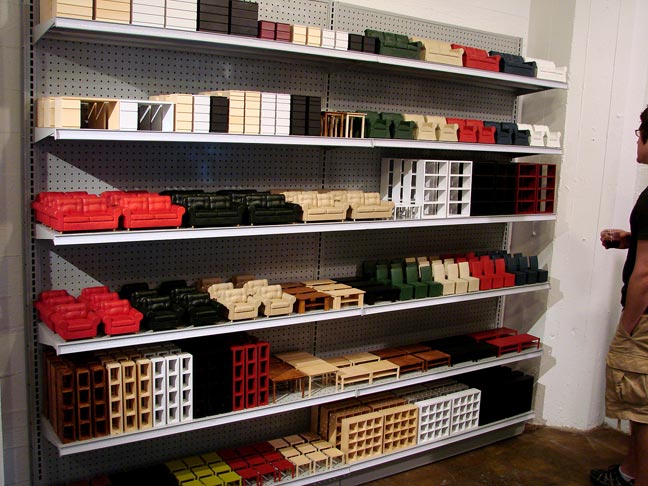 Your own personal Ikea art (like it).


Ikea art up close.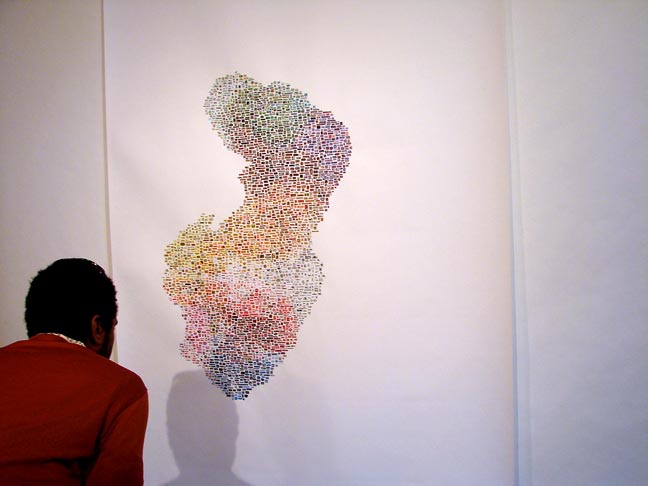 It's made entirely out of miniature trademarks.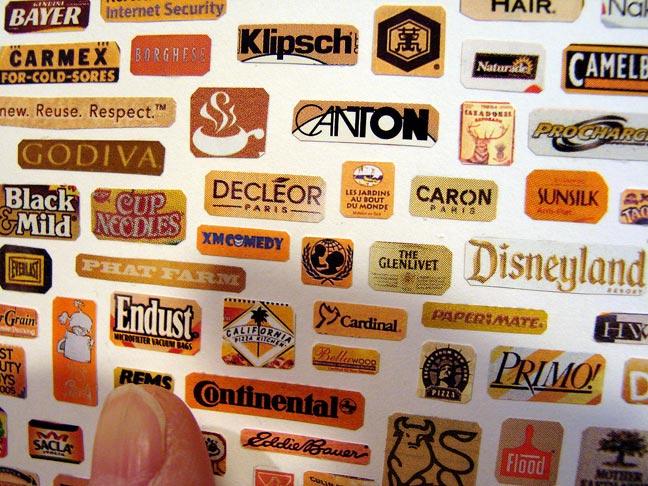 See? I told you.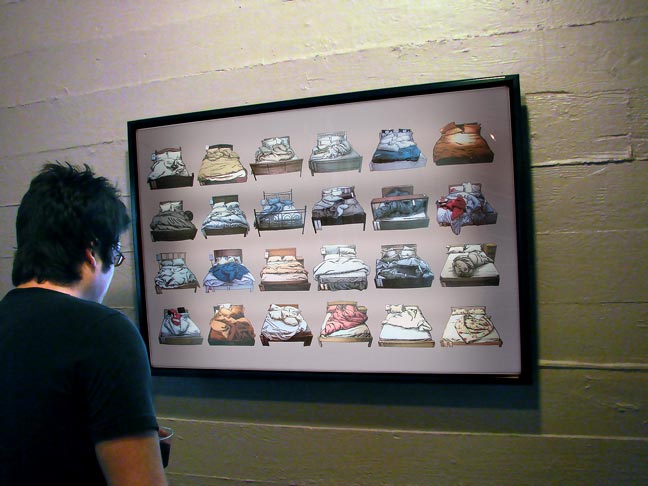 Backlit bed art (like it).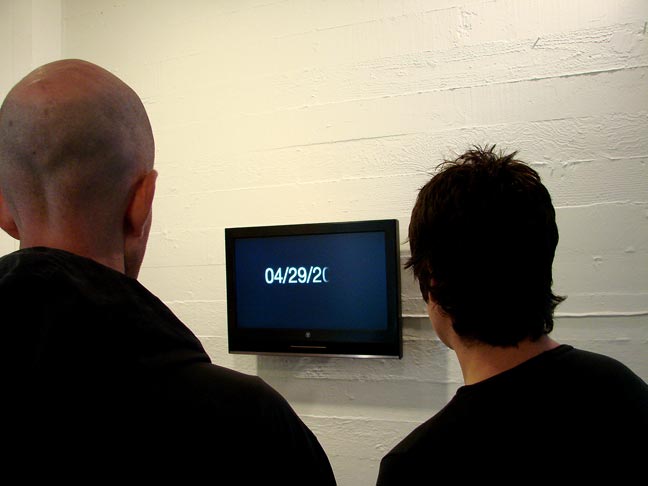 Day-in-the-life video art.


***
Eleanor Harwood Gallery: Jill Sylvia - Ledger.
Comment: Jill Sylvia takes pages from ledger books-- mostly blank ones but some with writing-- and with mystifying meta-steady dexterity, excises the spaces where you're supposed to enter the numbers, leaving only the dividing lines. The upshot-- ridiculously delicate, mindbogglingly accurate, and unerringly decisive checkerboard mini-grids that Sylvia then either mounts flat or drapes or folds into dimensionality. As if that's not enough, then she takes the itsy bitsy cutouts and arranges them into hyper-ordered collages. What it all means, I have no idea, but it's kinda like who cares? The fact that she endgames it so flawlessly is more than enough for me.
Ledger page art.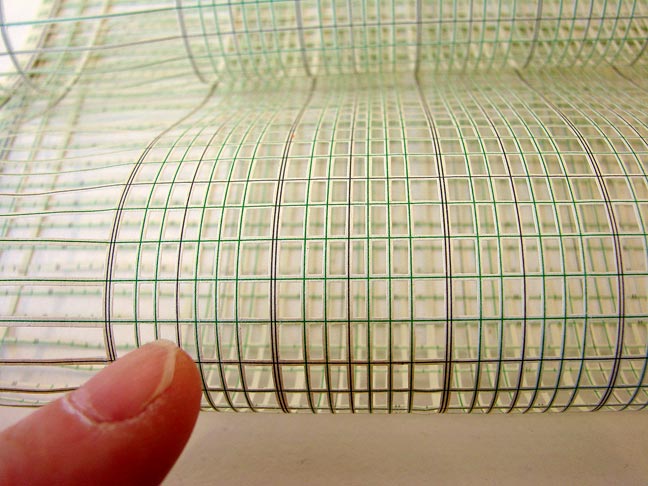 Ledger page art closer.


Ledger page highrise art.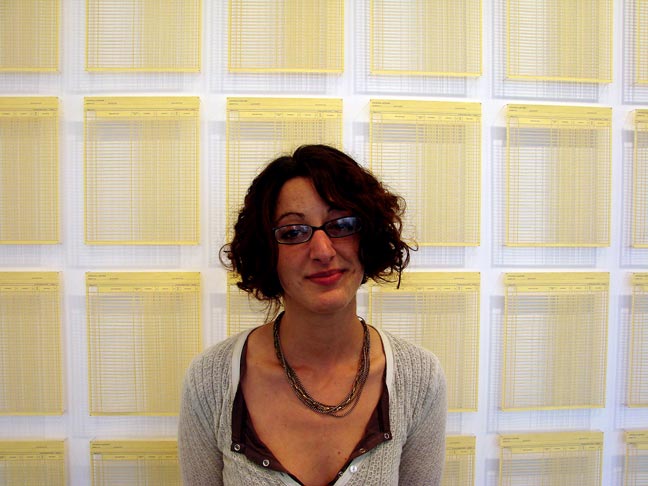 Jill Sylvia - art.


Ledger page cutout collage art.


Art.


***