SAN FRANCISCO ART GALLERIES - OPENINGS
SUPERVISOR ROSS MIRKARIMI - SAN FRANCISCO ART INSTITUTE
MARTIN LAWRENCE - SOUTHERN EXPOSURE - 1890 BRYANT STREET
RED INK STUDIOS - CLEMENT CEMENT - DECOUPAGE PRODUCTIONS
05.19-20.06
Supervisor Ross Mirkarimi: Western Addition Community Technology Center - Art Exhibition and Reception.
Artists: Frank Davis, Raymond Foo, Doretha Albert, Glenn Walker, Thejana Cheremiski, Felton Cogell, Louvenia Williams, Susie Eng, Jean Burks, Richard Milam, Roy Gaskin.
Comment: The show features digital compositions of senior Photoshop students. The theme beyond art is that we be mindful of the elderly and do what's necessary to keep 'em in the game. Mirkarimi has gone decidely more community-oriented with his art shows than did his predecessor, weaving art with politics to broach and advance his agenda, demonstrating ever again that art has infinite purpose.
Art.


Art.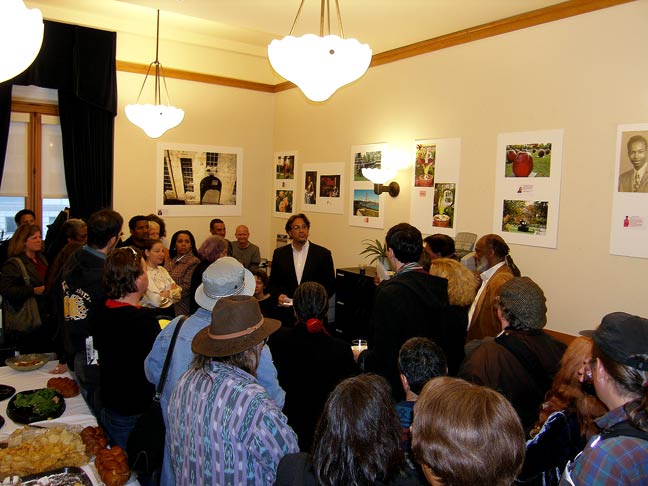 Ross Mirkarimi (center) addresses attendees.


Art.


Art.


***
San Francisco Art Institute: MFA Master of Fine Arts Graduate Exhibition.
Comment: 89 students graduate SFAI with MFA's this year. Impressive selection, respectable quality, a significant percentage of what I commonly refer to as "the good stuff," well organized, nicely displayed. The faculty must be doing something right. Kudos to SFAI. And they're even graduating candidates who know paint representationally. Back to the future. By the way, anyone who prefers having their art identified by artist name rather than by "art," please email me.
Shiny geometric art.


Big screen art (lauren woods).


Blue art.


Uncommon dreamlike art (Taravat Talepasand - like it).


Ankle TV art.


Representational painting art (Ana Fernandez - like it).


Curious shelved playing card art (like it).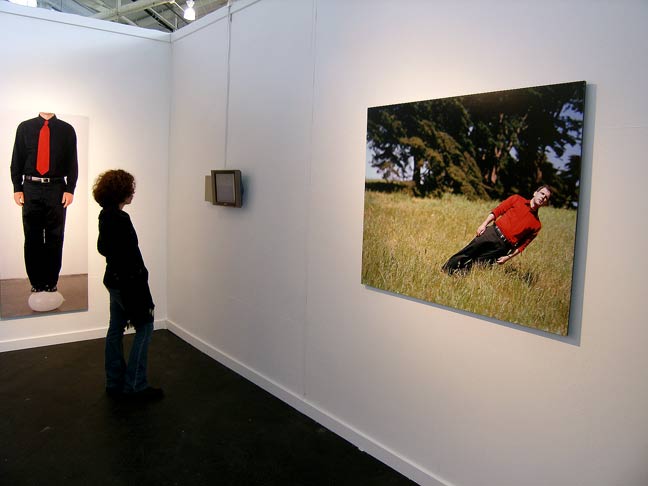 Seriously slanted dude art (Ryan Glenn - like it).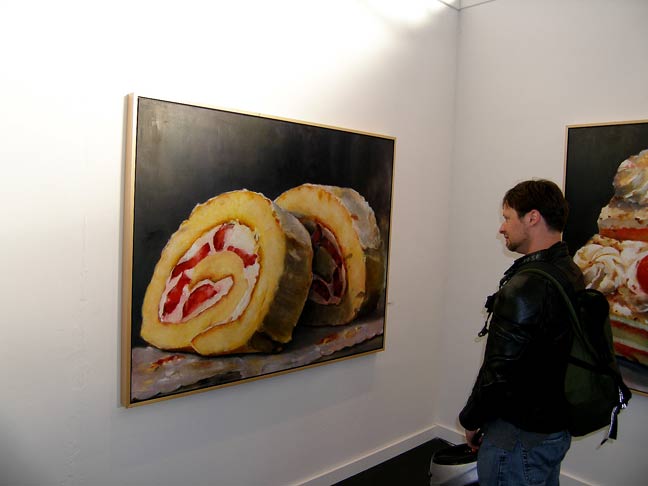 Giant dessert art (Nanda Palmieri).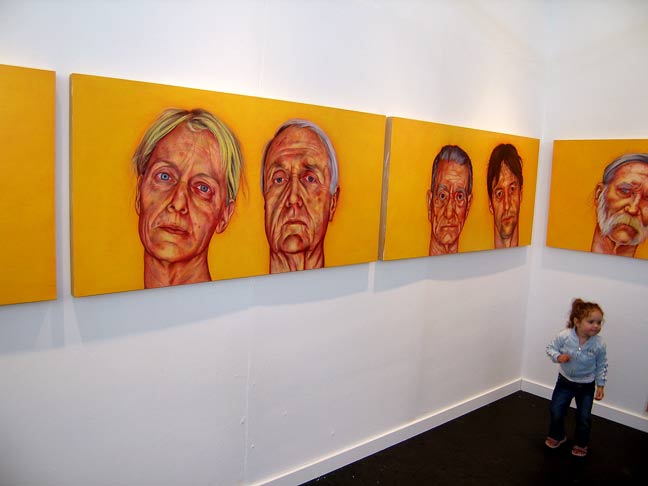 Concerned-people-staring-at-you art.


Clean art (like it).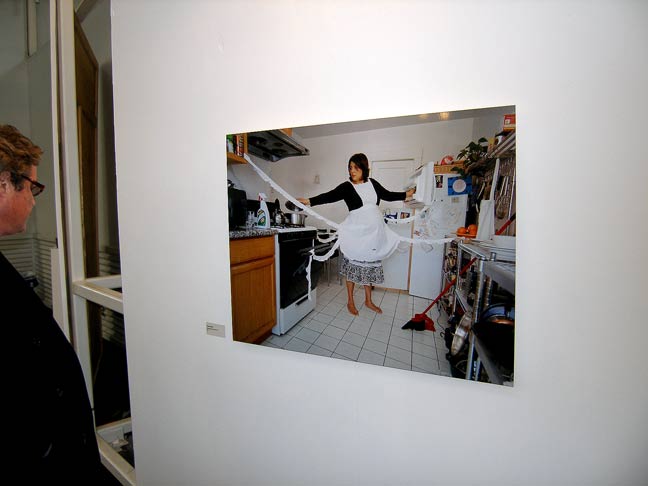 Apron bondage art.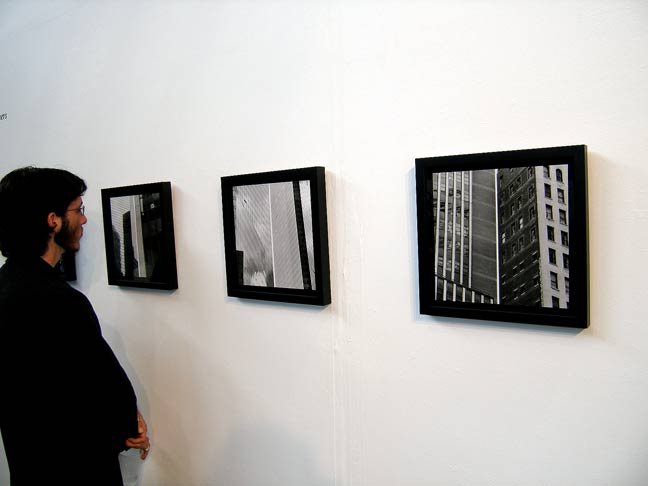 Art (Moshe Quinn).


Large color woodblock art (Sharon Heitzenroder - like it).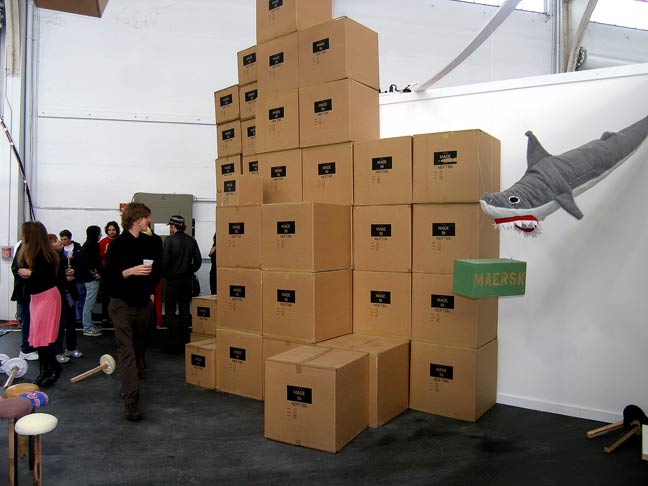 Socio-political commentary art.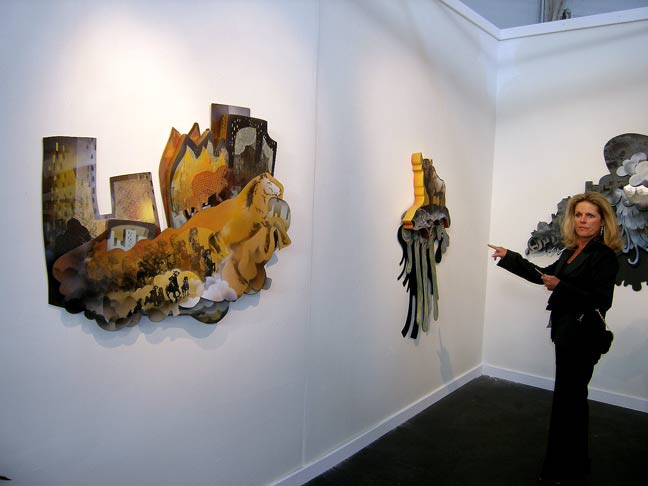 Dimensional art (Aaron Eliah Terry).


"Wine Drawings" (Anna B. Bogatin - painted with CA red wine).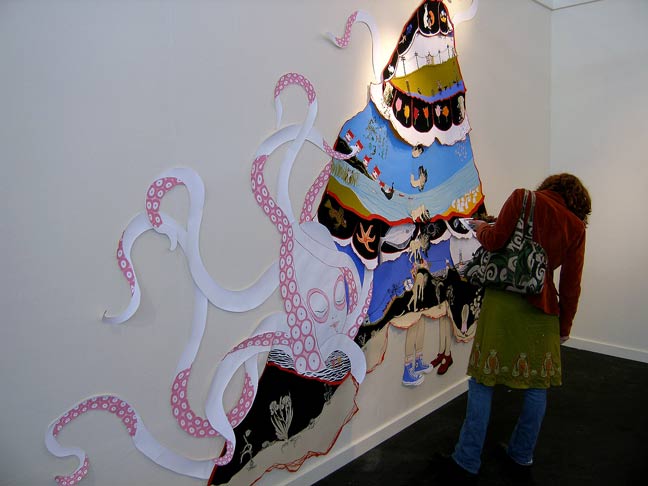 Painted and cut paper art (Alexis Amann - like it).


***
Southern Exposure: Between the Walls.
Artists: Sarah Filley, Steve Green and Kathryn Kenworth, Sasha Petrenko, REBAR, David Stein, Sundown Salon, Wowhaus.
Comment: Southern Exposure is temporarily closing for a seismic retrofit; this is their see-you-soon swansong. The art and installations generally address the significance of Southern Exposure as a community organization, and the multi-functionality of the gallery's physical space. The show stealer is a group of artists who literally drill several-inch diameter sections out of the gallery walls, take the cylindrical segments and can them in organic wall-hole broth on an assembly line right before your eyes. The cans are then labelled and sold for $20 a piece, the canning process entirely professional from start to finish. I'm sure they've got leftovers in case you want an affordable piece of SF art history for your trophy case.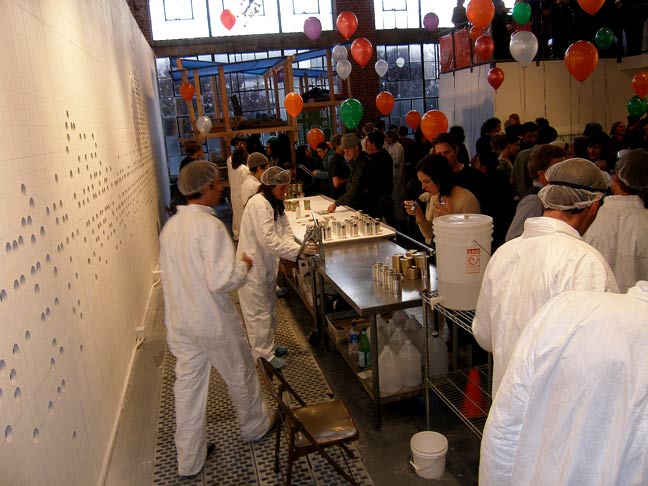 Canning line overview.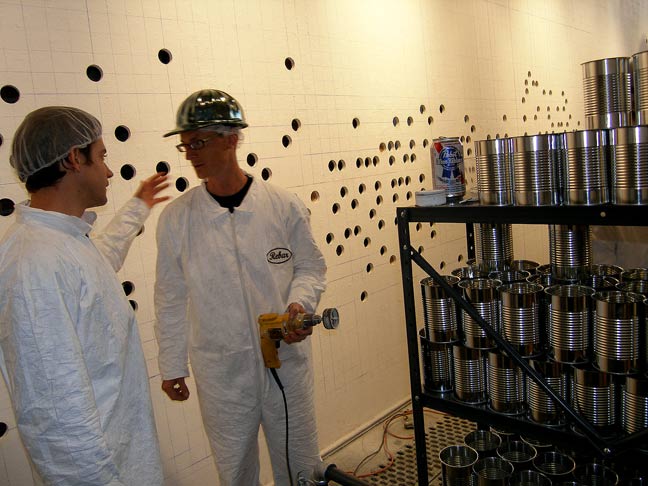 Hole-cutting dudes assess the situation.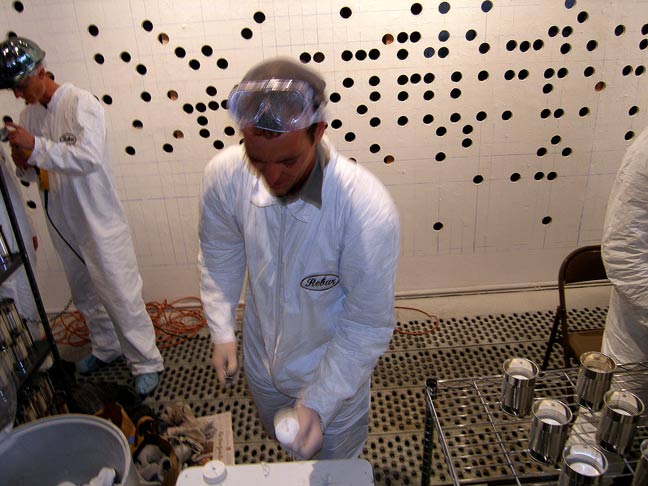 Preparing the hole for canning.


Canned holes await wall-hole broth.


Quality control engineer inspects freshly canned holes.


Canned holes ready for sale.


Mobile canned hole concession.


Tunes.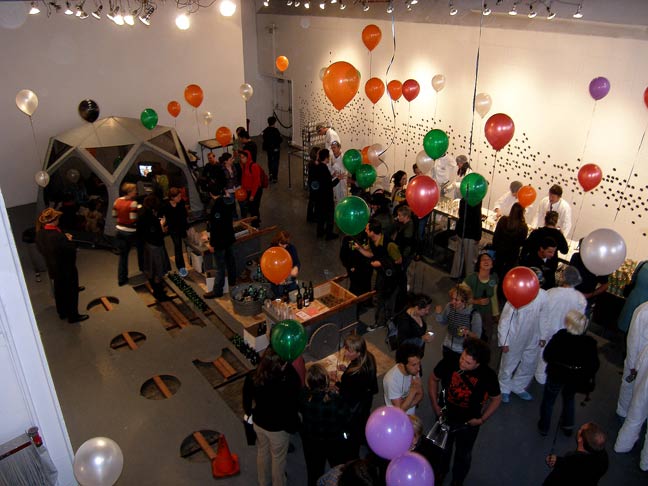 Aerial.


***
1890 Bryant Street: First Annual Spring Open Studios.
Comment: Over thirty artists open their studios to the public. I see more and more of this-- artist studio buildings holding periodic afternoon and evening art events. 1890 Bryant's got three floors of large well-lit studios, some belonging to individual artists, others shared by small groups.
Art.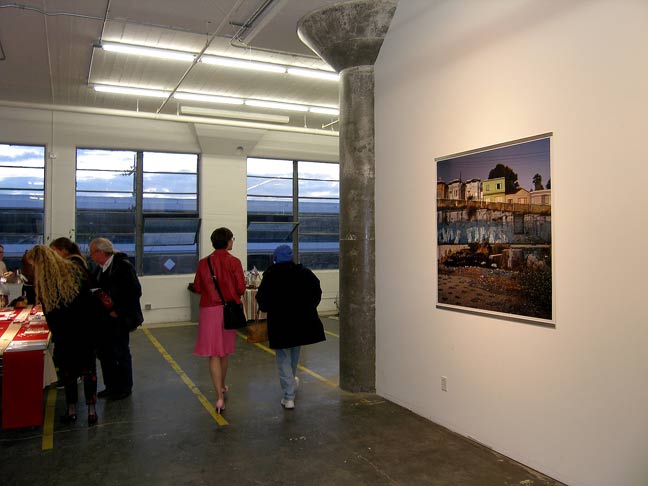 Art.


Art.


Art.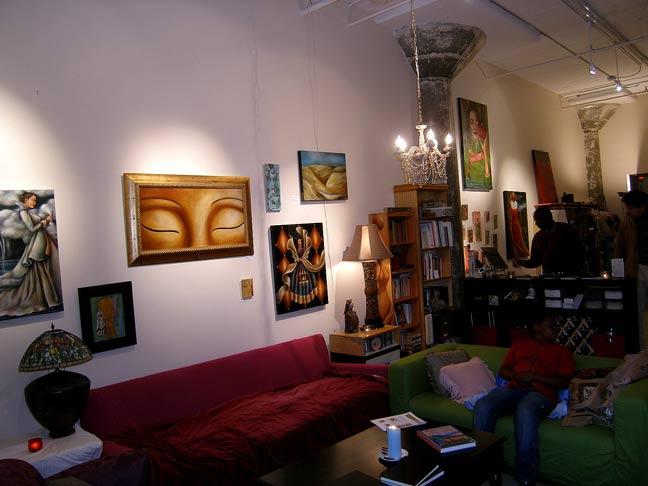 Art.


***
Red Ink Studios and artSFest: Zoom.
Artists: Deidre DeFranceaux, Machiko Saito, Dr. Aaron Baum/Dr. Friendly, Dana Albany, Tom Kennedy, Michael "Flash" Hopkins, Hadine Anderson, Marlon Shakespeare, Larice Egli, Michelle Morby, Rosanna Scimeca, Dan Rabinovitch, Art Fag Mafia.
Comment: A Burner-esque event featuring an oversized vintage kinetic laughing funhouse woman powered by a stationary bicycle, a heart-shaped pinata, a photo booth where you can get your picture taken with a generic featureless monotone inflatable latex figure sculpture, and more. My favorite is Dr. Aaron Baum's (aka Dr. Friendly) inflatable interractive art toy that creates sounds and lights when you bounce on it (needs work from a safety standpoint, though).
Love bingo.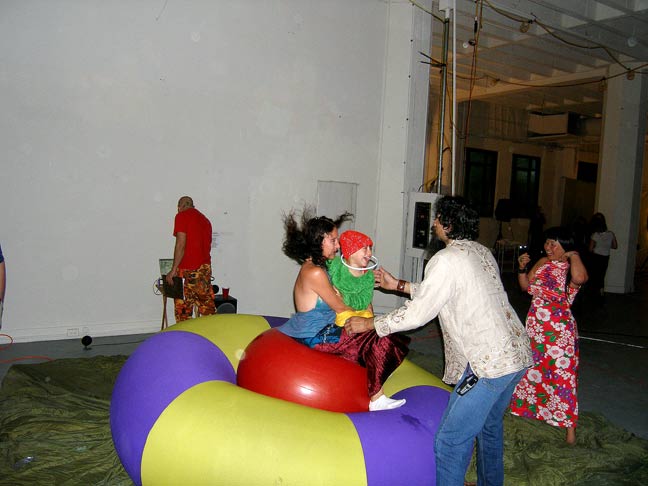 Interractive inflatable art (Dr. Friendly).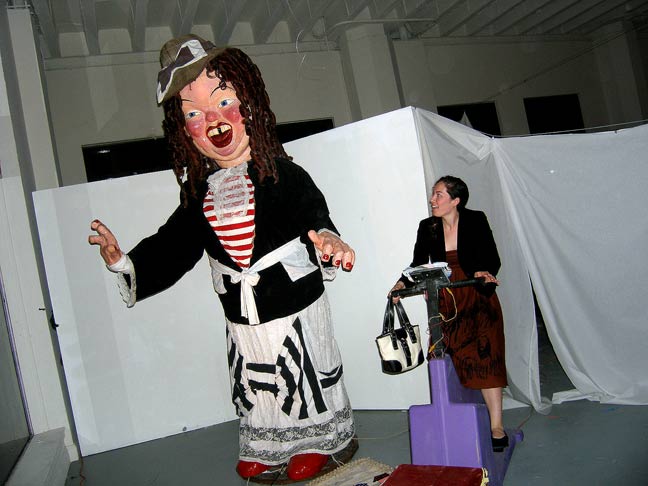 Ecologically conscious funhouse art.


Cardiac art.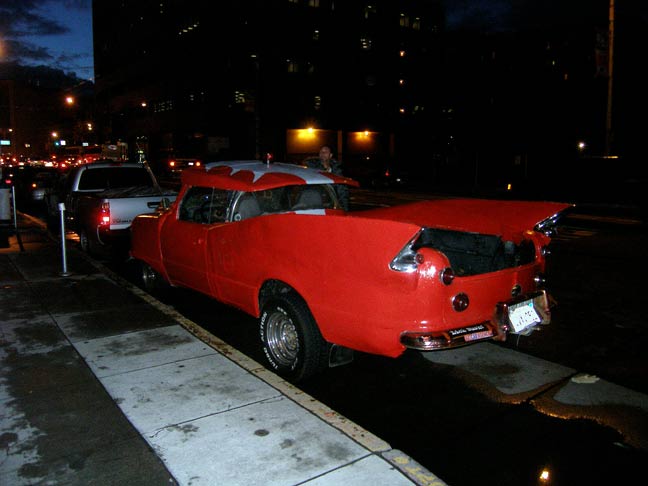 Out front.


***
Clement Cement, 3131 Clement St., San Francisco, CA 94121; 415.987.4221: Ian Johnson, Ando, Travis Jensen.
Comment: Grand opening of Clement Cement Gallery, the fine art arm of Equal Distribution, features jazz art by Ian Johnson (looking better all the time), a wall of gritty Polaroids by Ando, and installation work by Travis Jensen. This is the SF creative-land epicenter tonight. SRO. Sure, they're way out there in the Avenues, but it's worth the trip-- just a short walk from the Legion of Honor.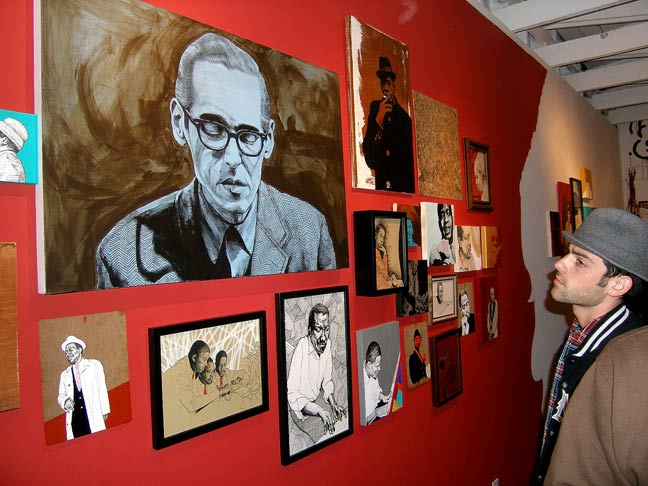 Art (Ian Johnson).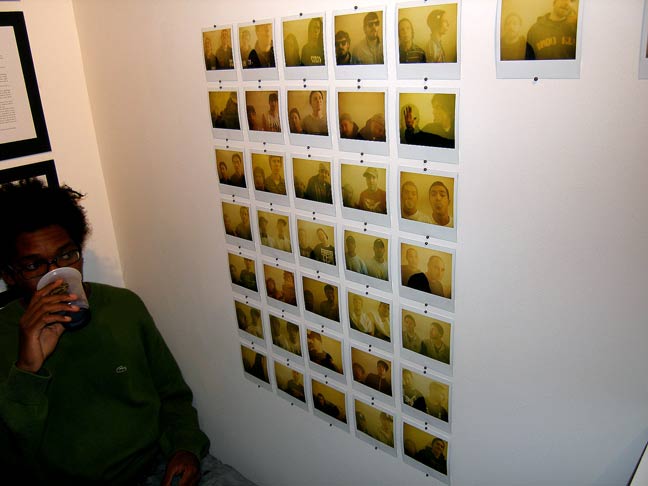 Polaroid art (Ando.


Art (Travis Jensen).


Yong-Ki Chang - owner.


Polaroid art (Ando.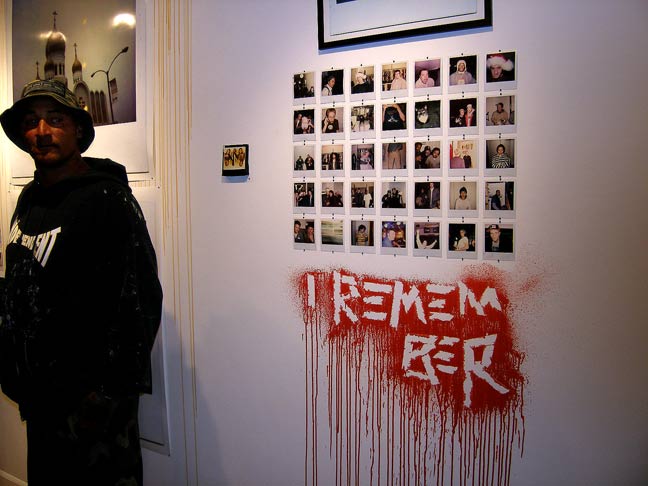 Polaroid art (Ando.


Art (Ian Johnson).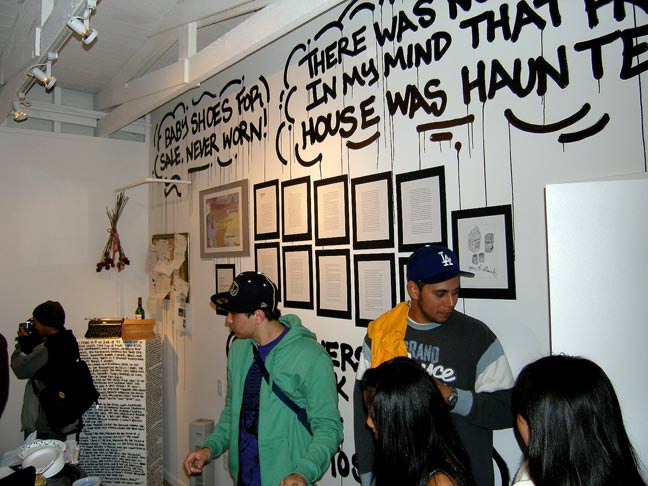 Art (Travis Jensen).


Tunes.


In.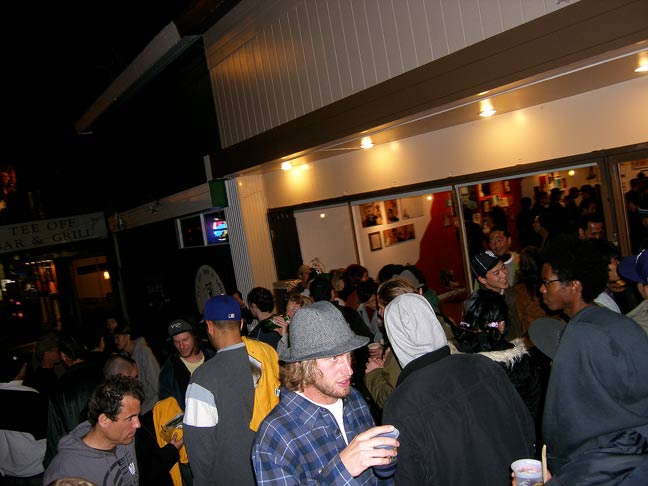 Out.


***
Newmark Gallery: Christian de Cambiaire - Iterative Abstraction, E-print Paintings.
Comment: Well, they're not really paintings; they're digital prints on PVC. Christian de Cambiaire writes algorithmic computer programs, corresponds colors and patterns to the mathematical equations, lets the programs run, stops them at random, and inspects the abstracted outcomes. He ignores the majority of the patterns that result, selects those with mungo aesthetic moxie, prints them out in editions of one (in whatever size you want), then destroys the image file (or the actual image if you like the image but prefer it in another size), never to be duplicated again. Is it art? You betcha.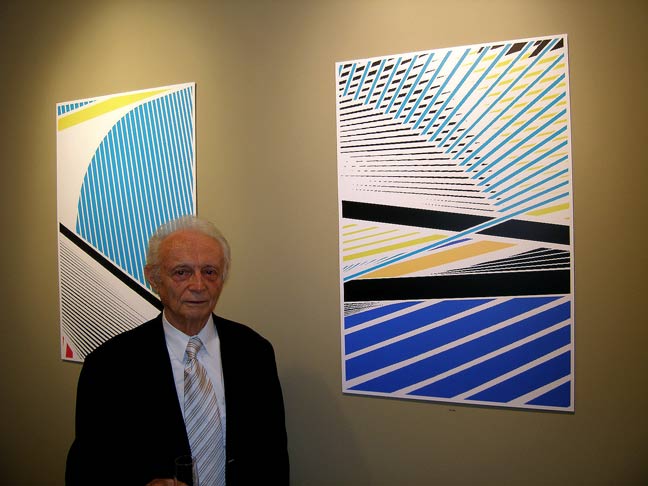 Christian de Cambiaire - art.


Art.


Art.


***
Martin Lawrence Galleries: Erte - An Extroadinary Evening of Radiance.
Comment: Artists constantly complain about getting famous only after they transition to The Great Beyond. Well, get over it whiners and take a lesson from Erte on how to enjoy the fruits of your demise. Erte may have permanently plotzed in 1990 but he doesn't let trifling tripe like that define the finality of his oeuvre. Sixteen years later the dude's still going strong, regularly releasing new limited edition prints, sculptures, fashion, jewelry and more, all with genuine facsimile signatures seanced straight from arcadia. His most recent print, released in an edition of 650, goes for $3150 framed. That ain't chump change either-- $2,047,500 total cha-ching for the edition when you do the math. Art dealer legend has it that Erte pre-posthumously approved each and every one of his posthumous productions. Guess that makes it official. Ashes to ashes, dust to bucks.
Art.


Latest release ($3150 framed).


Erte historian Stephan will be lecturing.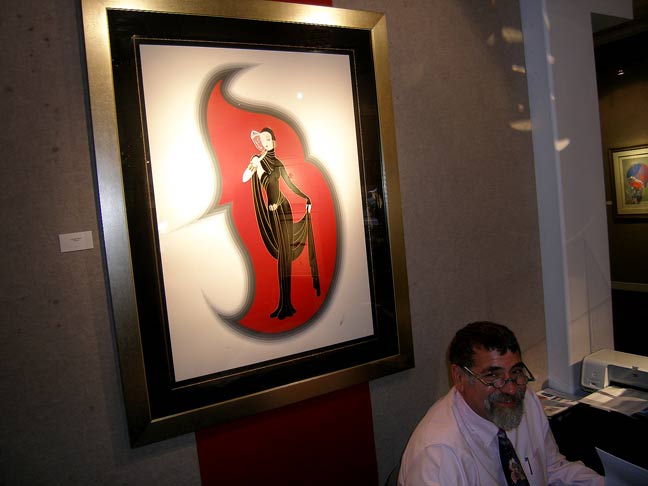 Art.


***
Red Ink Studios and artSFest: Whatever Lola Wants.
Comment: Lola basically collects other people's discards and recycles them into art. For example, one work is composed mainly with small toys she found along the streets and sidewalks in a specific area of Bayview Hunters Point. Her art often features thick layered resin finishes, both on her paintings and sculptural works. Entirely independent of any school or style, she creates a respectably wide range of work, all competent, and complete with thoughtful meaningful explanations that even I can understand-- paintings, sculptures, assemblages, and an installation. One of those uncommon better-than-expected shows. Worth a look.
Art.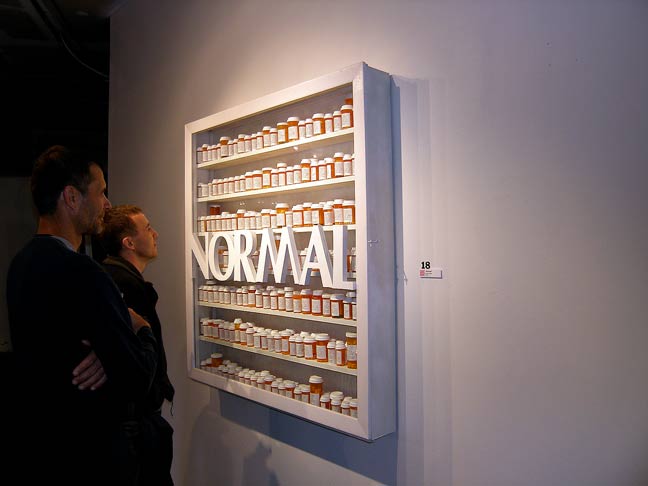 Art.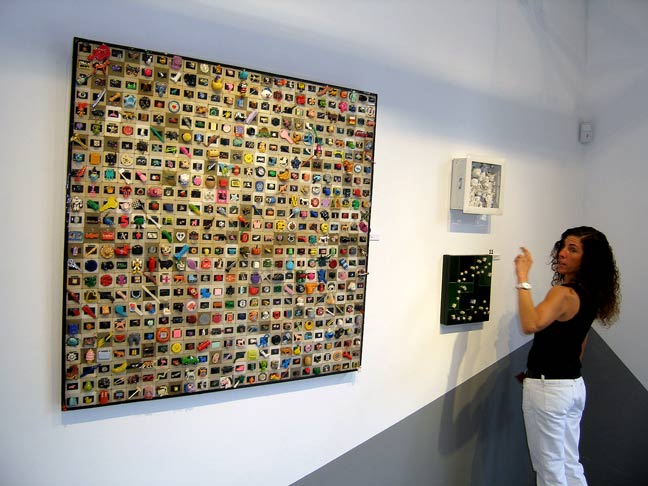 Lola explains art.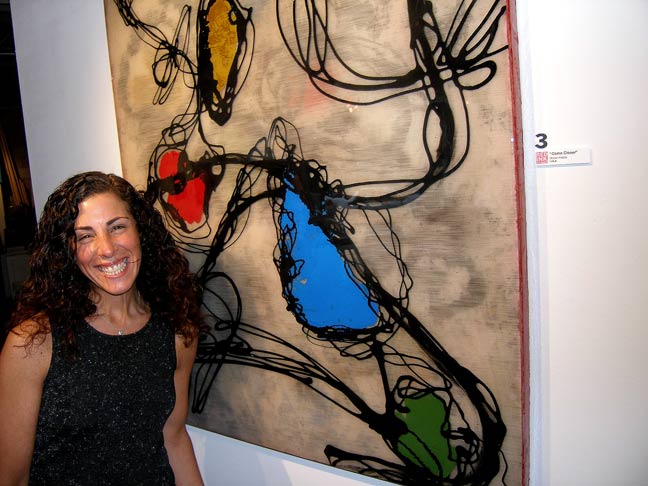 Lola - art.


Art.


***
Addendum:
Salon Mecanique at Decoupage Productions.


Art at Salon Mecanique (Chris Pew - like it).


Another from Salon Mecanique, group show and launch party.


Last one from Salon Mecanique - Decoupage Productions.


***