SAN FRANCISCO GALLERY OPENINGS
LISA DENT - LOLA - BALAZO GALLERY
JUICE DESIGN - RECORD COLLECTOR - LOW GALLERY
PAGEONEPROJECT
05.20-21.05
Comment: Artsters, I'm just a little frustrated (and surprised) (and dismayed) (and stymied) at the nearly complete lack of response in terms of support, sponsorship, donations, barter, cheese, or volunteer offers to aid with any aspect of this endeavor in any way, shape, or form. I've dutifully and mega-massively covered the San Francisco art scene in-depth, including courteous helpful art business hints, for over two years now (and spent several thousand hours of my time doing so). Hundreds of you (at least) read these reviews regularly; thousands read them periodically. I get plenty of email "Thank Yous" and personal "Thank Yous" wherever I go. People even tell me my coverage is so good they hardly go to galleries anymore-- they just go to this site. To make matters even better, some people see art in these reviews that they like so much, they contact the artists or the galleries and buy it. Hmmmmm...
***
Low Gallery: Jeremy Fish Show - I'm With Stupid.
Comment: Combination art opening, book release party for I'm With Stupid (Fifty24SF Gallery, San Francisco, 2005), and fundraiser for medical money to help fix Fish's skateboard ankle trashing. This is the perfect fundraiser because you get art in exchange for your donation, or the book, and the artworks I recommend are the cut painted skateboard deck portraits, priced around $700 each (he cuts the shape of the person's head out of the top portion of the deck and then paints it). These are so professional that Fish might think about doing commissioned portraiture on the side, assuming he doesn't do so already.
Portrait decks (nice).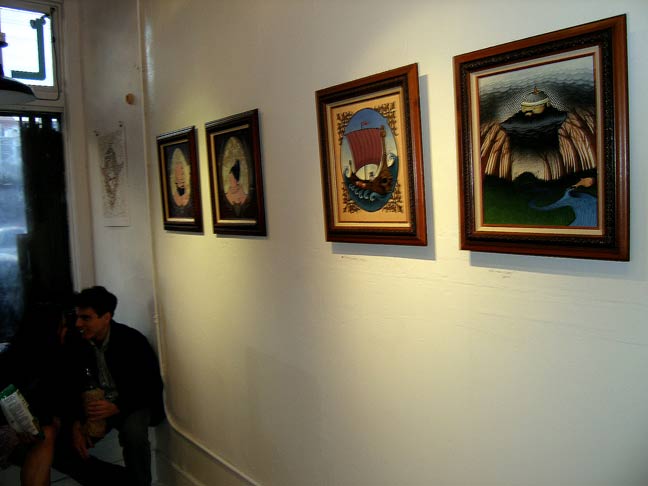 Art.


Jeremy Fish - crutches.


Art.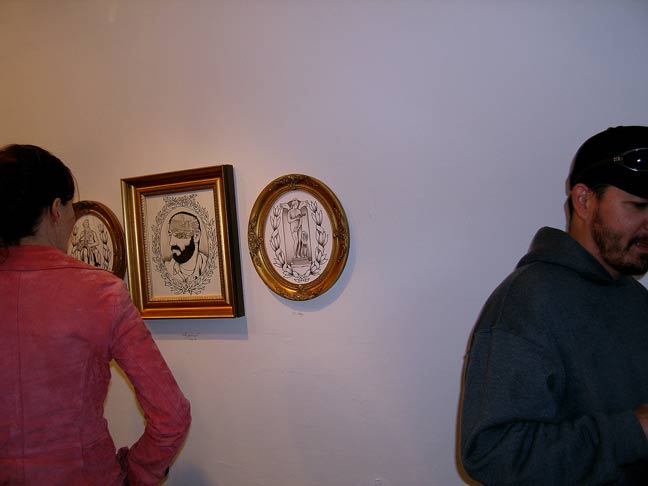 Art.


***
Woodward Flats - Record Collector, 485 14th Street, San Francisco, 94103: Mike Green - 322; Mariah Gardner - Now I Lay Me Down to Dream of Spring - A Collection of Things That No Longer Exist.
Comment: Small but good selection of prints and drawings by Mike Green. OK-- rant time. I'm seeing way too many pictures of people with bird heads, and bird heads in general, and while I'm at it, 4-point bucks-- everywhere-- not just here. I'm not sure what these are a reference to because I'm generally out of the symbolism loop, but tweet me to something different please, my deers.
So I asked Mike Green about his art, and his explanations of the significance of the various elements in his images are so complex and detailed that I'm thinking maybe he should write a book and then illustrate it. You see, artists are not always going to be around to explain their art, but people who see their art are always going to want to have it explained. So the art either has to be self-explanatory or have explanatory within easy reach. Hence the illustrated book idea. And hence the fact that I like to say hence.
Art (Mike Green).


Mike Green - art.


Art (Mariah Gardner).


***
236 Sam Carlos Street, San Francisco, CA 94110: Mixed Media - Film - Illustration - Photography - Noise - Painting - Fashion.
Artists: Amanda Voss, Natalie Eliza, Kamala Caton, Joe Neff, Matt Furie, Siobhan Aluvalot, Julianne Becker, Jose Rodriguez, Julia Bernstein, Hannah Stouffer, Cathy Begien.
Comment: Mission art party with some respectable art, some curious art, intelligent attendees, and cupcakes in the light well.
Art.


Video art.


Light well cupcake art.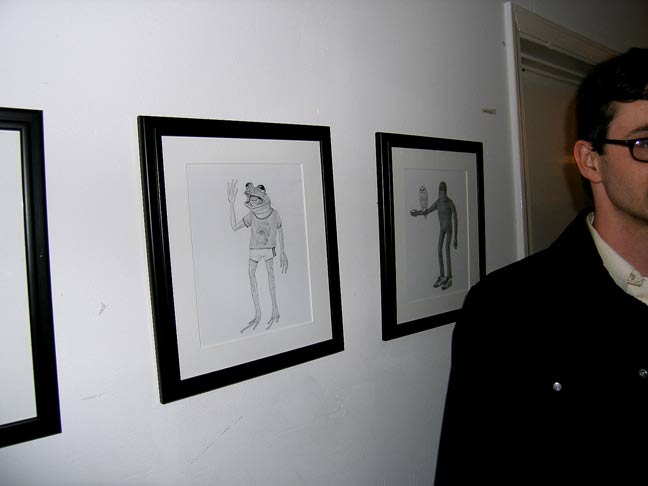 Art.


Cigarette butt baggie art.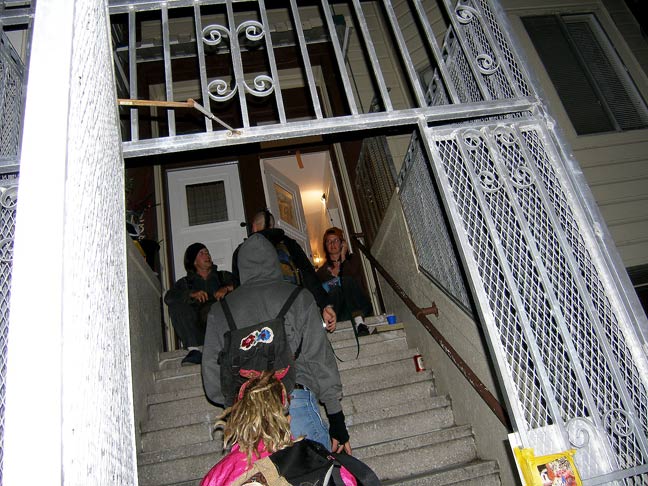 Stoop.


***
Lisa Dent Gallery: Jeong-Im Yi; Ala Ebtekar.
Comment: At first I thought the Jeong-Im Yi paintings were Rymanesque abstracts, but they're actually trompe l'oeils of unfinished interior walls complete with chips, scratches, nail holes, tape marks, and other abrasions, like you might find on walls in an artist's studio or in an old building that hasn't been painted for decades. So you buy one of these paintings and hang it on the brand new perfect wall in your brand new million dollar live-work loft. Makes sense, right? Well, whether it makes sense or not, they're pretty competent. Meanwhile, Ala Ebtekar creates bot or transformer type figures with Middle East warrior flourishes. Kicky, colorful, slick, proficient, perhaps a tad dated, C-Prints. Where are the originals?
Art (Ala Ebtekar).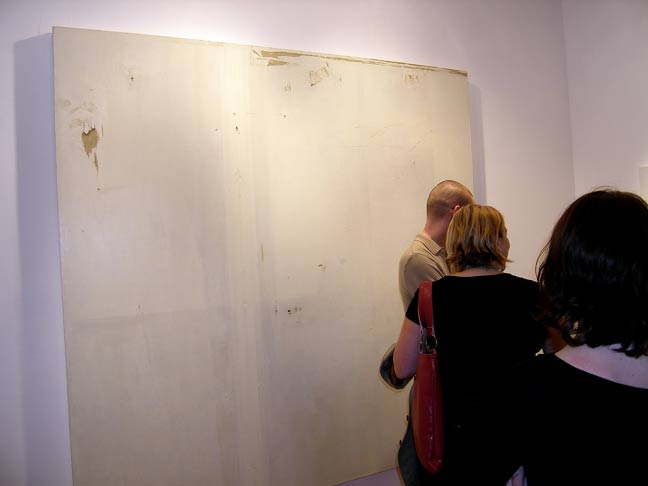 Art (Jeong-Im Yi).


Art (Ala Ebtekar).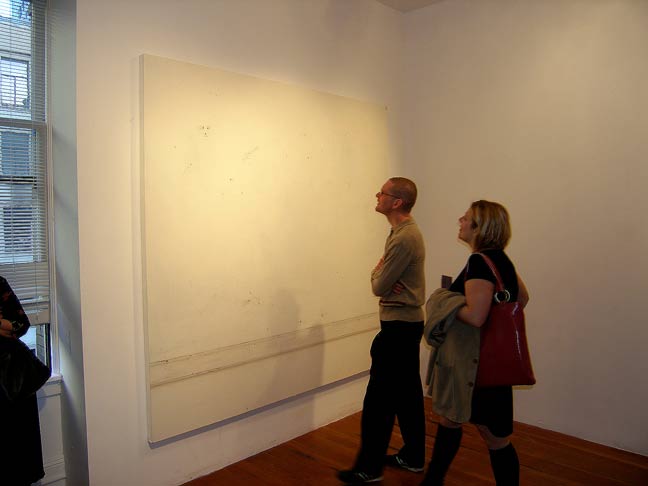 Art (Jeong-Im Yi).


***
C.A.F.E. Arts Off-Market Gallery, 965 Mission St., San Francisco, CA 94103 and Academy of Art University: A Celebration of Original Costume Designs by Katy Rose Simola.
Comment: Women clothed in costumes, undergarments, and hats created by Rose Simola from original patterns she created, based on her historical research of American fashion circa the 1850's and 1860's, particularly clothing styles typical of the Antebellum South.
Fashion art.


Fashion art.


***
pageoneproject, 1752-A Mission St., San Francisco, CA 94103: A Photographic Collaboration by James Byrne & Michael Rudokas.
Comment: Tasteful atmospheric erotic photography, mildly surreal, especially the colors. The small gallery is duded up like a mini-dance club for the event.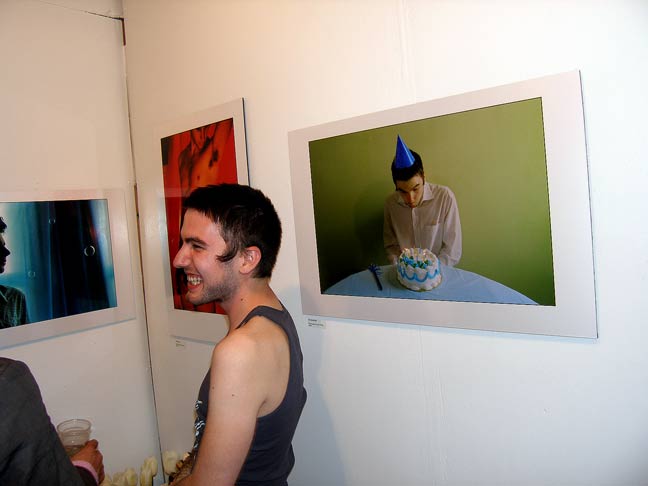 Photography.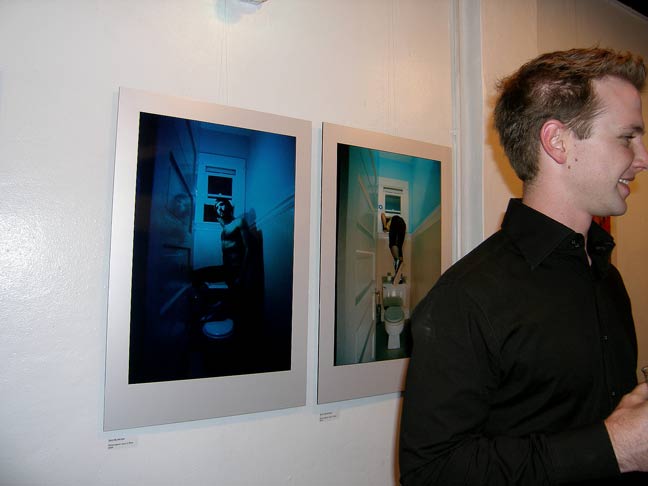 Photography.


Photography.


Esplanade.


***
Balazo Gallery: Adrian Brooks and Friends Present "Waifs and Strays."
Artists: Adrian Landon Brooks, Sara Enid, David Enos, Nichole Hagen.
Comment: Works on paper by four self-described "struggling artists." Show me an artist who doesn't struggle and I'll show you a three-winged goat in a top hat reciting Socrates. Quirky Balazo strikes again.
Art.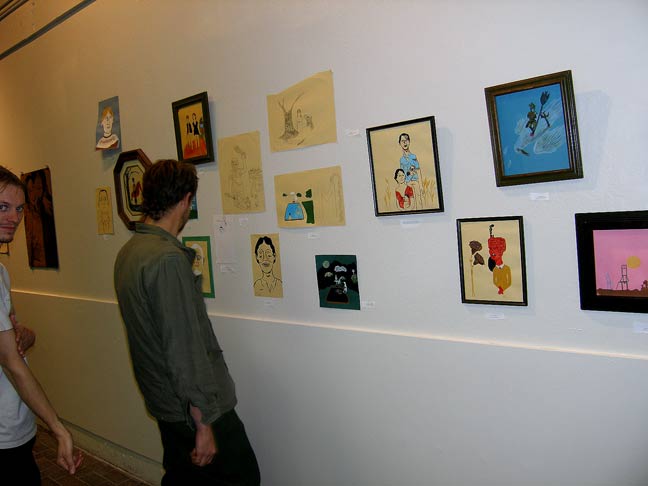 Art.


Playing field.


***
Lola Gallery: Spiritus Mundi.
Artists: Joe Mangrum, John Eric Otter, Victor Barbieri, Walter Kennedy, Ian Sheldon, Susan Kennedy, Zachary Rattay, Randall Heath, Justin Godar, Jonathan Grubb, Scott Ketchum, Merikay MacKenna, Claire McGovern, Youn Woo Chaa, Francis Baker.
Comment: In the words of Lola Gallery, the show "investigates how artists immerse themselves within the experience of nature itself in order to express the language and meaning of natural phenomena in art." In the words of me, it's art made with plants and plant materials. I finally get to meet one of my favorite plant artists, Joe Mangrum, whose installations almost always include his trademark dangling jungly strands of grass balls. Another favorite, Francis Baker, makes his art by growing plants inside objects like old doll heads or gloves, and allowing the root bundles to completely fill the objects, thereby forming themselves into living replicas of whatever they're growing in. He then dries the root bundles into sculptures and/or photographs them in their eerily shaped incarnations. Lola shows are always entertaining, by the way, especially if you enjoy parties and suds.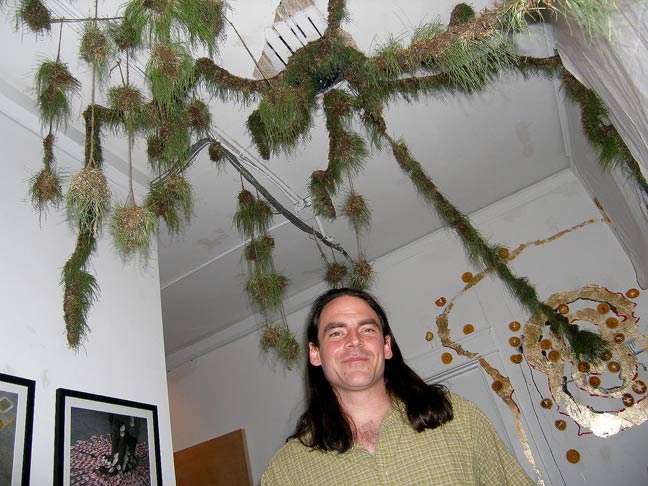 Joe Mangrum with danglers.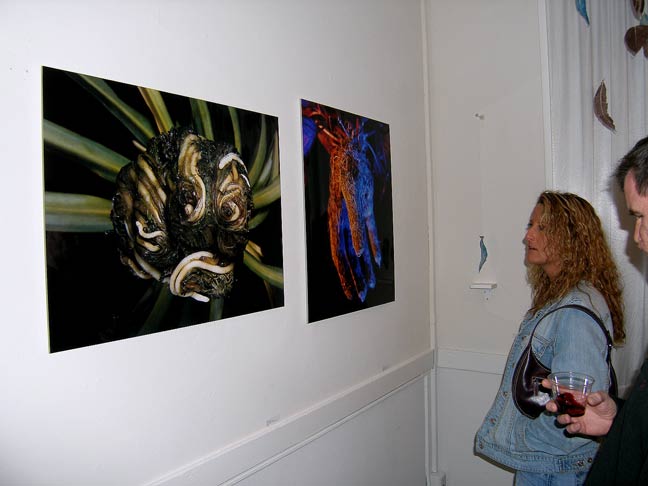 Plant art (Francis Baker).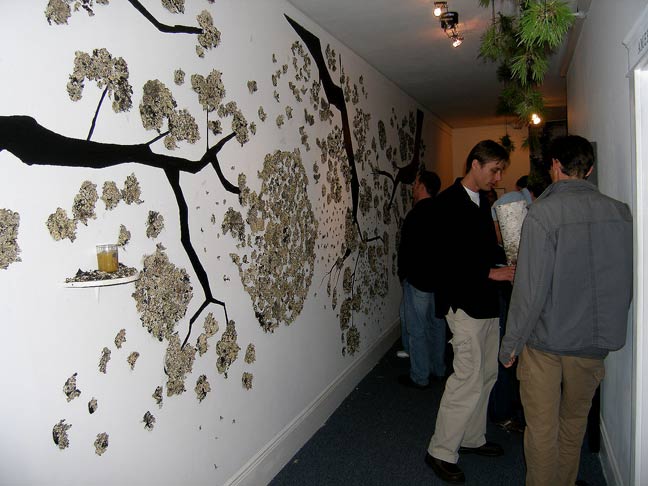 Plant art.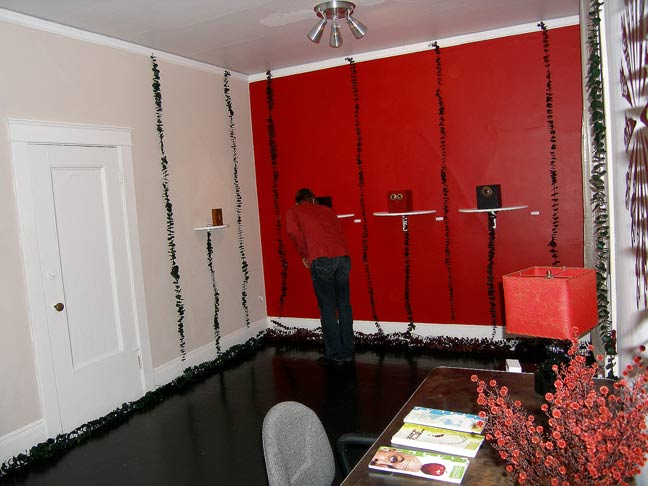 Plant art.


***
Juice Design: John Copeland - o.K.
Comment: John Copeland's paintings and drawings have a mature accomplished cerebral feel about them, a delicacy, a confidence. The compositions appear basic at first, but then draw you in and hold your attention once you get acquainted, softly seducing rather than blowing you away. Good show, Juice Design.
Now for the market analysis... Copeland's from New York, and so too may be his prices. They're not outrageous, but they're higher than I would have guessed. I've seen this phenomenon at plenty of galleries, where artists from other cities show in San Francisco, but ignore the fact that art here tends to sell for less than it does in places like Los Angeles or New York. It's the simple truth about the art market in San Francisco-- and it's been that way for a long long time. The moral of the story is that you have to be on top of the client base wherever you show-- know what they pay and know when they blanch-- or else sales will be few and far between. This doesn't mean you drop your prices necessarily, but it does mean you have to think about affordable options that fit buyers' budgets. And if Copeland's show sells well, I stand corrected.
Art.


Art.


John Copeland.


Art.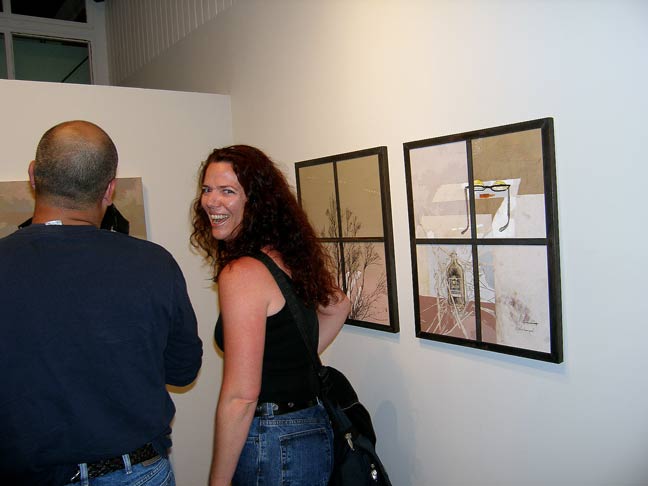 Art.