SAN FRANCISCO ART GALLERIES - OPENINGS
PARK LIFE - ADOBE BOOKS
ART AT THE DUMP - MOLLUSK SURF SHOP
05.25.07
Park Life: Michelle Blade - I Would Give Everything.
Comment: Michelle Blade works in ink, pencil, and acrylic on Dura-lar, sometimes pretty large, presenting complex thoughtful organized compositions in considerable detail. According to the fact sheet, Blade interweaves visions of chaos and with those of utopia in fork-in-the-road formats-- we might go one way, we might go the other; the jury's still out. But Michelle-- if your detail is gonna invite close inspection, especially mine, you better make sure you razor-cut those Dura-lar edges clean (I prefer utopia to chaos).
Art.


Art.


Art.


Art.


***
Adobe Books Backroom Gallery: Chris Corales - Finish What You've Started Before They Come for Your Hands.
Comment: With his 100% recycled paper collages, Chris Corales continues to remind us that we throw out way to much. And he doesn't just use perfect pretty flawless recycled paper either; he uses the beat up, bent up stuff, as if to empatically drive home the point-- think twice before you toss it.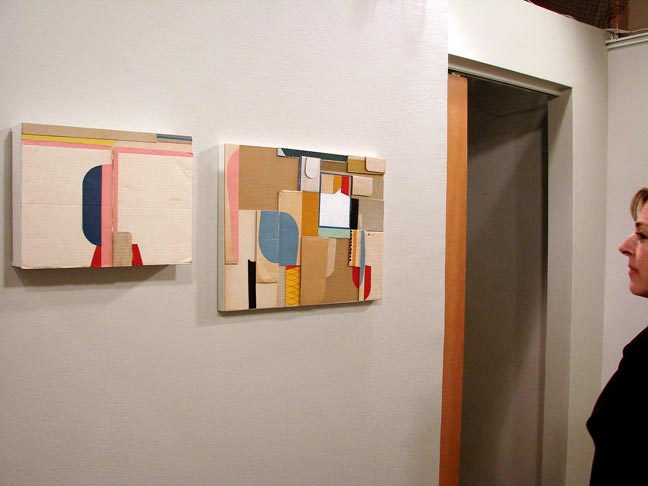 Art.


Art.


Chris Corales puts finishing touches on work.


Art.


***
Artist In Residence Program at SF Recycling & Disposal: Ellen Babcock - Barroco; Nathaniel Stookey - Junkestra.
Comment: Ellen Babcock creates sculptural works, particularly faux rocks, from recycled materials. Her larger pieces are a tad uneven, but a number of her smaller "rocks" so accurately mimic the real thing, you have to pick them up and roll them around in your hand in order to convince yourself that they're really styrofoam, plastic, and similarly malleable materials. Nathaniel Stookey, meanwhile, with assistance from classically trained musicians, composes and presents a percussive junkyard concerto in three movements, played entirely on as-found recyclables. Hopefully they'll soon perform at a concert hall near you.
Sculpture (Ellen Babcock).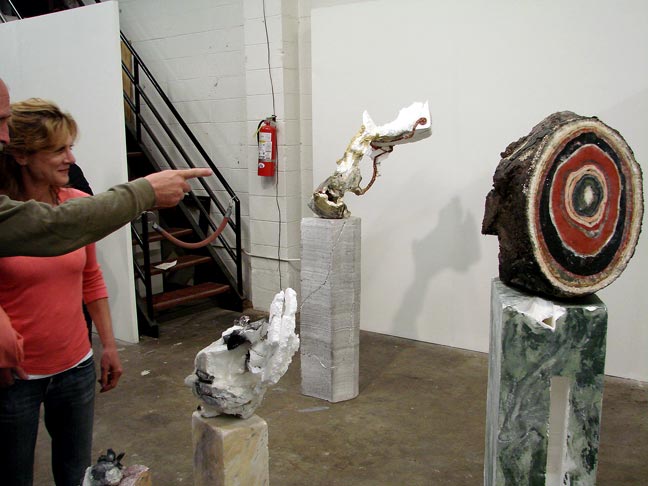 Sculpture (Ellen Babcock).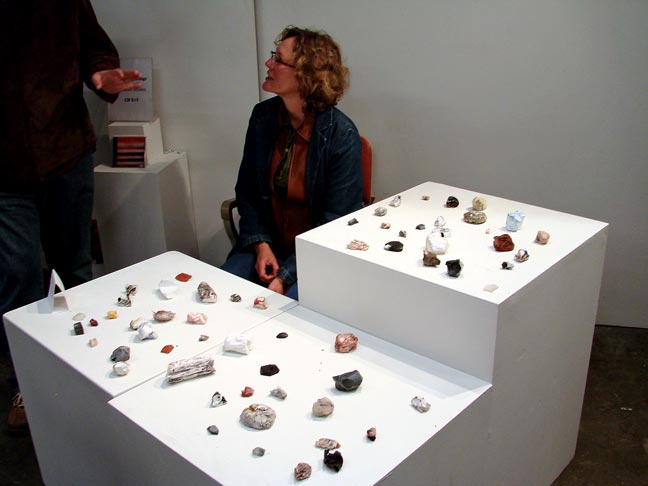 Small sculpture (Ellen Babcock).


Faux rock (Ellen Babcock - kinda like it).


Faux rock (Ellen Babcock - sorta like it).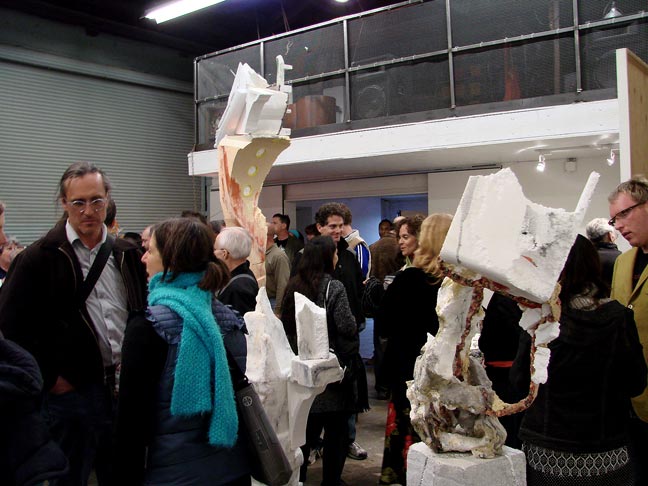 Sculpture (Ellen Babcock).


Time for the show.


On the way to Junkestra.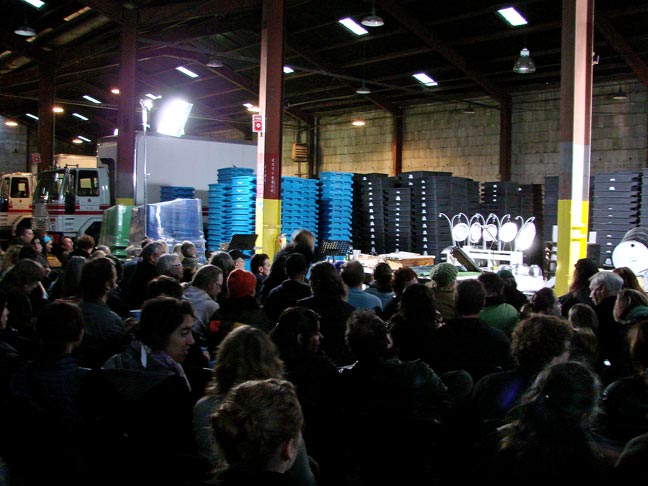 Waiting for Junkestra.


Junkestra introductions.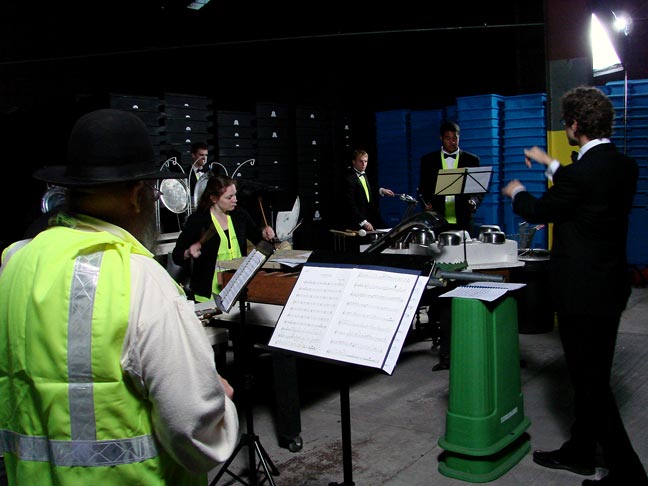 Junkestra in action.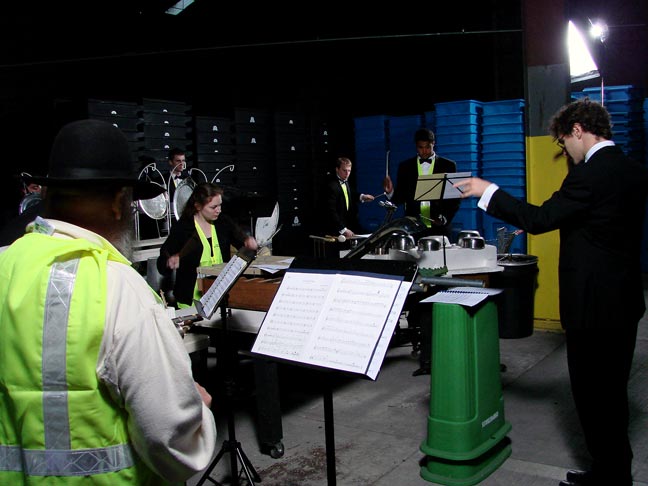 Junkestra in action II.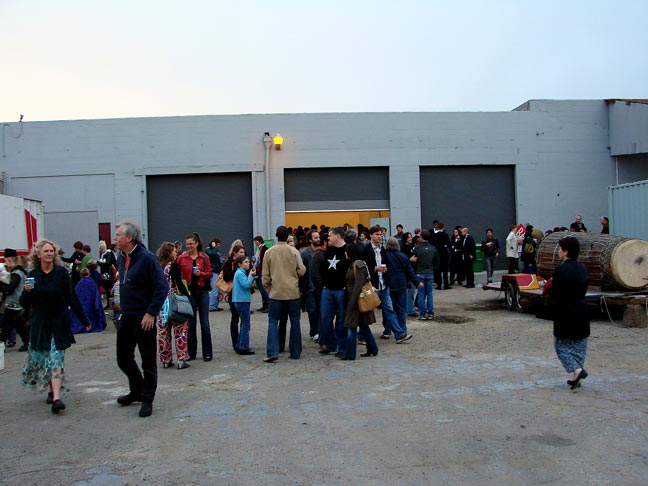 Art at the Dump outer.


***
Mollusk Surf Shop: Mike Shine - Flotsam.
Comment: Mike Shine transforms Mollusk's back room into an eerie evening at the beach complete with sand and an ersatz passed out camper. Then he covers the walls and floor with colorful pieces of driftwood that he upgrades into odd macabre moments, looking like chards of some primordial otherworld carnival. Best of show goes to his "Spin the Wheel" works. Nicely done-- all of it. Go see.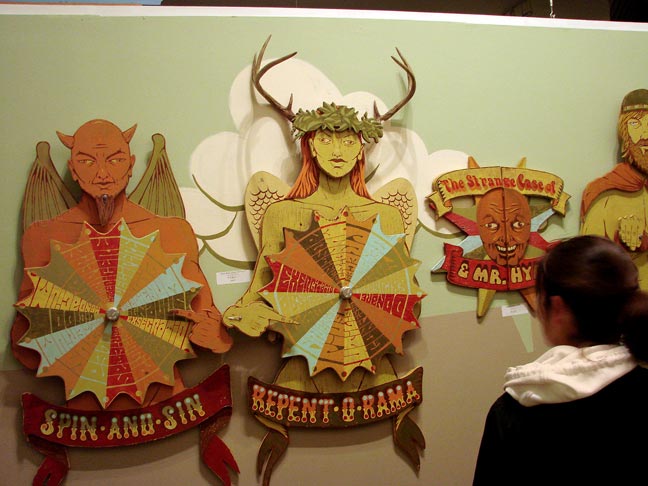 Wheel of Fortune art (like 'em - and they work too).


Art.


Ersatz camper art.



Art.


Art.


Art.


***