SAN FRANCISCO ART GALLERIES - OPENINGS
FREY NORRIS - MERIDIAN GALLERY - NORDSTROM
MOLLUSK SURF SHOP - GIANT ROBOT - ART AT THE DUMP
GARAGE BIENNALE - CANVAS GALLERY - GALLERY 276 - RED INK STUDIOS
05.25-27.06
Frey Norris Gallery: Burton Silverman - The Same America.
Comment: Burton Silverman's been painting nearly sixty years and in that time garnered gobs of distinctions including a recent commission to paint a panel for the Peace Tower in the Whitney Museum's outdoor sculpture garden. Silverman says in his introductory statement that his art is about American ideals, the kind where we reach out to other nations through generous constructive sharing like with the Peace Corps, not about our current love affair with bellicose blank check beyond belief consumptivism, and certainly not about how so many of us sit idly by as gross gluttonians govern our country into the ground. His sentiments may not be immediately evident from looking at his art, but who cares? He's right.
Art.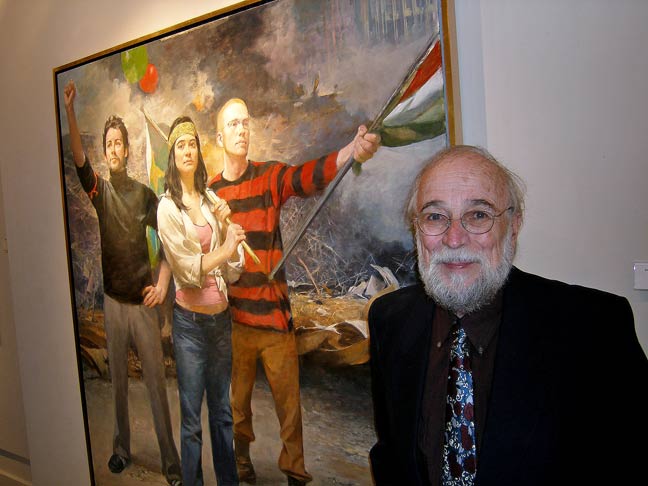 Burton Silverman - art.


Art.


Art.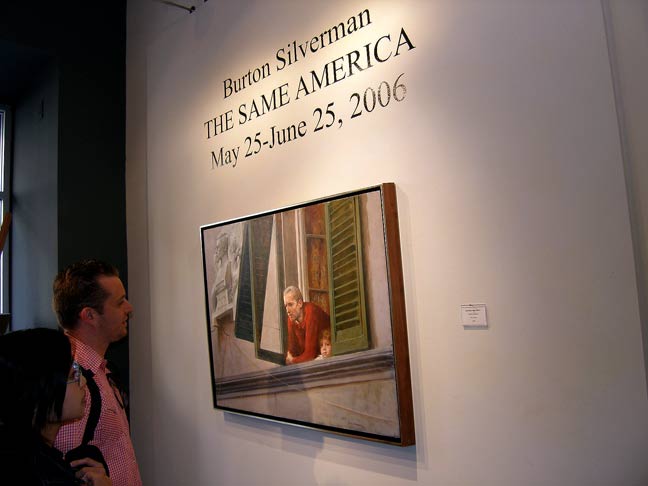 Art.


***
Meridian Gallery: Chris Komater - Spring; Dean Smith - thought forms.
Comment: Chris Komater exhibits a series of photographs of spring blossoms on a tree, a line of speakers arranged along a wall to look like a row of flowers and emitting sounds of someone breathing, and a group of close-up photographs of a pair of hairy testicles (which you wouldn't identify as such unless Komater told you or unless, I suppose, you've inspected lots of hairy testicles). In another room, Dean Smith shows Super-8 films that he digitizes into silent black and white dynamic amorphous forms, and designates to represent human thoughts and thought processes.
Art (Chris Komater).


Art (Chris Komater).


Chris Komater - testicular art.


Art (Dean Smith).


Art (Dean Smith).


Art (Dean Smith).


***
Nordstrom at San Francisco Center: Martini Splash - Jeremy Sutton.
Comment: Nordstrom department store hosts Martini Splash on the last Friday of every month, this month featuring martinis, music, dancing, and the digital creations of Jeremy Sutton.
Art.


Jeremy Sutton - art.


Art.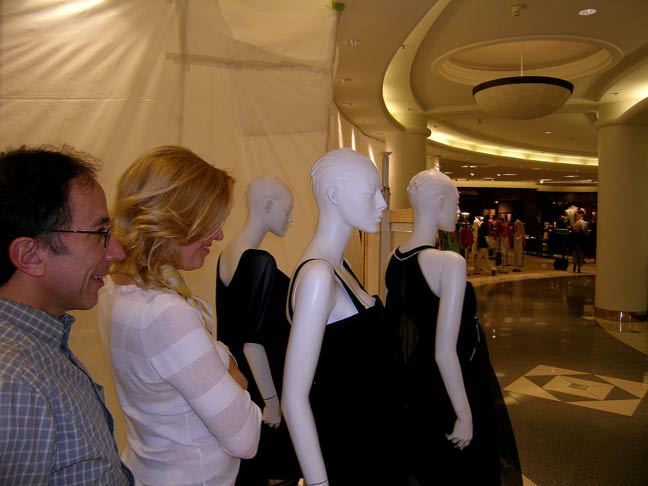 It was there so I took it.


Our host; thank you Nordstrom.


***
Mission 17 Gallery: As The Butterfly Said to Chuang Tzu - New Work by Michael Zheng.
Comment: Michael Zheng presents one of these everything-is-everything-is-whatever-you-think-it-is-or-want-it-to-be kinda deals. Or does he? I think he does. Or do I? Anyway, Zheng makes his case with an array of illusory artworks intended to elicit a range of interpretations, which they do in a rather entertaining way. The premise is based on this Taoist dude named Chuang Tzu who had a dream he was a butterfly, then woke up and wondered whether he dreamed he was a butterfly or whether the butterfly dreamed it was Chuang Tzu. I once dreamed I was an art critic, then woke up and found myself writing this.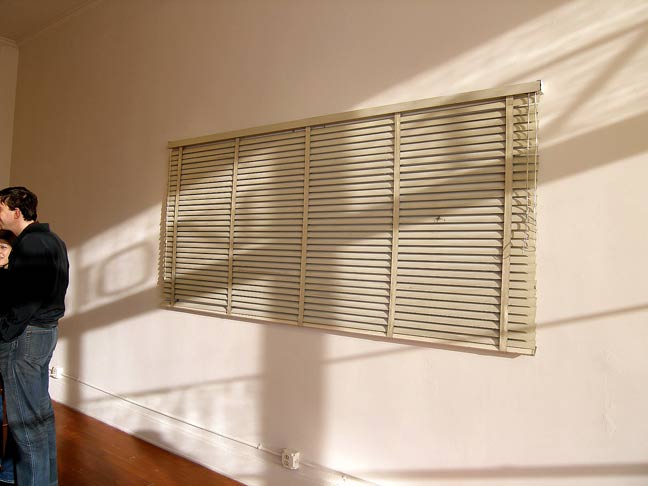 Art.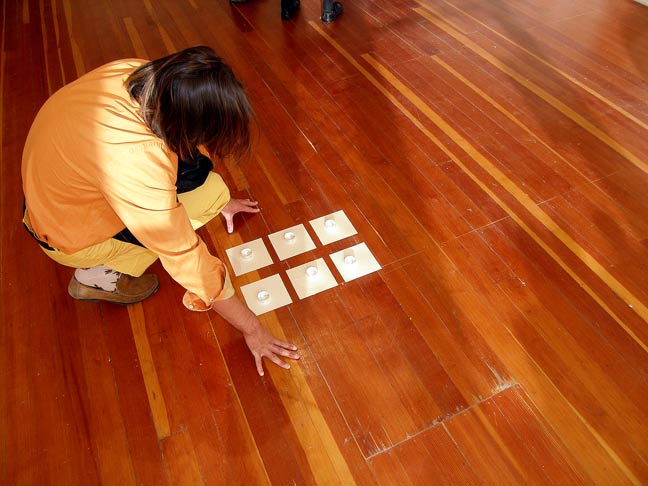 Art.


Michael Zheng - art.


Art.


Art.


Art.


***
SF Recycling & Disposal presents Art at the Dump: Bessie Kunath - The Patina of Old Things; Henri Marie-Rose - Ordures et Joie de Vivre.
Comment: The trick to transforming salvage into art is to convincingly rebirth it from the trash it starts out as into new and original composites, so when you look at it, you see art first and then consider the ingredients only as an afterthought. It's like turning butter, flour, and sugar into a cake-- you see a cake, not what it's made of. It's like squeezing a bunch of paint out of tubes, then spreading it over a flat surface with a brush and turning it into a painting-- you see a painting, not what it's made of. When you make art from recycled materials, you can't just take a bunch of junk and glue, weld, nail, sew, tape, or screw it together because then all you have is a bunch of junk that's glued, welded, nailed, sewn, taped, or screwed together. Not only must the whole be greater than the sum of the parts, but more importantly, it must eclipse and evolve beyond that sum-- and that's not happening here.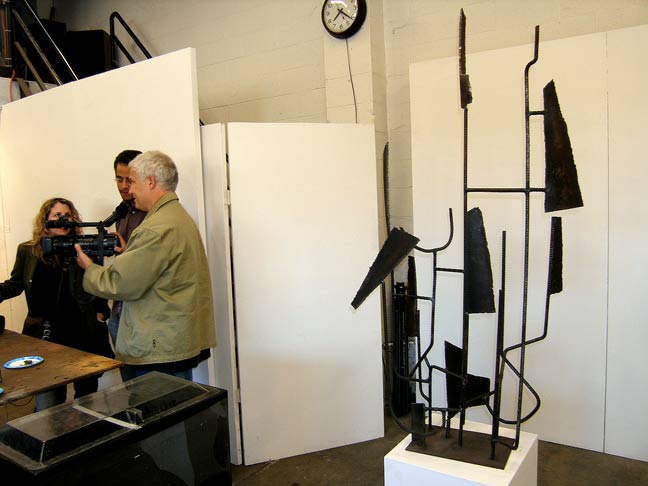 Art (Henri Marie-Rose).


Art (Henri Marie-Rose).


Art (Bessie Kunath).


Art (Bessie Kunath).


Art (Bessie Kunath).


***
Mollusk Surf Shop: Waves.
Artists: Jo Jackson, Caroline Hwang, Kelly Ording, Jung Hong, Saelee Oh, Clare Rojas, Megan Whitmarsh, Misaki Kawai.
Comment: Tight little show in Mollusk's intimate back gallery curated by Marsea Goldberg of LA's New Image Art Gallery. All good. Prices range from $100 for a Saelee Oh poster to $2500 for a precision Clare Rojas gouache titled Mermen (lookin' like it's got McGee faces). Check Mollusk out if you're in the neighborhood-- not just another surf shop.
Art.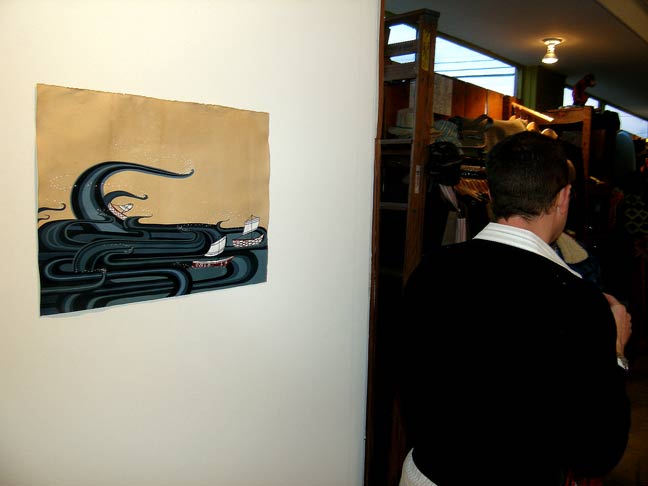 Art.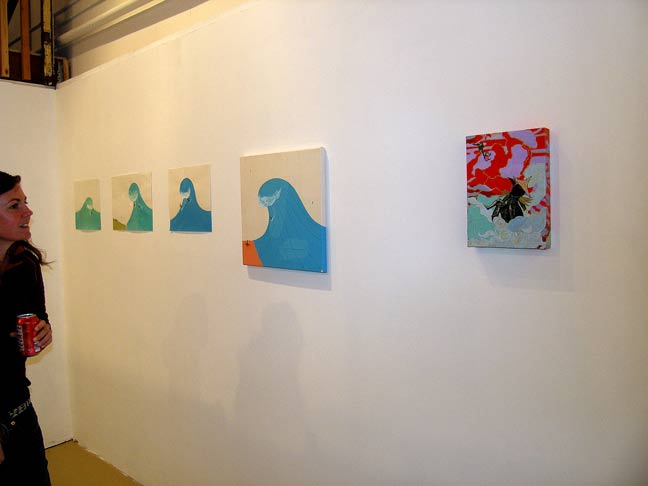 Art.


Art.


Gallery panorama.


***
Garage Biennale: The Myth.
Artists: Hailey Ashcraft, Jonathan Burstein, Keith Evans, Sarah Lockhart & Darren Jenkins, Luther Thie, Gordon Winiemko.
Comment: The pavilion for this eclectic spring summer six pack is a garage behind a Pac Heights mansion on Pacific just off Broadway. They don't announce their shows; you have to go to the website for dates and times. Tonight's fare features "custom brain fingerprinting" by Acclair, a kinetic instant video, two car windshields, intertwined figures projected onto a mansion rear window, a slide show by Gordon Winiemko, and more. Curated by Kathrine Worel. It's mainly about cognitive construct and dialogue here with copious explanatory to buttress the art.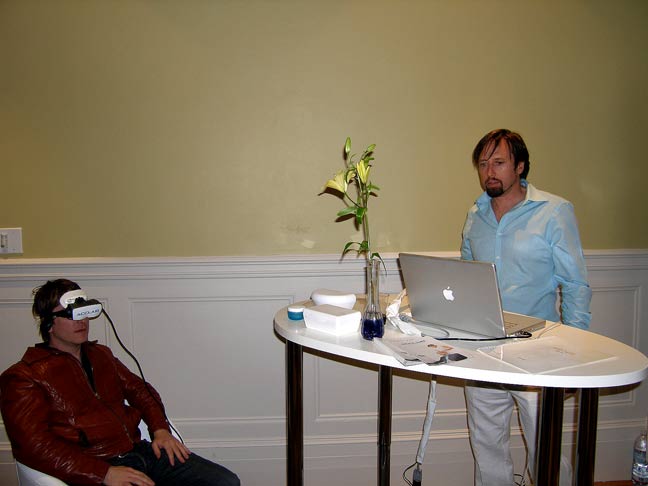 Brain fingerprinting art.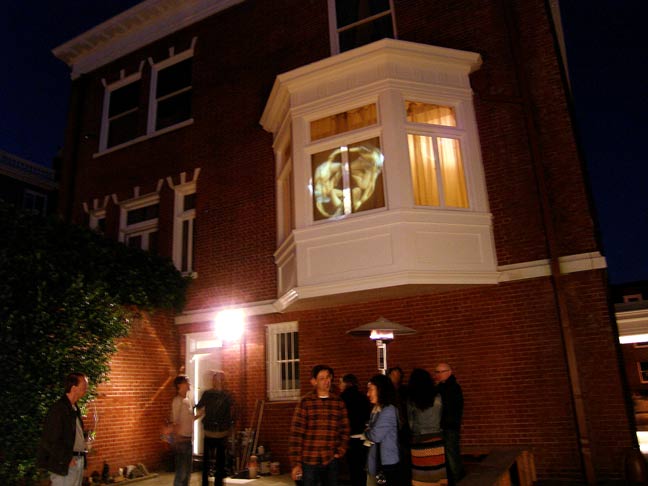 Figures projected onto a window art.


Kathrine Worel (curator) - Gordon Winiemko (artist).


Jonathan Burstein - art.


Instant video art.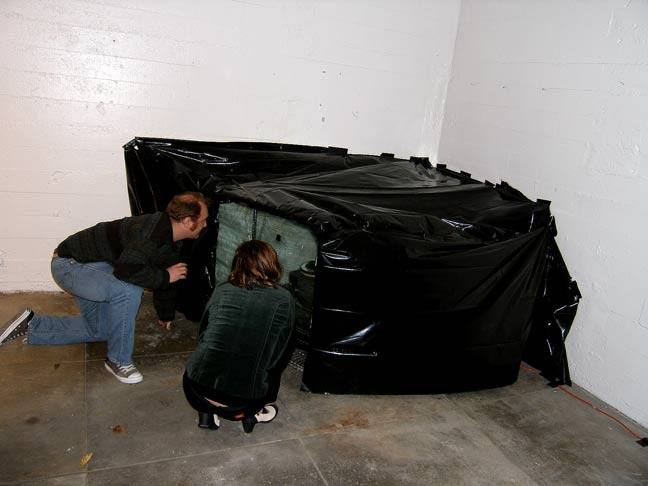 Art.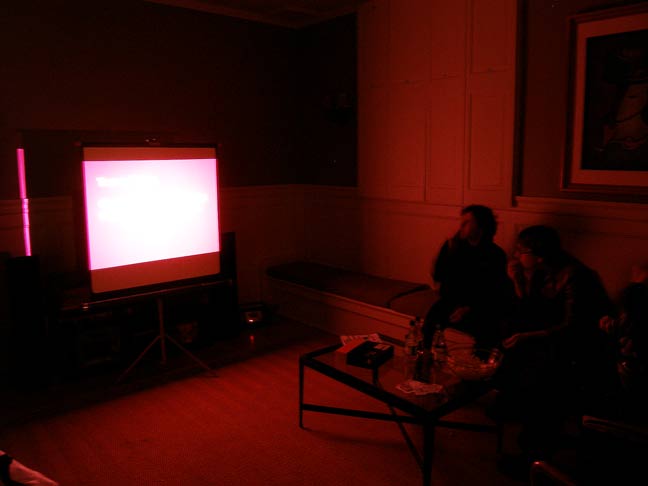 Slide show art (Gordon Winiemko).


***
The Canvas Gallery: Pete Doolittle - Positive Mutations.
Comment: Scrappy rangy melange of found objects, paintings, illustrations, photography, sculpturals, installation, and more by artist and character Pete Doolittle. This is Doolittle's first solo show, and a respectable one at that. The dude can produce enough competent art to fill a gallery, and he's got a following. That's half the battle (or maybe more than half). The Canvas Gallery appears to have consolidated its mission, morphing itself into an effective urban outpost on the Avenues, and it works.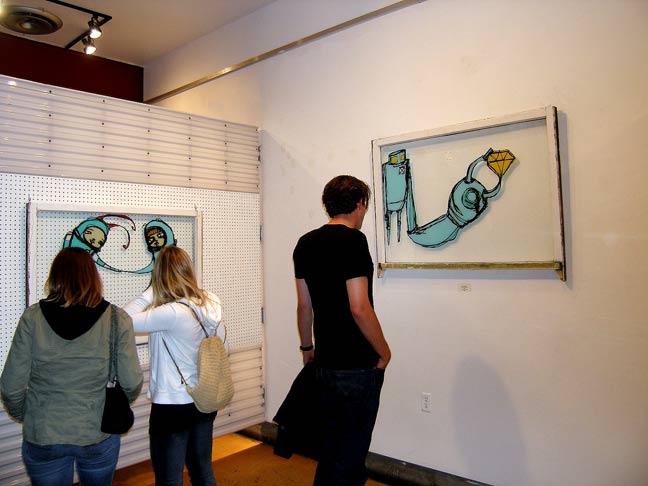 Art.


Art.


Pete Doolittle - art.


Stephanie Bousley (Gallery & Events Director).


Art.


Art.


Art.


Pete Doolittle - art.


***
Red Ink Studios: Joe Mangrum.
Comment: Joe Mangrum debuts a new installation in Red Ink's front window. It's part of a segment on his artistry currently being filmed for KQED's kulture korner, Spark, to air in the next month or so. Stay tuned.
Art partial.


Art partial.


Joe Mangrum - art partial.


Brian Shapiro raising $$ for a Culture Works roadshow
to Texas and beyond.


***
Gallery 276: Closing Celebration.
Artists: Stan Dann, Alan Chin.
Comment: One year on the radar and that does it for Gallery 276. Too bad-- way too bad. They put on an impressive series of shows, scaring up a selection of serious yet relatively unsung Bay Area talent. Their farewell performance spotlights veteran Stan Dann's intricate puzzle-like polychromed wood carvings, and the precocious proficiency of teen phenom Alan Chin, all of eighteen years old, workin' it like a pro with abstract paintings, big-ass ceramic sculptures, and spherical ceiling-hung wire paper assemblages. Need art? Principal Stephen Headley will contine to proffer privately from his East Bay digs at 510.418.5960.
Stephen Headley - art.


Alan Chin - art (I told you he was good).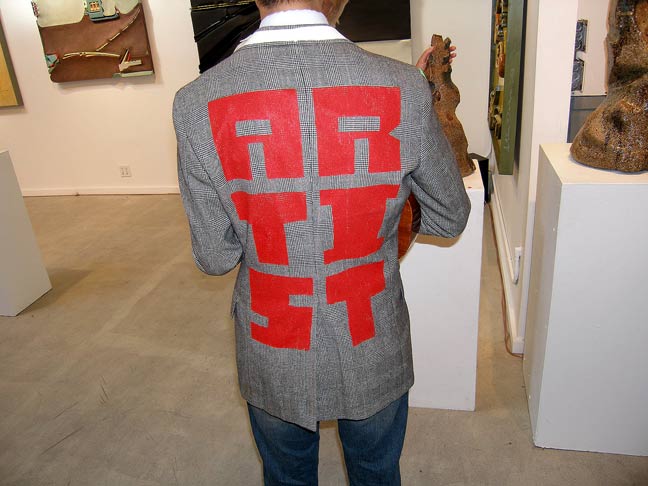 Alan Chin flip side.


Art (Stan Dann).


Art (Stan Dann).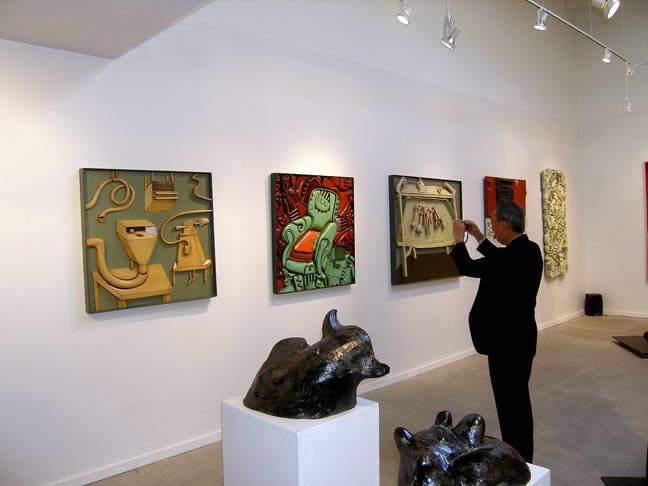 Art (Stan Dann - wall pieces).


Farewell festivities.


Bye-bye Gallery 276.


***
Giant Robot San Francisco: Eishi Takaoka - River.
Comment: First San Francisco show for Kagoshima, Japan sculptor Eishi Takoaka. His diminutive painted carved wood heads emote peaceably enough, but they're mounted in small medicine bottles to represent that constrained bottled-up rampage that often foments just south of surface serenity. Reasonably priced; most $200 - $250.
Art.


Art.


Art.


Art.


***
Addendum:
On to Robert C. Pritikin's for a quick classical saw concerto.


One more of saw jockey Bob Pritikin and fan base.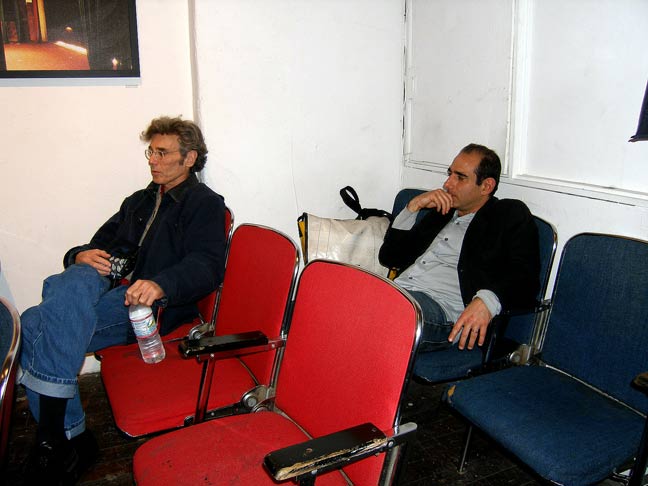 Waiting with Steven Wolf to be interviewed on Neighborhood Public Radio
by Zefrey Throwell for his show Frank Prattle.


View from the studio - Neighborhood Public Radio, 88.9 FM.


Low key lights out for Night Gallery at Arspace
after a bodacious 4-week run.


Bye-bye Night Gallery (Nathan Stapley art, right).


***