SAN FRANCISCO GALLERY OPENINGS
RATIO 3 - ADOBE BOOKS - ARTSFEST
GIANT ROBOT - VARNISH FINE ART - LOBOT
05.27-28.05
Ratio 3 Gallery: Ara Peterson - The Wedge.
Comment: When Ratio 3 owner, Chris Perez, tells me Ara Peterson laser-cut alternating black-and-white layered Op Art-esque plywood sculptures cost $8000 each, I wonder whether that might be a trifle ionospheric considering the logistics of the gallery. He graciously responds that he sells nationally rather than locally, and that many of his considerable art world contacts, both client-side and artist-side, were cultivated during his tenure as an associate curator of contemporary art at the Whitney. See? I learned something.
During the course of our chat, me being a 5-senses artster, I reach out and gently touch a slender upright portion of one of the sculptures. It gives as I make contact, I immediately pull back, Chris Perez nearly gasps, and proceeds to advise me that touching is a no-no. Now $8000 is not chump change, and if I'm gonna drop that kinda lettuce on a piece of art, I expect it to withstand normal everyday wear and tear, including people who wanna touch it, including if the cat decides to take a swipe at it, not only today, but way into tomorrow. I don't think that many artists really understnd the fact that their art has to be sturdy enough to last approximately forever. Well guess what? It does.
Me photographing Oliver Halsman Rosenberg watching
an Ara Peterson video on the ceiling.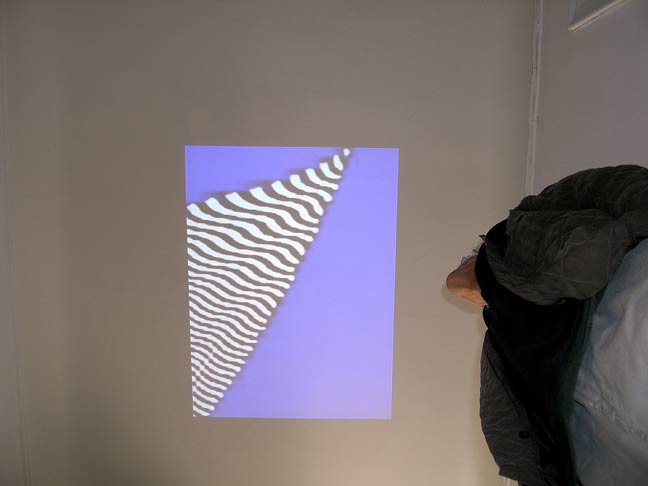 Oliver Halsman Rosenberg photographing me watching
an Ara Peterson video on the ceiling.


Chris Perez - sculpture.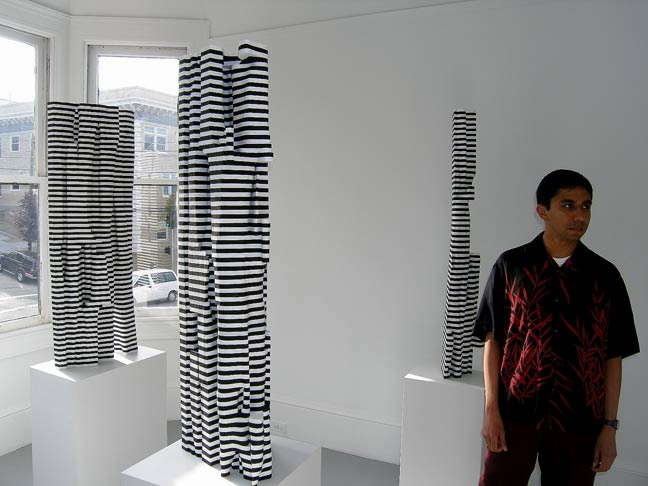 Chris Perez - sculpture.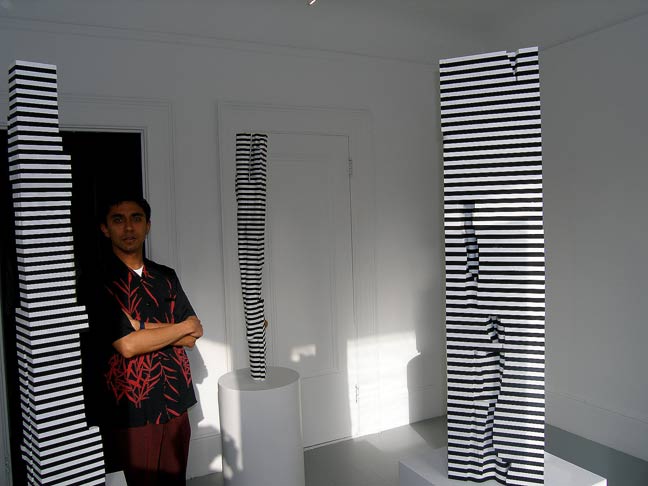 Chris Perez - sculpture.


***
Adobe Books Backroom Gallery: Oliver Halsman Rosenberg - Karmageddon.
Comment: Intricate art tends not to thrill me because my life is complicated enough already without having to add eye strain to my laundry list of travails, but Oliver Halsman Rosenberg's minute abstract pulsating organic images hypnotically fascinate, and have so much going on in them that I when do my traditional zoom-ins, I stay for a while, wandering the fantasy-scapes, something I rarely do on zooms. These dimensional commentaries incorporate representational aspects, and effectively convey Rosenberg's contention that they depict clusters of thoughts (possibly similar to Jung's Collective Unconsciousness). This is the best work I've seen Rosenberg do; he's off and running as far as I'm concerned. My favorite pieces are priced at a buy-now $500 each, but the whole show's a pick.
In the main store is a show of works by artists of Creativity Explored curated by Evan Rehill. Nothing over $100.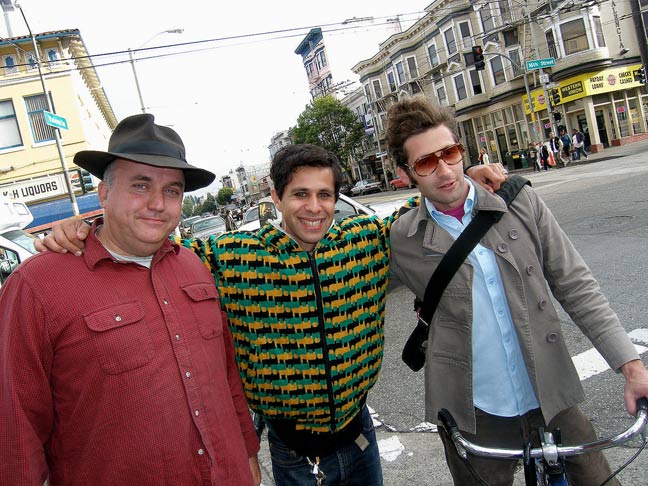 Adobe muscle Andrew McKinley, Oliver H. Rosenberg, Evan Rehill.


Art (Oliver Halsman Rosenberg).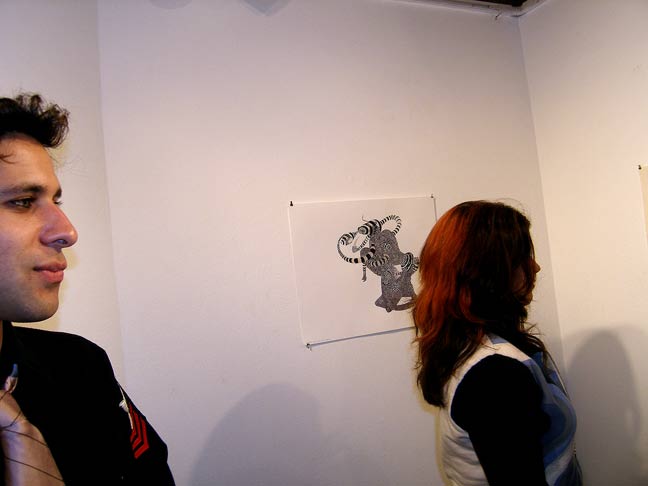 Oliver Halsman Rosenberg - art.


Art - Oliver Halsman Rosenberg.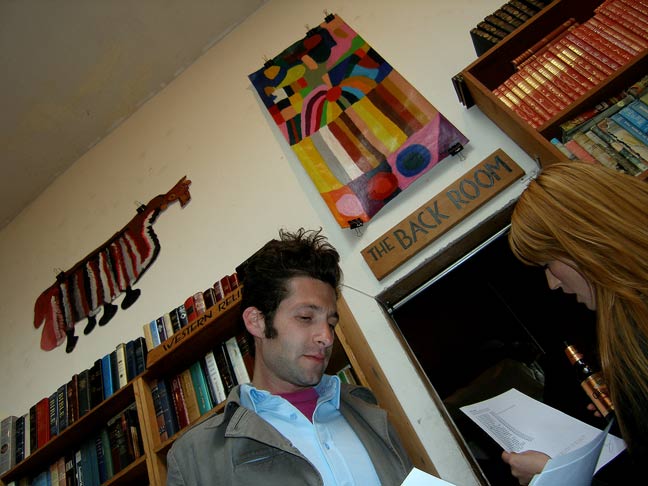 Curatorial clotch - Evan Rehill, Eleanor Harwood
Art (Creativity Exlplored).


Art (Creativity Explored).


***
artSFest: artSFest Arts Expo Gala.
Artists: Loads.
Comment: The astSFest Gala, occupying all four floors of the San Francisco Design Center Galleria Atrium, culminates a month-long citywide celebration of the arts, both visual and performing. Dozens of visual artists have work on display, performers perform, and awards are awarded. Award recipients include Rene di Rosa for Hugest Bigtime Bay Area Art Guy Ever, Felix Macnee for Best Emerging Artist, the photo folks at Hamburger Eyes (it's about time), and the Gestalt Collective muralists. The fourth floor is devoted to urban art, and that's where most of the action is-- as usual. The urban art scene, though not formalized, is pervasive and growing, and consistently attracts large amounts of attention. It's quite the phenomenon, however I'm still not quite sure how it'll ultimately nudge its way into art history.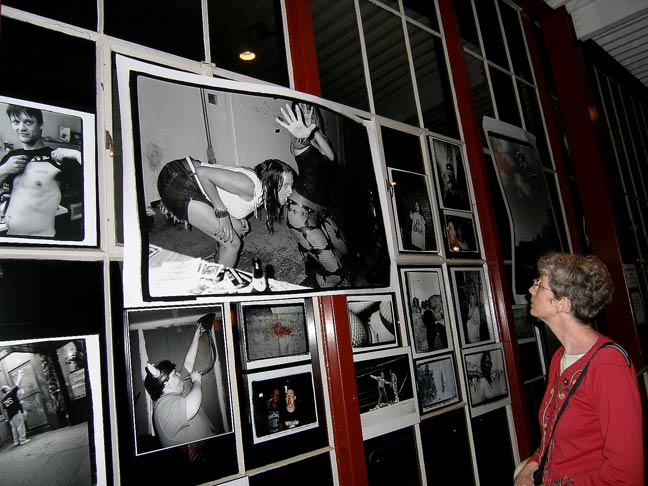 Art (Hamburger Eyes).


Rene di Rosa (left) pressing the flesh.


Art.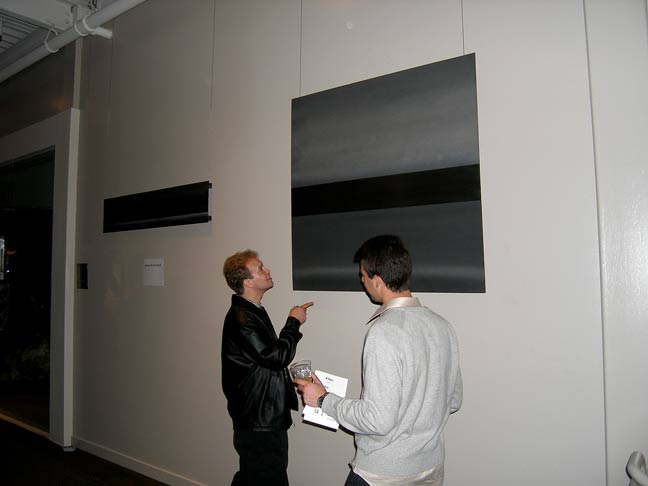 Art.


Art (Ricardo Richey, up; NoMe Edonna, down).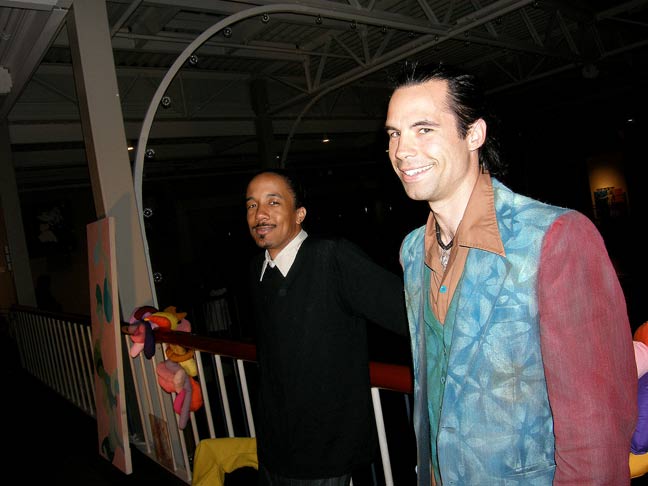 Gestalt Collectivists Ricardo Richey, left; NoMe Edonna, right.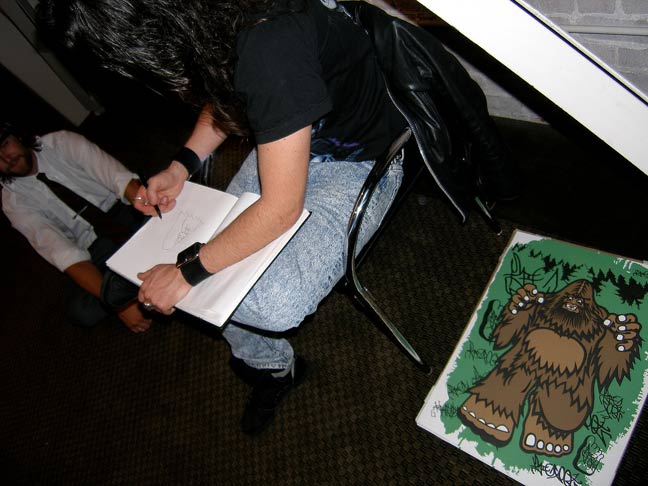 Bigfoot at work - art.


Casey O'Connell - sold everything at $150 a pop.


Urban collaborative installation art.


Lucien Shapiro - art (I think).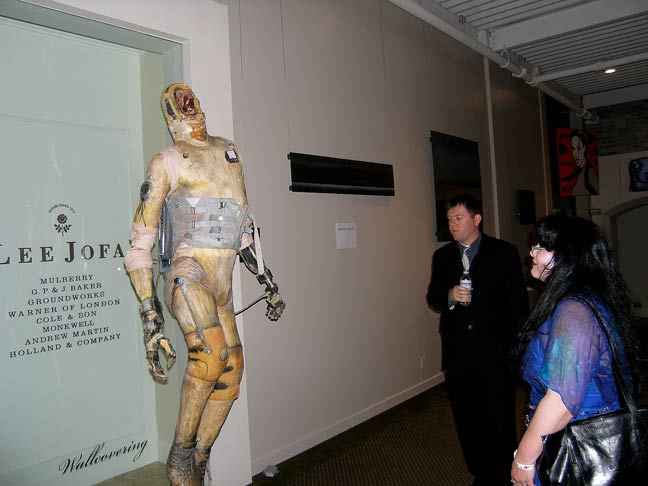 Art.


Superb pencil drawings by Death Row artist William A. Noguera.


Art (Felix Macnee).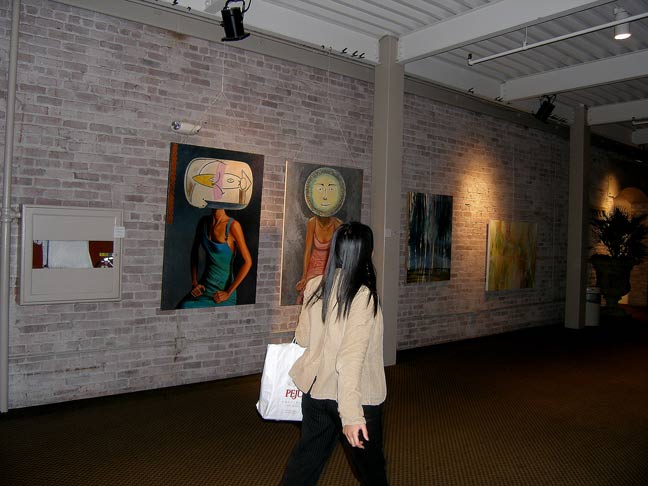 Picasso ceramics instead of women's heads art.


Translucent see-through art.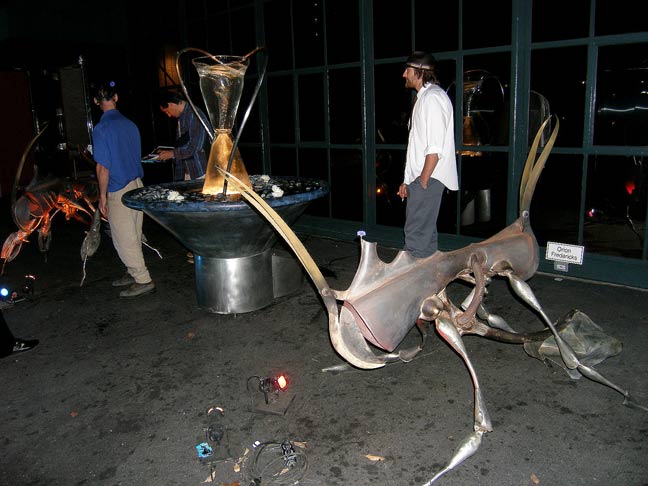 Out back.


***
Warehouse 1310: TV-27.
Artists: Fred Baptista, Jerry Blue, Tim Blue, Joshua Churchill & Ven Voisey, Renee Delores, Kenneth Tin-Kin Hung, Derick Ion, David Lim, Peter łKosho˛ McKenna, Hal Phillips, Joe Reihsen, Luke Savoy, John Swanson.
Comment: Multimedia show with videos projected onto the walls. Warehouse 1310 has injected itself into the scene from pretty much out of nowhere in a relatively short time, putting together a nice website and several decent shows.
Video art.


Video art.


From the commissary looking West.


***
Giant Robot: I'm Glad We Met - New Works and Collaborations by Saelee Oh & Souther Salazar.
Comment: Saelee Oh does clean cut-paper collage; Souther Salazar paints whimsical fanciful upbeat illustrative compositions, perfect for books, maybe even kids' books. They put it together nicely, so nicely in fact, that you can hardly see where one stops and the other one starts-- unusual for two such different mediums.
Art.


Art.


Souther Salazar.


Saelee Oh.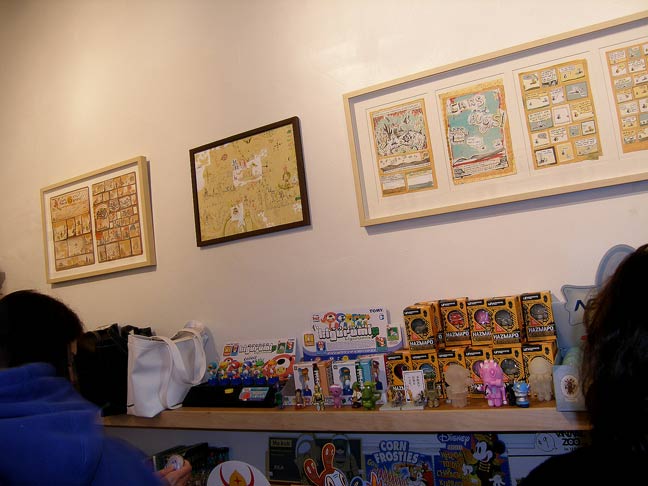 Art.


***
Varnish Fine Art: Son of Pop - Paintings by Ron English.
Comment: The art of Ron English is subversive, political, and targeted to never let us forget the high price we pay for living lives of unbridled consumptive colonialist consumerism. He skillfully incorporates film, music, marketing techniques, propaganda strategies, and publicity stunts into his work, transcending the purely visual, and morphing it into higher message. Occasionally, as with this series of acrylic and silkscreen compositions, English comes so close to co-opting the original that it's unclear whether he's decided to take a little off the top for himself with an unabashed Warhol piggyback or is remaining true to his didactic roots. The images are slick, updated, and perfect; he even employs one of Warhol's former serigraphers to do the silkscreening. An artist can either source the foundation and build on it, or just plain appropriate it. Here's the art; you decide...
Art.


Art - owner.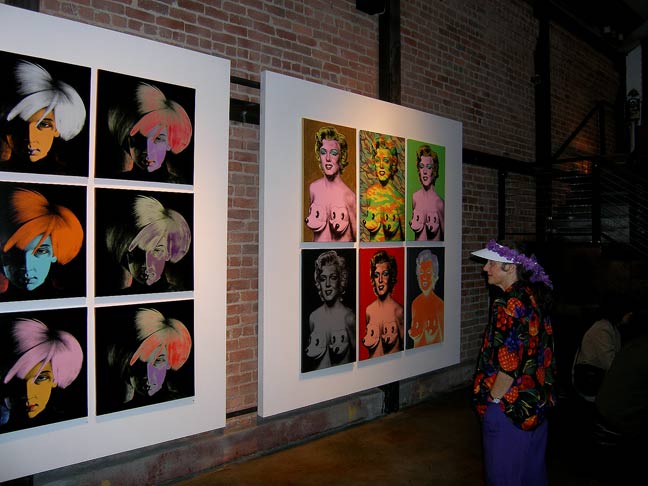 Art.


Circumstance.


***
LoBot Gallery: Mutha Print - Large Scale Prints.
Artists: Becky Alprin, Nathaniell Russell, Helen Poulshock, Miriam Ewers, Emma Spertus, Ann Tartsinis.
Comment: LoBot of West Oakland strikes again with an impressive show of biggie photo-etchings, woodcuts, intaglio prints, screeprints, woodcarvings, foamcarvings, digital inkjet prints, and photocopy transfer prints. (Factoid about me: I'm a sucker for good printmaking, especially big good printmaking.) LoBot's recent shows rank right up there with much of what I see in San Francisco, and I've gotta recommend the joint as a scout stop for maybe glimpsing tomorrow's Diebenkorns or Diebenkornettes in their formative stages. I'm thinking about petitioning the SF Board of Supervisors to offer LoBot dual citizenship or free cookies every other Wednesday or something like that. Don't worry; they'll vote on it.
Prints - I like 'em.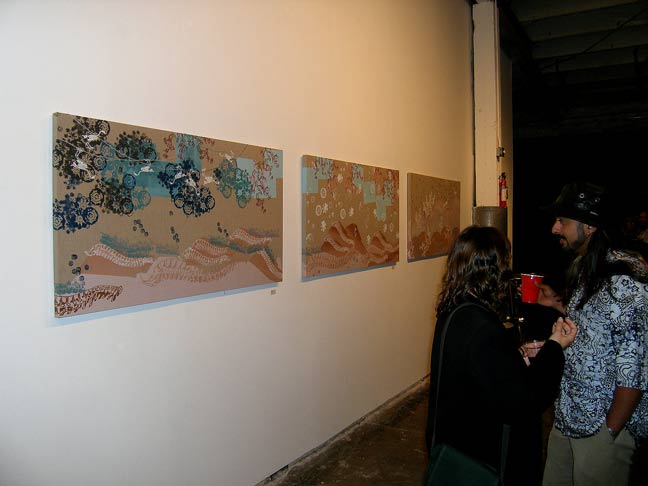 Prints - I like 'em.


Prints - pick - Helen Poulshock (I think).


Photo-etchings with spray paint - nice - Emma Spertus (I think).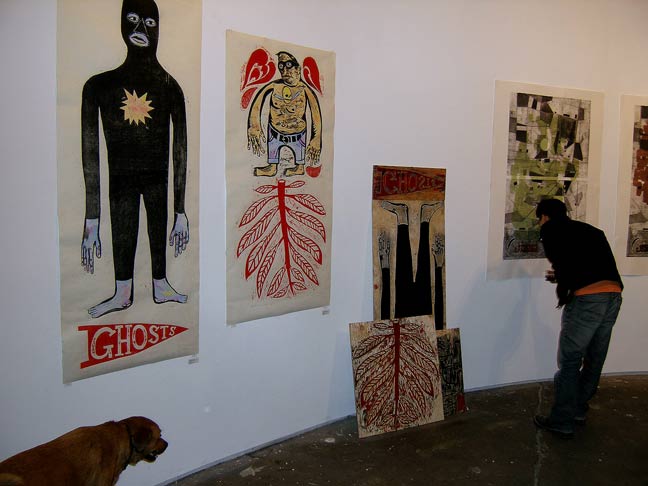 Prints.


Prints.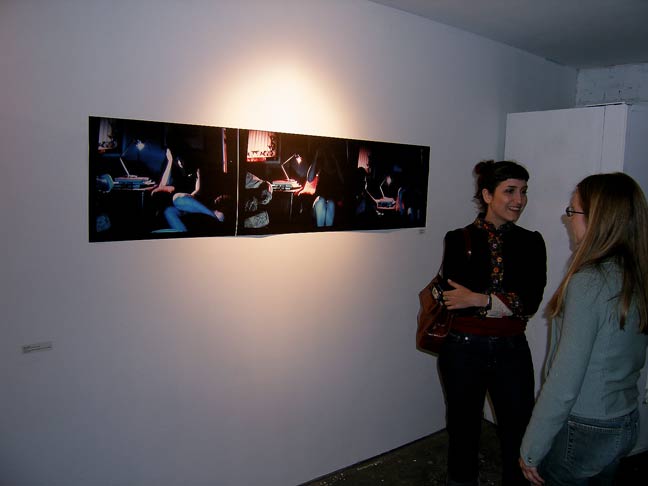 Prints.


Assessment.