SAN FRANCISCO ART GALLERIES - OPENINGS
JACKSON SQUARE SPRING FLING - ARADER - MONTGOMERY
NORTH POINT - LE TRIANON - SARAH STOCKING
MMGALLERIES
REVIEWED BY KEVIN CLARKE
05.31.07
Jackson Square Art & Antiques Dealers Association: Jackson Square Spring Fling.
Comment: A number of San Francisco's premier antiques, fine art, and decorative arts dealers open late for a stroll on the posh side. Here's a sampling...
***
Arader Galleries: Drawn And Colored By A Lady - Four Centuries Of Female Artists.
Comment: Hand-colored illustrations of flora, fauna, and still life from the 17th through 19th centuries.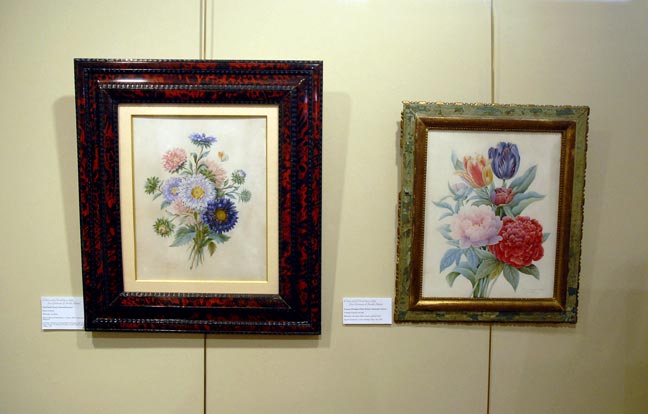 Art.


Art.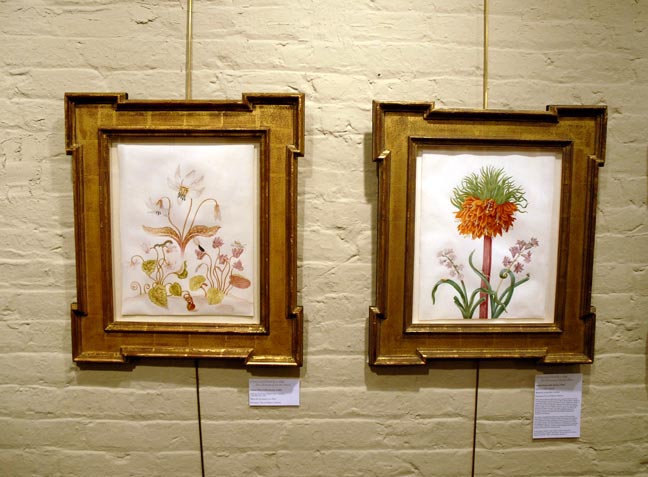 Art.


Art.


***
Le Trianon Gallery: Wayne David Hand.
Comment: Landscapes and still lifes by Wayne Hand, plus gallery selections, antique and contemporary.
Eric Sarbib (owner) - Wayne Hand - art.


Art (Wayne D. Hand).


Art (Wayne David Hand).


Gallery selections.


***
Montgomery Gallery: Gallery Selections.
Comment: 19th & early 20th Century American & European paintings with a special emphasis on the art of California.
Art.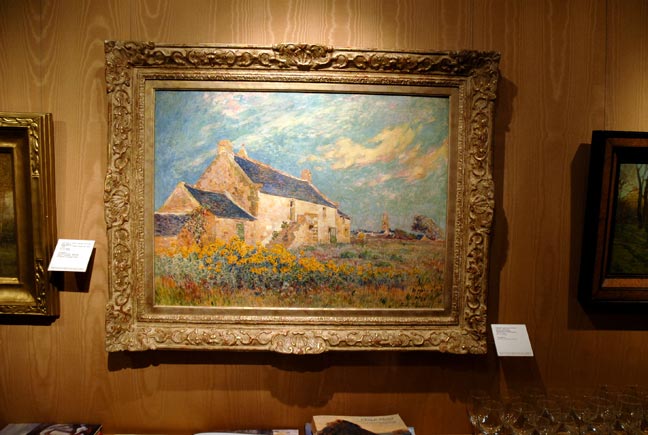 Art.


Art.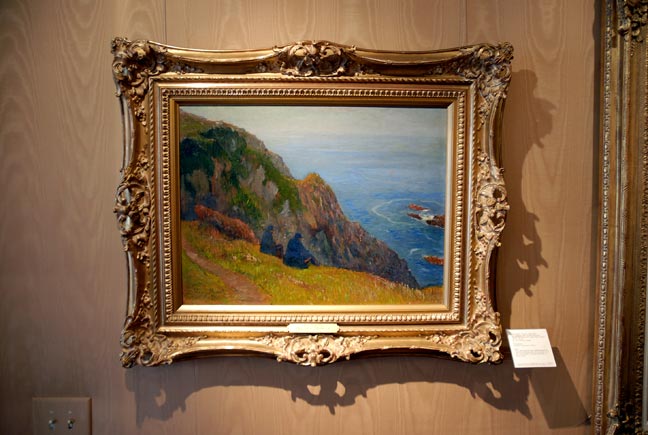 Art.


***
The North Point Gallery: Gallery Selections.
Comment: 19th century American paintings and Early California paintings.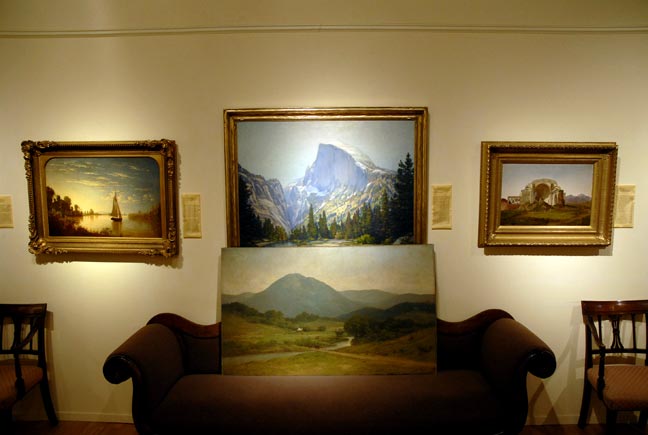 Art.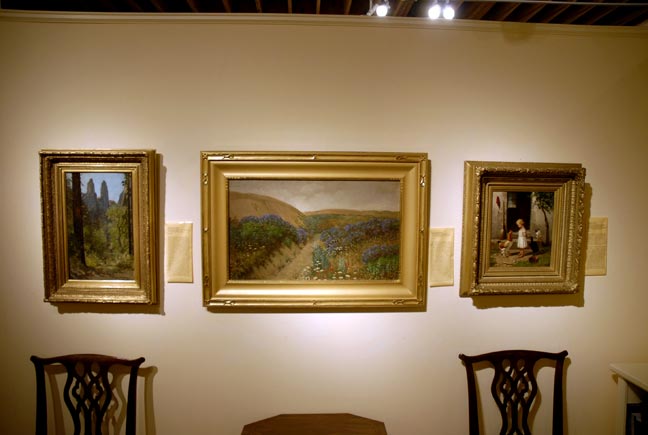 Art.


Art.


Art.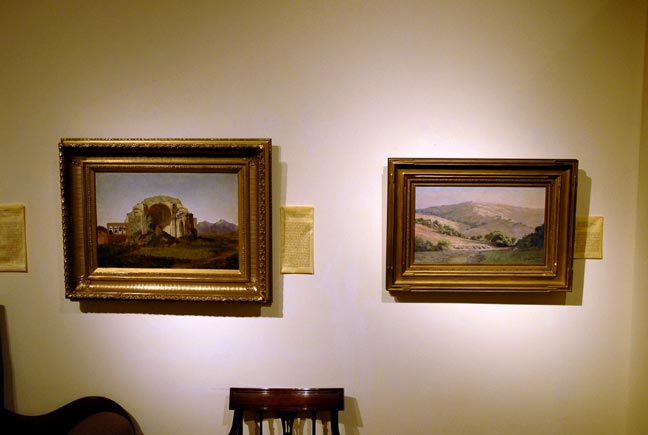 Art.


***
Sarah Stocking Antique Posters: Gallery Selections.
Comment: European & American posters, 1890-1940.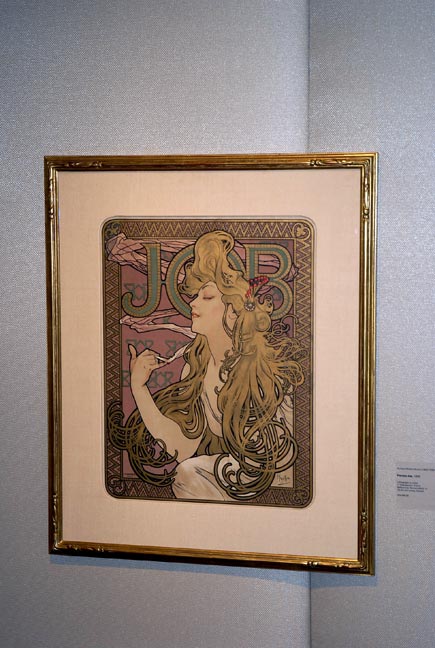 Poster art.


Poster art.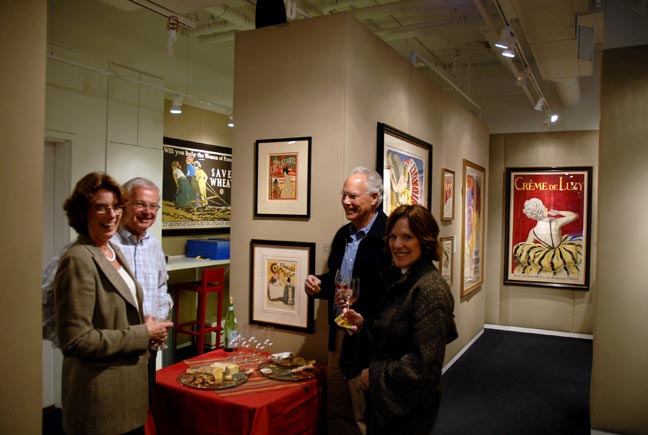 Sarah Stocking (left).


Poster art.


Poster art.


*** End of Jackson Square ***
MMGalleries: Matteo Bergamesco - Other Worlds (The Way Vision Becomes Hyper Space).
Comment: On the left-hand wall as one enters Other Worlds (The Way Vision Becomes Hyper Space), the first two paintings set up the viewer with a comparison to make throughout the rest of the show. Two paintings of illustrative figures stare at us, passport photo style, with almost identical yellowish eyes. One looks like possibly a normal Rasputin/Jesus like guy with a beard and a sport coat, and the other one a blue spiritual being made up of symmetrically clustered points of light, with his third eye cluster being its focal point. The Rasputin/Jesus is supposed to be the normal, of-this-earth part of the pair, while his counterpart is supposed to be from the "Other World," an emissary of Bermesco's vision from the place he calls Hyper Space. This is a juxtaposition I saw through the rest of the show.
It is about science and spirit-- or faux rationalism and clunky transcendence. Fictional systems resembling sacred texts or diagrammatic flora/fauna drawings are compared to chaotically colorful dreamscapes. The diagrams are segregated and treated like background information for the paintings, but would be better served if placed amongst the paintings. The technicolor dreamscapes feel like an artificial place quoting children's na´ve renderings from 10 count boxes of Crayola, but in PAINT. Glorious paint. He seems to be in love with the vibrancy of readymade primary and secondary colors and their interactions. I like the place he creates but I'm still wondering if the fiesta contra-indicates the dream. Could this be like a waking dream? Like ecstasy? The first thing the gallerist said to me was, "I know, it looks like he was doing drugs, but really, this is all just his world."
Some of the symbols from the diagrammatic work are part of the 'dreamy' paintings. It's nice to find a pearl of geometric order amongst the milieu but it is the surrounding unruly shapes and swirls that create a setting for narrative. There is too much abstract and symbolist work to call each piece narrative, but there is a story in this show. I think it's about the artist's personal journey into a new way of painting as much as it is about an 'other world' depicted in paint. I think his journey is Hyper Space. He is clearly having fun, believes in his own mythology, and has made some beautiful paintings.
Art.


Art.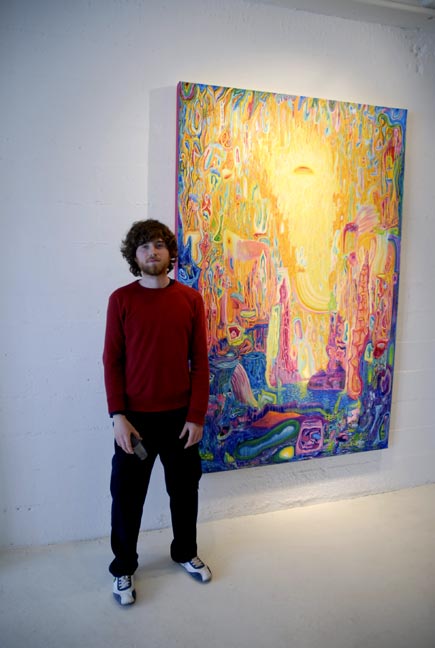 Matteo Bergamesco - art.


Art.


Art.


MMGalleries frontal.


***