SAN FRANCISCO GALLERY OPENINGS
ANDREA SCHWARTZ GALLERY - RED INK STUDIOS
HOSPITALITY HOUSE 20TH ANNUAL ART AUCTION
06.01.05
Andrea Schwartz Gallery: John Nelson - Multi Media Installation.
Comment: The centerpiece of the show appears to be a direct Margaret Kilgallen appropriation. The complete installation is designed to approximate a down-and-outer hotel, supposedly a metaphor for the dismaller side of life, which I suppose it is, but all I can think about is Margaret Kilgallen. The rest of the art's basically OK, particularly the small stand-alone paintings, though once I start thinking about an artist who's not the one whose show I'm at, the ballgame's pretty much over. You can pay homage to it, elaborate on it, transform it, borrow elements from it, reconfigure it, transmogrify it, flip it, blend it, stretch it, toast it, caramelize it, but don't copy it.
Centerpiece art.


Art.


Art.


Art.


Art.


***
Hospitality House at Haley Martin Gallery: 20th Annual Art Auction.
Comment: The Hospitality House Community Arts Program provides studio space, workshops, materials, exhibition opportunities, and most most most importantly, support for creative people who can't afford to express their creative impulses without a little help. So help them. If you missed the auction, you can always pop a check in the mail. As we all know, there can never be too much art.
Meanwhile, gallery owner and auctioneer, Stephen Tourell, continues to refine his skills at maximizing the generosity of others. At this rate, he'll soon get tapped for charity auctions all over the place, assuming he wants it, and some of those gigs pay pretty nice for auctioneers who exfoliate skins better than the competition.
Donated art.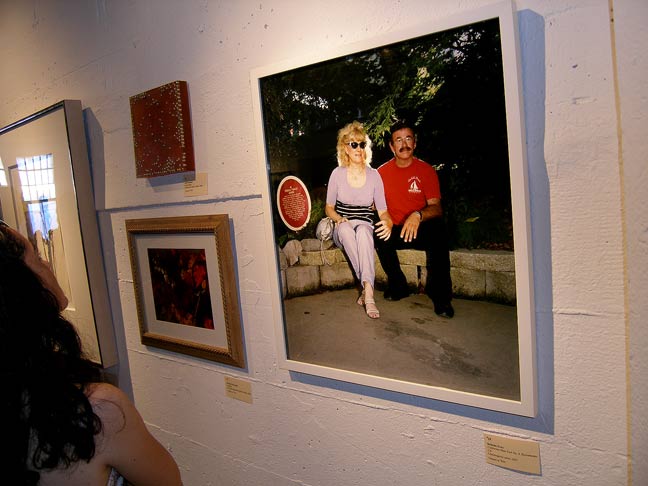 Charitable contribution art.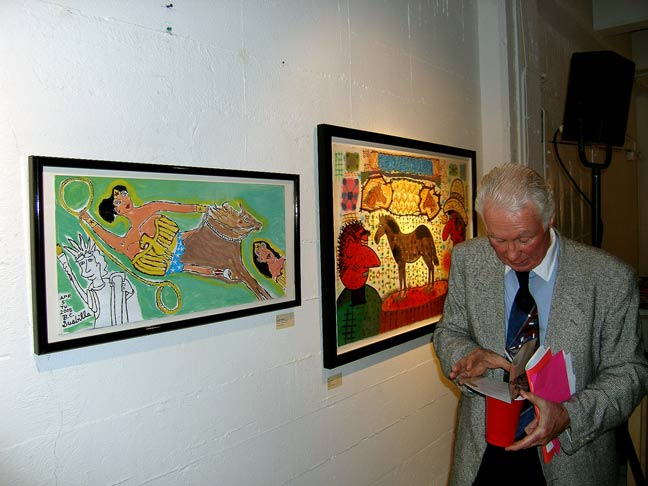 Donation art.



Extremely healthy turnout.


***
Red Ink Studios: The Waribashi Project, San Francisco, Project Launch & Works-in-Progress by Donna Keiko Ozawa; Joe Mangrum - Detonation Earth.
Comment: 25 BILLION disposable wooden chopsticks are disposed of annually. That's a lot of sticks, and a lot of sticks means a lot of trees, and that's what this show is about-- chopping down trees to make sticks. The chopsticks on display have been collected by Donna Ozawa with the help of the Japanese Community and Cultural Center of Northern California (JCCCNC), sanitized, and made into art. But we can't make 'em all into art, so what do you say we just use less of 'em? While I was at the show, some clueless dope walked straight through the artwork, effectively destroying one of the meticulously sculpted stick mounds, and didn't even stop to apologize. Oh-- almost forgot-- Donna Ozawa receives the rare and highly coveted "How-Do-Dey-Do-Dat?" award for creating her chopstick extravaganza entirely without glue or adhesives.
Detonation Earth, a plant and salvage installation by Joe Mangrum in Red Ink's four-story atrium, mocks up a mushroom cloud of wheat grass laying waste to civilization. Seems to be the road we're headed down at the moment, except not with wheat grass.
Chopstick art (Donna Keiko Ozawa).


Civilization art (Joe Mangrum).


Chopstick art (Donna Keiko Ozawa).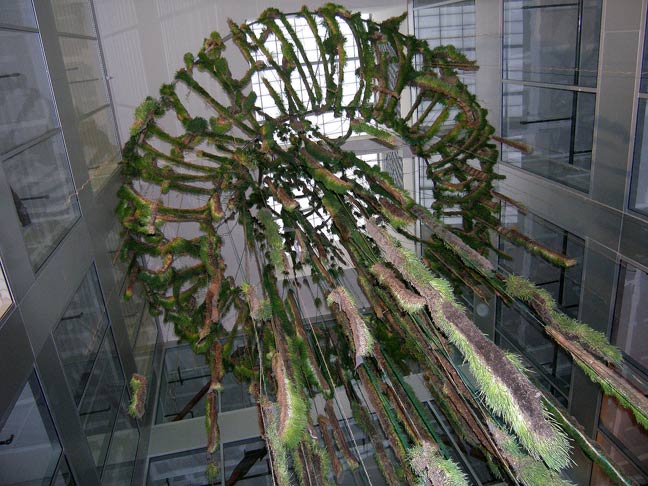 End of civilization art (Joe Mangrum).


Chopstick art (Donna Keiko Ozawa).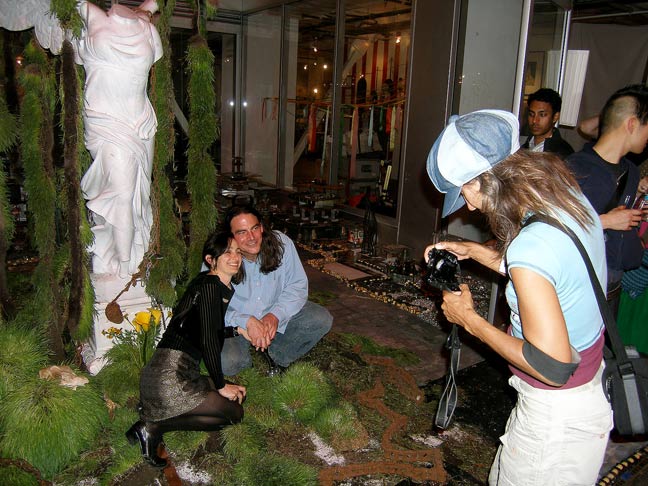 Joe Mangrum and partner Deborah Davis-Price get photo-opped.