SAN FRANCISCO ART GALLERIES - OPENINGS
DRUG STORE GALLERY - EDO SALON - ARSPACE
CHANDLER FINE ART - SOMA ARTISTS STUDIOS - ASPECT GALLERY
06.02.06
Chandler Fine Art: Jessie Allen - Paintings.
Comment: Jessie Allen's been painting for over 40 years, receiving high praise as early as the psychedelic sixties for his tripped-out visionary fantasyscapes. He tells me he has hundreds of paintings and watercolors available to show and sell, and that means only one thing-- sooner or later some gallery somewhere will present, promote, and resurrect his reputation in a significant way.
Art.


Jessie Allen - art.


Art.


Art.


***
SOMA Artists Studios, 689 Bryant St., San Francisco, CA 94107; 415.381.9180: Full Spectrum.
Artists: Jessica Allee, David Bryant, Louis Bording, Flora Davis, Kat Flynn, Keiko Fujimoto, Jeremy Garza, Tama Greenberg, Jana Grover, Kevin Hailey, Mark Harris, Carolyn Hinman, Martine Jardel, Wago Kreider, Suzanne Radcliffe, Scott Rankin, Lillian Rubin, Snaxxstudio, Anee Subercaseaux, Deloris Thomas, William Ulrich, Mike Kimball, Nora Kruys, Laurielu, Lois Lewellyn, Joanna Mendicino, Sheila Nichols, Nanci Price Scoular.
Comment: Group open studio event; they hold them several times per year. All artists open their studios for the weekend. Best visual-- the husband (I think) of collage artist Kat Flyn sits beside his modest but cherry collection of Hippie memorabilia including his original Woodstock T-shirt (bought there), a pair of Peter Max Tennis shoes, and an American peace sign flag.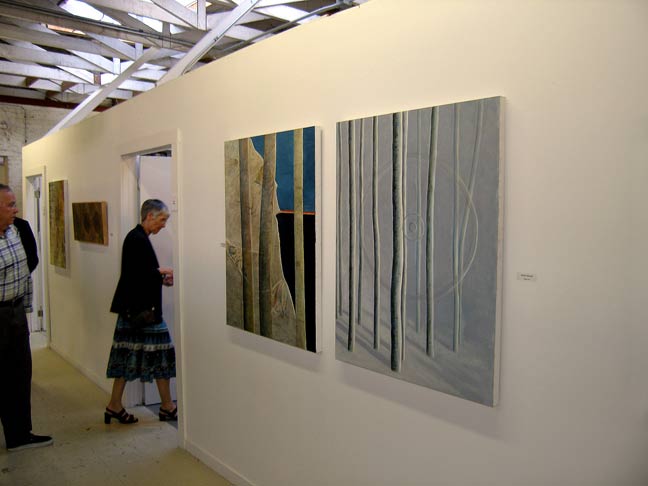 Art.


Art (Carolyn Hinman).


Kat Flyn's husband (I think) - Hippie memorabilia.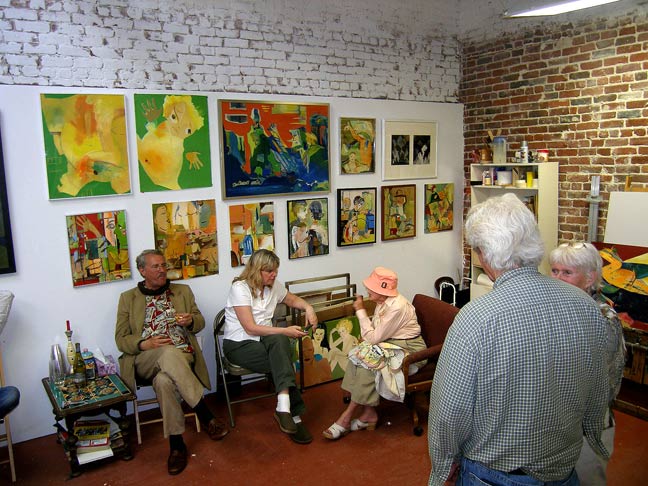 Art.


***
Arspace Gallery: Ethsix.
Artists: Brian Caraway, Chris Cobb, Norma Cordova, David D'Andrea, Monica Canilao, Eve Ekman, Jana Flynn, Chris Grahm,Nicole Hill, Mary Howe, Amie LeeKing,Linda Nguyen, Dave Potes, Ted Pushinsky, Sham, Adam Wier.
Comment: Release reception for Ethsix, a magazine focused on identifying and presenting some of San Francisco's most difficult social problems and issues, ones that the general public tends to know little or nothing about. The magazine is a combined effort of the schools of Journalism and Social Work at UC Berkeley. The articles are illustrated by a number of our more promising urban artists, much of that art on view here tonight. Gotta go with the Monica Canilao collages-- nice. A pretty good show overall. The magazine is available at Arspace and elsewhere for $5.
Art.


Collage art (Monica Canilao - like 'em).


Ethsix Magazine.


Art.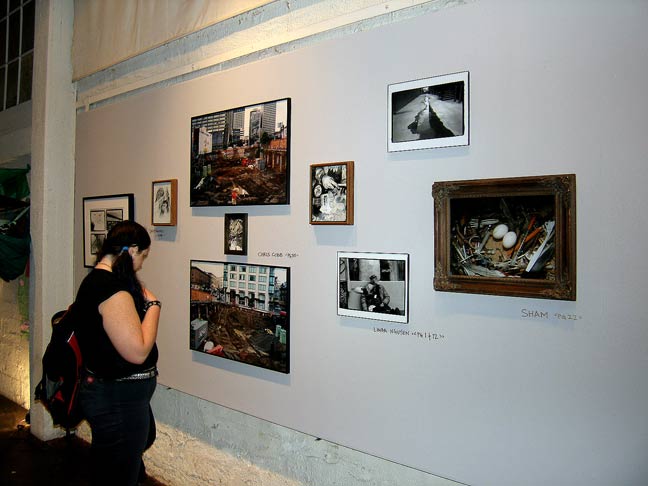 Art.


***
The Drug Store Gallery: Haiku - New Paintings by Felix Macnee.
Comment: The art of Felix Macnee trends tricky for me. It's abstract, representational, stream of consciousness, and whatever else you might want to mix in. Tonight, it's on the essential side-- clean, basic, direct-- yet by no means yielding a quick easy fix. Each painting comes complete with its own Haiku title, sort of a crib sheet to help you cogitate your way to meaning. I'll tell you one thing-- Macnee's never boring, he keeps getting better, and the compact competent confident compositions on display here are among the best I've seen. Plus he brings his own floor show including tunes (tonight courtesy of Cheryl Leonard and guests), characters, cognoscenti, and collateral curiosities.
Art.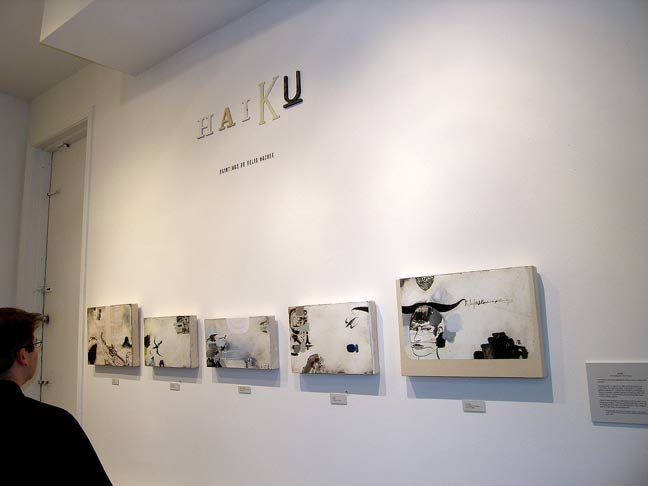 Art.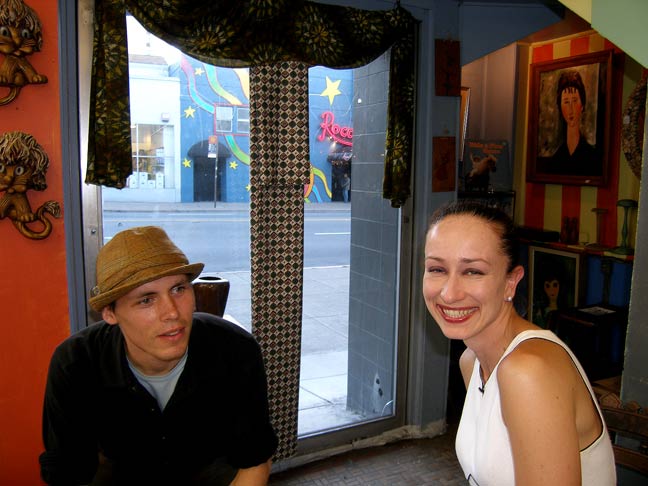 Felix Macnee (left).


Art (like it).


Art.


Tunes.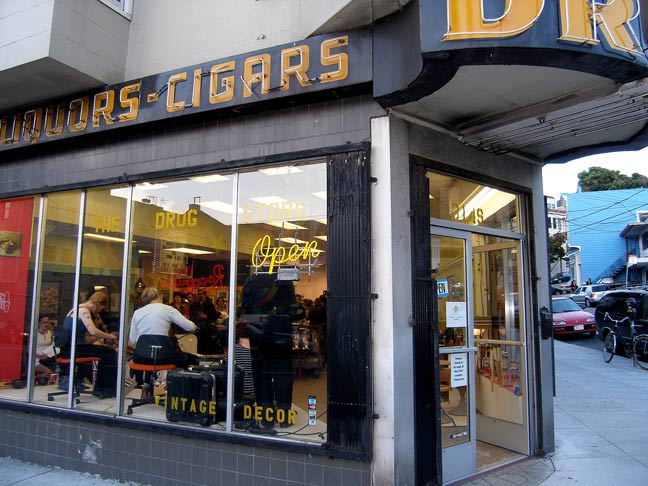 Drug Store Gallery frontal.


***
Addendum:
Alexandre Koulouris, Scott Reilly, Ray Lobato at Aspect Gallery.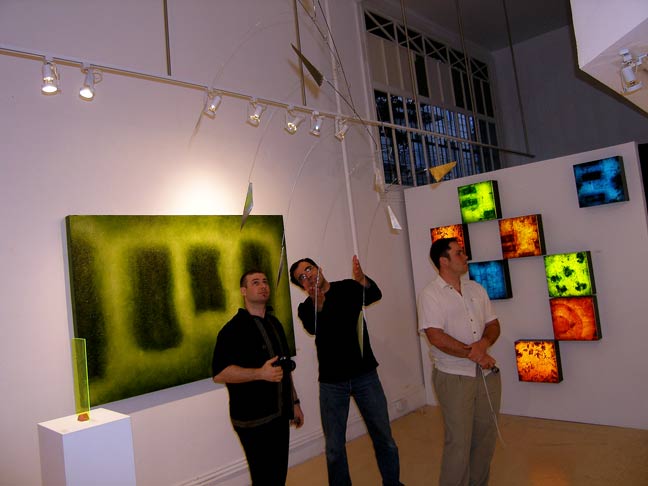 Light & Motion (art that moves or uses light) at Aspect Gallery.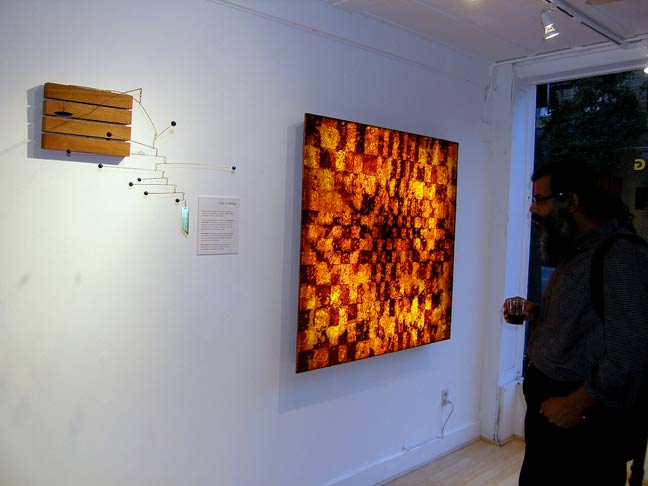 One more from Aspect Gallery.


Lisa Congdon at Edo Salon.


Lisa Congdon mixed media at Edo Salon.


Final Lisa Congdon at Edo Salon.


***