SAN FRANCISCO ART GALLERIES - OPENINGS
LIMN - GALLERY 16 - ONE TASTE
MARKET STREET GALLERY - MISSION 17
QUEEN'S NAILS ANNEX
06.08.07
Limn Gallery: Sabrina Raaf - Test People; Beneath the Skin.
Artists (Beneath the Skin): Jaq Chartier, Leigh Anne Lester, Nathaniel Price, Klari Reis, Laura Splan.
Comment: Sabrina Raaf's science fiction photography documents a future where people overcome the force of gravity and float around when they feel like it. But according to the premise, these anti-gravity developments are only recent, people haven't had the opportunity to perfect their airborne antics for long, and they're still learning to float like pros. The upshot? Their hoverings sometimes go awry, as Raaf's images attest. Meanwhile in the gallery's rear quadrant, a group show mainly investigates scientific circumstances relating to the human mind and body.
Photos (Sabrina Raaf).


Photography (Sabrina Raaf).


Images (Sabrina Raaf).


Photographs (Sabrina Raaf).


Photos (Sabrina Raaf).


Matchstick cranium art (like it).


Art.


Art.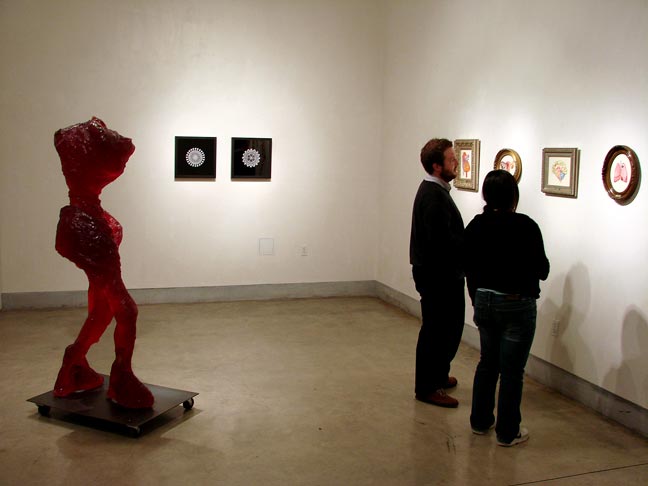 Art.


***
Gallery 16: Alice Shaw - A Group Show.
Comment: How can one artist can have a group show? Present three bodies of work so distinctly different they look like they're by different artists. In this case, Alice Shaw photographically pairs herself with her "physical opposite," a black transvestite, in one series of images. In the second, she combines vintage photos of Charles Dodgeson (Lewis Carroll) and E. J. Bellocq into those whatchamacallits (I forget the name) where the image you see changes back and forth from one to the other depending on where you stand when you're looking at it. And the third consists of a single color photo shot from the perspective of looking into a storefront window.
Photographs.


Photography.


Images.


Photo.


Photography.


Photos.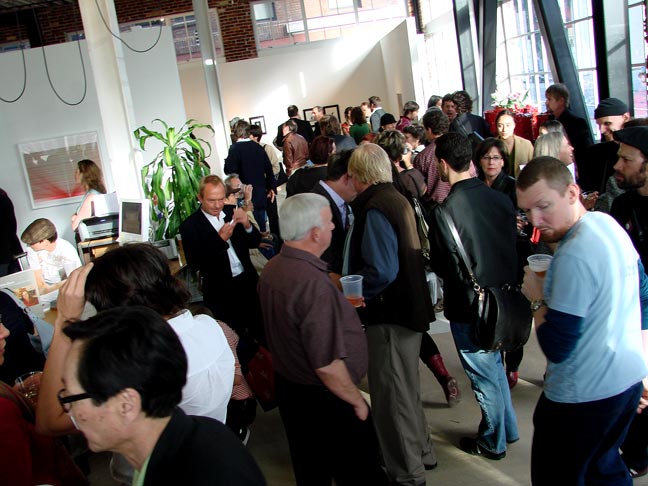 Essence.


***
ARTworkSF at One Taste Urban Retreat Center: Gnea Barnes - Contraposed Harmonies.
Comment: Photo-collages of nude female torsos, cropped, colored, and overlaid.
Photos.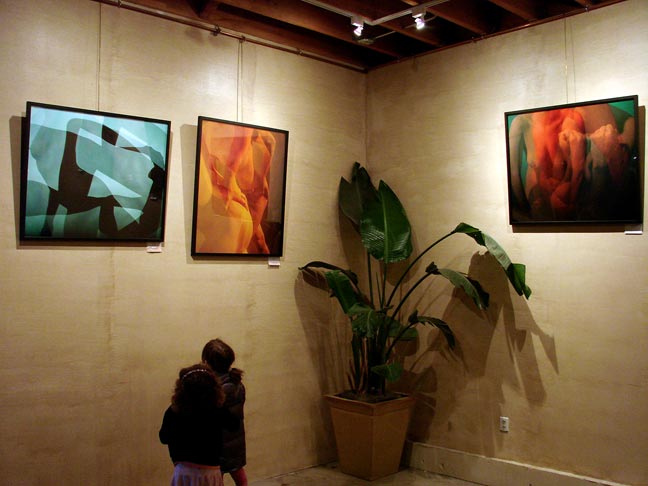 Photographs.


Photography.


***
Market Street Gallery: ReArt - The Art of Re-use.
Artists: Aimee Baldwin, Cole Bauguss, Jim Caddick, Claudia Chapline, Jerry Chatham, Amanda Curreri, Mike Farruggia, Valerie Harris, Al Honig, Michael Kerbow, John Kuzich, Lilli Lanier, Laurielu, Jane Newman, Mari Naomi, Jessica Niello, Emiko Oye, Dennis Parlante, Judy Pettite, Jon Rolston, LaVonne Sallee . Joyce Savre, Vivian Schupbach, Lorna Stevens, Charles Stinson, Harold Thomay, William Ulrich and Hillary Williams.
Comment: Art from found materials, a little of this and a little of that, refuse recycled into a second life. My favorite-- a jumbo red rabbit's foot by Michael Kerbow.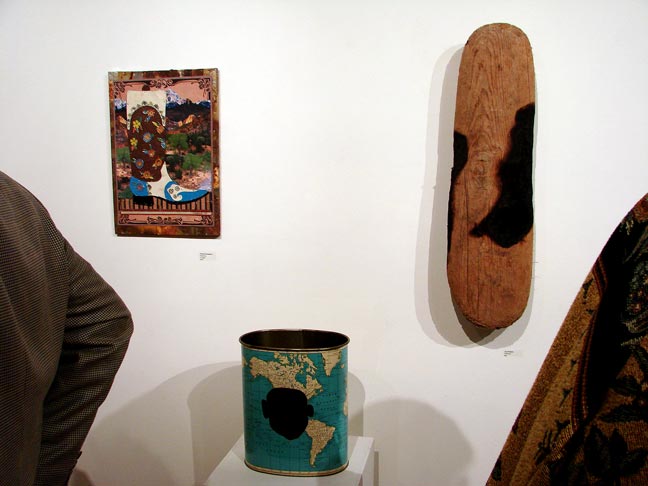 Art.


Lucky art (Michael Kerbow - like it).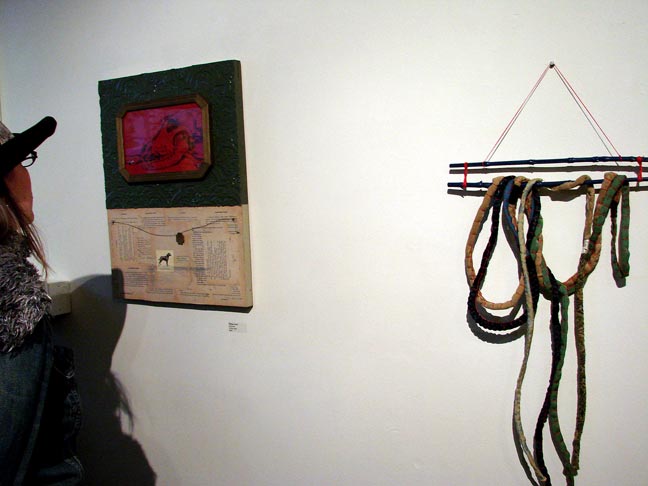 Art.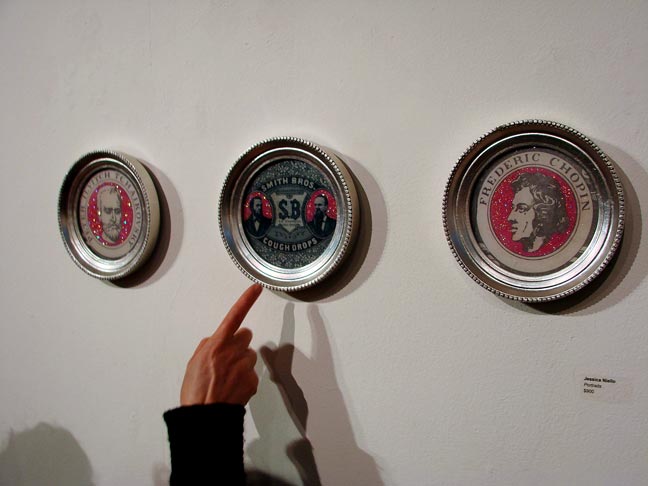 Art.


Art.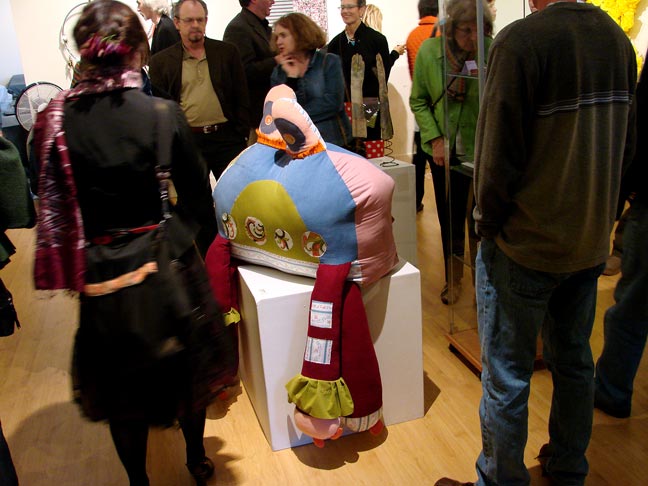 Head count.


***
Mission 17 Gallery: Joey Enos & Craig Doty - The Party's Over.
Comment: Most of us know exactly what it's like when the party's over, but in case you've forgotten (or in case you don't party), this show is a convincing reminder of the generally less-than-pleasant aftermath. Somebody please pass the aspirin...
Before party.


After party (reminds me of college).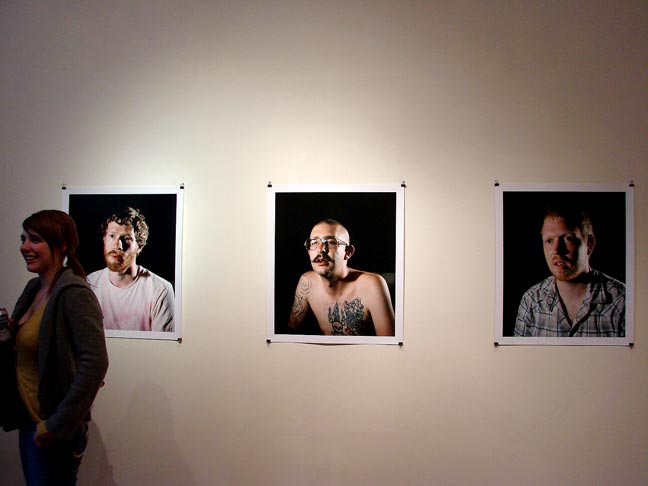 Before party.


After party.


Not quite sure what this is about.


***
Queen's Nails Annex: QNA Royale.
Artists: Keith Boadwee, Nate Boyce, Joe Deutch, Felipe Dulzaides, Mary George, Eamon Ore-Giron, Jason Jagel, Bill Jenkins, Jim Jocoy, Paul Kosteros, Stella Lai, Isaac Lin, Jennifer Locke, Juan Luna-Avin, Erlea Maneros, Marcela y Gina, Julio Cesar Morales, Pete Nelson, Gina Osterloh, Marcos Rios, Patrick Rock, Will Rogan, Bayeté Ross Smith, Chris Sollars, Brian Storts, Margaret Tedesco, Matt Volla , Brian Wasson, Brenna Yongblood, more.
Comment: Silent art auction, performance, games of chance, moonshine distilled from candy corn (it's good too-- boing!), and more highlight this endeavor to finesse funds from the Queen's Nails Annex fan base to help maintain the gallery. In case you couldn't make it, I'm sure they'll still take your bux. And why you should give? Because Queen's Nails Annex shows the most progressive groundbreaking innovative vanguard art in town, and as we all know, being ahead of the curve is not generally a moneymaking proposition. So pony up the pesos, dear artsters; QNA needs your financial assistance to continue doing what they do so well. That simple and no more complicated.
Art.


Art.


Art.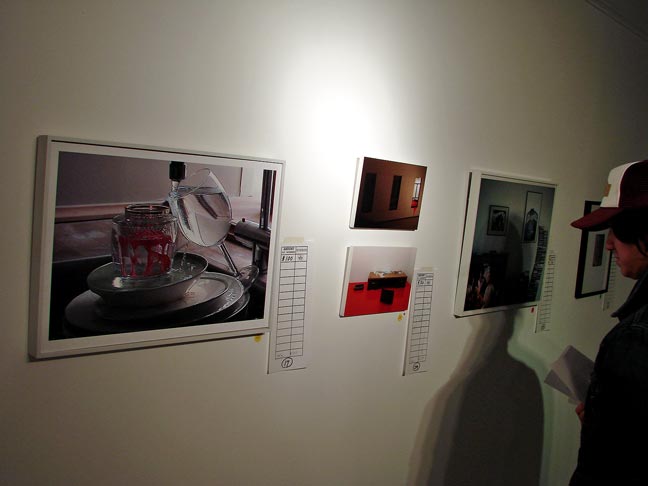 Art.


Buying chips for art poker.


Art poker in progress.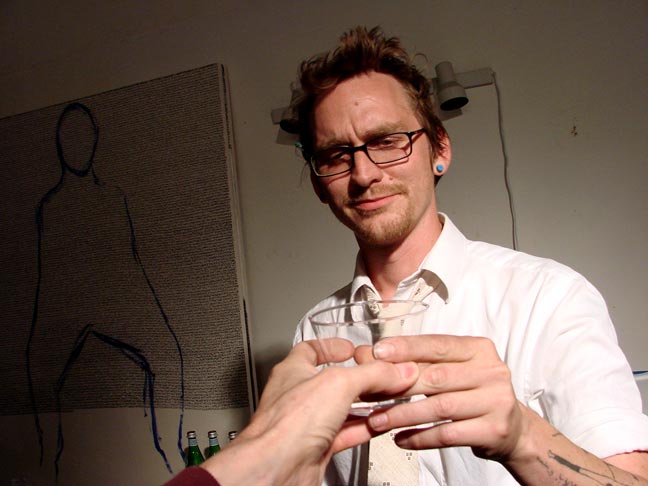 Hooch dude proffers product.


***