SAN FRANCISCO GALLERY OPENINGS
ARTSEED - PACIFIC RIM SCULPTORS GROUP
EDGEWISE ARTS - FUTURE PRIMITIVE SOUND
THE SHOOTING GALLERY - ARSPACE
06.09.05
ArtSeed: ArtSeed Bridges - Fresh Roots to Full Bloom.
Comment: A benefit auction at the San Francisco Art Institute to raise funds for ArtSeedıs Apprenticeship Program, providing vocational guidance to Bayview Hunters Point youth through yearlong artist mentorships. ArtSeed pairs mentoring artists with at-risk youth, and offers a variety of services including portfolio building, private lessons, classes, lectures, field trips, and much more. Note to artists-- donating your art to worthy causes is eternally good.
Donated art.


Donation art.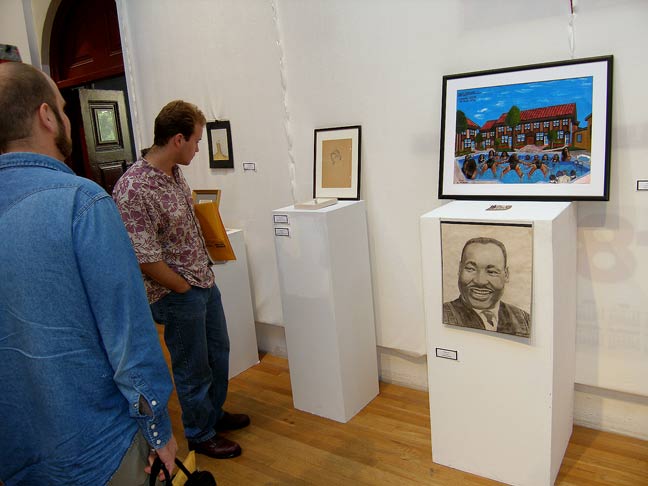 Contribution art.


View.


***
Pacific Rim Sculptors Group: Group Show.
Comment: The Pacific Rim Sculptors Group was formed in 1988 by six San Francisco Bay Area sculptors to establish a new forum for area sculptors to meet, exchange ideas, and exhibit their work. They've got a killer exhibition space, the Atrium at 600 Townsend, formerly the Contract Design Center, and for some inexplicable reason, their shows are consistently among the most enjoyable I go to. More artist groups should look into showing art in this space-- it's really outstanding.
Sculpture.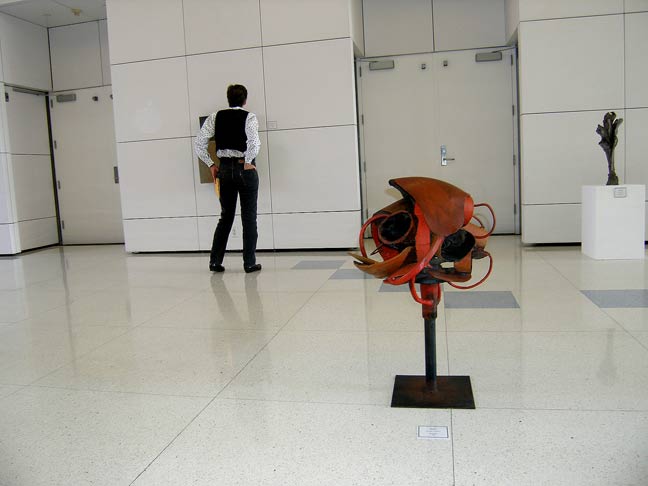 Sculpture.


Sculpture.


Sculpture.


Sculpture.


Sculpture.


***
Ghost House, 1947 Mission Street, San Francisco CA 94103; 415.255.3094: Paintings by Robert Bilensky.
Comment: I arrived a mite early; the owners were still hanging the show; I took a couple of quick pics; they asked if I would come back later. I would have loved to, but sorry-- can't. Tight schedule. The art looked pretty decent. Oil paintings; impasto.
Art.


Art - out.


***
Future Primitive Sound: Old Soul - New Work by Kelly Tunstall.
Comment: The title refers to old Soul music, that classic Motown sound I grew up with-- The Temps, The Four Tops, Aretha, Junior Walker and the Allstars, Jackie Wilson, Archie Bell and the Drells, Tim Tam and the Turn Ons (kidding-- just seeing if you were paying attention), Sam & Dave (love 'em), The Capitols (Cool Jerk)-- uh oh-- too far off topic-- back to Kelly Tunstall. Kelly Tunstall, designer and artist, works in a variety of media including chocolates, fashion, print illustration, and more. The brief intro on the invite verges on puffery; I'd tone it down just a bit. Remember-- no matter how you frame it, the art remains precisely the same. I suppose if you fluff the stats, you might snag an extra sale or two in the near term; Kelly Tunstall appears to be in it for the long haul. Prices range from $125-$5000 with plenty under $500. Take your pick-- sumpin' for everybody.
Art.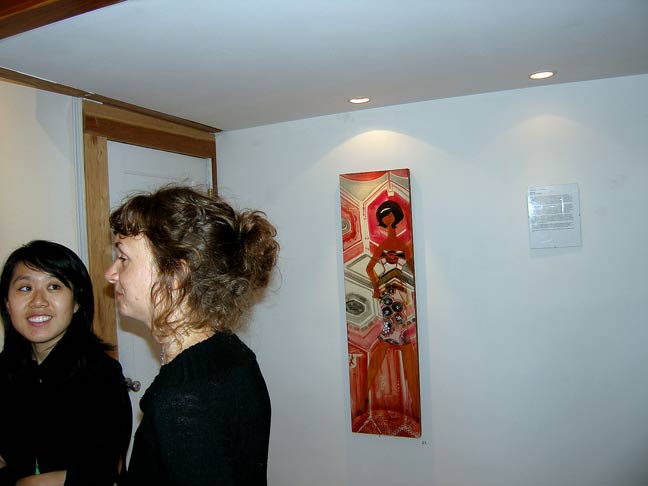 Art.


Art.


Kelly Tunstall (blue).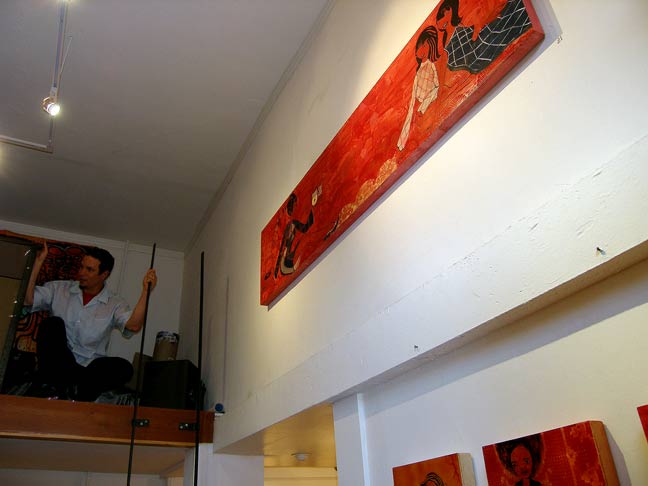 Art.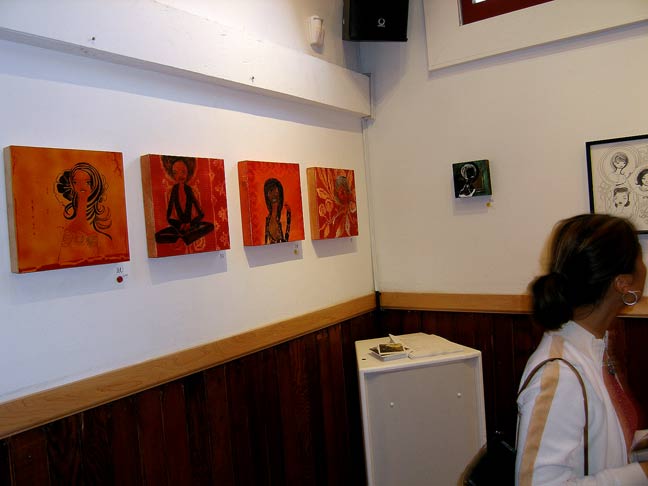 Art.


***
The Shooting Gallery: 3d Annual Erotic Show.
Comment: Another fully engorged flesh pleasuring crotch throttler from Arousal Headquarters, The Shooting Gallery. The walls are crammed with so many opportunites to fund the cause, I hardly know were to start. There I stand, chakras ramped, infused with pheromonic libidinal bliss, teetering on the precipice of connubial conjugality, only a tantric whisper away. But enough about me. There's 100 erotic visions and variations to choose from, conceived and created by dozens of name artists. The Erotic Show continues to improve over previous installments, this being the best one yet. If you like to tingle, The Shooting Gallery is a perfect place to do it. Prices range $150 to $5000.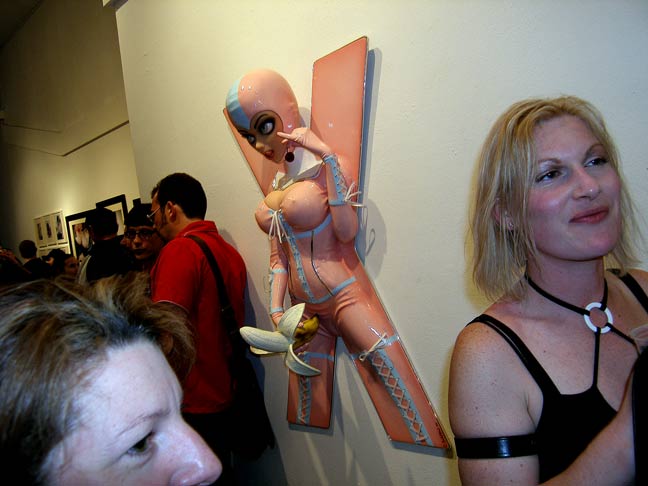 Erotic art.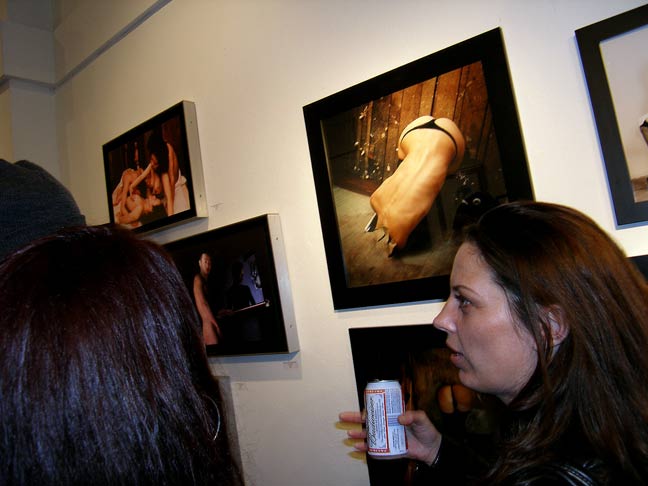 Erotica.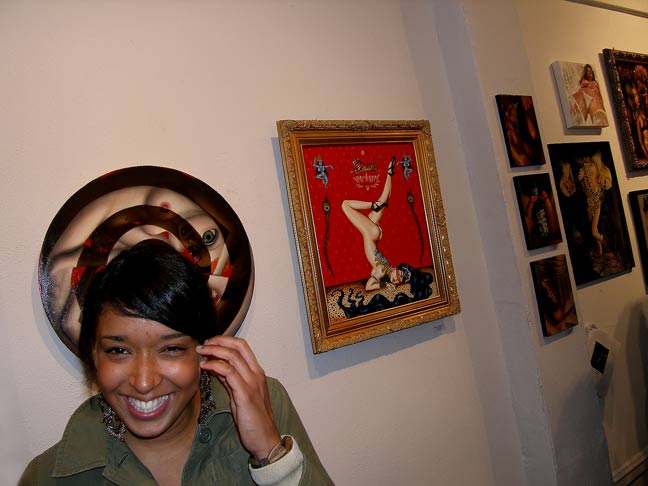 Erotic art.


Erotic art.


Erotica.


Erotica.


Erotica.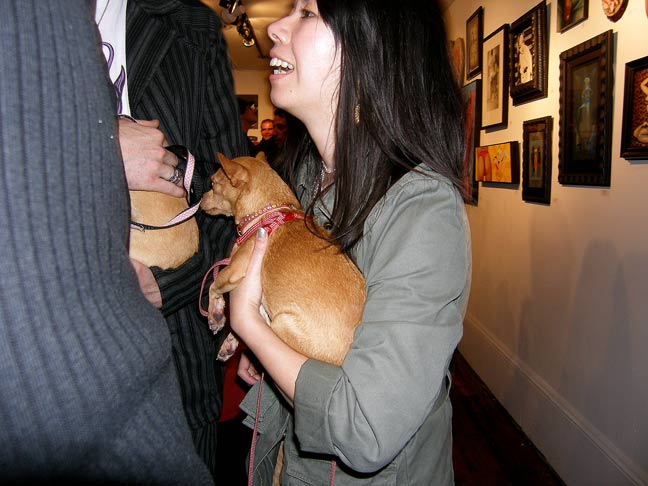 Double dogs.


Body art.


Erotica.


Erotica.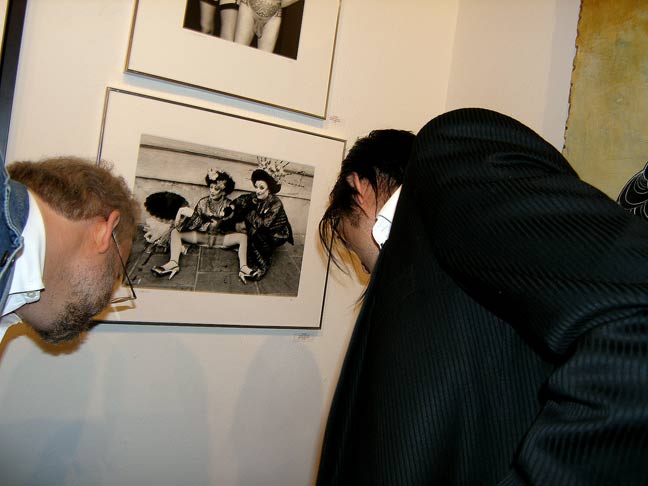 Erotica.


Erotica.


Erotica.


***
Arspace Gallery: Instinctual Distractions.
Artists: Jacqueline Cooper, Amanda Kirkhoff, America Meredith, Leanne Miller, Chili Stromberg.
Comment: Entertaining show; formative talent; curious costumery; upbeat in the atmosphere department. Leanne Miller's large paintings, a little uneven on the zoom-in, engage nicely from compositional standpoints-- colors, complexity, subject mix, brain twist-- this is promising. Chili Stromberg's small paintings are also worth a look, especially one of birds in flight, blending abstract with real. Arspace continues to carve a tangible niche for itself with its ongoing series of slightly offbeat and informal party-style events.
Welcome.


Art (Amanda Kirkhoff).


Leanne Miller - art.


Art (Chili Stromberg) I like it.


Art (America Meredith, I think).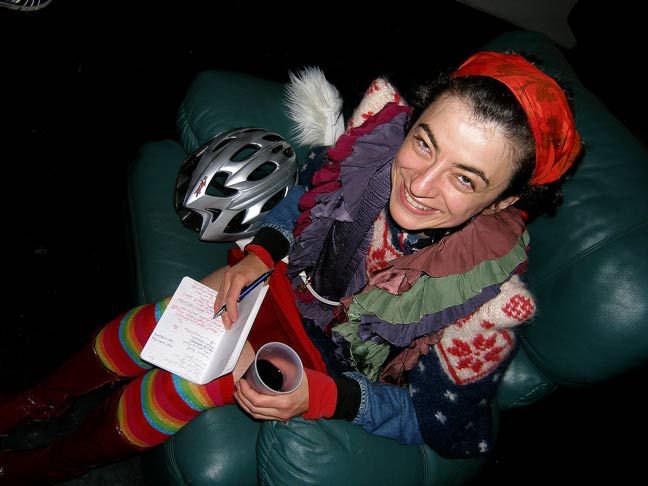 Using the opportunity to write poetry.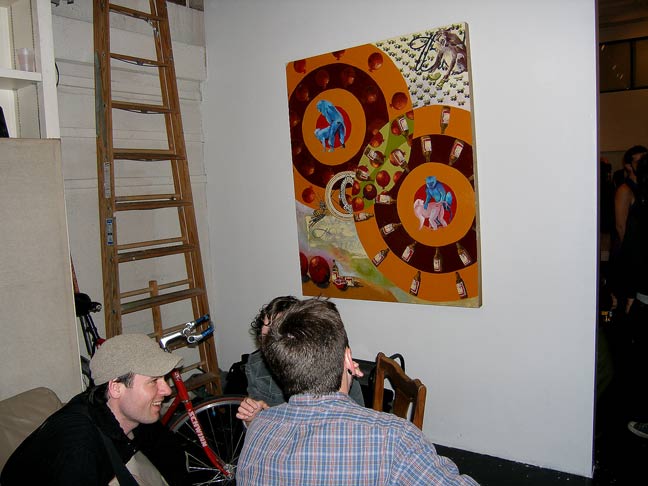 Art (Leanne Miller).


Ambience.


***
Addendum: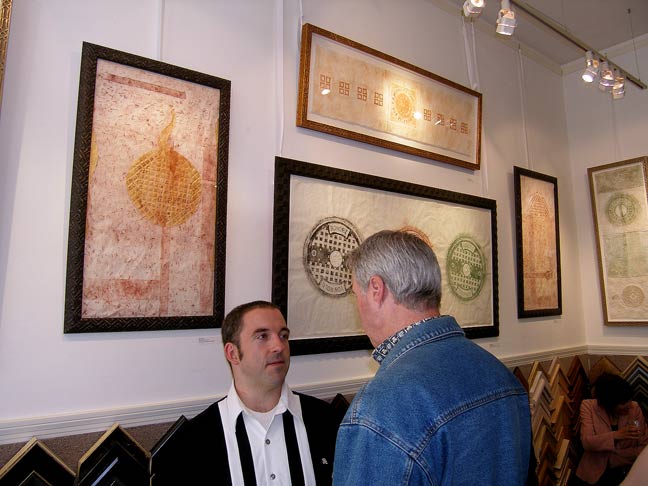 Sidewalk rubbings by Daisy Eneix at Edgewise Arts, 3481 19th St.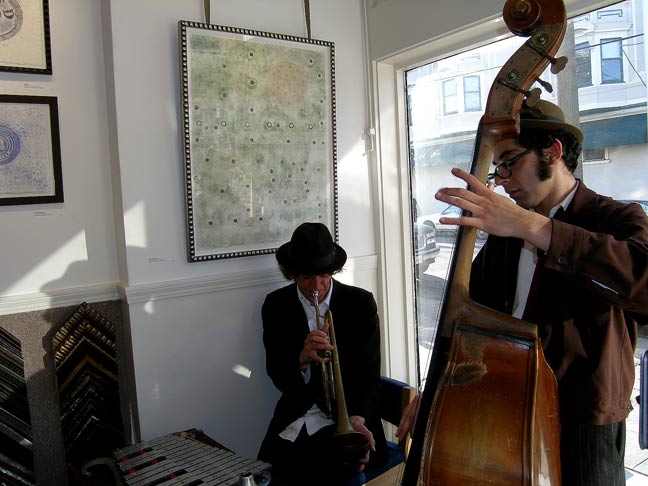 Auditory accompaniment at Edgewise Arts, 415.970.9515.


Edgewise outer.