SAN FRANCISCO ART GALLERIES - OPENINGS
LINCART - TINHORN PUBLIC WORKS - FIFTY24SF
JOHN PENCE - WHITE WALLS GALLERY - VARNISH FINE ART
GERAS TOUSIGNANT - ONSIX - SHOOTING GALLERY
EROS - ADOBE BACKROOM - GALLERY ONE
ONE TASTE - MELTING POINT - CALIFORNIA MODERN GALLERY
06.08-09.06
Tinhorn Public Works: Terry Chastain - The Etchings - From the Sketchbooks.
Comment: Terry Chastain's elaborate absorbing sketchbooks double as diary-style journals (he's been doing them for years). A number of these smallish notebooks are on display here, and you quickly see that more than a few pages approximate stand-alone works of art. For this show, Chastain creates a series of etchings based on pages from his early sketchbooks.
Art.


Art.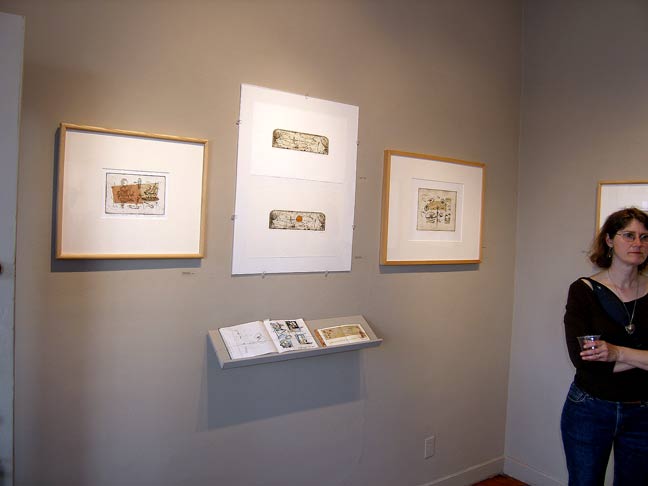 Art.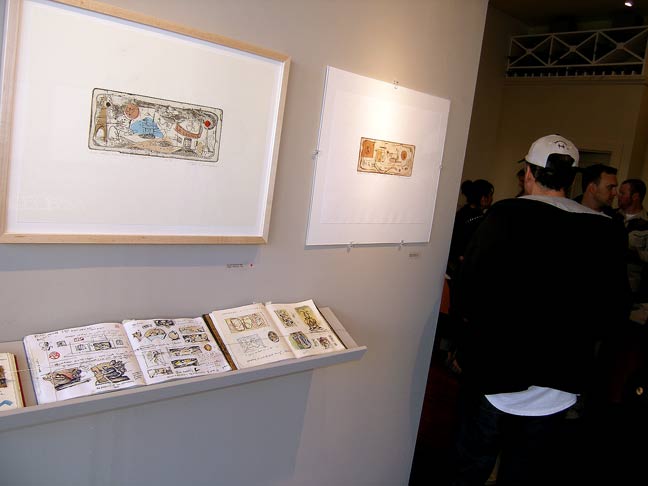 Art.


***
Lincart: Boy's Club.
Artists: Zack Davis, Allison Edge, Tim Evans, Robert Heckes, MeeNa Park, Kal Spelletich.
Comment: Group show, loosely based on Godfather of Soul James Brown's timeless chestnut, "This is a man's world, but it wouldn't be nothing... nothing without a woman or a girl." OK. Headliners include a dude dressed like a chicken taking Polaroid pictures of attendees grappling with a giant plastic weiner, an accordion tranny duet, Krispy Kreme donuts, tequila, beer, free range hot dogs, and other weird shit too numerous to mention. I was too busy fending off the chortles to scrupulously peruse the art, but what I saw, I liked. My favorite-- the Kal Spelletich art machine drawing up an oeuvre in the front window (which I couldn't photograph due to window reflections, so you'll have to go see it in person).
Art.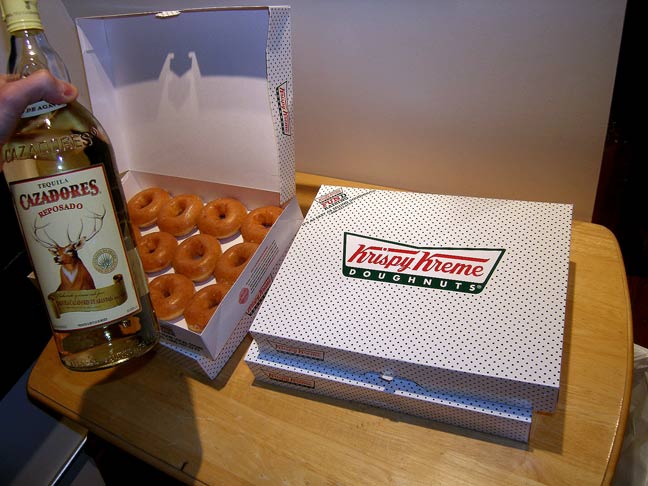 Sustenance.


Poultry palaver.


Art.


Me simulating what happens every time I look in the mirror.


Art.


Out front.


Not sure.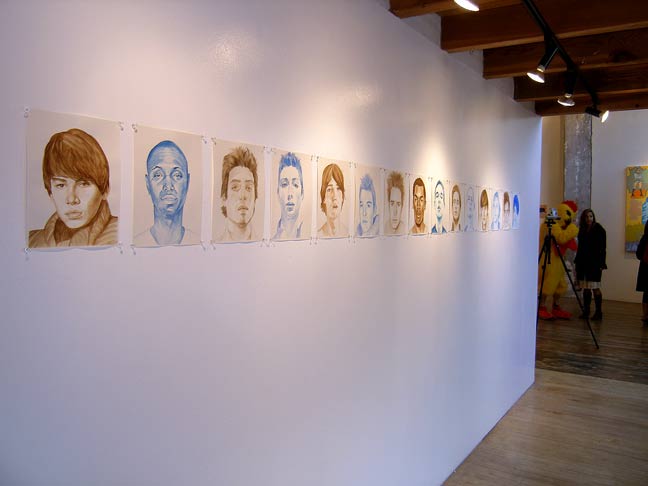 Art.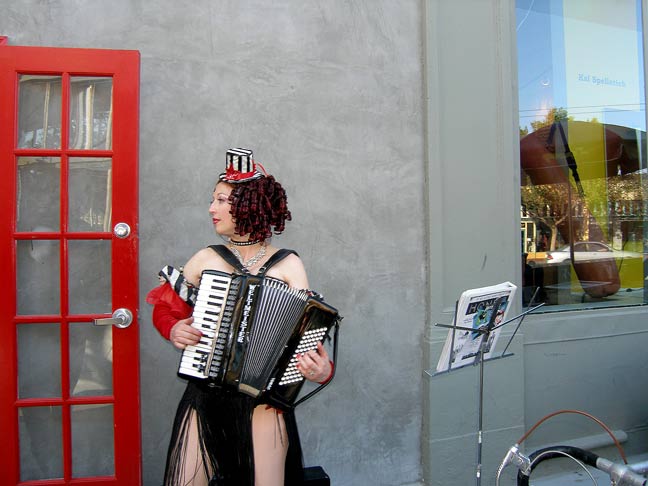 Tunes.


***
John Pence Gallery: Jacob A. Pfeiffer - Recent Oil Paintings.
Comment: Jacob Pfeiffer paints it exactly like it looks in real life, and as good as any artist out there. His straight-on representational compositions employ virtually no fancy tricks, curious permutations, or strange outcomes so often overused by realist painters to instigate interest, yet there's something about his art that progresses it that inexplicable extra step beyond. His small format trompe l'oeils of paper cut-out figures against various backgrounds are particularly eminently exceptionally gratifying. There's good, better, and best-- Pfeiffer is bestest. The show's practically sold out.
Art.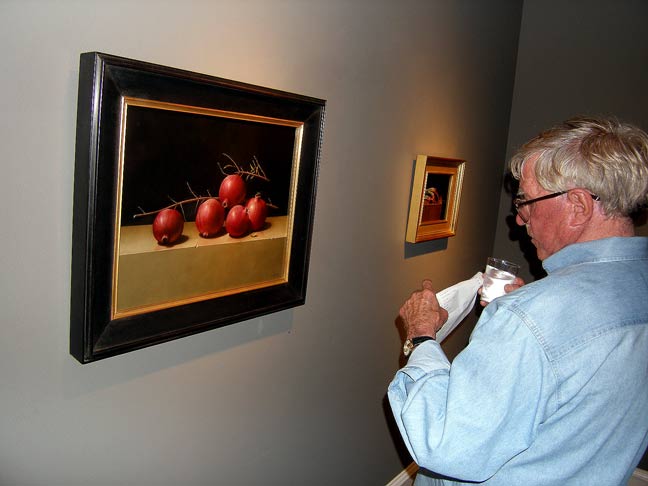 Art.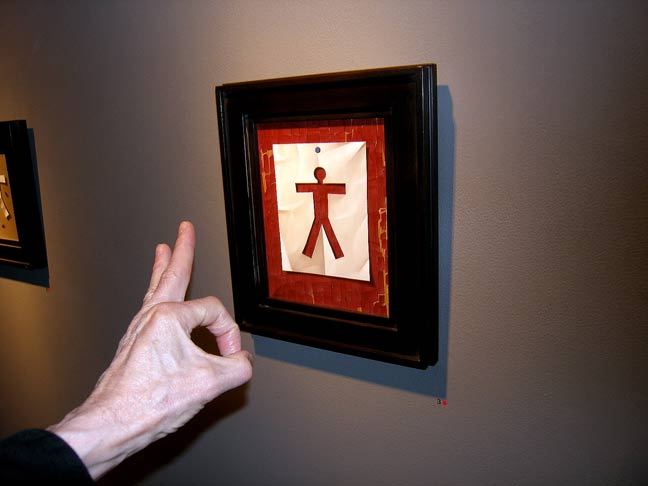 Art (really like it).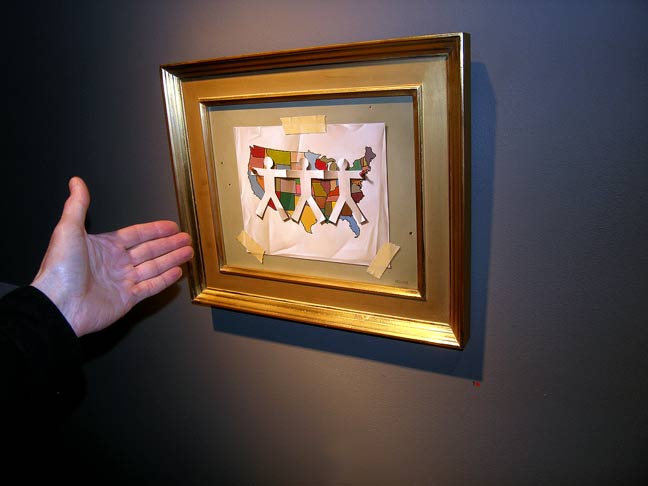 Art (really really like it).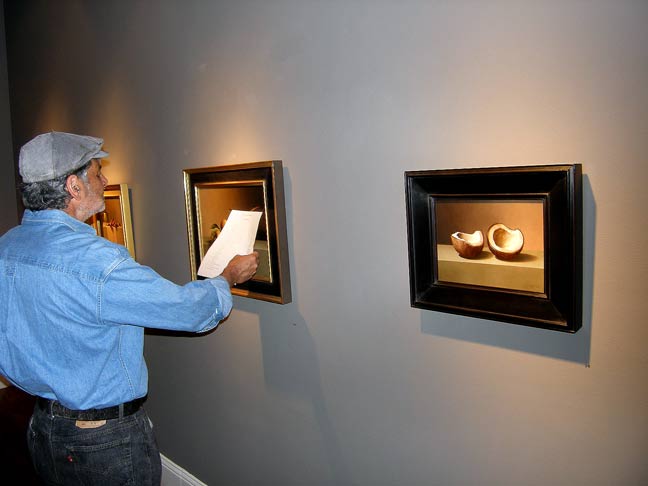 Art.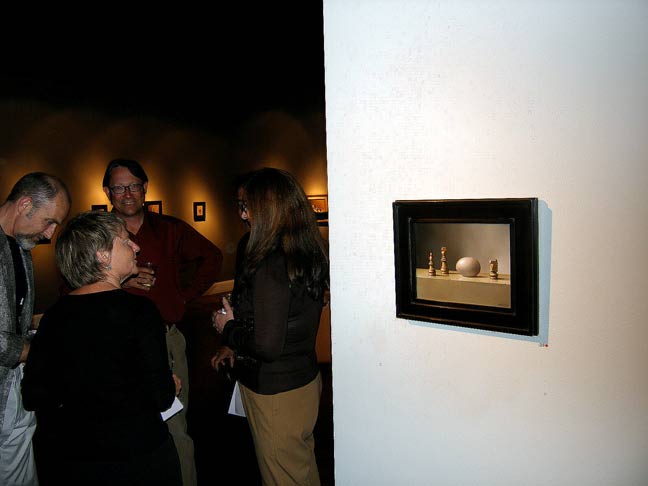 Art.


***
Fifty24SF Gallery: Kami and Sasu - Hitotzuki.
Comment: Combination graff and modern design with a hint of anime by this talented Tokyo duo. The hand-painted clocks do it for me-- functional art that's tricky enough to look like Uncle Ned scored it at Walmart in 1976. Paintings that tick.
Art.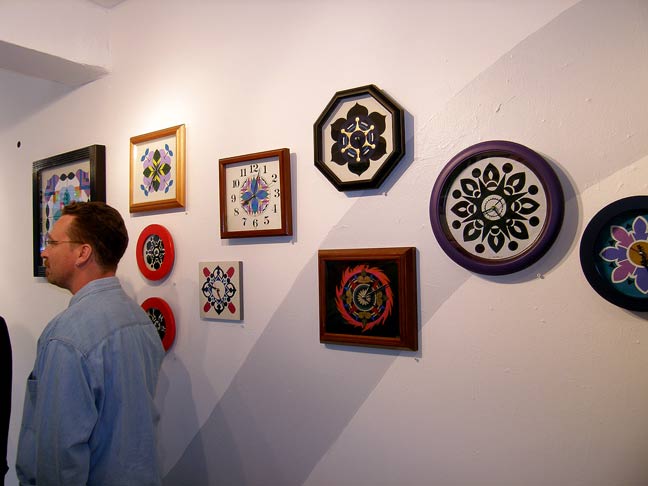 Tick tock art (like it).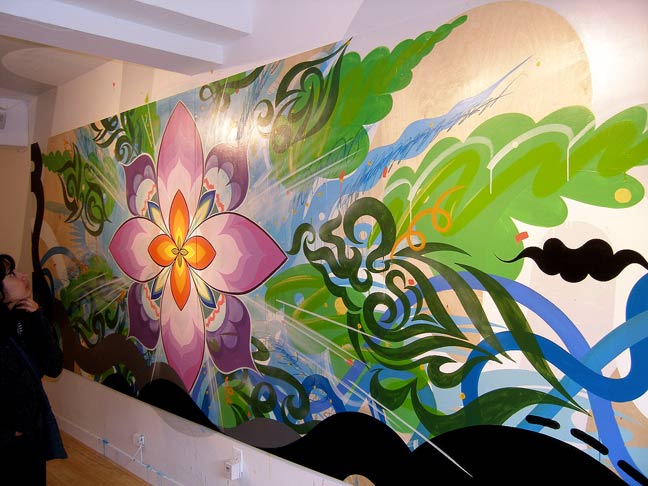 Art.


Art (kinda like it).


Scene.


***
Varnish Fine Art: Re-Assembled featuring Dan Romo, Nemo Gould, and Barry Kite.
Comment: Top shelf kinetic metal sculpture by Nemo Gould; arted up limit-pushing sociopolitical photo collage by Barry Kite; and cylindrical translucent glass sculptures, looking like kaleidoscopes, containing mini-diaoramas by Dan Romo (priced right, from the mid-hundreds $$).
Art (Dan Romo).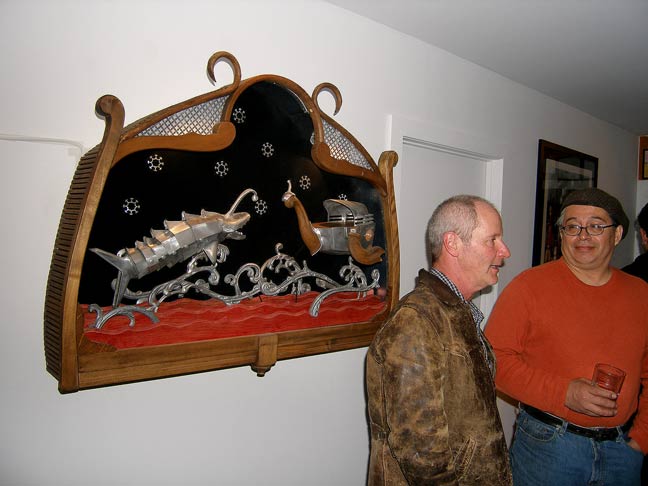 Kinetic art (Nemo Gould - like it).


Art (Barry Kite).


Art (Barry Kite).


Kinetic art (Nemo Gould).


***
White Walls Gallery: Gregory Euclide, Anthony Yankovic, Teodor Dumitrescu.
Comment: Sweeping free wheeling visionary futurescapes by Gregory Euclide ($1000-$2400); representational small format watercolors by Teodor Dumitrescu with curious compositions, their realities ranging from improbable to impossible ($800-$1300); and complex illustrative agglomerates by Anthony Yankovic ($420 each).
Art (Gregory Euclide).


Gregory Euclide - art.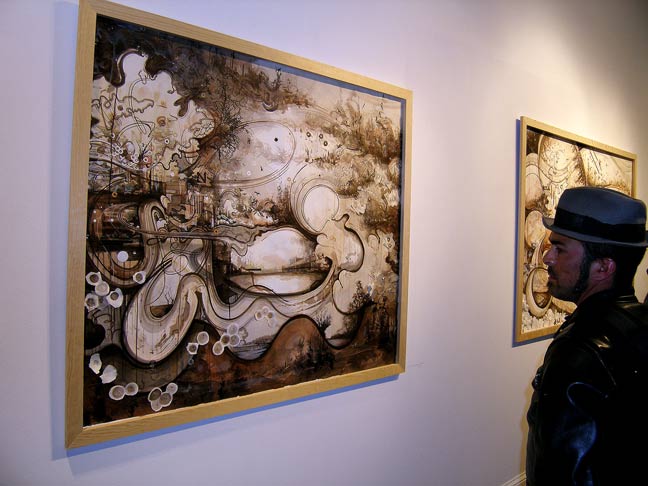 Art (Gregory Euclide).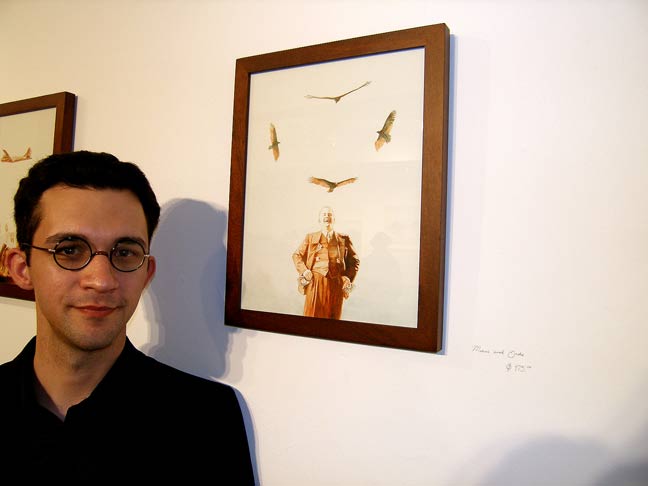 Teodor Dumitrescu - art.


Art (Teodor Dumitrescu).


Art (Anthony Yankovic).


***
The Shooting Gallery: The 4th Annual Erotic Show.
Artists: Eric Bailey, Shawn Barber, Curve, Joel Dugan, Kirsten Easthope, Charles Gatewood, Aaron Hawks, Jessica Holmes, John John Jesse, Sylvia Ji, Andrew Jones, Bruce Gossett, Eric Kroll, Kukula, Sharon Leong, Henry Lewis, Ryan Malley, Jason Maynard, Kemp Remillard, Anne Faith Nicholls, Keri Stevens, Lee Harvey Roswell, Nicole Steen, Patrick Segui, Suzanne Shifflet, Dale Sizer, Alice Stribling, Telopa, Jeremy MF Thompson, Andrea Tucker, Kim Weinberg, Andrea Wicklund.
Comment: The art runs the carnal gamut-- sensual, spicey, seductive, shady, slinky, teasy, sleazy, fetishy, raunchy, lewd, licentious, lascivious, profligate, and preposterous. Most good, some exceptionally good. Remember-- erections lasting longer than four hours require either immediate medical attention or a new girlfriend (or boyfriend or batteries or palmistry or whatever).
Art.


Art.


Art (this artist is GOOD).


Art (like 'em).


Sylvia Ji - art.


Art.


Art (Aaron Hawks).


***
Geras Tousignant Gallery: Still - New Work by Matthew Frederick.
Comment: Vibrant rollercoaster broad brush impasto landscapes and still lifes with agile backdrop flourishes.
Matthew Frederick - art.


Art.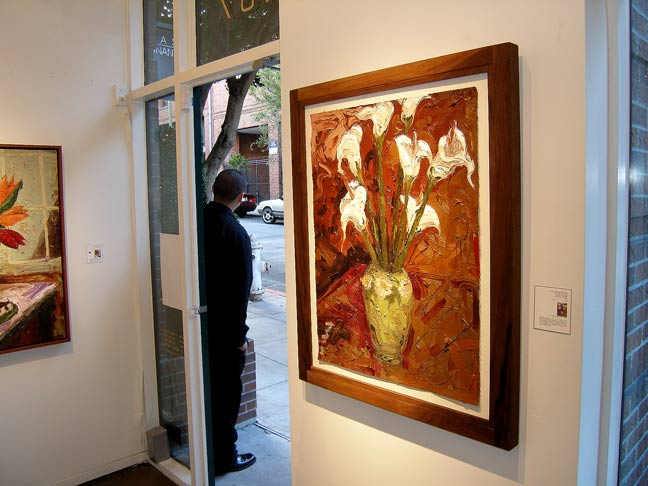 Art.


Overview.


***
ONSIX Gallery: Conflated - New Collaborations Between Painters and Photographers (ONSIX Gallery Two-Year Anniversary).
Artists: In the gallery room - Dave Schubert and Jeremiah Maddock; In the main space - Jason Adams, Adam beebe, Does, John Dwyer, Jeff Fare, Chris Fitzpatrick, Rob Francisco, Jeff Gleason, Nicole Hagen, Heather Hannoura, Mary Howe, Camille Johnson, Jesse Koide, Leslie Kulesh, Bessie Kunatha, Becca Jay, Issac Lin, Jason McAfee, Shalo P., Hilary Pecis, Pez, Albert Reyes, Sham, Darcy Sharpe-Meade, Corey Smith, Jill Stortzh, Andrew Schoultz, Tahiti, Zefrey Throwell, Tracy Timmons, Lindsey Byrnes, Angela Decenzo, Peter Dobey, Dru Donovan, Eve Ekman, Michael Garlington, Heather Hannoura, Torey Herbenar, Whitney Hubbs, Ethan Indorf, Uri Korn, Morgan V. Mandulay, Massan, Shawna McAfee, Nicole Neditch, Ahndraya Parlato, Bertie Pearson, David Potes, Ray Potes, Deborah Samantha, Stefan Simikich, Jai Tanju, Amy Thompson, Silver Warner, Katy Zaugg, Erik Zo.
Comment: Crackerjack photographer/artist pair ups, the players impeccably selected and matched (and the show curated) by Sham. Collaborative efforts in the artistic realm often flare out in mismatch or ego conflict, but nothing of the sort happens here. The outcome verges superb with artists and photographers blending seamlessly on practically every piece. But wait; there's more. The product is about as vanguard as I've seen recently, particularly in terms of local talent. And that Dave Schubert's got a kick-ass upside (maybe stash a little of his product in the investment portfolio).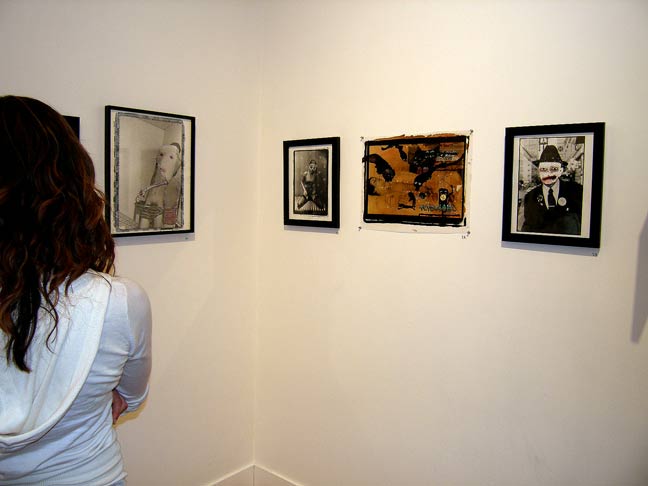 Photography/art (Dave Schubert - Jeremiah Maddock).


Dave Schubert - photography/art.


Photography/art (Dave Schubert - Jeremiah Maddock).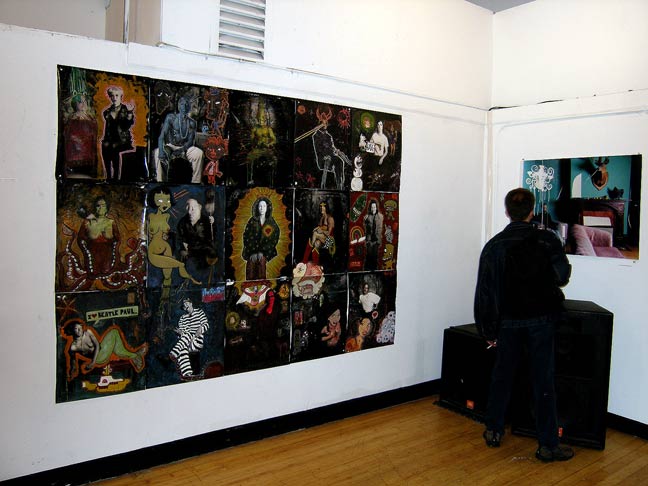 Photography/art.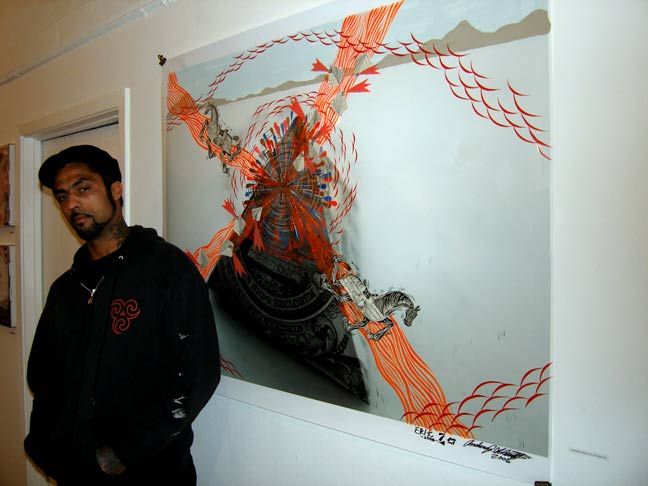 Sham - photography/art (Andrew Schoultz - Erik Zo).


Photography/art.


Photography/art.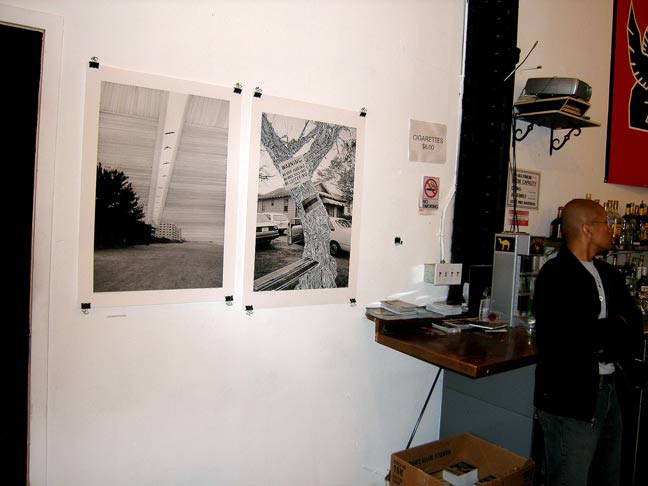 Photography/art.


Photography/art.


***
Adobe Books Backroom Gallery: Nickolas Mohanna - That Which Bites Sharply.
Comment: The press briefing indicates that Nickolas Mohanna's "contemplative work fits into the current fastidious drawing movement." Well, I checked this out firsthand and am here to testify that Mohanna is indeed showing a small group of fastidious drawings (each created according to arbitrary self-imposed rules or constraints). Now if you're gonna draw, and especially if you're gonna draw Byzantinely intricate like here, fastidiousity is essential because otherwise, you end up with sloppy drawings (which these are not). On the contrary, they're exceptionally fastidious plus-- special added bonus-- elegant to the eye when you zoom in for a micro (which you have to do in order to appreciate their fastidiousitudinalities).
Now I don't know squat about this so-called fastidious drawing movement or what the deal is there, so I do a quick Google and come up only with the announcement for this show, nothing else. Maybe curator Eleanor Harwood's attempting to perpetrate an evolutionary push and Nick Mohanna's gonna be the founder (his art's good enough). Stay tuned.
Art by Nickolas Mohanna.


Nickolas Mohanna art at Adobe Books Backroom Gallery.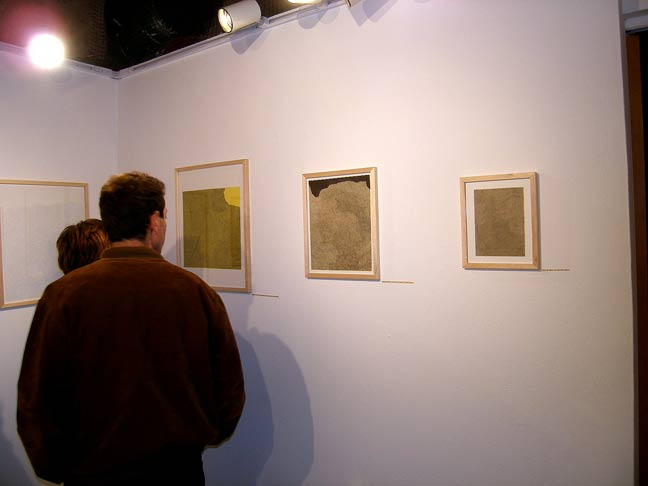 Art by Nickolas Mohanna.


***
Addendum:
Mark S. Holland & erotic watercolors at Club Eros Gallery.


Another Mark Holland & art at Eros Gallery ($500 each - bargain).


Club Eros facade.


David Potes & photo show at Painted Bird.


Dave Potes - photography at Painted Bird (priced real affordable).


Painted Bird frontal.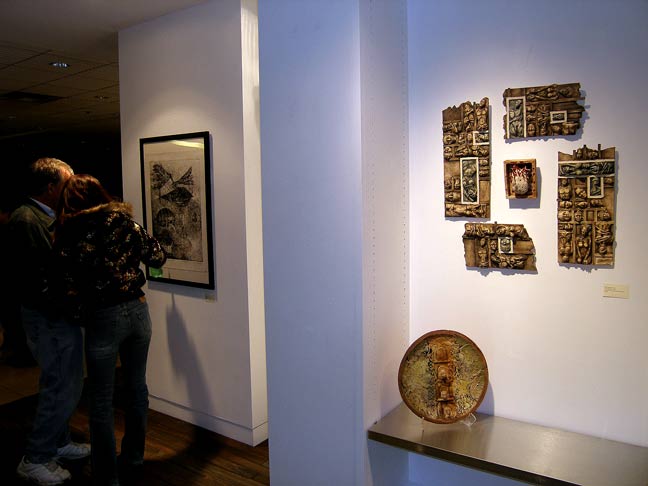 Cuban-American group show at Gallery One.


Another Cuban-American show at Gallery One.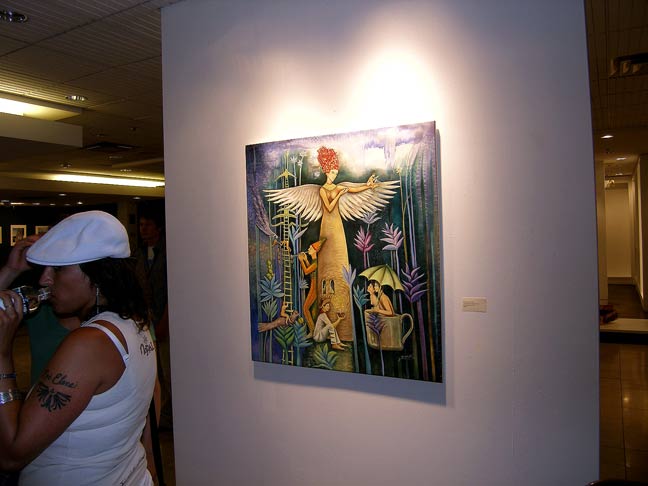 Final Cuban-American art show at Gallery One.


John Haley and Robert Kaess at California Modern Gallery.


Vintage abstracts by John Haley and students at California Modern.


Secret Garden group show at One Taste.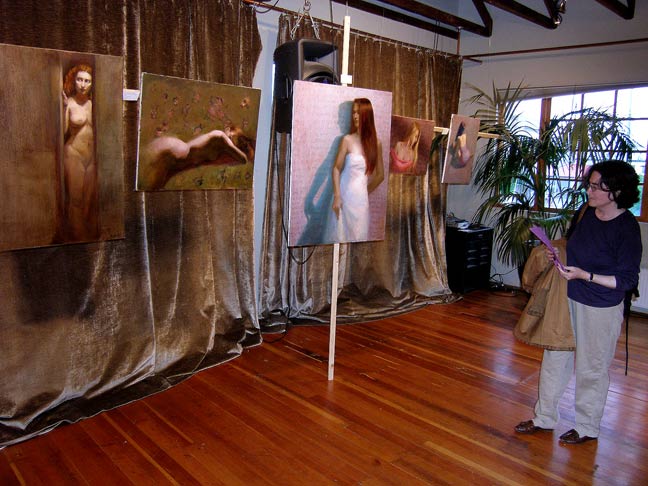 Secret Garden - celebration of women in art - at One Taste.


Another Secret Garden at One Taste Urban Retreat Center.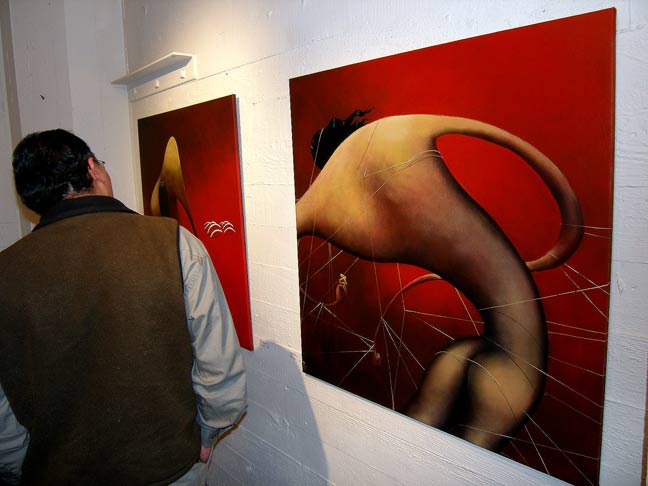 Argentinian artists courtesy of Buenas Artes
at Melting Point Gallery, 1340 Bryant St., SF, CA 94103; 415.861.0580.


Another from Argentinian art show at Melting Point Gallery.


***