SAN FRANCISCO ART GALLERIES - OPENINGS
LINCART - 301 BOCANA - LITTLE TREE
SHOOTING GALLERY - WHITE WALLS
RECEIVER - SPACE
JOSEPHINE & DEBUDDA - BACK TO THE PICTURE
06.09.07
Lincart Gallery: Closing Party.
Artists: Matt Gonzalez, Omar Chacon.
Comment: Closing party for the Matt Gonzalez/Omar Chacon show features a fire next door (out by the time I get there), multiple fire trucks, hook and ladder, 50 firefighters (we sure appreciate you), art, miscellaneous musicality, and general merrymaking.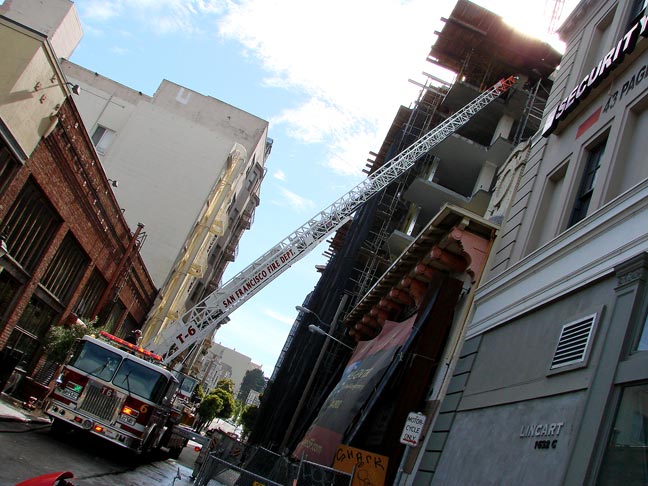 The view approaching the gallery.


Winding down across the street.


Legendary Rock & Roll photographer Jim Marshall - Matt Gonzalez.


General merrymaking.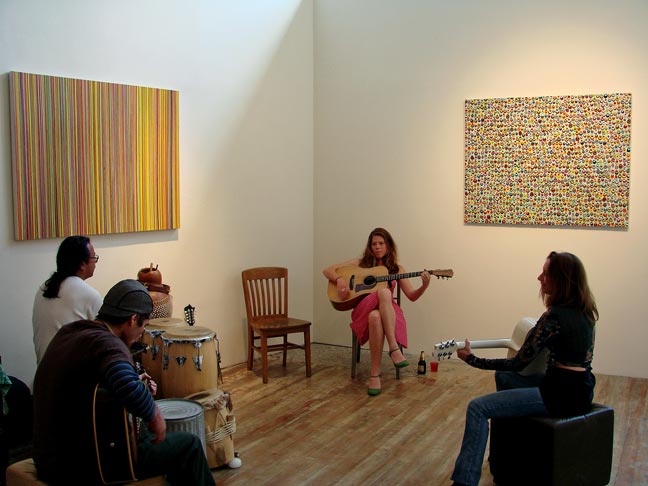 Miscellaneous musicality (Hope on lead guitar).


***
301 Bocana Gallery: Childish Things.
Artists: Andrea Antonaccio, Bryan Barasch, Scott Barry, Ray and Lila Beldner, Veronica de Jesus, Catherine Epstein, Jonathan Evans, Heather Feeney, Walter Hall, Tanya Hastings Gill, Lindsay Jessee, Lisa Kokin, Kelly Kozak, Eric Larson, Yuki Maruyama, Sean MacDonald, Brion Nuda Rosch & Ifton Schlinger, Kerry Olin, Sean Olson, James Orlando and Julia Cohen, Jose Picayo, Kelly Reiling and Allyssandra Ulinskas, Walter Robinson, Gary Shallcross, Marsha Shaw, Inez Storer, Rebecca Szeto, Jo-ey Tang, Michele Theberge, Anna Vaughn, Judd Vetrone, Annaliese Vobis, Heather Wilcoxon, Yoram Wolberger.
Comment: 35 artists sardine themselves into what surely ranks as one of the largest group shows in one of the smallest spaces ever in the history of art. The gallery's 200 square feet, if that-- you do the math. Tonight's big squeeze is accompanied by a selection of vintage tunes courtesy of delightfully droll Jackie Jones (415.648.0117) who makes all her own instruments and whose repertoire includes a tap dancing cat.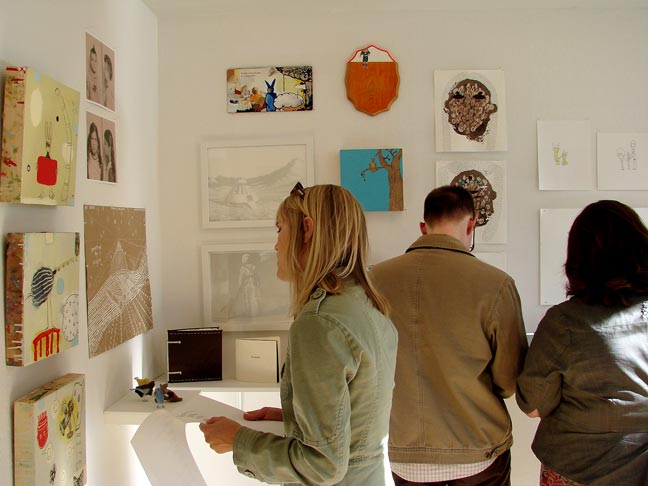 Art.


Art.


Out front.


Jackie Jones and her tap dancing cat.


***
Little Tree Gallery: Chris Gibbons and Karen Ruenitz - What Are You Made Of?
Comment: Karen Ruenitz commendable graphite drawings on one side of the gallery show just the clothes without the wearer. On the opposite side, Chirs Gibbons photographs telephone poles close up that are layered with the remains of handbills, fliers, and announcements.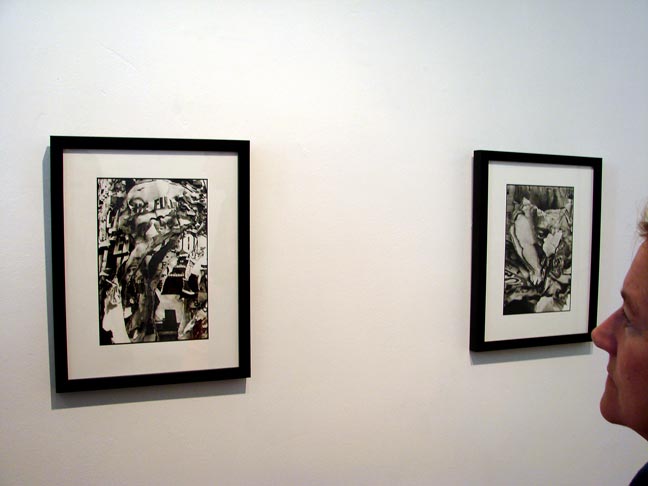 Photographs (Chris Gibbons).


Photography (Chris Gibbons).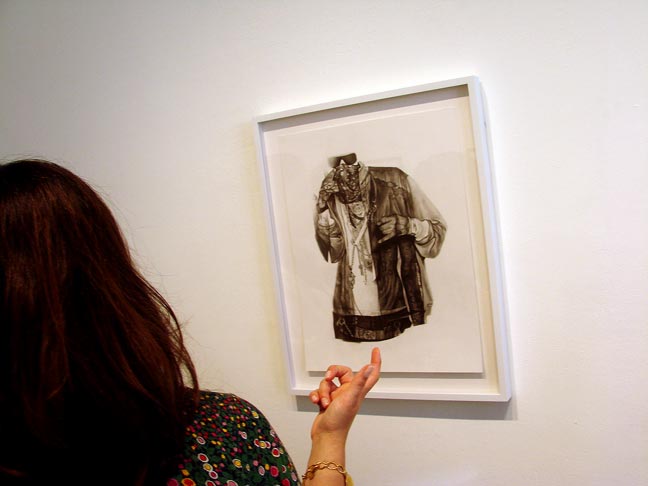 Art (Karen Ruenitz - kinda like it).


Art (Karen Ruenitz).


Art (Karen Ruenitz).


***
Receiver Gallery: Ogi - My Life is Your Problem.
Comment: The motley palette of Tokyo artist Ogi blends Japanese animation, skateborad culture, fashion, graffiti, urban life, and more.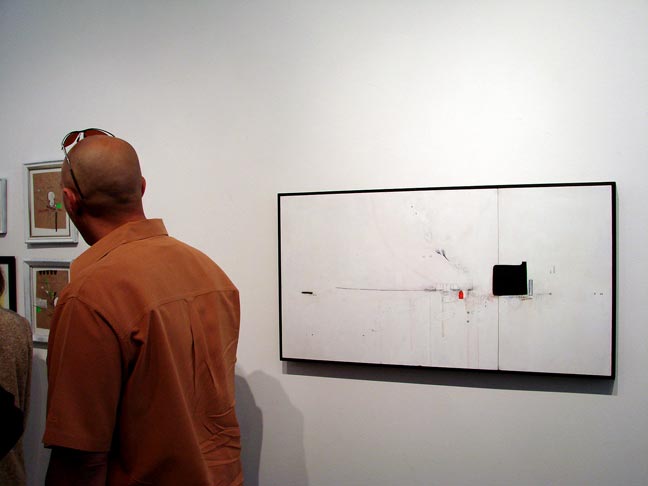 Art (sorta like it).


Ogi - art.


Art.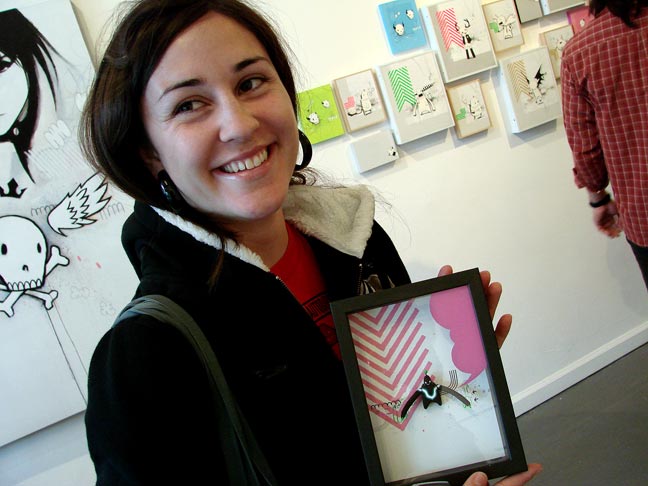 Proud owner of oven fresh Ogi.


Art.


***
The Shooting Gallery: Shag - The Merchant of Menace.
Comment: Shag, the king of rejuvinated Jetsonian kitsch, transports his trademark hark back art from balmy Southern California way up north to the chillywilly wilds of San Francisco, tonight's exciting episode rife with Shakespearian reference. Holy smokes Deputy Dawg-- the show's practically sold out!
Art.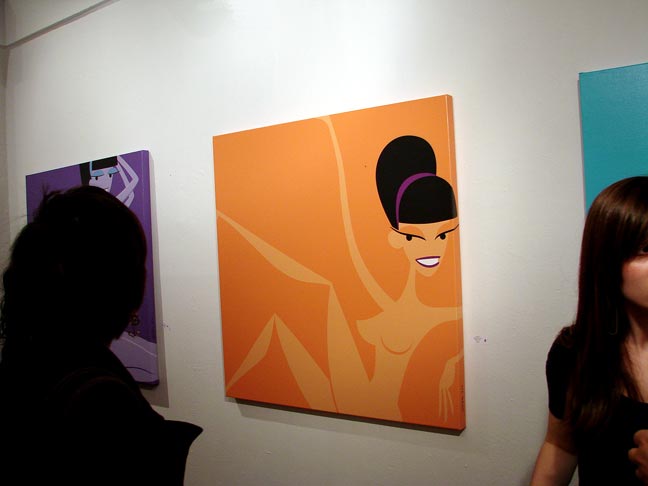 Art.


Shag - art.


Art.


Art.


***
White Walls Gallery: Sylvia Ji.
Comment: Sylvia Ji augments her typically sensual sultry perspective on aloof alluring vixens to encompass a set of macabre tattooed pistillate visages.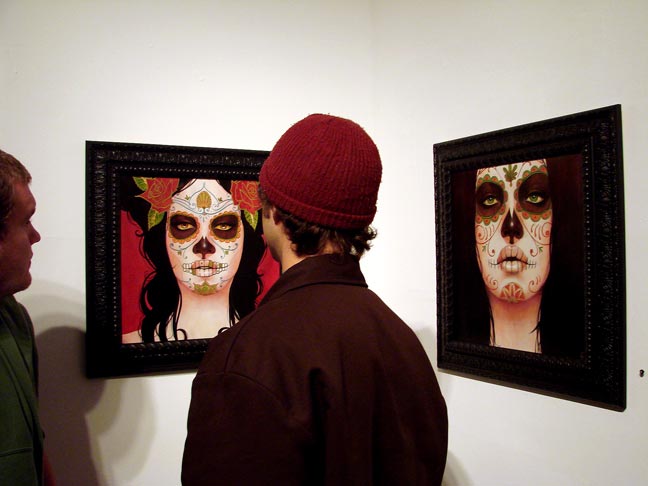 Art.


Art.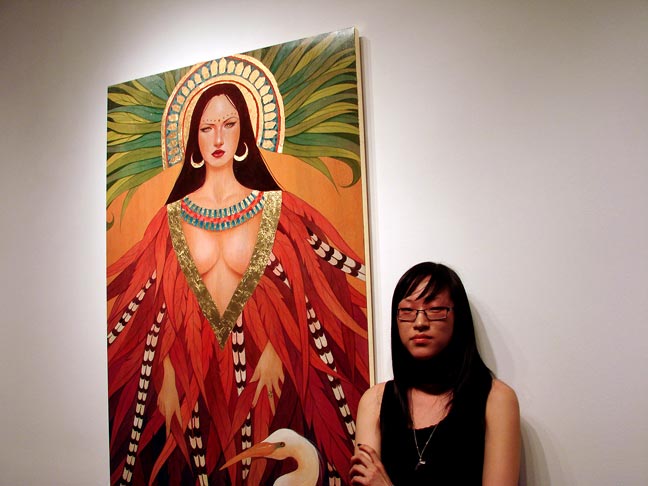 Sylvia Ji - art.



Art.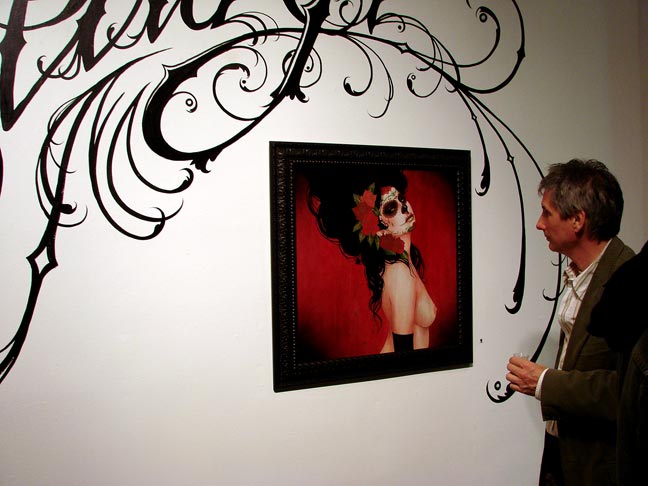 Art.



Art.



Art.


***
Space Gallery: Stencil Space.
Comment: Space Gallery and PUMA present a meandering ramble of a group show, purportedly themed on stencilling, but onstensibly otherwise.
SF bedding art (like it).


Art.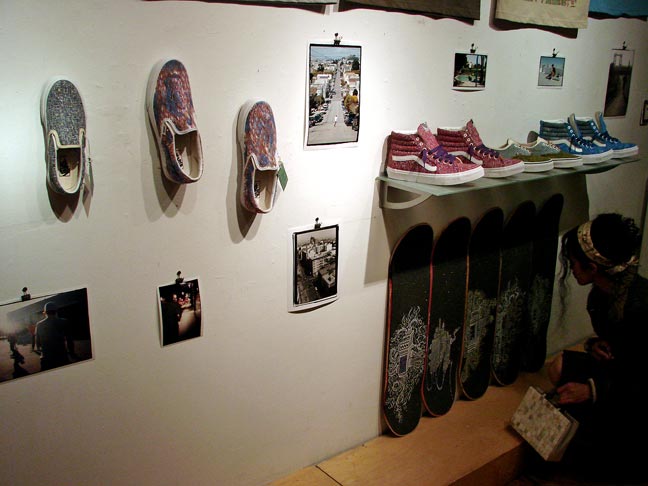 Art.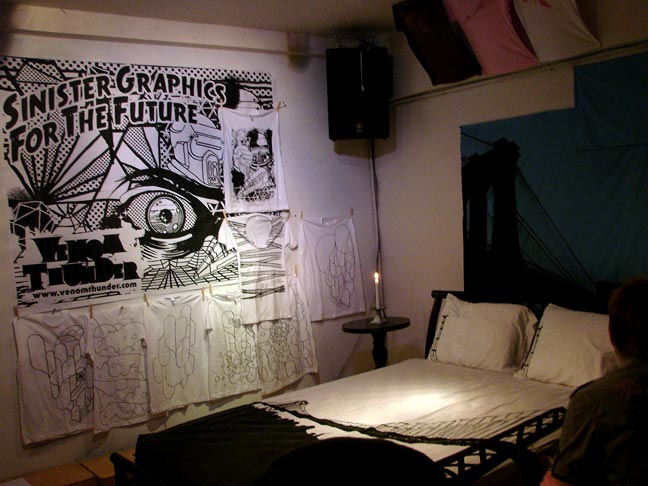 Art.


***
Addendum:
Eclectic collectibles at Josephine & Debudda 3420 22nd St. near Guerrero.


Josephine & Debudda, 3420 22nd St. SF, CA 94110; 415.641.4300.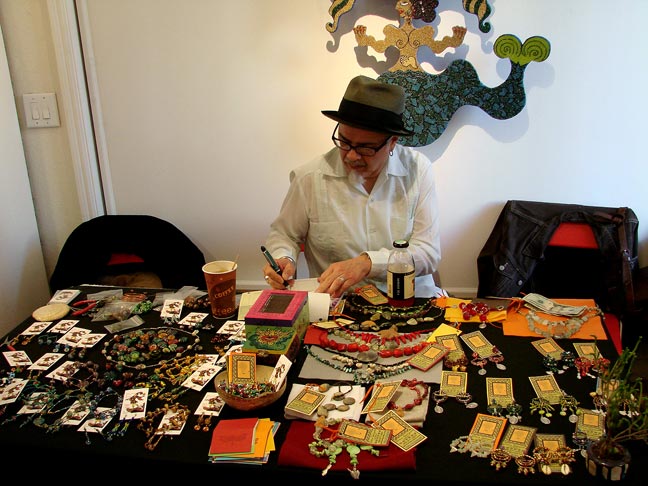 Jewelry show at Back to the Picture.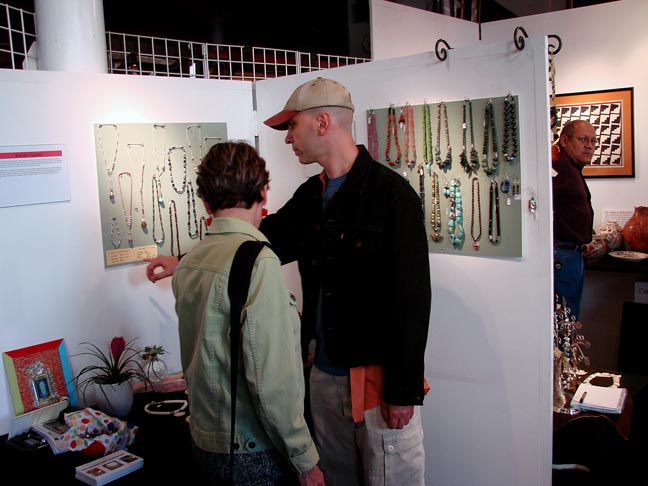 More artist jewelry at Back to the Picture.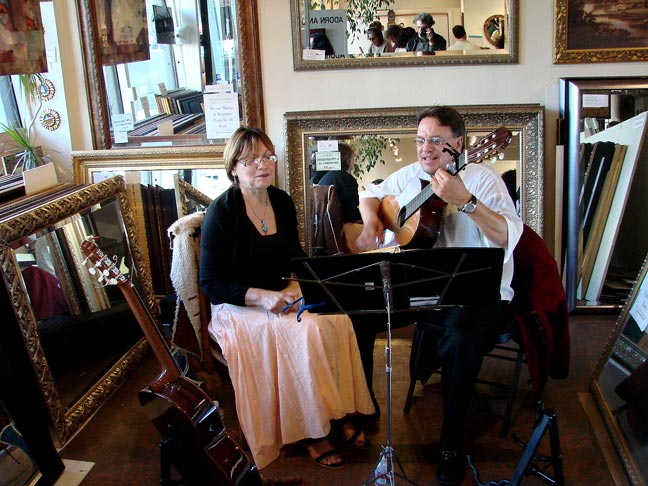 Tunes at Back to the Picture.


***