SAN FRANCISCO ART GALLERIES - OPENINGS
SUPERVISOR ROSS MIRKARIMI - SAN FRANCISCO ARTS COMMISSION
GERAS TOUSIGNANT - LIVE WORMS - PING PONG
LEAGUE OF YOUNG VOTERS
06.15.07
Supervisor Ross Mirkarimi: Takin' it to the Streets: Queer Photographers Capture Marches & Protests in SF.
Photographers: Rink Foto, Cathy Cade, Jane Cleland, Lynnly Labovitz, more.
Comment: Group documentary photo show recounts nearly for decades of public demonstrations and celebrations in San Francisco's queer community.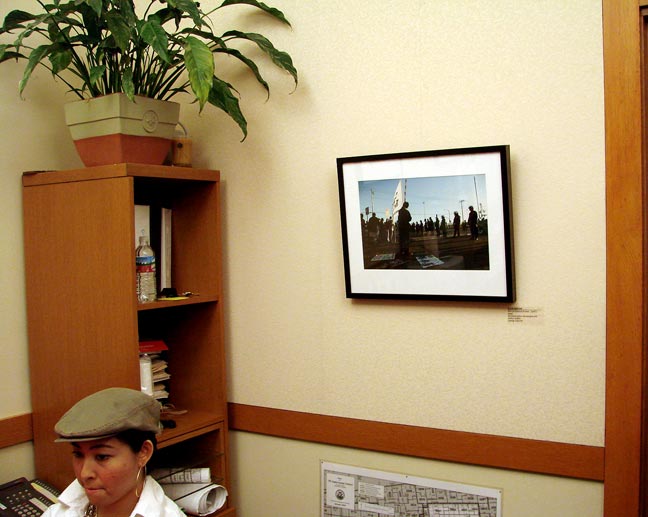 Photo.


Photography.


Photographs.


Photos.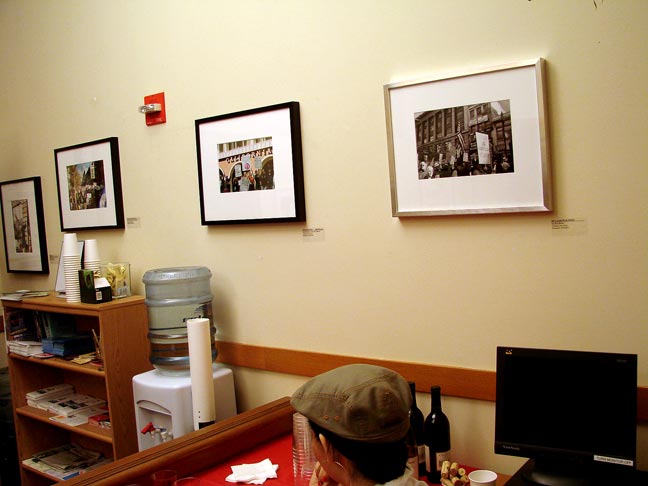 Images.


***
San Francisco Arts Commission Gallery, 155 Grove Street: Renee Gertler - Flood.
Comment: Renee Gertler uses thin painted cardboard strips to materialize her conception of a flood-- a torrent of water falling from above and accumulating on the floor below. Gertler will progressively augment the installation-- increase the water level-- throughout the course of the show.
Here we are.


What it is.


Looking at what it is.


***
Geras Tousignant Gallery: Group Show 2007.
Artists: James Scott Geras, Daniel Tousignant, Matthew Trygve Tung, Irene Pena, Jeff Hesser, Ellen Granter, Kevin Tiell, Michael Knud Ross, Denise Laws, Dhiren Babaria, Norm Halm, Matt Colaguiri, Vonn Sumner, Buck Ellison, Russell Pachman, Eric Saxby, Burges Smith, Barron Bixler, Monika Steiner, Jay Tyrrell.
Comment: Diverse group show features something for everyone-- paintings, prints, photographs, sculptures, and more. I'm kinda partial to Matthew Trygve Tung's handsome hand-printed, hand-bound limited edition books comprised of his original etchings and text.
Art.


Art.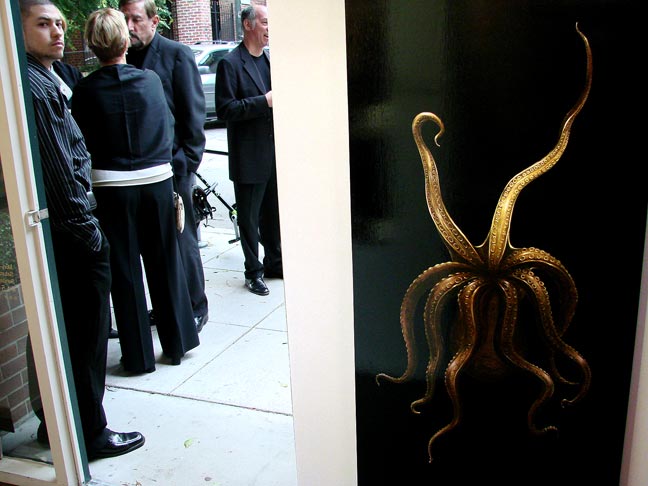 Art.


Book art (Matthew Trygve Tung - like 'em).


Matthew Trygve Tung.


Art.


Outer.


***
Live Worms Gallery: Nancy Calef.
Comment: Signature North Beach bohemian shindig centers on the colorful people-packed bas relief genre fests of Nancy Calef.
Art.


Art.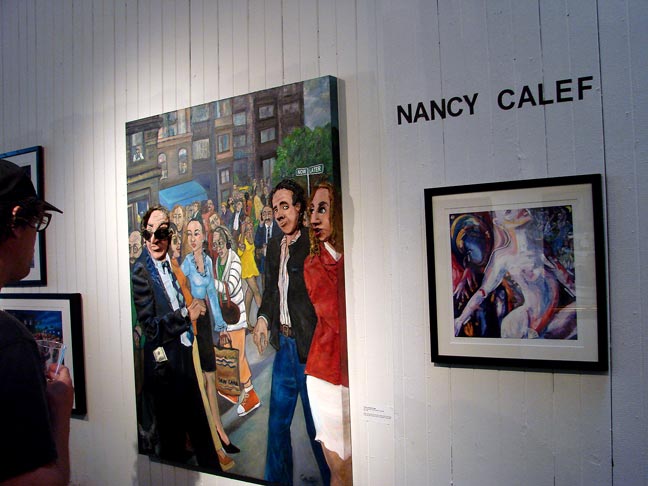 Art.


Art.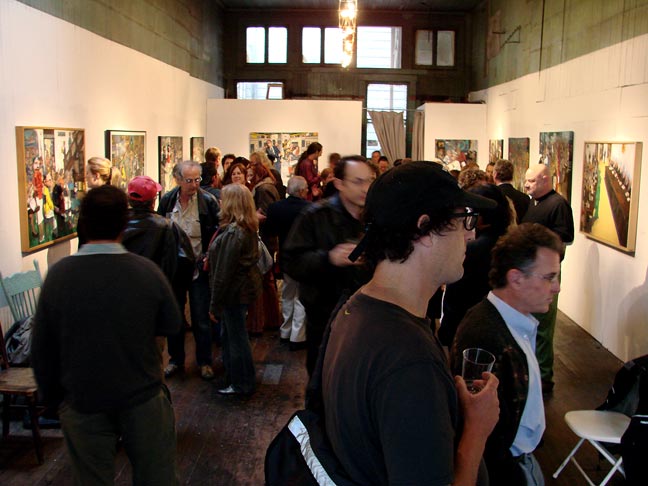 Atmosphere.


***
Ping Pong Gallery: Jon Hittner - Everything You Think Is Right.
Comment: Jon Hittner's atypically appealingly fresh perspective on nonconcrete has that certain je ne sais quoi I can't quite put my finger on. Like it.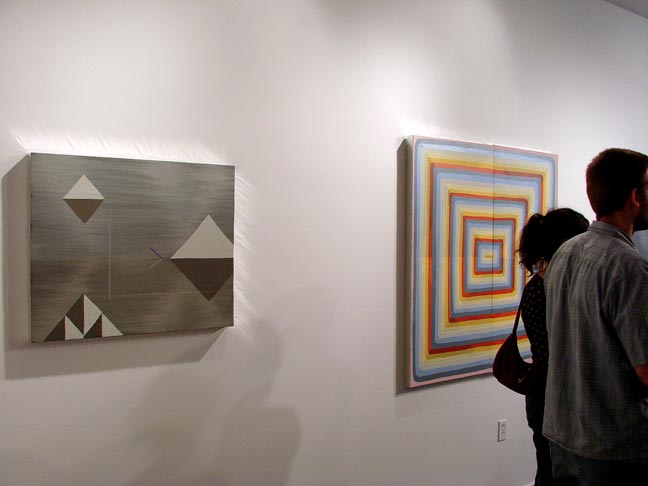 Art.


Jon Hittner - art.


Art.



Art.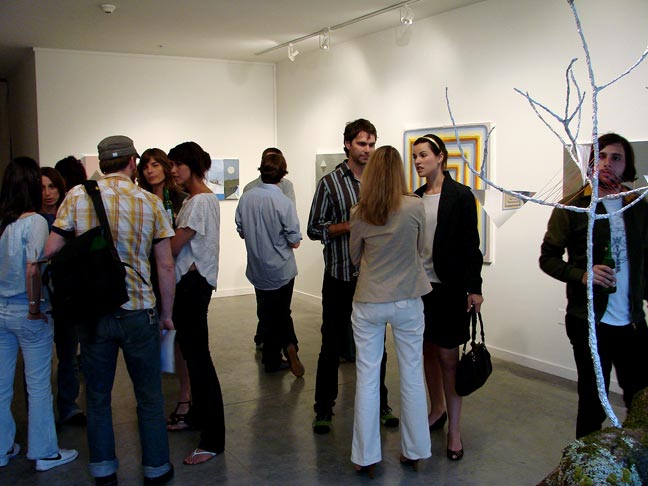 Turnout.


***
The League of Young Voters: Picture Progress 2007.
Artists: Andrew Schoultz, Dave Eggers, Deborah Oropallo, Bean Finneran, Judy Chicago, Alan Finneran, Michael Gregory, Sirron Norris, Ezra Eismont, George Pfau, Daniel Golstein, Roxanne Hanna, Lucas Foglia, Jenn Porreca, Peter Max Lawrence, Jeff Key, Denise Parsons, Fabio Sassi, Phillip Hua, Nina Berman, Jenifer Wofford, Keith Knight, Bihn Dahn, Liane Collins, Betty Kano, Sophia Bowart, Erik Hagerman, Bayete Ross Smith, Alexandra Hammond, Chelsea Ross, Amanda Boehm, Wythe Bowart, Minette Mangahas, Jessica Tully, Oaklandish, Paul Mitchell, Mark Popple, Brad Kalder, Tahiti Pehrson, Rebecca Van Stralen, Kevin Haas, Frank Priscaro, Amy Woloszyn, Julian Davis, Heather Box, Julian McQueen, Joni Eisen, Lars Rasmussen, Julie Garvey, Jenny Overman, Ian Scalzo, Joe Griggs, Todd Berman, Perapol Damnernpholkul, Crescent Calimpong, Granite Calimpong, Adam Carson, Craig Hewitt, Damon Guthrie, Dennis Ferdidnad, Dicky Davies, Dru Donovan, Dylan Fisher, Hilary Wehlitz, Jane Baker, Kristen Marye Broussard, Mark Sneg, Paul Madonna, Rick Dula, Ron Ferdinand, Ryan Dexter, Sandra Kwak, Sara Lai, Sergi Granados, Stephanie Stern, Tim Lillis, Tony Berlant, Chris Macolino, Rachel Hornaday, Aondrea Maynard, Dawn Okoro, Cameron Chernoff, Bill Griffith, Tom Meyer, Kelsey Nicholson, Noa Mohlabane, Bruce Nicholson, Greg Cluster, Demetra Gayle, Lucas Thorton, Josh Wood, Conrad Calimpong, Donna Calimpong, Terra Hatton, Jeff Blair, Pam Ward, Jeff Hull, Andy Paiko, Jenny Wittlinger, Ian Scott, Dan Stuckey, Hank Willis Thomas, Laura Loescher, Whitney Gisvold, Sandra Kwak, Laura Box, Mike Lai, Sara Lai, Jamai Lowell, Anna McClish, Carolynn Box, Colby, Peter Ellenby, Rick Dula, Jean-Benoit Levy, Tarren, Kazuka Watanabe, Lauren Kohne, Jeff Key, Lois Wachner- Solomon, Michael Cappozola, Geoffrey King, Jeremy Arviso, Andrew McClintock, Matt Gonzalez.
Comment: A fundraiser art auction with this much art by this many artists and, from the looks of things, not that many active collectors, generally indicates that bargains will be had (I had mine). So if you like your art affordable, don't miss this extravanga next year. Plus it's an excellent party for a great cause with all manner of peppy politicos running around. Five thumbs up.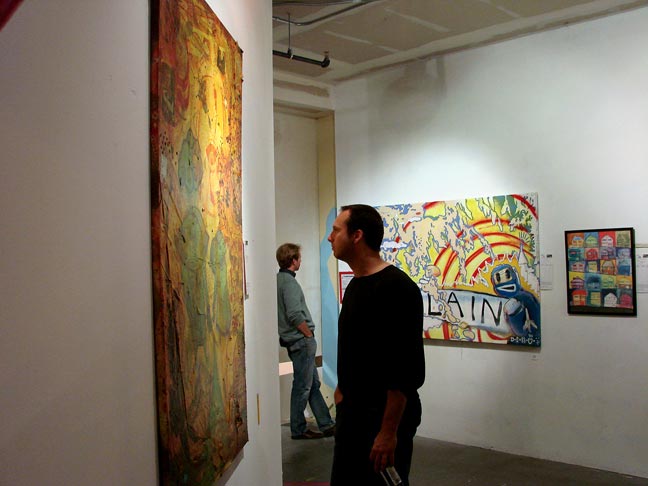 Art.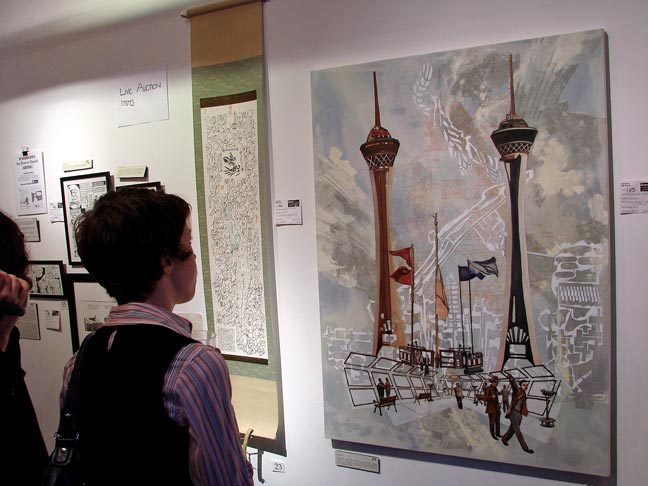 Art.


Art.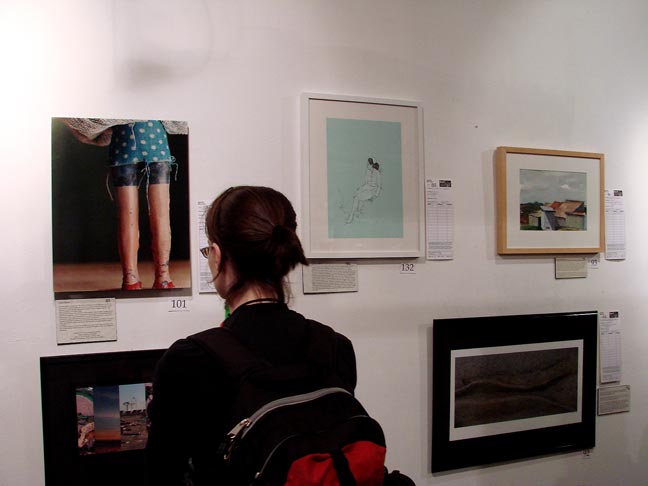 Art.


Art.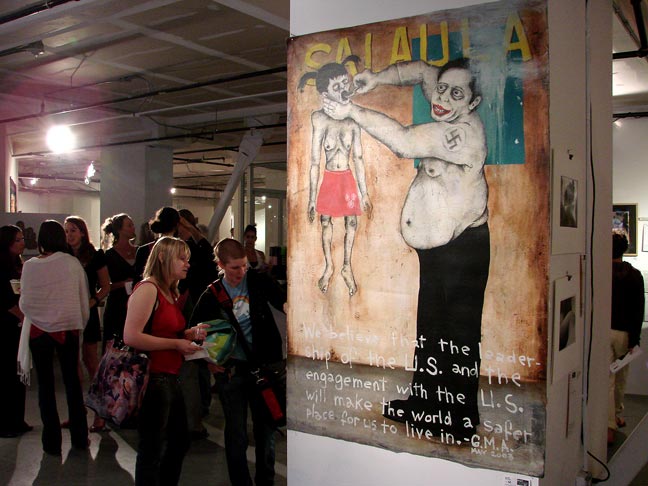 Art.


Er... art.


Art.


Art.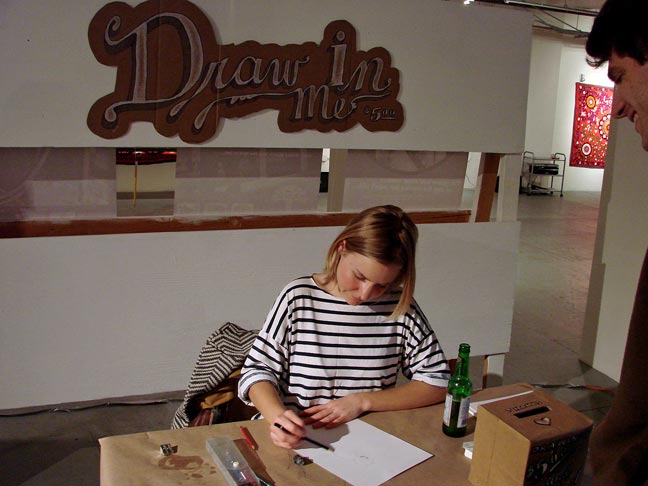 Instant original drawing - $5.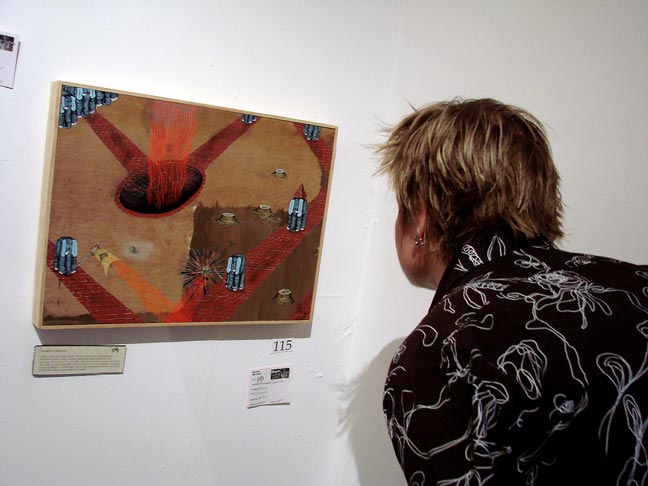 Art (Andrew Schoultz).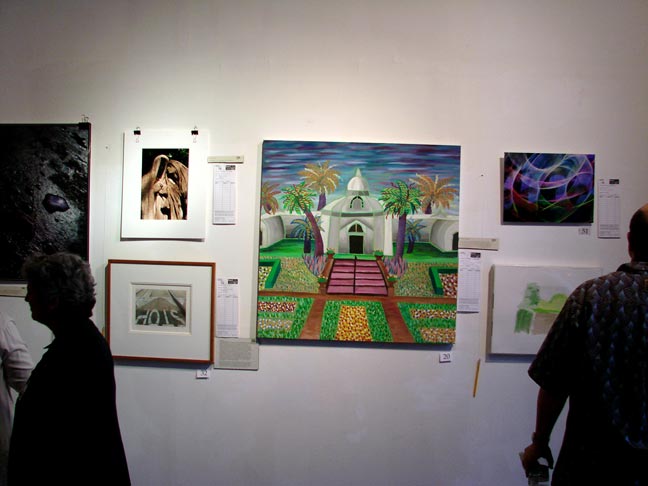 Art.


Art.


Live auction audience.


Live auction auctioneer.


***