SAN FRANCISCO ART GALLERIES - OPENINGS
PAULE ANGLIM - SUPERVISOR AARON PESKIN
LIMN - SAN FRANCISCO ARTS COMMISSION - CITY HALL
SUPERVISOR ROSS MIRKARIMI - VISUAL AID - GALLERY 16
BUSACCA GALLERY - SPACE GALLERY
06.15-16.06
Gallery Paule Anglim: RIGO 23; The Art of Robert Pimple; Clare Rojas - Moody Loner.
Comment: RIGO 23 presents a group of large canvases (actually tarps), hung unframed and unstretched like banners on the walls. Their content is social and political with texts in various foreign languages, and titles corresponding to the English translations of those texts. Top price around $22K. Clare Rojas and significant other, Robert Pimple (the artist formerly known as Twist), show vivid, criss-cross, folkoric, iconic, and urban in the anteroom. A selection of vintage Pimple is on display in a small plexi showcase just outside the door (love them peerless sad sack pencil portraits).
Art (RIGO 23).


Art (RIGO 23).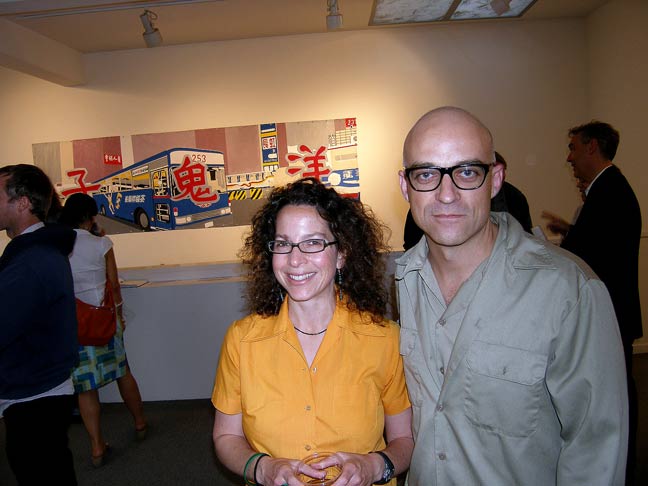 Amy Berk of Stretcher.org (left) - RIGO 23 (right).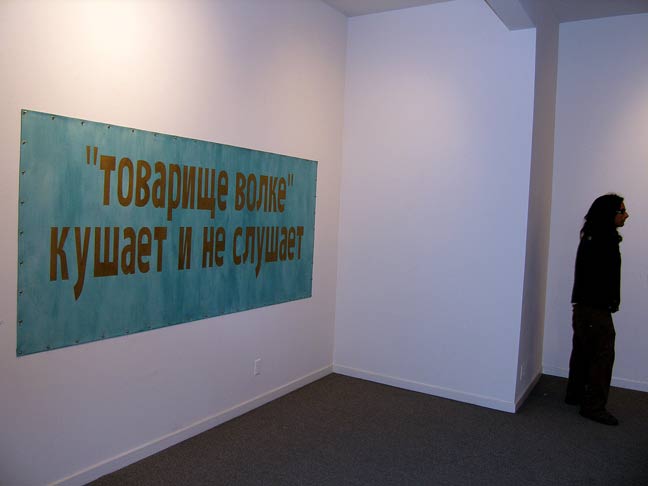 Art (RIGO 23).


Art (RIGO 23).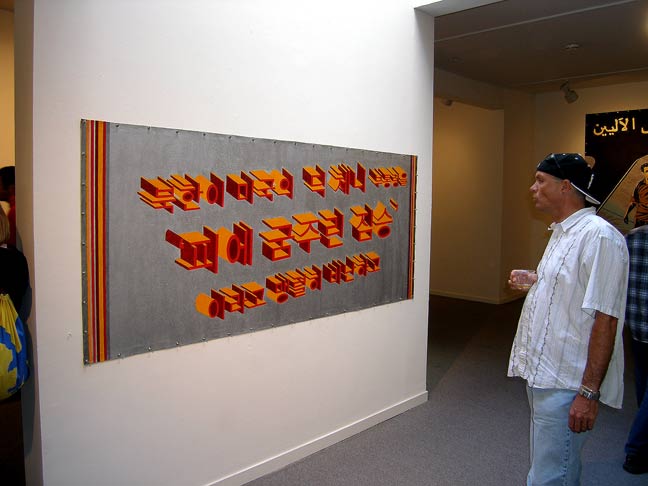 Art (RIGO 23).


Art (RIGO 23).


Art (Robert Pimple).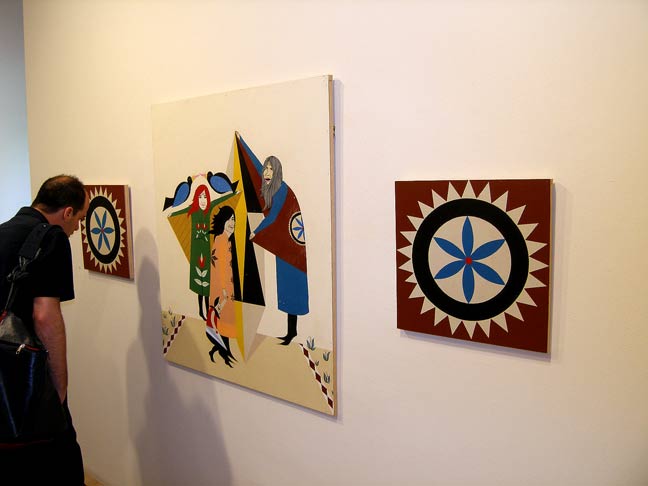 Art (Clare Rojas).


Clare Rojas (left) - Robert Pimple (center).


Art (Robert Pimple).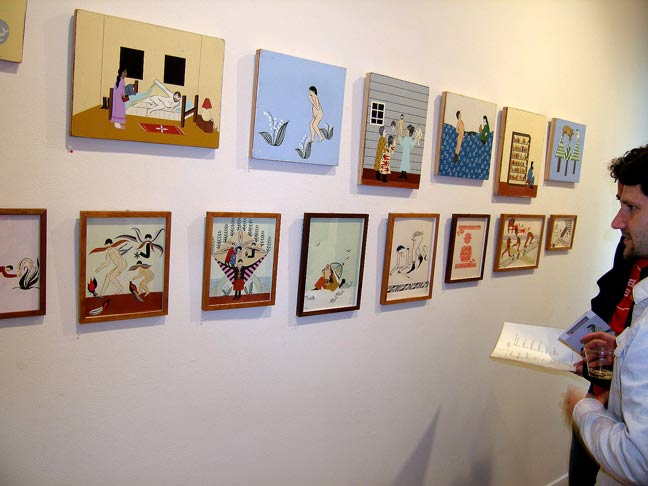 Art (Clare Rojas).


***
Supervisor Aaron Peskin: Taste - A Sampling of North Beach Artists.
Artists: Roger Strobel, Sherry O'Donnell, Ronald F. Sauer, Rebecca Peters, Tony Vaughn.
Comment: Classic North Beach bohemian caboodle underscores the camaraderic nature of art. I don't think any city government anywhere in America (outside of maybe NYC) respects artists and knows the value of a healthy arts community like ours does.
Art.


Art.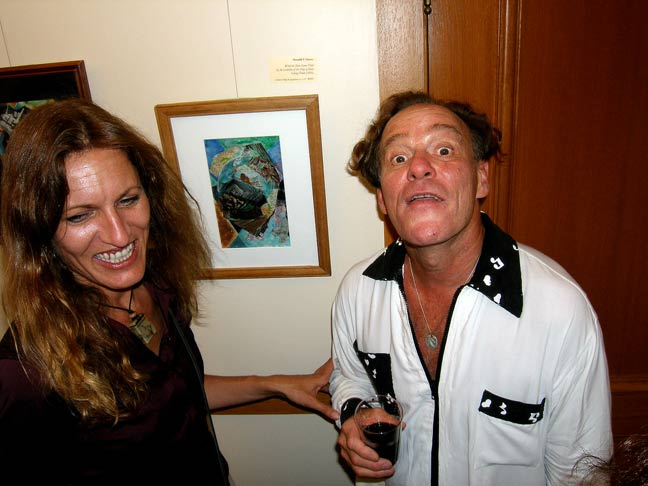 Rebecca Peters - Ronald F. Sauer (art, Ronald Sauer).


Supervisor Aaron Peskin (center).


Art.


***
San Francisco Arts Commission Gallery: The Dust Never Settles - Four Visual Art Projects Responding to the Centennial of the 1906 San Francisco Earthquake.
Artists: (At the SFAC Gallery, 401 Van Ness) Patricia Diart, Kate Pocrass, Claudia Tennyson - Surroundings; Margaret Tedesco - Nineteen Hundred O Six-Two Thousand O Six.
Comment: Claudia Tennyson litters the gallery with random furnishings painted and upholstered in "emergency orange," reminding us of the how earthquake survivors had to salvage what little they could from their devastated homes and live life on the streets. Never forget-- we're all only moment from homeless. Margaret Tedesco creates an edition of 10 flip books using 10 different film clips from National Velvet to Altered States arcanely referencing how we respond to situations beyond our control. Vintage fifties atom bomb test blast film footage plays in the video room-- not quite sure what that's about.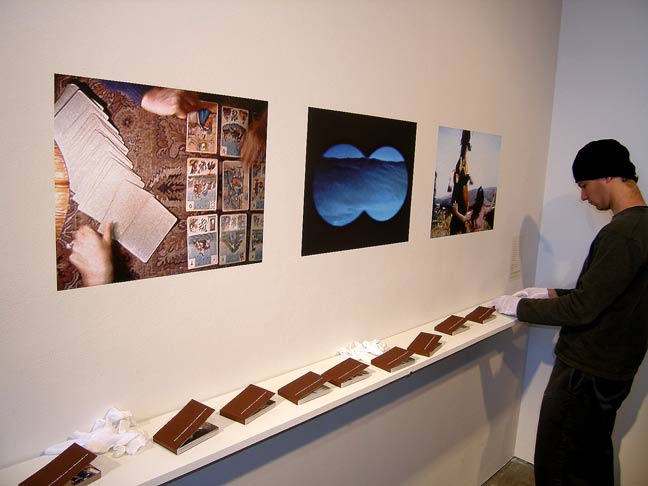 Art (Margaret Tedesco).


Art (Claudia Tennyson).


Art (Claudia Tennyson).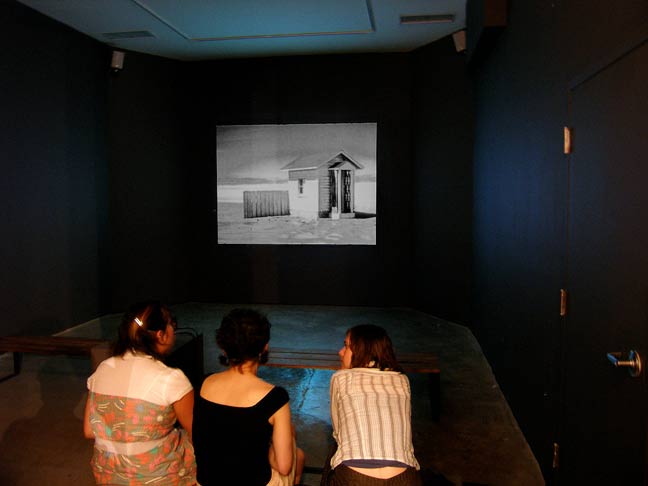 Art (not sure).


***
Limn Gallery: Limn Collection Rugs - 16 Designs, 9 Artists.
Artists: Derrick Buisch, Jaq Chartier, Catherine Courtenaye, Sid Garrison, Carrie Leeb, Deneane Niebergall, Nathaniel Price, Kimberly Squaglia, Kathryn St. Clair.
Comment: Limn commissions nine of its regularly exhibiting artists to paint paintings. The paintings are then reproduced as handmade rugs, 100 knots per square inch, by Tibetan refugees at a cooperative factory outside of Kathmandu, Nepal. The results are warm, organic, earthy, and natural. Priced at $85 per square foot (reasonable). Part of Limn's 25th Anniversary celebration. Superbly functional (or hangable); beautiful show. You know, kiddies, Limn is one of Ess Eff's original, most venerable, and most bestest resources for domestic high stylin', starting out way way back in the early eighties in a skinny little space on Pacific near Montgomery (if my fading memory serves me correctly).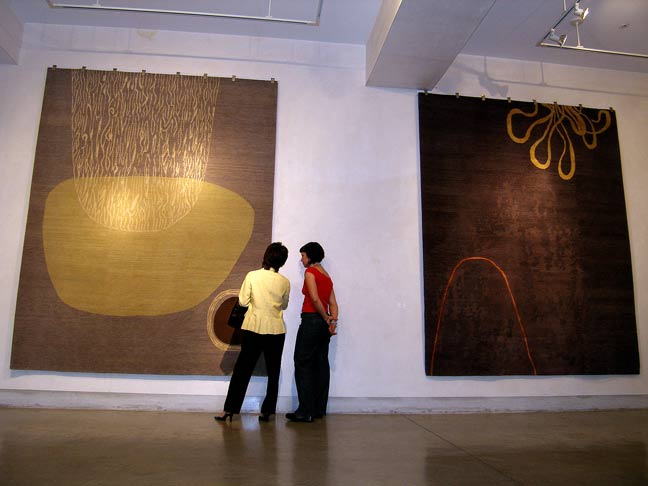 Rug art.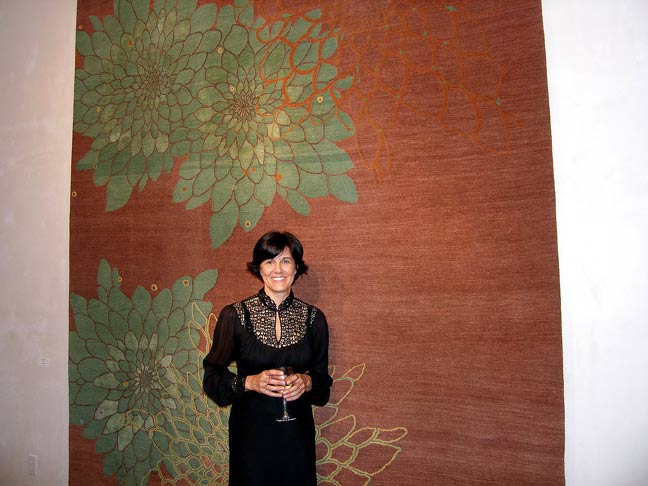 Gallery director Christine Duval - rug art.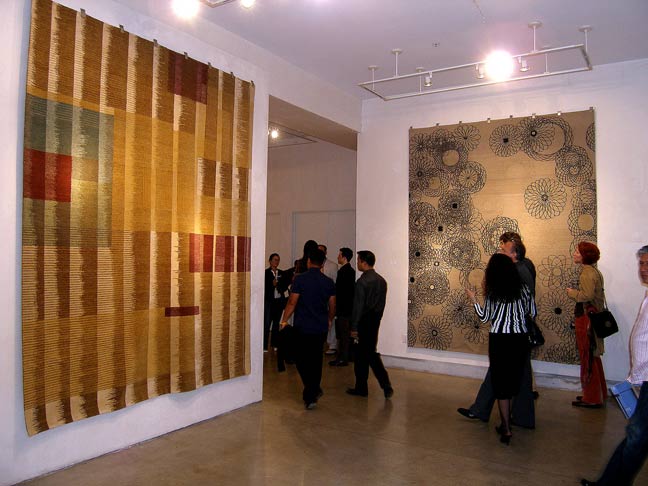 Carpet art.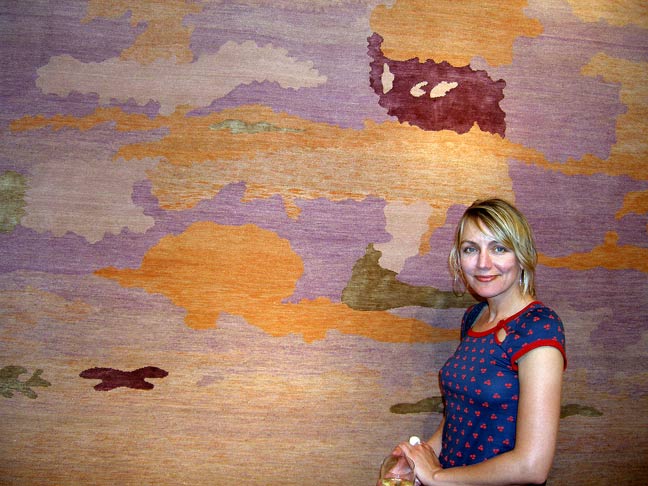 Deneane Niebergall - rug art.


Rug art.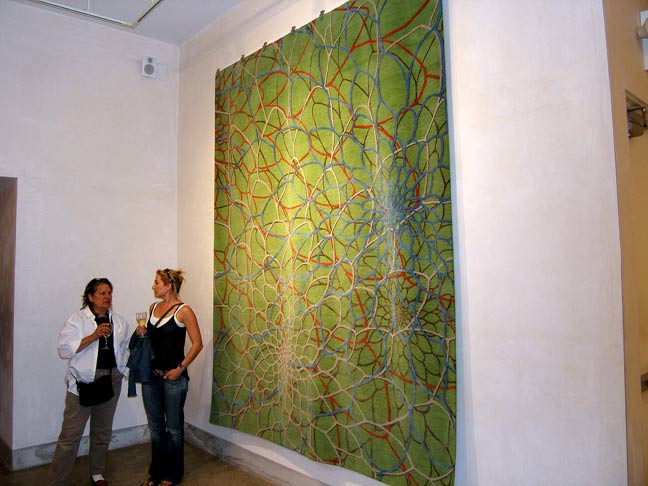 Rug art.


Head count partial (there's a B & B Italia reception too).


***
Supervisor Ross Mirkarimi: Let's Put Harvey Milk Back in City Hall.
Comment: Artful heartfelt documentarian array of vintage images and memorabilia celebrating Harvey Milk's legendary legacy and pioneering contributions to making San Francisco what it is today-- the most progressive, accepting, socially precocious, hate-free city in the world. The overflow crowd spills out the door and down the hallway.
Memorabilia.


Memorabilia.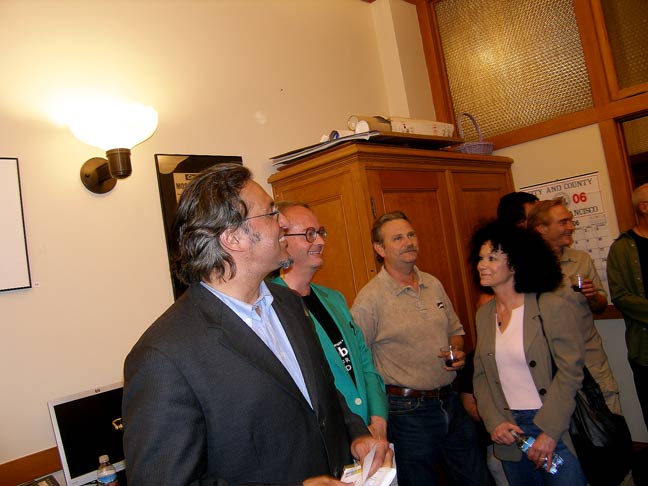 Ross Mirkarimi (foreground).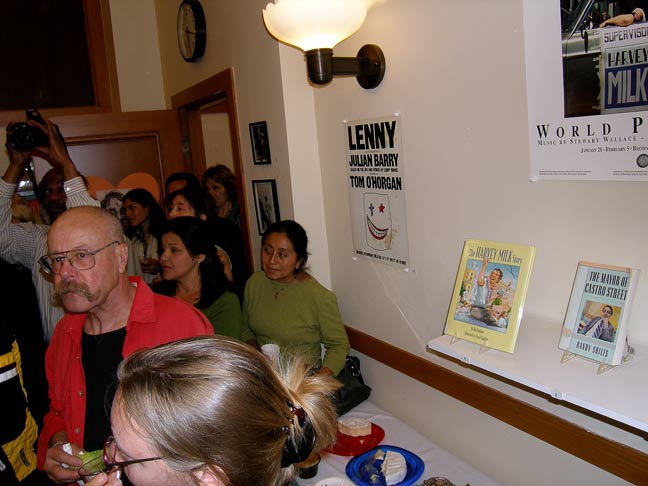 Memorabilia.


Memorabilia.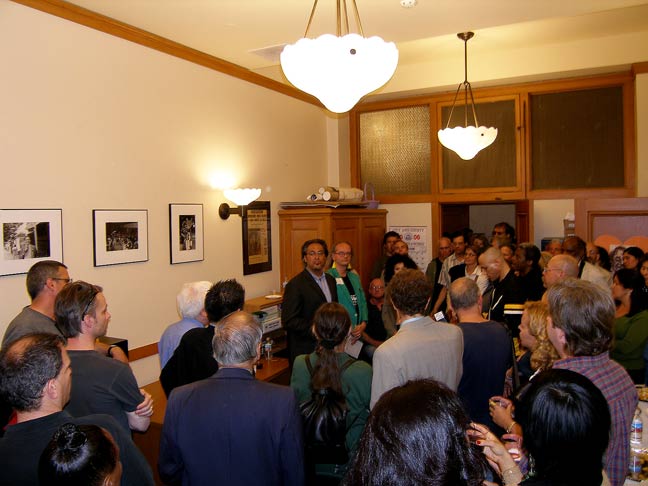 Attendance figures.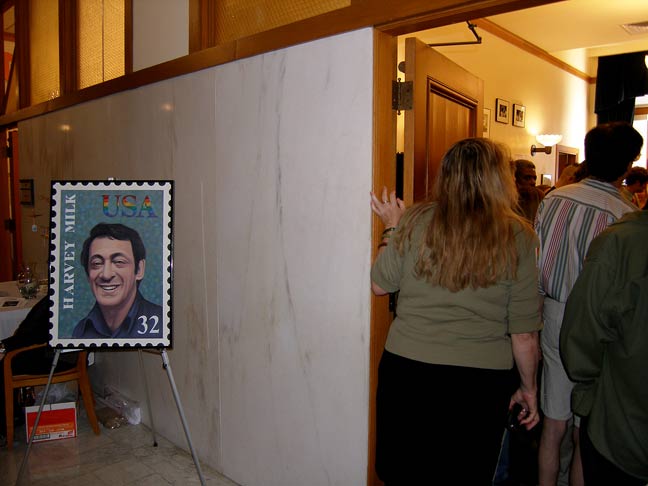 Out.


***
San Francisco City Hall, Room 288, 1 Carlton B. Goodlett Place, San Francisco, CA 94102: Sarah Diaz-Bastin - Return of Myth.
Comment: Are you kidding me? This is the third art opening at City Hall I've been to in two days (and that's not counting the San Francisco Arts Commission show across the street). Remarkable. Anyway, Sarah Diaz-Bastin's spiritual symbol-infused hallucinatory landscapes remind me of early Taos and Santa Fe modernism, particularly transcendentalists like Raymond Jonson and Emil Bisttram.
Art.


Art.


Occurrence.


***
Visual Aid at Space 743: About Still Life - A Visual Aid Exhibition.
Artists: Michael Beck, Kevin Cata (Mooshka), Joe De Hoyos, Ira Lesser.
Comment: Four diverse takes on contemporary still life art featuring stark painted objects and their shadows by Michael Beck, collage works by Ira Lesser and Joe De Hoyos, and my favorite, the eclectic electric imaginative recycled reorganized object installations by Kevin Cata (Mooshka). Visual Aid encourages artists with life-threatening illnesses to continue their creative work.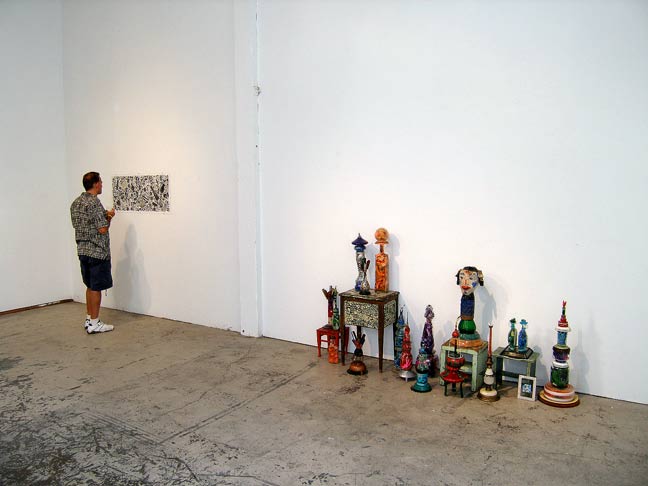 Art.


Art.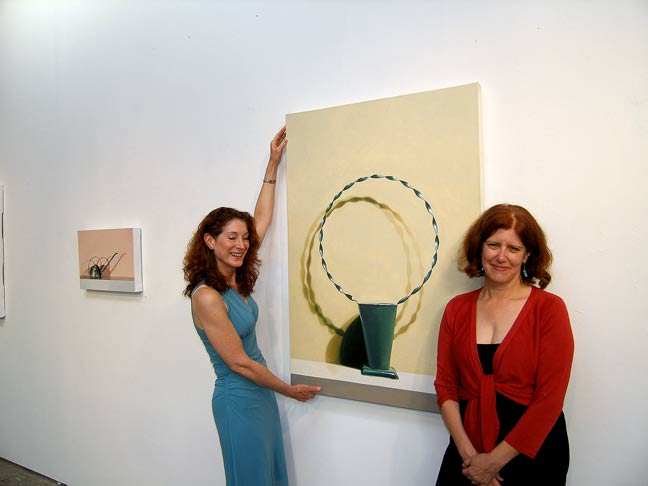 Julie Blankenship (Visual Aid Executive Director, right) + Sheepish spokesmodel.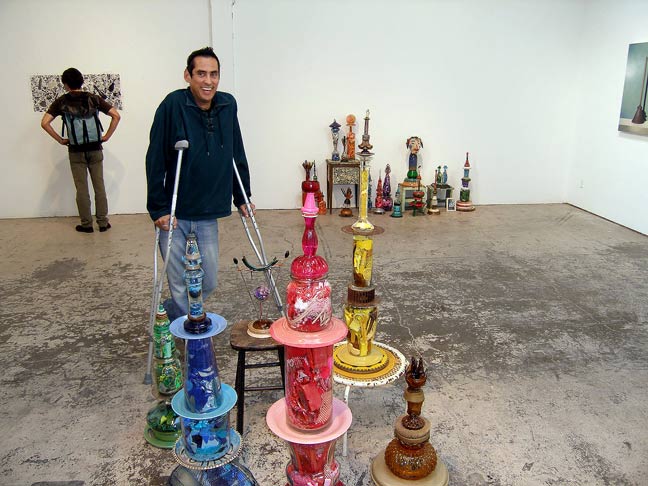 Mooshka (Kevin Cata) - art.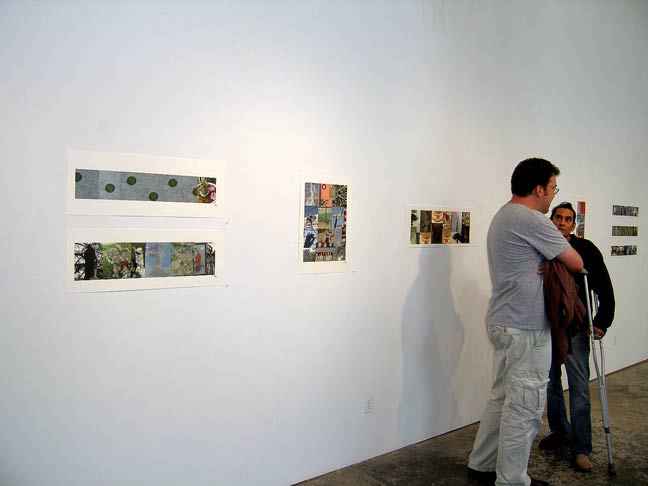 Art.


Art.


***
Gallery 16: Alex Zecca - New Work.
Comment: Grand reopening of Gallery 16 (formerly of 1616 16th Street) in a cherry new space at the corner of Third and Bryant. The joint was packed to the rafters with artsters of all persuasions plus special added attraction--every freeloader, sponger, and pickled parasite in town was there-- so you know it had to be good-- and it was. Festivities included live music, ample of hooch and edibles, and the barely believable precision drawings of Alex Zecca who inks hundreds and hundreds of perfectly straight lines into intricate hyperhip patterns mildly reminiscent of vintage plaids. Priced $2500-$3800. In fact, they're so flabbergastingly flawless, I hereby present Zecca with the rare and highly coveted "How Do Dey Do Dat?" Award. Congratulations Alex, and don't spend it all in one place.
Art.


Art.


Art.


Art.


Festivities.


Spillage.


***
Busacca Gallery, 2010 Hyde Street, San Francisco CA 94109; 415.776.0104: Grand Opening.
Comment: Artist and Artistic Design Consultant Mark Busacca opens an art and artistic design establishment in tony lower Russian Hill.
Art.


Art.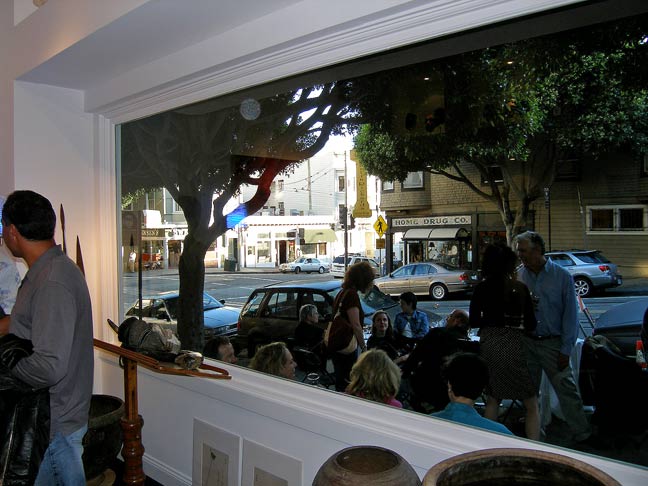 In - out.


Out - in.


***
Addendum:
The Whole Picture, juried photo show at Space Gallery.


Nishf21 photo show at Space Gallery.


One more from Space Gallery group photography show.


***