SAN FRANCISCO ART GALLERIES - OPENINGS
HOSFELT - SCION - ARTSF
06.16.07
Hosfelt Gallery: Pattern vs Decoration.
Artists: Anoka Faruqee, Andrea Higgins, Julie Chang, Stefan Kurten, Jutta Haeckel, Driss Ouadahi, Nicole Phungrasamee Fein, Elise Adibi, Gerhard Mayer, Jonathan Brand, Reed Danziger, Susan Marie Dopp, Jacob el Hanani, Robert Greene, Joan Grubin, Melinda Hackett, Marietta Hoferer, JosÚ Antonio Suarez Londo˝o, Dorothy Napangardi, Gay Outlaw, Lordy Rodriguez, Shahzia Sikander, Brian Wasson, Crystal Liu, Jeremy Stenger.
Comment: Pattern as art themes this ably selected and curated show. Everything makes sense; art and expository meld nonpariel. If there's one thing that irks my imperturbability, it's a disparate group show purportedly held together by a contrived justification that lacerates the limits of logic. This show is the exact opposite of that. And special added bonus-- the art's good too. Go see.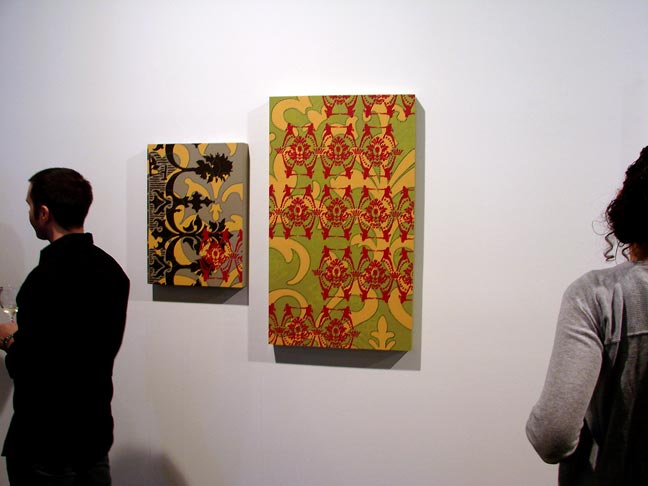 Art.


Art.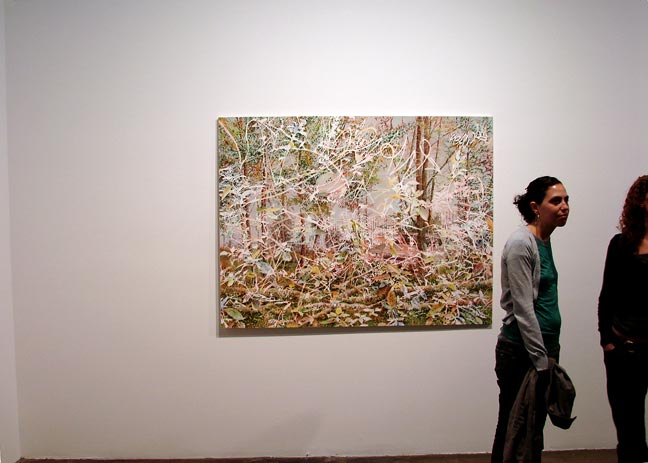 Art.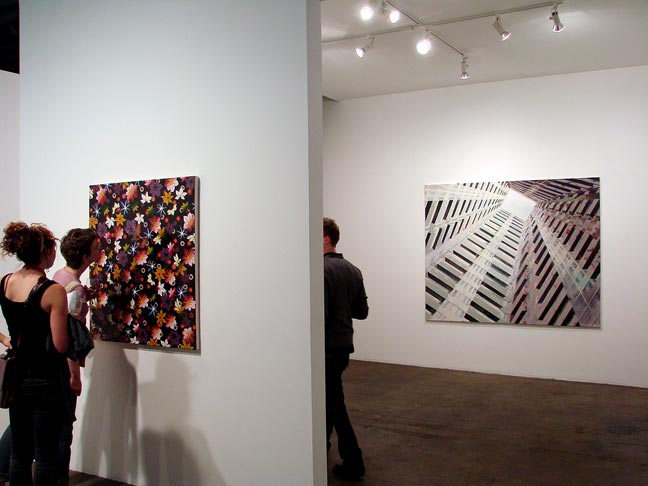 Art.


Art.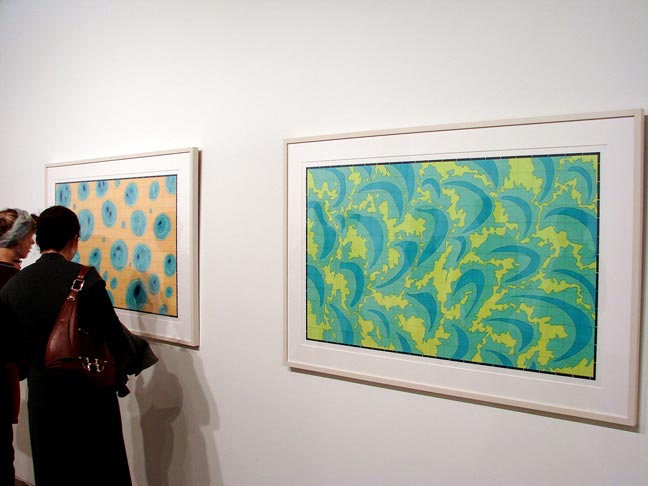 Art.


Art.


Art.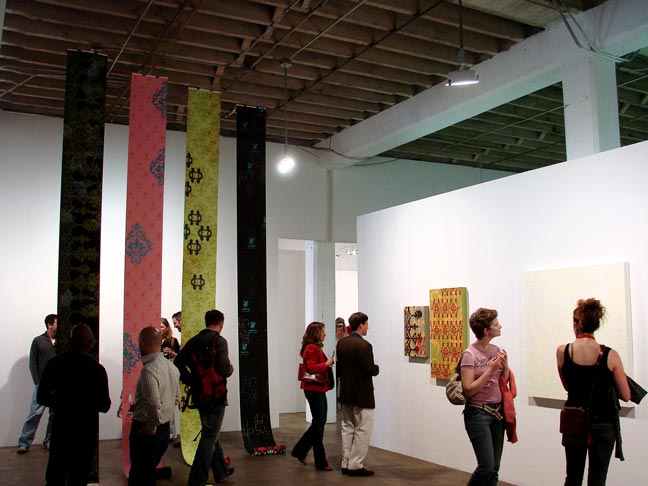 The basic idea.


***
Scion: The Second Annual Exprescion Alcatraz '07.
Artists: Adam 5100, Chor Boogie, Sam Flores, Greg "Pnut" Galinsky, Manuel "Gonzo" Gonzalez, Paul Hayes, Micah Lebrun, Ferris Plock, Laura Plageman, Romanowski, Noel Spirandelli.
Comment: Scion throws a mungo social on The Rock for loyalists, aficionados, associates, affiliates, and those who love them. Diversions include fashion, performance, live and recorded music, video, beverages, and last but certainly not least, a chapel full of art complete with live mural painting. I leave early (seeing as I'm a professional lightweight) with the mural in process and the plot line shaping up nicely, and ferry my ass back to cozy SF. The moral of the story? We adore corporations that support the arts, so do what you can to Scionify your lifestyle.
Gangplank.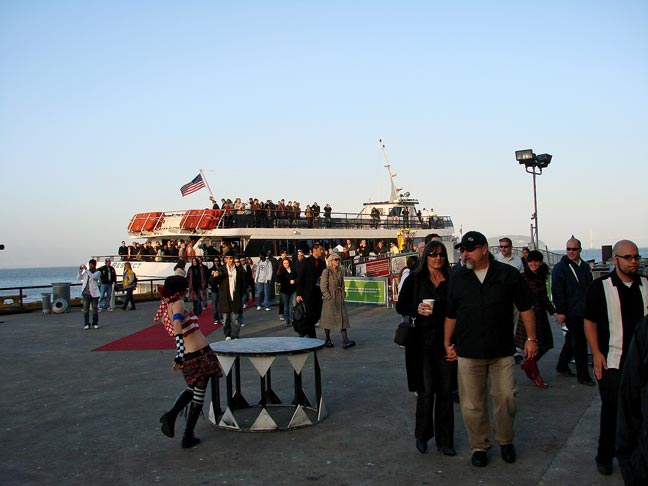 Here we are (my first time EVER on Al Catraz).


Welcoming committee.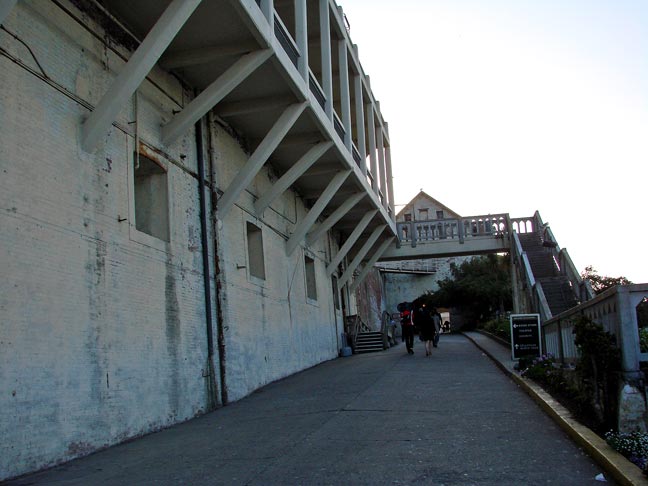 On the way up the hill.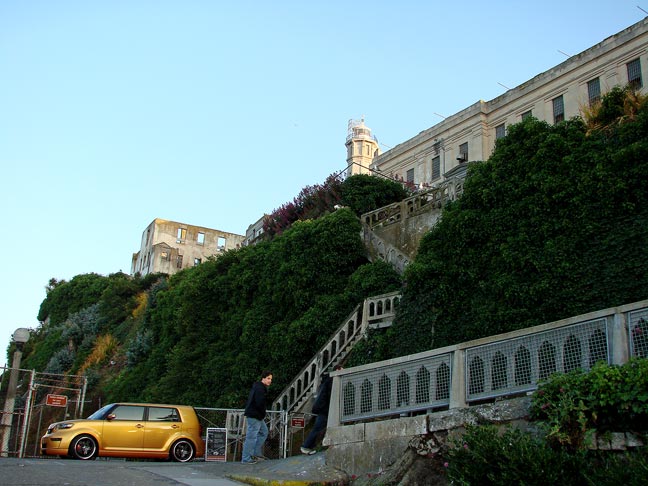 Getting closer.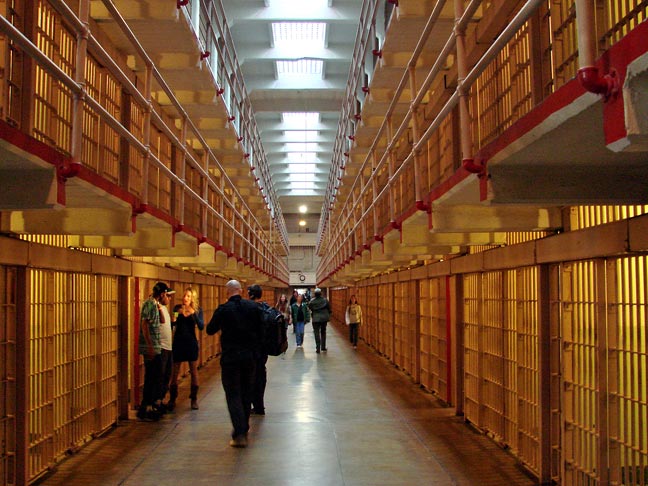 Here we are.


Accommodations. Wanna see some art? OK. Let's.


What it is (art - Sam Flores - left).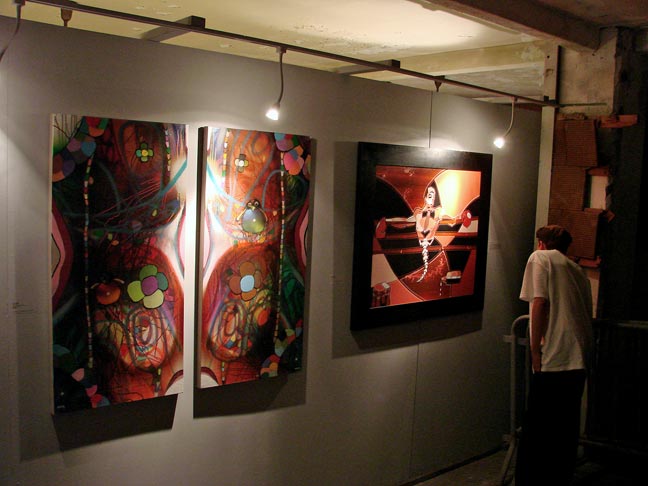 Art (Chor Boogie - pair on left).


Installation art (Paul Hayes - like it).


Ferris Plock - art.


Assemblage art (Romanowski - like it).
Attn gallerists: This dude is good. Take a chance.


Art (Adam 5100 - like it).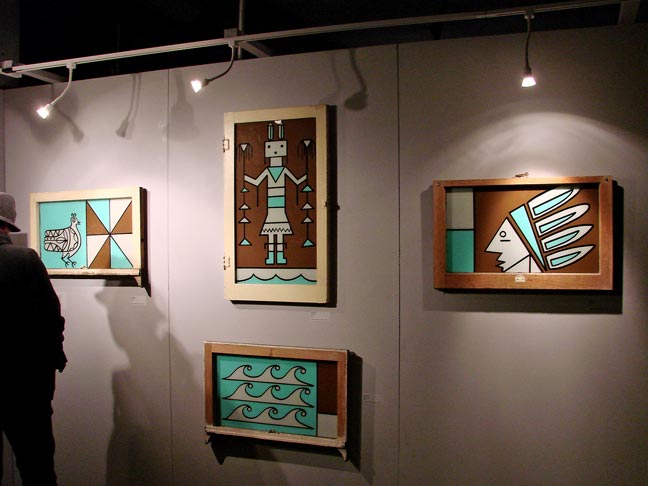 Art.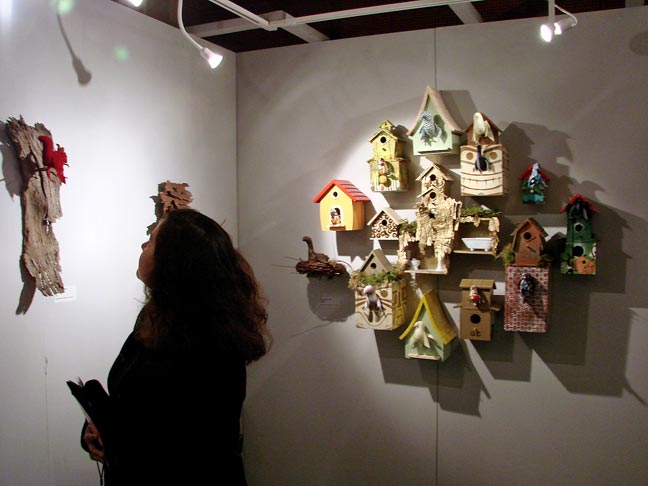 Art (Manuel "Gonzo" Gonzalez - nice).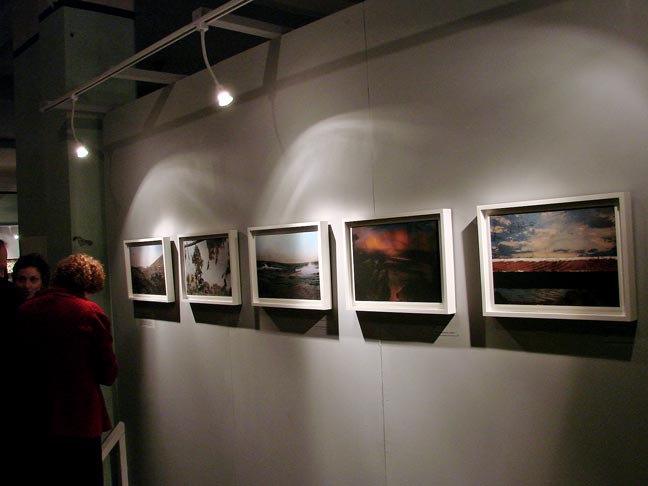 Art.


Romanowski on the mural.


Guest appearance by Kelly Tunstall.


That's all folks. I'm outta here.


***
ArtSF: Double Delicious.
Artists: Teresa Moore, Robert Adler, Christian Lunch, Poppy Cannon-Reese, Jack Collins, Daniel Weaver, Kiriko Moth, Yaffa Talcott, Alejandro Johnson, Klaus Lange, Umayyah Cable, Samantha Wolov, Joseph Butt, Jennifer Mercede,Tantra Bensko, Linda Angela, Suzanne Rachel Forbes, Kenny Mencher, Monica Meza, Ted Williams, Storm Faerywolf, Nining Muir, more.
Comment: Another seminal (as in fluid) event for ArtSF, tonight's topic being that icon of erectitudinality, DD breasts, featuring the book release of "Destination DD - Adventures of a Breast Fetishist with 40DDs," written by "sexpert and breast fetishist," Virgie Tovar. As one would expect, the artistic oeuvre is abuntantly bosomy, however the compilation is peppered with periodic penis pieces just to make the incident official.
Art.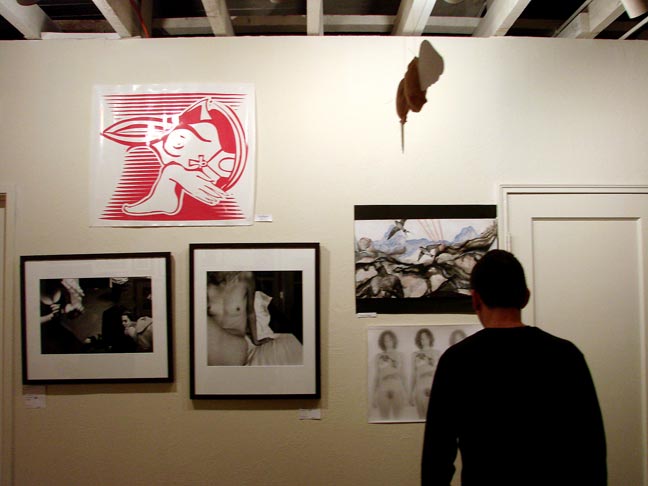 Art.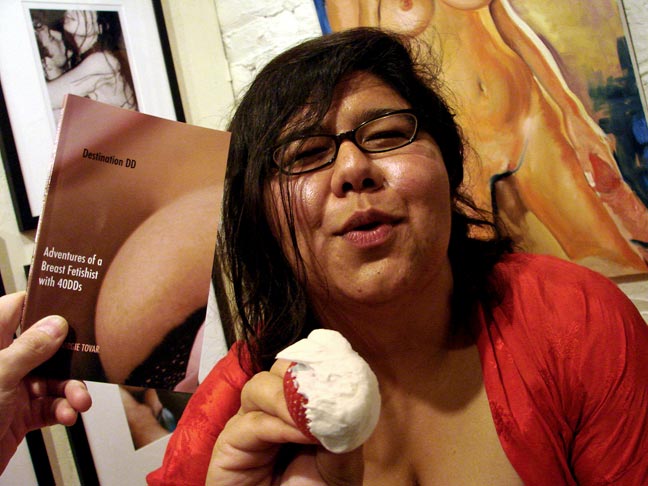 Virgie Tovar - author, breast fetishist, creamed berry profferer.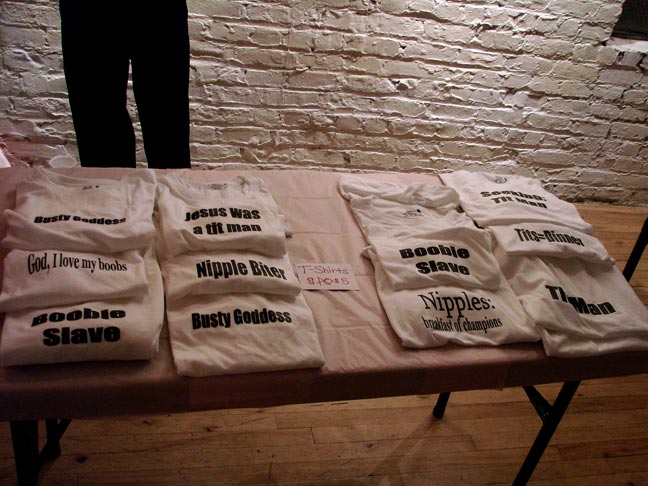 Haberdashery.


Not quite sure what the deal is here.


Yaffa Talcott - protuberant art.


Playing field.


***