SAN FRANCISCO ART GALLERIES - OPENINGS
HOSFELT - RECEIVER GALLERY - LA CASA DEL LIBRO
ODD FELLOWS HALL - ARTPOINT - 111 MINNA GALLERY
OMNICIRCUS
06.17.06
Hosfelt Gallery: Russell Crotty - Twilight in the West; Lordy Rodriguez - Landscapes.
Comment: To very different perspectives on cartographic (map) art. Lordy Rodriguez works in two dimensions, taking colors, shapes, grids, and gradients traditionally used in mapmaking and abstracting them into rambling imaginary aesthetic adventures. Russell Crotty works in three dimensions on paper-covered acrylic spheres, congesting the bottom halves with voluminous text messages against earth-toned backgrounds, and the top halves with drawings that resemble artified celestial globes. (Apologies for any repeat images-- the spheres were too much fun to photograph.)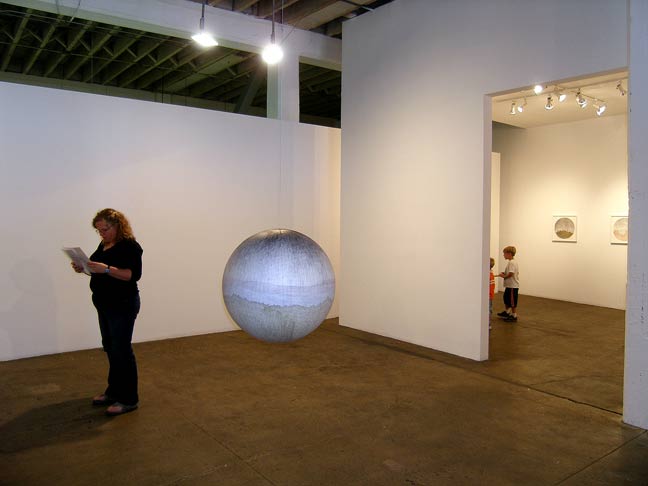 Art (Russell Crotty).


Art (Russell Crotty).


Art (Russell Crotty).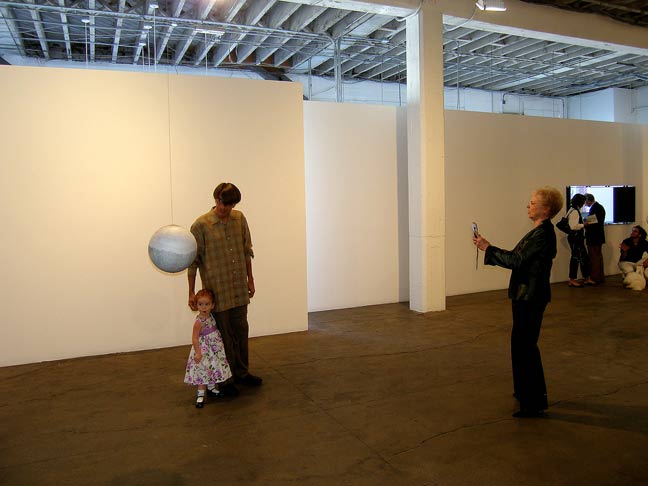 Art (Russell Crotty).


Art (Russell Crotty).


Art (Lordy Rodriguez).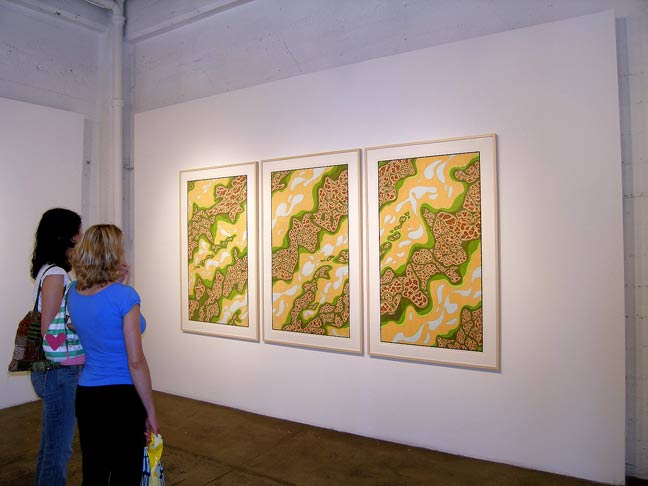 Art (Lordy Rodriguez).


Art (Lordy Rodriguez).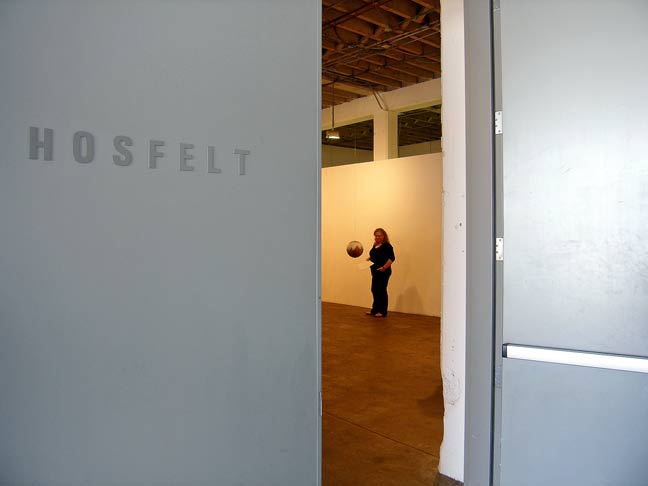 Out.


***
Receiver Gallery: Grand Opening.
Comment: Receiver relocates from 8th and Irving to 1415 Valencia Street near 25th. The art is courtesy of friends of the gallery; first official art opening is scheduled for Saturday, July 8. Nice space, plenty of room.
Art.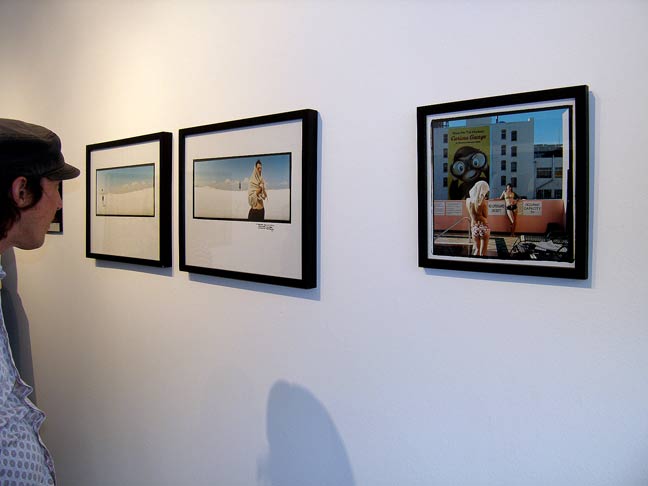 Art.


Art.


Brad K. Alder (left) - Jay Hakkinen (owner, right).


Art.


Floor plan.


Woah! Potato salad! I love potato salad.


Hey-- I'll meet up with you at the next opening...


***
La Casa del Libro, 973 Valencia Street, San Francisco, CA 94110-2320;   415.285.1399: Calixto Robles - Reflejos Acusticos.
Comment: Every once in a while you luck into a really intimate artful quality show at an entirely unlikely venue-- like here at La Casa del Libro, a Spanish language bookstore in The Mission. Oaxaca-born painter, sculptor, printmaker and recent Artist-in-Residence at the de Young Museum, Calixto Robles displays a group of paintings inspired by myths, symbols, colors, and ancient traditions of Meso-America, using natural and supernatural figures including angels, eagles, jaguars, horses, hearts, and moons.
Art


Calixto Robles - art.


Art.


Art.


Layout (the gallery's in the back).


***
Odd Fellows Hall, 26 Seventh St., Second Floor, San Francisco, CA 94103: Oddaganza.
Artists: Elizabeth Ashcroft, Mark Charles Bernardini, David Booth, Theophilus Brown, Mel Clay, Janet Cook, Christopher Craig, Stephan Crawford, Marilyn Davis Cullen, Eileen David, Teresa Dong, Lotte Dyhrberg, Agneta Falk, Elizabeth A. Fracchia, John Goodman, Bob Gerbracht, James Hartman, Jack Hirschman, Anthony Holdsworth, Timothy Horn, Gina Jucupke, Charles Keine, Mike Kimball, Jim Koehne, Ellen Lent, Beryl Landau, Jennifer Lohman, Victoria Mimiaga, Roger Mulkey, Peter Najarian, Ronald Newman, Salvatore Orlando, Chuck Overton, Richard L. Perri, Ashlyn E. Perri, Rebecca Peters, Julia Powell, Sara Price, Jeremy Ritter, William Rushton, Mark Seeley, Terry St. John, Paolo Salazar, Michael Sheiner, Samuel Toole, Linda Trunzo, Jerrold Turner, Laura Williams, Paul Wonner.
Comment: Eclectic down home annual group show of approximately 50 artists and poets organized and presented by Richard Perri with a portion of this year's proceeds going to help fund San Francisco Art and Film for Teenagers. Pretty much the entire Odd Fellows Hall, a relaxed funky vintage San Francisco gem of a venue, is filled with art, plus you've got the bar, pool table, piano, meeting room (perfect for Jack Hirschman etc. poetry readings), memorabilia room, and more.
Art.


Art (Anthony Holdsworth - like it).


Art.


Jack Hirschman poetry reading.


Listening to Jack Hirschman poetry reading.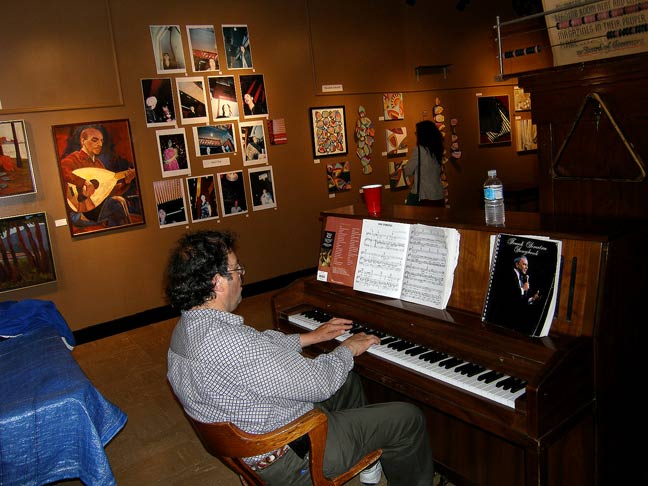 Tunes.


Richard L. Perri - art.


***
ArtPoint at the Legion of Honor: Monet in Normandy Exhibition, Viewing and Opening Gala.
Comment: ArtPoint is a combination membership and volunteer organization of the Fine Arts Museums of San Francisco that sponsors a year round program of social and educational events designed to encourage young professionals to become active museum members and supporters. I hadn't heard of ArtPoint before tonight, but they've turned out at least several hundred people for this event-- cocktails, hors d'oeuvres, DJ, and dancing upstairs, the new Monet show downstairs (that dude was prolific), and the rest of the galleries also open for arting. Excellent-- all of it. I'm not sure how many of our local dealers are familiar with ArtPoint-- only one gallery had promotional materials on hand-- but I'm gonna guess the membership will ultimately manifest substantive upside collecting potential.
Here we are. And in we go.


Entry.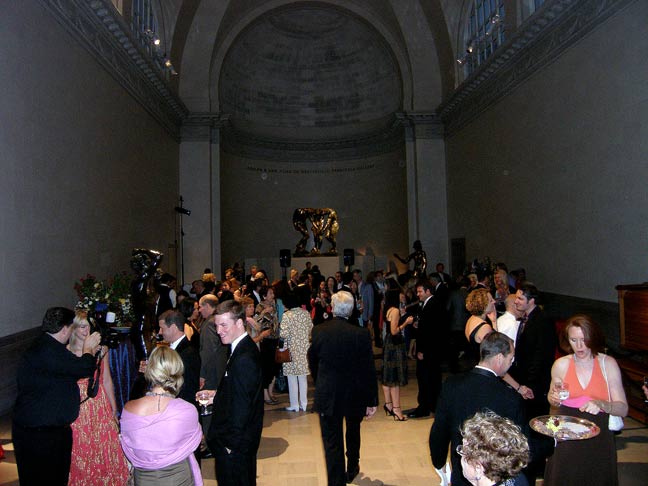 Event partial.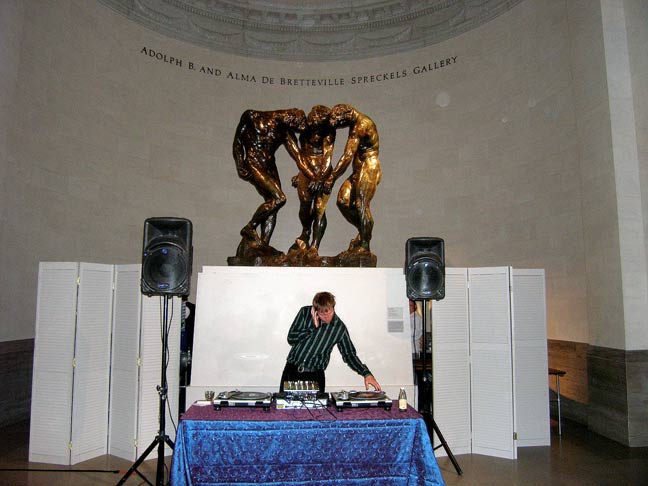 Tunes.


This looks interesting.


Nice.


Nice again.


***
111 Minna Gallery: DVD Release Party for Quality of Life.
Comment: Art show and celebration for the DVD debut of Quality of LIfe, a tale of love and graffiti filmed in San Francisco's Mission District. It's a very good movie-- for adults, but especially for impending adults. I watched it again with several high school students the other night. They told me it was too short. How often do you hear that from this age group?
Art.


Art.


Benjamin Morgan (Director - Quality of Life).


DVD & T-Shirts (sales were brisk).


***
Addendum:
Frank Garvey and friends perform at OmniCircus.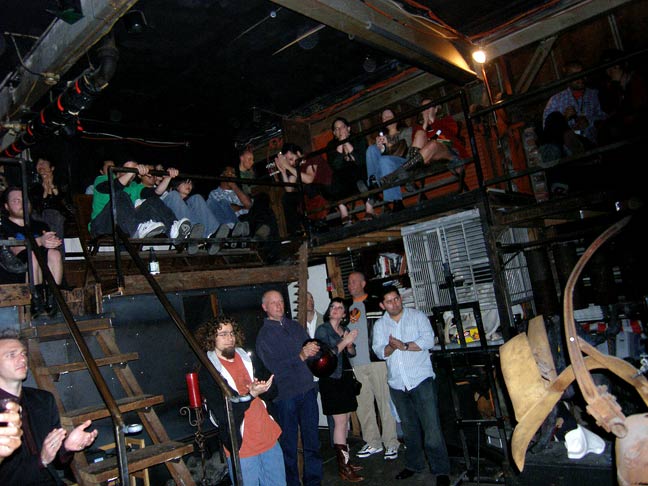 OmniCircus audience partial.


One more; this time with flash.


***