<< Back to San Francisco Gallery Openings Reviews
Upcoming San Francisco Gallery Openings Calendar >>
***

Get your art fix fast: Instagram @alanbamberger
***
Joel B Garzoli Fine Art: Early American Paintings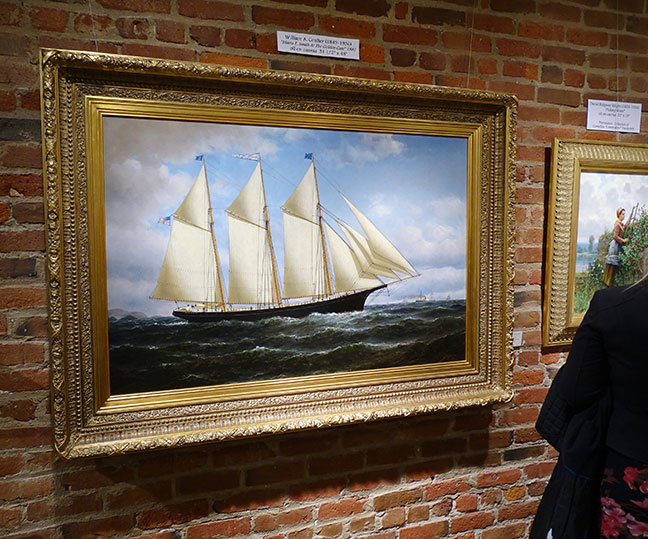 I'm continually amazed at how few people-- especially artists-- pay even the slightest amount of attention to the art of our forefathers and foremothers, and how pathetically little they know about it. In this case, I'm talking about quality examples by some of the best American artists of the times, in particular the second half of the 19th and early 20th centuries. Instead for those proudly oblivious of history, it's all about today... or maybe what happened in the 1960s and 1970s (for those who go way back) or maybe Duchamp (for those who go way way back). Hopefully that will change. Remember-- it's all one great long continuum and everything counts. Pictured above is a cherry William A Coulter ship painting on San Francisco Bay in its original 19th century frame.


Art by Daniel Ridgway Knight (about as good as he gets).


Pinkie cam detail of art in above image.


William A Harper art circa 1905 in original frame.


Joseph Raphael painting, left, in an awesome Victorian frame.


Atmosphere - group vintage American art show at Joel B Garzoli Fine Art.


***
The McLoughlin Gallery: Moving Images
Artists: David Molina, Daniel Postaer, Tiffany Trenda, Andrew Voogel, Jamie Zigelbaum.

Tiffany Trenda in action on Times Square at The McLoughlin Gallery.


Photography by Daniel Postaer.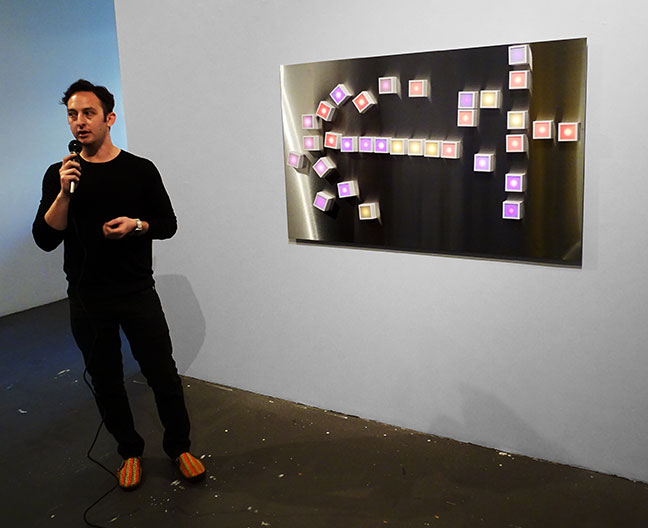 Jamie Zigelbaum explains his art at The McLoughlin Gallery.


Interactive sculpture by Jamie Zigelbaum in above image closer.


David Molina talks about his music machine at The McLoughlin Gallery.


Music machine in above image from above.


Video by Andrew Voogel.


***
Italian Cultural Institute: Alfonso Carrara - Happenchance - World War II Photographs from the Italian Campaign, 1942-45

World War II photographs by Alfonso Carrara at Italian Cultural Institute.


Alfonso Carrara photography - World War II in Italy.


Italian World War II photographs by Alfonso Carrara.


The basic idea - Alfonso Carrara photographs at the Italian Cultural Institute.


***
Nido Living: Inaugural Art Opening
Artists: Tyler Eash, Jeffrey Eisenberg, Valeria Gaia, Willem Racke, Jeffrey Rothstein

Graphite drawing by Jeffrey Eisenberg at Nido Living (nicely done).


Jeffrey Eisenberg architectural art.


Art by Tyler Eash.


Photography by Valeria Gaia.


Art by Willem Racke.


Ambiance - group art show at Nido Living.


***