SAN FRANCISCO GALLERY OPENINGS
SUPERVISOR ROSS MIRKARIMI - SFAI - THE LAB
RX GALLERY - STUDIO GALLERY
RECORD COLLECTOR - 69 BELCHER STUDIOS
BLUE GALLERY - OUTDOOR MURAL
06.17-19.05
Supervisor Ross Mirkarimi: Collages by Chris Corales.
Comment: This is refreshing. Chris Corales presents a simple direct artist statement-- and it does the job perfectly. Behold the magic-- "The manufactured needs that supply us with a variety of conveniences are quickly used up, discarded and destroyed. What remain are the scraps of post-consumption. Through its passing-- by transit and deposit, by accident-- that which is created in mass and monotony eventually takes on a new shape." It means that Chris Corales takes things people throw away and makes art out of them. Not a single syllable of brain bending, jargon hurling, pretense peddling, MFA flogging mumbo jumbo is necessary to make that point. Just the facts, and we love facts. Price range $200-$1200 with most under $600.
Art.


Art.


Chris Corales.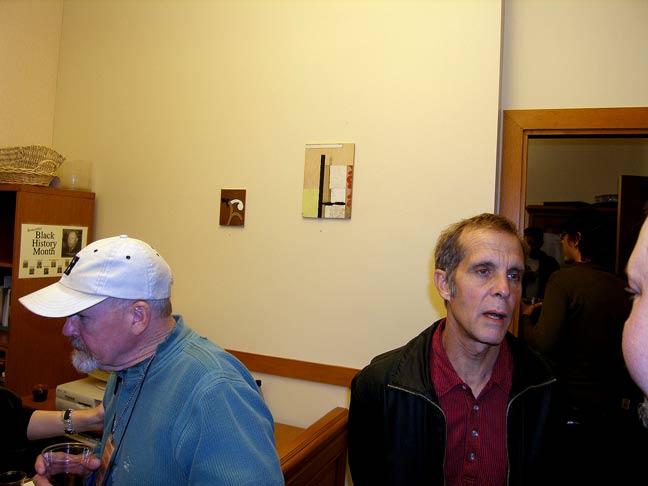 Art.


Art.


Art.


***
San Francisco Art Institute: Scott Williams and Chris Ballantyne.
Comment: Scott Williams is a stencil artist and this year's winner of the Adeline Kent Award. Williams is adept with the stencils, no doubt about it-- and colorful. I'm not sure what makes his stencils award-winning considering all the other award-worthy stencil art I see. His are arty-- that's for sure-- so if the award is for Artiest Stencil Art, then he probably deserves it.
Tournesol Award winner Chris Ballantyne makes art that focuses on "what he perceives as an American obsession with ownership and domination of the landscape" or owning property. He illustrates his contention with paintings that focus more on physical property itself than on what we do with it. For example, one painting shows sets of stairs that lead to nowhere-- stairs that normally lead up to the porches of houses, but no houses are present, only the outlines of those houses barely visible in the grass.
Art (Chris Ballantyne).


Art (Scott Williams).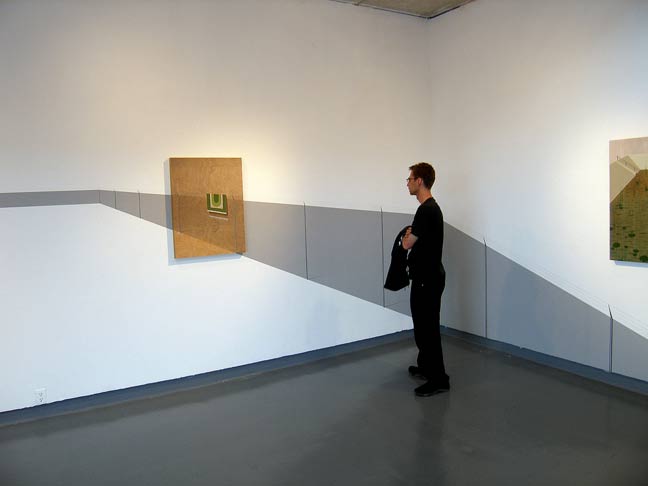 Art (Chris Ballantyne).


Art (Scott Williams).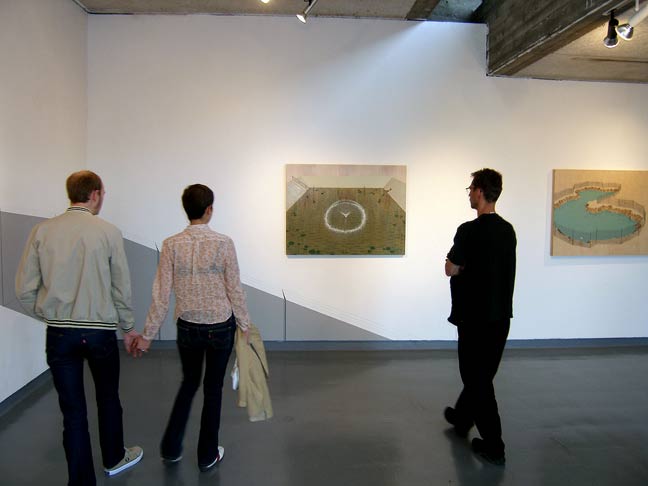 Art (Chris Ballantyne).


Art (Scott Williams).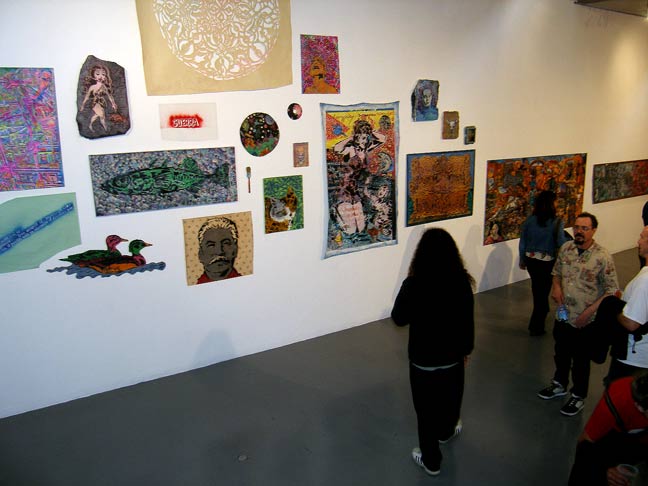 Art (Scott Williams).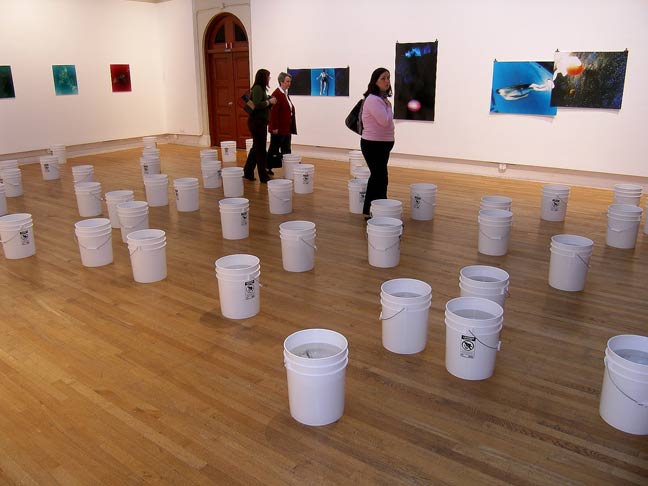 Buckets of waterlogged paper (Mom and Dad must be proud).


***
Rayko Photo Center: Lori Nix - Recent Photographs.
Comment: Lori Nix constructs imaginary landscapes, cityscapes, and disasters-- eerily darkly atmospheric-- and then photographs them. The engaging aspect of her imagery is that at a glance, it looks almost believable-- then the brain kicks in and things make less and less sense. The prices seem a trifle up there considering the fact that a number of the photos date from the late nineties with most of the rest from before 2002, costs ranging from about $900 to just over $3600 with edition sizes of either 15 or 7. And I didn't read anywhere that this is a retrospective.
You see, I'm one of these close-out dudes who believes that when the goods don't move, you do what's necessary to scootch 'em out the door. Since we're talking editions here, keep a couple for yourself, slash the prices, say bye-bye, and look to the future. Time spent hawkin' the old stuff is time not spent makin' the new stuff. Or maybe get flexible and then pitch the show to a gallery; a little dealer guidance might do the trick.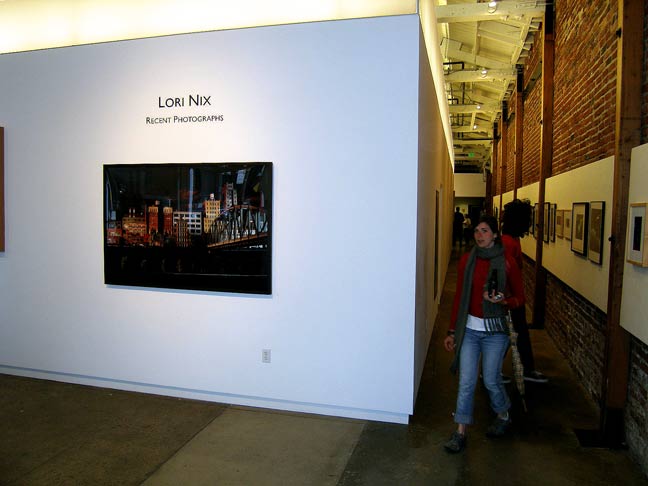 Photography.


Photography.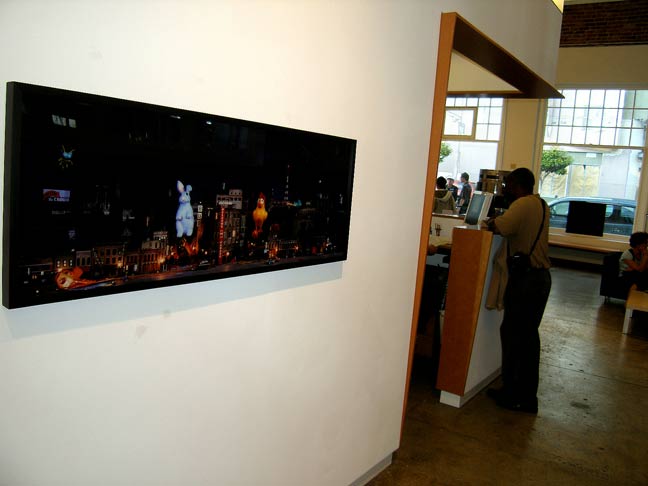 Photography.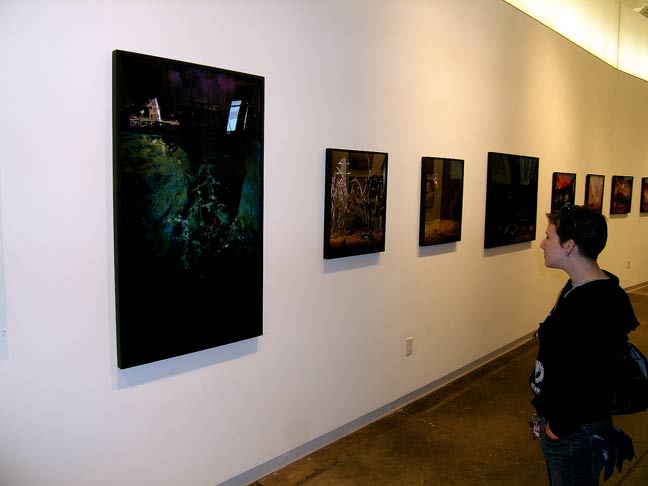 Photography.


***
The Lab: The Zebra Show - Music and artwork by Carolyn Ryder Cooley with Lena Wolff, Kasaia Luckel, Corner Tour and mystery guests .
Comment: From reading the liner notes, Carolyn Ryder Cooley appears to be selling all of her art, while Leana Wolff is selling quite a bit of hers. It's an odd scene with a melange of esoterica up for grabs. I'm not sure of the behind-the-scenes on this event (I get my gossip third hand, I'm not big on gossip in the first place, I only half listen, and I don't really care), but Cooley has had a pretty decent run so far, showing her work and performing music at a variety of respectable venues including The Luggage Store and Yerba Buena Center. I think the moral of the story is that in the art world anything can happen at any time, and therein lies the mercurial nature of creatives. And for you speculators, therin lies the speculative nature of the business.
Art.


Art.


Performance art.


Art.


Art.


***
RX Gallery: Creature Heroes - Recent work by Damon Soule, Matt Furie and NoMe.
Comment: Good show focusing on the finer side of urban art. Damon Soule's work is dense with energized action, detail, precision, and proffers plenty to feast on, even in the small pieces. He continues to evolve nicely from his traditional urban roots, perfecting an increasingly mesmeric and identifiable style. It's all onward and upward with Soule, and I think he's pretty bankable. NoMe continues to experiment, showing all new stuff-- some basic, some complicated, all competent-- while Matt Furie uses his skills to create peculiar creature art. Prices all affordable; it's a buy. Matt Furie-- nothing over $200. NoMe-- nothing over $500. Damon Soule-- $1200 top, most in the low to upper hundreds, smalls as low as $75.
Art (Damon Soule).


Art (NoMe).


Art (Matt Furie).


Damon Soule explains transfer-of-ownership procedures.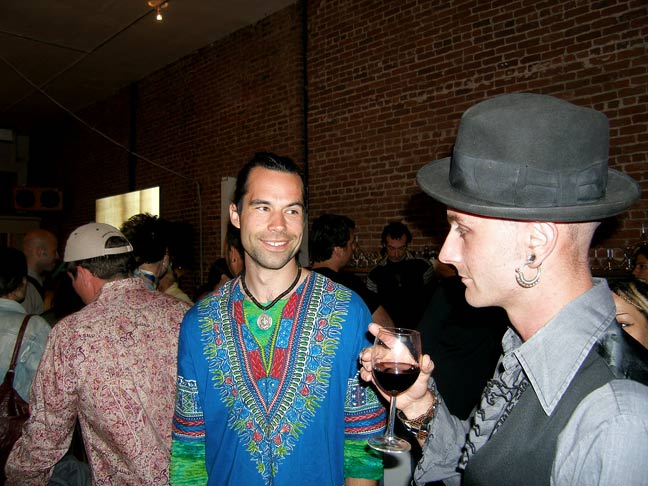 NoMe (center).


Art (NoMe).


Art (Damon Soule).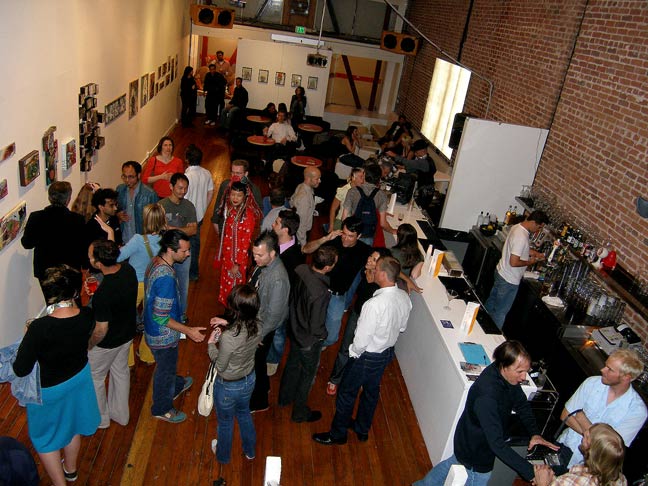 Altitudinary.


***
Studio Gallery: City Streets - Bay Area Cityscapes.
Artists: Brandon Smith, Anna Conti, Brian Behnke, Nobuhito Tanaka, Pep Ventosa, Kara Wood, Peggy Snider, Alex MacLeitch, Toru Sugita, Tae Rhea, Kyoung-Young Kim.
Comment: All kinds of city scenes in a variety of media and interpretations from fantasy to reality. Stop by if you're in the neighborhood. I enjoyed myself.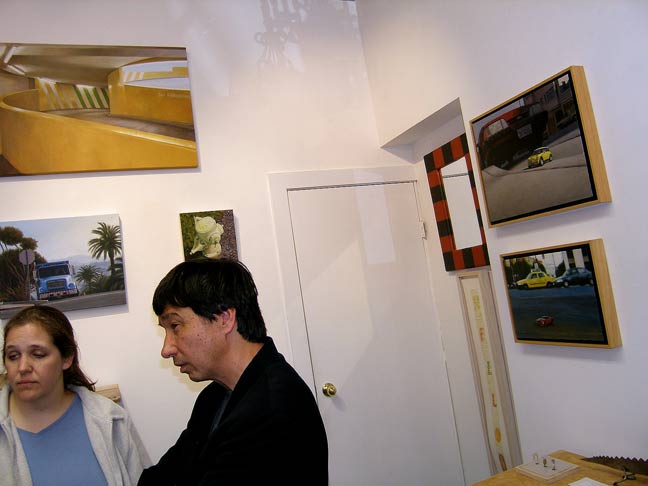 Art.


Art.


Art.


***
Blue Galery, 731 Polk Street, San Francisco 94109 - 415.563.3596: Grand Opening - Here and Now.
Artists: Bill Dunlap, Terry Gardini, Britt Michaelian, Ricki Mountain, John Wilson.
Comment: Combination gallery and frame shop; a diverse array of art.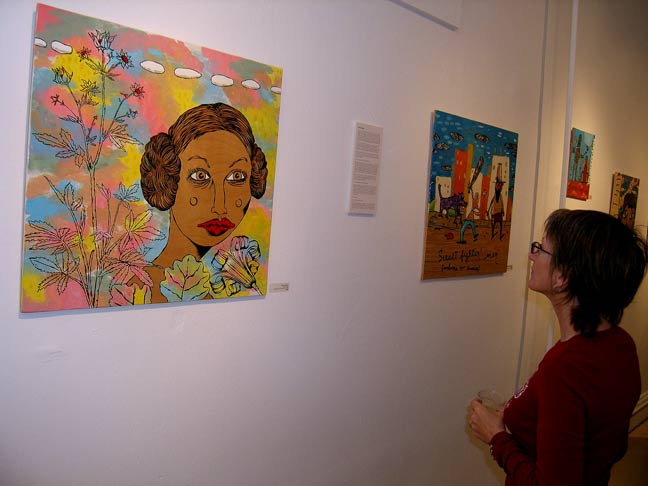 Art.


Art.


Art.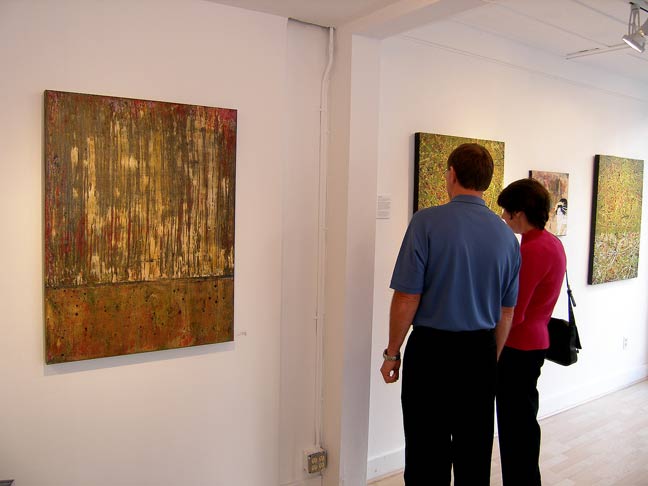 Art.


Art.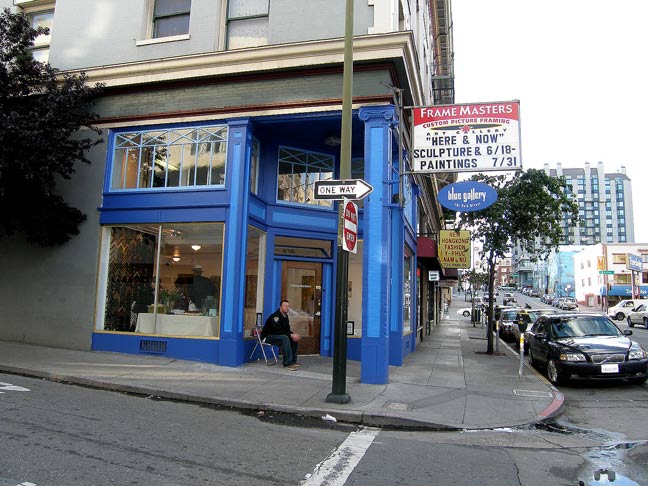 Outer.


***
The Record Collector, 485 14th Street, San Francisco 94103 - 415.864.4243: Doll Show.
Artists: More than a handful.
Comment: Can't find a handout with the names of the artists, just a price list taped to the wall, and my brain, being the well-ventilated swiss cheese that it is, came away with the names of only two of the participants-- Kyle Ranson and Sacha Eckes. The artists make dolls, place them on a shelf that runs the length of one side of the store, and price them really reasonably. If the show doesn't sell out, it should probably come close. Tangential offbeat incidents like this keep the local scene fresh.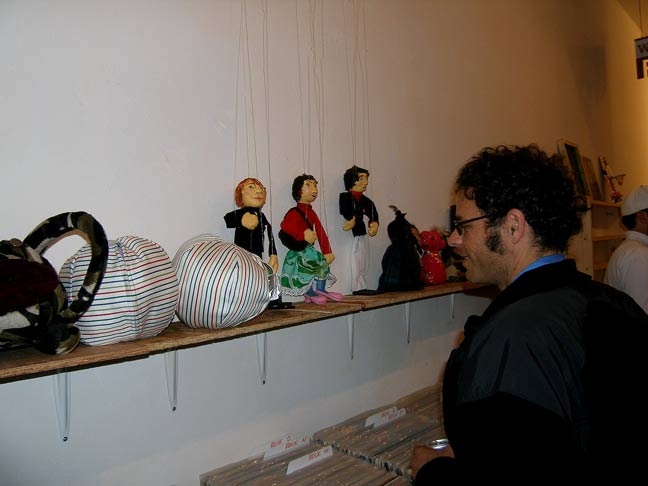 Doll art.


Doll art.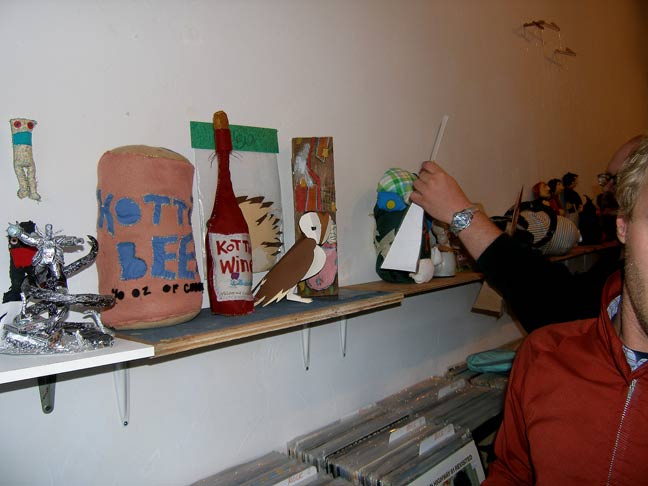 Doll art.


Next door at Low Gallery.


Exterial.


***
Wall painting along Van Ness.
Comment: Some of our best known local muralists team to paint a full-length composition on an auto repair shop side wall visible along Van Ness just before Market. They design, lay out, and paint the entire length of the building in 2 days. Try getting that kind of efficiency from any other mural painters. No job too large (or too small). And they work within your budget. And they'll present a variety of designs, according to your specifications, suitable for either your interior or exterior wanting wall spaces. Think about it. Nothing ventured, nothing gained.
Circumstance.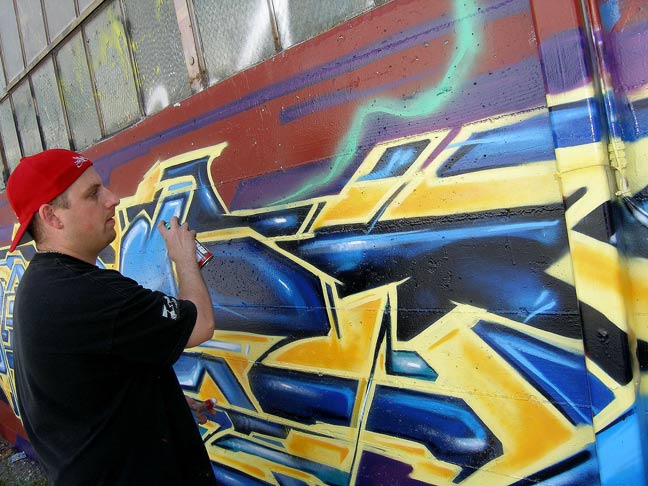 Working.


Working.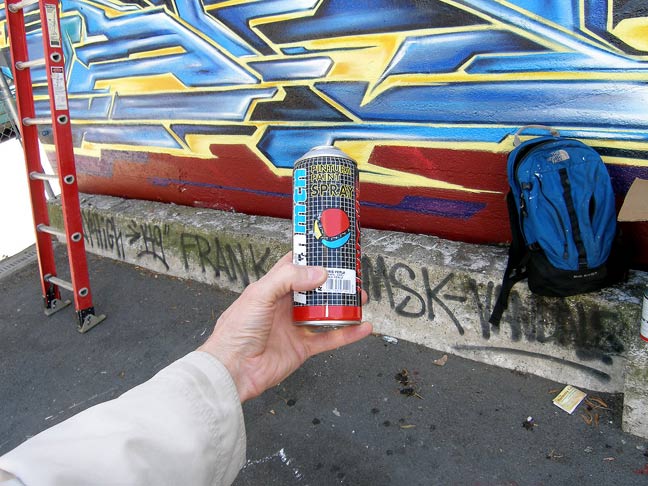 Brand of choice.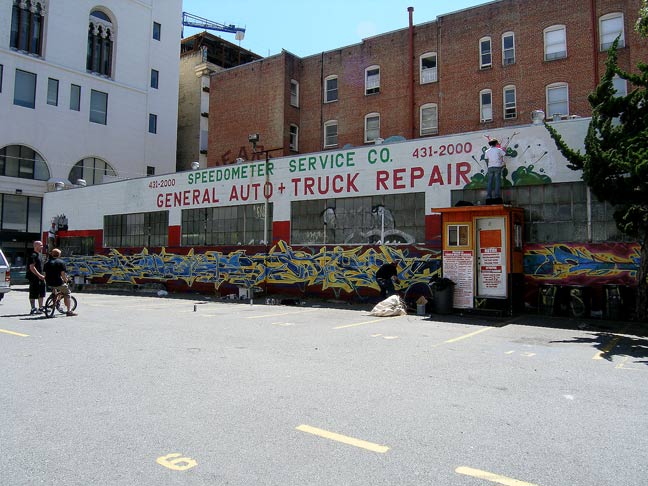 It.


***
Addendum:
Group show at SOMA Artists Studios, 689 Bryant Street, San Francisco 94107 - 415.381.9180.


Another SOMA Artists Studios.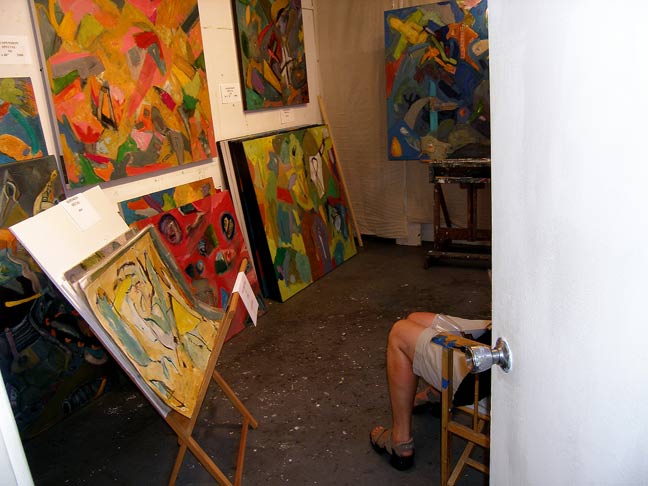 And one more SOMA.


Group show at 69 Belcher Studios.


Another from 69 Belcher Studios.


And one more 69.