SAN FRANCISCO ART GALLERIES - OPENINGS
111 MINNA - SERGE SOROKKO - GEORGE KREVSKY
FREY NORRIS - LINCART - LIVE WORMS - PROPELLER
CALIFORNIA MODERN GALLERY
06.19-21.07
Sketch Tuesdays at 111 Minna Gallery: GIGANTORAPTOR.
Artists: Casey Jex Smith, Laureano Faedi, Ryan McGavin, Kyle Ranson, Apex, Matt Gonzalez, Alexandra Chowaniec, Jacqueline Cooper, Chili Bean Paste Bucket, Ade Lun Sec, Michael Capozzola, David Choong Lee.
Comment: Every third Tuesday is Sketch Tuesday at 111 Minna Gallery; sometimes it's themed, like tonight, and other times it's whatever. Anyway, the basic idea is that artists get together and hang out and make art and then they put it up for sale. The part I didn't know about-- that they put it up for sale-- is the best part. The prices are exceptionally magnanimously marvelous, tonight ranging from $6 to $30, most under $20. And we're talkin' good art by good artists. So for those of you who love art, but who aren't doctors, lawyers, investment bankers, shipping magnates, patricians, children of privilege, and so on and so forth, Sketch Tuesdays is very possibly the best option in town to jump start that art collection you've always dreamed of having.
Artist arting (help with name please).


Laureano Faedi.


Left to right - Apex, Kyle Ranson, Casey Jex Smith.


Michael Capozzola.


Matt Gonzalez makes a final inspection.


Ade Lun Sec.


Overview.


***
Serge Sorokko Gallery: Donna Long - Paintings.
Comment: Photographer and equine aficionado Donna Long picks up her first paintbrush at age 67 (circa 2003) and now she's got a show at Sorokko. Go figure. I think somebody knows somebody who knows somebody who knows somebody. So the Donna Long show is on the second floor, while on the third floor, a silent in-gallery auction is in progress (an atypically curious scenario) of works by modern masters like Miro and Matisse. My favorite-- on the first floor-- editions by Damien Hirst, among other major names in contemporary art. I suppose this would be Hirst going commercial, that is, making his art relatively accessible to the masses, and he does it intensely impactfully well. Works include a skull with missing chunks of bone cast in sterling silver entitled "The Fate of Man," a brilliant satirical pill-chart commentary on life in the sedated lane, a carved marble Paracetamol tablet entitled "The Eucharist," gory color photographs of what appear to be real wounds on real people titled "The Wounds of Christ," and more. Unequivocal. In your face. Excellent. Go see.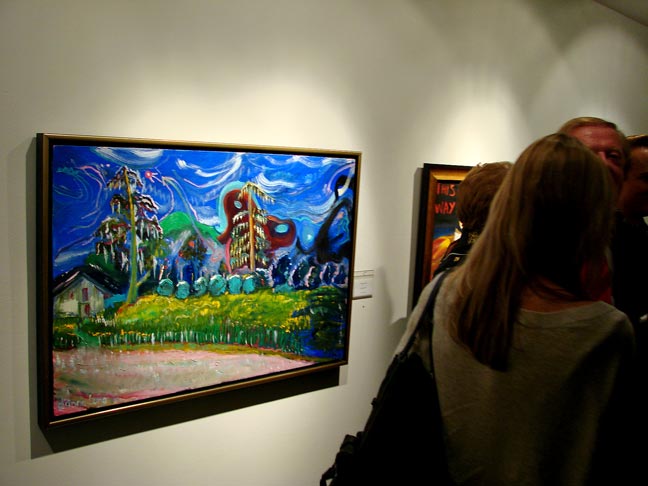 Art a la Charles Burchfield (Donna Long).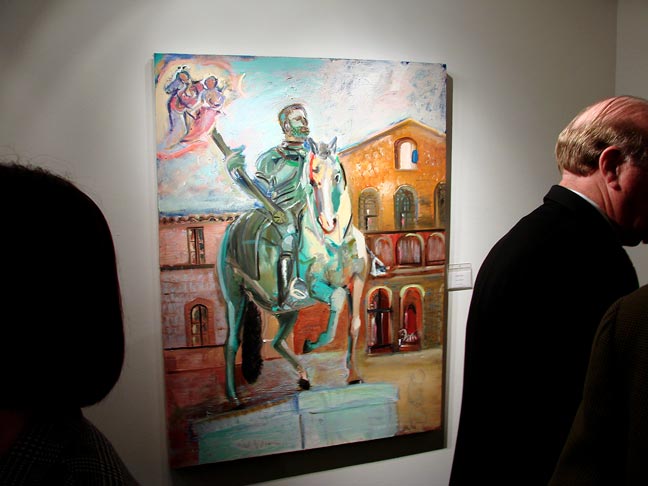 Art (Donna Long).


"The Fate of Man" (Damien Hirst).


"The Eucharist" (Damien Hirst).


"The Wounds of Christ" (Damien Hirst).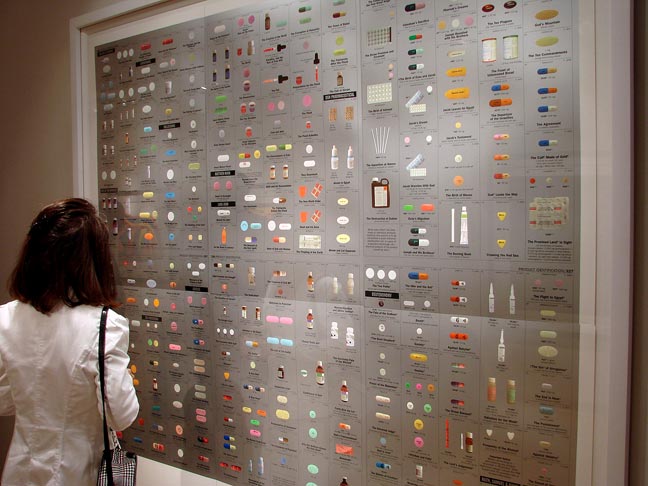 Pill chart commentary art (Damien Hirst - love it).


Art (Damien Hirst, sculpture - Sol Lewitt, wall pieces).


Odd silent auction upstairs.


***
George Krevsky Gallery: San Francisco Scenes.
Artists: Frank Brown, Jeffrey Browning, William Campbell, Stacey Carter, Rob Cox, Pele deLappe, Willard Dixon, Charles Field, Wendy Goldberg, John Haley, Louis LaBrie, Maurice Lapp, Jody Litton, Erle Loran, Philomena Marano, Glenna Putt, Terry Thompson, Debra Walker, Dorothy Winslade.
Comment: Scenes of San Francisco, vintage and contemporary. And that, as they say, is that.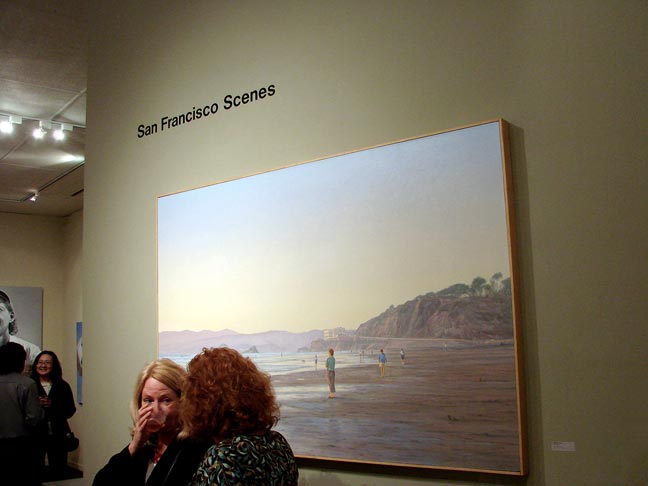 Art.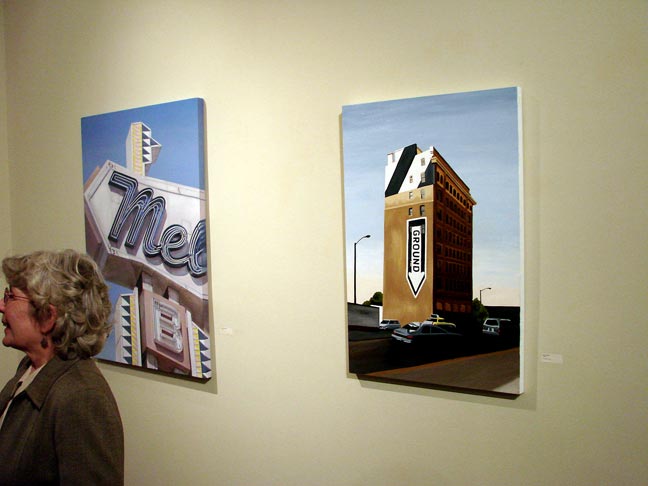 Art.


Art.


Art.


Not technically a San Francisco scene, but I did a little research and found that the Alice Marble tennis courts are located at Greenwich and Hyde. So I'm gonna let it go this time... but don't try it again.


***
Frey Norris Gallery: Pablo Atchugarry.
Comment: Refined dignified carved Carrara marble sculptures by internationally reknowned sculptor Pablo Atchugarry, born in Uruguay, and for the past 25 years, residing in Italy. I'm enticingly stymied by the Frey Norris agenda in that you never know what they propose to prescribe on us next. Plus they make legitimate inroads into that notorious Geary Street gauntlet.
Art.


Art.


Art.


Art.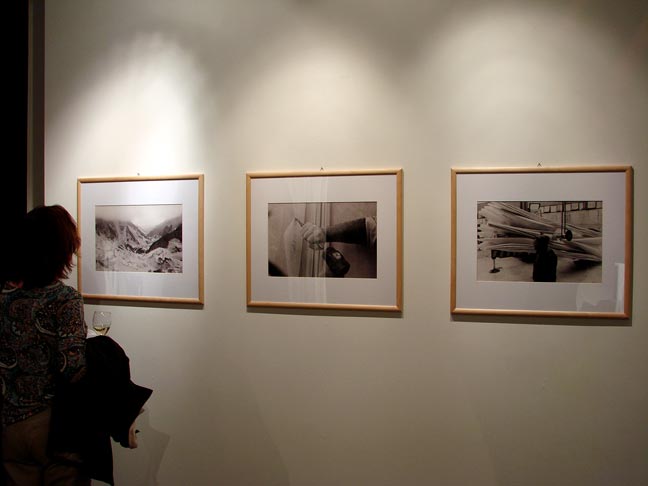 Process photos - always a good idea.


Art.


Border crossing.


***
Lincart Gallery: Lucky Seven.
Artists: John Bucklin, Sean Cheetham, Krzysztof Krzysztof, Dianne Romaine, Matthew Satz, Claudia Tennyson & Anna Ura.
Comment: Hey-- it's a party! But you already know that, as Lincart accordingly asserts its reputation for being one of San Francisco's most festive venues in which to buy art, as if it ever wasn't. Tonight's offerings include a globe with a wig, Jackie Jones on the musical saw accompanied by her tap dancing cat, a nude laminated wood replica of a vintage surfboard, ice cold keg beer, a repair station where you give Claudia Tennyson something broken and for either $500 or $1000 or $1500 she fixes it into a work of art, some dealie bob that looks like a painted shovel with a painted rock on top of it, a Dianne Romaine corner where you eat Hershey's Kisses and then artify the wrappers (or not) and then nail them to the wall, and John Bucklin splatter paintings perpetrated by shooting shotgun shells through proximitous paint-filled balloons. Isn't that ducky?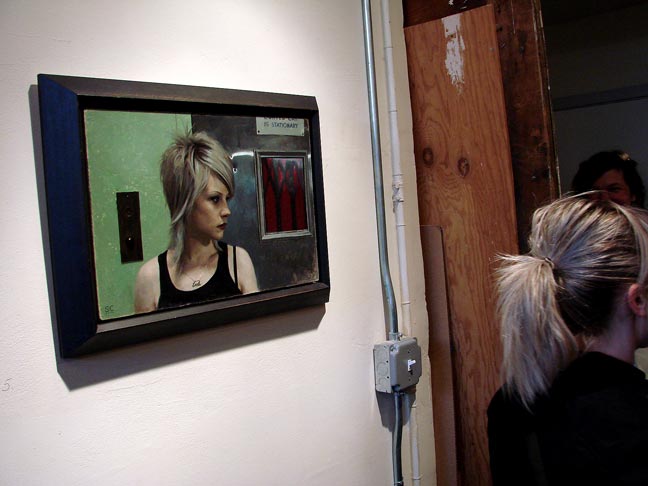 Art.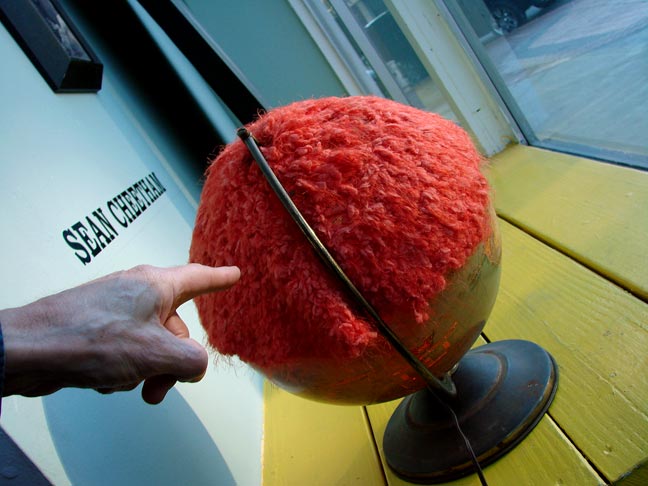 Wig globe art.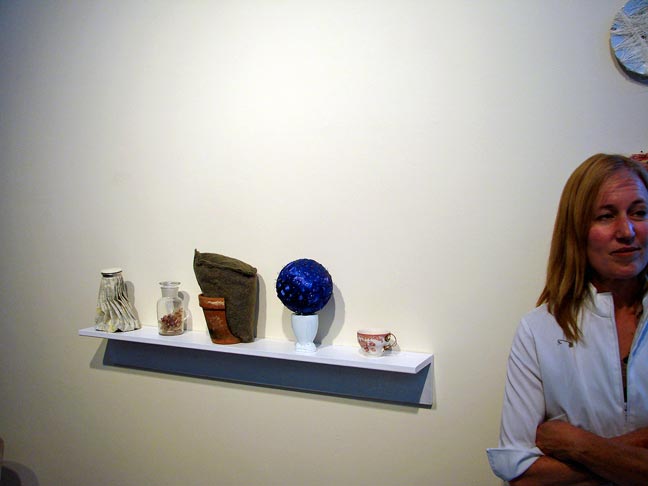 Repair station art.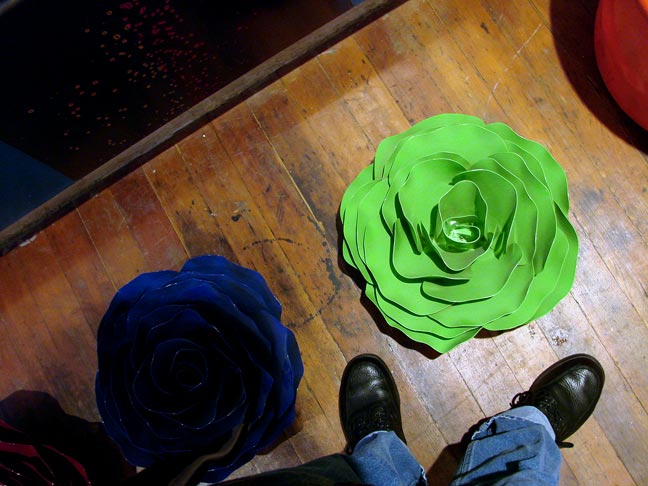 Art.



Shotgun art.



Art (like it).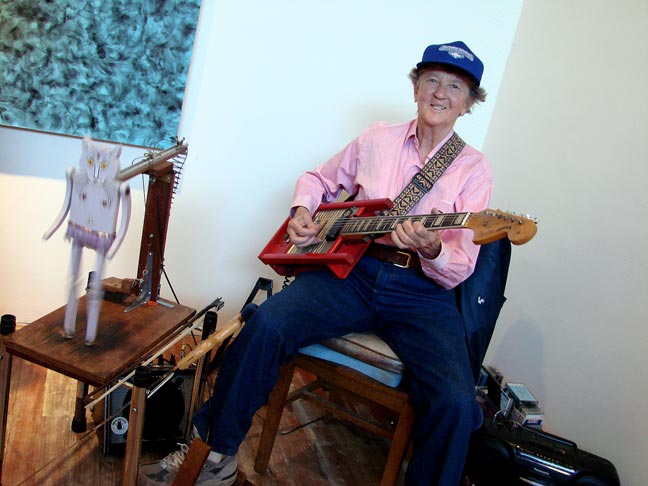 Tunes (Jackie Jones).



Surfboard art.



Spontaneous Hershey Kiss art.



Art.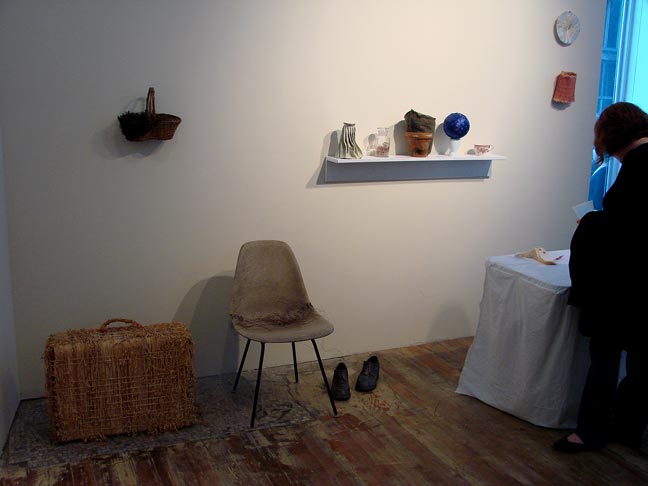 Repair zone art.



Art - attendees (Adobe point man Andrew McKinley, right).


***
Live Worms Gallery: Reckless Perpetuity.
Artists: Lawrence Ferlinghetti, Fanny Renoir, Klara Bobaly, B.J. (Betty) Ferguson, Rebecca Peters, Momo, John B. Shaw, George Long, Michael Pedroni, Alex Miloradovich, Ronald Sauer.
Comment: Effervescent iconoclastic North Beach stalwart group show, the art as well as the event resoundingly rooted in the neighborhood's Beat Era heyday, and demonstrating that the spirit of the epoch remains alive and well today. Interesting note here is that these artists love making art way more than they do making money or getting famous-- relatively uncommon these days-- which means you get to enjoy the fruits of their creative labors without having to eviscerate your wallet or slog through a wasteland of attitude. Good selection under $100.
Art (Alex Miloradovich).


Art.


Red bed rubber glove art (B.J. Ferguson).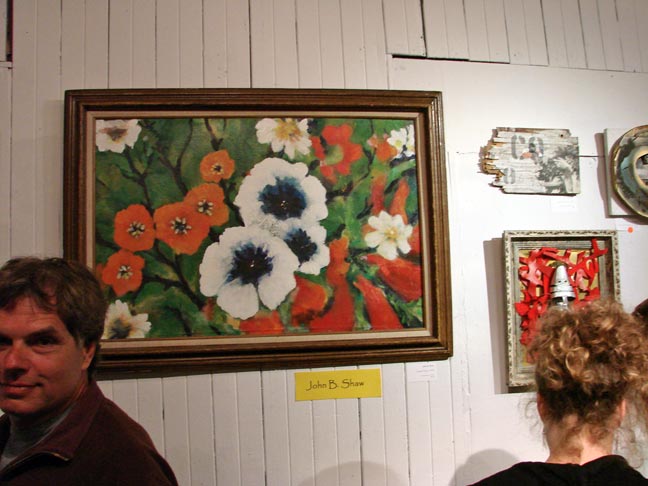 Art (John B. Shaw).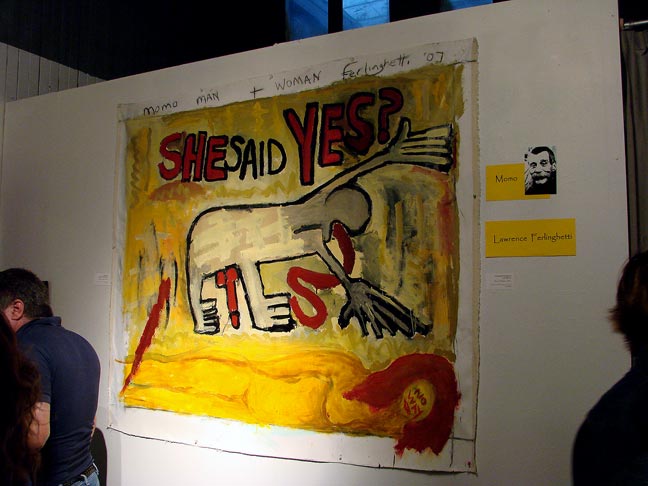 Uh... art (Lawrence Ferlinghetti).


Ronald F. Sauer, show co-organizer, left & affiliate.


B.J. (Betty) Ferguson - art (she's 92 and delightful).


Art (Michael Pedroni).


Art.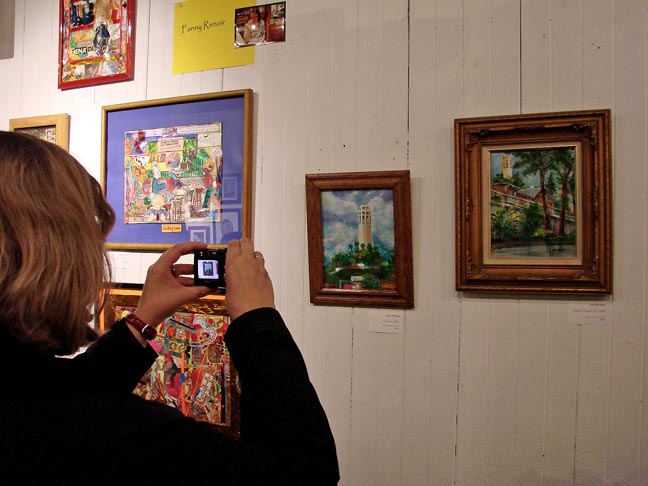 Art.


The scene.


Breeze way.


Addendum: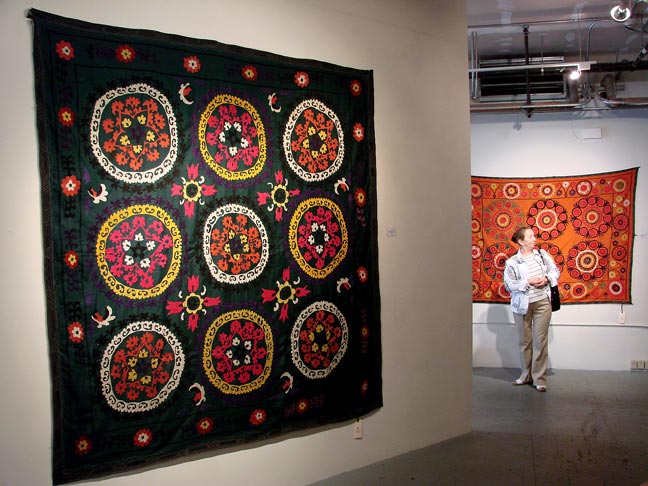 Antic tribal textiles at California Modern Gallery.


More textiles from California Modern Gallery (most only $400-$500).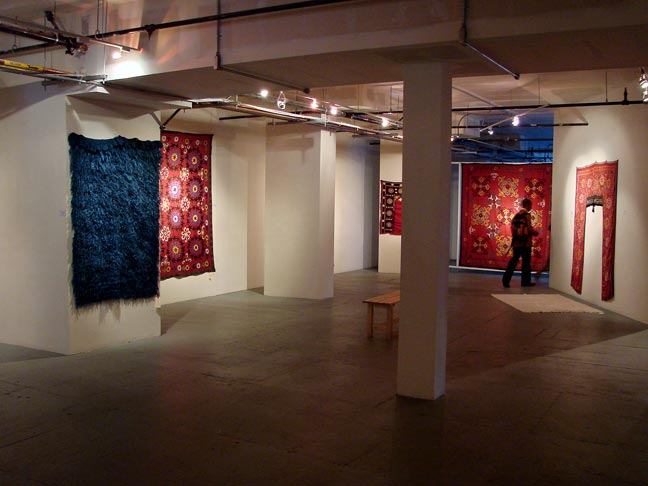 Final rugs and textile art from California Modern Gallery.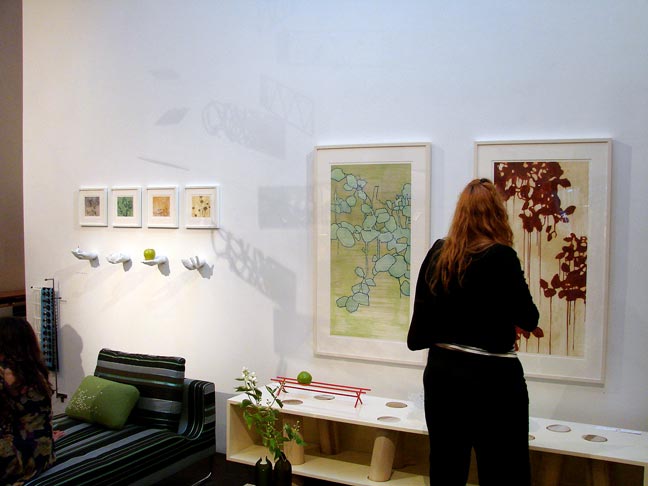 Susan Belau monoprints & intaglios with monoprinting at Propeller.


Another Susan Belau prints at Propeller.


One more Susan Belau prints at Propeller.


***