SAN FRANCISCO GALLERY OPENINGS
MODERNISM GALLERY - LIMN
CELLSPACE - DIPIETRO TODD SALON
CALIFORNIA MODERN ART GALLERY - VISUAL AID
06.23.05
Modernism Gallery: Mark Stock - 'Illusions,' Recent Paintings; Naomie Kremer - Syncopations.
Comment: Mark Stock trompe l'oeil triumphs. I can't tell you how many boring tromp l'oeil paintings I see. Yes, they're tricky, cool, dimensional, and hard to paint, but more and more artists can paint them, and "I can paint trompe l'oiel paintings too" is no longer an adequate justification for painting them. Stock, however, makes trompe l'oeil fun, strange, wacky, and satirical so there's way more to do than just groove on the illusion. He skillfully imitates famous art by famous artists, references notable personalities, interjects text, and sillies up a number of compositions in unexpected entertaining ways, all of which charm and seduce the viewers. My favorite painting shows a fortune from a fortune cookie, actual sized, masking taped to a faux wood background. Too bad I can't remember what the fortune says, but I laughed; guess you'll have to go to Modernism and find out for yourself. Meanwhile, Stock's workin' the crowd with abracadabra card tricks as pro as you'll see on stage. Excellent show.
Naomie Kremer paints vivid rollicking carnival abstracts that remind me a little of Joseph Raffael without the realism. And an opening night crowd at Modernism is every bit as good as the art, which renders everything perfect, and we all lived happily ever after.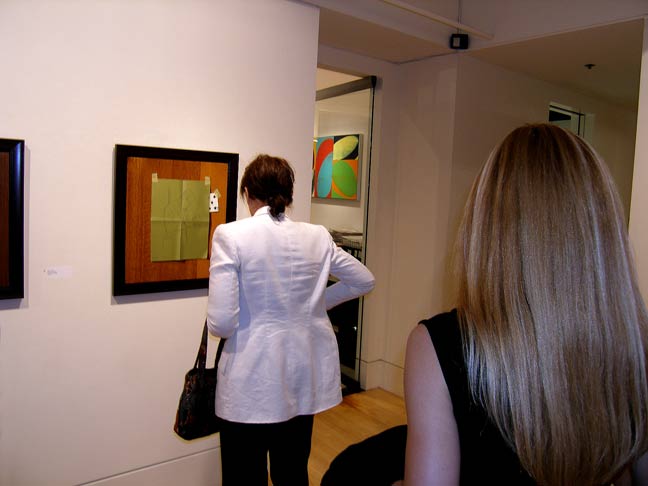 Art (Mark Stock).


Art (Mark Stock).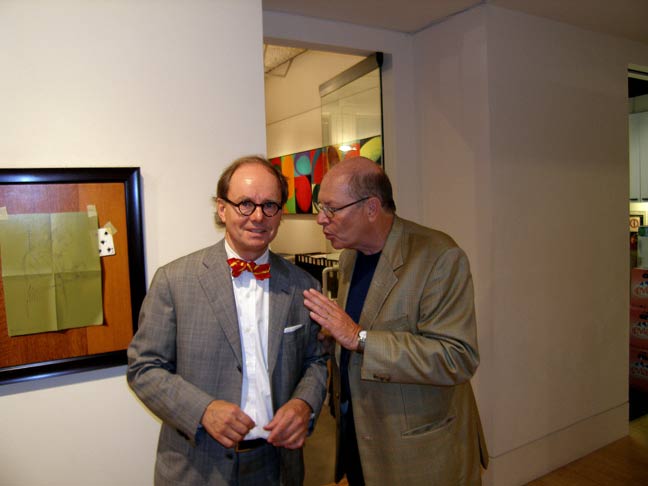 Modernism owner Martin Muller - George Krevsky owner George Krevsky.


Trixter Mark Stock.


Art (Naomie Kremer).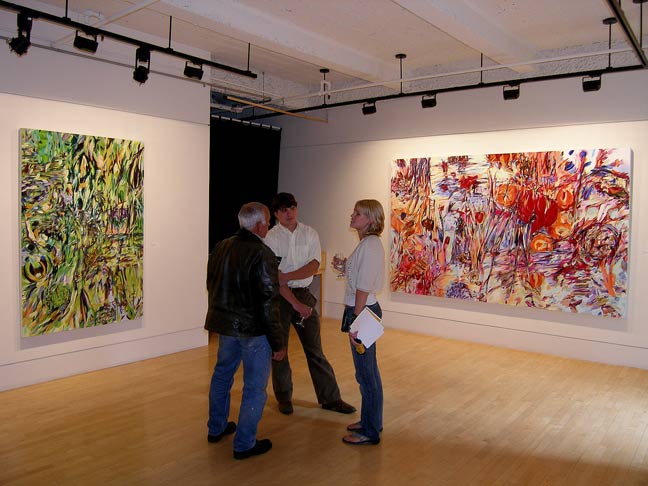 Art (Naomie Kremer).


Fortune cookie art (Mark Stock).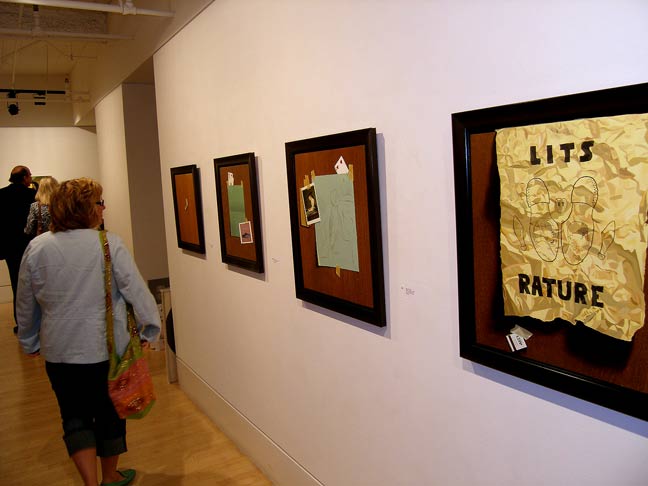 Art (Mark Stock).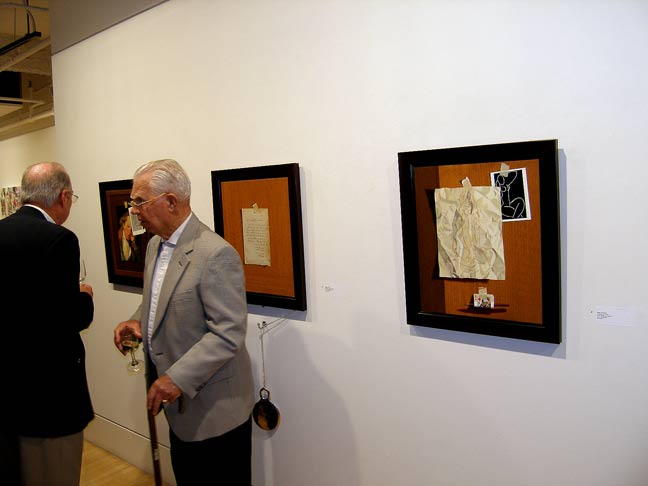 Art (Mark Stock).


Art (Mark Stock).


Art (Naomie Kremer).


***
LIMN Gallery: Lines & Curves, A Multi Media Group Show.
Artists: Maureen McQuillan, Casey Reas, Robert Strati, Michael Wells, Dianne Romaine, Janice Caswell, Sid Garrison, Thierry Feuz, Dorothy Napangardi, Diane Jacobs.
Comment: A group show explores the role of "lines" in various forms of art including digital prints, sculpture, painting, drawing, and so on. Since all the price lists are firmly ensconced in plastic sleeves, I feel obliged not to take one, so I have no idea which artists did what-- and the website is totally no help. But one artist makes digital prints that look like when dandelions go to seed and get fuzzy-- right before the wind blows them away to make new dandelions-- except these prints are far more delicate, detailed, and I like 'em. And one artist paints whimsical colorful free-wheeling abstracts against white backgrounds-- these are good. And one artist appears to spread a single color of paint across each painting with a long straight-edge, creating an undulating textured light-reflecting surface-- those are good. And one artist crumples some thin wire together with plastic twine, the finished piece measuring about 4 x 2 inches, tacked to the wall, and priced $700. Now either someone's tootin' my dangler, or this little twisty comes with a stupendously compelling explanation. LIMN Gallery is always a pleasure, by the way, especially when openings don't conflict with Giants home games-- like tonight's.
Art.


Art.


Art.


Art.


$700.


Art.


Art.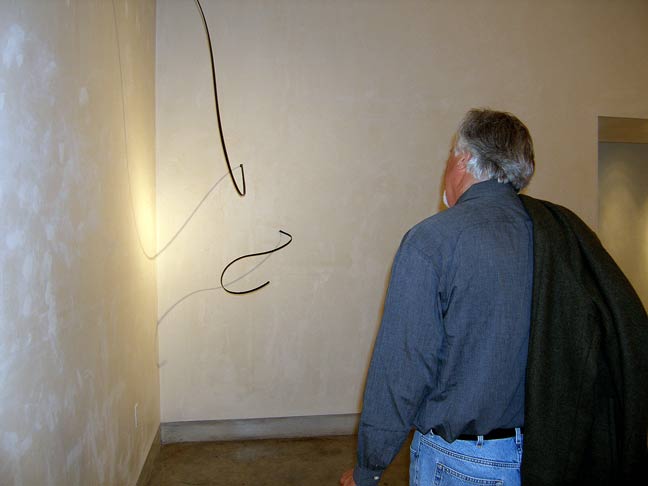 Art.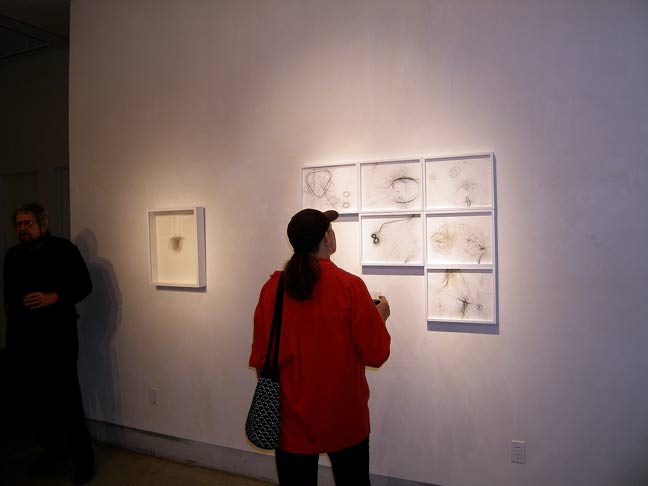 Art.


Art.


***
CELLspace: That's So Queer - An Exploration of Both the Specificities and the Incoherence of "Queer."
Comment: The art's supposed to make me think about the word "queer," at least that's what the text on the announcement says. Well, the art doesn't, but the text on the announcement does. Here's how this art show explanatory thing works-- you theme the show, make or select art that exemplifies that theme, draft explanatory that pairs the two, and then test the art/explanatory combination on willing subjects who know nothing in advance-- and don't give 'em any hints. Then you see if they get it. If they don't, you have to start over.
Art.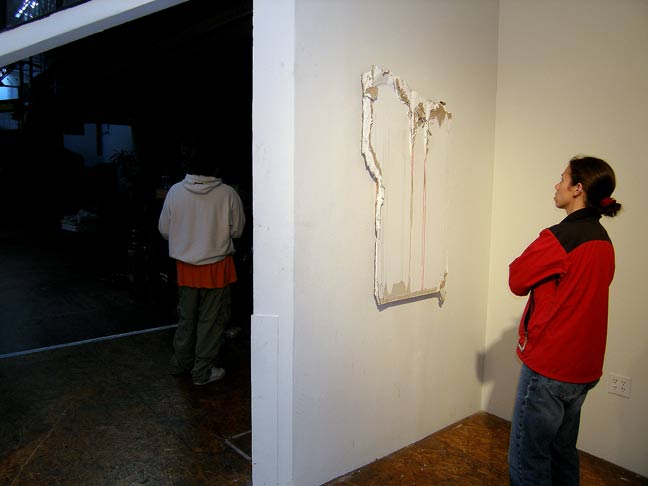 Art.


Art.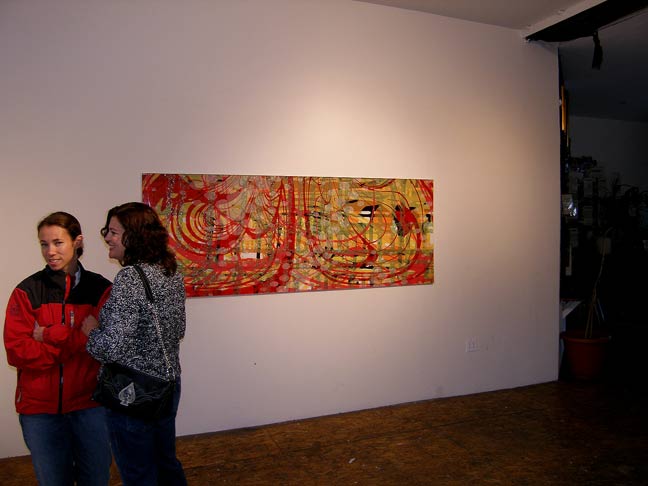 Art.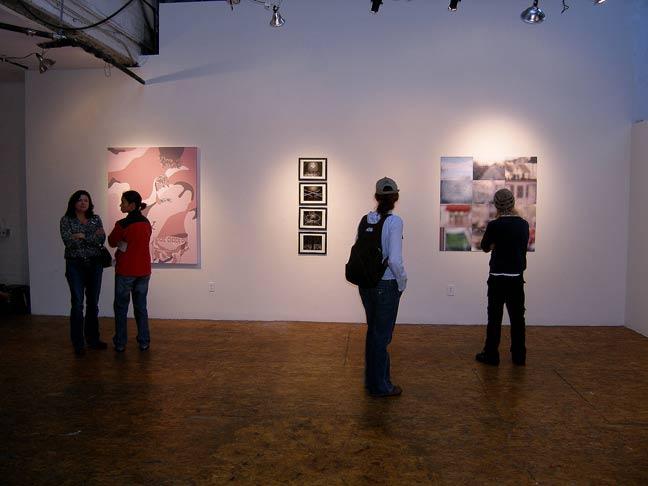 Planar.


***
diPietro Todd Salon: Ramblin Worker Show - Art Work by Steve MacDonald.
Comment: Steve MacDonald stitches up allegorical embroidered "fabric paintings" and fabric cuckoo clocks with his 1961 Singer Model 500A sewing machine. He's impressively skilled, and takes great care (and time) making his art. The prices seem a scintilla swank, though possibly justified by production time, and the statement's a sprig unweildy. I liked some compositions better than others, topping out with the cuckoo clocks because they're so odd. If I had to plunk down an opinion, I'd say potential. The show's certainly worth a stop-by if only to enjoy the unconventional nature of the medium.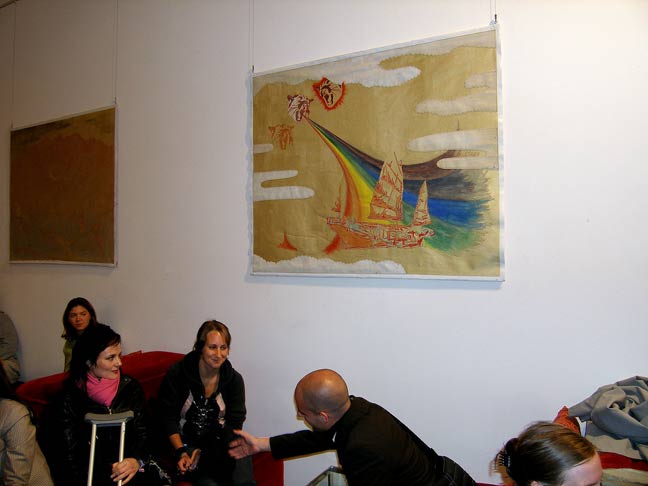 Art.


Art.


Performance art.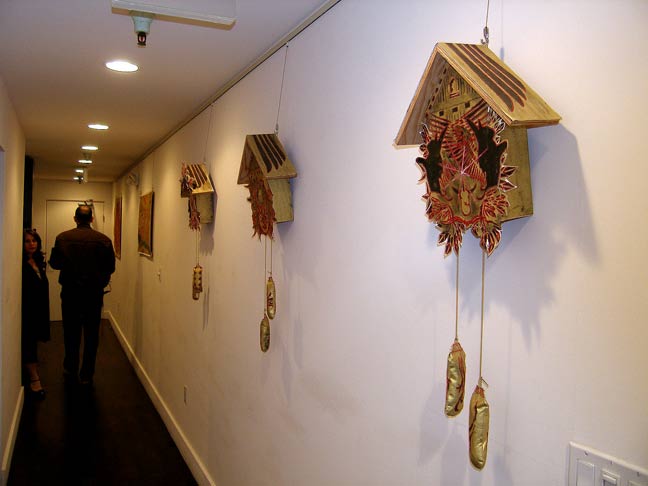 Art.


Art.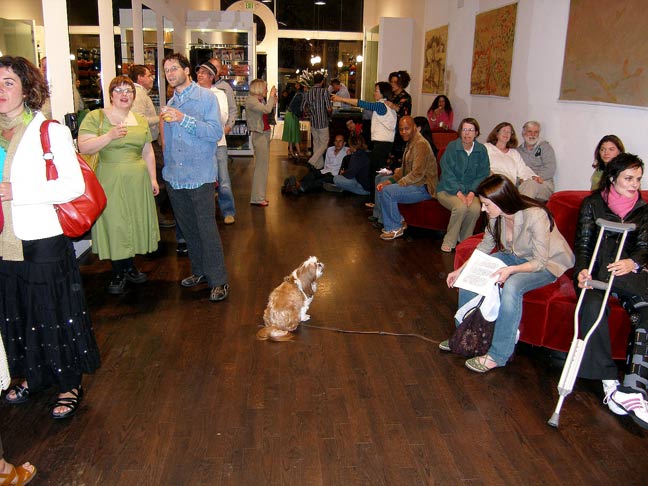 Essence.


***
Visual Aid: Sixteenth Anniversary Party at Yerba Buena Center for the Arts.
Comment: You know you're in San Francisco when you close out the evening by watching a dude on a pogo-stick striptease, culminating with a glitter-toss, the glitter cleverly secreted in his shorts. This is followed by a dudesse who performs a hilarious disrobement of her own to the tune of "It's Not a Pretty Princess Day." The art's in the costumery here, and in the characters bobbing about. And Visual Aid, my friends, helps artists with life threatening illnesses continue to make their art. And we help Visual Aid by giving them money.
Airborne glitter strip.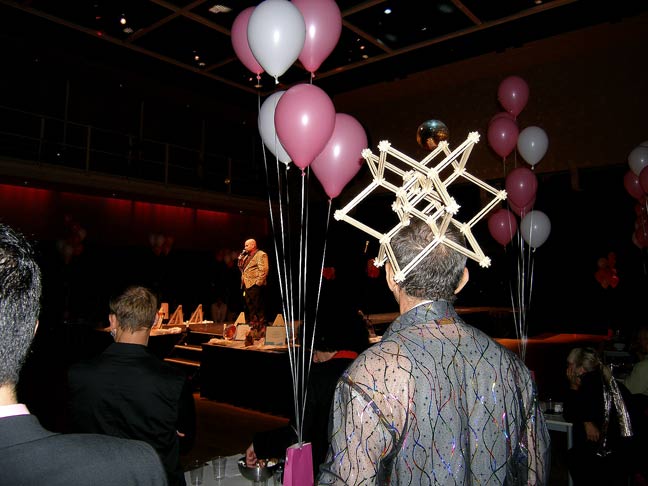 Not sure.


Not sure.


Not sure.


***
Addendum: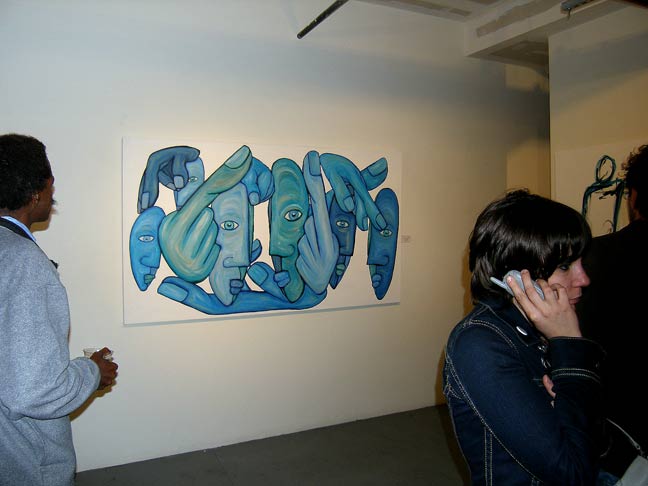 Group show at California Modern Art Gallery.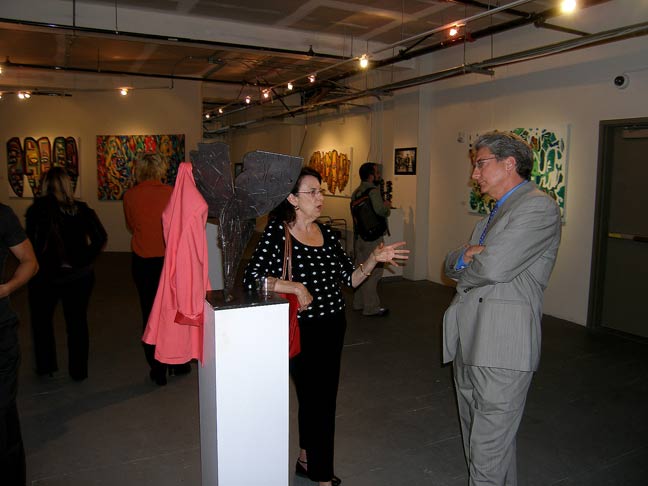 Another California Modern (note clever use of sculpture).