SAN FRANCISCO ART GALLERIES - OPENINGS
QUEEN'S NAILS ANNEX - MICHAEL FINN - BLUESPACE
GALLERIE 25 - EDO SALON - SPACE
MINA DRESDEN - SMALL DESK PRESS
06.22-23.07
Bluespace: Skate This Art.
Artists: Lori McCormick, Winter, Brian, Roz, Jenn Porreca, Jessie, Gerri Mazshiru, AshLyn E. Perri, Khristian, Talon, Txutxo Perez, Monde, Rick Darnell, Harry Driggs, Richard L. Perri, Matt Linares, Brandon Swinehart, Nick Myerhoff, Randalljohn, Jason Norelli, Shawn Conn, Natalie Barajas, Dicky Stick, Tonyo Vyeda, Anna Colavida, Salt Rock, Ray willis, Fresh Ginga, Dre Meza, Mytho, Jay Shirley, Lippy, Thei Con, Snap Jackson, Amaie A. Aiton, Dave Selier, Michael Blakemore, D Rock, Mike Goodman, Sean Chilson, 12MK, Jeff Marshall.
Comment: In what's billed as the 1st Annual San Francisco ART on Skateboards Show, fifty artists from SF and LA art up decks for two great causes-- Hospitality House and Roaddawgz homeless youth drop-in center, both located in the Tenderloin. It's a silent auction with bids starting as low as $35; most $50 and under.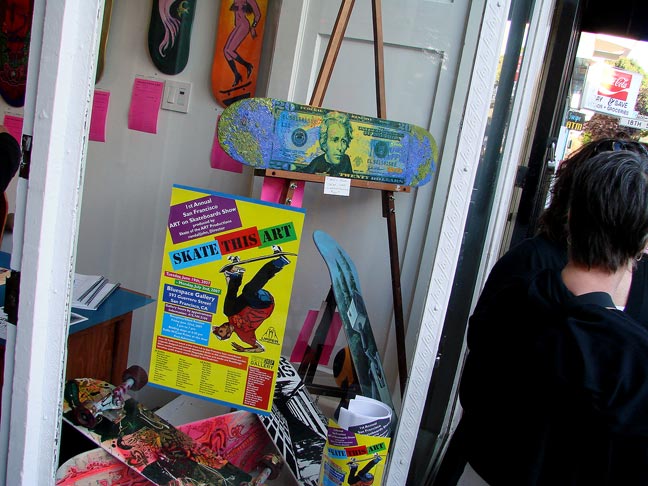 What it is.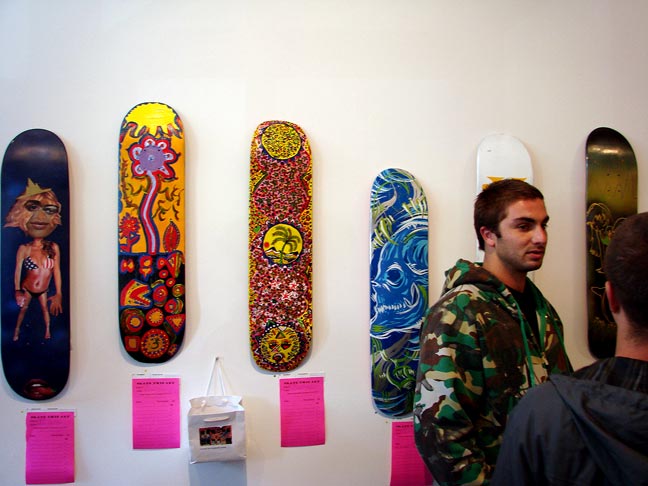 Deck art.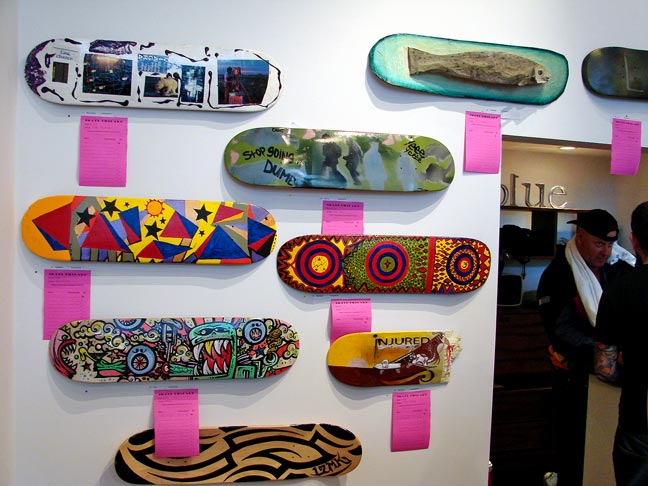 Deck art.


Deck art.


Spillage.


***
Gallerie 25, 3418 25th St., San Francisco, CA 94110; 415.850.4778: Reflections of Reality - 7 Contemporary Artists from Nepal.
Artists: Pradip K. Bajracharya, Erina Tamrakar, Pramila Bajracharya, Bhairaj Maharjan, Sunila Bajracharya, Binod Pradhan, Asha R. Dangol.
Comment: Seven Nepali artists known as The Kasthamandap Group journey their work to SF for their premier American show at SomArts several months back, and now again for a more intimate event at Gallerie 25.
Bhairaj Maharjan - art.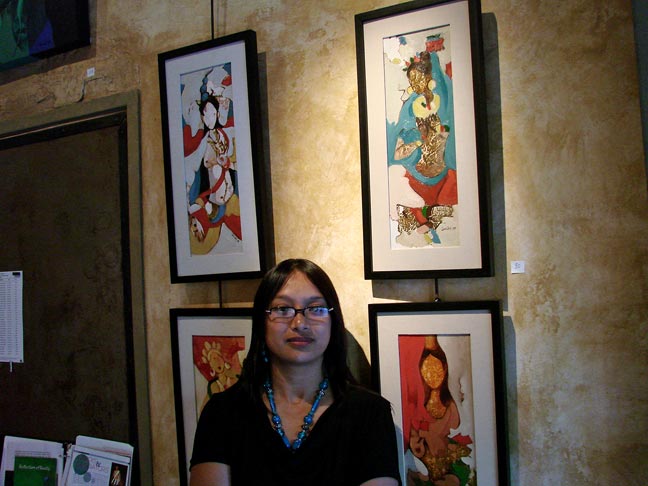 Sunila Bajracharya - art.


Art.


Art.


***
Queen's Nails Annex: Mike Lai - The Professionals.
Comment: Mike Lai is an extreme Bruce Lee fan, so much so, in fact, that he receives a special dispensation from the Queen's Nails management to transform the gallery into a "performative" shrine for this legend of martial arts moviedom. Festivities include three manicurists dressed in signature Bruce Lee yellow with black stripe jumpsuits administering complimentary yellow and black nail treatments, displays of yellow and black athletic shoes and Bruce Lee T-shirts, and the capper-- a private Pai Gow game in the parlour shielded from view by a line of clothespinned plastic tablecloths, and off limits to anyone who cannot present a "Ninja Card" (meaning everyone) to the muscle at the entrance. The game, I'm advised by an informant, will culminate in an assassination, which I opt not to stay for. Note to readers: I prefer leaving art openings before the assassinations. In summation, yet another winner from Queen's Nails Annex.
Bruce Lee nail salon.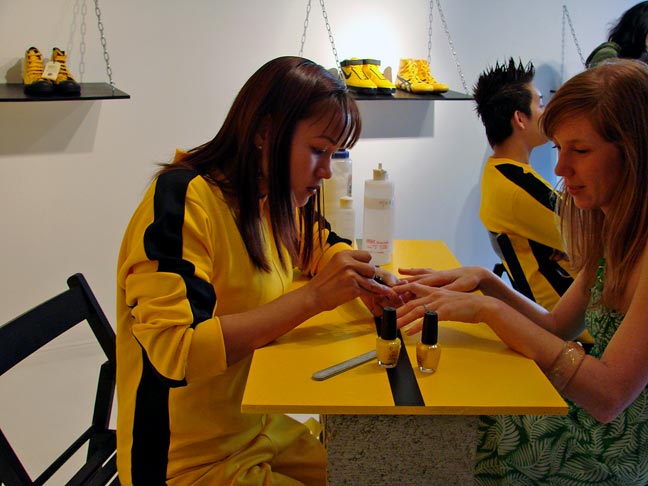 Bruce Lee nail salon closer.


Bruce Lee nail treatment.


Bruce Lee shoe styles.


Bruce Lee wall treatment.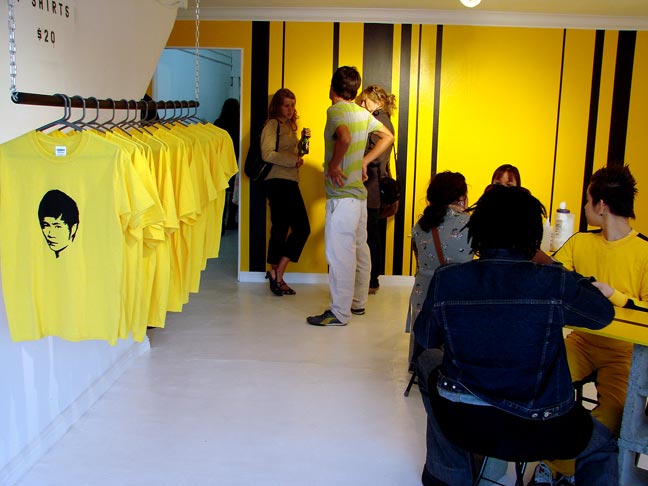 Bruce Lee wearables.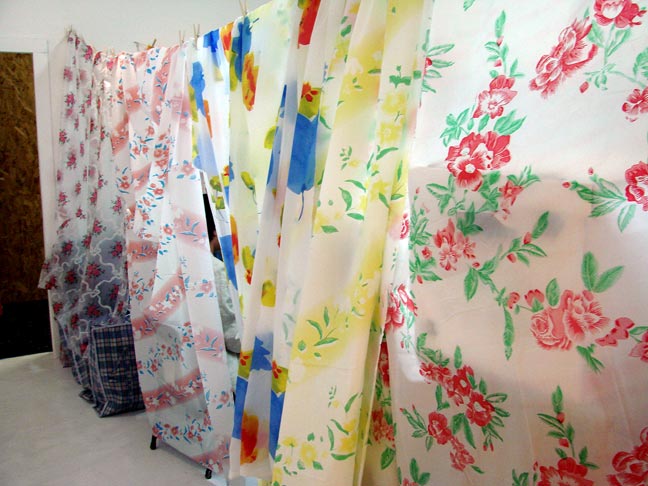 Hmmm... what have we here?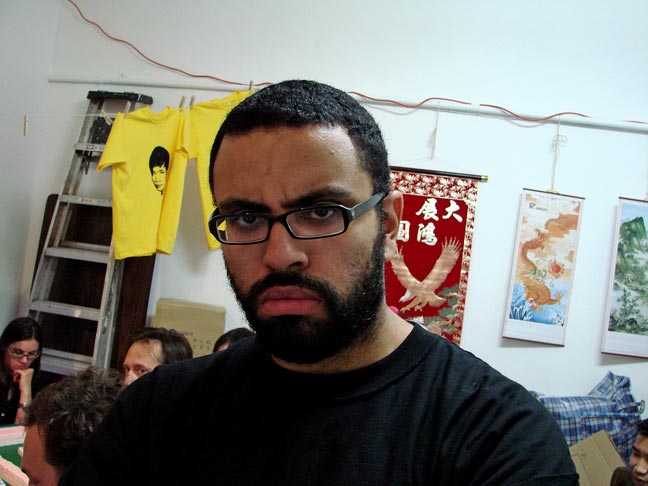 Um... er... no... I don't have a Ninja Card.


Pai Gow game in progress (rare purloined bootleg photo).


Pai Gow parlour (rare purloined bootleg photo).


***
Michael Finn Gallery, 814 Grove St., SF, CA 94117: Marianne Larochelle - Glam Gender.
Comment: I'm unclear as to whether this is an actual gallery. It looks like a private home from the outside, but then you go in and it looks like it's at least part gallery. Anyway, the rich dark Victorian decor, accented with low light and candelabras, begets a setting like something out of the Addam's Family, camp yet elegantly eerily artmospheric. Around the walls, along the floors, and on the dining room table you discover a sumptuous selection of theatric genderbender portrait and genre photographs by Marianne Larochelle. Fun.
Here we are.


Photography.


Images.


Marianne Larochelle.


Photographs.


Hostess and sales consultant.


Photography.


Atmosphere.


***
Edo Salon: Nicole Hagen - Tampering with Sweetness.
Comment: Nicole Hagen convolutes her girlie portraits enough to draw you in and make you wonder what's the deal behind the scenes. Her unexpected compositions, postures, and poses show promise, and if she keeps this up, I suspect it won't be long before we'll be seeing more of her work at the galleries.
Art (like 'em).


Art (like it).


Art.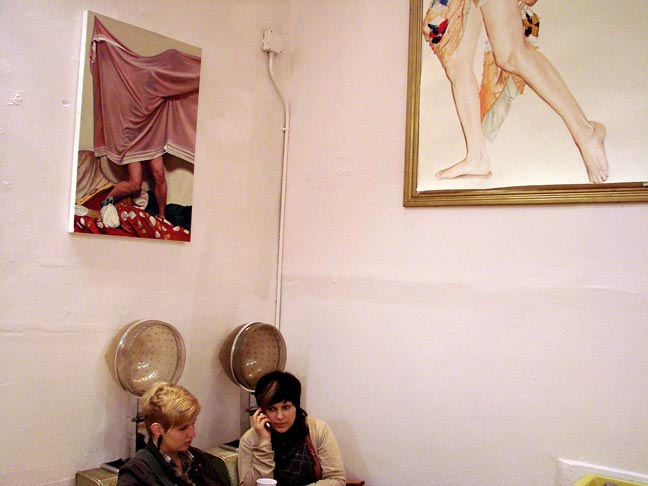 Art.



Tunes.



Turf.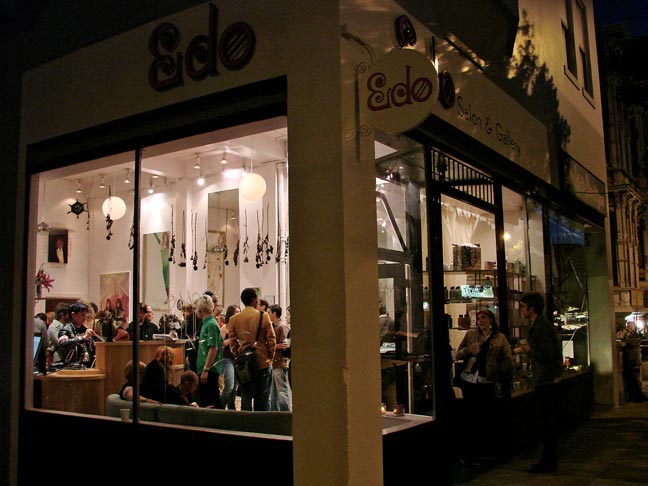 Location.


***
Space Gallery: Stencils and Stickers.
Artists: AKO, Shepard Fairey, Buff Monster, Jim Winters, Robots Will Kill, Robbie Conal, Monkeys with Human Haircuts, Totum Filth, Jameson Pruscia, Ross Campbell, Tyler Cripe, Alex Stayer, D. Dasani trust, T. Knoles, Kelly Rio Saxton, Chris Stokes, Brtan Chavez, Conor Buckley, Joe Mauren, Ben Collison, Marco Mejia, Joy Suthigoseeya Design chick, Kevin Baer, Samegirl, RA, Mahscholsky, Dric Lister, Eli Maness, Caroline Ghyoot, SiserE, Rob Jolin, Jessica Ivey, Jamie Baca, Paul Roberts, Anne Olson, National Able Networks, Patrick J. szucs, Justin Angelos, Jelo, Love Eternal, Lee Zeman, Underground Ink, King, C damage, Rajan Sedalia, John G, John Goober, Max JW, Brittini Wood, CATV, A Allen, Nubby Twiglet, OSM, Blurbe, Luke, S, Know-your-enemy, Mad Ink Designs, RM, anonymous others.
Comment: We see them everywhere, all the time-- stencils and stickers-- as we wend about town. Here at Space, an open call for stencil and sticker artists from New York, LA, SF, UK, The Netherlands, and beyond yields wall upon wall tattooed with an edifying eclectic array of anarchic public art.
What it is.


Stencil and sticker art.


Stencil and sticker art.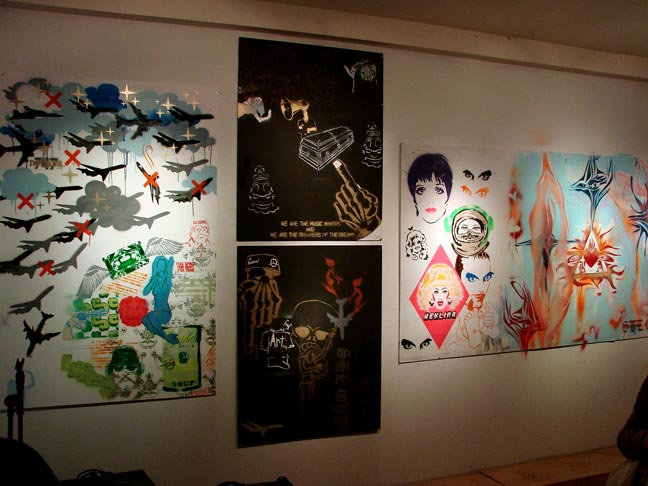 Stencil and sticker art.


Tunes.


***
Mina Dresden Gallery: 10 By 10.
Artists: Michele King, Andrzej Michael Karwacki, Gina Jacupke, April Hankins, Annie Margaret Arrasmith, Ari Salomon, Silvia Poloto, Cheryl Finfrock, Ellen Rosenthal, Catherine Small.
Comment: A reunion of sorts for ten of the original nineteen artists chosen by the city of Paris and the US Embassy to participate in a 2005 exhibition entitled Americans in Paris.
Art.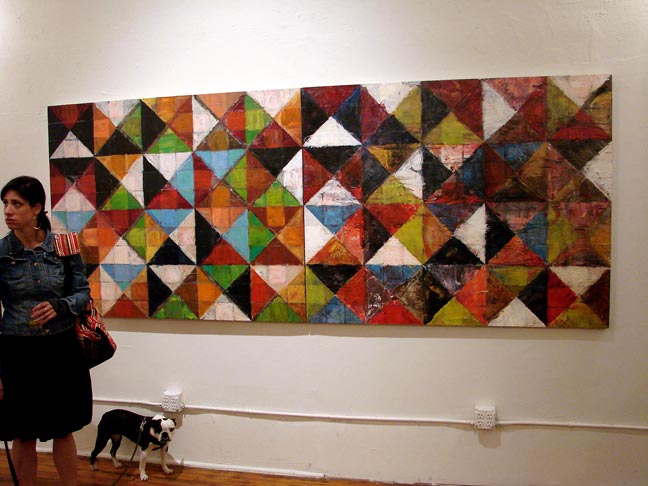 Art.


Art.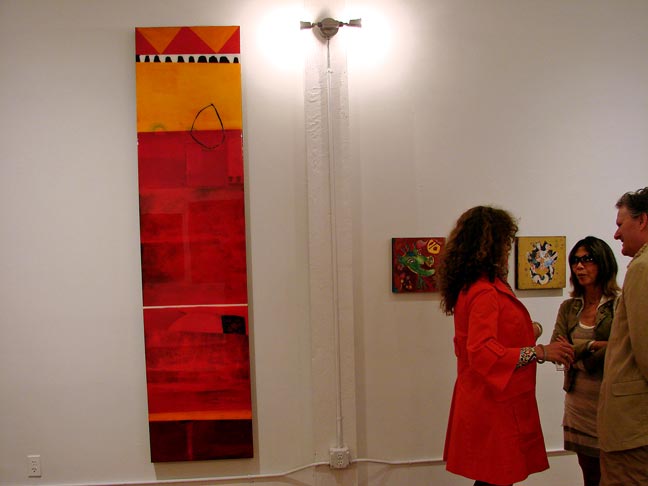 Art.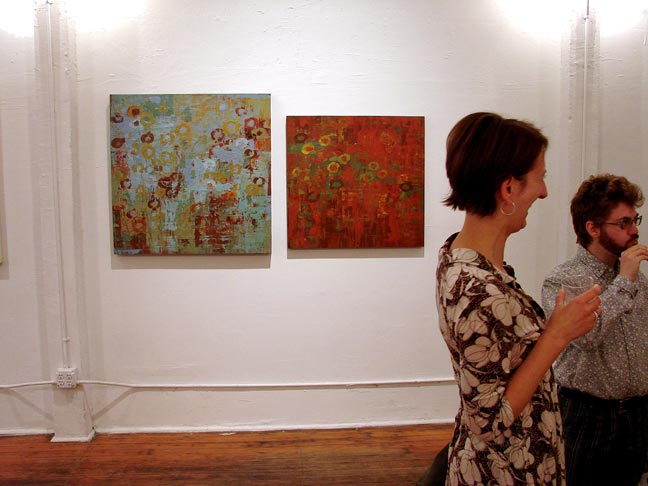 Art.


Art.


Art.


Interior.


***
Small Desk Press: Art Auction.
Artists: Jeff Canham, Orion Shephard, Joshua Evans, D.M. Chinn, Justin Hager, Matt Rohrer, dm Chinn, Leslie Outhier, Amber Cady, Britt Foster, Denaya Kraines, Britta Austin, Veronica Weber, Alyn Lewis, Truong Tran, Laura Moore, more.
Comment: Art auction and poetry reading raises funds for Small Desk Press, a local press dedicated to supporting emerging writers. This is one of those nonprofit auctions that sneaks in under the radar, meaning the available selection includes some pretty good art by some pretty good artists selling for pretty good prices.
Art.


Teensie bone chart art (kinda like it).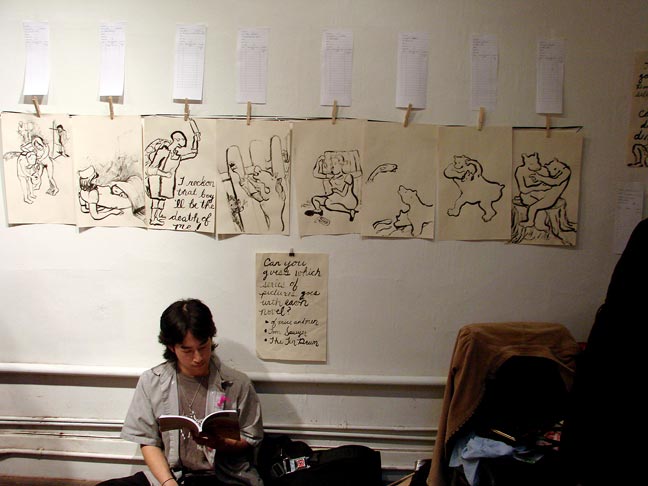 Art.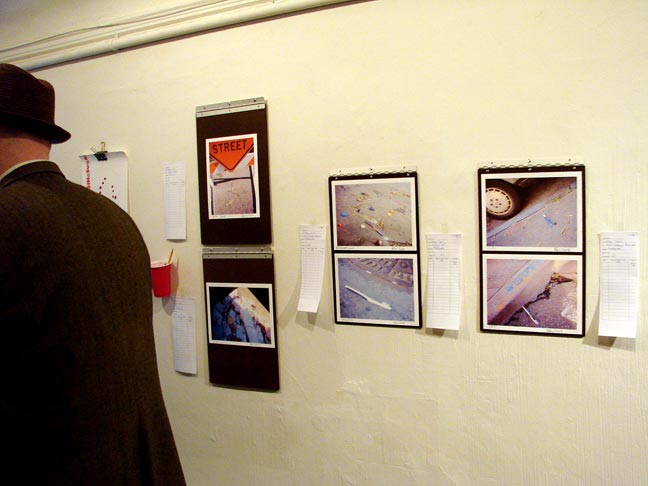 Art.


Art.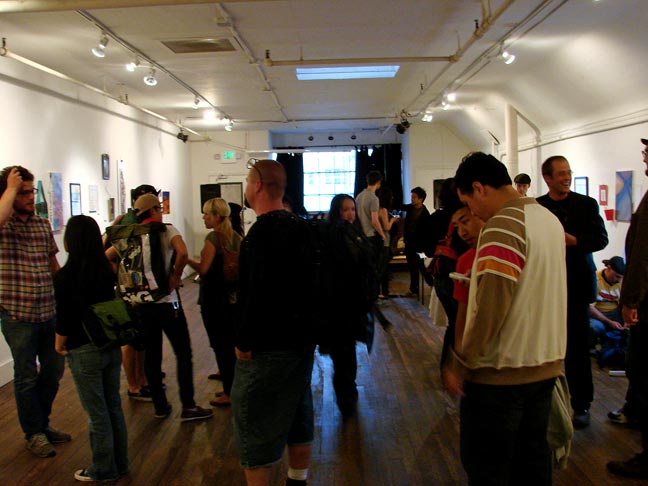 Attendance figures.


***