SAN FRANCISCO ART GALLERIES - OPENINGS
SCOTT NICHOLS - SCULPTURESITE - CARTOON ART MUSEUM
CREATIVITY EXPLORED - BUCHEON - LO-FI CUSTOMS
SUPER7 - NEEDLES AND PENS
WAREHOUSE 1310 - SPACE - MARTIN LAWRENCE
CHRISTOPHER CLARK - GARAGE BIENNALE - MADUSALON
CLUB WAZIEMA - NOPA RESTAURANT - SAN FRANCISCO GROTTO
LIQUID SPACES - CLUB 222 - THE LAB - CHRISTOPHER CLARK
SOAP GALLERY - AMARU GALLERY
06.22-24.06
Scott Nichols Gallery: Michael Rauner - Photographs from "The Visionary State: A Journey Through California's Spiritual Landscape."
Comment: Exhibit of photographs from the book The Visionary State: A Journey Through California's Spiritual Landscape by Erik Davis with photographs by Michael Rauner (Chronicle Books, San Francisco, 2006, 272 pages, 164 photographs, 9 5/8" x 9 5/8", $40.00). Spirituality and especially its formal mode of expression, religion, are generally tough topics tangle with because you never know who you're gonna rankle. This extensive photo essay by Davis and Rauner appears to circumvent such snags with a combination of universal inclusiveness, reverence, respect, historic antecedent, artistic imagery, and a travelogue format. Faith is everywhere, all the time.
Photography.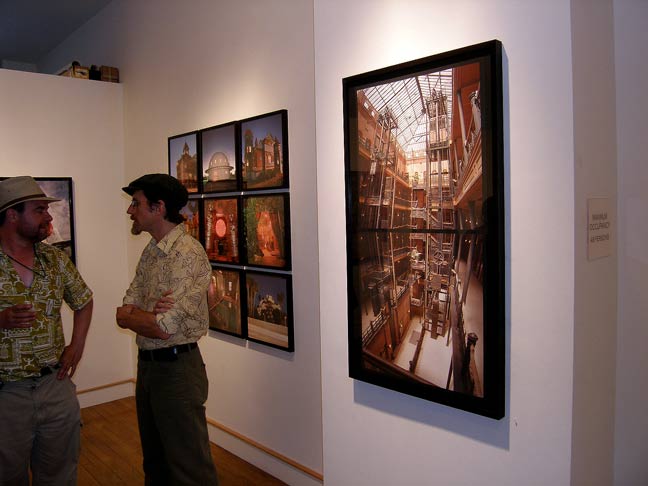 Photos.


Mom, Michael Rauner, book.


Images.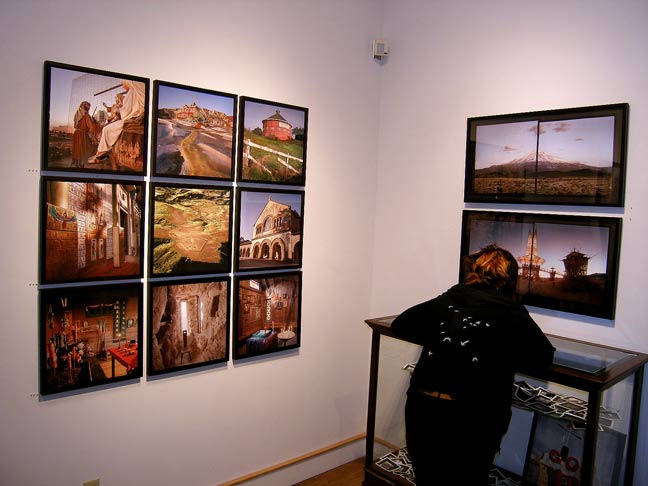 Photographs.


***
Sculpturesite Gallery: Bella feldman - New Works.
Comment: Consummate and comprehensive selection of precision glass and steel sculptures by Bella Feldman. She sculpts in a variety of sizes and subject matters incorporating aspects of machines, tools, and scientific apparatus (also spelled 'apparatuses'). I'm partial to a slick series of smalls called "War Toys."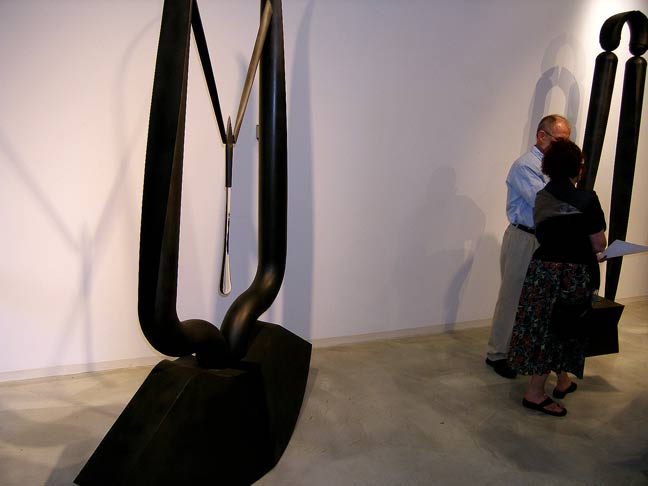 Sculpture.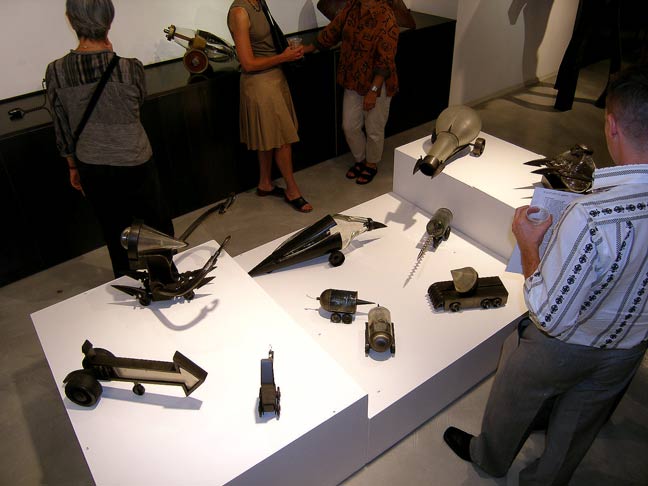 War Toys.


Sculpture.


Sculpture.


Sculpture.


***
Creativity Explored: Nature Rules.
Artists: Dolores Del Rosario, Claus Groeger, Laron Bickerstaff, James Miles, Peter Cordova, Ethel Revita, Albert Meyer, Abel Pineda, Steven Geeter, Andrew Li, Vincent Jackson, Loren King, Deanita Tillman, Ann Yamasaki, Alfred Vargas, Walter Kresnik, Linda Davenport, Jose Nunez, Gordon Chin, more.
Comment: Group show themed on nature in the front exhibition space. Everybody's showing and selling in the large studio behind the gallery. Creativity Explored encourages adults with developmental disabilities to express themselves artistically in ways that are personally rewarding and that can also be appreciated by others.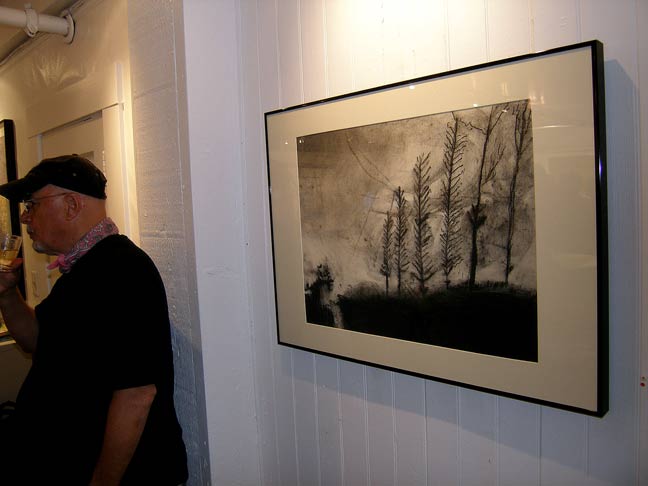 Art.


Art.


Two Creativity Explored artists & art.


Art.


***
Bucheon Gallery: David Gremard Romero - Metamorphosis.
Comment: David Romero features a series of small conjoined paintings on plexiglass successively recounting a mythological search and journey-- himself as star-- to discover "what is." He endures a glorious assortment of adventures, but never gets to the crux of the matter, so the end becomes only a pause point in the eternal unsolvable quest for absolutes. One either side of his plexi-safari, Romero displays classically posed portrait paintings, mainly of friends, buffed with superhero flourishes and genderesque twists.
Journey art.


David Gremard Romero - art.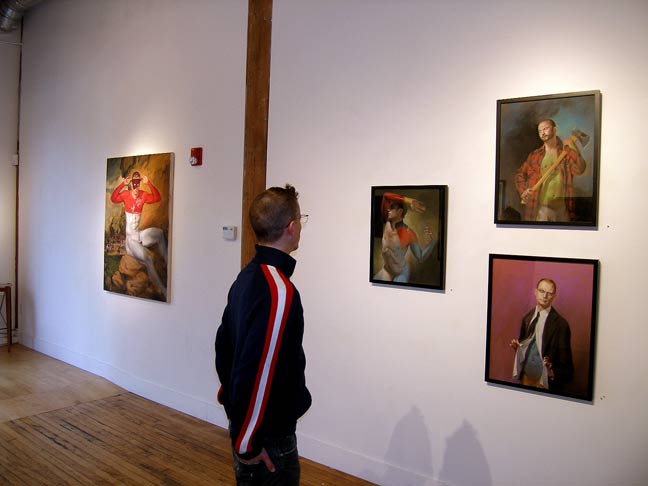 Art.


Art.


Quest art.


***
Lo-Fi Customs: Run Like Hell.
Artists: John Stuart Berger, Pete Bettencourt, Robert Bowen, Melanie Bown, Olivia Coelho, Carrie Cottini, Val Fernandez, Bruce Gossett, Gale Hart, Kepi, Roach, Kim Scott, Kevin Seconds, Ken Seibert, Mick Sheldon, Stephanie Skalisky, Skinner, Steve Vanoni, Aaron Winters & Ioh God.
Comment: Final final art show for Lo-Fi Customs. They'll be closing the shop doors on July 23d (a sad San Francisco day for me), but the Lo-Fi Customs Garage (1443 Stevenson St. @14th St.) stays open for screen printing, Lo-Fi designs, and bike building through the summer, so stop by or call 415.252.0274. In the meantime, the Lo-Fi walls are crammed with affordable art, and everything but the art is on sale now through July 23d. Buy now-- last chance-- they've got a gob of gear and goods for living the Lo life righteous.
Art.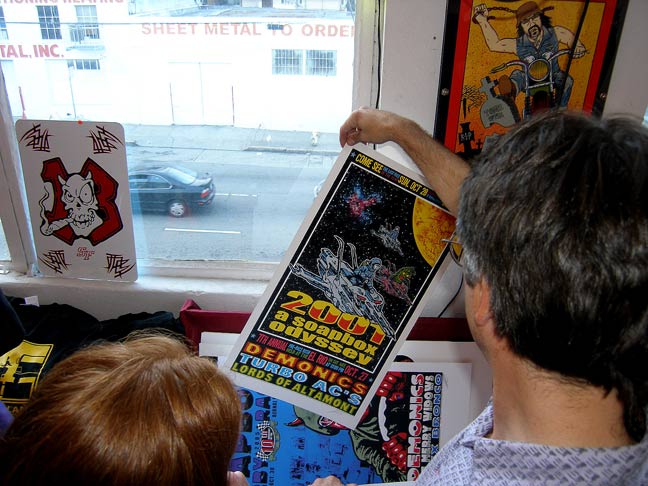 Poster art.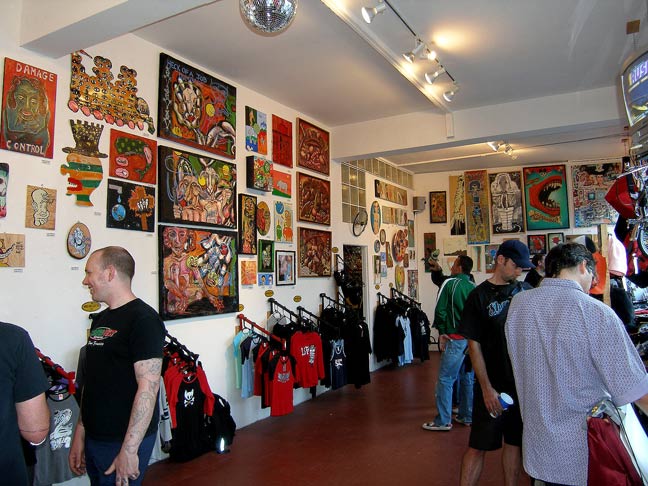 Art.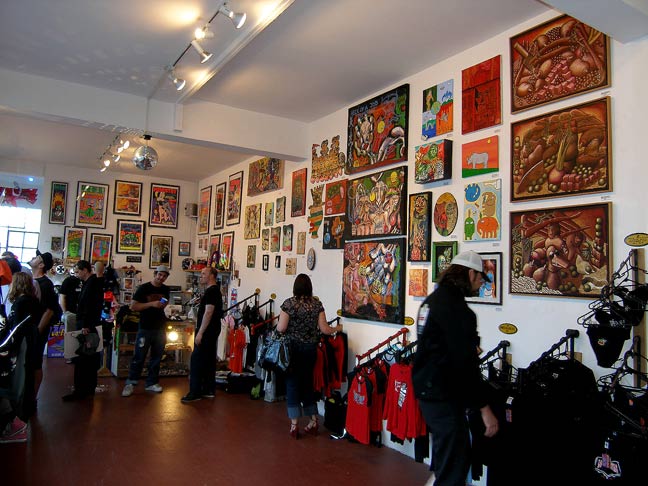 Art.


***
Warehouse 1310: Grain - A Tribute to Black and White Film.
Artists: James Albee, Jordana Swan, Justin Mott, Heidi Alexander, Missy Edwards, Thuy Nguyen, Fred Baptista, Kevin Hagen, Kari Orvik, Lee Benson, Rahel Dixon, Meghan Roberts, Tony Benna, Claire Haynie, Julia Robinson, Aylin Beyce, Vivian Johnson, Heather Russ, Michelle Branch, Nate Keck, Sadie Savoy, Melissa Chow, Catherine Martin, Matthew Schneider, Dale Cook, Rylee McGowen, Nicole Sturzenberger, Estelle Srivijittakar, Taska Cleveland, Kirstina Sangsahachart, Lauren Phillips.
Comment: Ode to the fast-vanishing b&w film. Yes, black and white camera film is going the way of b&w TV, solid rubber car tires, the scythe, the slide rule, and crankable apple peelers, but so what? In the midst of it all, Tony Benna takes a contact sheet of 36 black and white images and works 'em into a video that not only holds your attention, but has an inexplicably improbable and amusingly suspenseful plot. The soundtrack (unerringly ignored by video artists) could be better, but the overall production is an admirable endeavor and worth increased air time.
Tony Benna - video art.


Tony Benna - video art.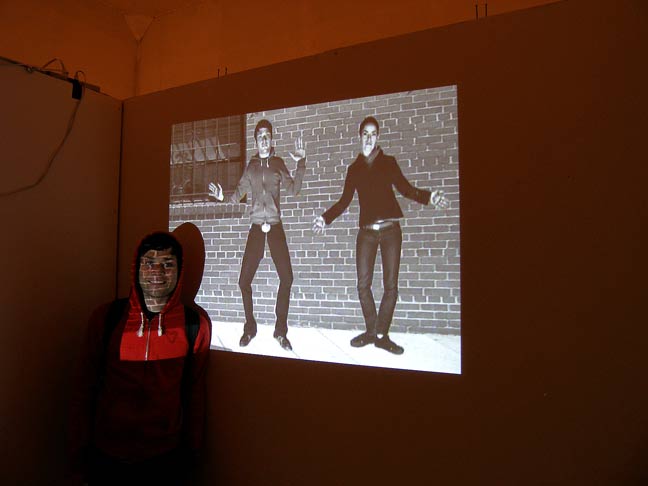 Tony Benna - video art.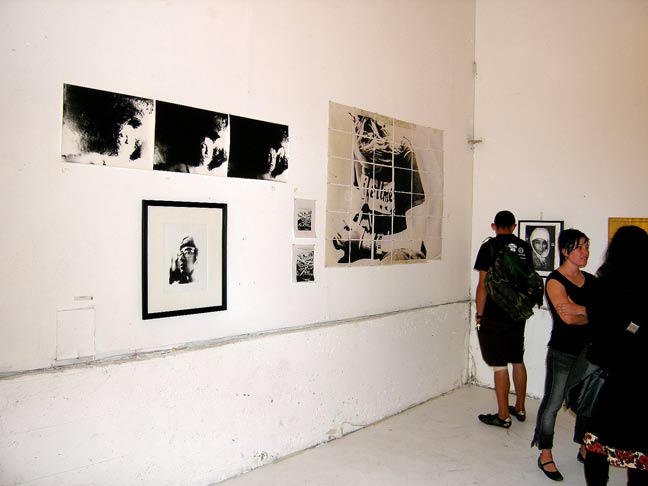 Photography.


Photographs.


Photos.


***
Space Gallery: Living Out Loud.
Artists: Jander Lacerda, Jerome, John Nieto, Carlos Paz, Chad Mallam, Apollo Cabrera, Sharla Flock, David Imlay, Michael Walsh, Steven Stodor, Miguel Flores, Casey Michel, Daniel Grant, Kevin Anthony, Tyson.
Comment: Starting-Artists first anniversary celebration to benefit The Leukemia & Lymphoma Society. Priced $75-$1200.
Art.


Art (David Imlay - like 'em).


Art.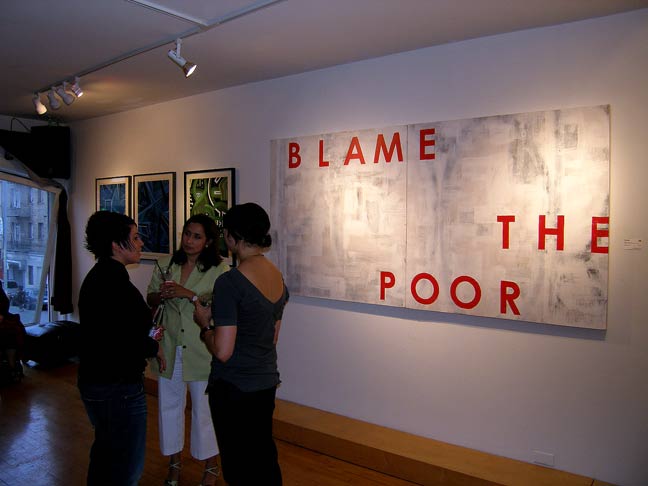 Art.


***
Super7: Paul Kaiju - Toxic Coated Customs.
Comment: Custom painted vinyl toys by Paul Kaiju, done up in vintage Japanese irridescent color combinations and styles. I overhear two collectors discussing the toxic nature of the processes used to manufacture the extra dense vinyl for these toys, and that EPA rules and regulations prohibit it from being made in America. So OK. We're safe. As long as it's not us, right?
Toxic toy art.


Toxic toy art.


Planar.


***
Needles and Pens: Citations & Relocations.
Artists: David Benzler, Mat O'Brien, C. Ryder Cooley, Alika Cooper, Brook Dillon, Chris Duncan, Sacha Eckes, Jeremy Fish, Tara Lisa Foley, Matt Furie, Daniel Anthony St. George, Jay Howell, Sahar Khoury, Steve MacDonald, Jay Nelson, Casey O'Connel, Will McCurtin, Ray Potes, Dave Potes, Ted Pushinsky, Kyle Ranson, Brion Nuda Rosch, Orion Sheperd, Jovi Schnell, Christine Shields, Stefan Simikich, Jen Smith, Miriam Stahl, Rachel Sumpter, Mike Taylor, Zefrey Throwell, Sara Thustra, Paul Urich, Lena Wolff, more.
Comment: Cherry little group show heralds the Grand Re-Opening of that bastion of Mission District art and culture, Needles and Pens, at its new 16th Street digs. A huge impromptu Pride Week procession, primarily women, parades past on the way to The Castro. Only in Fog City-- the most tolerant town on the face of the planet. You see their faces, you feel their joy-- free to be real for a brief special moment-- then back many go to lives of reticent restraint and repression. Too sad.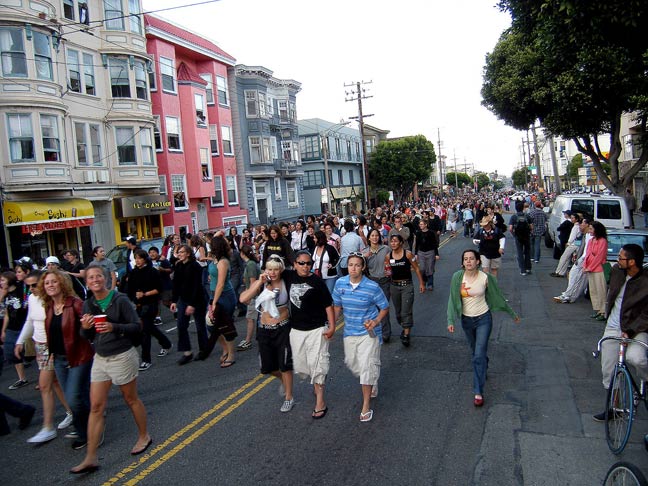 The view from out front.


Art.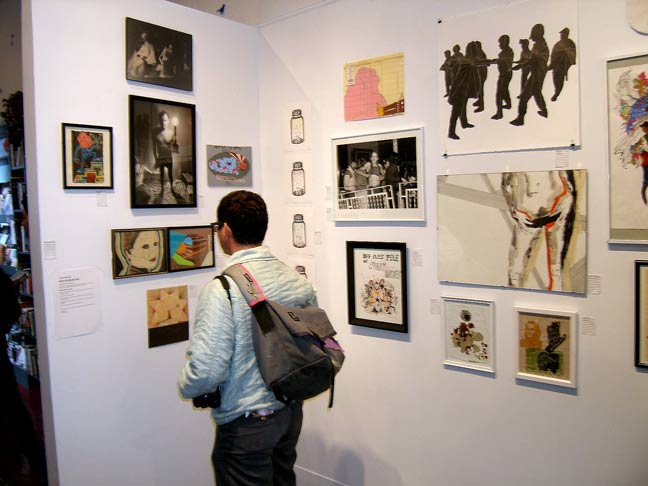 Art.


Art.


Still going; no end in sight.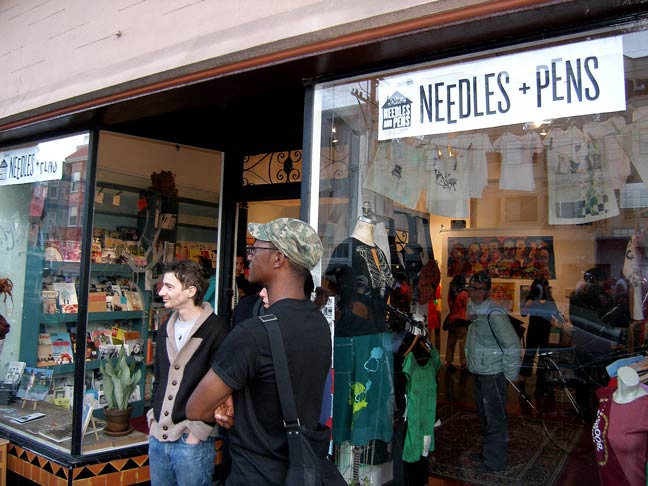 Watching it still going.


***
The San Francisco Writer's Grotto: Books are Busting Out All Over.
Comment: It's not art; it's literary. But hey-- artists read too, right? In case you're not familiar with The Grotto, it's a collective workspace and home to a number of San Francisco's finest writers, filmmakers, and other narrative talents. Tonight's even celebrates eight new books being published by Grotto authors. They are Diet for a Dead Planet: Big Business and the Coming Food Crisis by Christopher D. Cook; Masterminds: Genius, DNA, and Quest to Rewrite Life by David Ewing Duncan; House of Thieves by Kaui Hart Hemmings; The Lost Night: A Daughter's Search for the Truth of Her Father's Murder by Rachel Howard; Pucker by Melanie Gideon; The Second Coming of Mavala Shikongo by Peter Orner; East Wind, Rain by Caroline Paul; and A Sense of the World: How a Blind Man Became History's Greatest Traveler by Jason Roberts.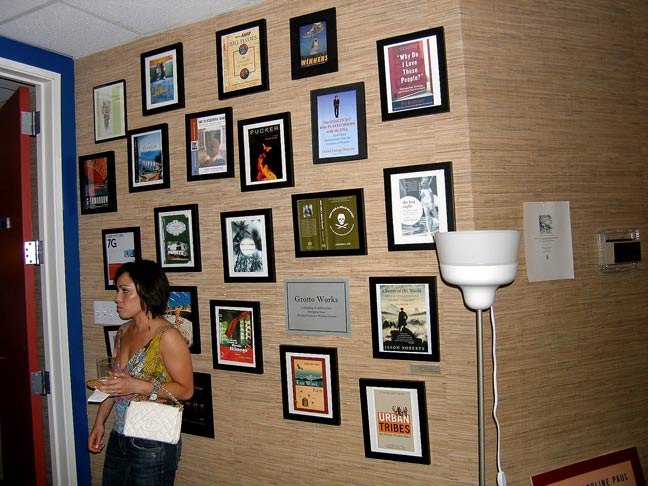 A display of book titles published by Grotto members.


Party partial (very partial).


Po Bronson outside his office.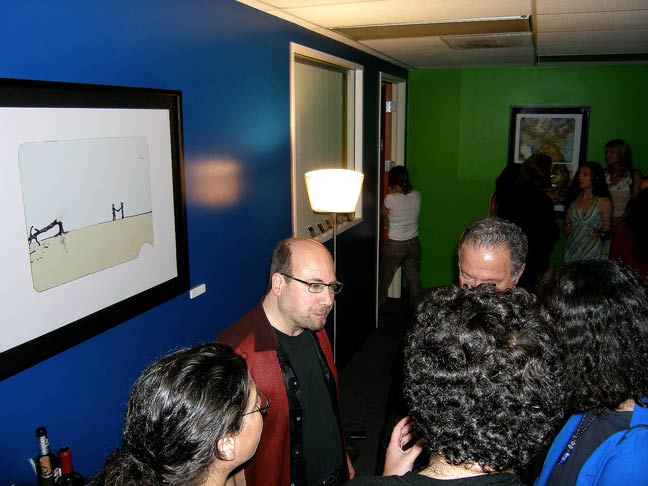 Craig Newmark of Craigslist.


More Grotto.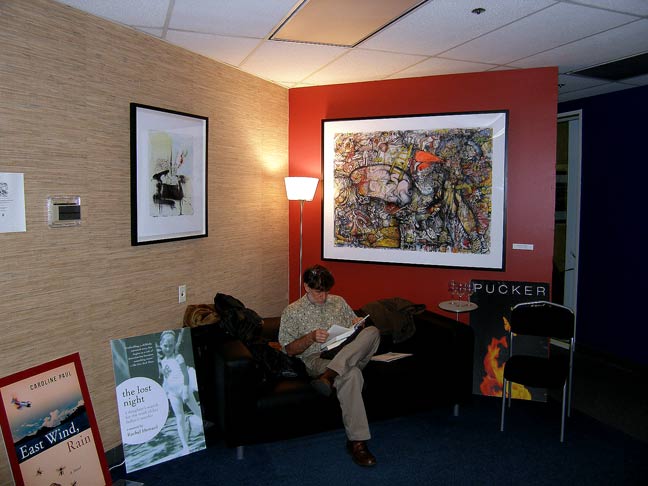 More Grotto.


***
Garage Biennale: Science Fair Meets World's Fair.
Artists: Melissa Adams, Gage Burkart, Beth Cook, Erica Gangsei, Grey Jenkins, Ryan Kellman, George Mittendorf, Haden Nicholl, Kalil Oldham, Max Rosenblum, Kathrine Worel, Tyson.
Comment: Art based in science is the topic of this fourth in a series of six "pavilions" consituting the Garage Biennale, held in a magnificent mansion garage high atop the misty blustery bluffs of Pacific Heights.
Art.


Art.


Art.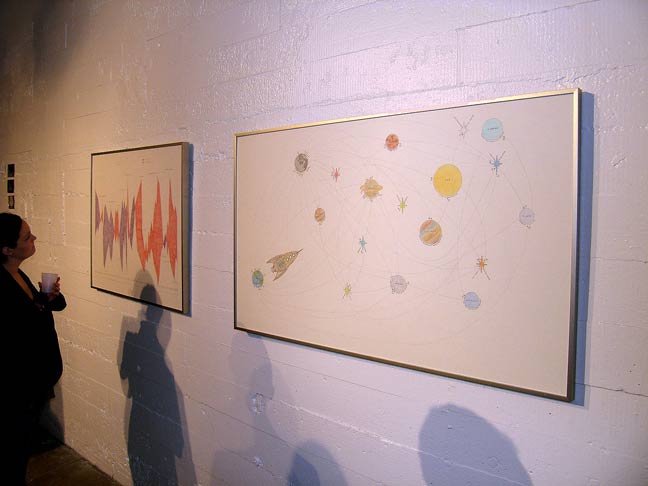 Art.


View through the mist.


***
I run into Brian Barneclo at a Club Waziema art show. He happens to have painted a wall-length mural at fresh new Nopa Restaurant right across the street in a converted bank building at the corner of Divisadero and Hayes. I missed the Nopa opa-ning, but that was then and this is now. So here you go-- Barneclo.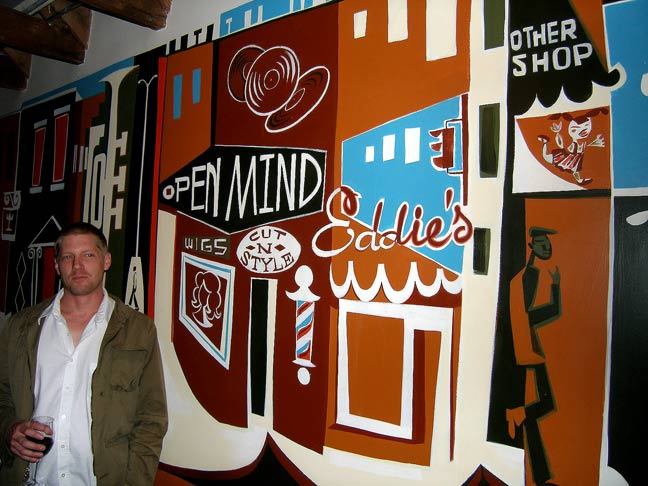 Brian Barneclo - mural art partial.


View from the Nopa balcony.


Brian Barneclo and two of his ladies.


***
Addendum:
Queer comics exhibit at the Cartoon Art Museum.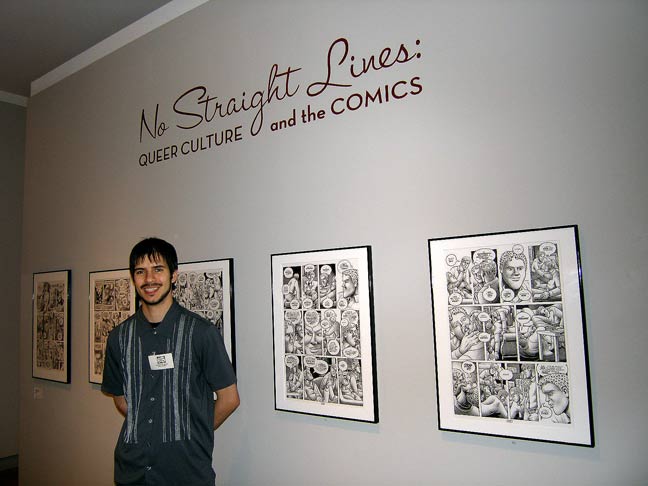 Andrew Farago, Gallery Manager and show organizer, Cartoon Art Museum.
The art's by artist and show curator Justin Hall.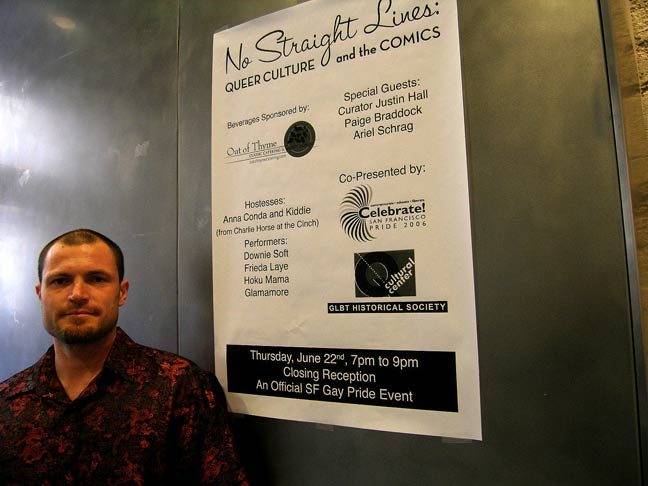 Justin Hall, artist and "No Straight Lines" show curator.


Small abstracts by Sara Waugh at Sherwood Design Engineers.


Sara Waugh abstracts sponsored by Liquid Spaces.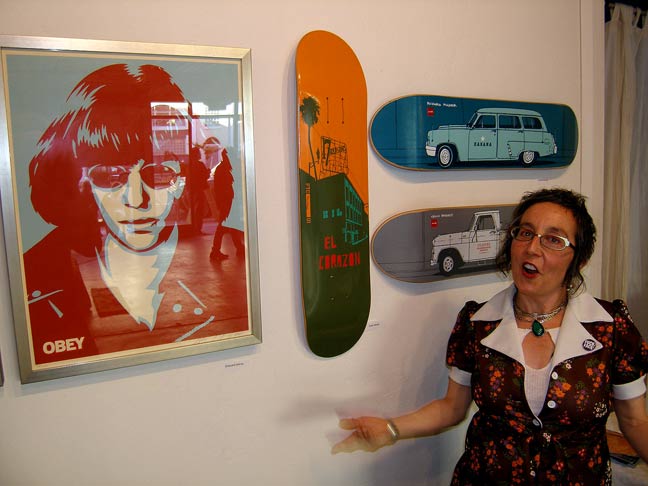 Soap Gallery co-owner Lisa Mendelson
shows her personal collection for one night only.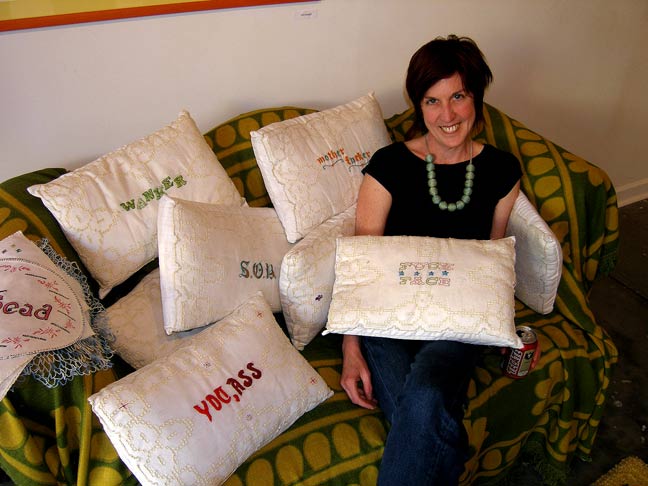 Potty mouth pillows available at Soap Gallery.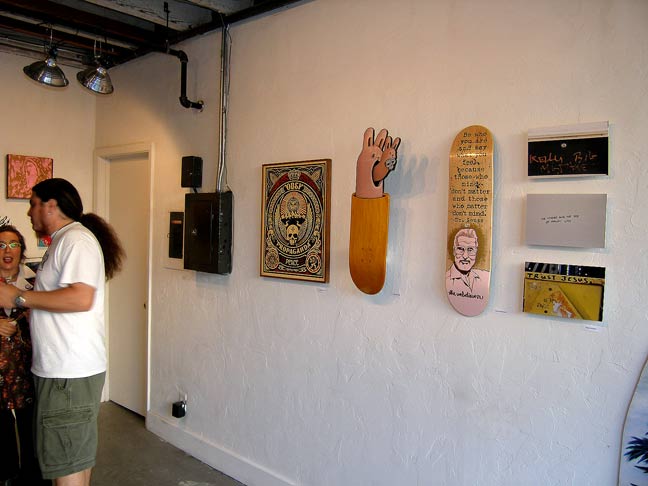 More of Lisa Mendelson's art collection at Soap Gallery.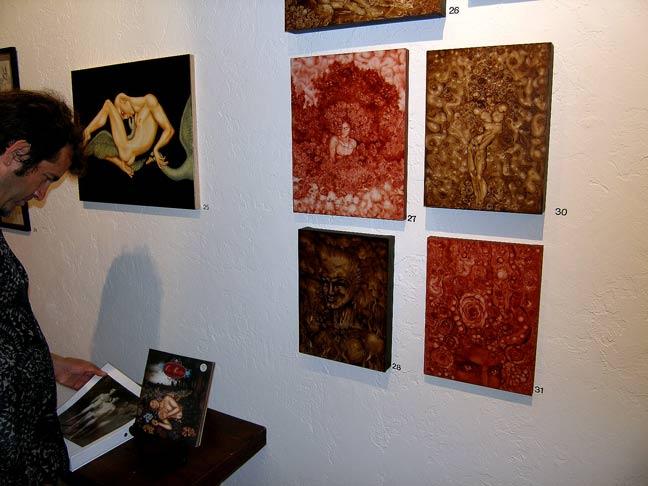 Group show at Amaru Gallery.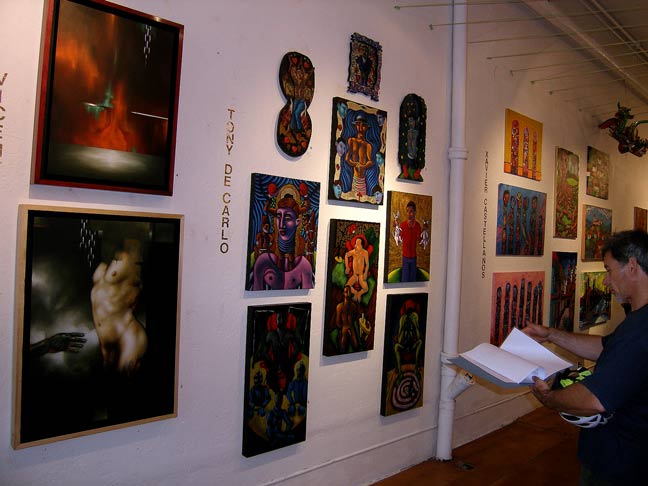 One more from Amaru Gallery.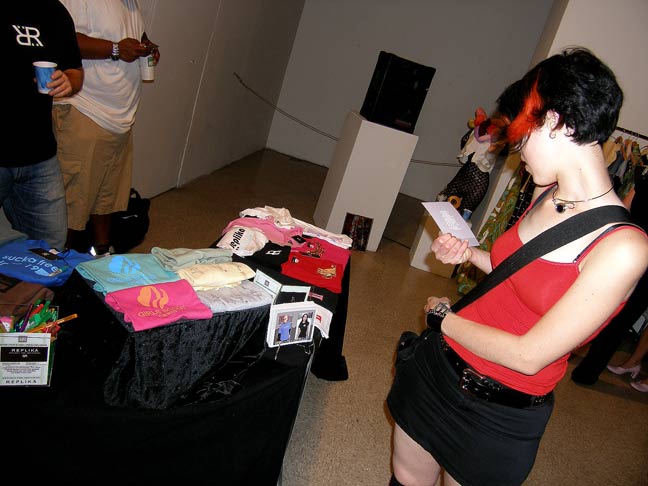 Fashion show and auction at The LAB.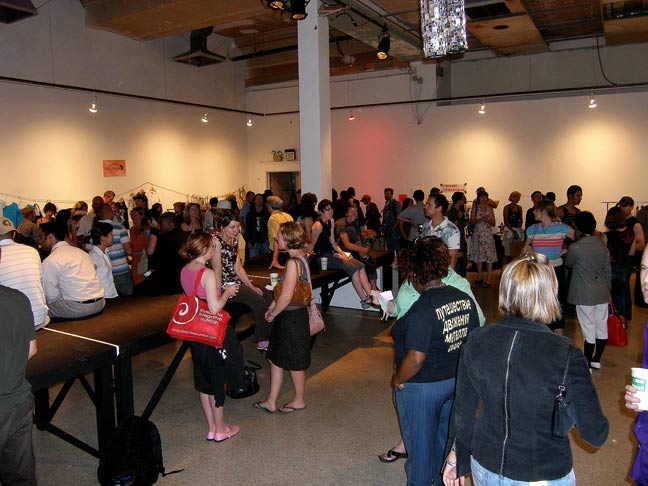 Waiting for the fashion show start at The LAB.


Salvador Dali, late and $$$$$$, at Christopher Clark Gallery.


More Salvador Dali at Christopher Clark Gallery.


Christopher Clark Gallery innards.


Ali Golkar tasteful tableaux at Martin Lawrence Galleries.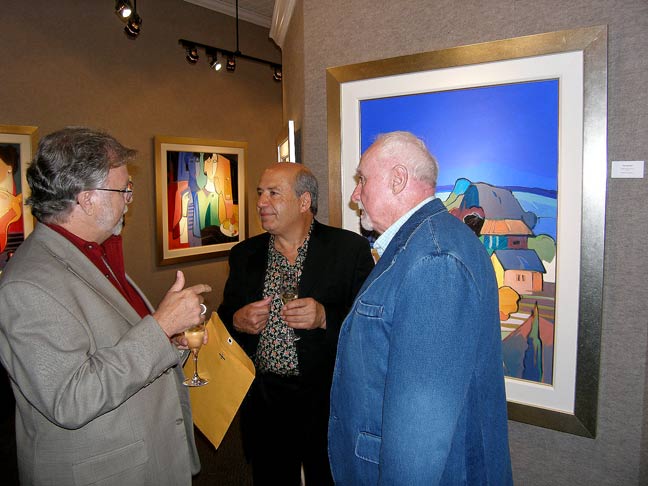 Ali Golkar (center) at Martin Lawrence Galleries.


Final Ali Golkar at Martin Lawrence Galleries.


Leah Romanelli documents anti-war anti-US sentiment abroad at
Club 222, 222 Hyde Street, San Francisco, CA 94102; 414.440.0222.


One more Leah Romanelli photo show at Club 222.


Cassandra Seeger paintings at Madusalon.


One more Cassandra Seeger at Madusalon.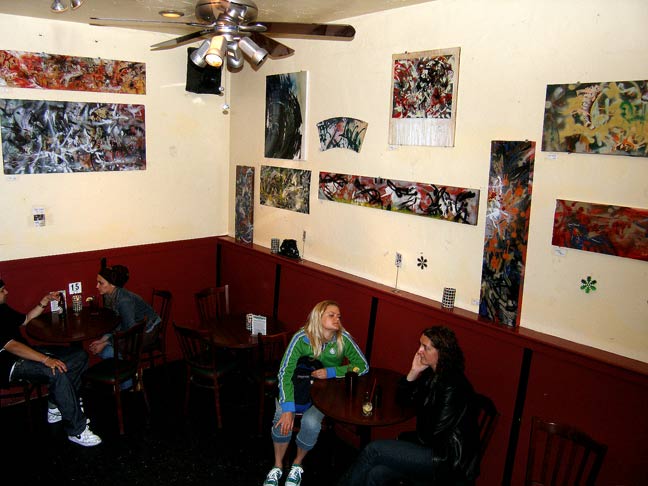 est.00 (Daniel Cordani) art at Club Waziema,
543 Divisadero Street, San Francisco, CA 94117; 415.346.6641.


est.00 provides art as well as tunes at Club Waziema.


***