SAN FRANCISCO GALLERY OPENINGS
ARTS COMMISSION - BUCHEON - MISSION 17
MICHELLE O'CONNOR GALLERY - THE LAB
TRIPLE BASE - MIXED USE - BACK TO THE PICTURE
W HOTEL - MOLLUSK SURF SHOP
ARTSALON OF SAN FRANCISCO - 672 SOUTH VAN NESS
KALART GALLERY
06.24-25.05
San Francisco Arts Commission Gallery, Main Gallery, 401 Van Ness Ave., SF, CA 94102: 10 x 10, 8 Week Lease (Reluctant Monument) - Bari Ziperstein; Marking Time Mapping Thought curated by Rupert Jenkins - Michael Banicki, Brad Brown, Nigel Poor, Christina Ray, Lee Walton.
Comment: Pretty solid show. Bari Ziperstein figures out how to get free storage. Michael Banicki transcribes people, places, things, thoughts into intricate grids. Lee Walton morphs already-played baseball games into abstract paintings. Christina Ray maps pedestrian traffic on sidewalks into geometric abstracts. The artists are from far far away-- New York, Chicago, Los Angeles, and Woodland (County seat of Yolo County), so for those of you currently over-wallowed in local fare, this show will refresh.
Art (Michael Banicki).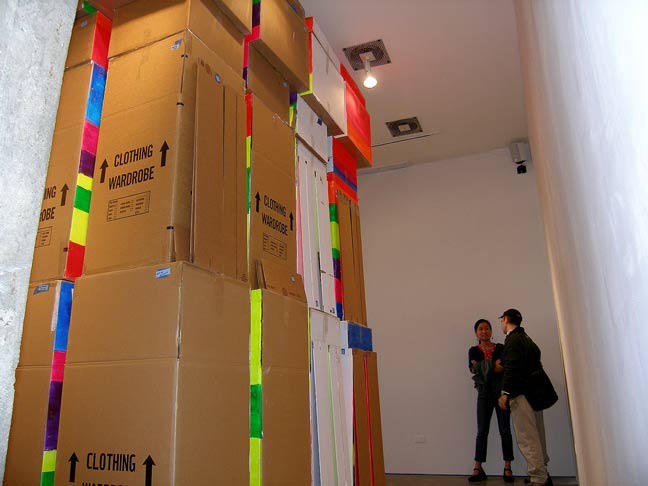 Free storage (Bari Ziperstein).


Art (Lee Walton).


Art (Brad Brown and Nigel Poor, I think).


Art (Christina Ray).


Art (Michael Banicki).


***
Mission 17 Gallery: The Diorama Show.
Artists: Luiz Arnias, Aylen Beazely, Jonathan Belli, Alex Braubach, Erica Browne, James Burke, Christopher Cheney, Adam Connelly, Lauren Davies, Elizabeth DiGiovanni, Sandhya Dirks, Emily Donat, Luke Dorman, Chris Dorz, Kathryn Dunlevie, Robyn Einhorn, Lora Finelli, Ben Folstien, Dustin Fosnot, Jaun Pablo Garza, Dan Grayber, Mayumi Hamanaka, Hannah Hammond-Hagman, Liz Harris, Taro Hattori, Nana Hayashi, Amy Hibbs, Ben Houston, Homero Hidalgo, Chiei Ishida, Ava Jancar, David Kasdorf, Kimberlee Koym, Kristina Lewis, Mike McConnell, Megan McCready, Jason Michael, Mark Mulroney, Rebecca Noon, Caitlin Parker, Shalo Penuela, Julia Petho, Fiona Ryan, Kyle Simon, Mercedeze Singleton, Ryan Smith, Shawn Smith, Sarah Thibualt, Michael Trigilio, Gabrielle Wolodarski.
Comment: All kinds of artists from all kinds of backgrounds each contribute a diorama to this show. The dioramas are kind of like the ones we used to make in elementary school, but much better-- and way more entertaining. Here's the dice-roll on shows like this from a mercenary collector's standpoint-- a number of these artists will never make dioramas again, so if you buy one, you'll likely have the only one the artist ever made (or close to it). And when you have the only one, that means nobody else has one, which means you have a monopoly, which means if someone wants to buy the only one (which you have), extortion becomes a viable option (especially if the artist gets famous)-- they either pay your price or go home empty-handed. But that's way off in the future. Right now, the show's rife with affordable fun, prices range from $50 to $850, most well under $500. Or if you like to overpay, there's a smattering of POR's.
Art.


Art.


Art.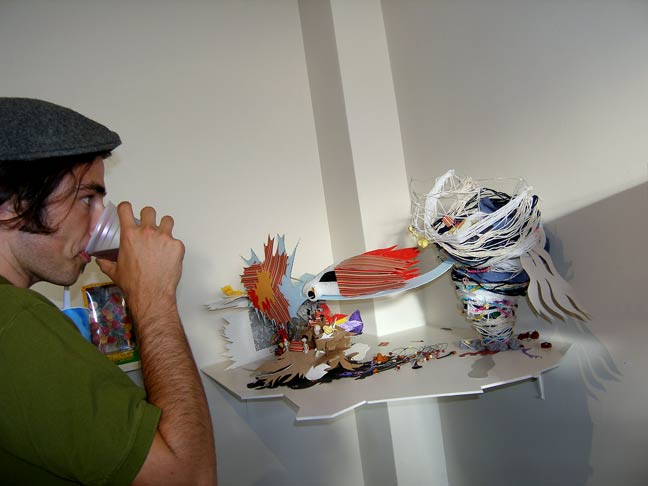 Art.


Art.


Art.


Art.


Art.


Art.


Art.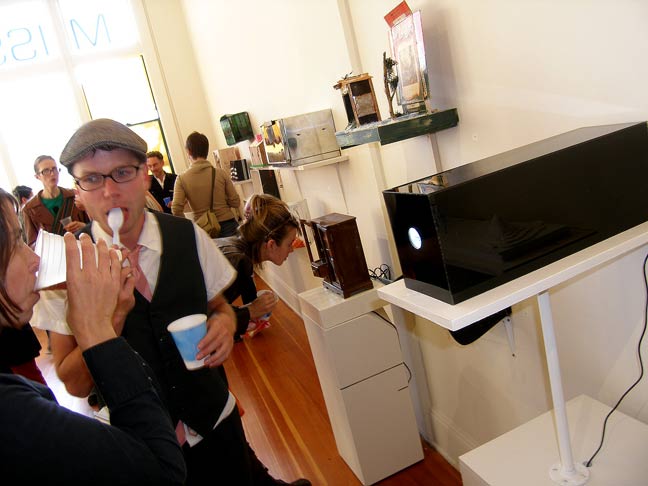 Partial.


***
Michelle O'Connor Gallery, 2111 Mission St. 4th Floor, San Francisco, CA 94110; 415.948.7965: Julian Marin, Chelsea Heimbuch-Skaley, Mitchell Durkee.
Comment: Bright geometric abstract paintings with representational elements by Julian Marin are worth a look, and maybe a buy ($175-$1200); several have an intangible kernel of umph to 'em. At $800-$1200, the clean competent artful soft-toned ceramic sculptures of Mitchell Durkee ain't cheap, but they're good, and the 9 spheres that make up one sculpture can be purchased individually for a reasonable $150 each.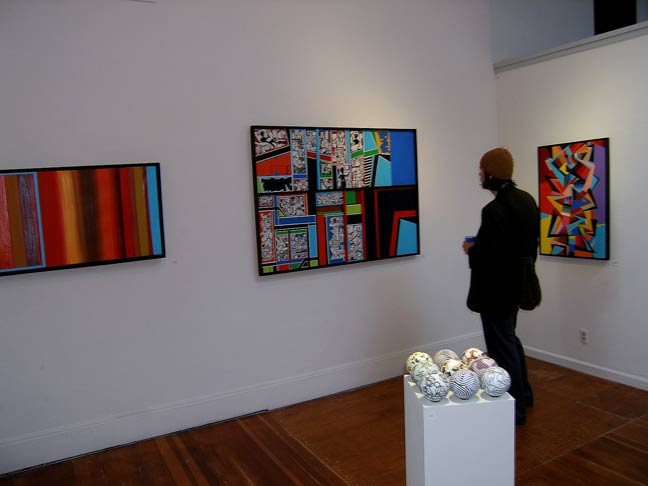 Art (Julian Marin - paintings; Mitchell Durkee ceramics).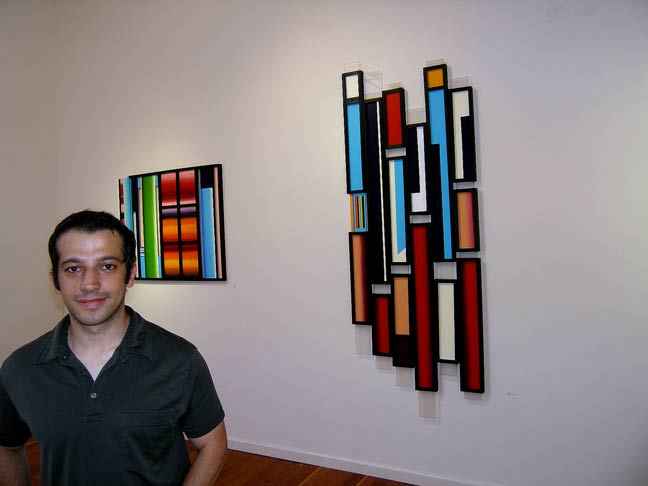 Julian Marin - art.


Art (Julian Marin - paintings; Mitchell Durkee ceramics).


Floor plan.


***
The Lab: Material Matters.
Artists: Lisa Davidson, Matt Flegle, David Hevel, Seth Koen, and Megan Wilson.
Comment: Material Matters, curated by Michael Schoolnik, is about artists who pay meticulous attention to detail and possess the mastery of medium to transform their attention into some pretty tasty art. It's my favorite kind of art, by the way, cuz the artists care about every iota of their finished products, so there's nary any slop, and I can't stand slop. Highlights include a floor-to-ceiling marathon crochet by Seth Koen, outrageous floral arrangements by David Hevel (one with ersatz doggie doody that he makes by wrapping floral tape around styrofoam doody forms), and an entire corner of the room done up by Megan Wilson as sort of a 1970's over-the-top tribute extravanganza. Wilson obviously put a gargantuan amount of time and micro-management into her installation which means she gets Best-of-Show.
Now I'm gonna tell why I ask what some might consider "uninformed" questions like "What happens to it when the show's over?" or "Do you sell enough to make a living?" or "How long did it take to make?" or "So how do you make money?" One of my main missions in life is to help more artists sell more art better, so that hopefully, one day, they can support themselves entirely by making art and live lives of uncompromising creativity-- because that's what they want to do. To complicate matters, lots of artists don't have outside jobs (maybe they don't want 'em; maybe they can't get 'em), or outside sources of income, enough money to pay next month's rent, or sometimes even enough money to buy a decent meal. I ask my questions for them, those artists who struggle mightily to survive, on the off chance I might reconfigure an occasional answer to render their struggles a little less mighty. There you go. And thanks for taking the time to answer.
Art (Lisa Davidson).


Art (Megan Wilson).


Art (David Hevel).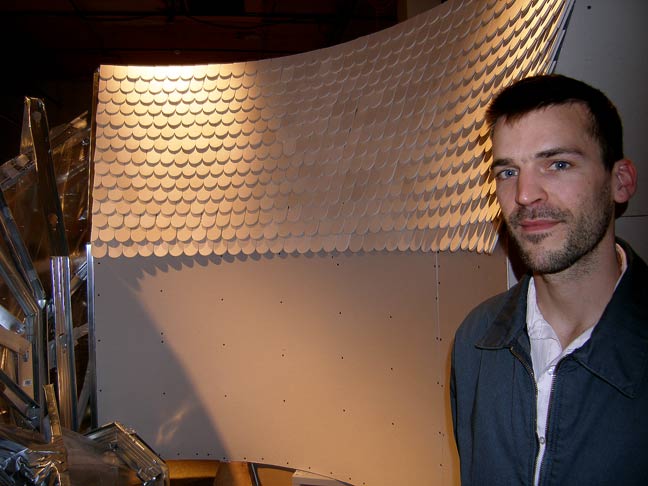 Matt Flegle - art.


Curator Michael Schoolnik - 871 Fine Arts ingenue Adrienne Fish.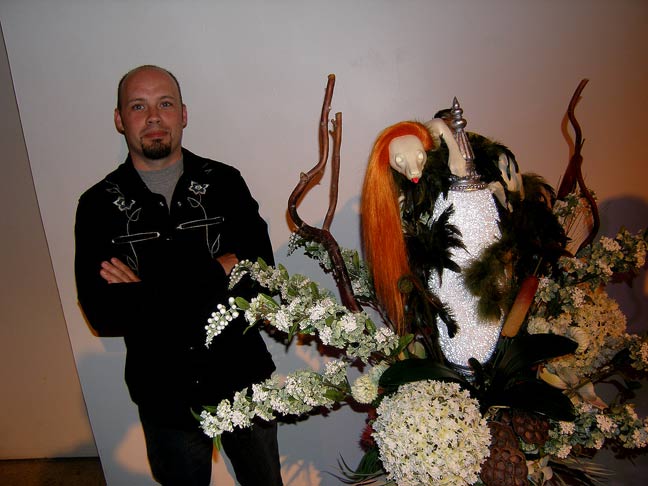 David Hevel - art.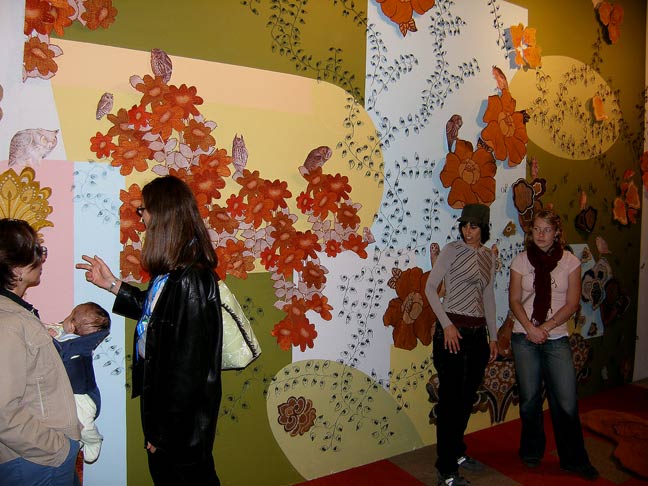 Art (Megan Wilson).


Art (Megan Wilson).


Bogus poop (David Hevel).


Art (Seth Koen).


Art, getting closer (Seth Koen).


Art, getting real close (Seth Koen).


Seth Koen. Hey-- it took 150 hours to make; he gets 4 pix.


***
Triple Base: Bundle.
Artists: Tania Bedford, Sera Beak, Sarah Grierson, Alda Rose.
Comment: Almost more of a gathering than a show, demonstrating the perks of creative lifestyling, where people converge around art, where art becomes a vehicle for discourse, exchange of ideas, an opportunity to see reality through iconoclast eyes, and, let's not forget, a great way to meet crisp invigorating poppin' fresh artsters. It's not always about selling. Meanwhile back a the show, the Triple Base street windows are my favorite-- crammed by Tania Bedford with surreal icons, moody Voodoo vibey moppets and eerie ethnic effigies.
Art (Sarah Grierson).


Art (Alda Rose).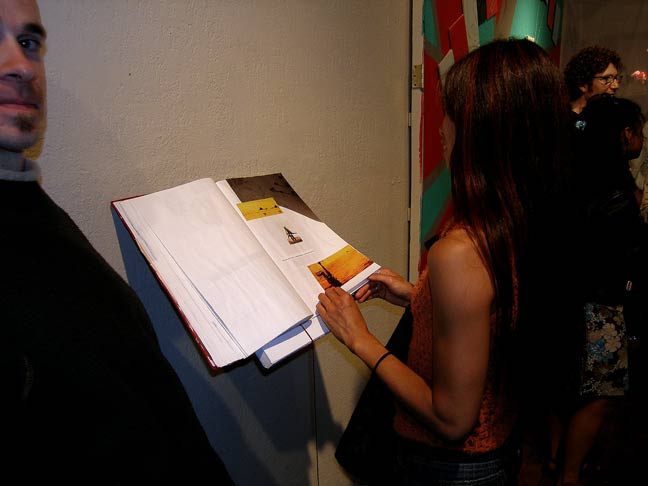 Art (Sera Beak).


Art (Tania Bedford).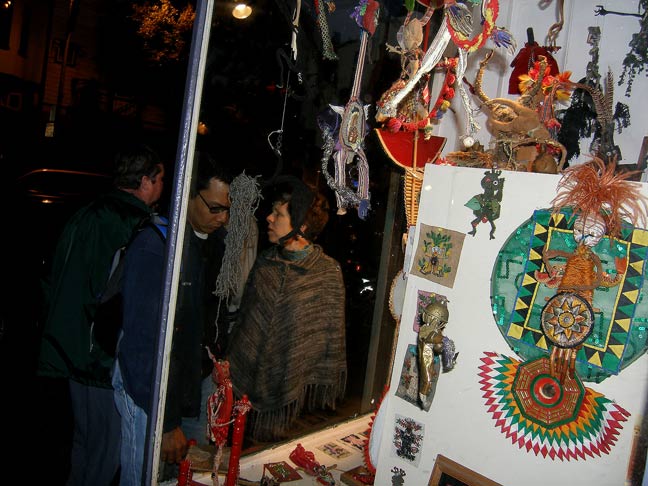 Art (Tania Bedford).


***
Mixed USE: Better Than Real.
Artists: Lauren Davies, Tara Tucker, Kyle Williams.
Comment: Mixed USE sells collectible trifles, vintage clothing, trinkets, and knick-knacks; they also sell art out of a gallery in the back, this time featuring some pretty nifty artibles. Tara Tucker tells me the strange recurrent creature in her very competent pencil drawings has been morphed over a five year period from a whale. Lauren Davies sculpts scale models of dogs from dog hair, sculpting only the actual breed directly from its hair (I like an artist with integrity-- no cheap tricks like sculpting a Chihuahua from Collie hair). And Kyle Williams is showing this rabbit device where you turn a crank and it lights up and projects a story on a wall. It's POR not because it's expensive, he tells me, but rather because it's tough to change the batteries, and has other logistical issues that could potentially impair the joys of ownership.
Art (Tara Tucker).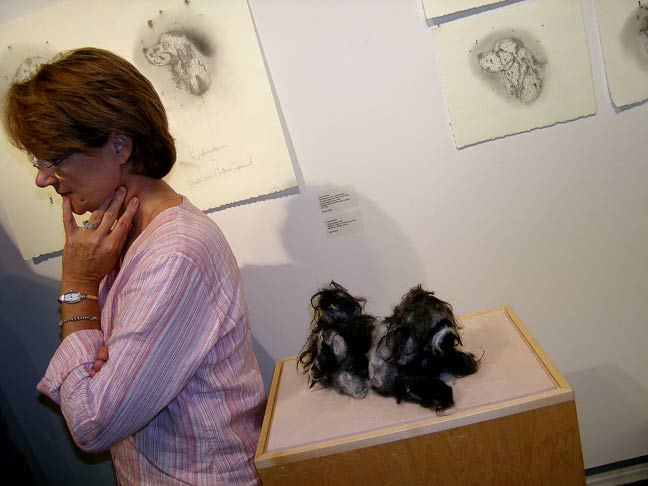 Arf art (Lauren Davies).


Art (Kyle Williams, I think).


Lauren Davies - woof art.


Tara Tucker - art.


Kyle Williams workin' the rabbit.


Art (Tara Tucker).


Knob art (Jason Byers).


***
Back to the Picture, SOMA, 1110 Howard St., San Francisco, CA 94103; 415.558.9901: Grand Opening Reception.
Artists: 40 local artists, contemporary prints, modern masters.
Comment: One from the strange side; a four-beam searchlight honkin' away out front, thirty people or so milling about inside, all on a bleak block of Howard St. The gallery is a multi-roomed low-ceilinged maze-like affair with random works of art randomly hung. Some art's by famous artists, some by unfamous artists, some new, some older, some good, some less good, and one that was memorably bad (no, I'm not gonna show it).
Art.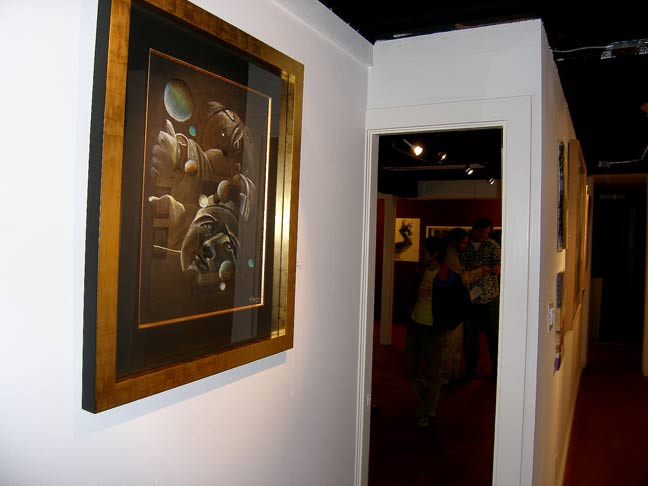 Art.


***
Jeremy Kost at W Hotel: Roid Rage.
Comment: Enlarged C-prints of Polaroid photos of "underground nightlife in NY and LA." Celeb shots, I think (I don't club much). Kost's tony promo catalogue intros the artist with "Art school dropout... try never attended. Instead, inspiration was born from a friend's old Polaroid camera and the straightforward portrait work of Andy Warhol. This is Jeremy Kost's story. No big name art schools or former apprenticeships to the Mario Testinos, Bruce Webers and Patrick McMullans of the world..." That pretty much wraps it.
Photography.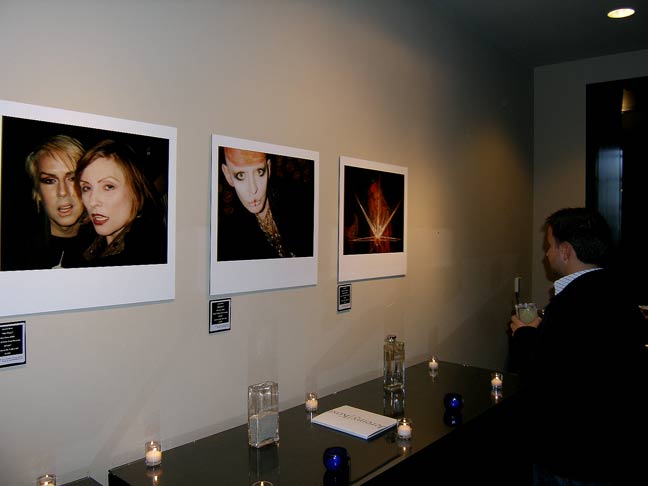 Photos.


Promo.


Photographs.


***
Mollusk Surf Shop, 4500 Irving St., San Francisco, CA 94122; 415.564.6300: Grand Opening Plus Art Show.
Artists: Charlie Callahan, Jeff Canham, Laura Flippen, Barry McGee, Jay Nelson:
Comment: Never let it be said that I don't go to the outer reaches of the mainland to present the complete unexpurgated truth, in the name of art, this time to a surprisingly good show by the beach featuring-- get ready-- are you sitting down? A toothsome Barry McGee painting on wood NAILED to the wall. Do you dudes have any idea what that thing is worth? All I can say is I hope McGee did the nailing. The centerpiece of the store, actually more like the cornerpiece, is a peachy sculptural treehouse crafted by Jay Nelson. The rest of the art's in a small gallery in the back, and trekworthy.
Update-- I stand corrected. Nobody nailed a Barry McGee to the wall. The nails are part of the art and nailed by McGee himself.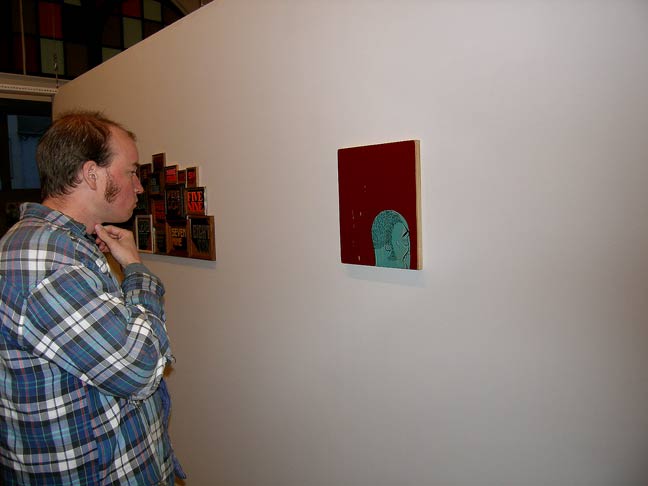 Nailed Barry McGee art (ouch).


I have no idea what it is, but it's a pick.


Jay Nelson - treehouse art (I like it).


Art (I like it).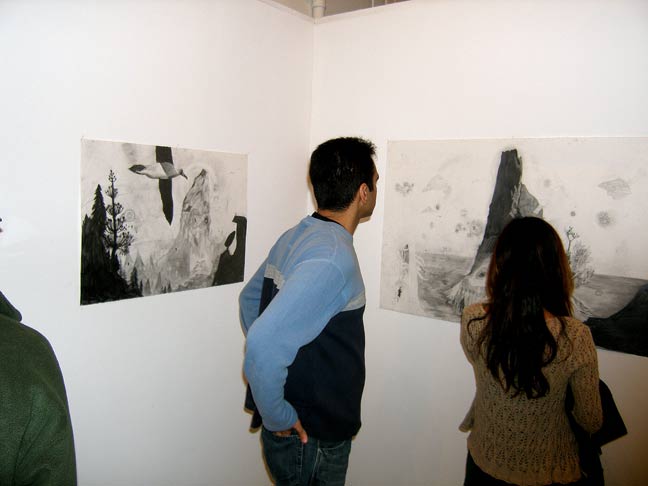 Art (I like it).


Art.


Outer.


***
Ast SalonSF: The 3rd Annual Art Nouveau Gala.
Artists: Rosemary Machado, Jennifer Simpson White, Mark Ziemann, Karen Turcotte, David Scott Bruce, Catherine Lynch, Deidre De Franceaux, Clarence A. Mitchell, Iouri Pestov, Catherine Lynch, Amy Feldman, Peih F Chiang.
Comment: Quirky mixed bag show by this local artist group. The undersea plantscapes (I think) by Clarence A. Mitchell are sorta dreamy. And Karen Turcotte is showing atypical social political message sculpture including a pair of bare breasts in a cupboard.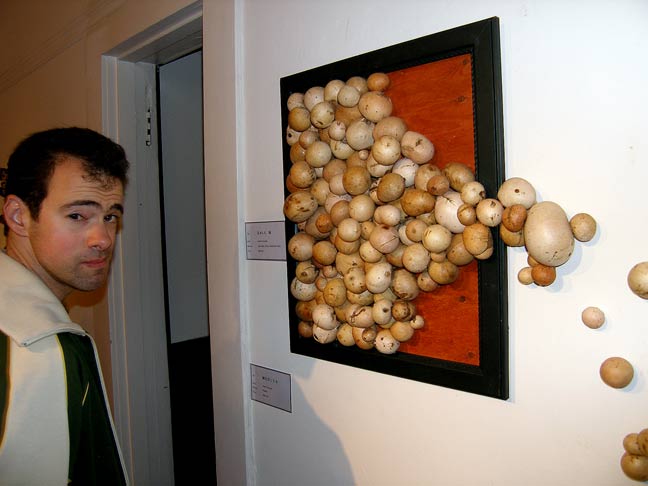 Art (Karen Turcotte).


Muscle dude in a clock cup art.


Art.


Art.


Art (Clarence A. Mitchell).


Karen Turcotte - art.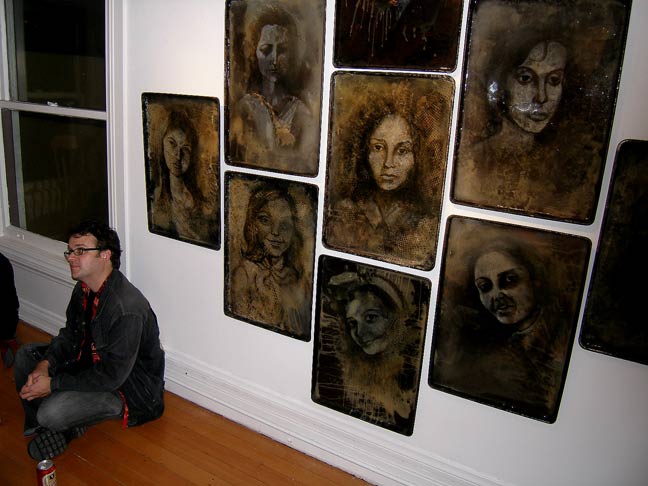 Art.


***
Addendum:
Hilary Harp and Suzie Silver at Bucheon Gallery. Nice mini-video dioramas. Go see.


One more Bucheon.


Benefit for The Leukemia & Lymphoma Society at 672 South Van Ness.
Painting by Jerome McLaughlin, I think.


672 South Van Ness artists
Jander Lacerda, Jerome McLaughlin, John Nieto.


Last 672 South Van Ness (More Jerome McLaughlin, I think).


Indian contemporary art at Kalart Gallery.


Kalart Gallery, 855 Sansome St., SF, CA 94111; 415.693.9727.