SAN FRANCISCO ART GALLERIES - OPENINGS
SFMOMA ARTISTS GALLERY - THOREAU CENTER
MUSEUM OF CRAFT & DESIGN - JOHN PENCE - ELECTRIC WORKS
SAN FRANCISCO MAGAZINE
06.27-28.07
SFMOMA Artists Gallery: Banzai & Godzilla - Japanese Influences in American Culture Then and Now.
Artists: Kim Anno, Kathy Aoki, Lucy Arai, John Casey, Ishan Clemenco, Laura Dufort, Yukako Ezoe, Peggy Gyulai, Theodora Varnay Jones, Tom Marioni, Howard Munson, Tomoko Nakazato, Seiko Tachibana, Kazuaki Tanahashi, Ayu Tomikawa, Scott Tsuchitani, Kimetha Vanderveen.
Comment: Lively group homage; the title sums it perfectly. Incidentally, if you've never been to an SFMOMA Artists Gallery opening and you like openings, you might want to augment your docket. They're basically pretty much always good.
Art.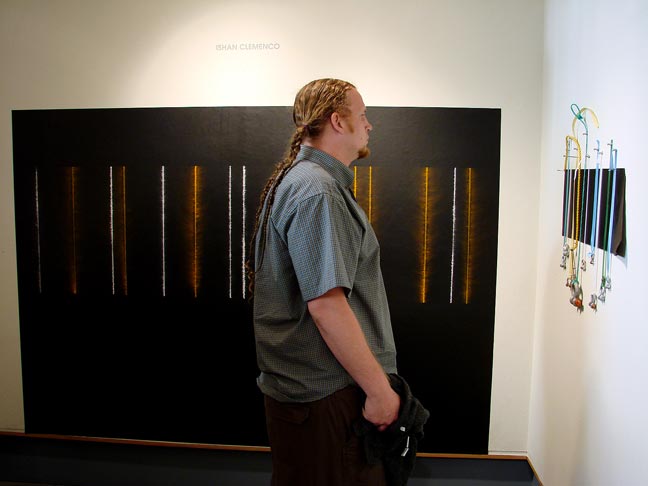 Art.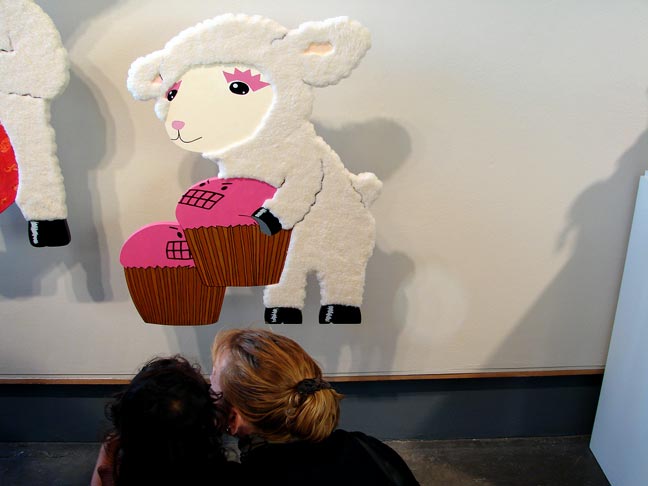 Art.


Art.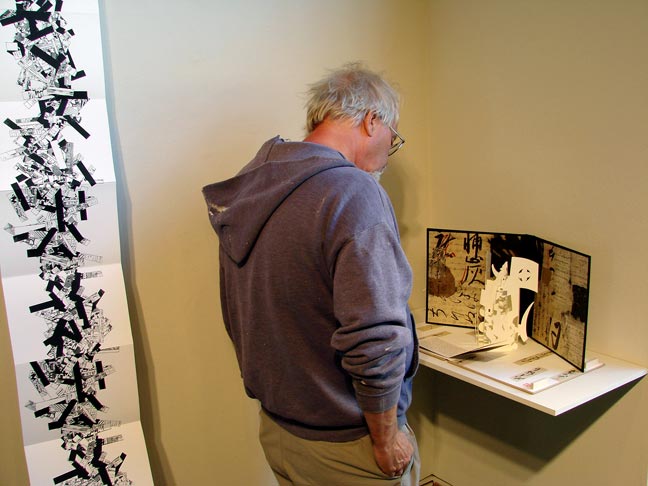 Art.


Art.


Art.


Art.


Art.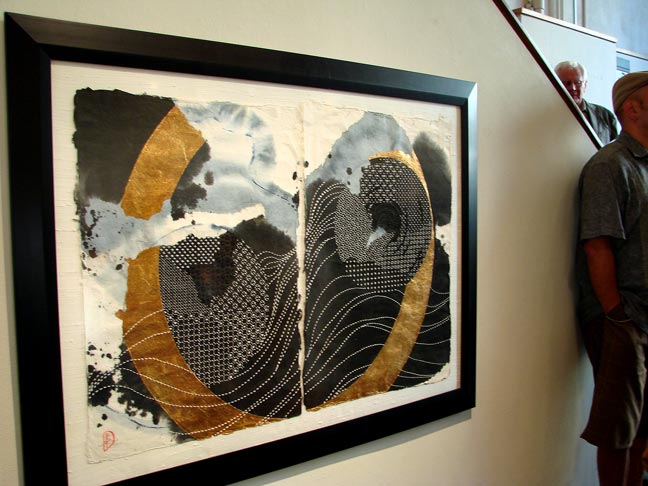 Art.


Art - overview.


Traditional tunes.


***
Thoreau Center Gallery: If I Ruled the World - Governance, Identity, and the Creative Process.
Comment: Annual group exhibition of art by artists who volunteer with ArtSeed, an organization dedicated to inspiring and empowering young people through "collaborative fine arts projects, exhibitions, classroom arts integration and long-term artist/youth studio apprenticeships." Work by ArtSeed students is also on display. Down the hall is an entertaining array of environmentally friendly art furniture by Miles Epstein (showing through September 14).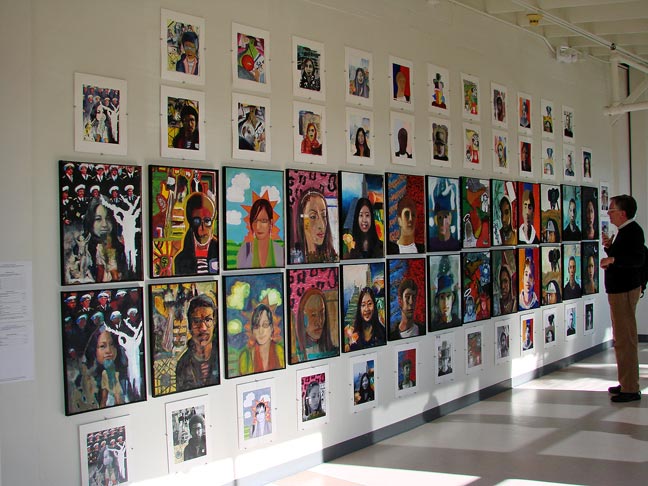 Art.


Art (William Scott - like it).


Art.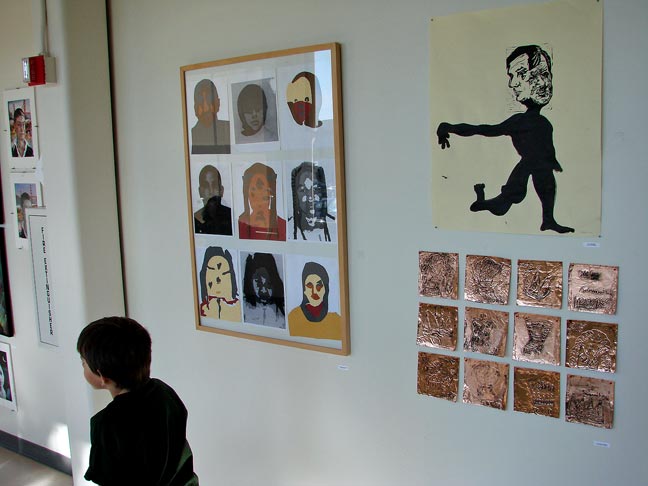 Art.


Art (black & whites by William Scott - nice).


Art furniture (Miles Epstein).


Art furniture (Miles Epstein).


***
San Francisco Museum of Craft + Design: Sculpture Transformed - The Work of Marjorie Schick.
Comment: A forty-year retrospective of the art of Marjorie Schick, best known for creating sculpture you can wear-- wild vibrant unconstrained multicolor constructions that are guaranteed to amplify or even transform your essence the instant you put one on. Near the museum entrance is a modest but impressive selection of her early metalwork jewelry, most dating from the late 1960's. Refreshing, uplifting, accomplished and well worth a visit. I like this museum.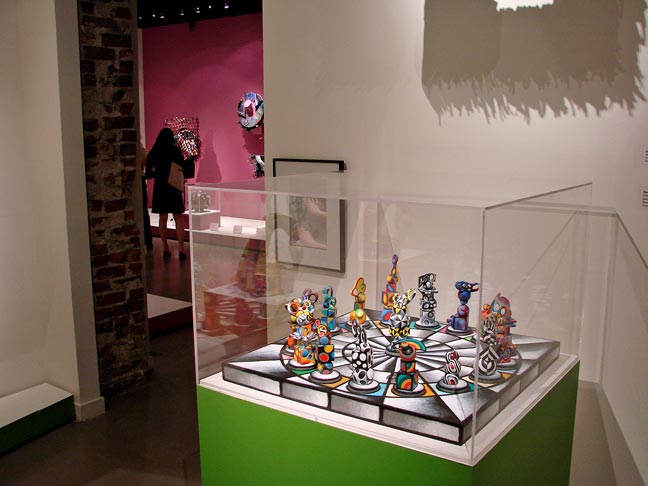 Art.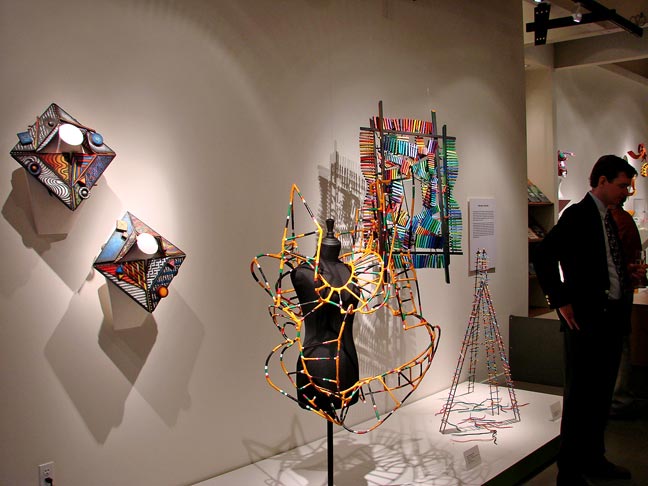 Art.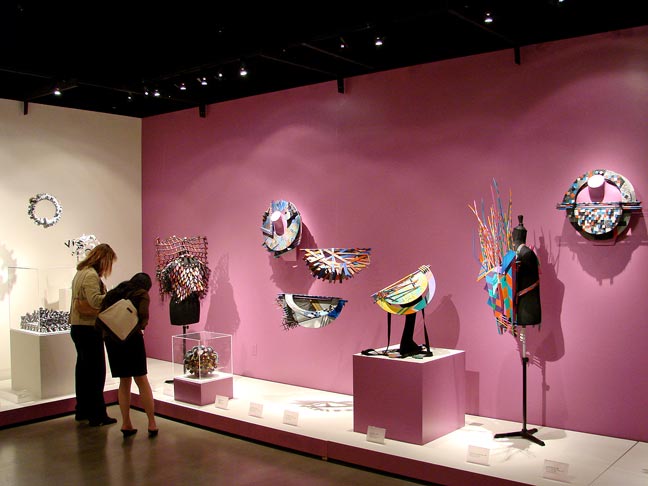 Art.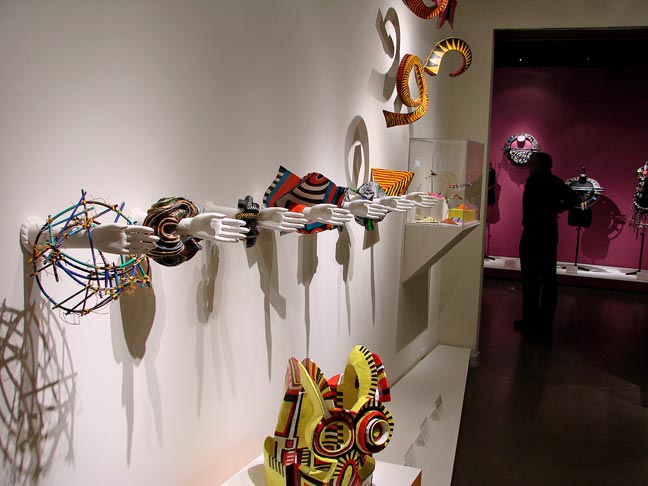 Art.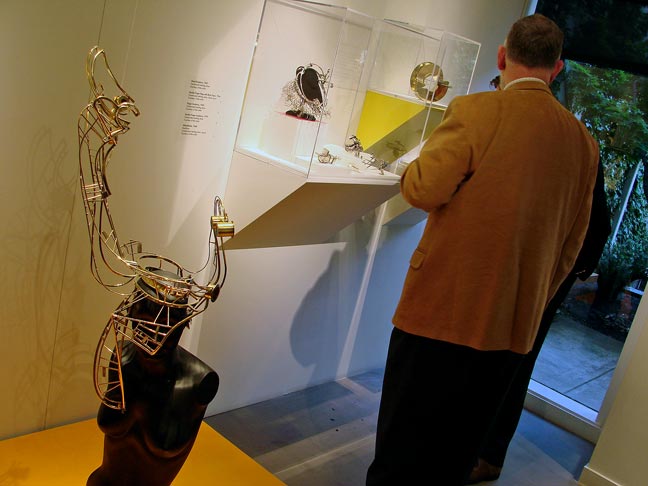 Early jewelry.


Partial panorama.


***
John Pence Gallery: Sam Wisneski - Recent Paintings and Drawings; Bennett Vadnais - Recent Oil Paintings.
Comment: Engaging treescapes and shrubscapes by Bennett Vadnais manifest his ability to elevate the ordinary, reminding us that art is everywhere-- all you have to do is open your eyes.
Art (Bennett Vadnais).


Art (Sam Wisneski).


Art (Bennett Vadnais).


***
Electric Works: Amanda Hughen and Jennifer Starkweather - Between Above and Below.
Comment: Subtle unassuming digital prints and drawings with focus on six collaborative prints by Amanda Hughen and Jennifer Starkweather, originally commissioned by the San Francisco Arts Commission for the Art on Market Street program, and exhibited as six-foot posters in 24 pedestrian kiosks along Market Street for four months in 2007. By the way, if you're on a budget, Electric Works offers assorted affordable editions priced under $100 in addition to their regularly priced art.
Art.


Art.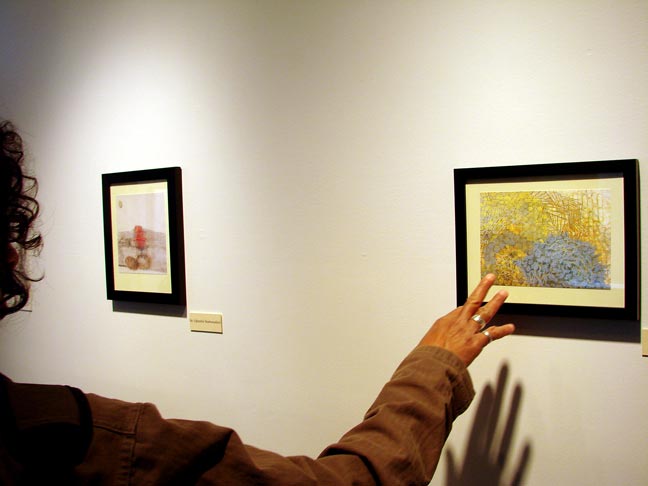 Affordable art.



Art.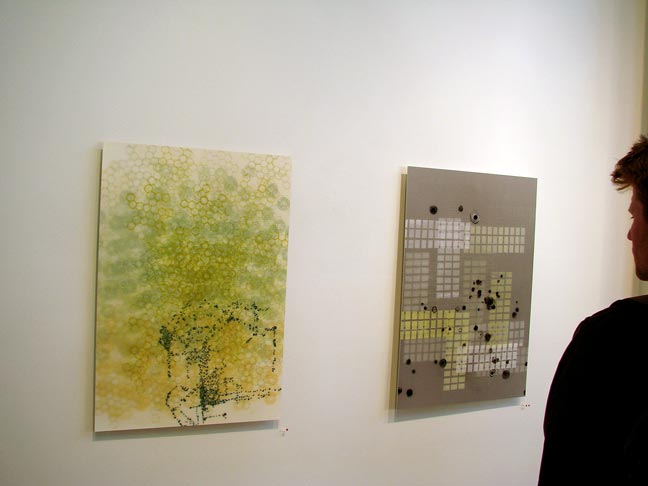 Art.


***
San Francisco Magazine at The Concourse Exhibition Center, 8th and Brannan Streets: Best of the Bay Area Party 2007.
Artists: Chor Boogie, Vulcan, Apex, Brad K. Alder, Rob Racine, Stormie Mills, Phil Holt, Bert Krak, Norm, Push, Sever, Revok, Saber, Retna, Jason Kundell, Venem, Lily Seo, Noble, Prairie Prince, Reyes, Grime, The Mac, David Flores Atc, Pete The Painter, Robin Grass, Jarrid Henderson, Paris, Skot Ramsay, Joe Levin, Krista Valla, Margaretta Jo, Lone Schneider, Steel, Amandalynn, Megan Shaffer, Lango, Shawn Alan Peters, Renee Fontana, Jersey Joe, Shawn Barber, Yutaro Sakai, Mark Wasyl, Craig Driscoll, Lucien Shapiro, Joe Leonard, Dame, Jess Muessen, Jason Tyler Grace, Luke Stewart, Jason Deamer, Paco Excel, Marcus Pacheco, Jessica Cooke, Chris Kelly, Holly Ellis, Erik Reith, more.
Comment: The sold-out 2007 installment of San Francisco Magazine's sumptuous Best of the Bay Area bash is infested with amusements including live music, dj dancing, wine tasting, live painting, fashion shows, a captivating cull of San Francisco 49er cheerleaders, art, silent auction, abundant edibles courtesy of a number of San Francisco's finest eateries, bars everywhere, a slew of prancing enchantresses and seductresses inciting herds of stray roaming dudes into acute states of heat, and a great big fat gross disgusting red Hummer (Hummers are for those who can't get hummers any other way). The upshot-- one kickass clambake. See you there next year, but only if you get your tickets on time. The event benefits Family House, serving as a home away from home for families of seriously ill children being treated at UCSF Children's Hospital.
Art.


Art.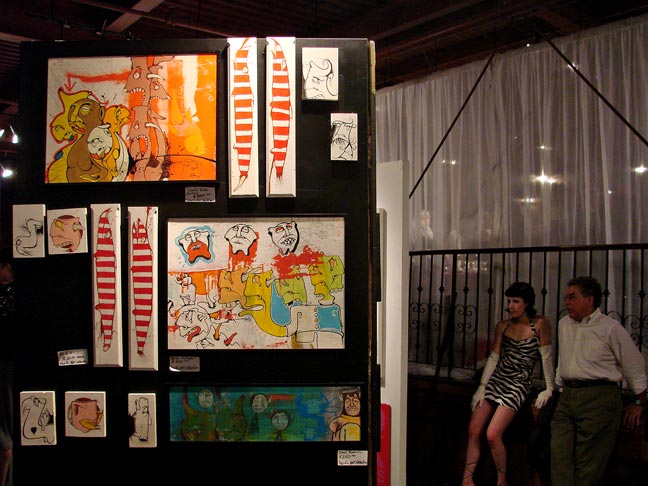 Art.


Art.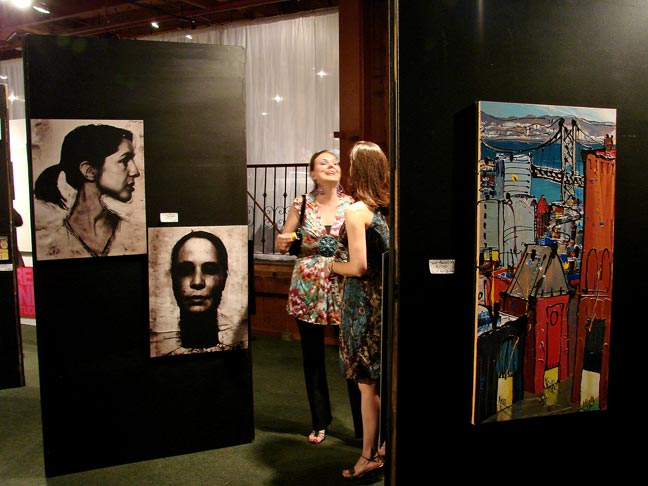 Art.


Art.


Live painting.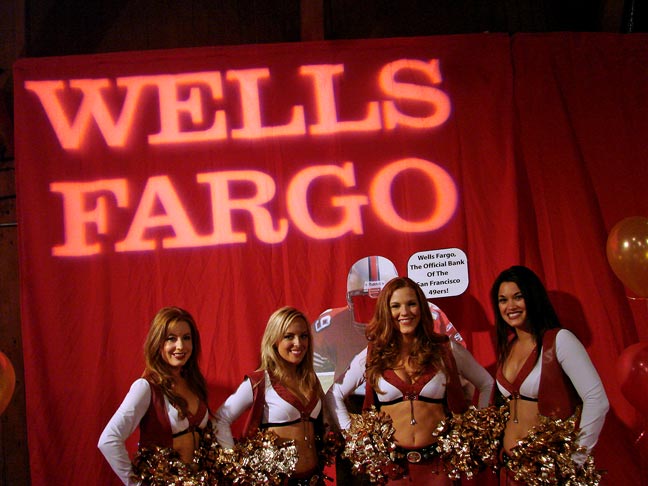 Soft sculpture.


Art.


Art.


Video art.


Art.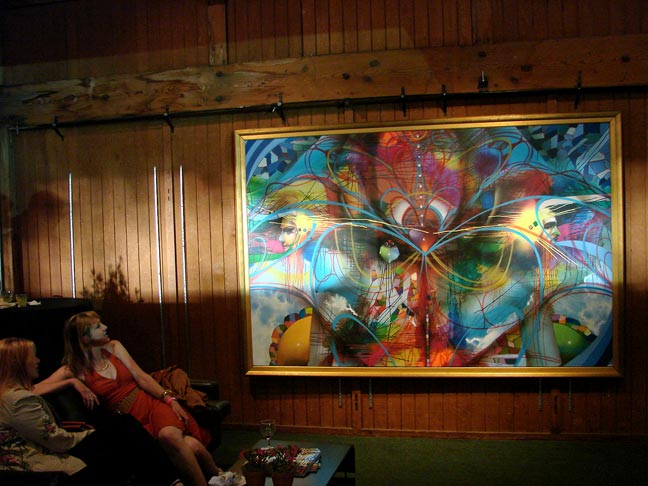 Art.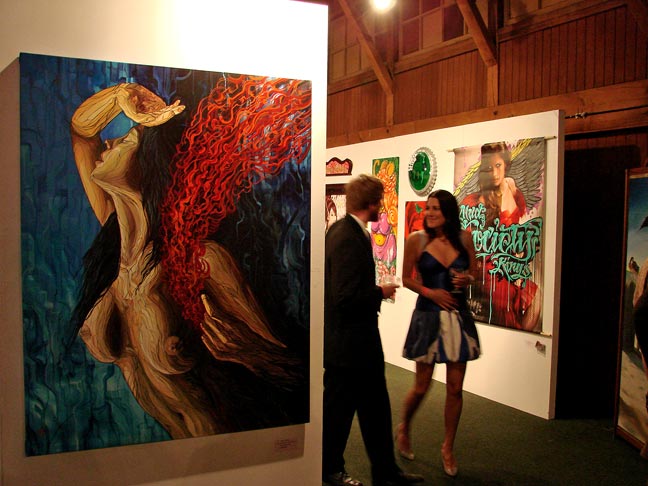 Art.


Ambience.


***