SAN FRANCISCO ART GALLERIES - OPENINGS
PARK LIFE - SF ARTS COMMISSION - BUCHEON
CLUB SIX - AR+SPACE - QUEEN'S NAILS ANNEX
GALLERY 1988 - DADA SF - BRAUNSTEIN QUAY
FRANKEE UNO - GARAGE BIENNALE
06.29-30.07
Park Life: Pleased to Meet You.
Photographers: Corey Arnold, Paul Paper, Catherine Ledner, Patryce Bak, Guido Vitti, others.
Comment: One-night show features photographers represented by Suzanne Shade at her online venue, The Beholder (beholder-art.com).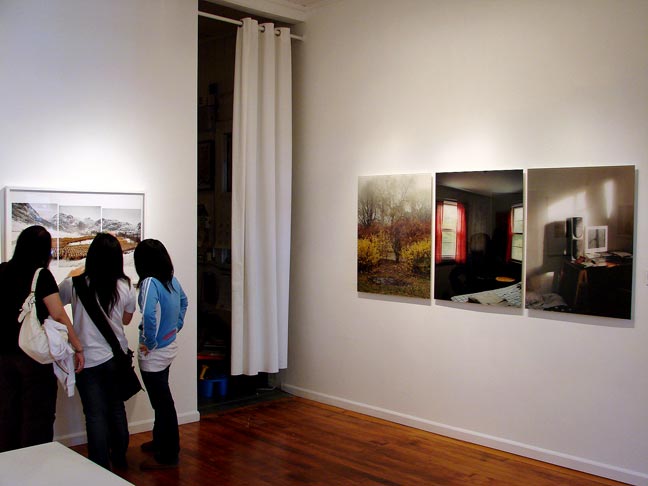 Photography.


Photo.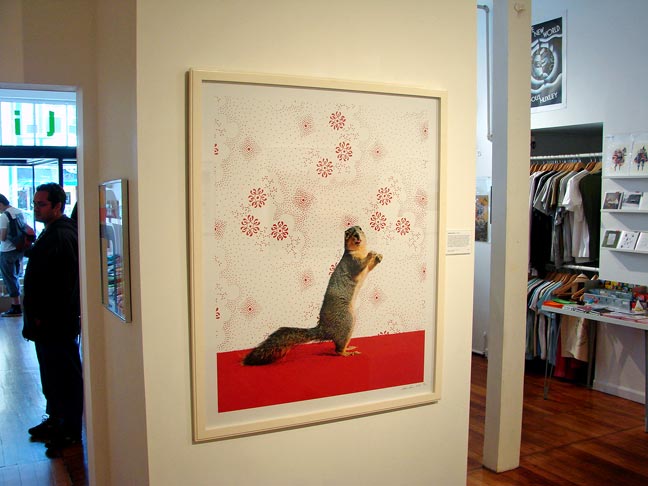 Image.


Photographs.


***
San Francisco Arts Commission Gallery, 401 Van Ness Avenue: Jillian McDonald - Me and Billy Bob; Mark Lee Morris - Hamartia.
Comment: New Yorkster Jillian McDonald performatively purports to have a major league jones for Billy Bob Thornton, but she doesn't really... or does she? You know what they say, Jillian-- you are what you purport. Anyway, electives include getting a Billy Bob temporary tattoo on the corporeal location of your choice, a showcased archive of fan mail, videos of McDonald self-spliced into seminal Billy Bob movie moments, and so on and so forth. Mark Lee Morris, meanwhile, transforms the 155 Grove space into a personal studio where he casts himself as everyone in a "steamy melodrama," then films himself daily, the episodes of which are on view here at the 401 Van Ness gallery.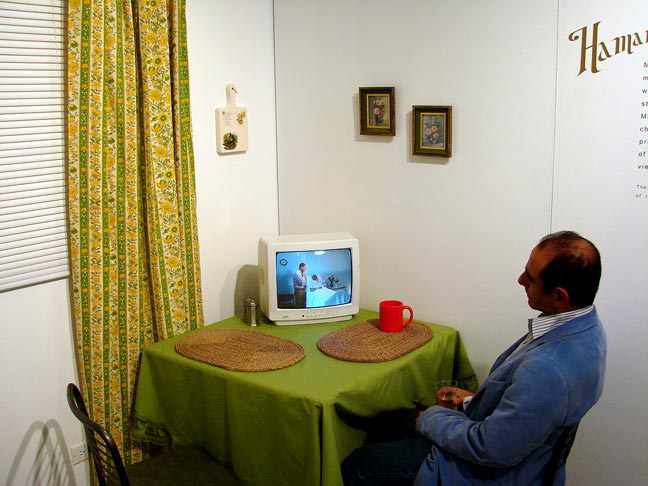 Art (Mark Lee Morris).


Billy Bob art (Jillian McDonald).


Billy Bob art (Jillian McDonald).


Art (Jillian McDonald, left - Mark Lee Morris, right).


Jillian McDonald "Billy Bob's" an event attendee.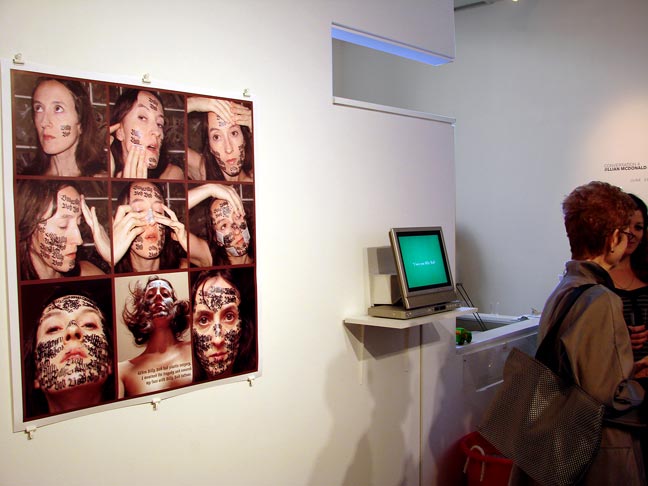 Billy Bob art (Jillian McDonald).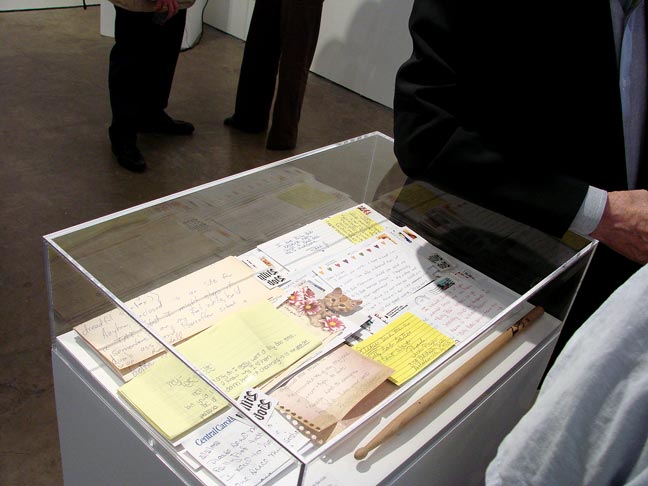 Billy Bob fan mail art (Jillian McDonald).


***
Bucheon Gallery: Nothing But Space.
Artists: Nathan Haenlein, Jeanne Lorenz, Eric Hongisto.
Comment: The premise is that according to "contemporary hyperspace physicists," everything is space, including matter, which is nothing more than highly compacted configured space. So the artists riff on that. Come for Nathan Haenlein's precise professional floating 3-D geometric gel pen art-- nice. Plus special added attractions-- a dynamic wall painting appended with umpteen string balls by Eric Hongisto, and digital print & painting combinations by Jeanne Lorenz.
Art (Jeanne Lorenz).


Art (Jeanne Lorenz).


Nathan Haenlein - art.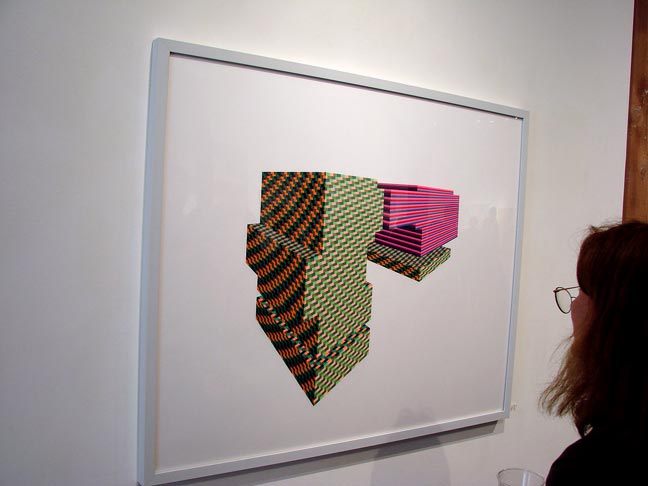 Art (Nathan Haenlein).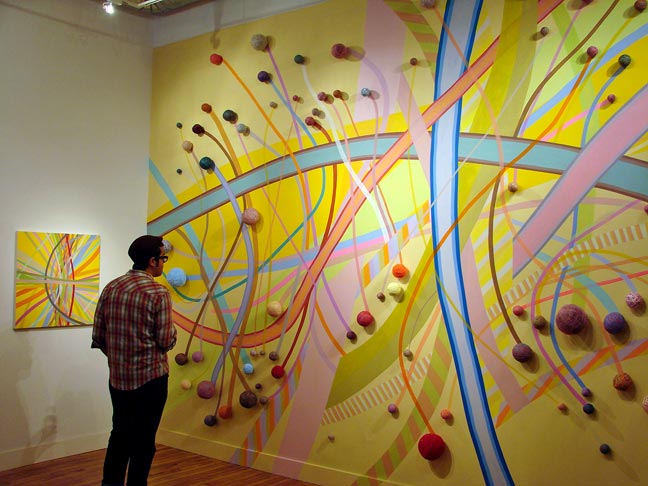 Art (Eric Hongisto).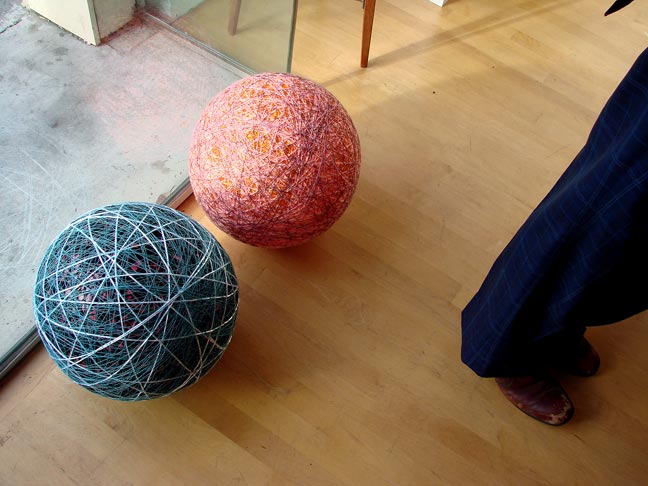 Art (Eric Hongisto).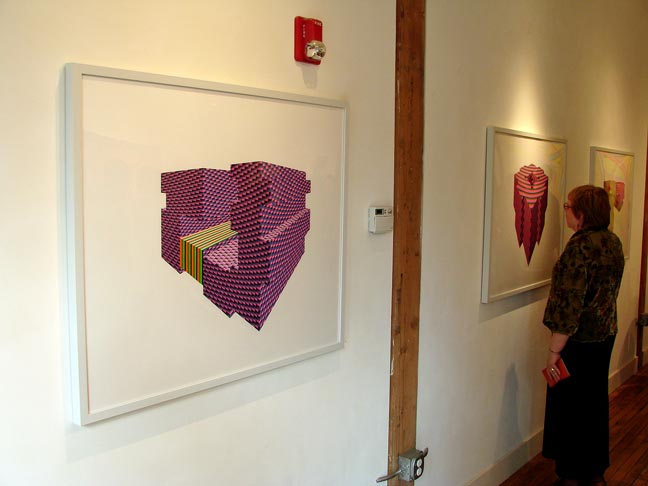 Art (Nathan Haenlein).


***
Club Six: Atavistic - Print Show and Sale.
Artists: Carl Auge, Andrei Bouzikov, David V. D'Andrea, Tom Denney, Jeremy Forson, Stephen Kasner, Mad Pakyderms, Monolith Press, Juliette Oken, Mary Joy Scott, Derek Snodgrass, Miguel Veliz.
Comment: Here's a breath of fresh air-- a "heavy metal art faire." Screen prints, zines, T-shirts, photocopies, limited editions, concert posters, original art, books, and more, all exalting the myriad health benefits of intense underground music, all available directly from their creators with no pesky middlemen or middlewomen to layer on commissions and murk up the purity. A notably engaging slice of the vast art world pie that perhaps deserves a touch more attention than it gets. (I'm early, by the way-- they're still setting up.)
Heavy metal art.


Heavy metal art.


David D'Andrea (show organizer) - art.


Stephen Kasner - show poster (collab with David D'Andrea).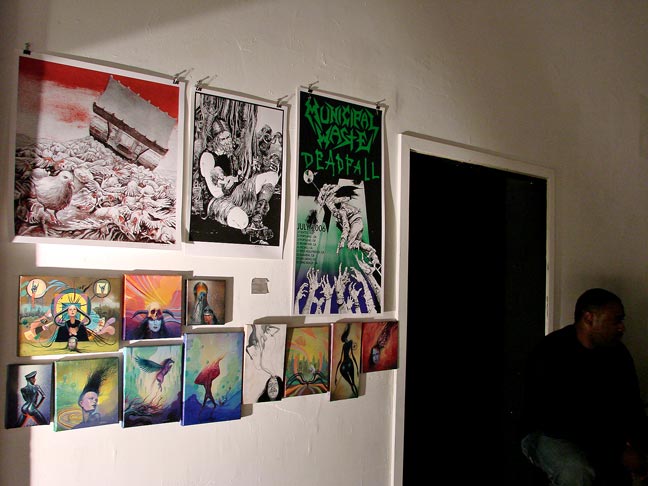 Heavy metal art.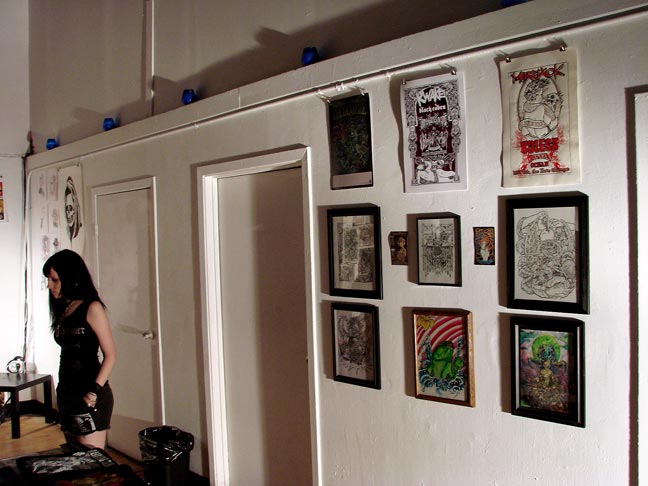 Heavy metal art.


Heavy metal art.


***
Ar+space Gallery: Wash. Rinse. Repeat.
Artists: Chanda S. Beck, Briget Campbell, Adrianne Crane, Michelle Knox, Trish Ludovici, Noelle Nakama, Cristina Rivera-Hess, Molly Stenzel, Tiffany Schmierer.
Comment: Spokesperson Adrianne Crane tells me this is the San Francisco debut of the 100% female artist collective, "Wash. Rinse. Repeat.," headquartered in Oakland. A good percentage of the art is ceramic-- complex competent captivating ceramic-- and the overall quality of pretty much everything impresses. In fact, my prognosticatory bunion is throbbing which interpretates into implicating that a rosy future is plausibly in store for one or more of the participants. Like it.
Art.


Art.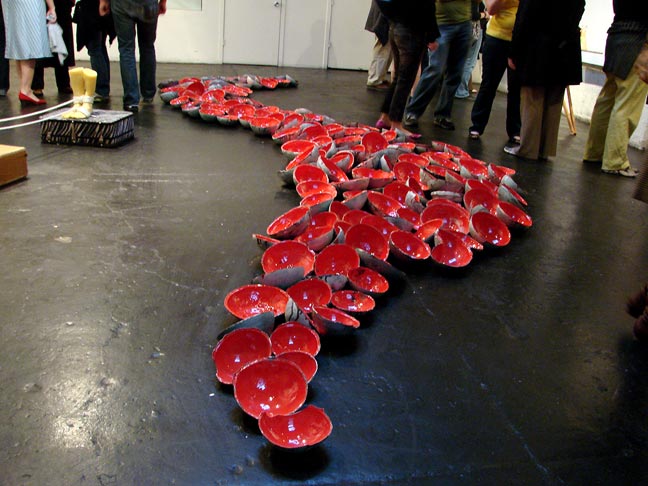 Art.


Art.


Art.


***
a.Muse Gallery: Where We Overlap.
Artists: Hugh D'Andrade & Mati McDonough - New Works on Canvas, Panel, and Paper.
Comment: a.Muse, recently recovered from a bout of hiatus, returns to the local art-o-sphere, this particular epoch commencing with a double header, two versatile practitioners able to work both sides of the art tracks, fine and commercial. The art's mainly originals, but a nice selection of Hugh D'Andrade concert and event posters is also available for viewing and purchasing in the rear vestibule. Live entertainment courtesy of Pale Hoarse
Art.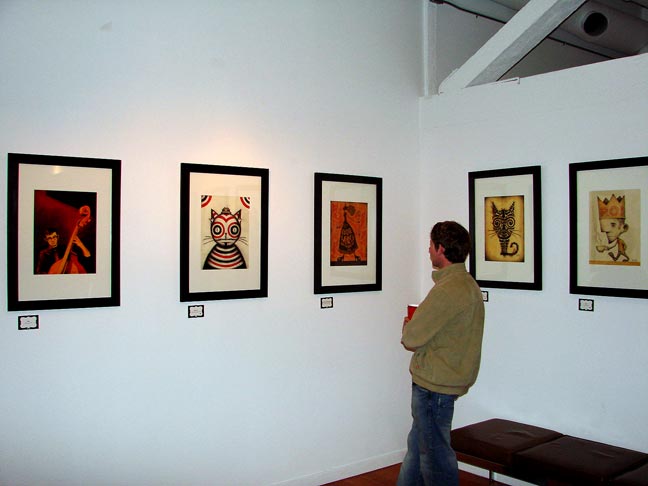 Art.


Hugh D'Andrade - event poster art.


Art.


Art.


Tunes (Pale Hoarse) - art.


***
Queen's Nails Annex: Pam Martin and Linda M. Ford - Porta-Peep-Hole.
Comment: This week's installment of "The Professionals," a nail-biting cavalcade of live performances, has Pam Martin and Linda M. Ford peeping up the gallery walls with so many holes, we can all covertly ogle each other with no waiting in line. For those who prefer more sophisticated snooping, several security cameras are positioned at strategic locations around the gallery feeding realtime video peeps to a TV monitor that you can watch from the comfort of a nondescript circa-1970's breakfast chair. As if that's not enough, Martin and Ford have created a porta-peep, a wall on wheels, replete with peep-holes, that they trundle up and down Mission Street, through which they can either spy on you or vice versa. But wait; there's more. The two pack an itsy-bitsy camera that they can stick into their mobile holes and photograph actual peepers peeping. That's basically it-- peeps out the ying yang. What? You want more? OK. Here...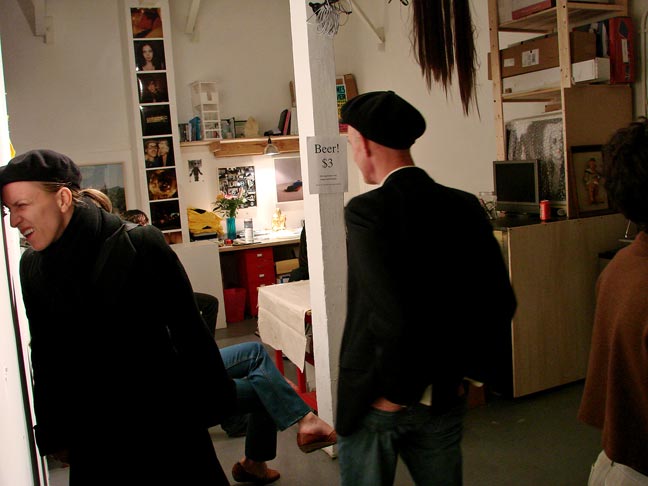 Peeper peeping (left).


Hi-tech peeper peeping.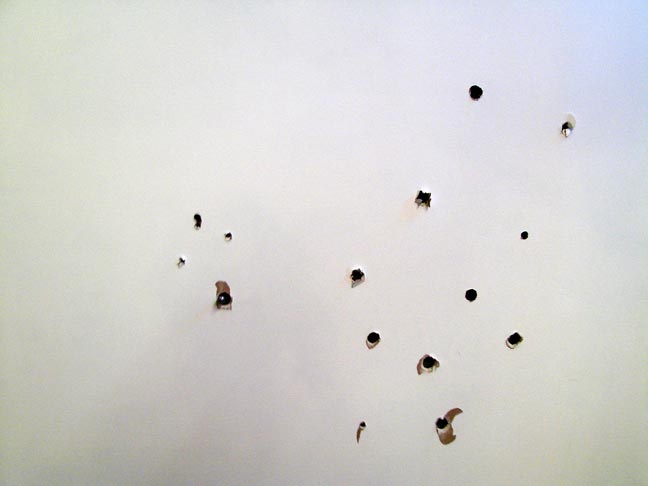 Plenty of peep-holes to go around.


Martin & Ford prowl the avenue peeping for peepers.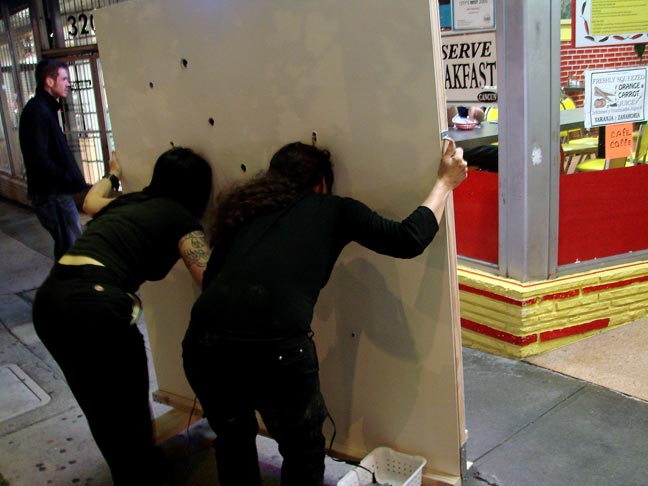 Martin & Ford prowling and peeping for peepers cont.


Martin & Ford bag a peeper.


.

Bagged peeper peeping.


.

Maneuvering the porta-peep.


.

OK. Enough peeping already. Back to the gallery.


.

Retiring the porta-peep.


***
Braunstein Quay Gallery: Ana Teresa Fernandez - Pressing Matters.
Comment: Ana Fernandez steams up the laundry room (and other settings) with her singular female figures clad in skimpy skin-tight black dresses-- plenty of body, never much face-- as she essays on women, double standards, labor, objectification, sexuality, and the like. And they're erotic too. In other news, it's not easy to compose so many pieces with the same pinpoint focus, and keep them interesting and avoid redundancy. Fernandez can. Good show; go see. Technical observation: the work reminds me a bit of the art of Mark Stock.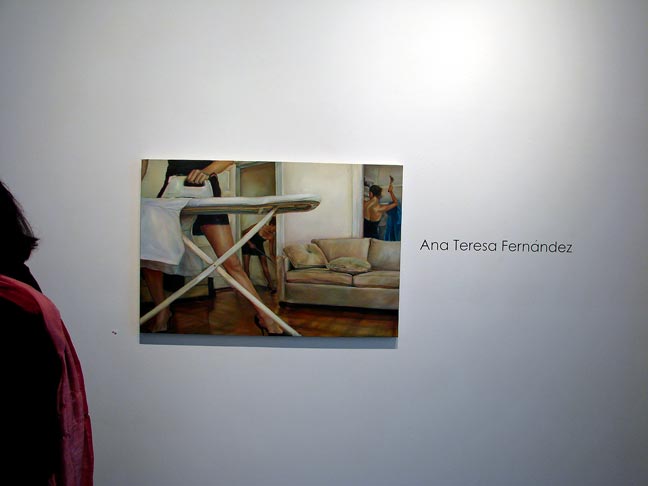 Art.


Art.


Art.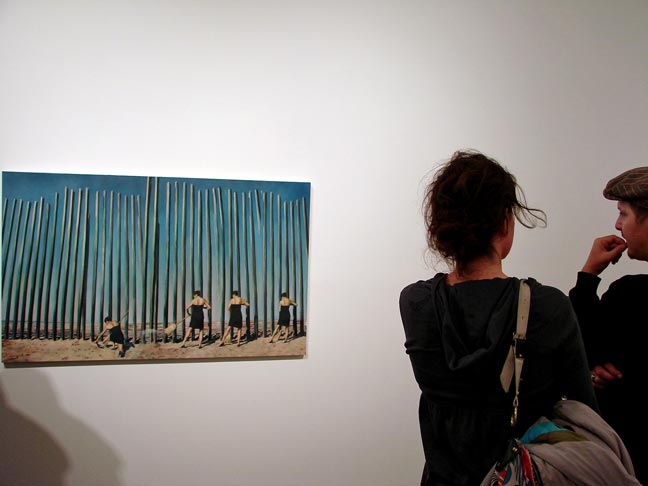 Art.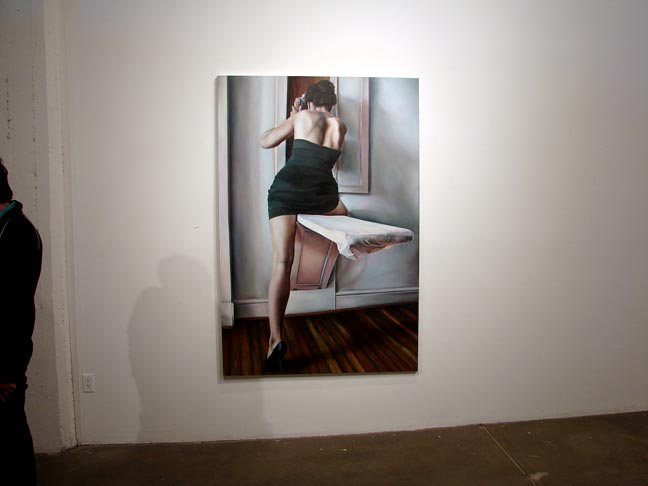 Art.


Art.


Art.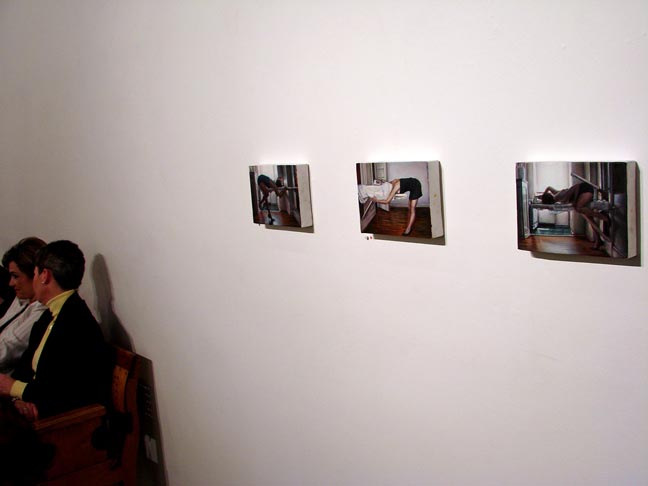 Art.


***
Frankee Uno San Francisco Salon & Gallery: Tres Amigos del Fotografo.
Artists: Antonius Dintcho, Bryce Kanights, Justin Visser.
Comment: Peppy party features copious F&B (food and beverage) including mini corndogs (one of my toxic fast food favorites... please pass the Mylanta), hot soft pretzels, popcorn, cotton candy, a hunk of salami, and more, the spread perfectly accented with several gullet-cramming freeloaders looking like they've died and gone to heaven. I'm so giddy with gastronomic options I almost forget to look at the show-- three photographers. I'm going with Bryce Kanight's portrait's of senior athletes with brief accompanying text-- nicely done.
Photos (Bryce Kanight).


Photography.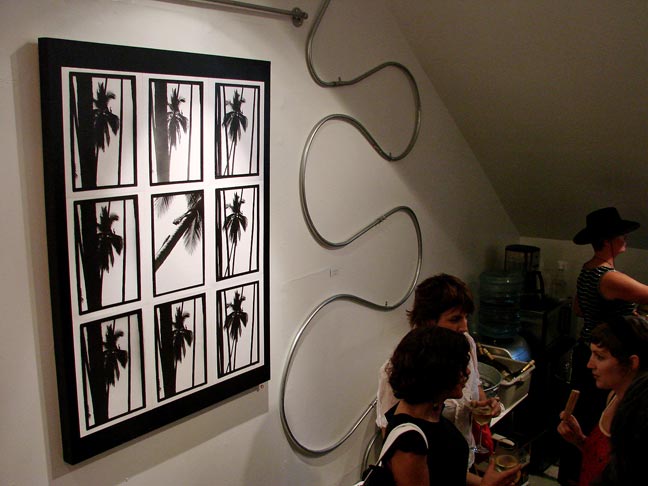 Photographs.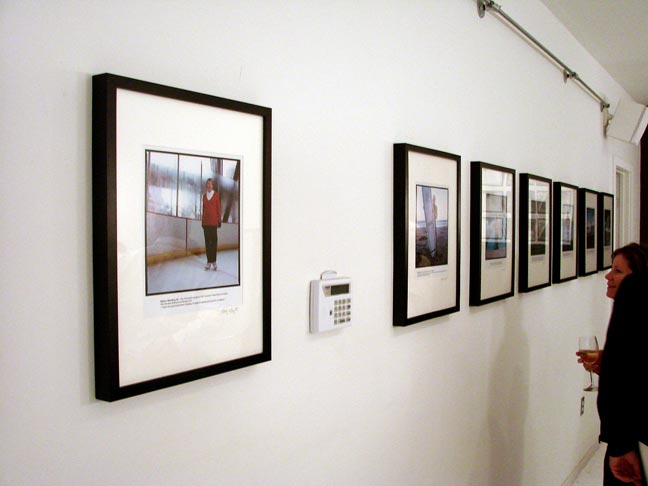 Photos (Bryce Kanight).


Buffet partial.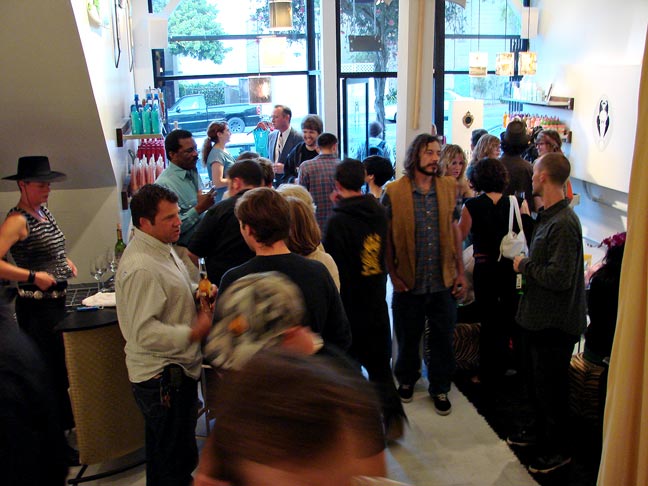 Revelry.


***
Garage Biennale: Fired!
Artists: Amanda Lynch, Jim Melchert, Justin Hoover, Shay Church.
Comment: Lively art and performance extravaganza offers attendees opportunities to throw small soft clay balls at a bullseye on the wall (if you hit the bullseye, you win a baby succulent in a hand-thrown pot), a test of skill where three contestants compete to see who can build the tallest tower out of soft clay in five-minutes, two dudes rolling hollow ceramic spheres down the driveway, and more. Those who opt out of the activities are encouraged to enjoy an eclectic selection of quality ceramic art.
Ceramic spheres pre roll.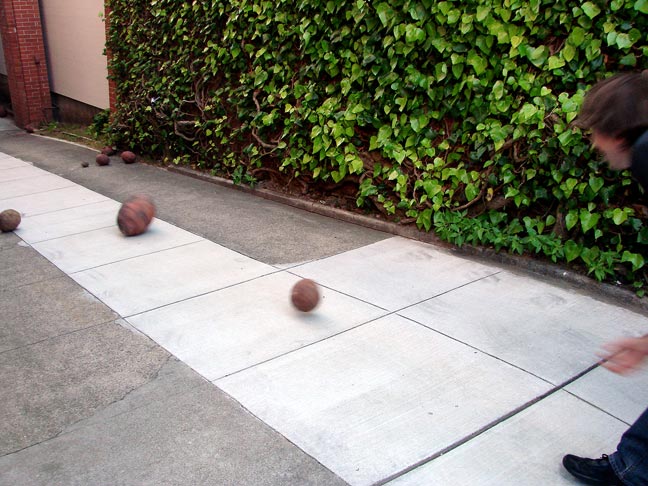 Ceramic sphere roll in progress.


Anatomically accurate ceramic wolf art (like it).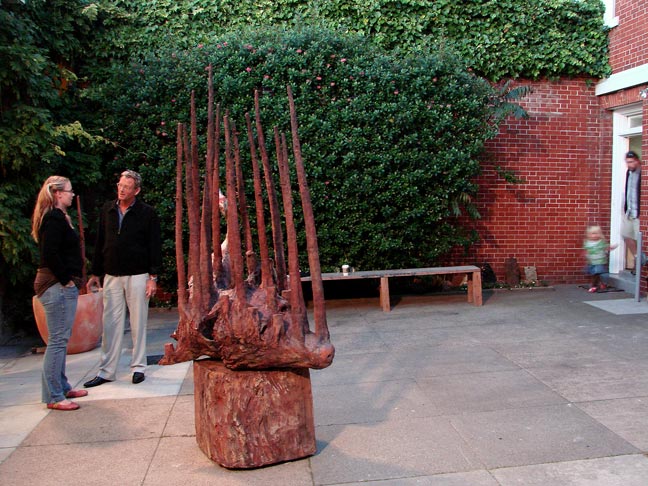 Ceramic branch art (kinda like it).


Tower competition climax (tower on right wins - other two collapse).


Ceramic plaque art (sorta like it).


Ceramic art.


On the way back to the car.


***
Addendum: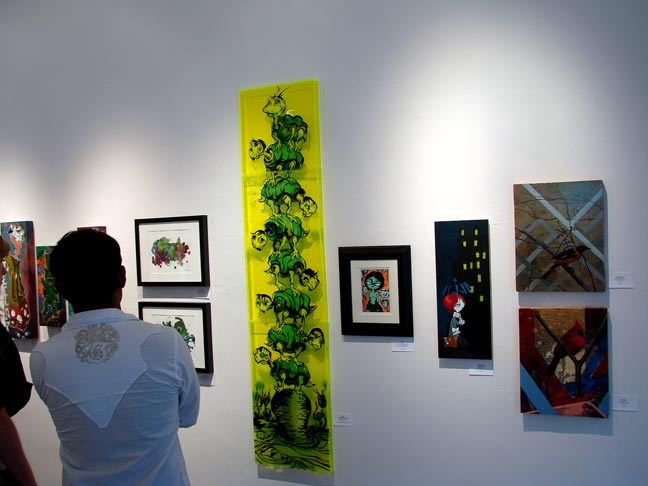 Group show at Gallery 1988.


More art from Gallery 1988.


One more wall of art at Gallery 1988.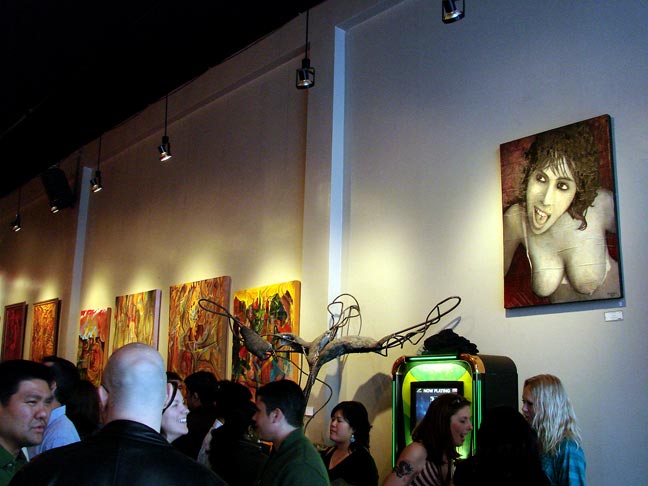 Hernan Achinelli at Dada SF, 86 2nd Street, SF 94105.


Another Hernan Achinelli at Dada SF; 415.357.1367.


***