SAN FRANCISCO ART GALLERIES - OPENINGS
CATHARINE CLARK - LISA DENT - FREY NORRIS GALLERY
SAN FRANCISCO MAGAZINE BEST OF THE BAY PARTY
RATIO 3 - MISSION CULTURAL CENTER - MERIDIAN GALLERY
SPACE GALLERY - CENTER FOR SEX AND CULTURE - QUEENS NAILS ANNEX
MY TRICK PONY - EVESORANGE - HOTEL PALOMAR
06.29-07.01.06
***
Reminder: For those of you keeping score, the order in which I review 'em is the order in which I see 'em. And now back to the show....
***
Catharine Clark Gallery: Chester Arnold - Backwaters; Amy Hicks - Suspended Series.
Comment: Chester Arnold paints complex expansive social-political-realistical genre compositions and landscapes, a number of pieces not so subtly reminding us that we don't take very good care of our planet. His paintings effectively convey the grimness of grime and detritus, and the pitiful paybacks of overconsumption, like the art itself could use a good cleanse and purge, like Arnold has mastered a disturbingly "dirty palette" to punctuate his point. Plenty of artists can paint it; few make you feel it. Arnold does both. Impressively. While I'm on the wax, his urban works remind me of early 20th century depictions of life on the hapless side by The Eight and close affiliate, The Ashcan School.
Over in the video project room, Amy Hicks's video "Suspended Series" sports a typically inadequate soundtrack (kinda like it's there because if you're gonna make a video, you gotta have sound) and holds my attention for maybe 30 seconds (about par for me for video art).
Art.


Art.


Chester Arnold - art.


Art.


Art.


Art.


Art.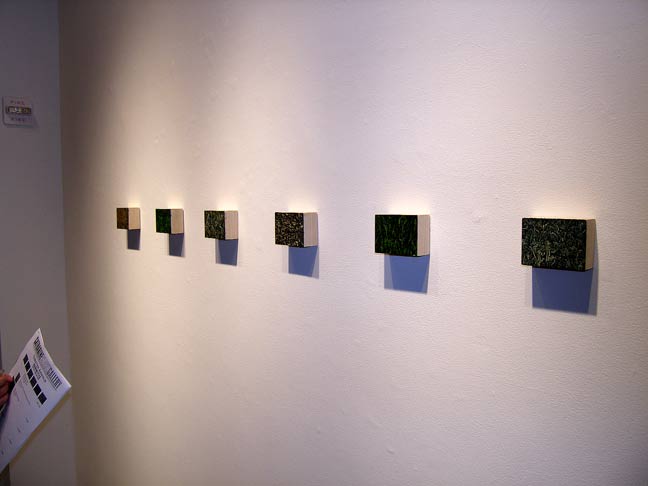 He paints little ones too.


***
Lisa Dent Gallery: Sean Horchy, Candice Lin, Tim Sullivan.
Comment: Lighthearted three-fer featuring a Tim Sullivan floating self-portrait, itsy bitsy bookshelf, a plucky pile of wacky texty matchbooks, and a rollicking rollercoaster video voyage above and about San Francisco (better than many I see); an interactive video of a boiling kettle on a stove by Sean Horchy (better than many I see); and delicate Victorian-esque portraiture by Candice Lin.
Teensie bookshelf art (Tim Sullivan).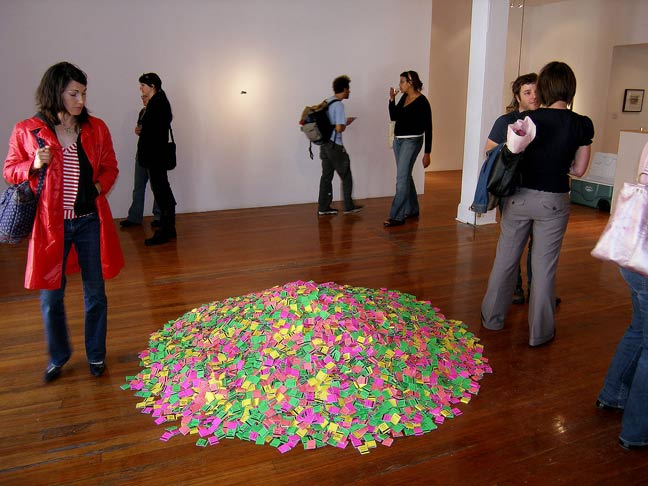 Multitudinous matchbook art (Tim Sullivan).


Interactive boiling kettle video art (Sean Horchy - kinda like it).


Art (Candice Lin).


Hovering Sullivan art.


Video art (Tim Sullivan - sorta like it).


***
Frey Norris Gallery: Stone Body - American Debut of Koh Myung Keun's Photo Sculptures.
Comment: Koh Myung Keun photographs classic period marble and stone sculptures in Paris, prints them as oversized transparencies, places them between multiple thin layers of plexiglass, then miraculously "stitches" them into three-dimensional structures, with graceful gossamer holographic results. A mite tricky from logistical, display, and maintenance standpoints perhaps, but there's nothing quite like 'em.
Art.


Art.


Koh Myung Keun - art.


Art.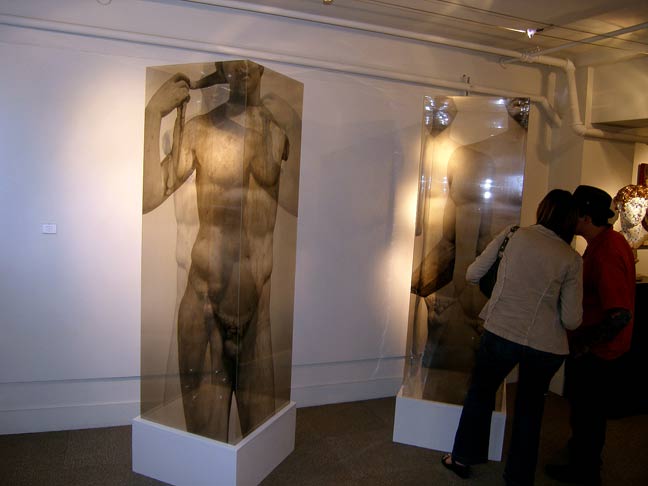 Art.


***
San Francisco Magazine: Best of the Bay Area Party.
Comment: This mungo jumbo splurge of a shindig packs the Concourse Exhibition Center, situated along an entire block of Brannan between 7th and 8th Streets, with easily a couple thousand people. (It's so impressive, I can't believe I've never heard of it.) Anyway, there's copious food and beverages-- unlimited quantities of which you can funnel down your gullet for four straight hours at a cost of only eighty bucks-- served up gratis by dozens of San Francisco's finest drinking and dining establishments including the Redwood Room at the Clift, the Four Seasons, Solstice, and way more.
And there's tunes, performances, live music, massages, lounges, posing, prancing, pflirting, posturing, strutting, woofing, and all kinds of swanky shit like that, and last but not least-- you guessed it-- there's ART-- and plenty of it. Exhibitors include Red Ink Studios, Togonon Gallery, Nome Edonna, Sirron Norris, Norm, Reyes, Brad K. Alder, Amanda Lynn, David DeRosa, Vulcan, and etc etc etc. Don't miss next year's throwdown. It's superlative, superior, and sumptuous all rolled into one-- like fine Hungarian strudel.
Art (c/o Red Ink Studios).


Art (David DeRosa).


Don't get me started on war dudes...


Art (Amanda Lynn, Reyes, Norm).


Nome Edonna arting.


Sheila Ash alongside art by Amanda Lynn.


Art.


Norm - Ben Belsky of Fifty24SF - Reyes.


Art.


Art auction (large piece rear left by Vulcan).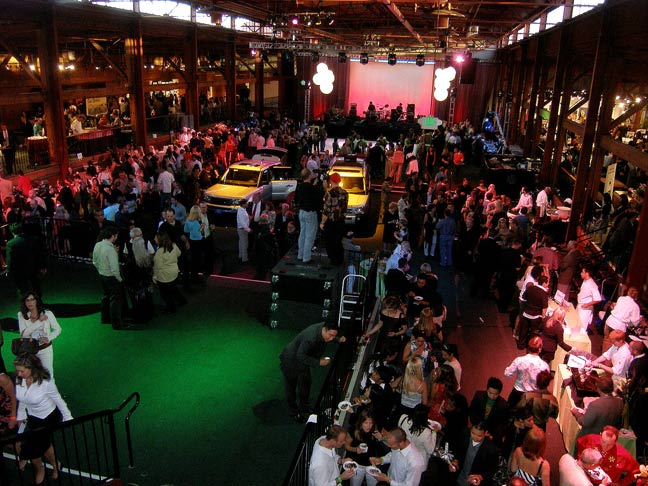 Party partial.


***
Ratio 3: Liquid Paper (drawings); Pure Land (sculpture).
Artists: Lutz Bacher, Louise Bourgeios, R. Crumb, David Dashiell, Robert Gutierrez, Cliff Hengst, Colter Jacobsen, Jordan Kantor, Amanda Kirkhuff, Robert Lazzarini, Conor McGrady, Barry McGee, Moriceau + Mrzyk, Kyoko Murase, Raymond Pettibon, Matt Saunders, Rebecca Schiffman, Jim Shaw, Mark Shetabi, Dasha Shishkin, Kara Walker, Vincent Fecteau, Patrick Hill, Mitzi Pederson.
Comment: Fit figurative works on paper by a peck of precocious players in one room; three progressive dimensional exercises in another room.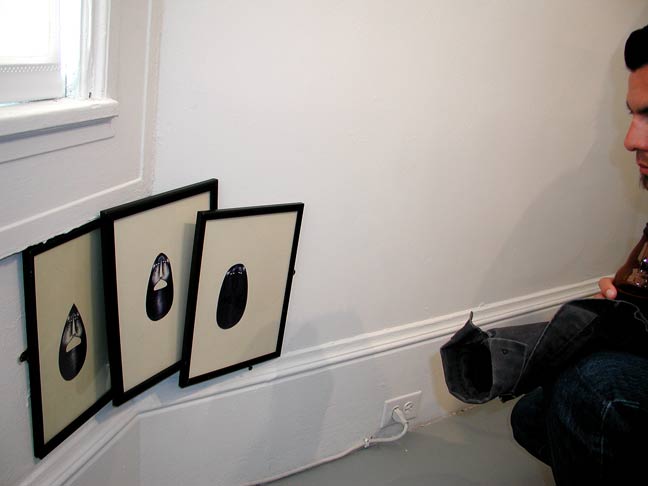 Art (Barry McGee - nice).


Sculpture (Vincent Fecteau).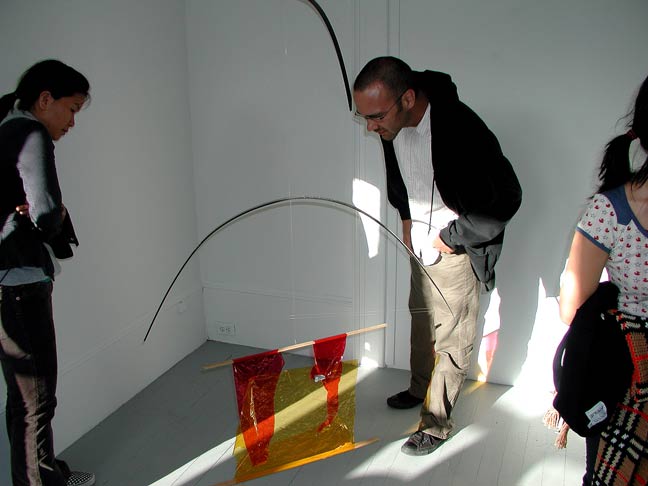 Sculpture (Mitzi Pederson).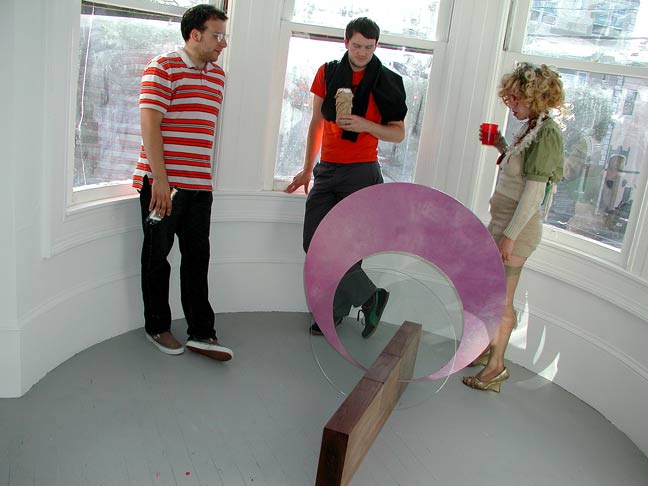 Sculpture (Patrick Hill).


Art.


Art.


Art.


***
Mission Cultural Center for Latino Arts: Illusion 4 - La Conquista/The Conquest.
Comment: The galleries are wrapped in white; 40 artists dressed in white make art, perform, play music, and engage in various additional creative pursuits for four hours. Visitors remove their shoes, wander about, and participate when appropriate. The uniqueness of the setting and show perameters yields a festive, upbeat, and somewhat transformative experience.
Art.


Art.


Art.


Tunes.


Not sure.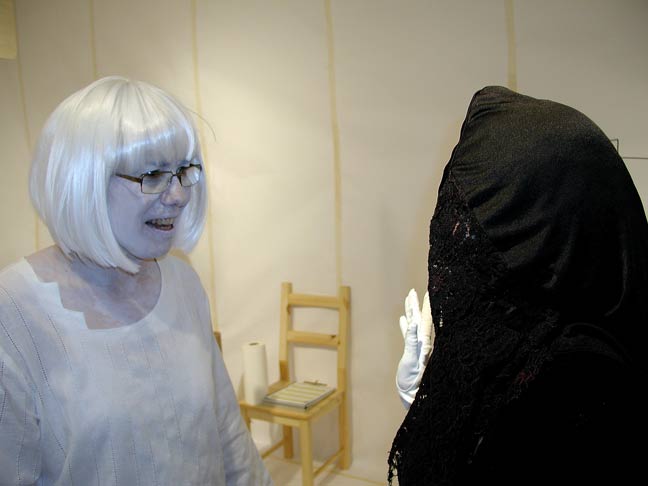 Not sure.


Configuration.


***
Meridian Gallery: Swell, 10 Years Later - New Work by Amy Berk, Carolyn Castano, and Megan Wilson.
Comment: Ten years ago, the same three artists had a show here with the same title, except for the "10 Years Later" part because it was ten years ago, and it was the first time they used that title, so it wouldn't have made any sense to call it "10 Years Later" too, right? I mean ten years later than what? So OK. Now that we've got that straightened out, Amy Berk stuffs and sews a rookery of conceptual penguins, then sets 'em in front of a monitor and has 'em watch a video delineation of what they'd be up to if they were real. Megan Wilson sallies up a wall of suede sayings (bargain priced; most $75-$125), and garnishes another wall seventies-style, with textile medallions, sequins, pushpins, paint, and more. Carolyn Castano completes the triple bill with a set of striking vibrant psychedelic sparkle girlz. Good show - worth a look.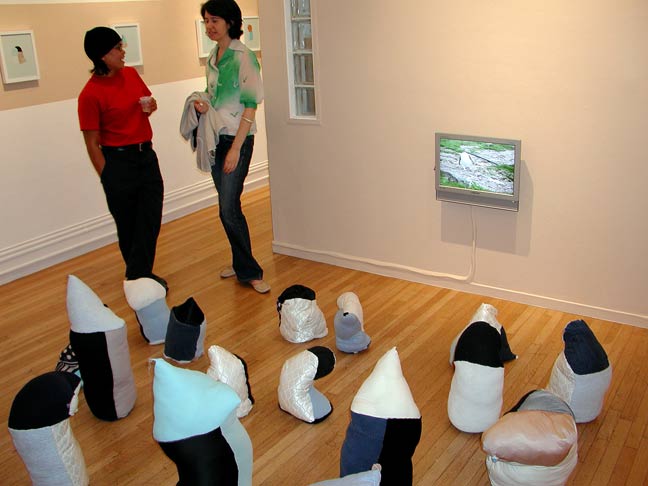 Penguin TV art (Amy Berk).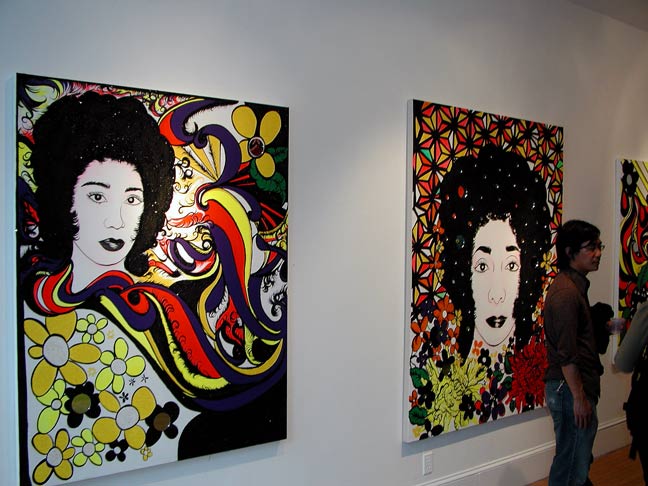 Art (Carolyn Castano).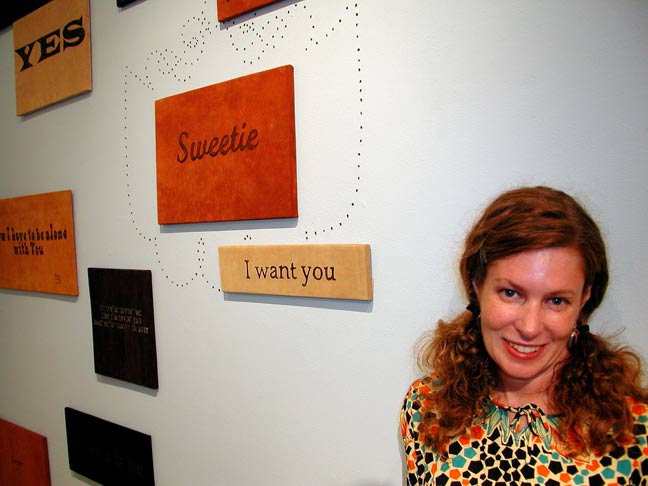 Megan Wilson - suede saying art.


Penguin art (Amy Berk).


Wall art (Megan Wilson).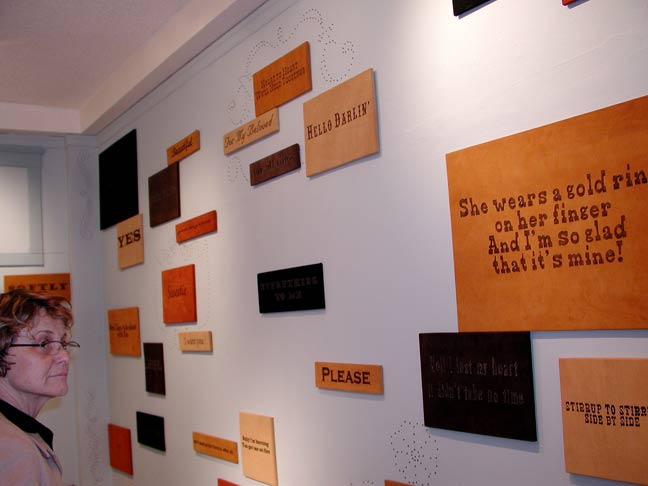 More suede saying art (Megan Wilson).


***
Space Gallery: Futureopolis - Words and Pictures by C.R. Stecyk III.
Comment: Juxtapoz Magazine hosts C.R. Stecyk III's black and white photographic perspective on the current state of affairs in America. I don't know the dude, but I'll peg his mildly apocalyptic augural as part autobiography, part documentary, part artistry, and part flip frank pedal-to-the-metal fun.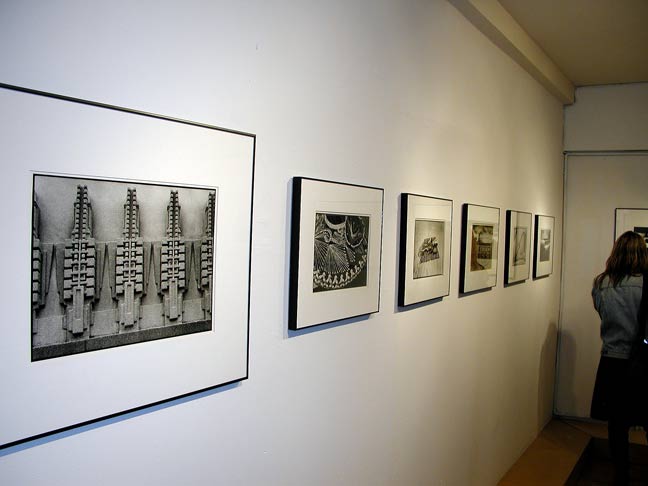 Photographs.


Photos.


Photography.


Photograph.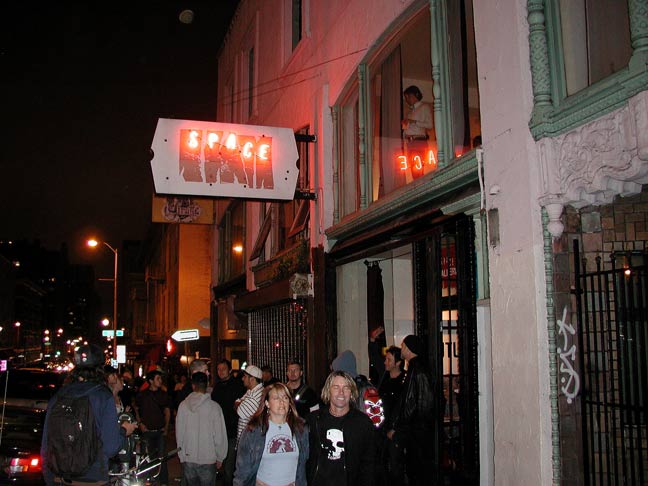 Out front.


***
Center for Sex and Culture: Penny Slinger Hills.
Comment: The bulk of this retrospective exhibit is a series of engaging erotic collages Penny Slinger Hills made in 1977 (when she was Penny Slinger) that were subsequently published as two books (both for sale here). These expansive visionary free-float fantasies are competent, striking, reflective of their day, and priced in the $2000-$4500 range. Maybe a gallery will dare to give 'em a whirl. Who knows? Slinger Hills is also showing pencil drawings, paintings, and several adult-themed doll houses. But the collages make my day. Good show-- go see.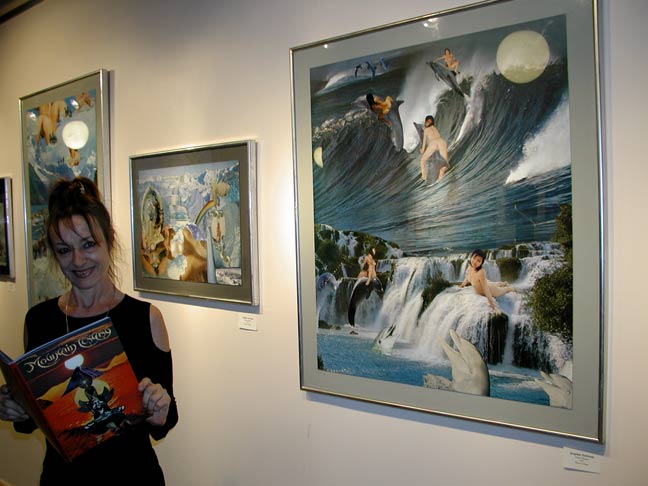 Penny Slinger Hills - book - collage art.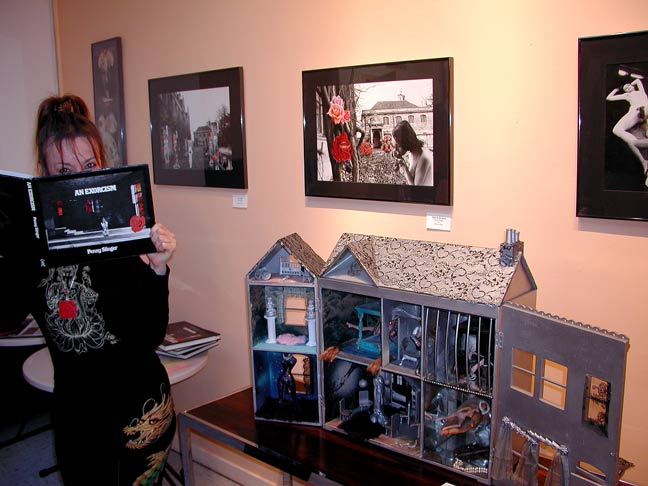 Penny Slinger Hills - other book - collage and doll house art.


Collage art.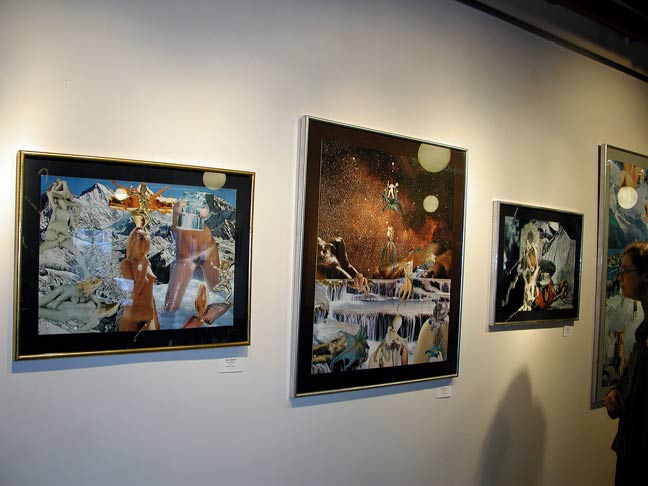 Collage art.


***
Queens Nails Annex: Isaac Lin - New Dawn Fades; Christopher Culver - Making the Modern a Ruin.
Comment: Well, it's not an opening; it's a closing. But I missed the opening, so I'll cover the closing. OK? Good. Isaac Lin convinces with a group of complicated interlaced variable-width labyrinthine line paintings and drawings, and also photographs delicately feathered with similar linear linkages. The linework approximates calligraphy, but its more like calligraphic principles applied to drawing. The idea of morphing the formal practice of handwriting into art could ultimately result in solid product. In the back room, Christopher Culver shows bright inspiring imaginary landscapes, looking simultaneously ruinous, paradisaical, and promising.
Art (Christopher Culver).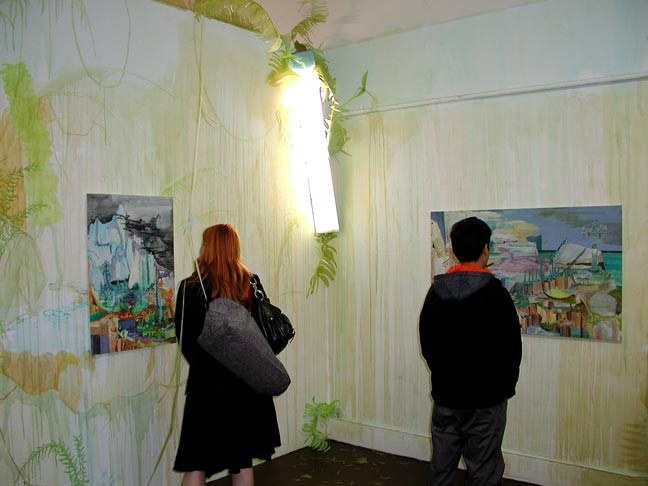 Art (Christopher Culver).


Art (Isaac Lin - like it).


Art (Isaac Lin - sorta like it).


Art (Isaac Lin).


In looking out.


Out looking in.


***
Addendum:
Jeremy Armstrong paintings debut at Hotel Palomar.


Jeremy Armstrong art for Hotel Palomar business center.


Last Jeremy Armstrong paintings from Hotel Palomar.


Chiao Mei Lin and photography at Evesorange.


Evesorange Store and Gallery interior.


Evesorange exterial - art, fashion, collectibles, accessories.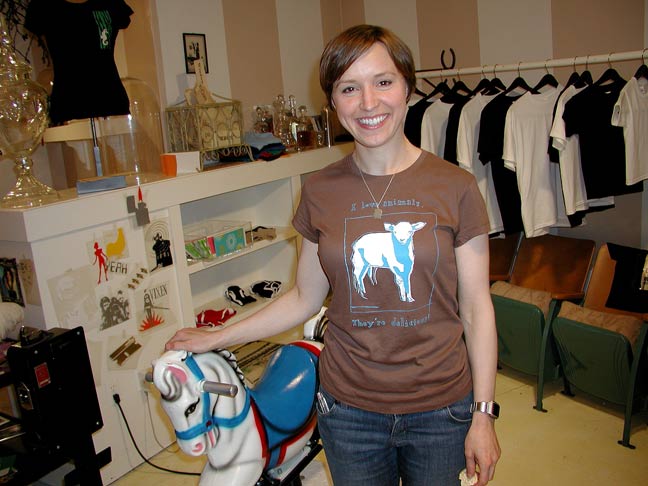 Jennie Ottinger shows T-shirt designs at My Trick Pony.


My Trick Pony innards.


My Trick Pony frontal.


***