OAKLAND EAST BAY ART GALLERIES OPENINGS
FIRST FRIDAY OAKLAND ART MURMUR
07.06.07
REVIEWS AND IMAGES BY CAMILLE MOTTA
Mama Buzz: Everything Kitchen Sink.
Artists: Nancy Bach, Craig Baxter, Tim Brown, Molly Crabapple, Chris Lane, Laurenn McCubbin, Nicole Neditch, Marie Rich, Salgood Sam, Emma Spertus, David Wilson.
Comment: My first stop at this Friday's Oakland Art Murmur is Mama Buzz Cafe where there's a show about the closing of the local magazine Kitchen Sink. The art represents quite a few illustrative techniques and contains some references to current events, as much of the work shown has appeared in the magazine. I was personally affected by their fabulous back-wall mural and array of magazines and flyers on another wall, containing work from the past several years of the publication's history. It is a closing show. That's right; the Oakland based magazine will, sadly, be no more...
Regarding the art, Nancy Bach's watercolors have entertaining titles like, 'Cars Make Me Sleepy' and 'I Like Being Homesick.' I also like 'Intruder' by Tim Brown, along with the rest of the show. Work by Nicole Neditch is nicely rendered and crafted. Her pieces 'Girl' and 'Monkey' are photographed here. All artists in the show contributed illustrations to the magazine during its 5-year run.
The work is priced VERY reasonably, so go and get it if you like what you see. Most pieces are small but lovely. I believe the show runs until next First Friday, so go go go, and stop by the other galleries in the area while you're at it, as they too are showing VERY FINE local artwork.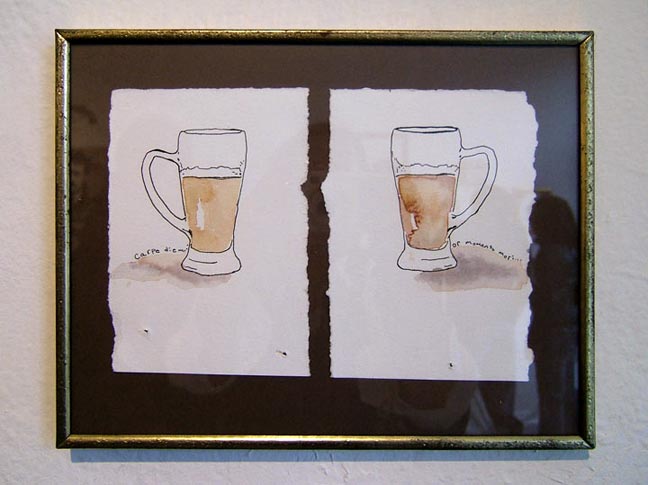 "Half Empty or Half Full" (Nancy Bach).


"I Like Being Homesick" (Nancy Bach).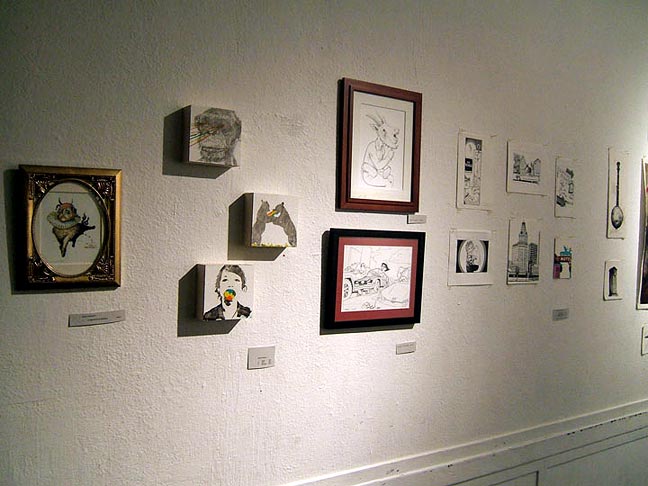 Art.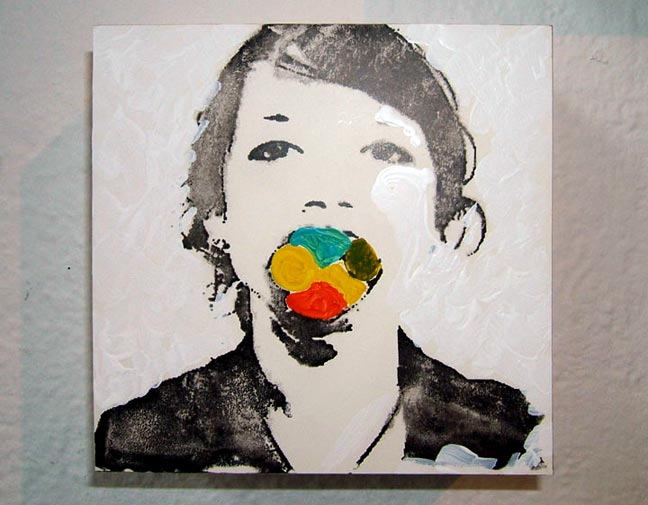 "Girl" (Nicole Neditch).


"Monkey" (Nicole Neditch).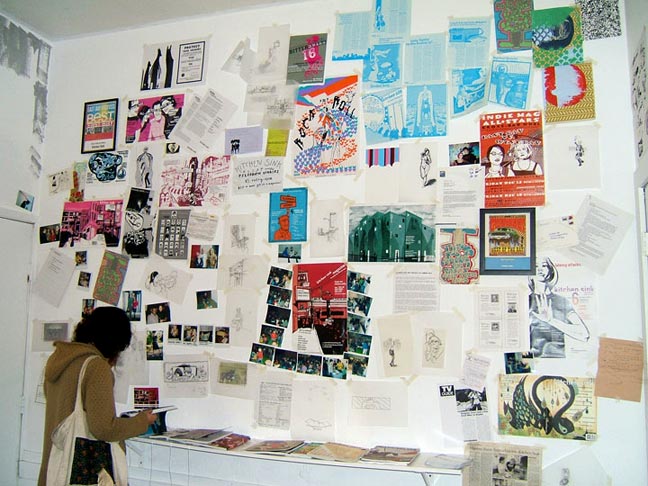 Wall of Kitchen Sink magazines.


"Intruder" (Tim Brown).


Art.


***
Rock Paper Scissors Collective and outside along 23rd Street: Group Show.
Comment: RPS, aka Rock Paper Scissors Collective (on the corner of Telegraph Ave. and 23rd Street) and various other members of the local art community, including Mama Buzz, have successfully petitioned the City Of Oakland to close 23rd Street to traffic every First Friday. Tonight, tables are set up for a variety of artists and entities including Art For a Democratic Society, RPS (offering sewing and silkscreening on site), 'Remade in America/Field Day,' renegade artists like Murphy selling their wares, and musicians like Chris Stroffolino to entertain passersby on the fly. 
RPS's current show, put on by an organization called 'Justice Now,' includes a giant petition to sign, children at work on interactive displays, and an audio/video installation playing recordings of women's voices talking about their experiences in prison. The Collective also offers a large array of fun affordable items like zines, hand sewn clothing, and art, as well as an ongoing variety of art classes for the community. Their site is worth exploring if you'd like to get involved.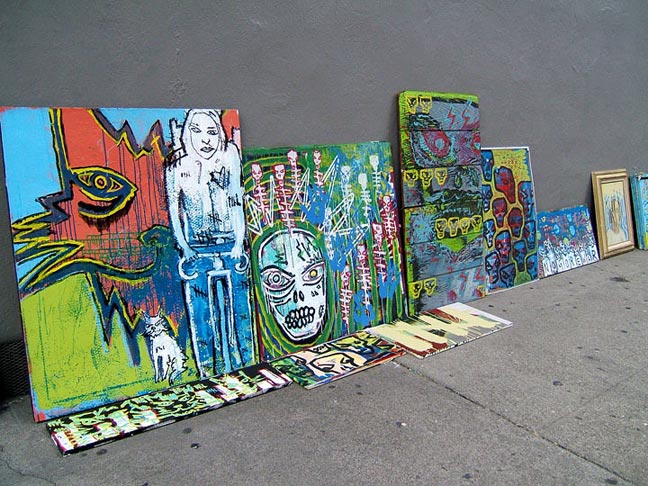 Art along 23rd Street (Murphy).


Art along 23rd Street (Murphy).


Art along 23rd Street (Murphy).


Audio/video art installation at RPS.


Big petition at Rock Paper Scissors.


Rock Paper Scissors Collective.


Scene along 23rd Street looking towards Telegraph Ave.


View from 23rd Street looking away from Telegraph Ave.


23rd Street tunes courtesy of Chris Stroffolino.


Prints by Field Day.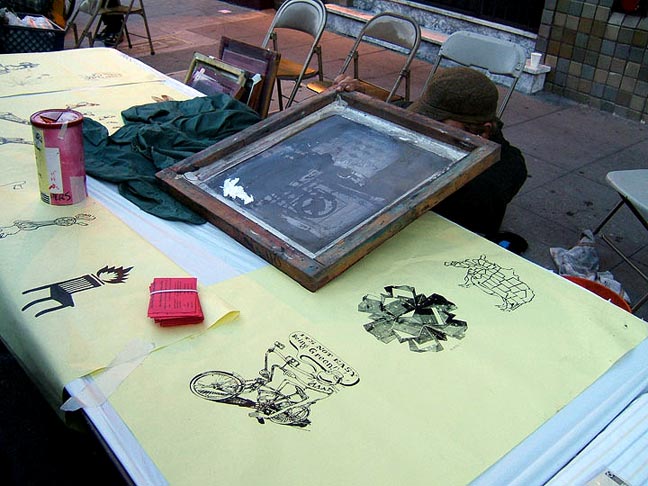 Live screenprinting c/o "Remade in America/Field Day."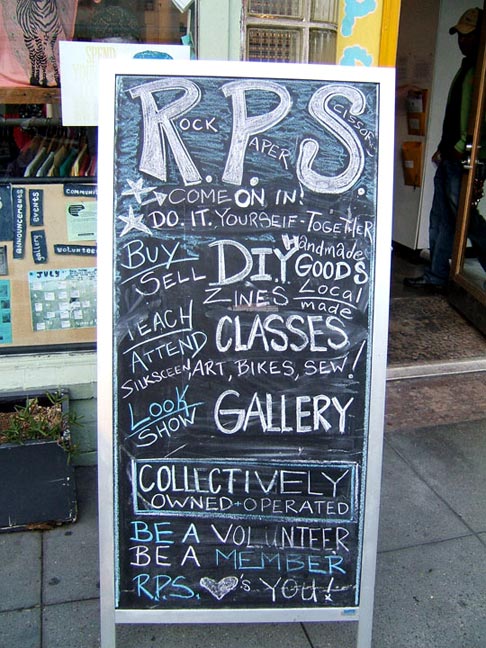 Rock Paper Scissors signage.


Rock Paper Scissors front window.


***
Ego Park: Christopher Loomis - Assembled.
Comment: Engaging sculpture made from interlocking forms of different planal materials including plexiglass. I'm told that the outcome is different every time a sculpture is built, hence the name of the show. The different planes are painted various colors and patterns, and therefore help reiterate their presence in the whole form of each very successful sculpture. I'm particularly impressed and entertained by a huge pinwheel object with photographs inside that spins. Very good looking work Mr. Chris Loomis.
Sculpture.


Assemblage.


Oversized spinwheel with photographs.


Ego Park frontal.


***
Esteban Sabar Gallery: A Lasting Impression - Nine Bay Area Figurative Ceramic Sculptors; Injuries - Improvised Paintings by Luke Riley.
Artists: Andrea Ali, Ben Belknap, Ross Kennedy, Percy Feils, Jordan Mello, Crystal Morey, Tomoko Nakazato, Peter Saint Lawrence, Derek Weisberg, more.
Comment: 3-dimensional sculptural meets 2-dimensional figurative with great harmony at Esteban Sabar. There's a vast amount of art in the space-- 42 artists represented this month. Each room reads comfortably, allowing viewers intimate moments with the work. There are paintings by Marty McCorkle in the front and middle rooms which render traditional still-life subject matter with bold form and talented brushstrokes. More modern styled paintings by Douglas Light and Albert Hwang entertain and are skillfully crafted. Sculpture by Chris Isner in marble is worth a good gander-- several pieces by him. I had the impression that these pieces are part of Mr. Sabar's continuous collection of work in the gallery, whereas the rest of his very large space gets dedicated to themed shows by local East Bay talent.
The first of his two back rooms is dedicated to a show of 3-dimentional paintings by Luke Riley. The last room presents a group show of figurative ceramic sculptures. On the way there, down a hallway, are a couple of 3 dimentional, very sexy, puffy "paintings" in fabric by Patricia Gillespie which make use of paint and textile and are, in my eyes, quite sensational. More of her work can be seen from the 'artists' link on the gallery's website. Mr. Sabar, I am sure, has been very busy this year, and it is good for him, and us! The spaces throughout the gallery are also exquisitely lit with gentle light. Thanks Esteban, your space is very professional and such a resource for local artists!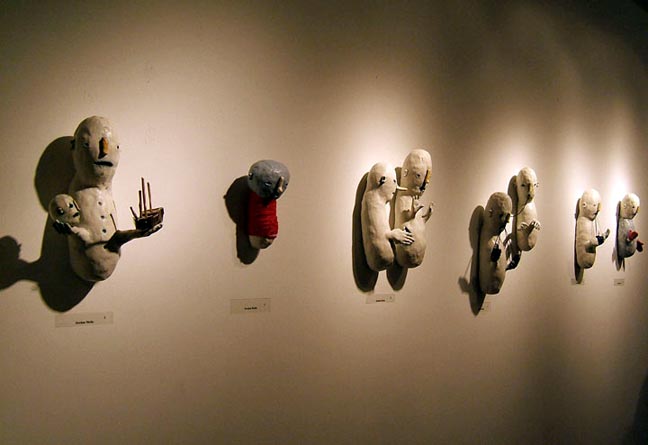 Art (Jordan Mello).


Art (Luke Riley).


Art (Marty McCorkle).


Art (Marty McCorkle).


Art (Albert Hwang).


Sculpture (Chris Isner).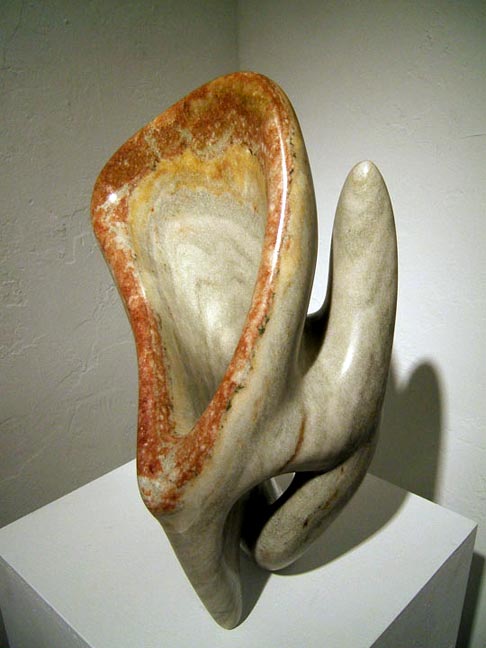 Sculpture (Chris Isner).


Art (Douglas Light).


Art (Douglas Light).


Art (Marty McCorkle).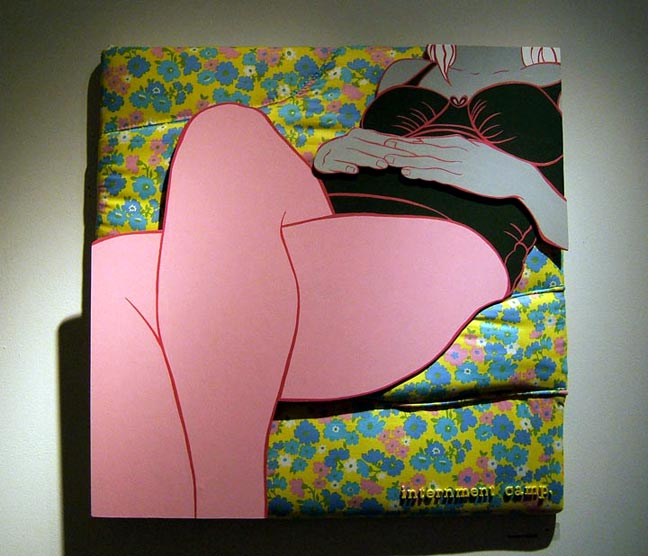 Art (Patricia Gillespie).


Art (Patricia Gillespie).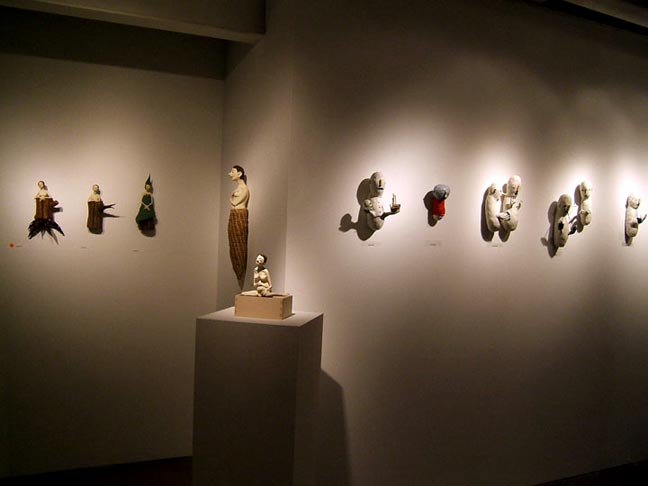 One more from the Lasting Impression show.


***
Johansson Projects: Excavations and Wunderkammer.
Artists: Eric Araujo, Tanya Boggs, Vita Hewitt, Elyse Hochstadt, Casey Logan, Vanessa Woods.
Comment: This show is all about the earth, landscape and nature and includes a moss ceiling by Misako Inaoka, a chair that becomes an entire landscape in itself by Scott Oliver, landscapes made from cut out paper and other materials by Val Britton, birds on branches, peepholes, and a driftwood mini-world that defies gravity. Cartography lovers, rejoice! Britton's names are a lot of fun too. Two examples are 'Metropolitan Thicket' and 'Continental Drift.'
The back of the gallery contains amazing pieces curated by Nadim Sabella and Larry Shao of the Garage Biennale as part of their Wunderkammer show, and included a mushroom mannequin called 'Fungus Intelligence' by Vita Hewitt and a lounge chair made of feathers called 'Portrait of George I' by Elyse Hochstadt, among many other sculptural items that harken ideas of "ye olde curiosity shoppes" of times past.
Cartography art.


"Portrait of George" (Elyse Hochstadt).


What it is.


Landscape sculpture with moss ceiling in the background.


"Green Pins" (Misako Inaoka).


"Green Spike" (Misako Inaoka).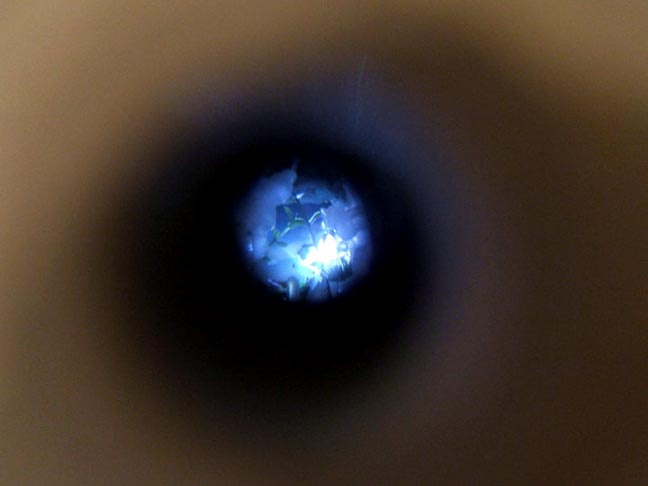 "Peep-hole" (Misako Inaoka).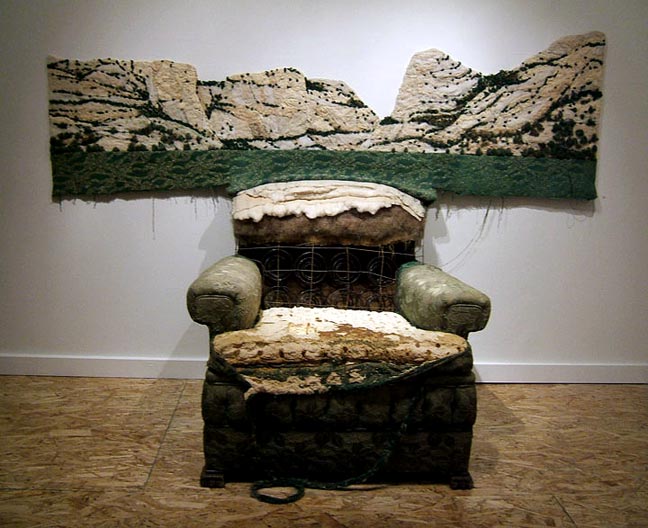 "The Valley" (Scott Oliver).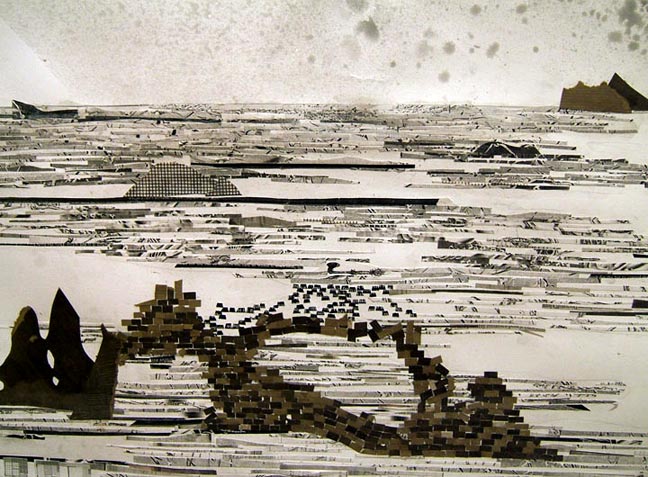 "Cut Out Landscape" (Val Britton).


Art (Val Britton).


"Fungus Intelligence" (Vita Hewitt).


***
Ghost Town Galleries (WC/Ghost Town Galleries): Dimitrios Poulos.
Comment: My last stop, late night, after everything is over, is WC/Ghost Town Galleries at 2519 San Pablo, where the work of Dimitrios Poulos is worth mentioning. Also remarkable is a room with a grass floor and 11 people still mulling about close to 3 am. Thanks guys for all the music and art you bring to our lives.
Art.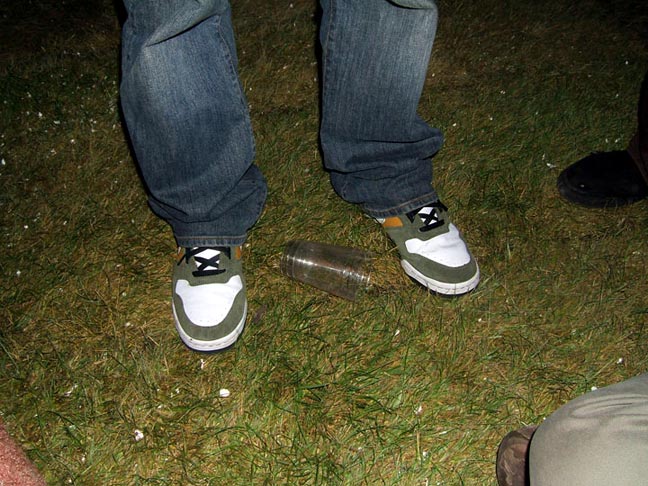 Grass floor.


Myself and art peeps.


***