SAN FRANCISCO ART GALLERIES - OPENINGS
JACK HANLEY - PARK LIFE - MINA DRESDEN
BERNAL BUBBLES - TARTINE BAKERY - MELTING POINT
CHRISTOPHER-CLARK - SAN FRANCISCO ART EXCHANGE - PORCELYNNE
NEEDLES & PENS - CITY ART GALLERY - ARTIST XCHANGE
(with assistance from Jessica Whiteside)
07.06-07.07
Jack Hanley Gallery: Wrong Number.
Artists: Olaf Breuning, Carter, Delia & Gavin, Luis Gispert, Anya Kielar, Kamau Patton, Lindsey White.
Comment: The show's vague generality-infused statement is unclear as to whether any mission is accomplished here, but I can report that the art is photographs, mainly staged, and mainly with the photographers appearing in their images. The quality is commendable, and several large format works engage, but the overall essence is somewhat rudderless.
Helpful artist/curatorial hint #325, Paragraph 4, Clause b: When conceiving, creating, organizing, and presenting a show, always ask yourself, "Why should anybody care?" The answer to that question is what people inevitably want to know, especially the ones who like the art, and double especially the ones who like the art enough to think about maybe buying it. When the answer is good, they buy. You know why? Because we're all looking for answers.
Photography.


Video.


Photographs.


Photo.


Photography.


Photos.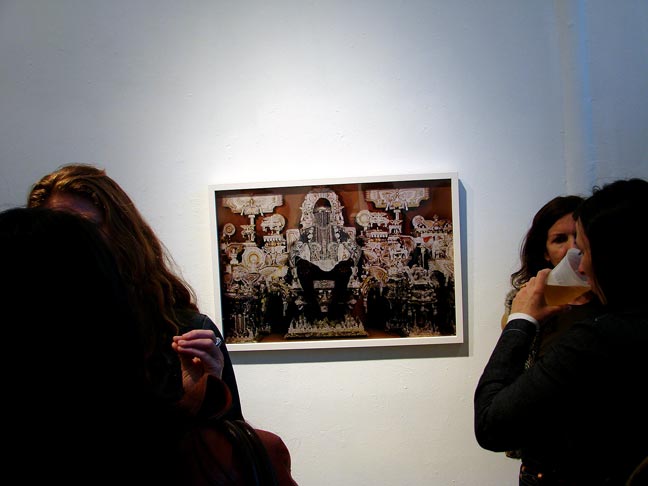 Photograph.


***
Park Life: Looking Back into the Future.
Artists: Ashley Macomber, Steve Sueoka, Ryan Wallace.
Review and photos by Jessica Whiteside: Park Life presents a group show that's really dominated by one artist, Ryan Wallace, in my opinion. His work is a combination of oil, acrylic, ink, graphite and collage on paper-- striking dynamic compositions, and beautiful color combinations. All the work in the show goes well together and is mainly small works on paper. The entire show is worth stopping in to look at, and then you can buy some of Park Life's usual display of awesome books and other fun merchandise.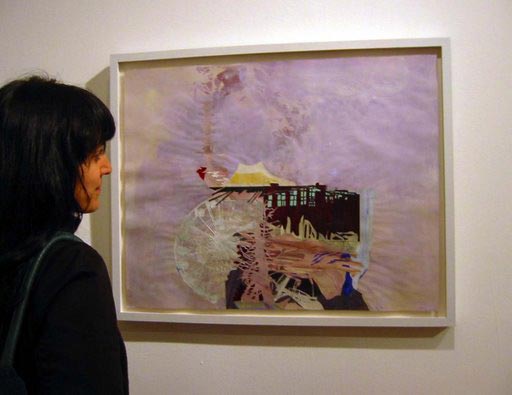 Art (Ryan Wallace).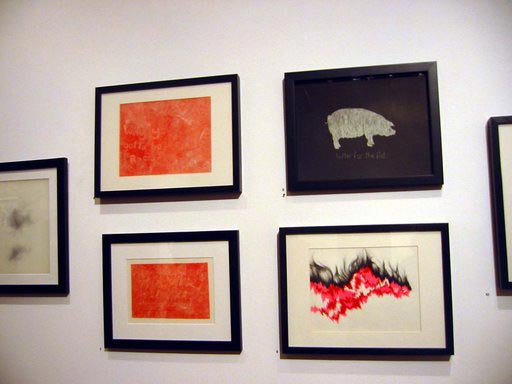 Art.


Art (Ryan Wallace).


***
Mina Dresden Gallery: Offerings - An Art Happening.
Artists: Latonia Dixon, Gregory Gajus, Fay Guillian, Miriam Spilman, T.W. Stapleton, Polly Wood.
Comment: Art and performance by students enrolled in the "MFA in Creative Inquiry Program" at New College of California.
Art.


Performance.


Art.


***
City Art Gallery: Group Show.
Artists: D.K. Haas, Sonja Ljubinkovic, Biff Moshe, Hillary Williams, Katie Gilmartin, Russell Ryan, Tim Victor, Tedda Hughes, Hadley Northrup, Ridlle, Lynn Mechanic, Lilia Scott, Elizabeth Garcia, Carol Ceres, Trish Tunney, Kate Knuvelder, Maria Rodriguez, Amy Levine, Karin Shaw, Brad Robinson, Dan Pask, Stephanie Mufson, Richard Dodds, Sara Waugh, Garrett Robinson.
Comment: Monthly group show at this artist owned and operated cooperative gallery. Those who join not only get to show their art, but they also gain access to an active supportive artist community. Not a bad deal.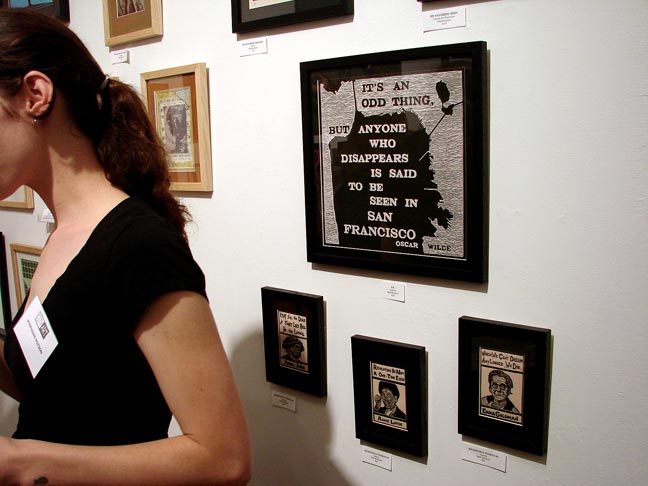 Art.


Art.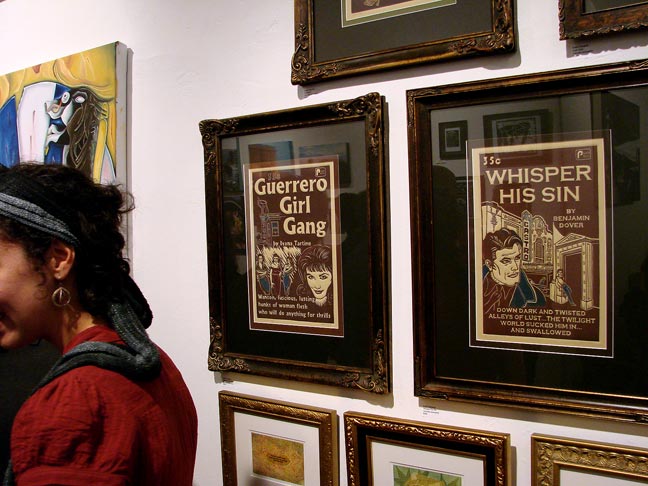 Art (these are kinda kicky).


Art.


Art.


***
Needles and Pens Gallery: Paul Urich - Folks.
Comment: Yet another local episode of Paul Urich precision portraiture, this time at Needles & Pens. Dude keeps busy.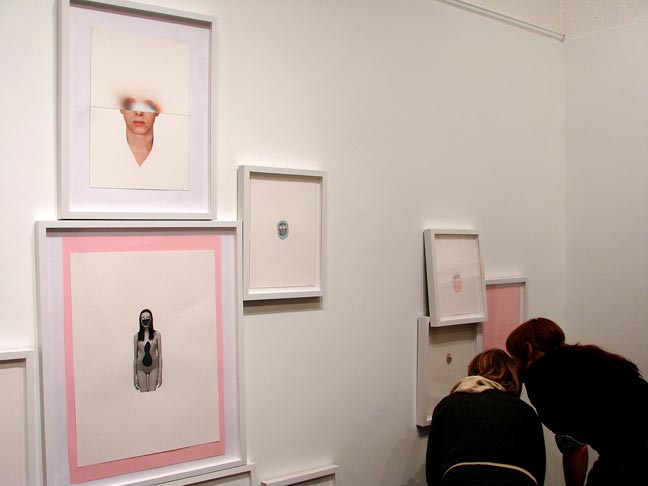 Art.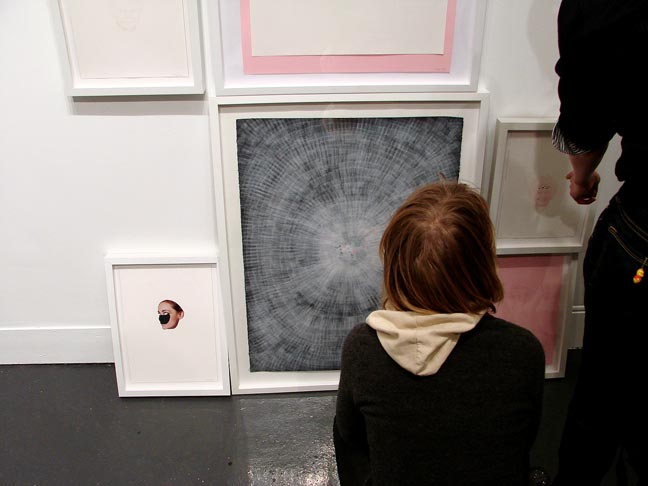 Art.


Art.


***
Artist Xchange Gallery: Group Show - New Works.
Artists: Angela Simione, Canon Tissue, Cecilia Welden, Stephanie Pui-Mun Law, Steven Gregory, Shell, Colin Williams, Zannah Noe, Eve Shen, Ursula Xanthe Young, Michael-Che` Swisher, Agustin Cas, Alice Gibbons, Hilary Williams, Hang Nguyen, Mary Tivadar, Carrie Sieh, Hiroko Sakai, Niana Liu, Ayu Tomikawa, Kim Weinberg, Joshua Ellingson, David Garvey, Luke Feldman, Cameron Forsley, Joshua Hagler, Chuck Drees, Gems For Jewels, Harmani Jewelry, Tessa Poppe, meeshmeesh designs, Nisan O'Connor, Wendi Spiers, Ulterior Votive, MZZ T RZZ, Ruth Jacobson, Marilyn Warden, Kelcie Tinker, Vicki Morawietz-Vam, Joanna Mendicino, Steven Wilber, Szoenyi, Allison Kreft, Fives Omnimedia, Muscovie Design, Falbs Glass, Simseema, Green Halo Designs, Elizabeth Ben Porat, So Koala, Gabriel Colaluca, Glenn Walker, Winsa Lam, Lisa LaRocca, Howard Chew, Kato's Charm, JBalducci, Kmaley Design, Azukre Aho, Anja Buckle, Emine Keskin, Steven Lewis Design, Grace Goce, Meri Page, Mimosa Studio, Harmani, Jester Swink, Slim Arts, Aiko Designs, Saa Z Designs, Randy Antin, Joe Twisty, Robin Grotch, Christopher Smallwood.
Comment: A lively affair, barely room to move, dense with art, fashion, jewelry, and more.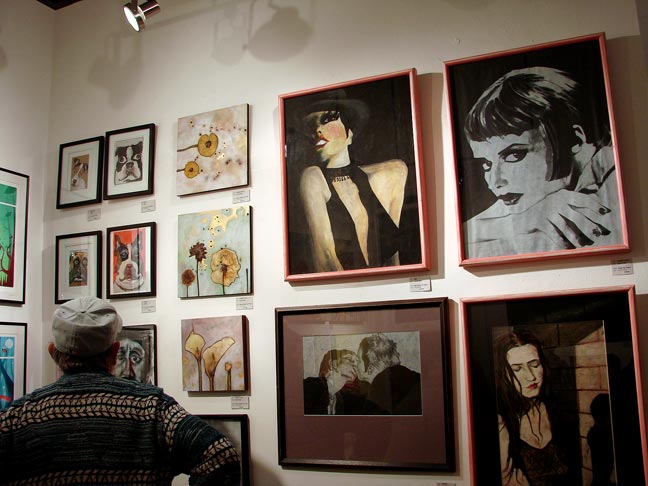 Art.


Art.


Art (these are rather curious).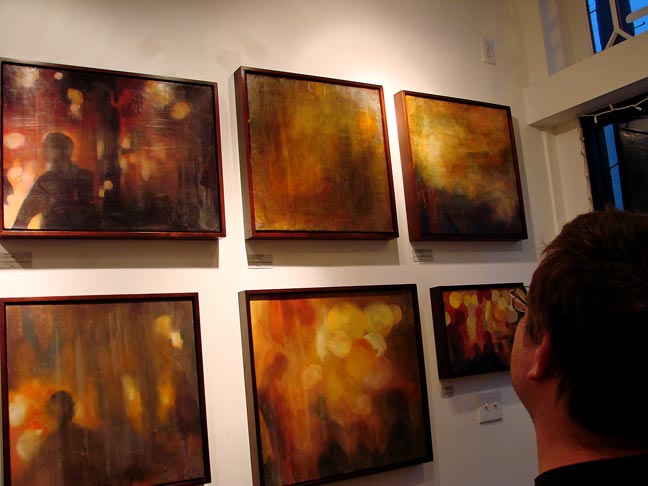 Art.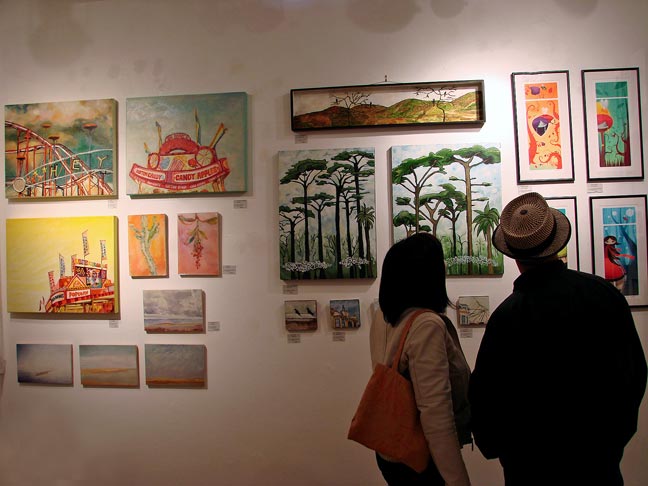 Art.


Art - tunes.


***
Melting Point Gallery, 1340 Bryant Street, San Francisco, CA 94103; 415.769.2939: MadElephant Presents Innerworkings.
Artists: Nicole Bennett, Brittany Howard, Tim Hanrahan, Kevin E. Taylor, Derek Weisberg, Rex Nickles, Meryl Pataky:
Comment: According to the proclamation, the fare consists of "up-and-coming art from the underdogs of the art scene. All of the work is amazing and like nothing you have ever seen."
Art.


Art.


There it is... the story of my life.


Art (that's a pile of raw turkey feet in the corner).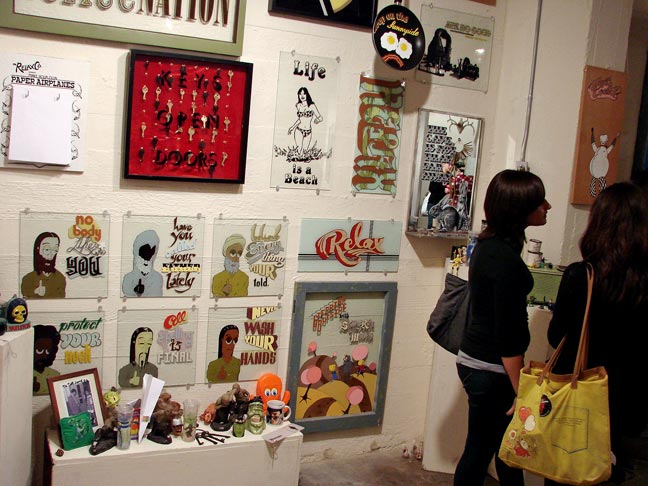 Art.


Art.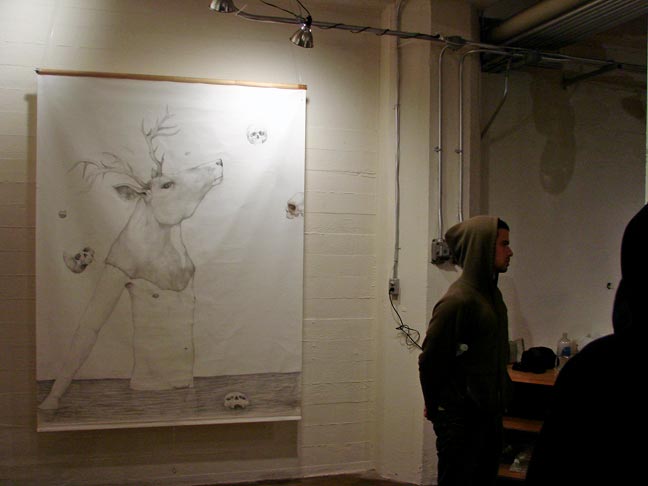 Art.


***
Christopher-Clark Fine Art: The Art of Picasso, Dali & Miro - Spanish Masters of the 20th Century.
Artists: Pablo Picasso, Salvador Dali, Joan Miro.
Comment: Overpay for big names here. You're carefree, hemhorraging money, in town for whatever from wherever, headin' back to the hotel from (fill in the name of your favorite luxury retailer), or off to lunch or dinner or the theater, lovin' every minute, you walk by the gallery, look in the window, recognize an artist's name, they're open, you step inside, you don't know much about art, and the rest... as they say... is history.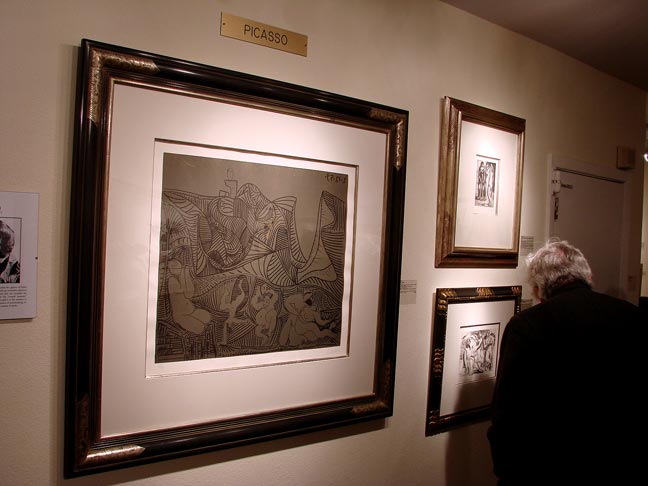 Art.


Art.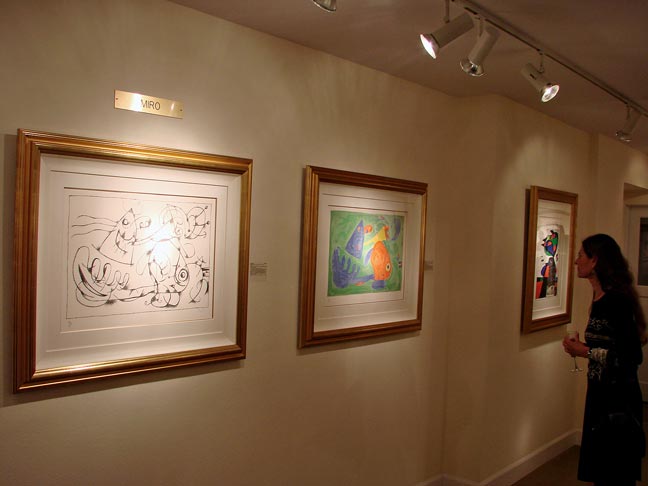 Art.



Art.



Art.



Art.



Art.



Art.


***
San Francisco Art Exchange: Stephen Holland Celebrates Baseball.
Comment: Seminal sports moment art. Originals run around $15K-$20K; giclee prints around $2K. The All-Star game's in town; here's some art to go with it.
Sports art.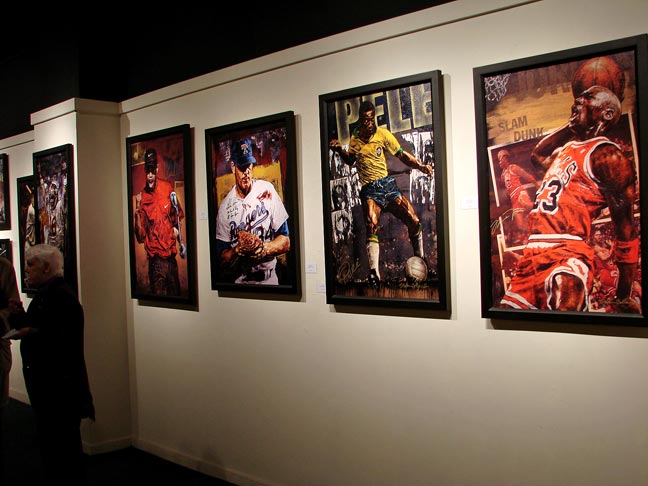 Sports art.


Sports art.


Sports art.


Sports art.


***
Bernal Bubbles: Tiffany Shlain and Ken Goldberg - Let's Really Talk About the Birds and the Bees.
Comment: So here's the deal-- artist Ray Beldner buys a laundromat in the heart of Bernal Heights, and once a month, presents his "Soap Box Lecture Series," complete with a genuine soapbox, where local notables from the creative quadrant talk about this, that, and the other thing. Tonight features a spouse-spouse doubleheader, packing the house, as artist and Professor of Engineering at UC Berkeley, Ken Goldberg, talks about "environmental robots," and Tiffany Schlain, filmmaker and foundress of the Webby Awards, lays down an everything-is-everything stream of consciousness rap the likes of which I haven't heard since Firesign Theatre. Then we all go over to 301 Bocana Gallery for refreshments and banter. Next lecture, September 1, features Annie Sprinkle and Beth Stephens, new media and performance artists, discoursing on "The Love Art Laboratory Project." The moral of the story? Commune with creative intelligentsia here.
But wait. There's more. Beldner knows applied arts too, like laying out and installating a laundromat, for example, or like venting a bunch of dryers through a ceiling with an aesthetically gratifying cascade of galvanized pipeage, for example, the upshot of which is surely among the heppest apparel detoxification units on the planet. Wash your clothes here and get 'em artfully clean.
Here we are.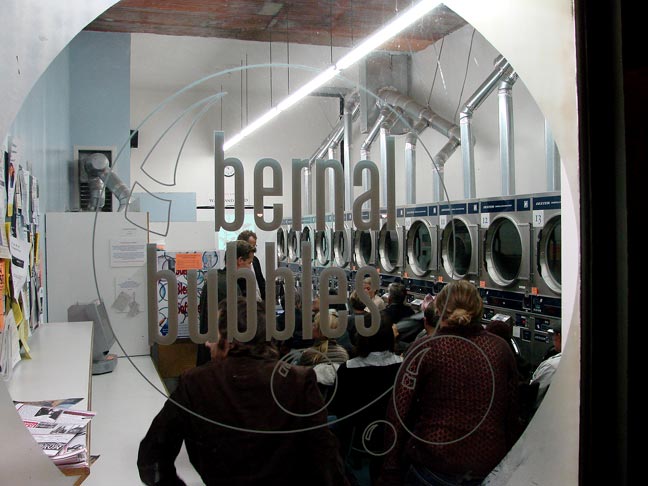 Woah! Check out those pipes.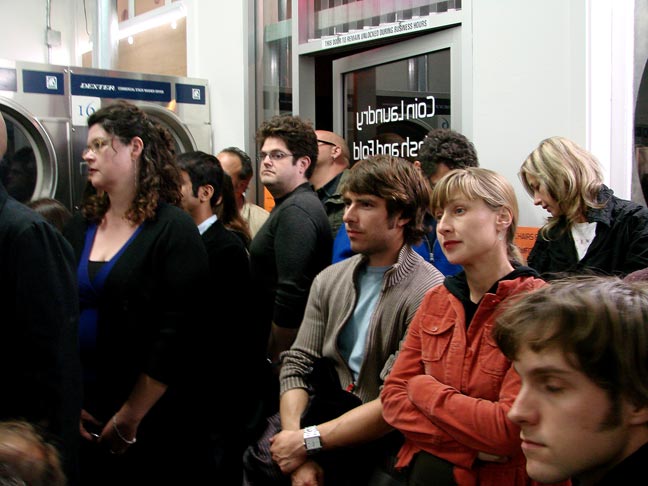 Packed house.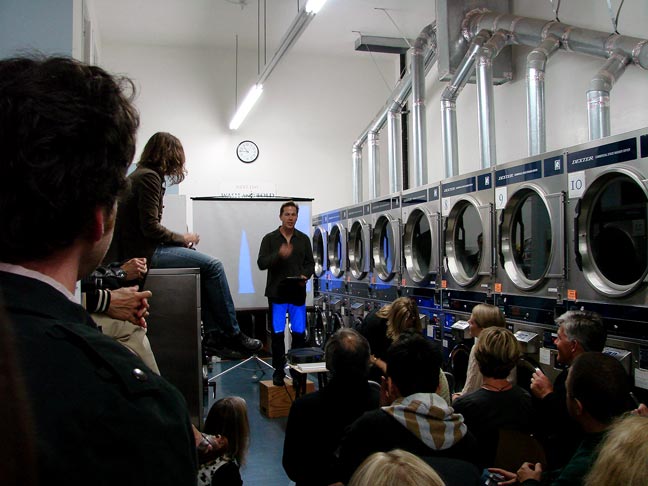 Ray Beldner on the box. Check out those pipes.


Ken Goldberg talks high-tech birdwatching.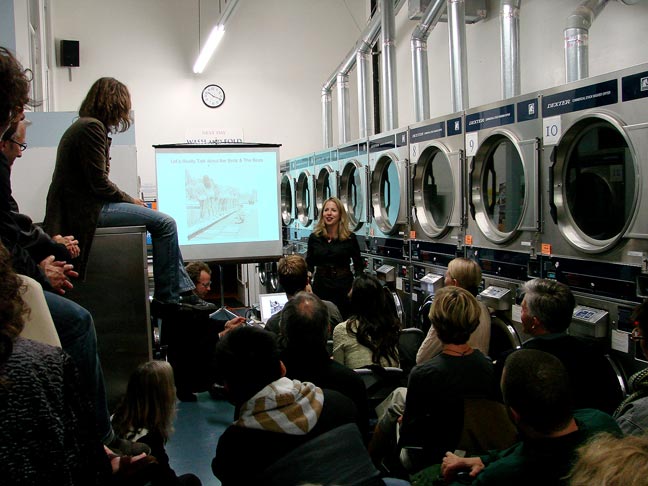 Tiffany Schlain free associates the universe into submission.


Lecture in progress.


Lecture over. Afterspill out front.


Off we go to 301 Bocana for erudite badinage.


Catharine Clark and Stephen Wolf recap the evening.


Ken Goldberg and Tiffany Schlain. Thank you.


***
Addendum:
Marina Hudgens twists on pin-up art at Porcelynne.


Nicholas Park art at Tartine Bakery.


One more Nicholas Park art at Tartine Bakery.


***