SAN FRANCISCO ART GALLERIES - OPENINGS
MODERNISM - RENA BRANSTEN - HACKETT-FREEDMAN
WARNOCK FINE ARTS - 111 MINNA - CALIFORNIA MODERN
ACE AUTO DISMANTLING - ARTWORKSF - HANG ART & ANNEX
DOLBY CHADWICK - MADRONE LOUNGE
07.11-12.07
Modernism Gallery: Tony Hernandez - Paintings from the Silent Room; Daniel Mendel-Black - Naked Paintings.
Comment: Tony Hernandez masterfully manipulates encaustics to concoct endearing setting-less scenarios of children and doves interacting in curious ways, unerringly peaceful and pure. In complete contrast, Daniel Mendel-Black tops his electric plaid abstracts with abrupt unsettling oblong impasto globs, the brown and black versions of which remind me of poo.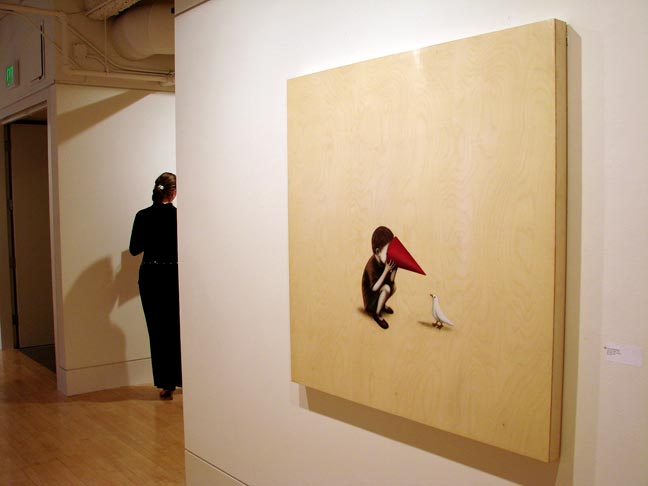 Art (Tony Hernandez).


Art (Tony Hernandez).


Art (Tony Hernandez).


Art (Tony Hernandez).


Art (Daniel Mendel-Black).


Art (Daniel Mendel-Black).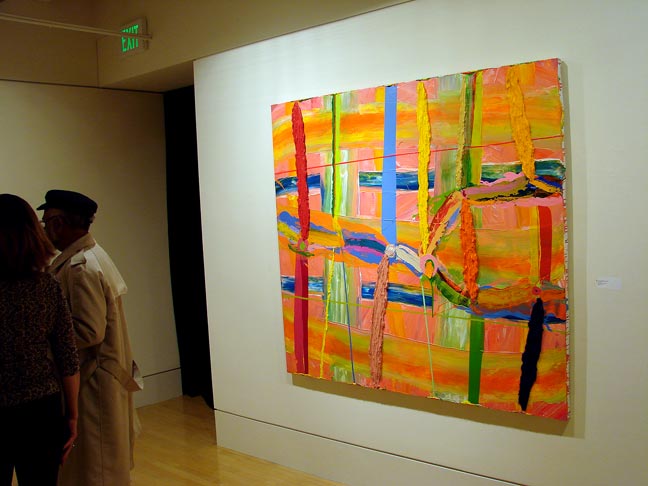 Art (Daniel Mendel-Black).


Art (Daniel Mendel-Black).


Art (Daniel Mendel-Black).


***
Rena Bransten Gallery: John Waters - Reckless Eyeballs.
This time around, John Waters excerpts stills from movies damned by various critics as "unwatchable" and rehabs them into informed-- often insider-- montaged commentaries on politics, the entertainment industry, the art world, social issues, sexuality, and more. This essence is accentuated with several sculptural works like a Waters self-portrait reincarnation as a six-foot scat-brown rubber snake, the whole shebang topped with a peppy color photograph of Waters throwing panned film DVD's onto a fire. Is it time to roast marshmallows or instead consider that perhaps critics, in their paroxysms of self-ordained pomp, incite mini-burnings of their own, and in so doing, undermine viewers' freedoms to reflect.
Art.


Art.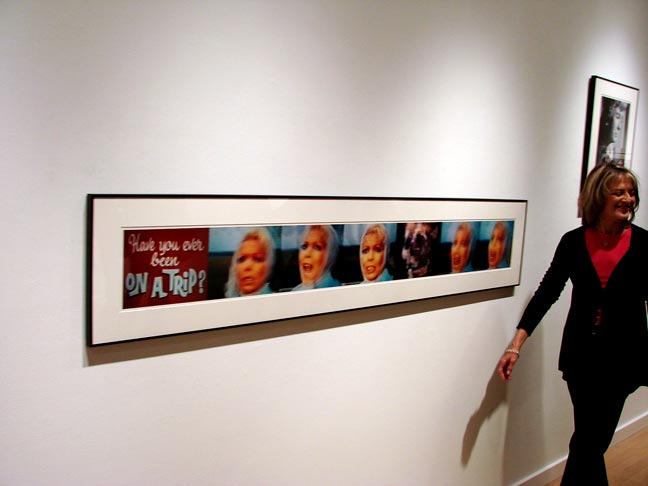 Art.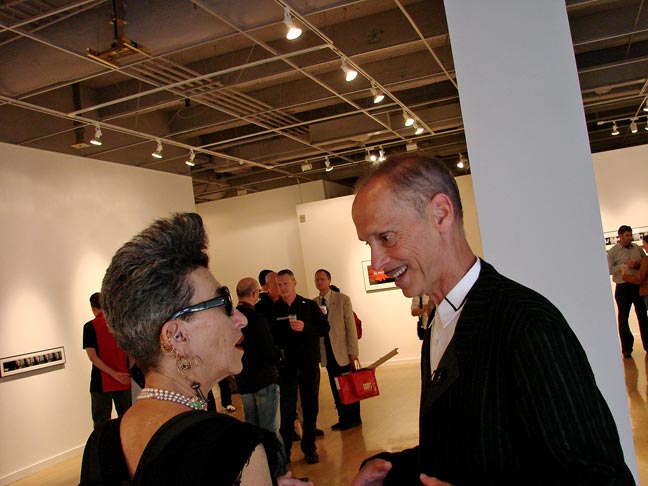 John Waters (right) and affiliate.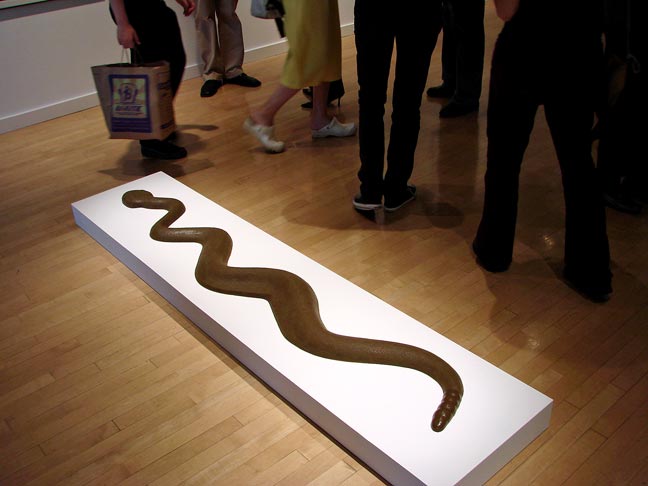 Self-portrait slither art.


Critical immolation art.


Art.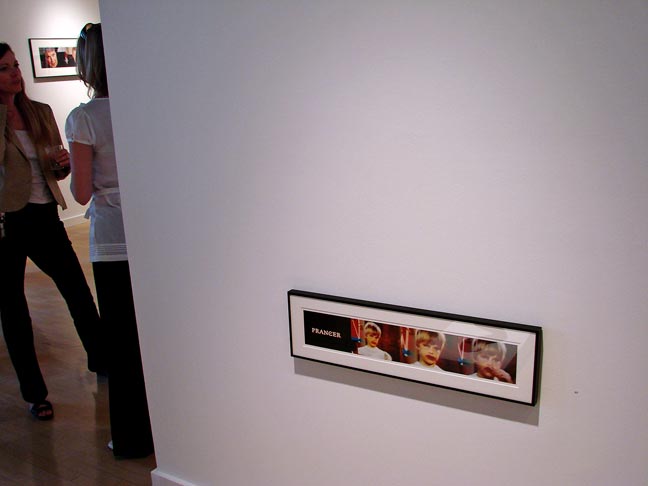 Art.


***
Hackett-Freedman Gallery: The Passionate Gesture; Contemporary Selections.
Artists: Giorgio Cavallon, Herbert Ferber, Franz Kline, Hans Hofmann, Louise Nevelson, Joan Mitchell, Ad Reinhardt, Richard Diebenkorn, Esteban Vicente, Frank Lobdell, Manuel Neri, Emerson Woelffer, Robert Motherwell, James Aponovich, Jeanne Duval, David Ligare, Jeffrey Ripple, Paul Resika, Stone Roberts, Raimonds Staprans, Amy Weiskopf, others.
Comment: Hackett-Freedman hauls out a hefty selection of Abstract Expressionist works, a number by heavy hitters like Motherwell, Kline, Hofmann, and more. Prices range from a boatload of money to a shitload of money, but it's free to look, and as we all know, "He who smells the roses owns the garden (or she)." In the annex you'll find a representative sampling of contemporary realist works.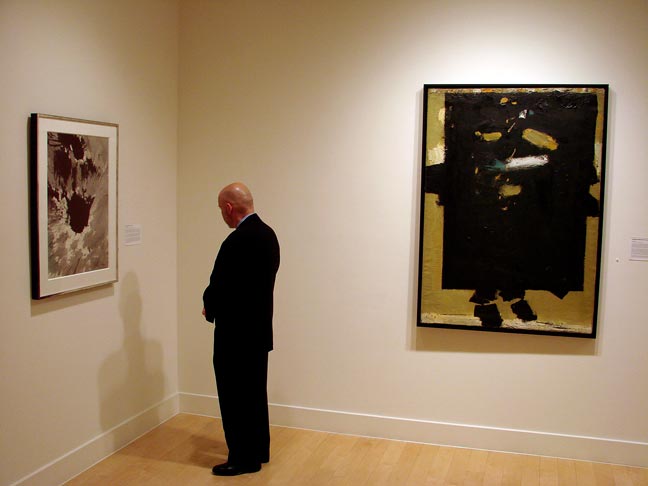 Art.


Art.


Art.


Art.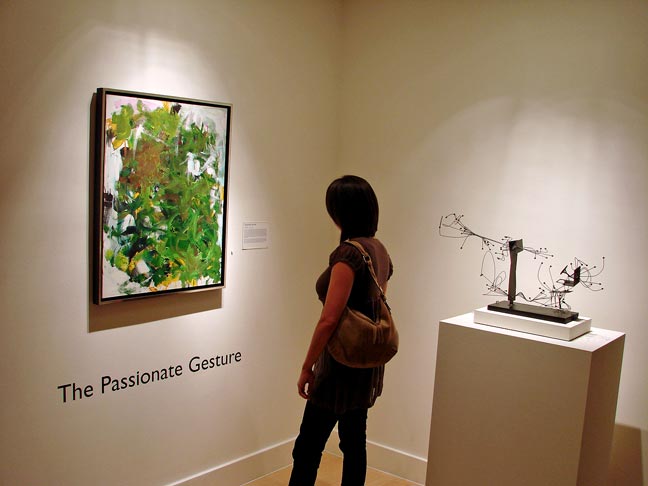 Art.


Art.


***
Warnock Fine Arts: William Wolff - The Invisible City.
Comment: Retrospective of the art of William Wolff (1922-2004), involved and active, though not necessarily high profile, in the local art community for fifty years, most of those years spent as a printmaker. His prints from "The Invisible City" series reference the eternal "unity of creative souls across time and space."
Art.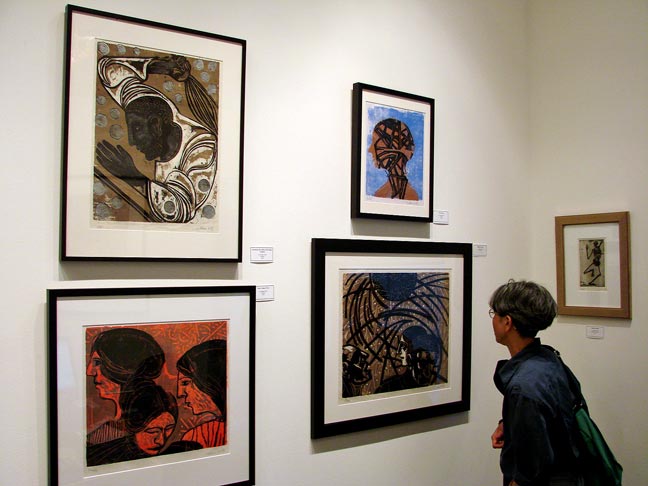 Art.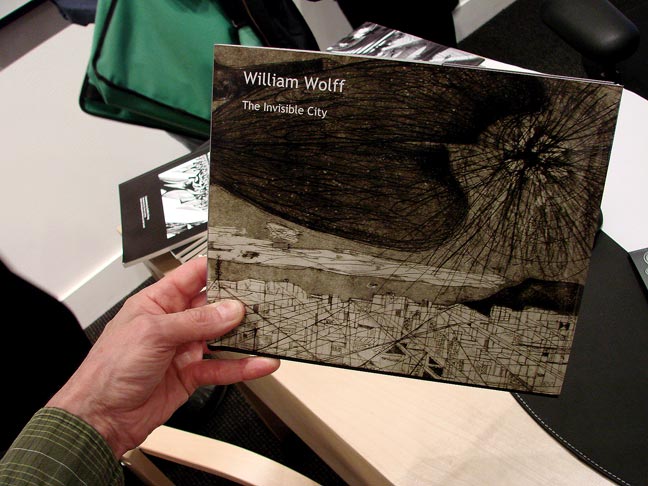 Literature.


Art.


Art.


Robert Tat Gallery shares the space.


Robert Tat vintage photographs.


***
111 Minna Gallery: Jason Mecier - Celebrity Junk Drawer
Comment: Master assemblologist Jason Mecier fabricates portrait collages of his favorite celebrities, crafted entirely from recycled materials that relate to the personalities of the portraits they comprise. The work is outrageously marvelous; the prices perhaps a mite dear, the examples I looked closely at ranging around $20K per. The event's sponsored in part by Gen Art so there's no shortage of attractive available artsters running around.
Art.


Art.


Jason Mecier - art.


Art.


Ornamental schrubs out of Q-tips, cigarette butts, etc. (like 'em).


Art.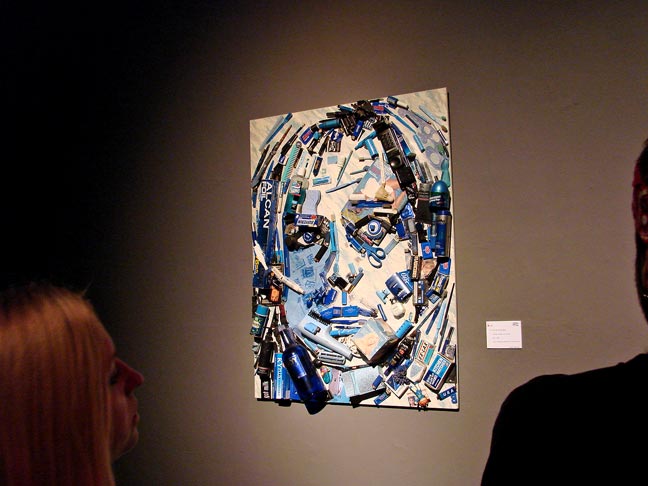 Art.


Scene.


***
California Modern Gallery: Focal Points.
Artists: Alena Zhukova, Alexei Bochkovsky, Eugene Hayzen, Ivan Bajinov, Kiril Krylov, Mikhail Rezhepp, Nikolai Chigirev, Nina Tzaregradskaya, Oleg Lobykin.
Comment: Group photo and sculpture exhibition by nine Bay Area artists.
Art.


Art.


Art.


Art.


Art.


***
ACE Auto Dismantling: "We're Turning One" Birthday Party.
Comment: Is it a junkyard or a sculpture garden? You make the call. Hint: There's a lifesize working version of the game Mousetrap on the property. According to the literature, the venue is available for social events. Plus special added bonus-- ACE Auto Dismantling was voted Best Junkyard For Artists by the San Francisco Bay Guardian. Beat that. (And don't tell me I never take you anywhere interesting.)
This must be the place. Let's have a look.


Hmmm. Nice.


Lifesize Mousetrap game.


View deck.


Central heating.


Tunes.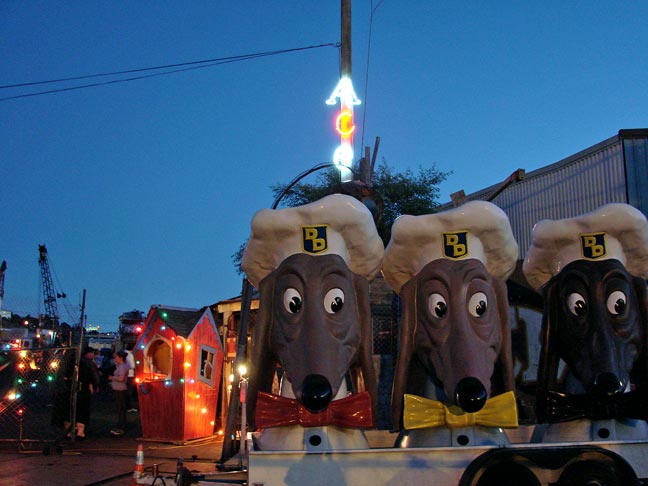 The party's gettin' good; time for me to go. Woof woof.


***
Addendum:
ARTworkSF show at the Monodnock Building.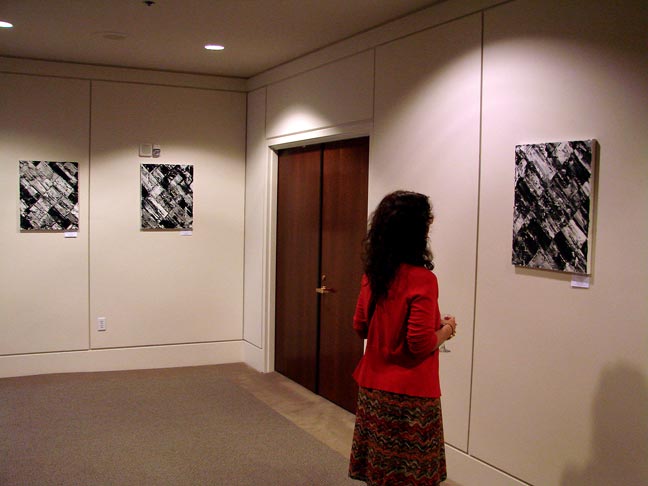 One more from the ARTworkSF show at the Monadnock Building.


Jylian Gustlin paintings at Hang Art.


One more from the Jylian Gustlin show at Hang Art.


"New Faces" at Hang Art Annex (art, Casey O'Connell).


One more from the "New Faces" show at Hang Art Annex.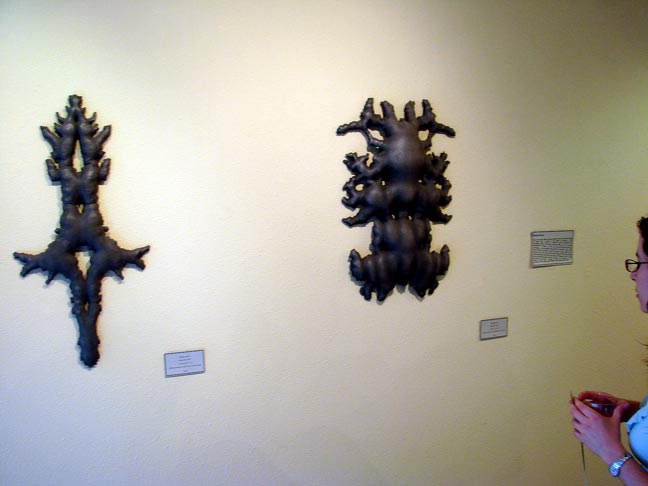 Rorschach sculpture at Hang Art Annex.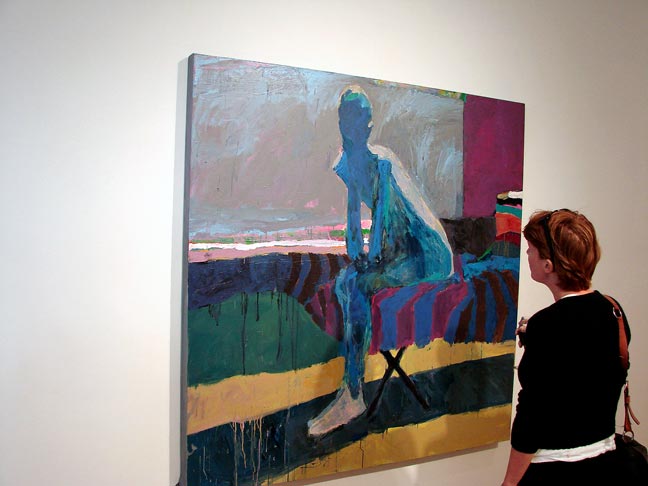 Brook Temple figurations at Dolby Chadwick Gallery.


Another Brook Temple figure painting at Dolby Chadwick Gallery.


One more from Brook Temple show at Dolby Chadwick Gallery.


Group show at the Madrone Lounge.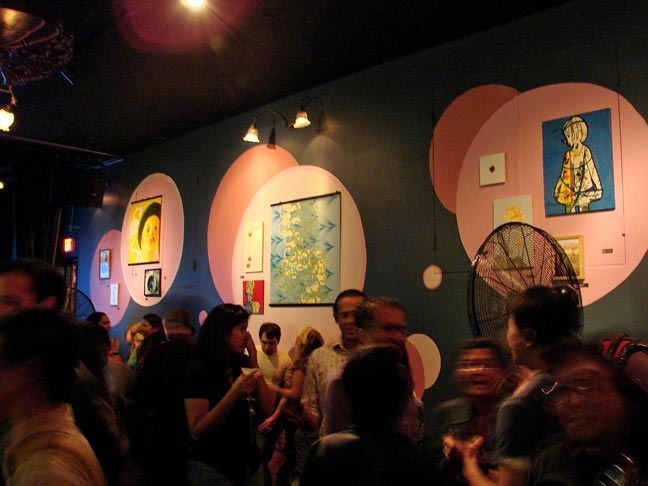 One more from group show at the Madrone Lounge.


***