OCEAN CITY & MILLVILLE NEW JERSEY ART GALLERIES
07.10-13.06
***
Comment: Fortunately, here at Artbusiness.com International, a plethora of paying players are hiring me to assess, illucidate, and resolve all kinds of fascinating art quandries. Unfortunately, this demotes my incessant complimentary San Francisco art gallery coverage from top of the totem pole to benchwarming the back seat while playing second fiddle. Plus I still have to blather about my trip back East (you never know who might benefit from it). So that's what I'm gonna do now-- proffer a couple of quick New Jersey art looks-- Ocean City and Millville.
***
Ocean City, New Jersey, ten miles South of Atlantic City, is a classic beach town with a classic boardwalk (about 2 miles long), an active art community and, for a town its size, a robust art association. But before cruising the creative sector, a brief geographic interlude...
Ocean City central.


Curious signage along Asbury Avenue.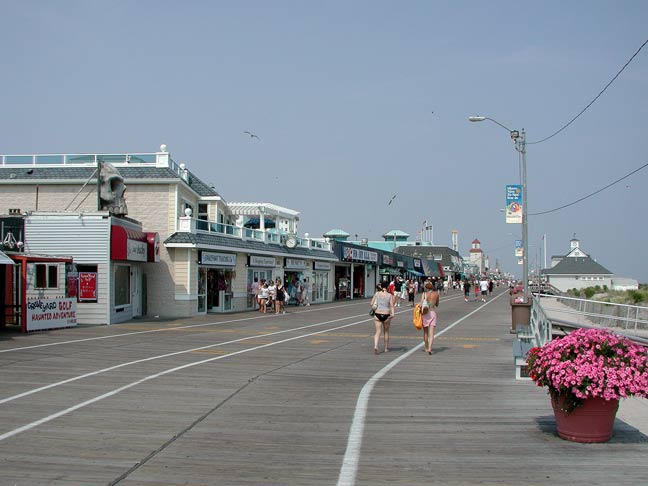 Dry side of the boardwalk.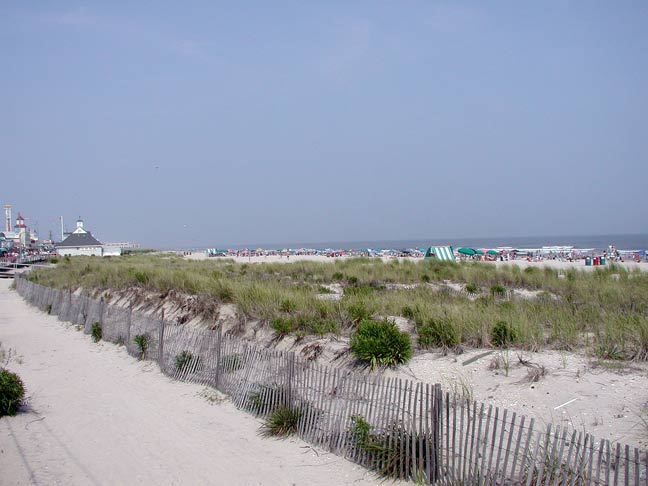 Wet side of the boardwalk.


More boardwalk.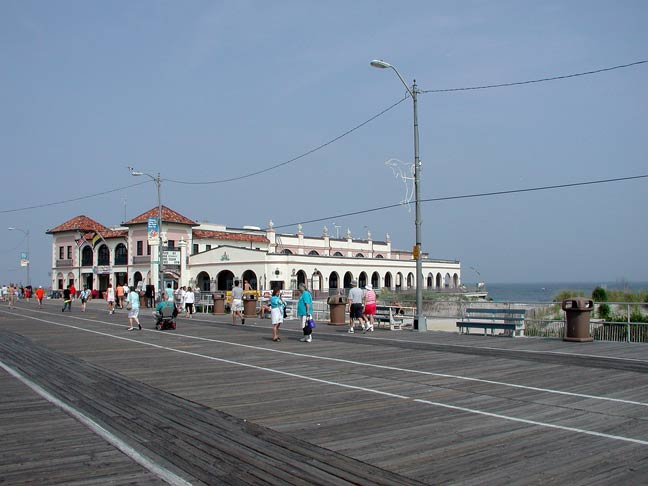 Last boardwalk.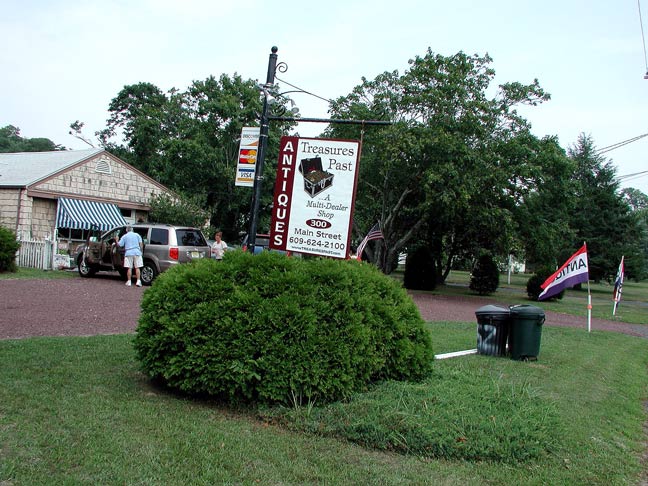 Outskirts time... gotta stop here. Might snag somethin' good.


Yep. I get lucky-- two issues of Minotaure magazine
(important Surrealist periodical).


***
Sagemore Surf Gallery and Surfing Artists International: Surfing Art and Artists.
Comment: Combined gallery and production/distribution company representing, exhibiting, and promoting surfing art and artists. Gallery owner Steve Miller tells me Sagemore also organizes and presents an annual surfing art extravaganza on the boardwalk that attracts talent from around the country.
Steve Miller (owner) - surfing art.


Surfing art.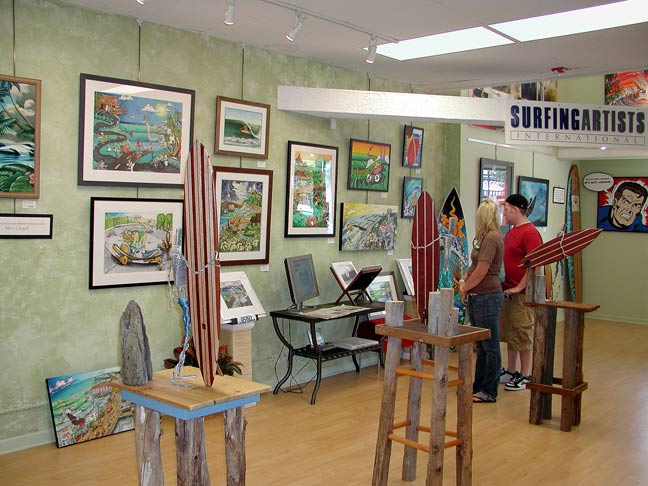 Surfer art.


Gallery frontal.


***
Ocean City Fine Arts League: Group Show - Member Artists.
Comment: Artist and co-founder James Penland gives me the official Fine Arts League gallery and environs tour. The gallery is a double storefront on Asbury Avenue, currently exhibiting the work of about thirty artists. Then we cross the street to see an ongoing retrospective exhibition of Joe Kardonne, who was one of Ocean City's most prominent artists (and former Fine Arts League member) for many decades.
James Penland (artist, co-founder) out front.


Layout partial.


Ken Klauder - art.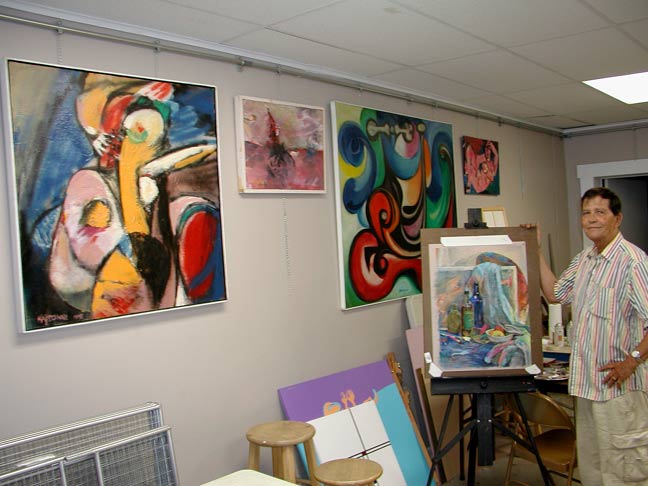 James Penland gives the tour.


Joe Kardonne retrospective.


***
Accent Gallery: Group Show - Fused Glass, Ceramic Sculpture, Abstract Colorist Paintings.
Comment: Group show; there you go.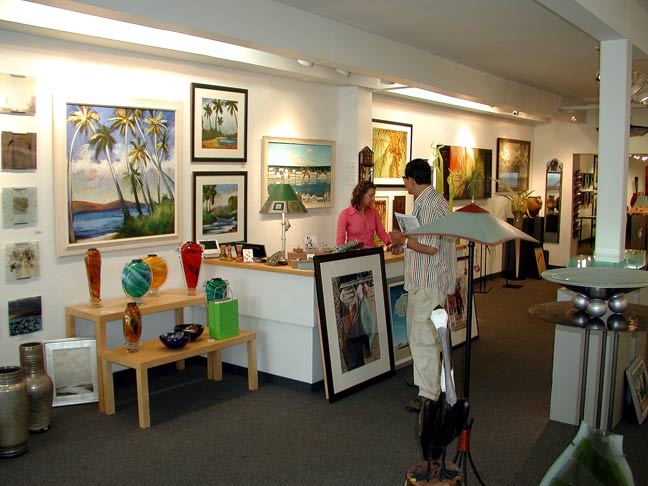 Art.


Art.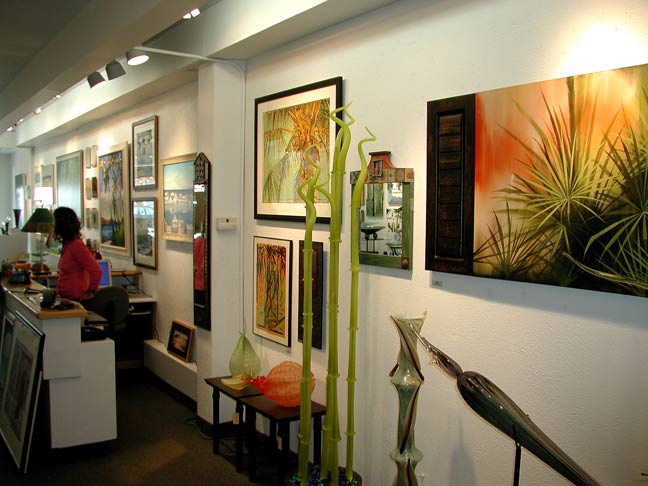 Art.


***
Millville, New Jersey (South Central), about an hour's drive from the coast, was originally known for glass manufacturing. The local economy took a dip when the factories closed, but Millville has since reinvented, reinvigorated, and repositioned itself-- especially downtown-- as an exceptionally artist-friendly venue. The scheme worked and the Glasstown Arts District website proves it. Third Friday's the night-- everything's open late-- described on the Glasstown Arts District website as "the hotest (sic) event in South Jersey." In case SF's art ethos ain't quite doin' it for ya, there's towns like Millville all across America.
One of the more interesting aspects of Millville is that lots of kids (elementary school to college age) are either looking at art or attending art classes. Tell me that's not a good thing.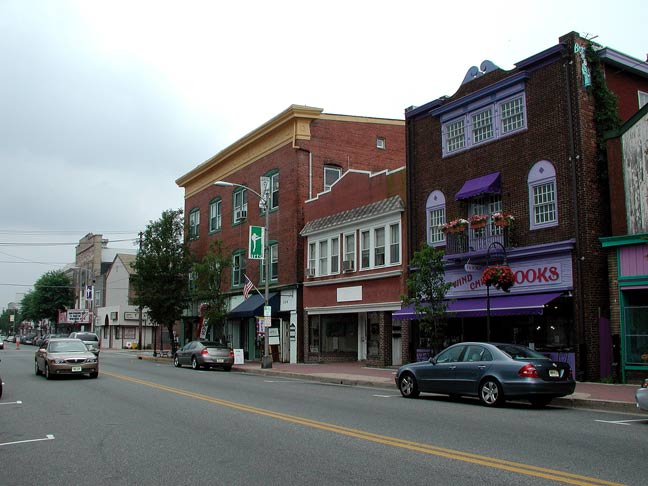 Downtown Millville, New Jersey aka the Glasstown Arts District.


La Bottega of Art; Gallery and Studio; 856.765.0404
508-510 High Street, Millville, NJ 08332.


Artist (right) presents his art, hoping to show at La Bottega.
He's pretty good.


Artist's Walk-- modest development of studios and mini-galleries.


Artist's Walk mini-gallery row.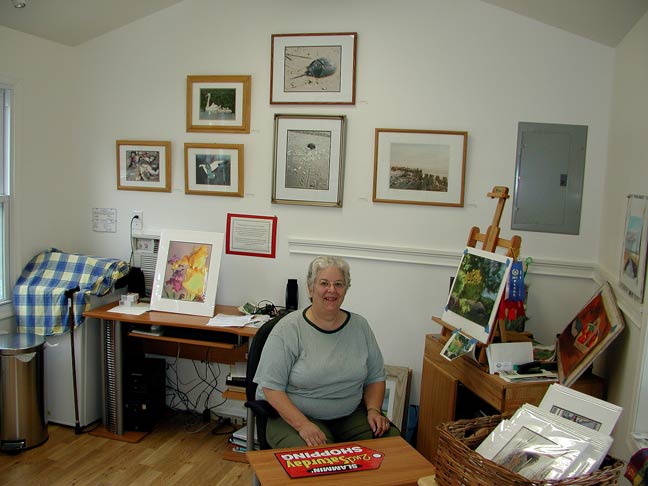 Artist Verna McClain at her gallery space, Marsh Hen Studio.


"Clay College" of Cumberland Community College, right downtown.
Gallery up front, classroom in the back-- mostly classroom.


Clay College gallery area.


Clay College class in session.


***
Riverfront Renaissance Center for the Arts, Millville, New Jersey: Riverfront Renaissance Sculpture Invitational 2006.
Artists: Dave Carrow, Harry Gordon, Kate Graves, Mike Gyampo, Susan Hogan, John Nicolai, Rory Mahon, Ayami Aoyama, Michelle Post, Matt Reiley, Eric Schultz, Larry Steel, Dana Stewart, Clifford Ward, John Wheatly, Wendy Wilkinson.
Comment: The large rennovated two-story building has meeting rooms, gallery, and exhibition space downstairs, and artist studios and classrooms upstairs. Upstairs, an art class for kids is in session. The main exhibition area has an entirely satisfying sculpture show with lots of options-- abstract, representational, assemblage, wood, metal, cast, welded, mixed-media, and more. You can't have a good art exhibit without good artists, a good selection process, good jurors, and a supportive community, and this one works all the way around. Surprisingly impressive, expansive, and high quality facility for a relatively small town.
Sculpture invitational.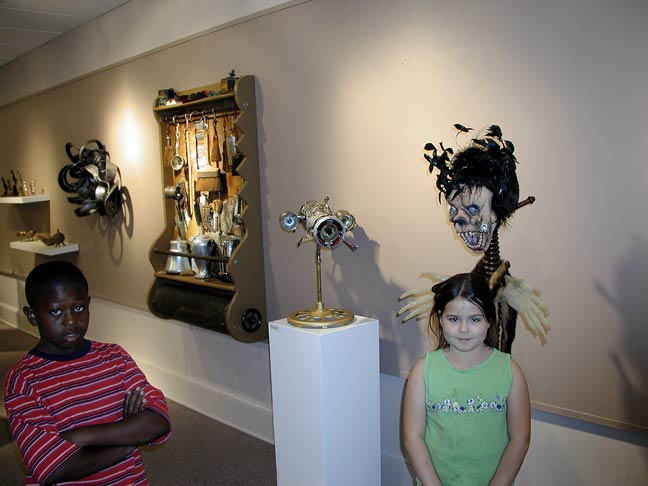 The girl in green stands in front of her favorite piece.


Sculpture.


Art class upstairs.


Street frontage.


***
Addendum:
Central New Castle, Delaware-- just passing through.


Mayoral crib, New Castle, Delaware.
The town dates from the 1600's.


***