SAN FRANCISCO GALLERY OPENINGS
BAXTER CHANG PATRI - WHITE WALLS
CELLSPACE - SHOOTING GALLERY
LOST ART SALON
07.14.05
Baxter Chang Patri Fine Art: Summer Group Exhibition.
Artists: Wess Dahlberg, Elizabeth Hack, Jae Hahn, Robert Larson, Katherine Leighnor, Margaret Michel, Jeremy Morgan, Terrell Moore, Miguel Osuna, Kenton Parker, Giampaolo Seguso and Valentín Toledo.
Comment: Surprise surprise. Robert Larson litter collages. This isn't the type of art I normally associate with Baxter Chang Patri, but it looks great, fits perfect, and goes slick against the polished marbled BCP backdrop. Congratulations to the gallery for giving Larson's work a whirl; he deserves it for the time, effort, dedication, and care he takes sifting our refuse and transforming it into art. Larson's art makes us think about the crap we throw away, so that we think about maybe throwing less away, and the best part about how Larson makes us think is that he does it in a benign, inoffensive, minimally agendized, visually compelling manner. It's easier to make your point if you sneak up on 'em than if you geyser in their face.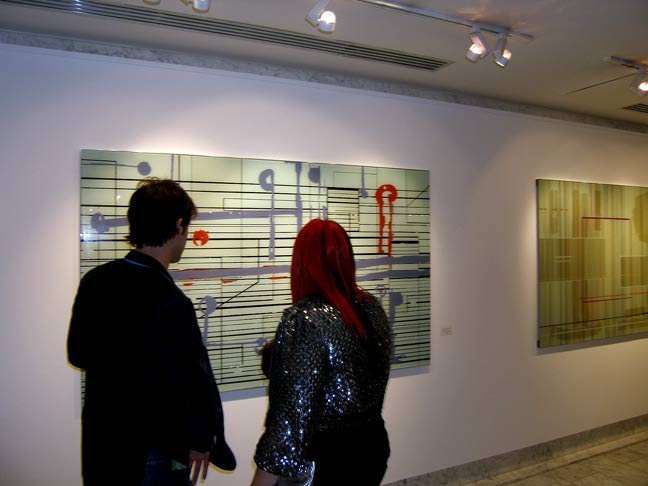 Art.


Art.


Robert Larson - art (chewing gum pack tops and bottoms).


Art (Miguel Osuna - tower).


Art.


***
Lost Art: Inaugural Show.
Artists: Loads.
Comment: Kicky funky grand opening art party at a loft space in the former Post Tool building at South Van Ness and Division. Nondescript entrance, three flights of industrial red-orange metal stairs, and you're there-- a three level loft space with roof access and excellent views. The party's honkin' away full bore; every available surface plastered with art. It's vintage art, divided by time period, with the 1910's - 1940's on the West wall, and the 1950's - 1960's on the East wall (in the main room). Prices range from $100-$850 averaging $200-$400. The "good stuff's" in a smaller room upstairs, and then there's more good stuff in a rooftop room, and then there's the rooftop. No prices on the good stuff-- you hafta ask; I didn't.
Here it is.


Approaching completion of stair aerobics.


Art time...


This is interesting. Let's check out the art.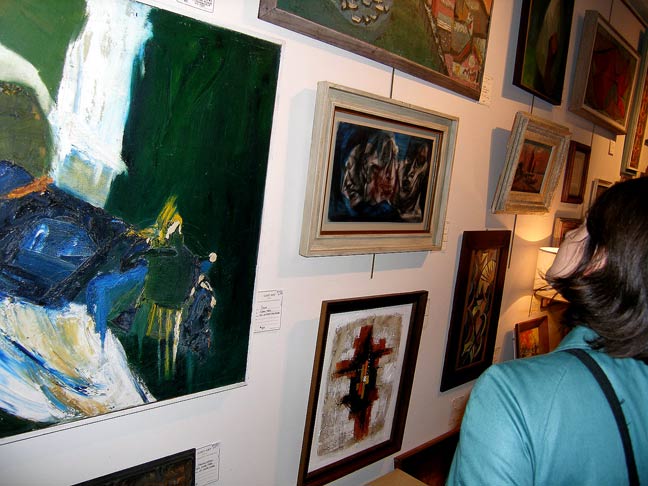 Art.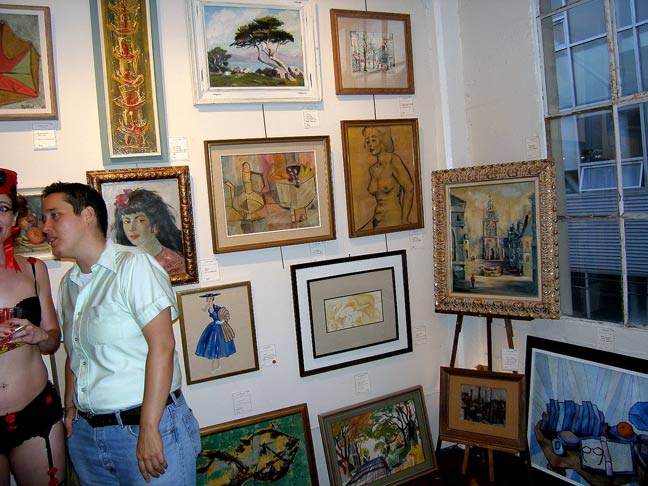 Art.


Art.


Art.


Let's see what's up the stairs...


Nice (love that Sportmart neon).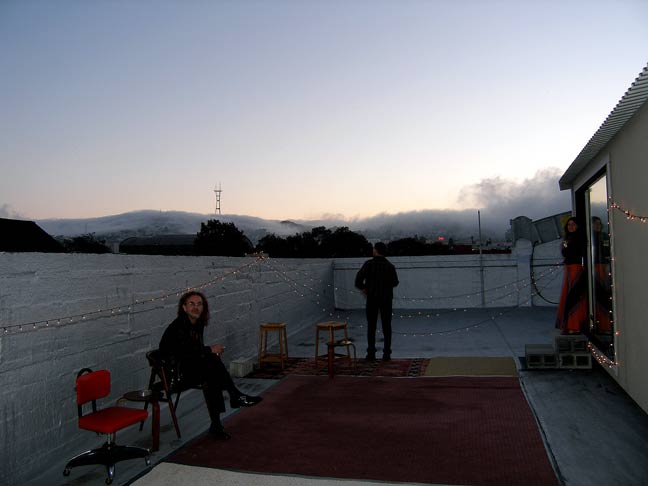 Nice again.


***
CELLspace: Overdrawn - New Multimedia Work by Peter Foucault.
Comment: Randomly generated art by Peter Foucault. For example, he ties marking pens to trees so that their points make contact with paper, the wind blows the branches, the pens move around on the paper, make marks, and there you have it-- art. Or he attaches a pencil to one of those robotic devices that changes direction everytime it hits a wall, confines the little demon in an enclosed space on top of a sheet of paper, turns it on, and let's it draw. Or Foucault locks himself in a cage blindfolded for 14 hours, with writing implements, and he marks up a large sheet of paper (de Kooning did something similar in 1967-- closed his eyes, made drawings, and published them as a book-- DE KOONING DRAWINGS, Walker and Company, New York, 1967). When Foucault figures out how to make his random art non-random, in other words, how to control its randomness, then he'll have something. Good luck.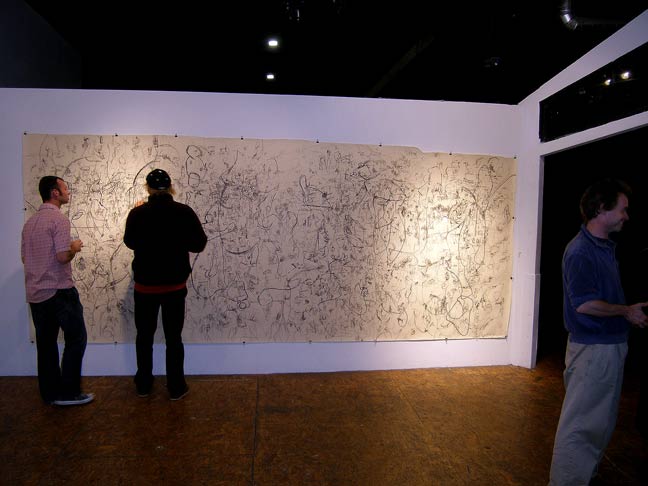 Art.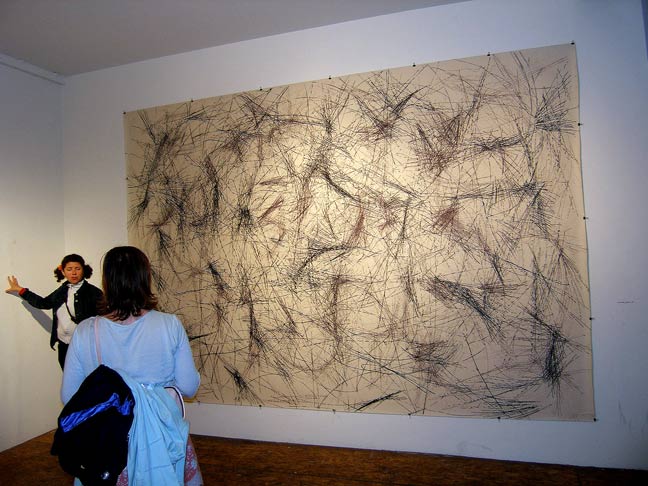 Art.


Peter Foucault - art.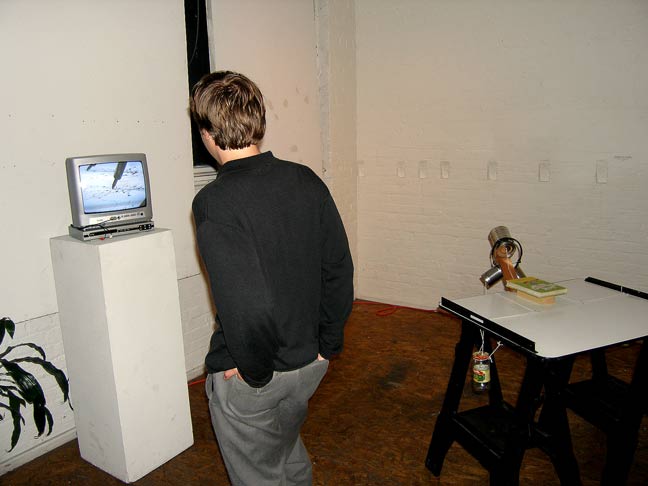 Video explains art.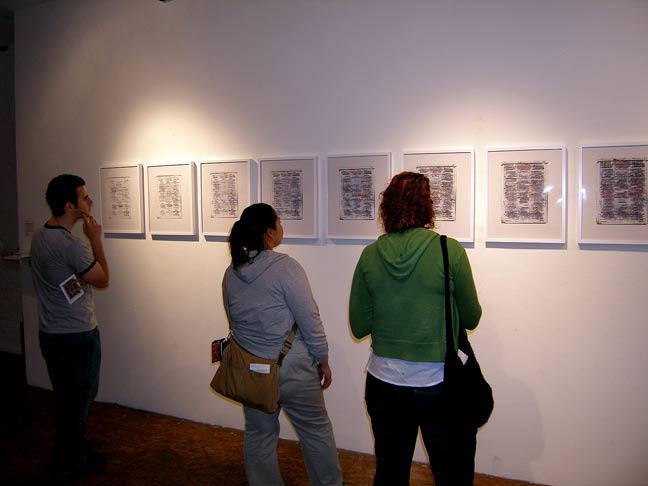 Art.


***
The Shooting Gallery and White Walls: David Perry - For Your Pleasure 2 (Shooting Gallery); Secret Bedtime Stories - Grand Opening (White Walls).
Artists: David Perry (Shooting Gallery); Mike Davis, Henry Lewis, Brian Randolph (White Walls).
Comment: The former Pawnbrokers Gallery is now White Walls and closely affiliated with The Shooting Gallery, but different. Special added bonus-- the two galleries are connected by an inner doorway, so you can volley freely between their artlooks on life without having to expose your tender little heinie to the cruel San Francisco summer. The Shooting Gallery is packed, as is customarily the case, showing libidinously lubricated crackerjack Hot Rod photos by David Perry from his new book "HOT ROD PIN-UPS." Hot rods parked out front, major sidewalk spillage, roddy Rockabilly roustabouts in.
White Walls is even more jam-ferkin-packed-plus for its Grand Opening, sporting a jolly nightmarish frolic of decapitated maidens, barbaric beasts, netherworld necromancy, skulls, serpents, carcasses, horns shoved up ducts, spurting blood, and other gratifyingly grotesque mutant visions (the art's pretty good too). Creatibles under $500 are moving fast, particularly these little moustraps with trapped-mouse paintings on them-- fifty bux an ouch. Good luck White Walls. Auspicious beginning.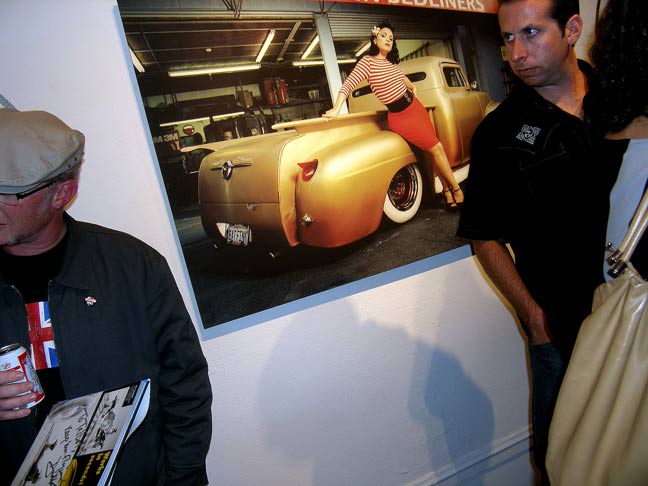 Art.


Art.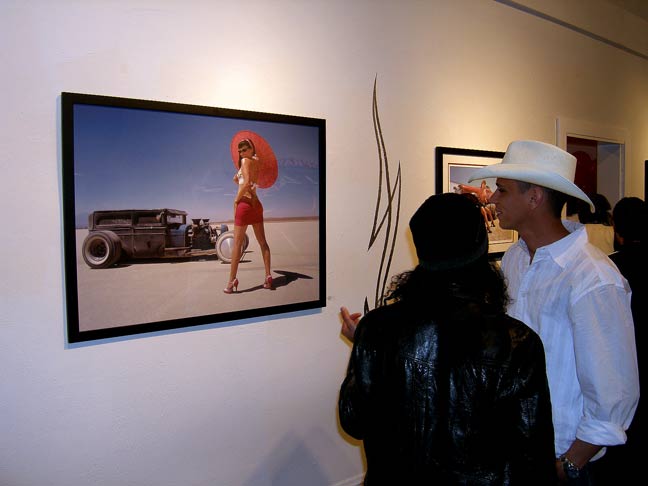 Art.


Art on metal (pick).


Ceiling situation.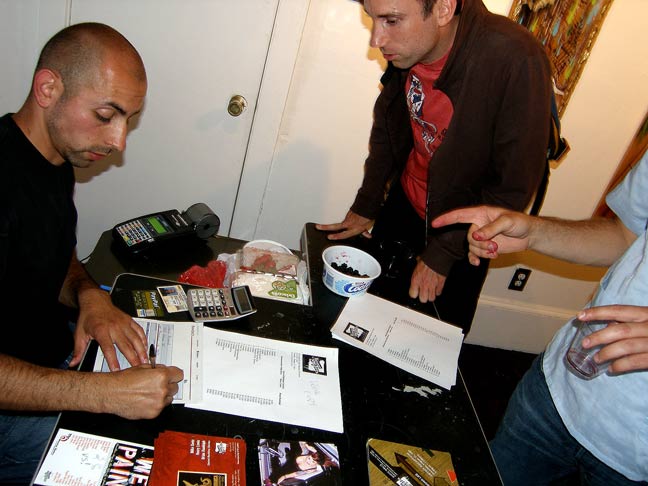 White Walls deal-closer Curve.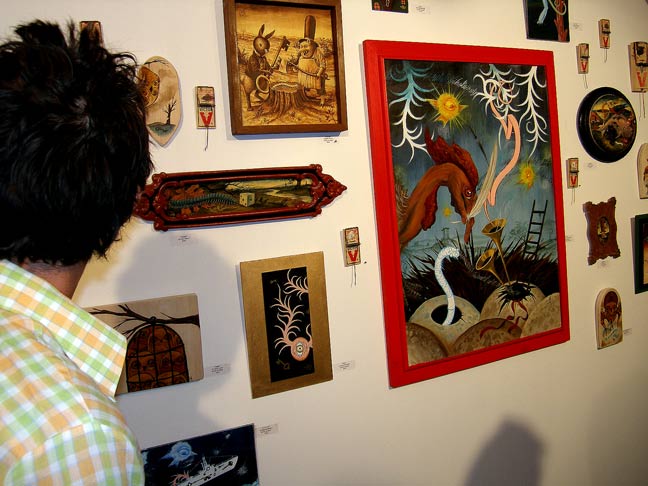 Art.


Art.


Fred Spaceman Long - experimental musical instruments.


Hot Rod Pin-ups - the book.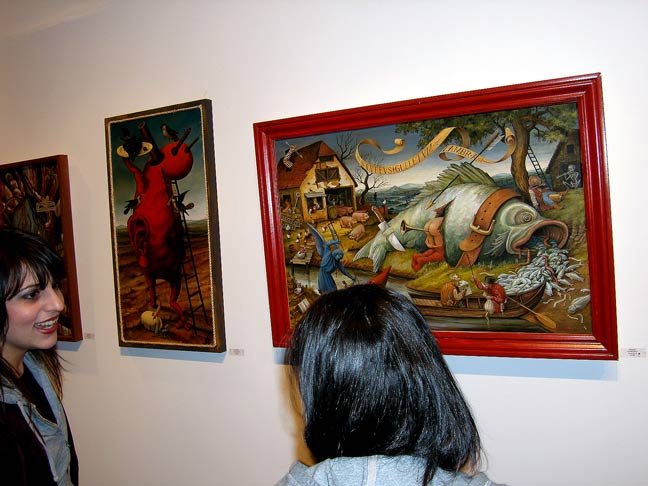 Art.


Art.


Art.


Art.


Art.


Art.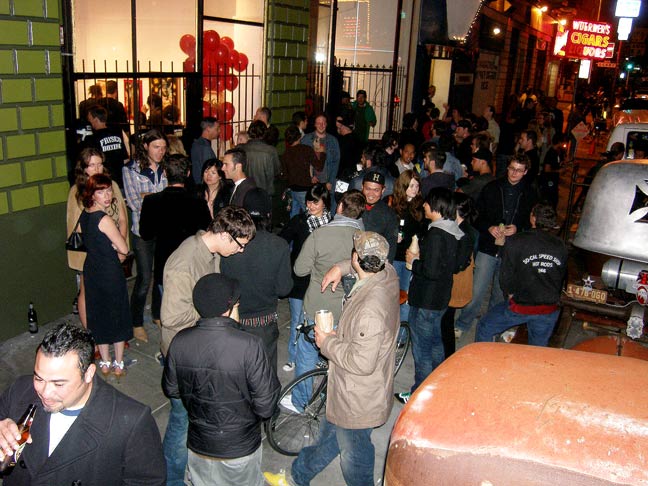 Door delta.