SAN FRANCISCO ART GALLERIES - OPENINGS
HEATHER MARX - SOMARTS GALLERY
MISSION CULTURAL CENTER - LITTLE TREE GALLERY
GALERIA DE LA RAZA - MILLION FISHES COLLECTIVE
07.15.06
***
OK. On with the art romp. You thought I forsooked you, didn't you, my fickle aficionados? Quite the contrary.
What? You want proof? Oh, ye of little faith.
Here. File this affidavit...
***
Heather Marx Gallery: Naughty.
Artists: Keith Boadwee, James Gobel, Thorina Rose, Ken Weaver.
Comment: What better way to re-enter the atmosphere of San Francisco's creative realm than by plummeting directly into Heather Marx Gallery's "mischievous, over the top, and not suitable for all ages" artscapades? So here I stand, surrounded by James Gobel's felt and yarn portraits of bearded disco-glam androgynoids, a salaciously sumptuous red pastel treatise by Ken Weaver depicting an oral surgeon performing an elective fellatiotomy on a masked fitness man, bawdy forest foray watercolors by Thorina Rose, and a six-pak of collages by Keith boadwee featuring a preponderance of protuberant penilicisms manifesting symptomologies consistent with the latter stages of terminal erectitudinality. Ohhhh baby, it's good to be back.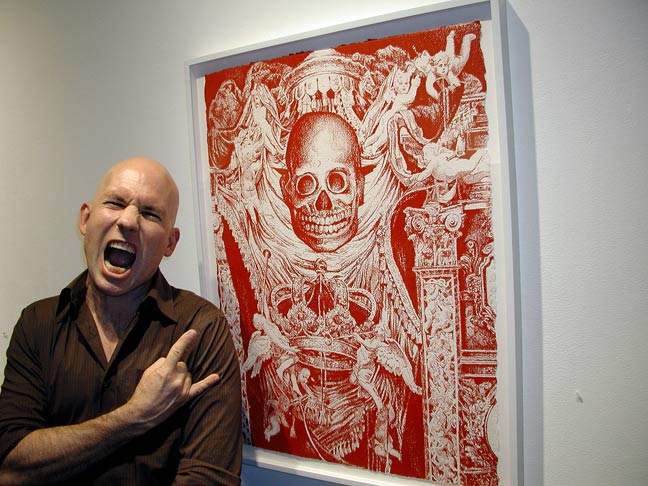 Ken Weaver - art.


James Gobel - art.


Art (Keith boadwee).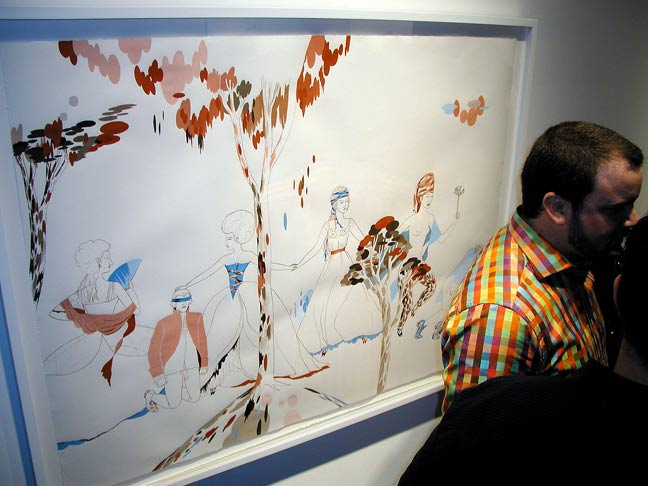 Art (Thorina Rose).


***
Somarts Cultural Center: Encuentros/Encounters.
Artists: Caleb Duarte, Francisco Gomez, Virginia Benavidez, Liz Lerma, Susana Aragon, Francisco Dominguez and Mujeres Unidas, Juanishi Orosco and Stephanie Sauer, Rene Yanez, Adrian Arias, Marco Zamora, Rio Yanez, Txutxo de Balazo, Mauricio Rivera, Todd Brown, Dyan Garza, Ernesto Sanchez, Juan Maunuel Hernandez, Bettina Rojas, David Tafolla, Xavier Viramontes.
Comment: Exhibition in conjunction with the opening of "Chicano Visions-- Artists on the Verge," and "Chicano Now" the Ceech Marin Collection Exhibit at the De Young Museum, July 22nd - October 22nd. The Somarts show is a one third of Encuentros/Encounters, a three-fer collaboration between SomArts, The Mission Cultural Center, Galeria de la Raza of art, music, live painting, and performance exploring multitudinous facets of Chicano identity. Transportation between the three events provided courtesy of The Mexican Bus. In case you weren't already aware that SF has a substantial and impressive Chicano art scene, you will be after you see these shows.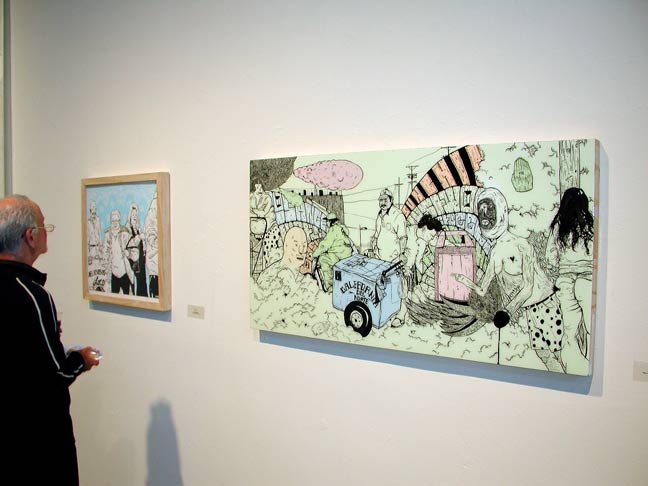 Art.


Live painting.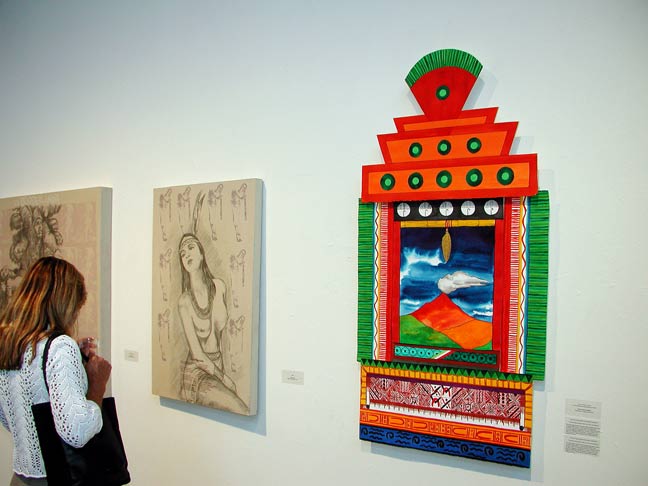 Art (like that one on the right).


Francisco J. Dominguez - documentary photography.


Installation art (like it).


More live art-making.


Art.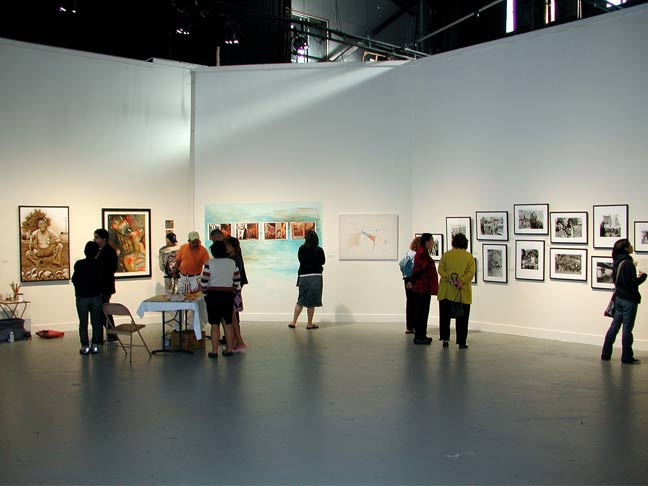 Situation.


Mexican Bus now departing for the next show. Off we go.


***
Mission Cultural Center for Latino Arts: Encuentros/Encounters - Installation Exhibit.
Artists: Victor Cartegena, Vera Costa, Suzy Hernandez, Alfonso Jaramillo, Stephanie Martinez, Pilar Olabarria, Veronica Orozco, Celia Rodriguez.
Comment: One of three concurrent openings, the other two at Somarts and Galeria de la Raza, exploring Chicano identity in America, especially poignant considering the current craze to criminalize, deport, and otherwise inconvenience so many who have lived and worked here so long. My favorites-- the three-dimensional doily "sculpture" and a bluehair whiteface wedding-gowned woman seated on the floor surrounded by ceiling-hung guns.
Doily art (like it).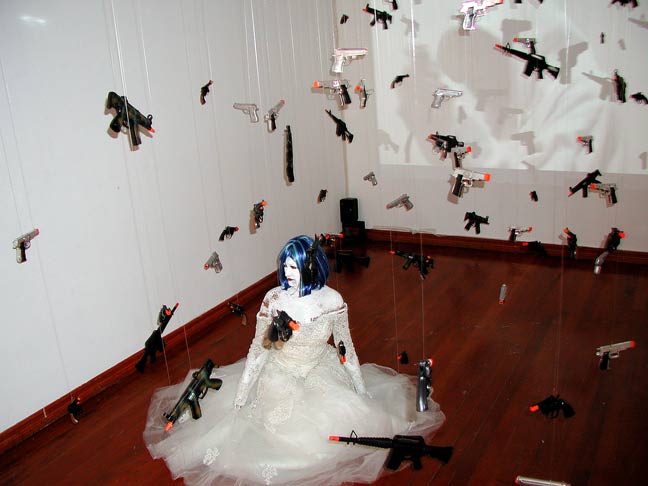 Suspended sidearm art (like it).


Social realism art (like it).


Art.


Art.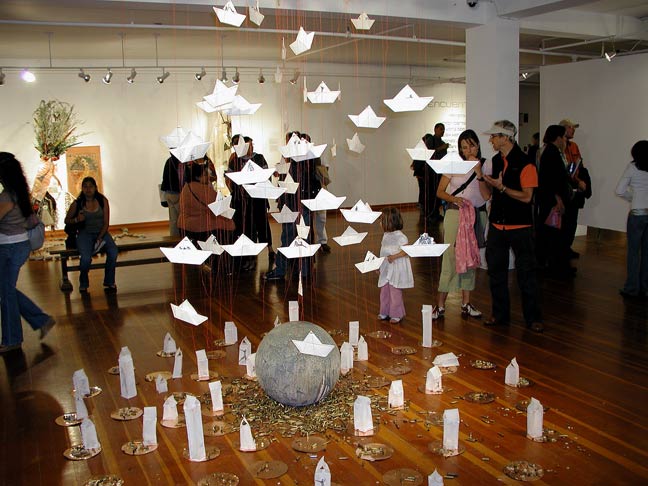 Art.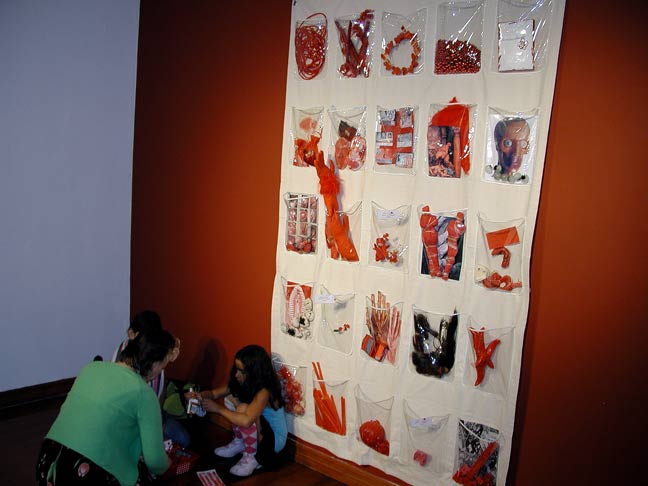 Art.


Art (like it).


Out front.


***
Little Tree Gallery: Grand Opening - Group Show.
Artists: Ilana Crispi, Maria Forde, David O. Johnson, Lebasi Lashley, Tim Sullivan.
Comment: New gallery; small space; tight show. I gotta go with Ilana Crispi and her crocheted critter cozies (wait-- Crispi Critters-- get it?). Anyway, Crispi tells me she crochets 'em over molds to get the forms; the hard part is setting 'em free from their molds once she's done so they can be released back into the wild. There's a crocheted wire pigeon that's especially professionally meticulously slick.
Ilana Crispi - crocheted critter art (like it).


Dude decides he's gonna take Crispi's picture too.


Art (Tim Sullivan)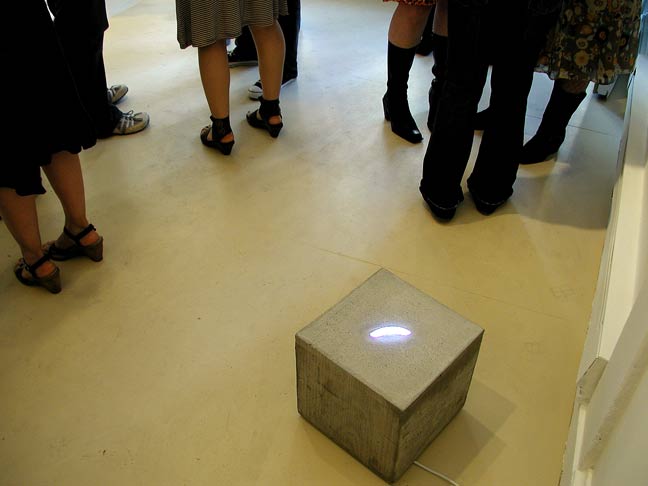 Incarcerated neon art (David O. Johnson).


Quilted art (Lebasi Lashley).


Art (Maria Forde).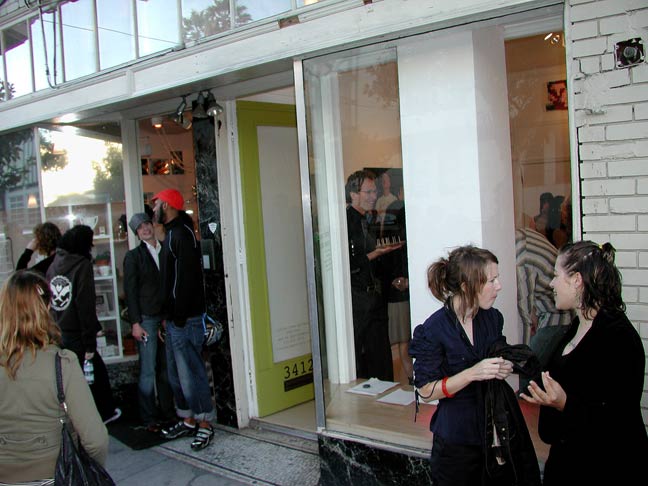 Esplanade.


***
Galeria de la Raza: The YPM's Greatest Hits.
Comment: Video, performance, and installations celebrating the third anniversary of Youth and Public Media, a collaborative project with the San Francisco Art Institute, the California College for the Arts, Youth Speaks, Out of Site, Leadership High School, and Yerba Buena Center for The Arts. The YPM helps high school students become more aware of higher educational opportunities by involving them in social art projects.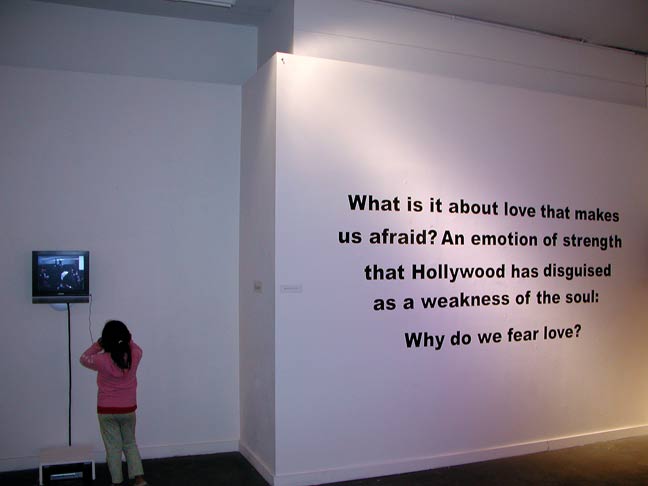 Art.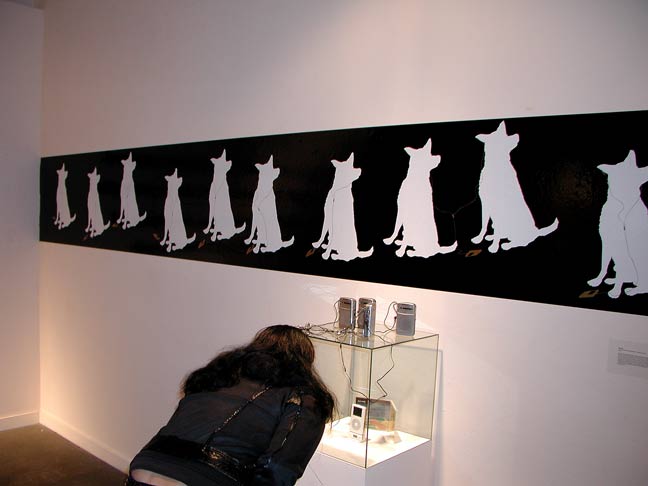 Art.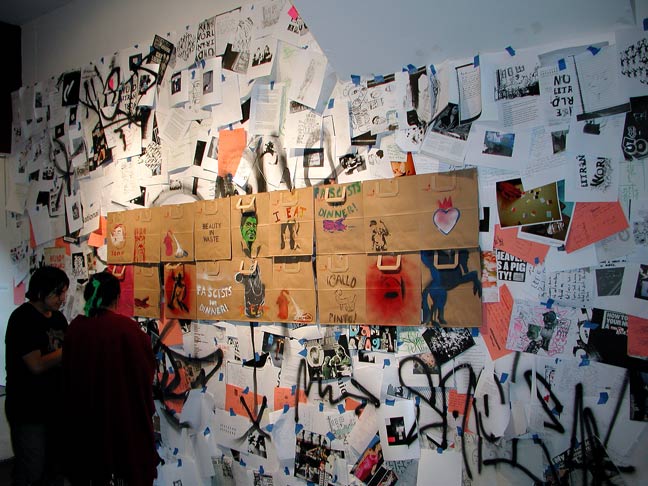 Art.


Art.


***
Million Fishes Collective: Screenprint Poster Art - New Work from the SF Print Collective.
Artists: Maile Arvin, Andy Blue, Vanessa Carr, Steff Eiter, Angelique Gonzales, Alfonso Jaramillo, Doug Levinthal, Mark McBeth, Doug Minker, Claude Moller, Patrick Piazza, Cheryln Quan, Marcela Reyes, Scott Ryan, Nadia Sussman, Stephan Tsochandaris, Mariana Viturro, Caroline Wallace.
Comment: Silkscreen posters primarily relating to social and political issues, many having to do with the San Francisco Print Collective's 2006 anti-war campaign. The SFPC is an art and educational organization that focuses on use of the silkscreen medium to advance activist causes and agendas, and in particular, to attract mass media coverage.
Silkscreen art.


Silkscreen art.


Silkscreen art.


***