SAN FRANCISCO ART GALLERIES - OPENINGS
SAN FRANCISCO ART INSTITUTE - MARK WOLFE CONTEMPORARY
SCULPTURESITE - SF CAMERAWORK - CITY PICTURE FRAME
ELASTIC CREATIVE - ELECTRIC WORKS - MINA DRESDEN
STUSSY - INSTITUTE FOR UNPOPULAR CULTURE
07.19.07
(with assistance from Jessica Whiteside)
San Francisco Art Institute: Wherever We Go - Art, Identity, Cultures in Transit; Phase II.
Artists: Elvan Zabunyan, Gilane Tawadros, Pier Luigi Tazzi, Hou Hanru, Gabi Scardi.
Comment: Group photography show on the arty autobiographical side of documentary. Share who you are, where you've been, and where you're going and perhaps the world will become a better place. Sounds like a plan. The show opened in Milan and now it's here.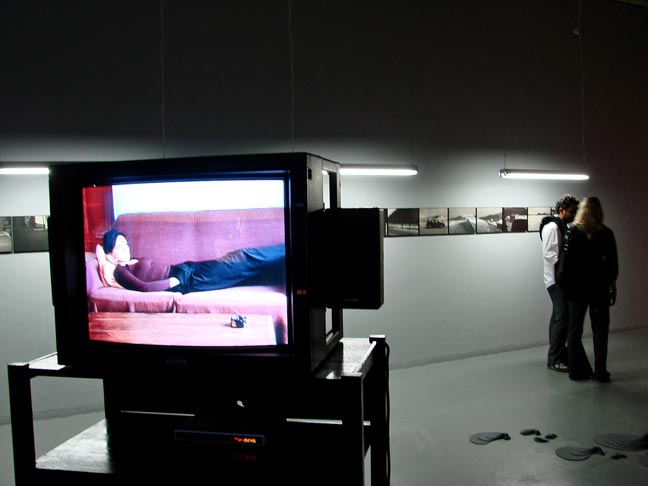 Art.


Art.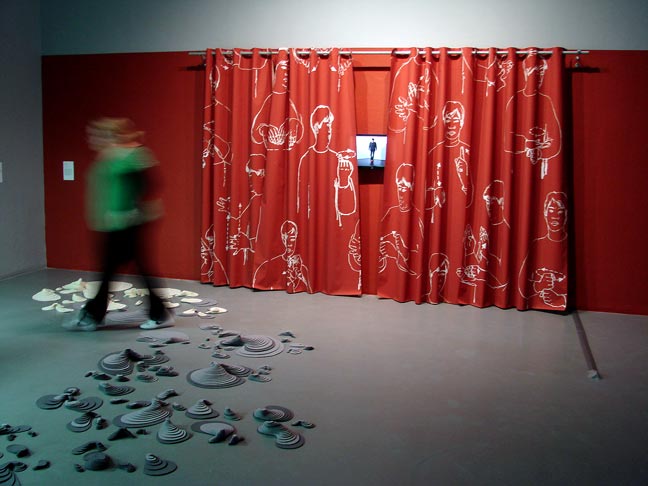 Art.


Art.


Art.


***
Mark Wolfe Contemporary Art: Alika Cooper - New Paintings & Works on Paper.
Portraits of Hollywood actresses reconstituted from film stills circa 1950-1980 are presented alongside drab rural landscapes, the pairing purportedly affecting an obtuse commentary on something or other, like maybe the starlets are pretty and the landscapes aren't? I dunno.
Art.


Art.


Art.


Art.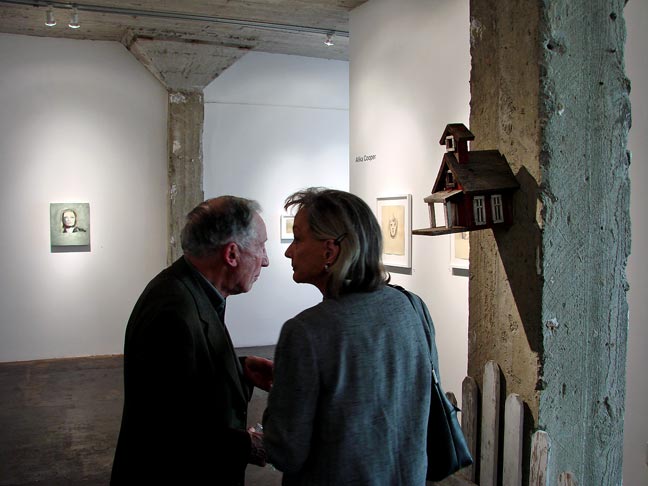 Art.


***
Sculpturesite Gallery: Mark Chatterley - Kiln Dreams.
Comment: Lifesize ceramic figures, posed together and alone-- impersonal, inscrutable, inert, unidentifiable, unified by a blistery grey glaze that renders them ashen and otherworldly, like maybe they're frozen in time or exhumed from some civilization past, like maybe Pompeii. According to the dossier, Mark Chatterley owns and operates a walk-in kiln capable of firing single ceramics up to seven feet in length. The deal with a walk-in kiln is that those who walk in must always remember to walk back out.
Sculpture.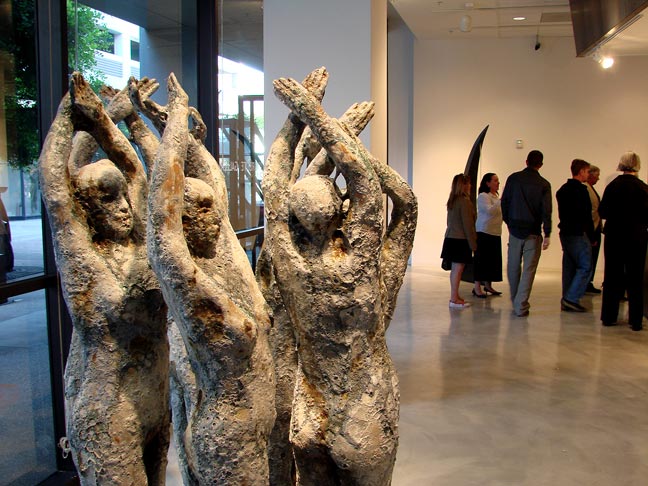 Sculpture.


Sculpture.


Mark Chatterley.


Sculpture.


Sculpture.


Sculpture.


***
SF Camerawork: Greg Halpern - I'm Afraid I Love You; Wang Ningde - Some Days; Kelli Connell, Morgan Konn, Tarrah Krajnak, Wilka Roig - The Spitting Image.
Comment: Three shows; one location. Greg Halpern essays on the trials and tribulations of that suffering city by the snowbelt, Buffalo, New York. With an artful eye, Chinese photographer Wang Ningde documents the rapid changes taking place in China today (what Chinese artist isn't?). In "The Spitting Image," four women photographers present their perspectives on the female identity, the fact sheet indicating that exhibit honors the anniversary of the "feminist art movement," but what number anniversary is it? In any event, the photography is more than commendable-- on all three counts.
Photography (Greg Halpern).


Photos (Greg Halpern).


Photographs (Wang Ningde).


Images (Wang Ningde).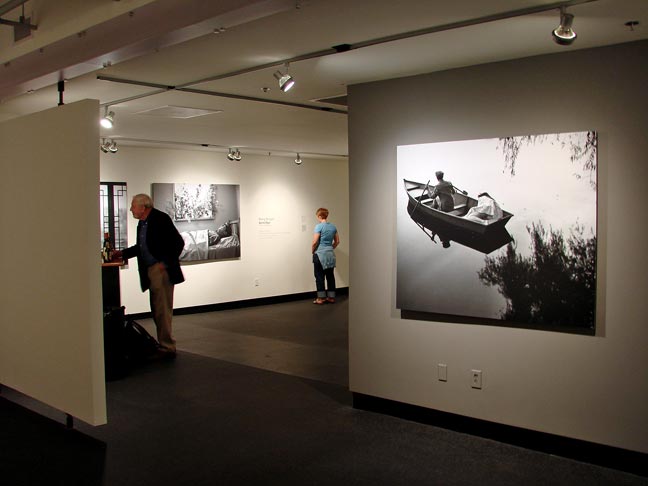 Photographs (Wang Ningde).


Photos.


Photography.


Photographs.


***
City Picture Frame: R. Valentine Atkinson - Friends on the Water.
Comment: R. Valentine Atkinson, internationally reknowned fly-fishing photographer (he's in the Fly Fishing Hall of Fame), shows an impressive selection of images, and signs copies of his new book, "Friends on the Water, Fly Fishing in Good Company." A refreshingly atypical show for Ess Eff and worth a visit-- even if you don't fish.
Photography.


Photos.


Images.


Literature.


Photos.


Images.


***
Starting Artists at Elastic Creative, 550 Bryant Street, San Francisco, CA 94107: As You See It.
Artists: Dave Crosland, Pete Doolittle, Kate Durkin.
Comment: According to their website, Starting Artists presents the work of three "momentarily undiscovered" artists. Elastic Creative, a rambling video design and production facility, is certainly a viable venue for presenting it.
Art.


Art.


Art.


Art.


Art.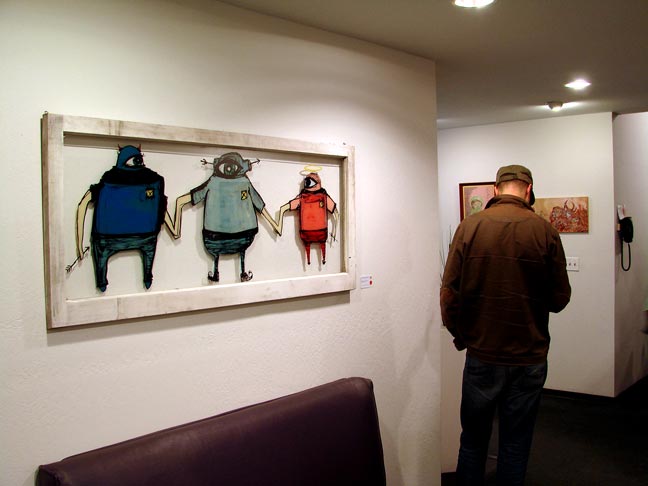 Art.


Art.


View from the balcony.


***
Electric Works: Paul Madonna - Out of the Grapevine.
Comment by AB: Paul Madonna exhibits a series of landscape drawings, each accompanied by a single line of text, that together "tell a poignant tale of family, memory, panic and the Interstate." The drawings are illustrations for a limited edition letterpress folio, "Out of the Grapevine," published by and available for purchase at Electric Works. Madonna also offers a set of prints produced from drawings commissioned by 826 Valencia, sales of which benefit 826 Valencia's writing programs for students aged 6 to 18. This Madonna dude can draw, by the way, and I'm startin' to think he's one of San Francisco's more underrated overlooked underappreciated artists.
Review by Jessica Whiteside: The show features original ink paintings on paper by Paul Madonna and also prints commissioned by 826 Valencia, featuring the 826 Valencia storefront. Paul Madonna's "All Over Coffee" book was also available for sale, and Paul is there signing books for people. Paul's ink drawings, and paintings are amazing works of art that show the variety of beauty and richness of San Francisco's architecture and unique geography. If you havenšt seen his book, it is a must have for anyone who loves San Francisco and wants a beautiful coffee table book-- illustrated with on-location sketchbook drawings from all over San Francisco. Here at Electric Works, Madonna shows landscapes he has created of the Napa/Sonoma area, interesting and serene. They are certainly different from his cityscapes, more fundamental with less detail, however still masterfully beautiful.
Art.


Art.


Art.


Paul Madonna.


Prints for 826 Valencia.


Art.


Not quite sure where these fit in.


***
Mina Dresden Gallery: Process.
Artists: Rob Racine, Tracy Ginsberg, Jeff Burwell.
Comment: Good solid show of abstract painting, installation, video, sculpture, plus special added bonus-- a lively turnout.
Art.


Art.


Art.


Art.


Art.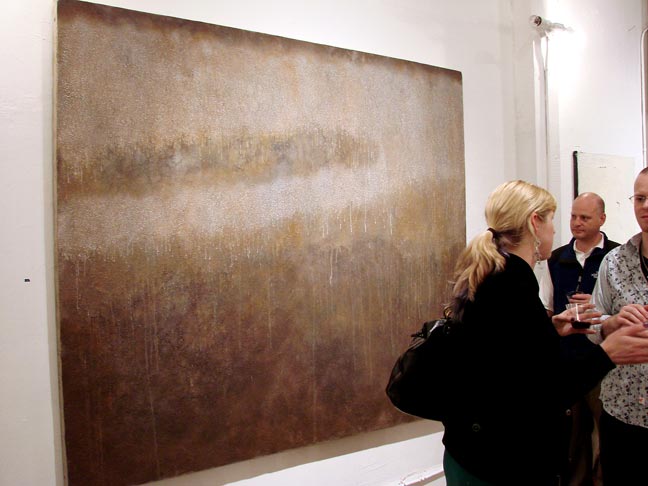 Art.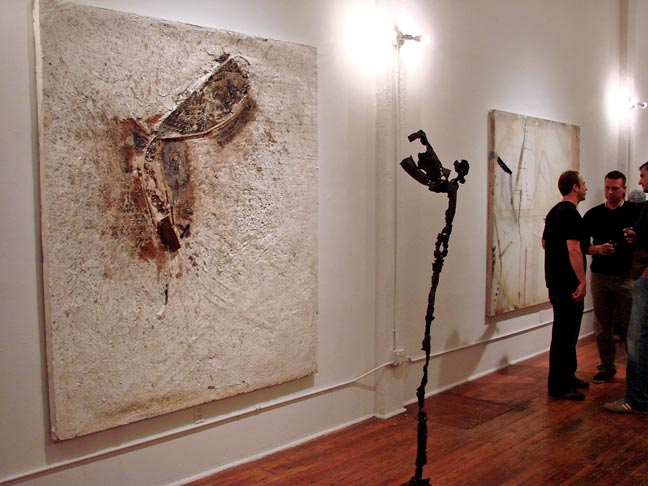 Art.


Art.


***
Stussy: The Imaginary Foundation - Paintings & Sculpture.
Comment: Nick Phillip (aka The Imaganary Foundation) shows cosmic urban digital prints, sculptures, and original canvases. According to The Imaginary Foundation manifesto, the "organization" maintains a "belief in human potential and seeks progress in all directions," and you sure can't argue with the righteousness of that. Anyway, Stussy is mainly a clothing store, but according to Stussy owner, David Rush, the purpose of hosting events like this is to provide the clientelle with more than just fashion, in this case introducing them to the realm of fine art, and you sure can't argue with the righteousness of that.
Art.


Art.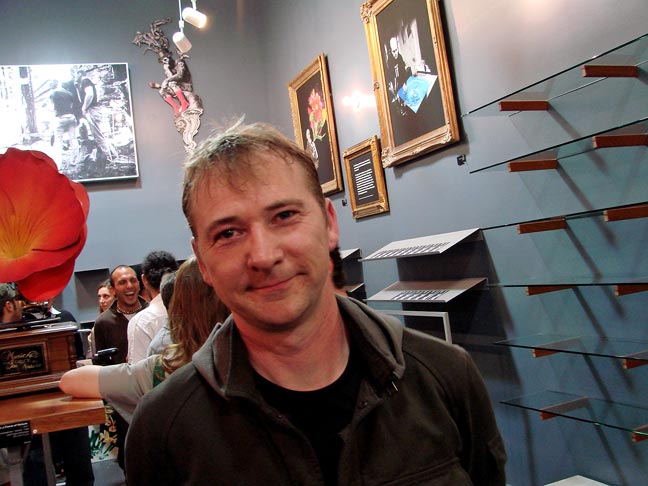 Nick Phillip (aka The Imaganary Foundation).


David Rush, Stussy owner.


Art.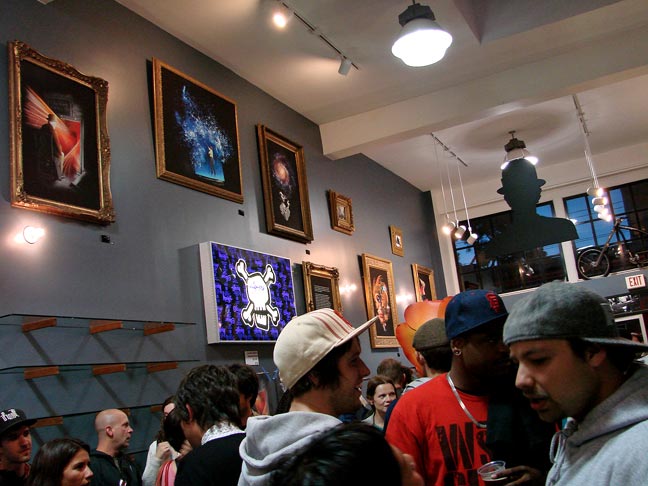 Art.


***
Addendum:
One night only William Noguera c/o Institute for Unpopular Culture in the lobby afterhours at YBCA.


***