SAN FRANCISCO ART GALLERIES - OPENINGS
DE YOUNG MUSEUM - PHOTOSF 2006
DA ARTS - CRUCIBLE STEEL GALLERY
07.20.06
***
de Young Museum: Chicano.
Comment: Combination cultural extravaganza includes "Chicano Visions - American Painters on the Verge as Collected by Cheech Marin," "Chicano Now - American Expressions" (interactive installations by comedians, writers, video documentarians, filmmakers, painters, graphic designers, performance artists, musicians, and scholars of Mexican descent), and "Chicano Encounters - Local Places and Global Communities" (exhibition of prints and posters with more of a historical and contextual focus).
The exhibitions and opening are sponsored by Target and Hewlett-Packard-- thank you! The art world (as well as the rest of the world) can never have too much corporate support. And while we're thankin' people, how 'bout that Cheech Marin? I doubt anyone's done more for contemporary Chicano art than he has. Thank you too! No photos allowed in the show, by the way, so you'll have to see it yourself.
Sneak preview.


The crowd pours in.


The party's in a tent out back, down this hall. C'mon, let's go.


Ready for the onslaught.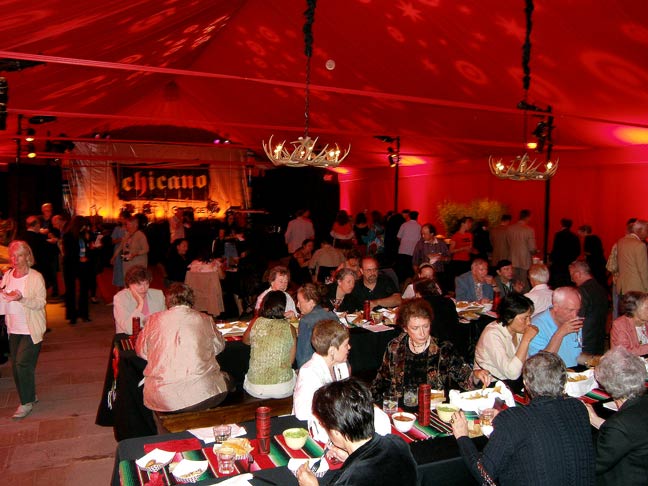 Food and stage (bands later).


Tunes.


***
photoSF 2006: photo San Francisco 2006 Opening Night Reception.
Comment: Seventh annual installment of photoSF includes over sixty exhibitors, most national, several international, displaying the best in vintage and contemporary photography from around the world. The scope and quantity of images on display is almost overwhelming, and certainly daunting to the novice, but if you know what you're looking for, you'll likely find it here. The event also includes seminars and lectures by John Bennette, Sandra Phillips, Laura Letinsky, Steve McCurry, Ken Light, Michael Childers, John Stoddart, and Hank O'Neal. Opening night proceeds go to benefit SF MOMA and Foto Forum. Any dealers who want their photos captioned with links to their websites, please email.
On the local front, Steven Wolf Gallery introduces the Hamburger Eyes phalanx to a broader audience. Wolf tells me the group will be showing at his gallery in September.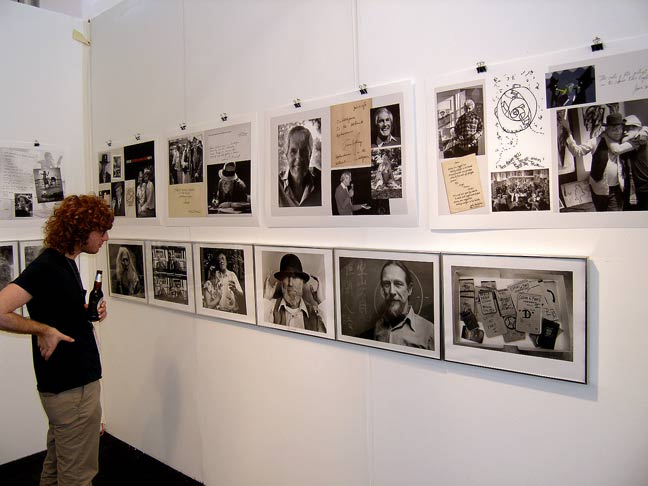 Beat Era photography.


Gerald Forster photo at Jenkins Johnson Gallery.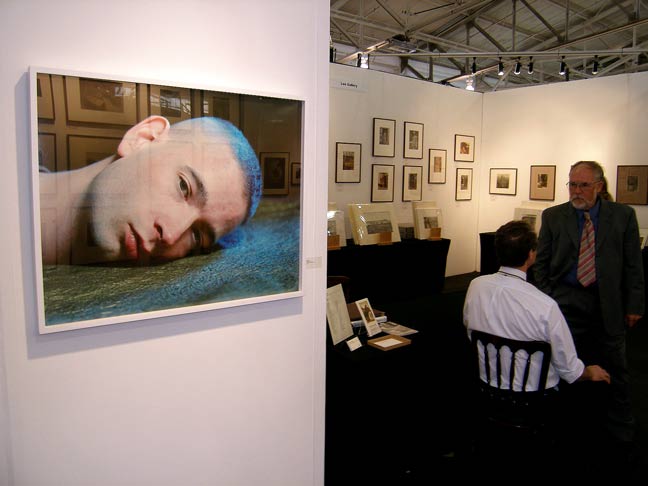 Photography.


Images.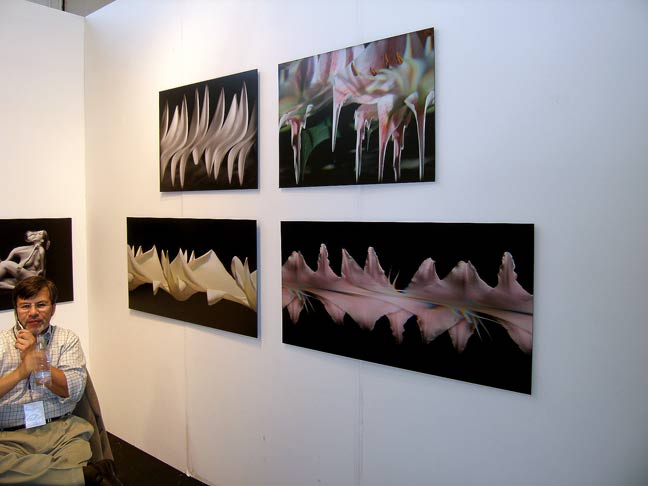 Photographs (kinda like 'em).


Photography.


27 salt print portraits $25K at Gary Edwards Gallery.


Steven Wolf of Steven Wolf Fine Arts - Hamburger Eyes photos.


Galerie Hafenrichter & Flugel of Nuremberg, Germany.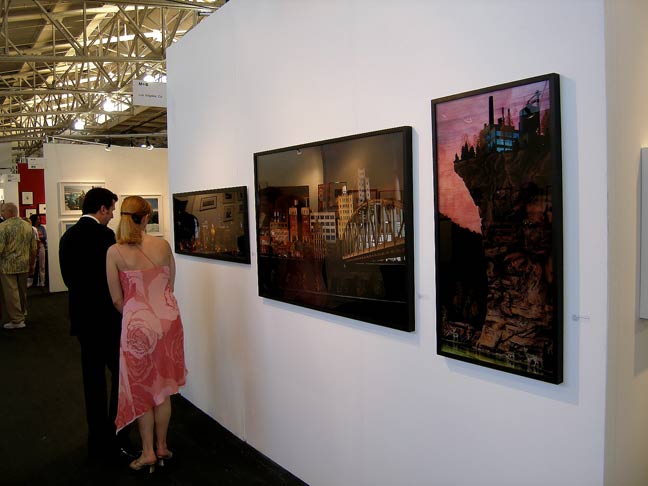 Photography.


Images.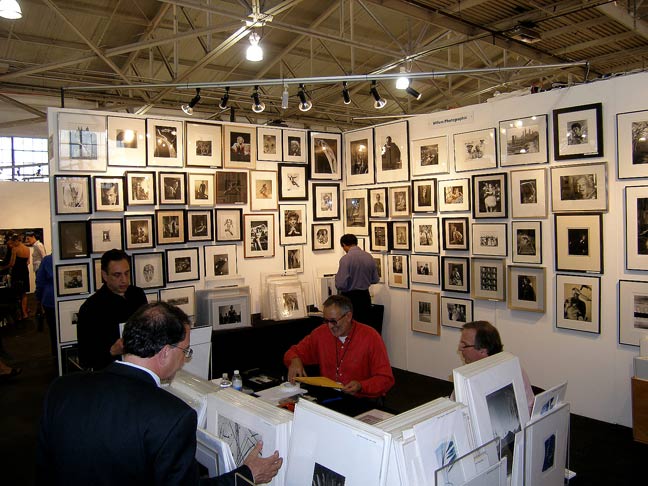 Loads of photos.


Photographs.


***
Addendum:
Todd Berman art in the windows at DA Arts.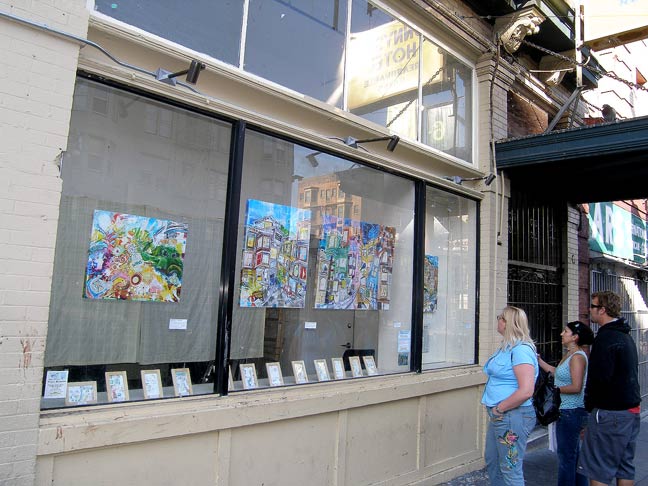 DA Arts -- 135 Sixth St. -- art meets social activism.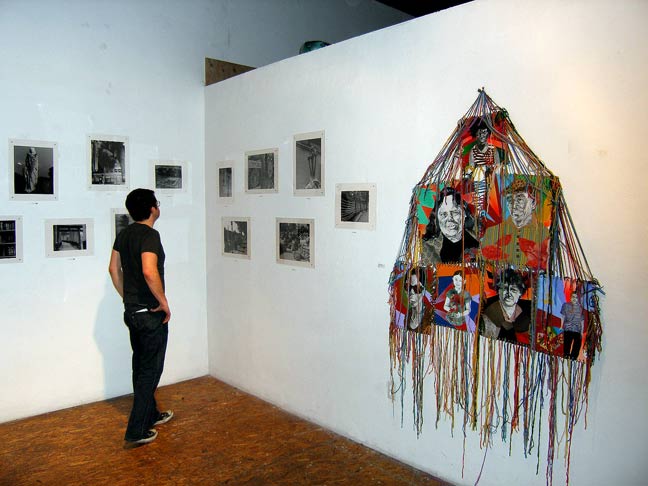 Group show at Crucible Steel Gallery.


One more from Crucible Steel Gallery at CELLspace.
Couldn't find an announcement, so no specs.


***