SAN FRANCISCO ART GALLERIES - OPENINGS
ROSS MIRKARIMI - MICAELA - LIMN
GALLERY 16 - MISSION 17 - MISSION CULTURAL CENTER
STUDIO GALLERY - GARAGE BIENNALE - ONE TASTE
TOAD'S - BILLY SHIRE GALLERY (LA)
07.20-21.07
(with assistance from Jessica Whiteside)
Supervisor Ross Mirkarimi in association with Visual Aid: Anders Barth - Present Dangers.
Comment: Anders Barth shows three groups of encaustic paintings, one focusing on natural and manmade disasters, another about cruelty to animals, and a third recounting her visits to various doctors and therapists. Good work priced right at $300-$525.
Art.


Art.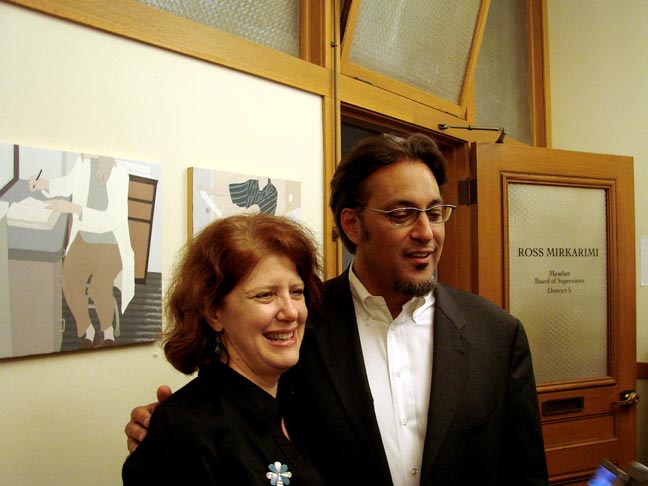 Julie Blankenship, Visual Aid Exec. Director - Supe Ross Mirkarimi.


Art.


Art.


***
Micaela Gallery: Cold + Hot 2007.
Artists: Ned Cantrell, Martin Janecky, Mitch LaPlante, Lee Miltier, Ivan Lee Mora, Heather Palmer, David Ruth, Lucas Salton, Rob Tribble, Kim Webster.
Comment: Group show of glass art by practitioners from California, Australia, Canada, the Czech Republic, Denmark, and the UK, many of whom apparently work in the Portland, OR vicinity according to what I think I overheard. Why? More attention to the discipline and better facilities up there than down here. Not many glass shows of this caliber come to SF, so you silicaphiles would be advised to peruse.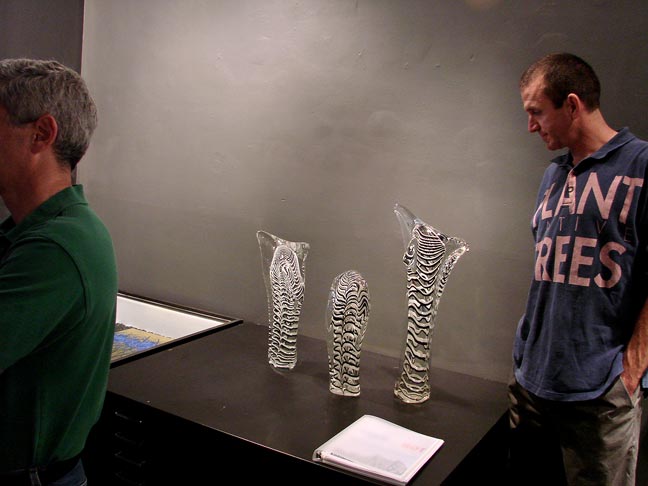 Glass art.


Glass art.


Glass art.


Glass art.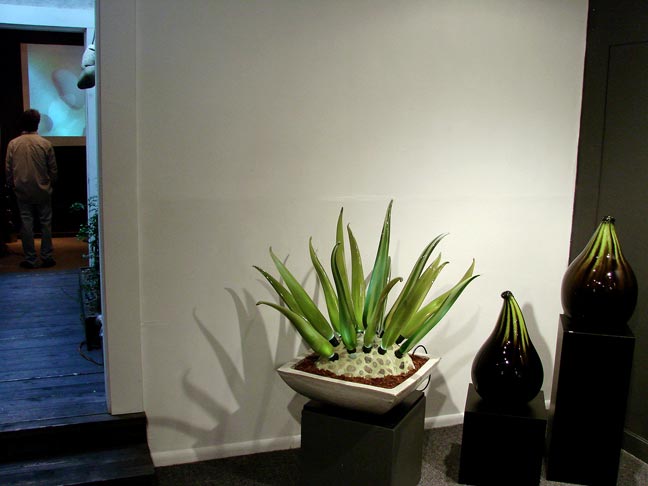 Glass art.


Glass art.


***
Limn Gallery: Dean De Cocker - Sources of Victory; Urban Shelter - Group Exhibition.
Artists: Anthony Discenza, Caleb Duarte, Emily Hall, Rob Allen, Doug Kerr, Eric Medine, Huong Ngo, Michelle Wasson, John Watson.
Comment: Dean De Cocker sculptures are inspired by everyday objects like aircraft propellers, mailboxes, and the like. Two-dimensional component parts are combined into three-dimensional sculptures, some flourished with vivid colors, some for display on walls, others freestanding. They look good from a distance, but on the zoom in, impact is somewhat compromised, particularly with respect to the smaller pieces, by uneven cuts, untidy joints, and asperous edges. In the other half of the gallery, a select group of artists essays on the concept of shelter, it's relation to the environment, and the implications and interractive effects each has on the other.
Sculpture (Dean De Cocker).


Sculpture (Dean De Cocker).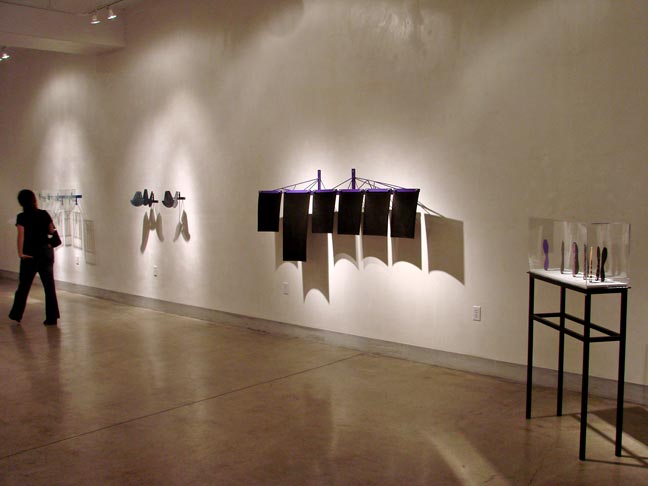 Sculpture (Dean De Cocker).


Art.


Art.


Pile of art.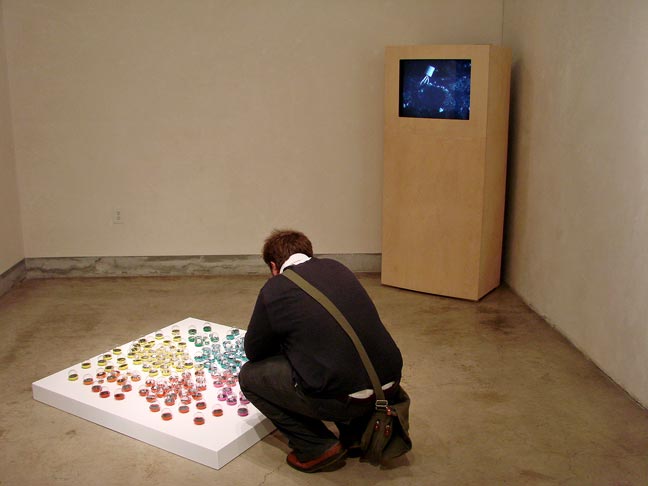 Art.


***
Gallery 16: Jeff Kao - Be Just Because I Said So.
Comment: Cogent multimedia endeavor by Jeff Kao includes painting, construction, video, and more, the upshot of which interweaves childhood memories, images of war, camouflage patterns, and the ramifications thereof, both intellectual and emotional. You can either enjoy the work as "art," or go deeper and reflect on it as a psychological treatise. I like options.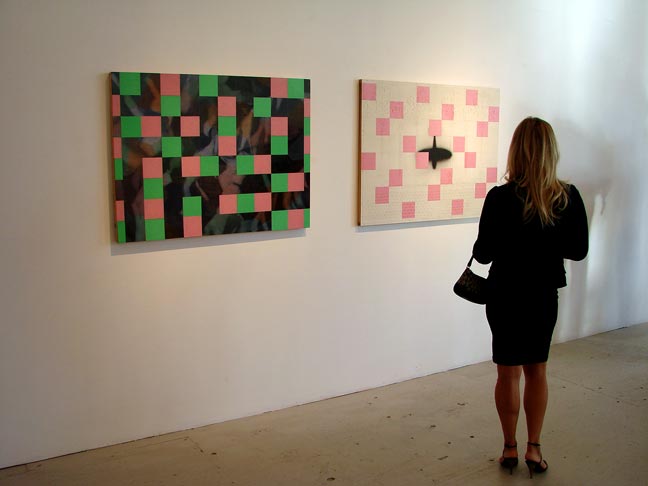 Art.


Art.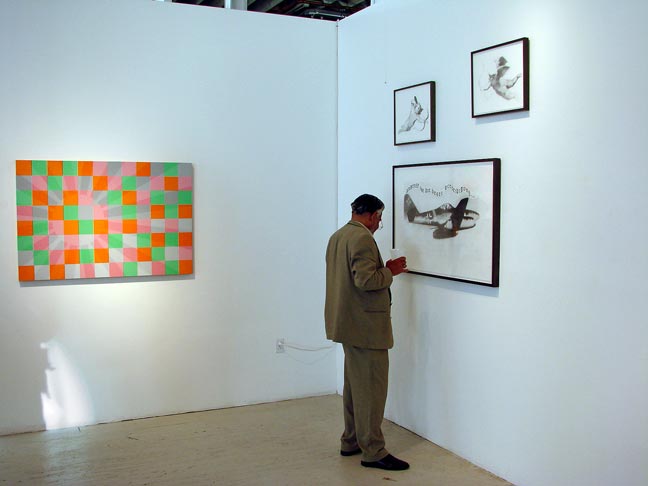 Art.


Art.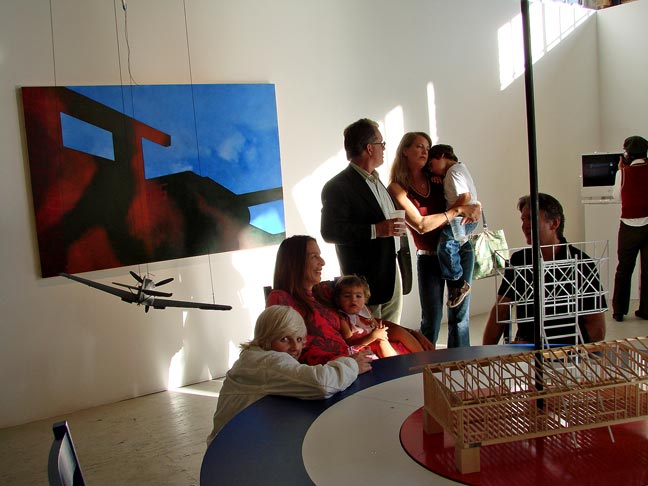 Art.


Tunes.


***
Mission 17 Gallery: Evolution of Atrophy.
Artists: Taylor Tschider, Bernie Sale, Trisha Gum, Lauren Schuppe, KC Skinner, Juliette Oken.
Comment: Curious group show themed on the ways we evolve as we age, in fact, fantasy, and conjecture. This appears to be one of those "anything goes" extravaganzas where you basically make whatever you want, concoct a context, and unilaterally declare it relevant to the topic, whether it is or not.
Art


Art.


Art.


Socket people art.


Art.


Art.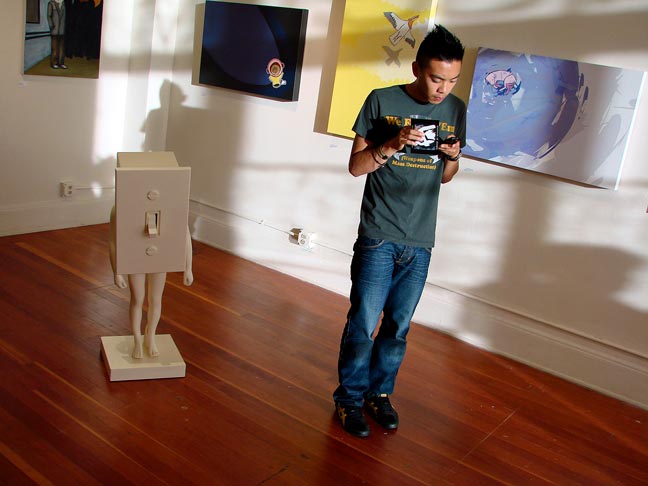 Art.


***
Mission Cultural Center for Latino Arts: Corazon en Fiesta - MCCLA 30th Anniversary.
Artists: Efren Alvarez, Melissa Adkisson, Adrian Arias, Luis Arias Vera, Diane Abt, Zenia A Pasquier, Lani Asher, Jose Bermudez, Miranda Bergman, Alexandra Blum, Todd Brown, Bijan, Ivan E Bran, Hernan Cruz Battiato, Francisco X. Camplis, R.E. Carsch, Eugenio Castro, Antony Castro, Vera Costa, Edward Enriquez, Waldo Estevez, Katia Fuentes, Juan Fuentes, Daniel Galvez, Art Hazelwood, Ester Hernandez, Ramon Hernandez, Catherine Herrera, Antonio Huerta, Josefina Jacquin, Ethel Jimenez, Betty Kano, Luz-Maria Lopez, Carolina Lucero, Scarlett Manning, Monica Martinez, Susan Matthews, Gail Morrow, Maria Mejia, Linette Morales, Joaquin A Newman, Irene Needoba, Gabriela Nuñez, Sarah Nieto, Maria V Pinedo, Sandra Ortiz-Taylor, Pepe Ozan, Viviana Paredes, Irene Perez, Silvia Poloto, Gloria Pardo, Mario Rosales, Calixto Robles, Patricia Rodriguez, Alejandra Rassvetaieff, Michele Ramirez, Michael Rios, Ruby Rudnick, Spain Rodriguez, Barbara Roczniack, Nina Reyes Rosenburg, Anna M Simson, Pico Sanchez, Carolina Stankiewich, Fatima Tocornal, Fran Valesco, Cristina Velasquez, Maria C Villegas, Luis Vasquez-Gomez, Renee Yañez, Eileen M. Zevallos, more.
Comment: Tonight is the opening preview for the Mission Cultural Center's first ever fundraiser art sale, an exceptionally impressive one at that, and part of their 30th Anniversary celebration. Proceeds go towards educational programming as well as cultural and artistic events at the center. Art may be purchased in advance at retail plus 30%, but everything gets auctioned on August 25th-- plus you'll find jazz, wine, chocolate, and more. Be there, party down, buy art, support the cause. (I bet there'll be some bargains.)
Art.


Art.


Art.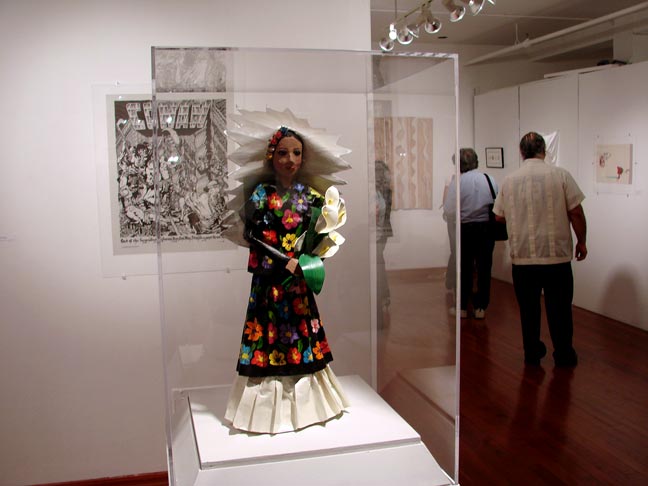 Art.


Art.


Art.


Art.


Art.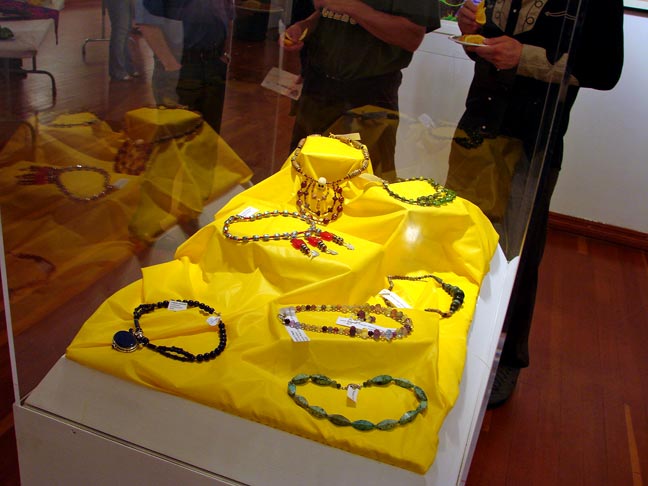 Art.


Art.


Art.


Out front.


***
The Studio Gallery: Mischief.
Artists: Brian Behnke, Lark Pien, Dave Higgins, Brett Amory, Chiami Sekine, Christine Benjamin, Michael Loomis, Josh Coffy, Rab Terry, Debbie Huey, Niana Liu, GEM, Canon Tissue, Ben Collison, Josh Ellingson, Jeremy Mann, Debbie Huey, MariNaomi, Zannah Noe, Christine Susilo, Toby Tover-Krein, Michael-Che Swisher, Richard Herring, David Garvey, Chur Park, David DeFelice, Samantha Zaza, David Garvey, William Mayfield, Kasia Krasnopolska, Matt DeLight, Ayu Tomikawa, Michael-Che Swisher, Gene Guynn, Michael Dutton, Mina Reimer, Michael-Che Swisher, Richard Benbrook, Mei Mei Everson, 3D-Edddy, Art Moura, Jason Coe, Candy Miller, Susan Gould, Maggie Yee, Haelee, Rebecca Bennett, Jessica Cadkin, Marc Ellen Hamel, Tanya Wilkinson, Fabiola Guiteau, Susan Gould, Linda Pedersen, Joanna Mendicino, Haelee, Bang.
Review by Jessica Whiteside: The opening at Studio Gallery is certainly mischievous as the title of the show "Mischief" indicates. Over 40 artists participate in the show, and a mischievous bunch they are. This gallery is great at supporting the work of local talent and providing the public with affordable art. Everything in the show is under $400 and all the work is small enough to fit in tiny San Francisco apartments.
This gallery is right in the trendy part of Polk Street, and the couple that own it, Jen and Rab are the sweetest people in the world. This show is a collection of whimsical, sometimes mischievous and ridiculously cute and lovable characters. Next time you wander down on Polk Street be sure to stop by. STUDIO Gallery was founded in 2003 to showcase the work of Bay Area artists. The gallery features fine art, crafts, jewelry, and home furnishings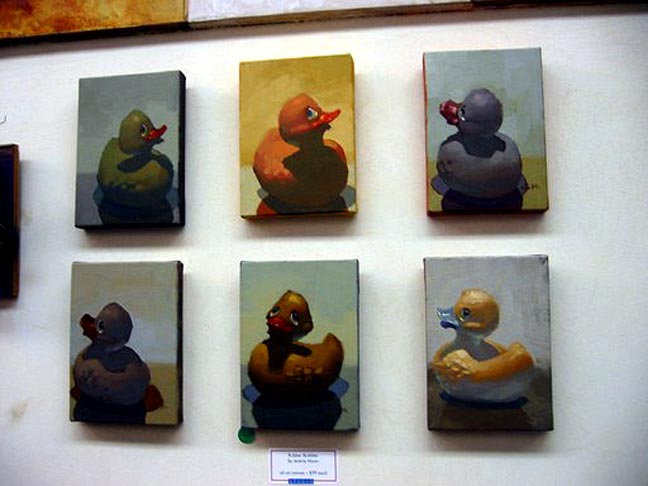 Art.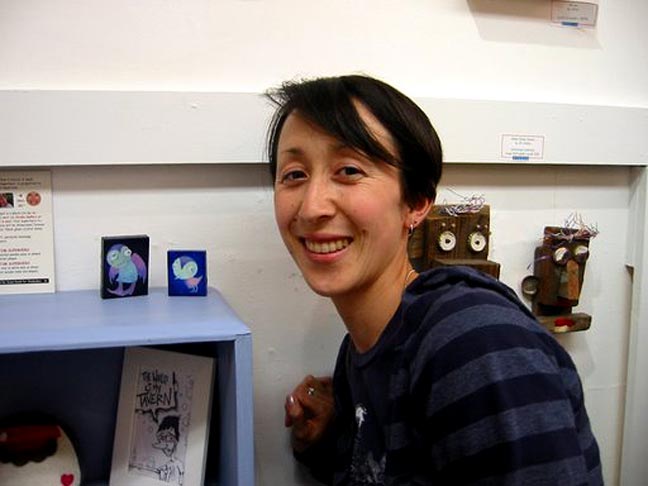 Mei Mei Everson - art.


Art.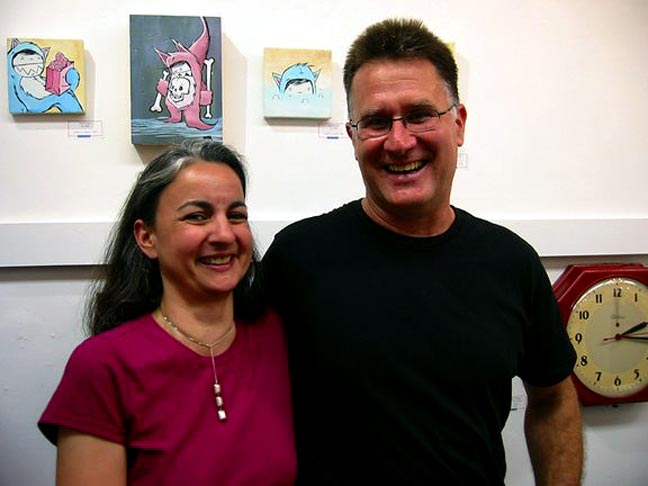 Jen and Rab, owners.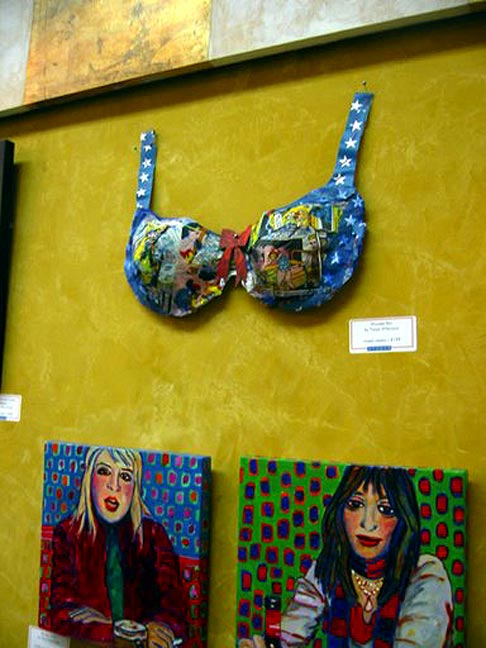 Bra art.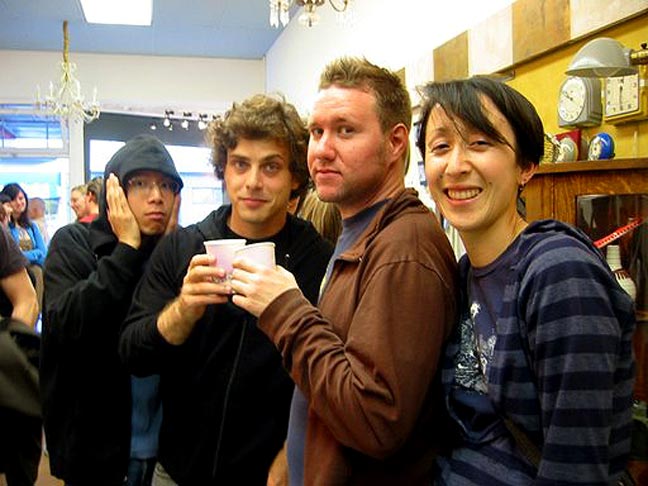 More artists.


***
The Garage Biennale: I Walked Through Seven Sad Forests.
Artists: Brian Wasson, Casey Logan, Theresa Ganz.
Review by Jessica Whiteside: Atop the hill in Pacific Heights you'll find an unsuspecting gallery, host to "The Garage Biennale," which is, in fact, the garage of one of the beautiful mansions. A most unlikely place for art shows, but nonetheless very interesting.
The current show, "I Walked Through Seven Sad Forests," curated by Peter Foucault and Melissa Levin, comments on the bleak outlook of our planet's environmental circumstance, how it affects humanity, and how we view nature. The sparse installation pieces around the space give you the feeling of a crumbling world, its wonders getting smaller and eventually disappearing altogether. The pieces in the show are very conceptual, and some so small and seemingly fragile, you are afraid to knock them over, or that a gust of wind might blow them away.
Art.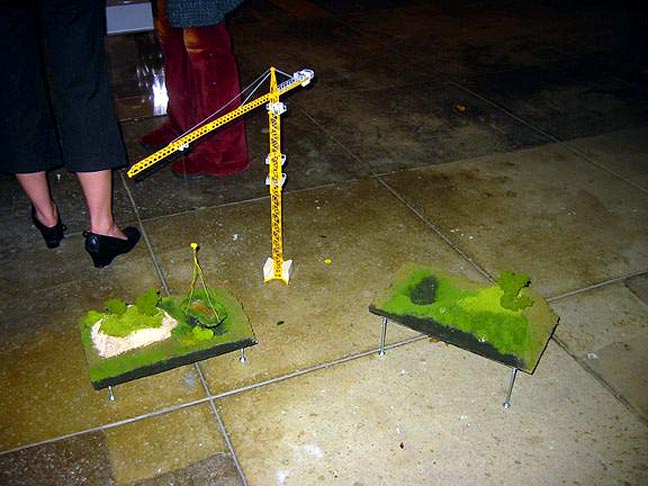 Art.


Art.


Art.


Art.


***
Special bonus: A Los Angeles amble from Jessica Whiteside:
Billy Shire Fine Arts: Gary Basemen - Hide and Seek in the Forest of ChouChou.
Review by Jessica Whiteside: Gary Baseman's new show, "Hide and Seek in the Forest of ChouChou," encompasses paintings that epitomize Gary's ongoing message of pervasive art making. Gary's ChouChou, of course a representation of himself, is the lovable main character who takes in all the world's negative feelings, and turns them into squishy gooey love, which comes out of his belly button as creamy goo. In some of his works little ChouChou gets beaten to a bloody pulp by his female characters. ChouChou continues to spew out his gooey love all over everyone. People may point out the sexual undertones in some of his work, which are sometimes not so subtle, but ultimately, it's all so perfectly clever and sweet.
Baseman creates a huge number of large scale paintings which have his signature array of bright, harmonious colors, and a cast of new adorable, and sometimes shocking characters. The combination of perversion and sweetness included in his paintings is what makes Gary's work so loveable. He remains consistent, at every level of style, to the characters he invents to tell his story.
Gary's work gets a lot of attention, positive and negative. He seems to draw out the best and worst in people, so much that they feel compelled to blog about it. Love him or hate him, my favorite part about Gary's work, other than his lovable characters, is his ability to provoke people with his medium, and his message. Gary's work is all about delving into the deepest, darkest, most perverted and most lovable places within the human psyche, and revealing them in his compositions. "Drawing" from his own personal life, and innermost desires Baseman is immensely successful at provoking one's thoughts.
Art.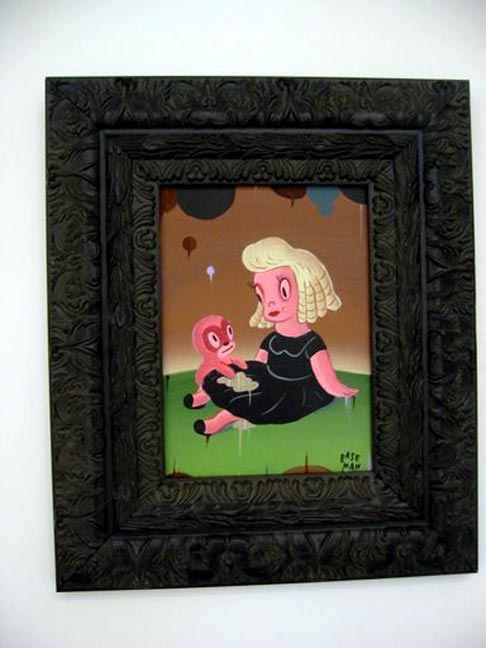 Art.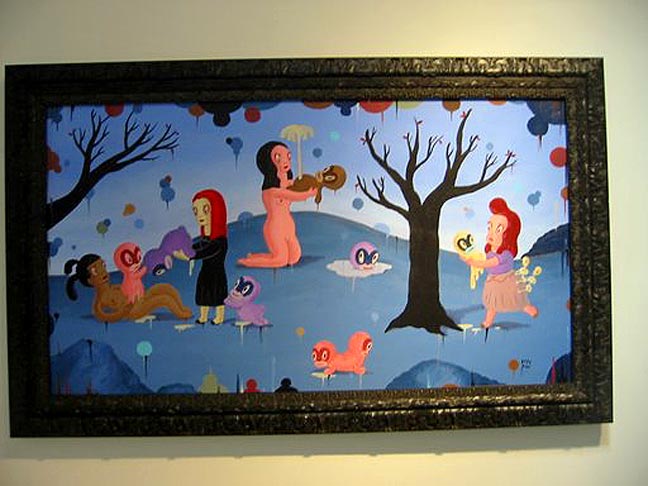 ChouChou art.


Detail.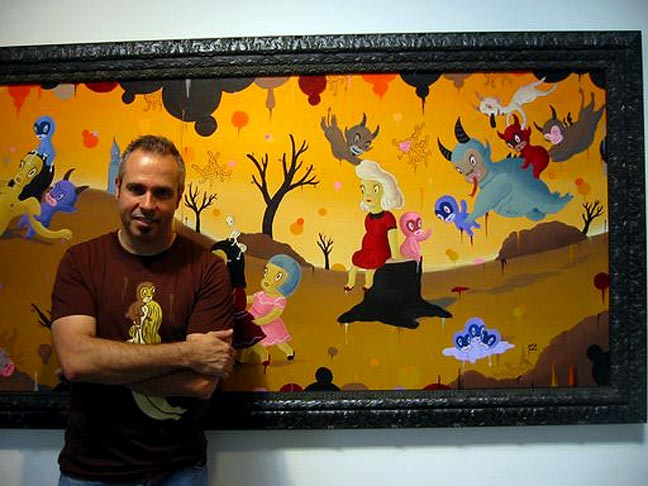 Gary Baseman - art.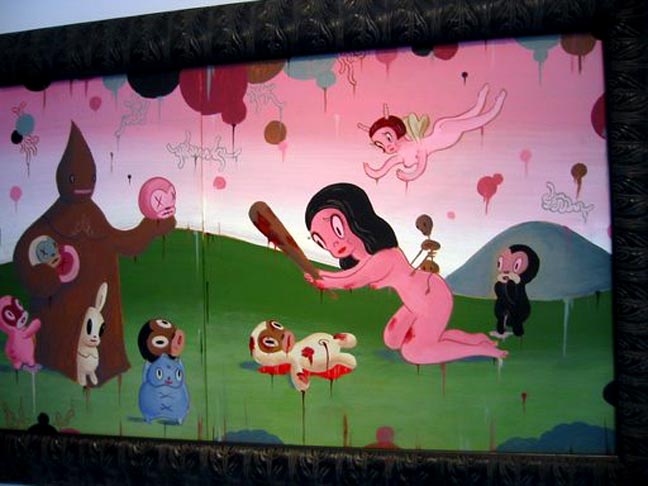 Bad day for ChouChou.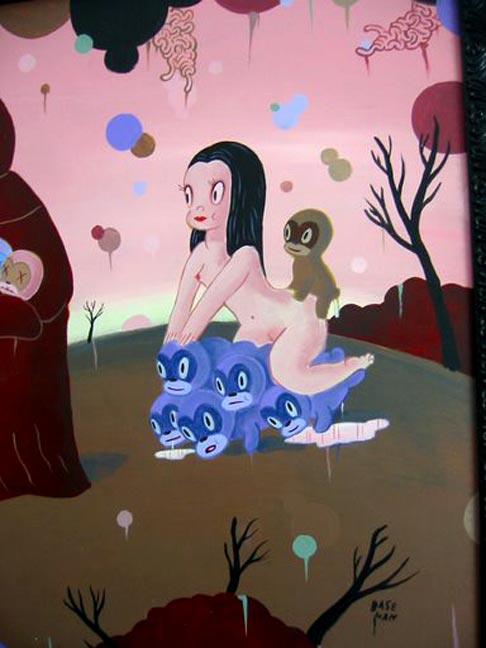 Detail.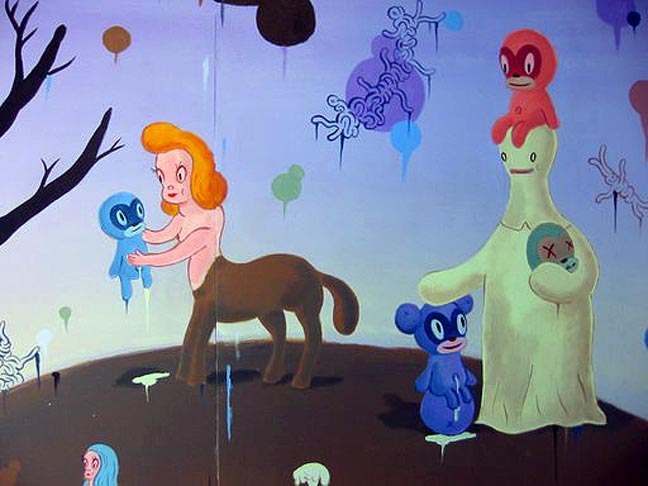 Detail.


***
Addendum:
Jan Small at One Taste c/o ARTworkSF.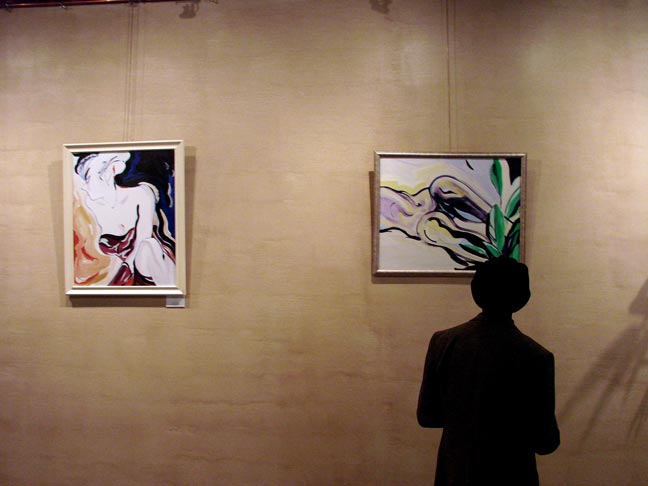 More figurals from Jan Small at One Taste.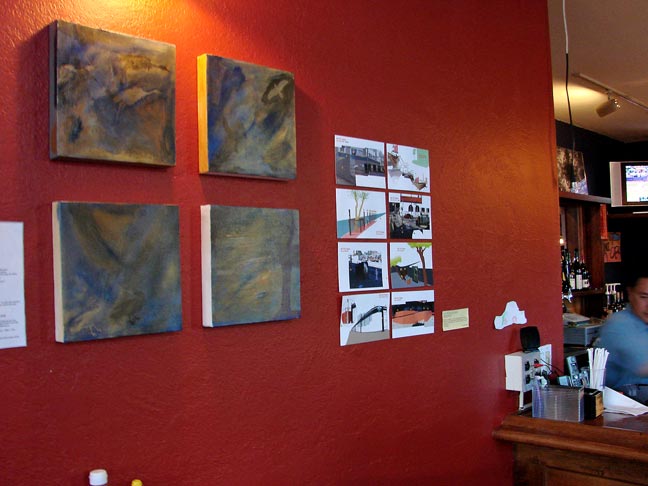 Group show at Toad's c/o The Art Don't Stop.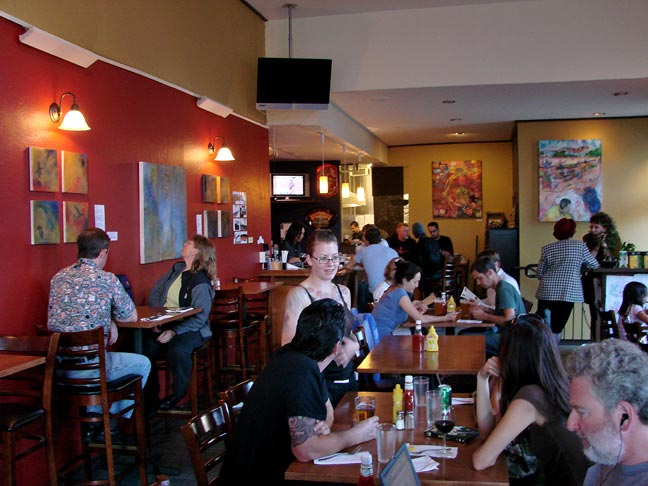 Toad's eatery drinkery artery.


Toad's, 1499 Valencia St, San Francisco, CA 94110; 415.648.8623.


***