SAN FRANCISCO GALLERY OPENINGS
MISSION 17 - THE LAB - ADOBE BOOKS
ART AT THE DUMP - GHOST HOUSE
MIGHTY - 66 BALMY GALLERY
NATIONAL PRODUCT
07.22.05
The Lab: Bayennale 2005.
Artists: Kimberlee Koym, Lucrecia Troncoso, Stephen Walter, Deborah Wargon, Monika Weiss, Heidi Geldhauser, Holly Geldhauser.
Comment: Opening night party for the first-ever Bayennale-- conceived by Lowell Darling and sponsored by the Port of Oakland-- an international project inviting visual and performance artists from around the world to show their stuff here in the Bay Area. My two favorites-- a living breathing back-to-back faux stone soft sculpture, and a transcendently obsessive high-detail oversized pencil drawing of a hypothetical metropolitan area by London artist Stephen Walter.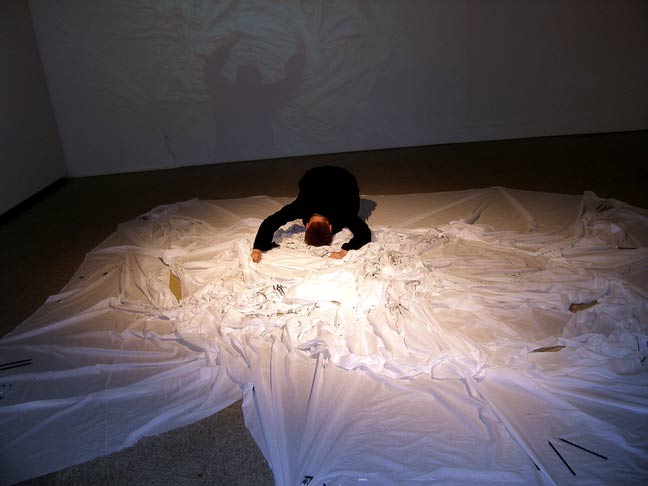 Performance art.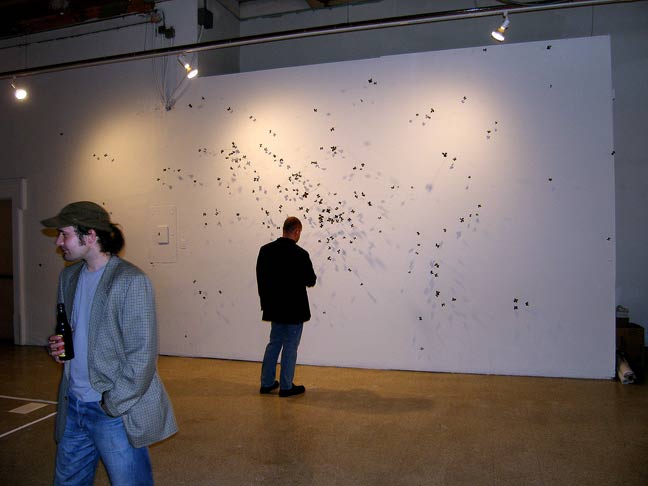 Art.


Art (Stephen Walter).


Art (Stephen Walter).


Art (Stephen Walter).


Art (Stephen Walter).


Art (Stephen Walter).


Faux stone sculpture art.


***
Mission 17 Gallery: Comfort.
Artists: Monica Canilao, Jay Nelson, Ahndraya Parlato, Gabrielle Wolodarski.
Comment: An installation focusing on matters of comfort, home, where we sleep, where we spend time, and how we perceive comfort and what we do to attain it. Nice idea, but I had a rough time trying to hack essence out of the tornadic presentation. Not enough time to do it right? Postpone it and have a Polka party instead.
Art.


Art (Nice composition on the photo).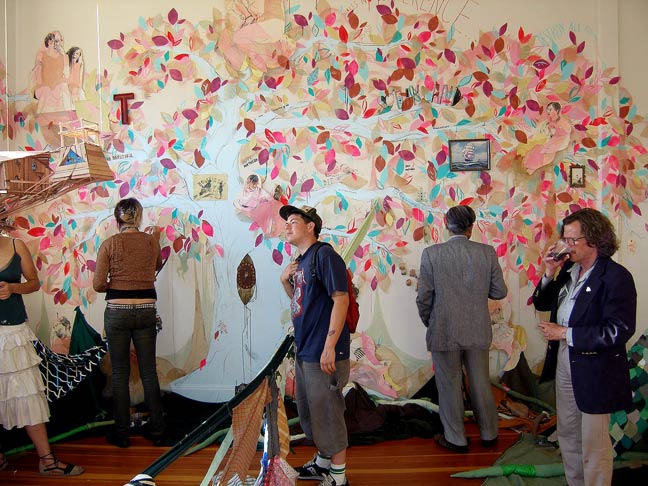 Jumble art (leech swills hooch, right).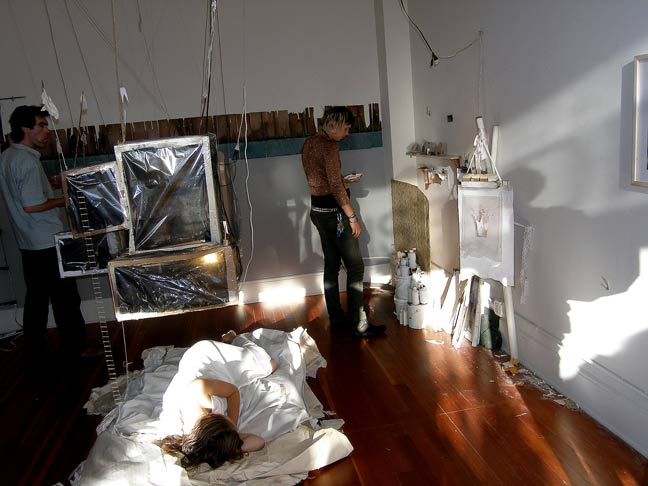 Jumble art.


***
66 Balmy Gallery: MariNaomi - The Broken Heart Series.
Comment: Nautical subject matters on found glass windows, painted fore, collaged aft. I ask MariNaomi about the unifying theme of the paintings, and she tells me; she also shows me where explanations are posted next to each painting, which they are, and they all make sense. But I forgot everything and can't recapture the moment through either the announcement, the 66 Balmy website, or MariNaomi's website-- because nothing says anything about the content of the show. So you'll just have to enjoy the pix and concoct your own explanations.
Art.


Art.


MariNaomi (center).


Art.


***
Adobe Books & The Backroom Gallery: Loving Where You're From - Brittany Powell.
Comment: Whilst engaged in intra-opening transit, who should I encounter, but the Bucheon girls walking their doggies. So we exchange pleasantries and decide to check out Adobe, since we're like RIGHT THERE. I missed the opening, but as the great Carl Sandburg supposedly once said, "It's never too late to do something." Anyway, Brittany Powell painstakingly cuts and adheres muy mucho green contact paper cut-outs to the walls of The Backroom Gallery, effectively communicating her love for and the significance of our neighbor to the north, Oregon. Contact paper on plexiglass Oregon souvenirs are available for purchase for $40.
"Woof woof, Bucheonettes. Wanna go arting at Adobe?"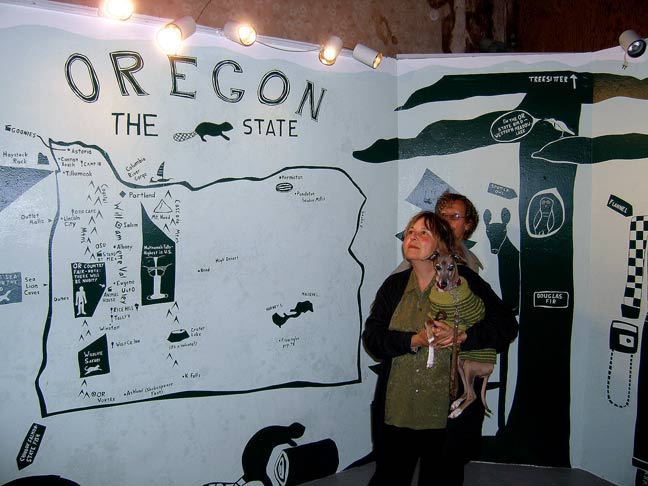 Everything we always wanted to know about Oregon.


More interesting Oregon facts.


***
Ghost House, 1947 Mission Street, San Francisco CA 94103; 415.255.3094: Ebbe Roe & The Grand Jubilee.
Comment: Fun show. Ebbe Roe documents his San Francisco to Portland, Oregon bicycle journey by painting a map of the coastline in between the two cities along the gallery floor, and then displaying photos of his adventures along the gallery walls directly above their corresponding geographical locations on the floor map. I ask Roe about his meta-peddle and he tells me he got pretty tired toward the end. Makes sense (and the photos appear to bear this out). Nice fellow, by the way.
Art.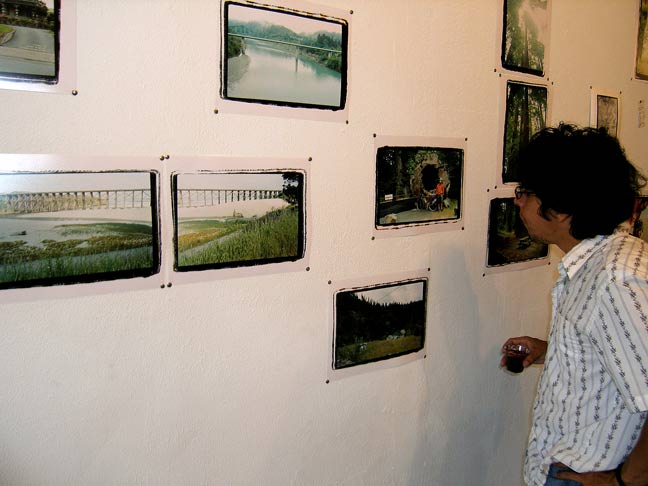 Photography.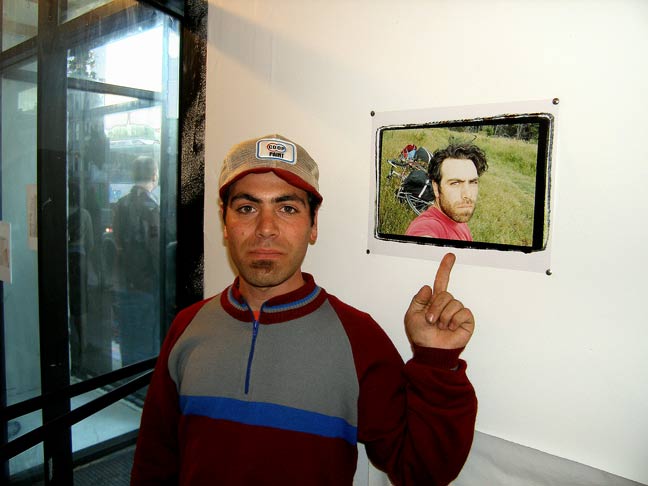 Ebbe Roe - Ebbe Roe.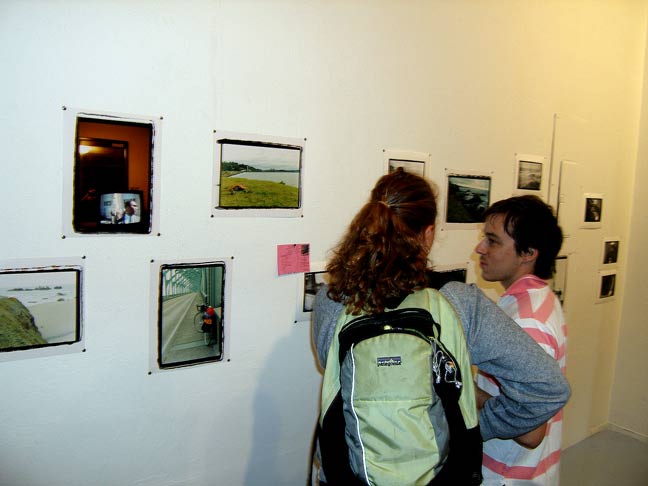 Photography.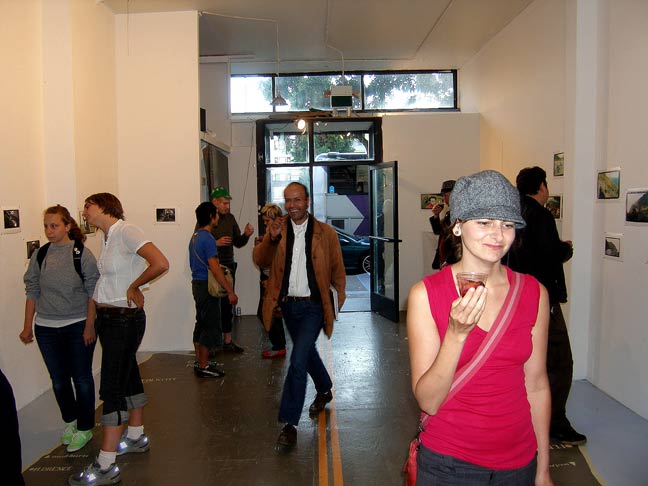 Playing field.


Vestibule.


***
Art at the Dump: American Detritus by Andrew Junge.
Comment: There's a whole show here, but the moment I lay eyes on a life-size total true replica of the King Daddy of American detritis, The Hummer (aka insta-cure for TPDD-- Tiny Peenie Deficit Disorder), carved entirely from the Queen Mommy of American detritis, styrofoam, the ballgame is officially over. This icon of unbridled unconscionable comsumption automatically gets pick of the night, and of many nights. Thank you, Andrew Junge, for reminding us all that America is indeed the intergalactic vortex of debt-riddled nose-thumbing flatulent flab-happy fat-assed cram-it consumerism. For a less objectionable alternative, I might suggest the time-tested maxim of minimalist architect Ludwig Mies van der Rohe, "Less is more." But I digress. No I don't.
Styrofoam Hummer art (pick).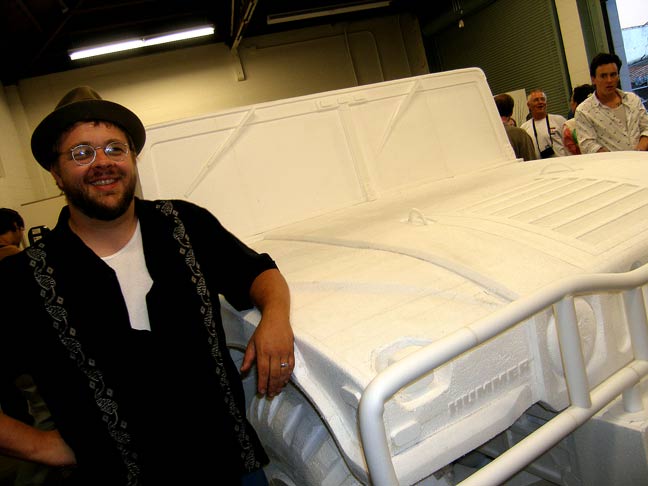 Andrew Junge.


One more time with patriotic backdrop.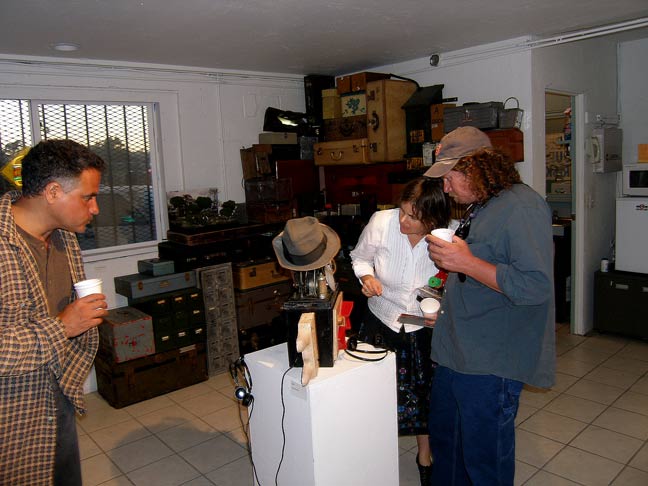 Art.


Patio.


***
Mighty: Sneaker Pimps.
Artists: Multitudinous.
Comment: SneakerPimps is billed as the worlds largest show of collectible, rare, limited edition, custom, artist-designed sneakers. I'm not gonna disupte it. Furthermore, this podiatric plethora is incontrovertible proof that high-end sneakers have ascended to the rarified realm of art. Live painting by Greg Pnut Galinsky (on his 21st birthday, no less) and Brian Barneclo.
Shoe art.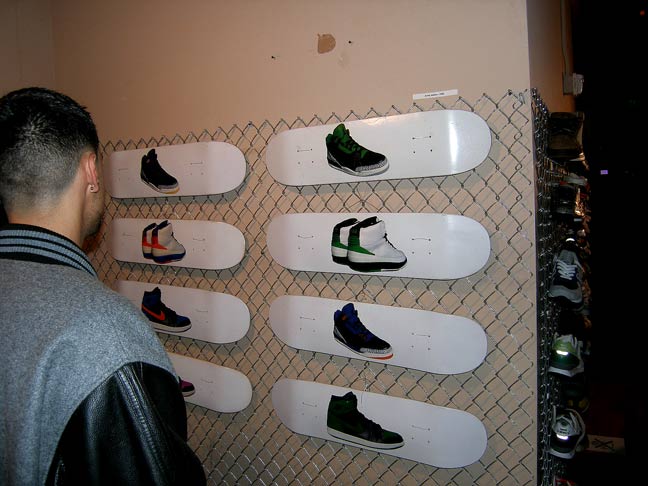 Shoe art.


Shoe art.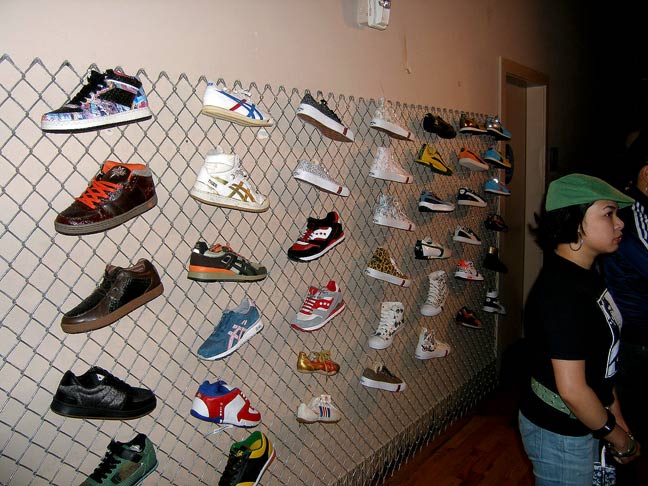 Shoe art.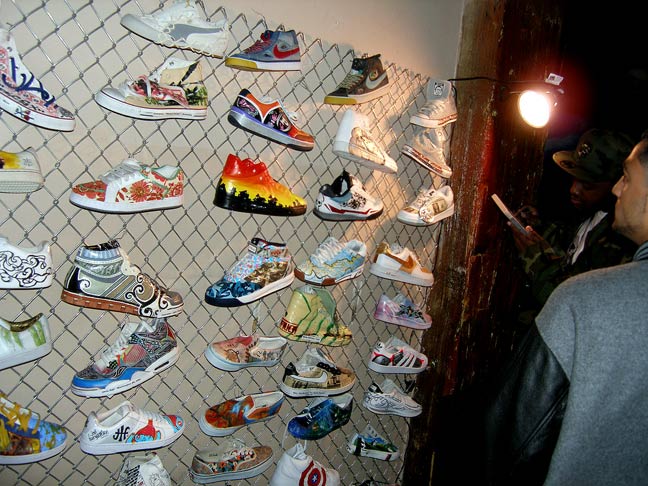 Shoe art.


Shoe music.


Live painting - Brian Barneclo and Greg Pnut Galinsky.


***
National Product: No Retreat - No Surrender, Lark Pien vs. Thien Pham.
Comment: Artists and comic creators Lark Pien and Thien Pham swarm the gallery walls with comics, paintings, and drawings, in an epic battle for truth, justice, and affordability. Who wins? We all do.
Art.


Art.


Art.


Art.


Art.


Store up front - gallery in back.