SAN FRANCISCO ART GALLERIES - OPENINGS
SUPERVISOR ROSS MIRKARIMI - ADOBE BOOKS - MISSION 17
ASPECT GALLERY - SEVENTH HEART - VARNISH FINE ART
SPACE GALLERY - PATRONS OF ART GALLERY
07.21-22.06
***
Supervisor Ross Mirkarimi: Code Enforcement Outreach.
Comment: Not technically an art show, but rather a documentary photo essay on building code violations in San Francisco, meant to call our attention to the role of the Code Enforcement Outreach Program (and celebrate their ten-year anniversary). The COEP ensures safe housing by enforcing the San Francisco Building Code.
Building code violation art.


Supervisor Ross Mirkarimi (center).


Draconian hotel rules art.


***
Mission 17 Gallery: Wouldn't It Be Nice.
Artists: Marin Camille, Michael Cox, Ilana Crispi, Nicki Ishmael, Josh Luke, Joey Enos, Katie Kawaoka, Nathan Levine.
Comment: Art and installations about summer, the title of the show referencing the song by those icons of warm weather and sultry days, The Beach Boys. I plucked this lingual plum from the show's fact sheet-- "The pieces beg the question, how do we reconcile the dual mandates of carpe diem and il dolce far niente?" The answer? Simple-- by siezing the opportunity to do nothing.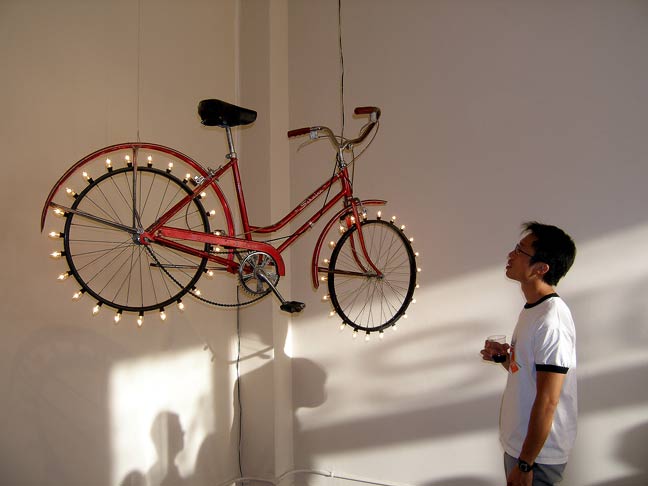 Velocipedic chandelier art (kinda like it).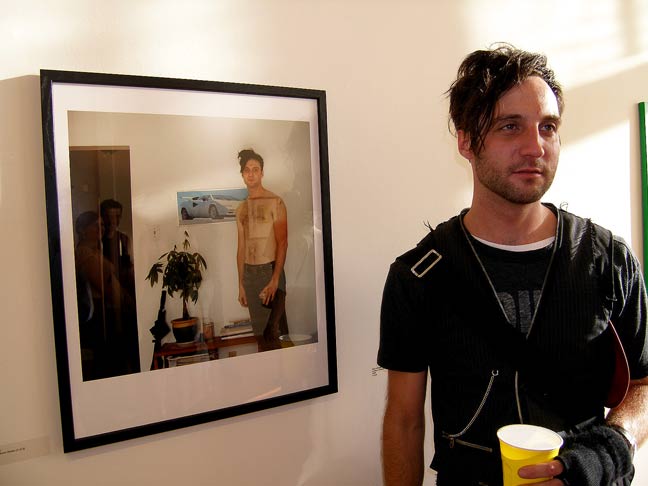 Photograph - subject of photograph.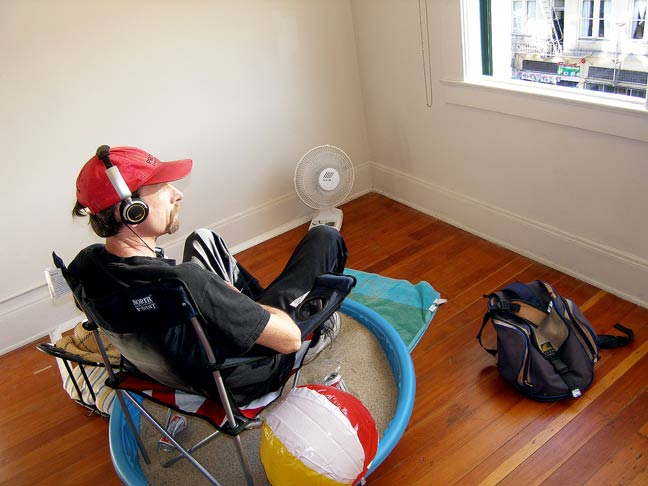 Faux oceanside art.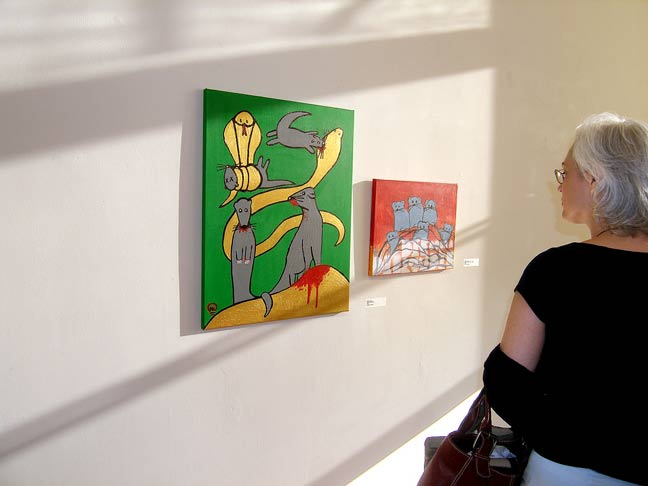 Art.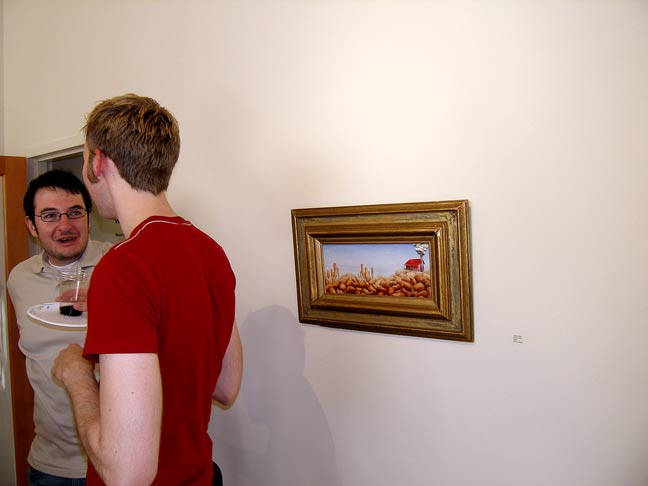 Art.


Scenario.


***
Adobe Books & backroom gallery: Nite Idyll.
Artists: Joe Frank Byrnes, Alice Gould, Matthew Rogers, Meryl Theo Press, Christine Ponelle, Jeff Pringle.
Comment: Joe Frank Byrnes arts up the backroom gallery with a curious sculptural installation including a small wall of clay bricks, drawings, and classical soapstone sculptures harking back to Greek and Roman days (when I was just a kid). Along the main store walls, above the books, are works on paper by Alice Gould, Matthew Rogers, Christine Ponelle, and Meryl Theo Press. The front window features a sword forged by Jeff Pringle. Pringle tells me he dulled the blade down in order to minimize any potential for slicing.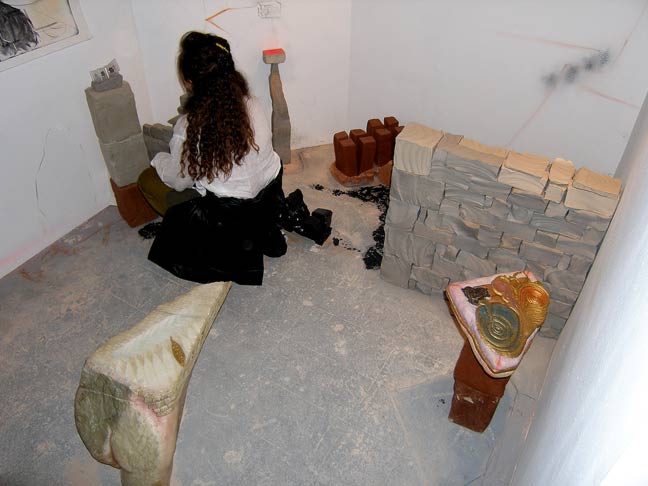 Art (Joe Frank Byrnes).


Jeff Pringle - sharp art.


Art (Joe Frank Byrnes).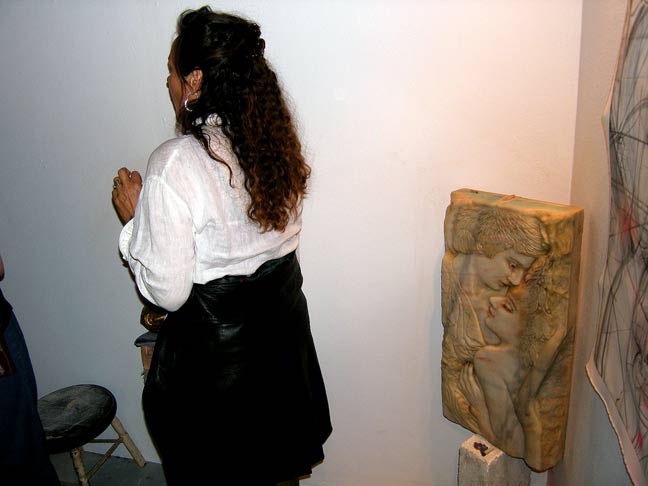 Soapstone sculpture (Joe Frank Byrnes - like it).


Bookstore - art.


Vestibule.


***
Aspect Gallery: Surreal Bodies - John Wotipka Oil Paintings and Marie Soderlund Plaster Cast Torsos.
Comment: The surprise here is a series of very competent surrealesque paintings by John Wotipka. They're structurally formal and traditional in terms of composition, but Wotipka's subject matters are unique, unsettling, and personal enough, perhaps even a mite autobiographical, to advance the idiom and make for some pretty respectable viewing. Prices range $800-$1000 for the most part-- reasonable considering the quality and detail. Wotipka tells me he's got about 75 or so paintings in his currently available oeuvre. In the dimensional department, Marie Soderlund shows a series of human form plaster casts variously painted, furred, and/or flowered.
Topsy-turvy torso art (Marie Soderlund).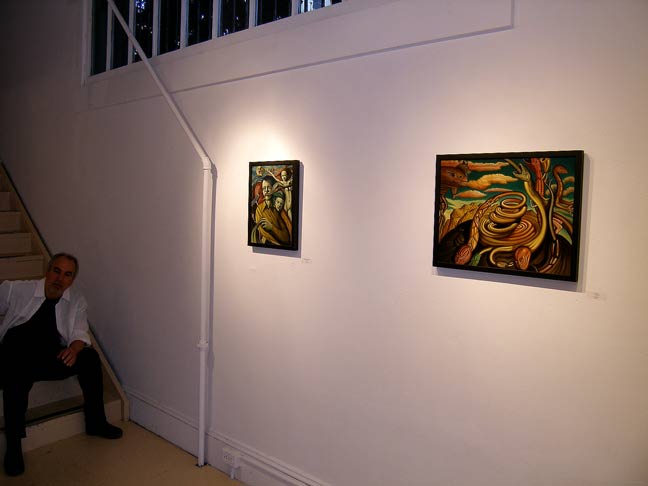 Art (John Wotipka).


John Wotipka - John Wotipka.


Art (Marie Soderlund, left - John Wotipka, right).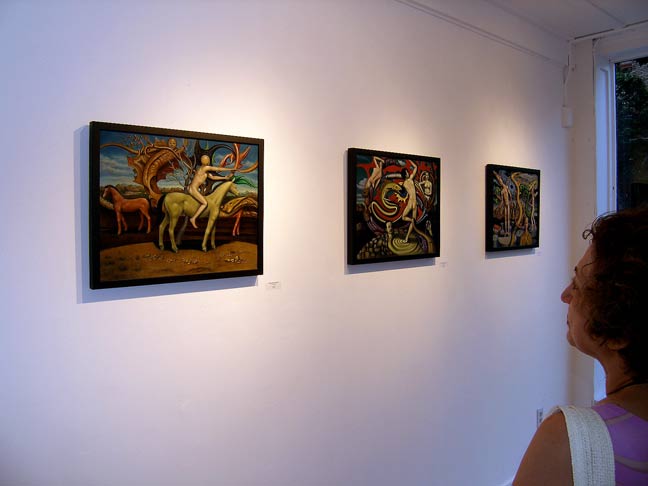 Art (John Wotipka).


Art (John Wotipka).


Art (John Wotipka, paintings - Marie Soderlund, rosy torso, background).


***
The Seventh Heart: Fools Gold - Candid Portraiture by Christelle Imperial de Castro.
Comment: Just like the show's title says-- spontaneous unposed portrait photography. de Castro's framed backlit images are kinda nice.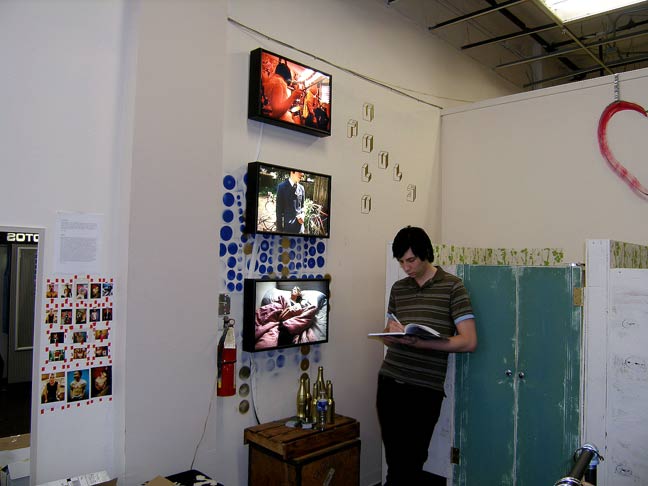 Backlit portraiture (kinda nice).


Christelle Imperial de Castro.


Photographs.


***
Varnish Fine Art: Bay Area Bronze.
Artists: Al Farrow, Albert Dicruttalo, Anthony Ricci, Archie Held, Benjamin Carpenter, Ben Harris, Courtney Brown, Dan Romo, Dann Gesink, Elizabeth Dante, Grant Irish, Karl Reichley, Ken Whitaker, Kerri Stephens, Michael Maes, Paul Graf, Peter Schifrin, Raymond Suarez, Rey Hernandez, Ron Garrigues, Stan Huncilman, Wayne Shaffer.
Comment: Another satisfying sculpture show for Varnish Fine Art including both established and emerging area sculptors who work in bronze. If you like sculpture, with or without an edge, but particularly with, there's no better gallery to see it at than Varnish. They're consummately knowledgeable about the local and regional sculpture scenes, and if they don't have what you're looking for at the gallery, they'll know where to get it.
Sculpture.


Sculpture.


Sculpture.


Sculpture.


***
Space Gallery: Deep Space.
Artists: Peter Collins, John Cowan, David Katz, Kathleen King, Kynthia, Elizabeth Starr, Whitney Vosburgh.
Comment: Mixed bag group show.
By the way, if you make art, but don't have anywhere to show it, Space Gallery is a functional rentable venue-- two floors, plenty of wall space, two bars, and good location.
Art.


Art.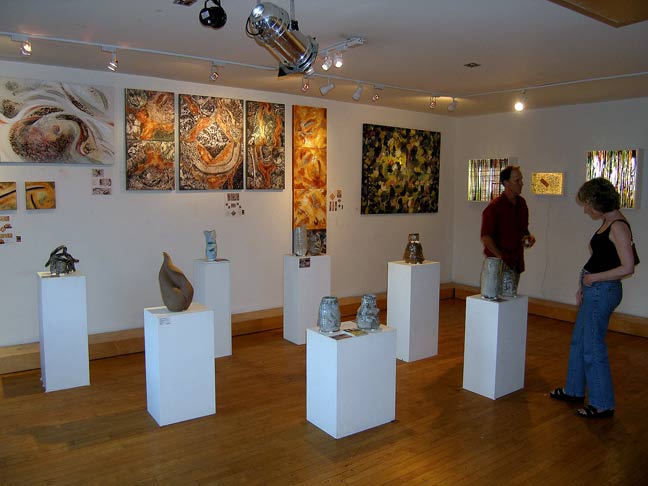 Art.


Art.


***
Addendum:
Art about Dante's Divine Comedy (and call for artists)
at Patrons of Art Gallery.


***