SAN FRANCISCO ART GALLERIES - OPENINGS
TINHORN PUBLIC WORKS - SARAH STOCKING VINTAGE POSTERS
MISSION ART ENGINE - A.MUSE GALLERY
RX GALLERY - MONTGOMERY GALLERY - MARA'S SALON
G SPOT STUDIO - BALAZO 18 ART GALLERY
07.27.06
Tinhorn Public Works: Facing West - A Portrait Show
Artists: Craig Poindexter, Erika Meriaux, Nicole Hayden, Julie Carcine, Gage Opdenbrouw, David Dawson, David Starfas, Samuelle Richardson, Rob Racine, JR McDonald, Stevan Shapona, Alison Blickle, Catherine Ryan, Stephanie Chastain, Jennifer Donahue, Victor Chapa, Gary Van Velsor, Meri Brin, Kevin B. Chen, John Gruenwald, Sharon Donahue, Terry Chastain, Jill Storthz, Lorena Pinon, Analisa Goodin, Yuji Hiratsuka, Peter Carpou, Maria Forde, Timothy Cummings, Rebecca Szeto, Mitch Gibron, Jonathan Solo.
Comment: All kinds of portraits by all kinds of artists. You gotta hunt & peck, but it's worth a perusal.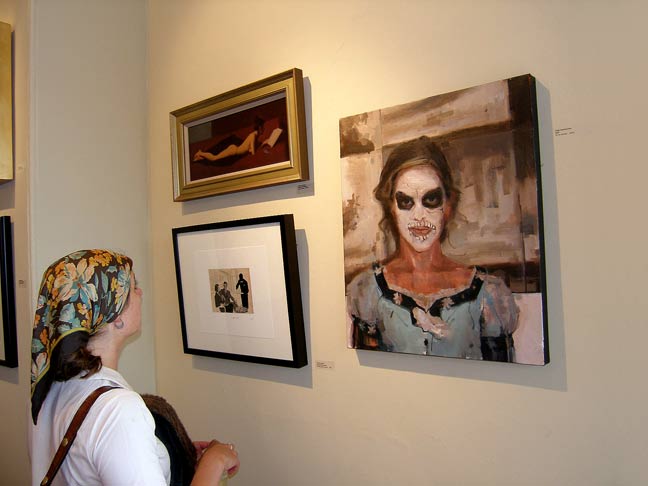 Art.


Victor Chapa - art.


Distended belly art.


***
Sarah Stocking Gallery: Contemporary Poster Art of Michel Quarez.
Comment: Veteran vintage poster dealer Sarah Stocking, always well ahead of the collecting curve, introduces the strikingly uncomplicated work of French poster artist Michel Quarez (fresh off his show at the Stedelijk Museum, I might add). These original silkscreen posters date mainly from the 1990's and range in price from about $2500-$4500. They're big, bold, bright, and eminently satisfyingly effective. The challenge, Sarah Stocking tells me, is to find great poster art at reasonable prices, and she sure finds it here. I don't usually do Picks except on First Thursday, but I'm pickin' this-- an aesthetic blindside surprise. It's so totally "not me," but that's what makes the art game interesting-- you just never know.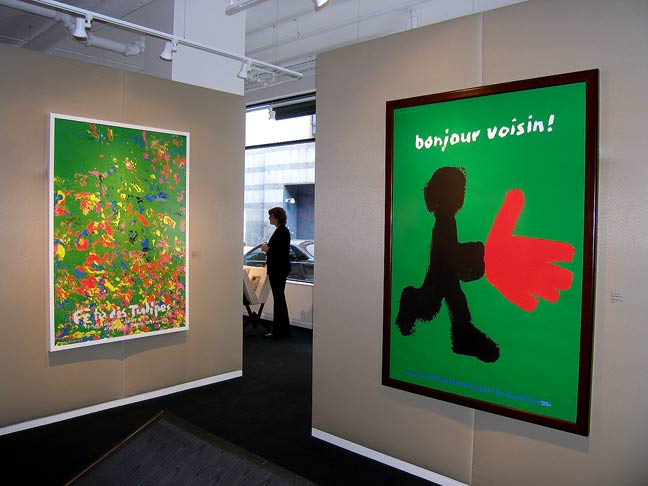 Poster art.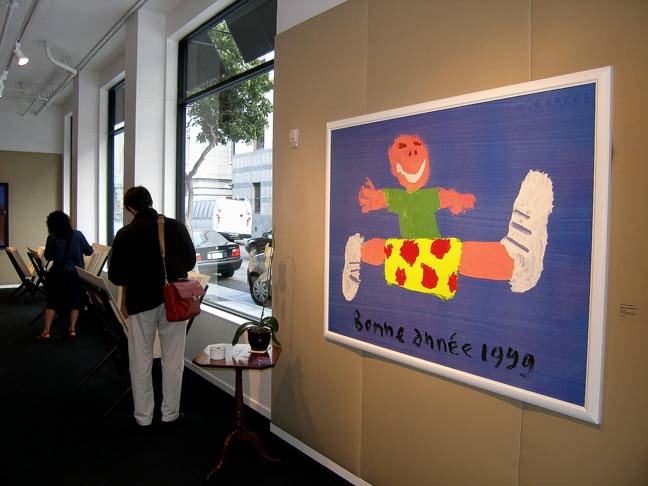 Poster art.


Sarah Stocking - poster art.


Vintage poster showing and discussion in the side room.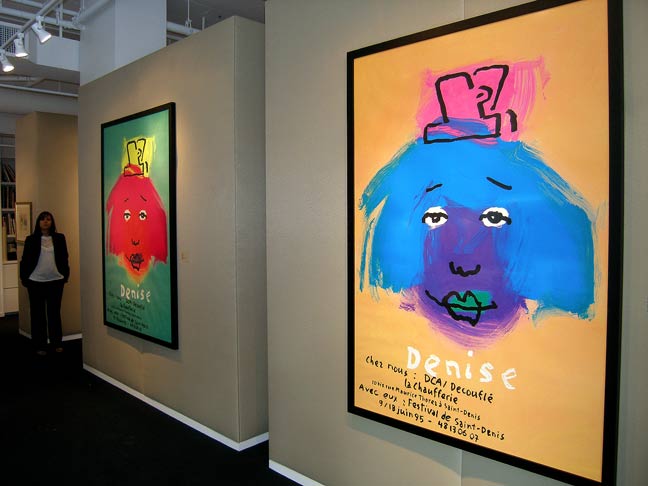 Poster art.


Poster art.


***
Mission ART ENGINE, 1045 Mission St., San Francisco, CA 94103: PACKAGE - Assemblages, Sculpture, and Photographs by Robert Larson, Curated by Yuri Psinakis.
Comment: Inveterate accumulator Robert Larson corrals countless mementos of throwaway society, particularly discarded matchbooks and cigarette packs, and then makes 'em into art. (According to the crib sheet, much of his current work is composed from litter acquired off of Western Avenue and Pico Boulevard in Los Angeles.) Larson's patterned assemblages, ranging from diminutive to expansive, make you think about the scads of crap we toss away daily. And so much of it comes from smokers-- they don't have a lotta respect for their bodies, so I suppose you could logically postulate that they don't have much respect for the environment either. Light it up, suck it down, throw it away; who cares where it lands? Robert Larson cares.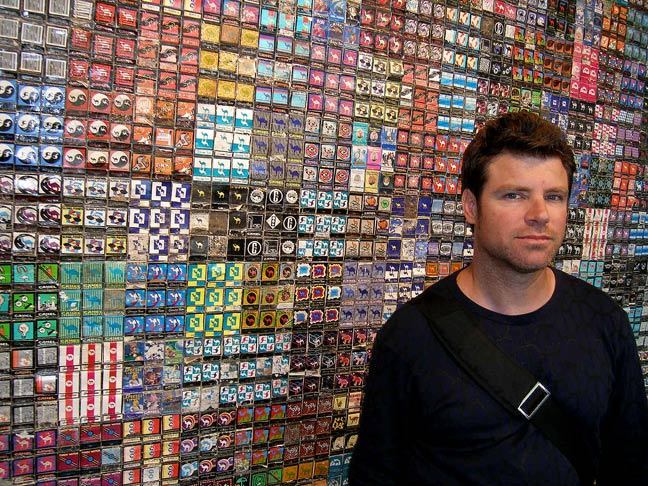 Robert Larson - art.


Art.


Art.


Robert Larson - Yuri Psinakis (curator) - art.


Art.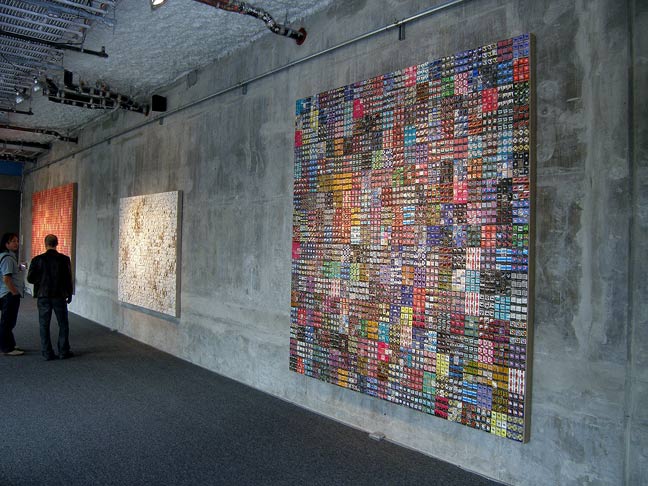 Art.


Art.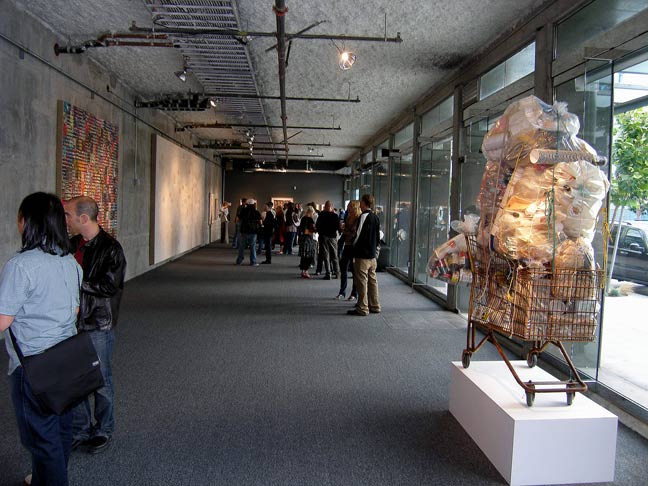 Layout.


***
a.Muse Gallery, 614 Alabama St, SF, CA 94110, 415. 279. 6281: Jeff Burwell - Paintings / Sculpture; Anthony Marschak - Furniture / Paintings.
Comment: Of note here, Anthony Marschak at age 23 already makes furniture like a pro-- bent laminated bamboo for the most part. He tells me he makes 'em all by hand (I'm thinkin' that's not always gonna be the case, so buy now before the rush). Plus there's paintings, sculpture, and a respectable turnout.
Here we are. Let's have a look.


Art (Jeff Burwell).


Anthony Marschak - furniture and painting; (sculpture, Jeff Burwell).


Art (Jeff Burwell, left - Anthony Marschak, right).


Furniture (Anthony Marschak).


Circumstances.


***
Mara's Salon: Catmilk and Cameltoe - New Art by MulletPony.
Artists: Kelli Brat, Carla Naden.
Comment: Kind of a performance happening wiggy wildstyle spectacle. I'm not quite sure how to categorize the art-- it runs the stream-of-consciousness gamut briefly touching on pretty much all aspects of everything, and all causes associated with those aspects, the whole shootin' match peppered by marked editorial flourishes referencing war, corporate advertising, right to choose, happiness, unhappiness, animal rights, goddess lifestylers, and so on. Wait-- I've got it! I'll christen this the Agenda Glam school of painting. To quote the MulletPonians, "Liberate, exfoliate, and celebrate." Yo!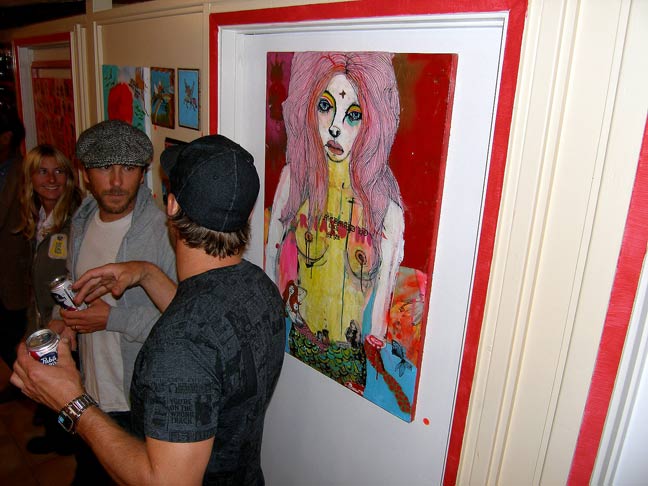 Art.


Art.


MulletPony manifesto.


Kelli Brat - Carla Naden (I think that's the correct order).


Art.


Art.


Art.


***
RX Gallery: Uplifting Vengeance - 2006 World Tour.
Artists: John Stuart Berger, Robert Bowen, Ashley Harris, Dan Herrera, Mike Rodriguez, Kim Scott, Skinner, Aaron Winters, Kevin Price.
Comment: Juxtapozian outpouring of creature-based expositories by artists from Sacramento. Good show, gobs of art, excellent value (most priced low to mid-hundreds $$).
Art.


Art.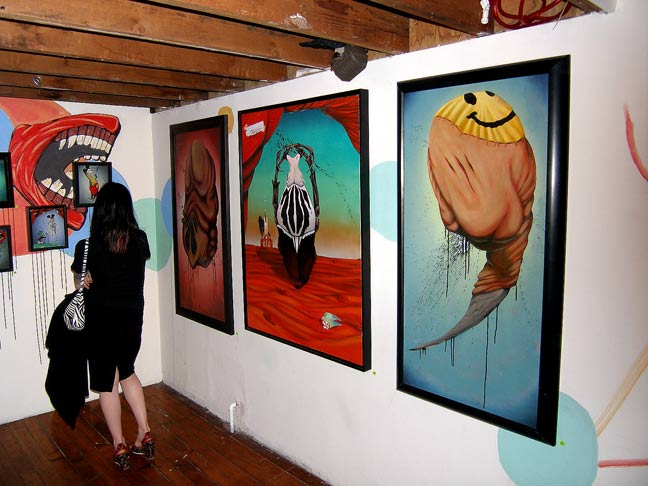 Art.


Arted up photo collage (kinda interesting).


Art.


Art.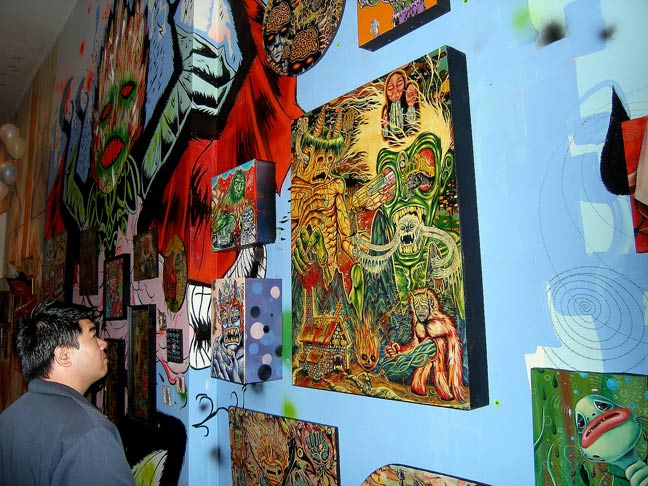 Art.


Overview.


***
Addendum:
Brittany and Normandy Impressionists at Montgomery Gallery.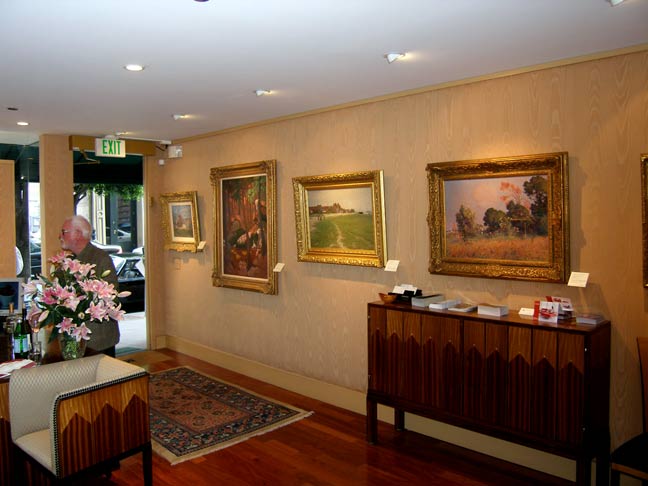 Impressionism at Montgomery Gallery.


Montgomery Gallery thoroughfare.


Dustin Rankin at G Spot Studio, 731 Florida St.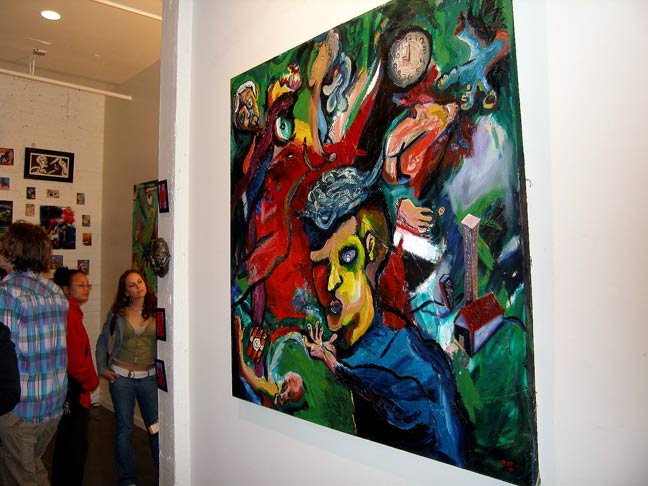 One more from G Spot Studio (731 Florida is artist-owned).


Homage a Doggie Diner. Woof!


Erotic art at Balazo 18 Art Gallery.


One more from Balazo 18 Art Gallery.


***