SAN FRANCISCO ART GALLERIES - OPENINGS
CENTER FOR THE BOOK - LIVE WORMS - GARAGE BIENNALE
GIANT ROBOT - ART WORK REBELS - CALIFORNIA MODERN
07.28-29.06
San Francisco Center for the Book: X Libris - Ten Years of Bringing the Art of the Book to Life.
Comment: The SF Center for the Book celebrates its ten-year anniversary. If you make artist books or are considering making an artist book, this is the place to either do it right or learn how to do it right. Co-founder Kathleen Burch tells me the only way she could get any decent media coverage when she first opened the joint up was to allow herself to be photographed sans serape. Playing the nostalgia card, I proffer the possibility of a re-enactment. No dice.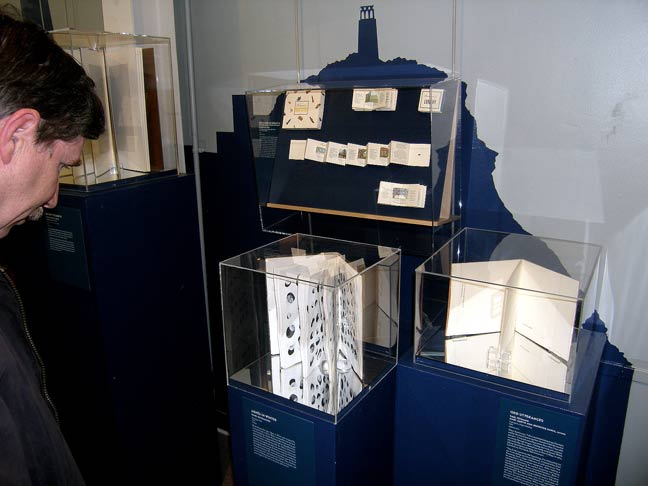 Book arts.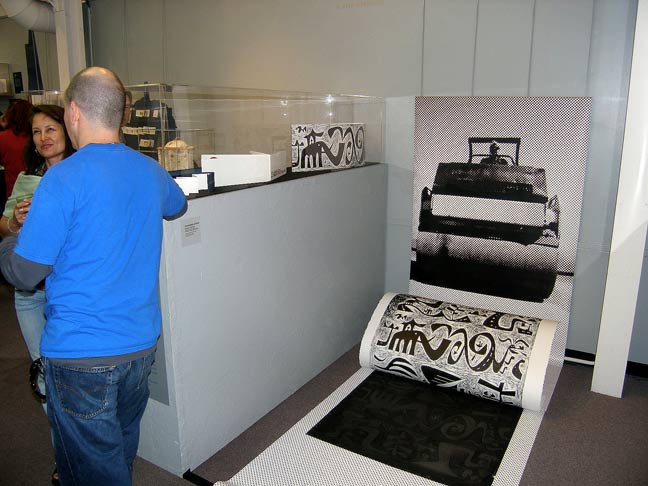 Printmaking arts.


Allen Ginsberg Howl-abilia.


Printer's arts.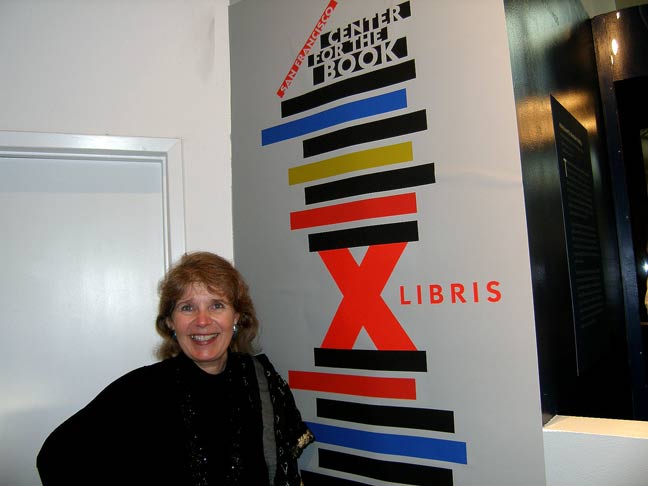 Kathleen Burch, avec serape.


Book arts.


Book arts.


Assessment.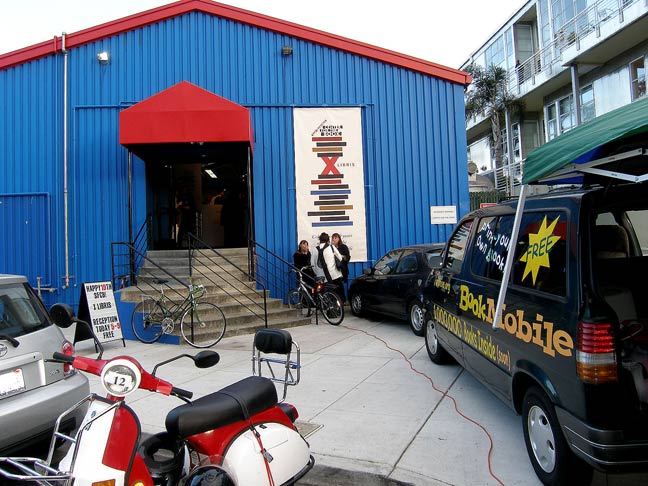 Out front.


***
California Modern Gallery: Fashion Karma Closing Show.
Artists/Photographers/Fashion & Jewelry Designers: Susan Berkowitz, Norma Cordova, David DeRosa, Michael Evans, Peter Z. Jones, Andrzej Michael Karwwacki, Paul Parkus, Barbara Rose, Paul Trapani, Billy Winters, Marina Glazer, Lara Grant, Adreana Kirckof, Hieros Menswear, Colleen Quen, Molly Rebushatis, Alexandria Von Bromssen, KCC Designs, Taste of Brazil, Susan Jane Designs, Lorna Moglia.
Comment: Benefit to support Camp Okizu (Okizu Foundation), offering camping and recreation opportunities to children with cancer, and their families and siblings.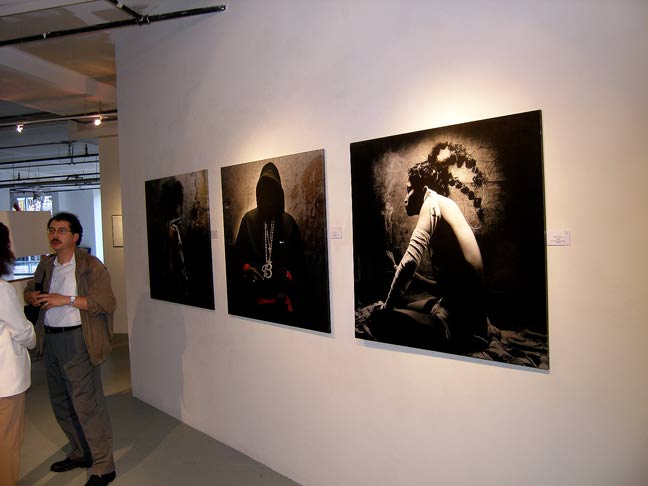 Photography.


Photos.


Images.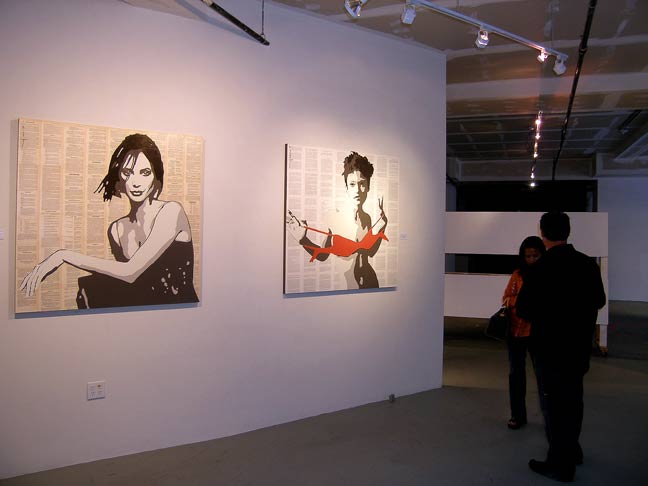 Art.


Photo.


***
Ronald F. Sauer and Rebecca Peters Present at Live Worms Gallery: The Eyes Have It - All-Photography Group Show.
Artists: Ramu Abi, Dominic Angerame, Marsha Bellavance, Edward Brooks, Jean Dierkes Carlisle, James Cha, Darya Chernova, Ryan Coffey, Francesco Conz & Lawrence Ferlinghetti, Eugenio de Arnal, John dowling, Agneta Falk, Alan Geller, David Gladstone, Phyllis M. Grosz, John L. Henry, Andreas Katz, Lucas Kiers, Samantha Kopf, Kush, George Long, Oleg Malov, Rosemary Manno, Fernando Maubecin, Alex Miloradovich, Michael Pedroni, Jimo Perini, Fanny Renoir, Ken Roe, Mary Ann Scanlan, Jessica Snow, Vince Storti, Jonathan Van Coops.
Comment: Classic North Beach overflow art party. All art for sale directly from the artists. For additional information call 415.309.6026.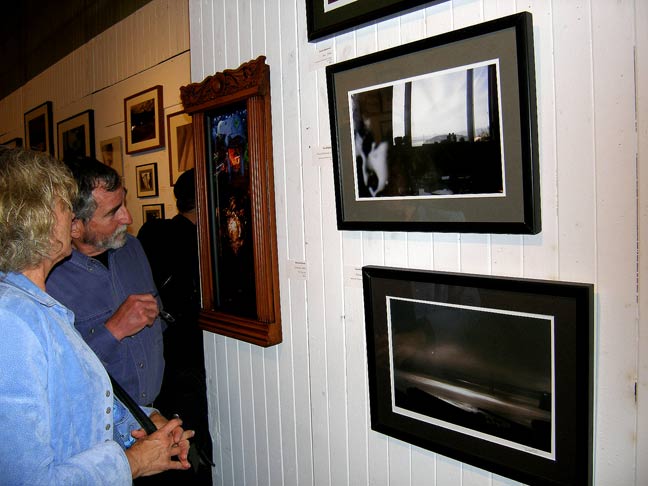 Photography.


Photos.


Edward M. Brooks - photographer.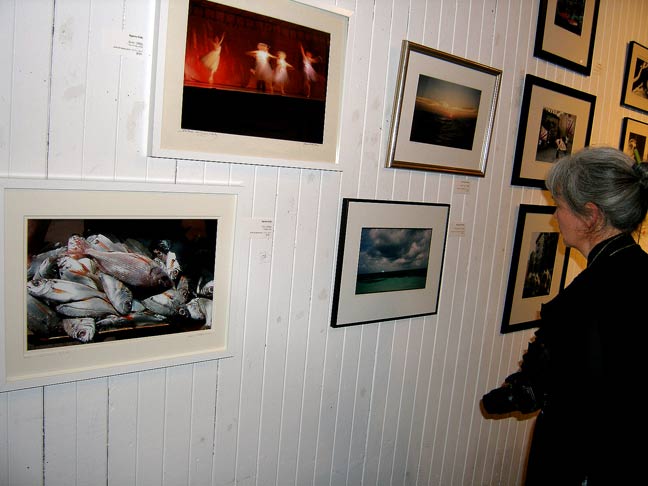 Photography.


Photographs.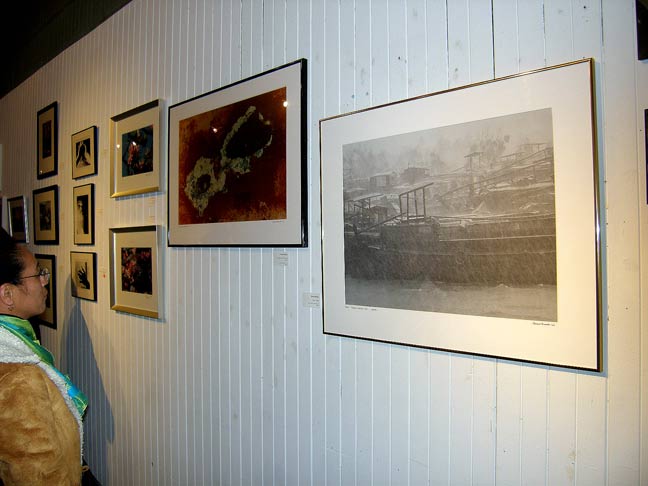 Photos.


Photography.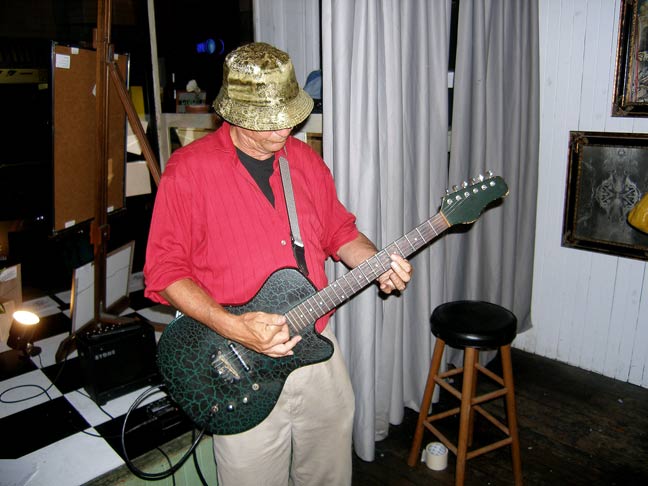 Tunes.


Spillage.


***
Giant Robot San Francisco: Tree Show 2.
Artists: Corey Arnold, Robert Bellm, Gary Benzel, Bigfoot One, Calef Brown, Jeffrey Brown, Martin Cendreda, Catia Chien, David Choe, Josh Cochran, Allison Cole, Jen Corace, Evah Fan, Susie Ghahremani, Greenlady/HUGA, Jun Seo Hahm, Ryan Heshka, Kelly Lynn Jones, Megan Kelso, kozyndan, Jack Long, Jacob Magraw-Mickelson, Nikki McClure, Matt Moroz, Munkao, National Forest, Chris Neal, Saelee Oh, Beci Orpin, PCP, John Pham, Brian Ralph, Albert Reyes, Zach Rossman, Jay Ryan, Souther Salazar, Rachell Sumpter, Deth P. Sun, Daria Tessler, Kelly Tunstall, Megan Whitmarsh, Andrew Jeffrey Wright.
Comment: Group show and fundraiser for Friends of the Urban Forest runs creative the gamut from adequate to competent. Most art priced under $500; good selection for under $100.
Art.


Art (kinda like that large one).


Art (like the one on the left).


Art.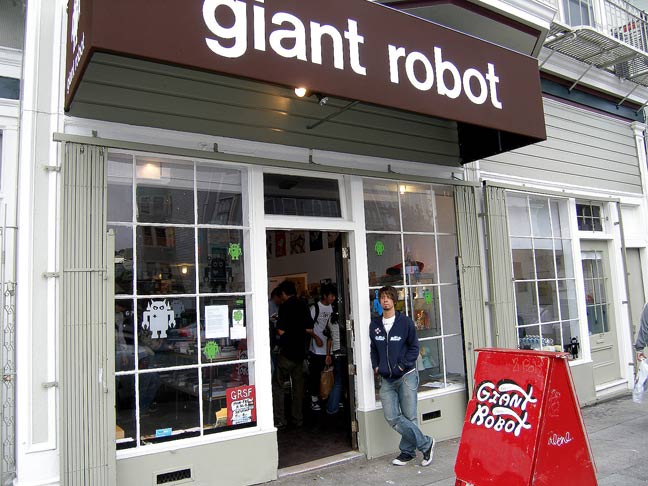 On the ave.


***
Art Work Rebels Presents at Cachi Art Studio, 312 Valencia Street, San Francisco, CA 94103; 415.863.8312: Monkey Killing Monkey.
Artists: Marcus Pacheco, Retna, The Mac, Amandalynn, Zes, Yutaro, Push, Reyes, Norm, Holly Ellis, Steel, Joe Leonard, Saber, Michael Ryan, Revok, Chris Kelly, Sever, Jessica, Jason and Shelli K., Lucien Shapiro, Fate, Shawn Barber, Henry Lewis, Charlie O'Hanlon, Lily Seo, more.
Comment: Urban creme. I gotta go with an uncomplicated in-your-face asymmetric paint and construction piece by Push (I think), and also a riotous Reyes medallion painting. But there's plenty of good stuff everywhere including streamlined Saber smoothness, and Chinese-style ink paintings by The Mac. I ask The Mac where he studied the technique and he tells me he didn't study anywhere-- he looked at some art and then taught himself (including learning to make his own chop mark). Talented fellow. A signed limited edition serigraph commemorating the show is available for $20. Contact Art Work Rebels for info.
Art (Push, I think - like it).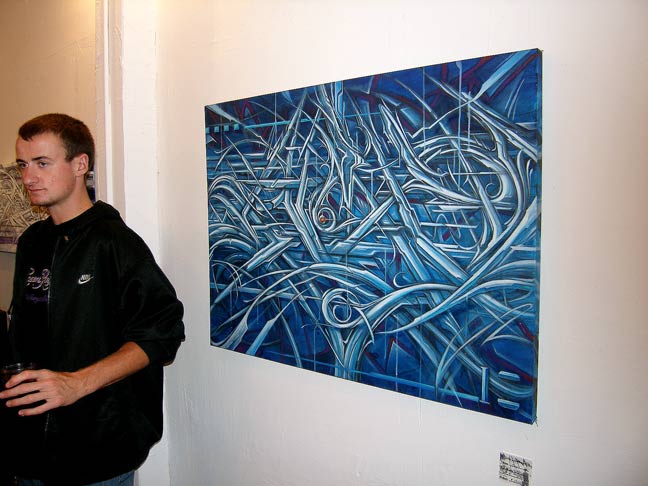 Art (Saber - like it).


Art.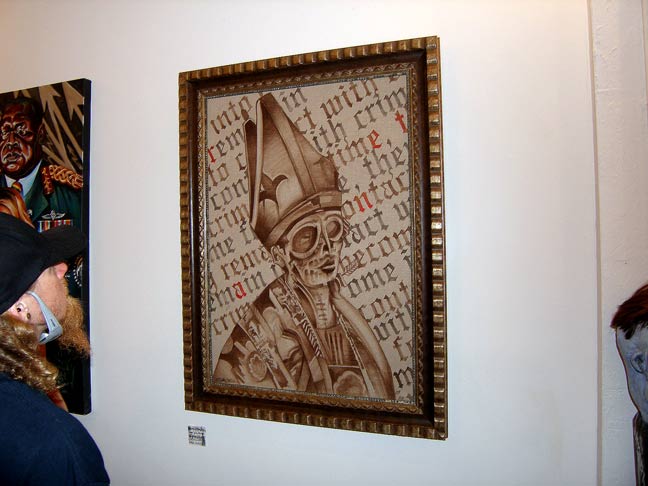 Art.


Art (Reyes - like it).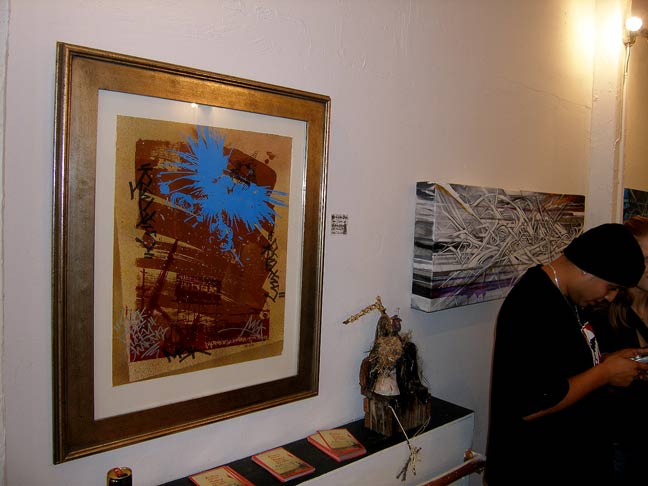 Limited edition show serigraph - $20.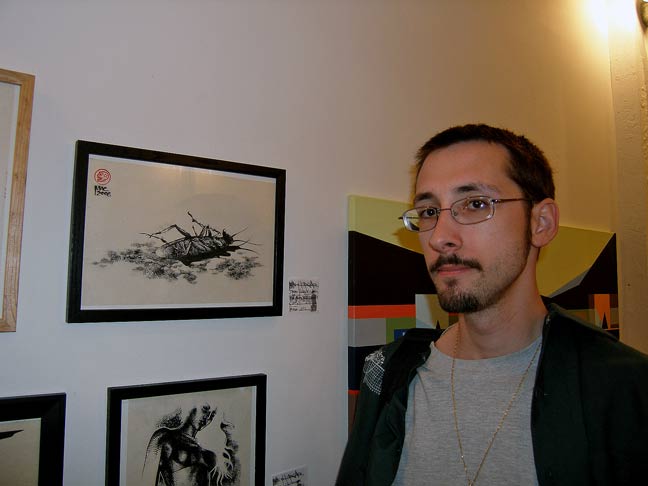 The Mac - art (like it).


Art.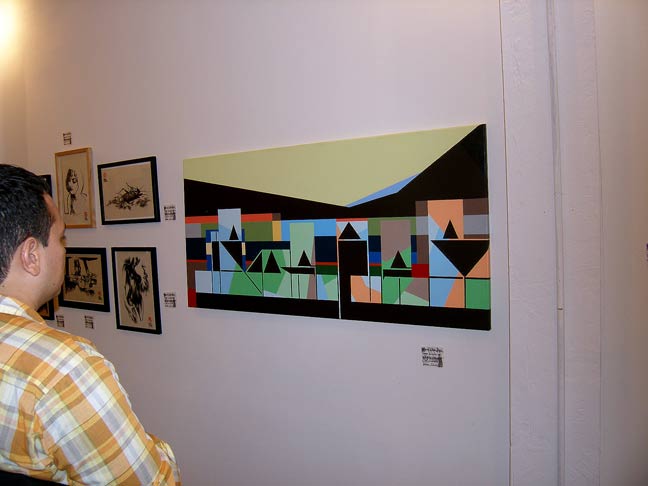 Art (Push painting, right).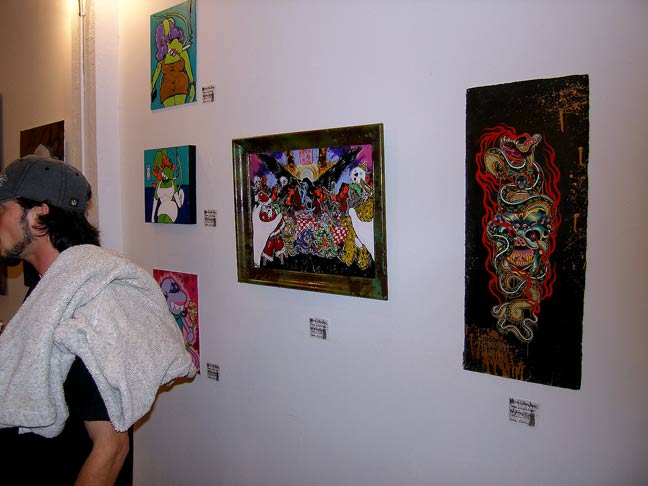 Art.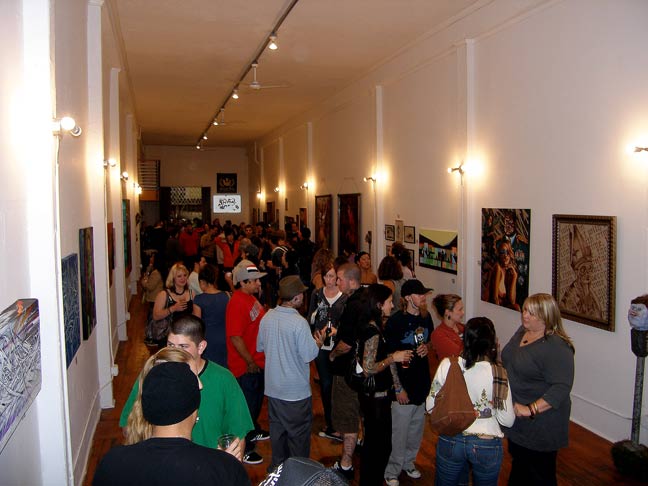 Fan base.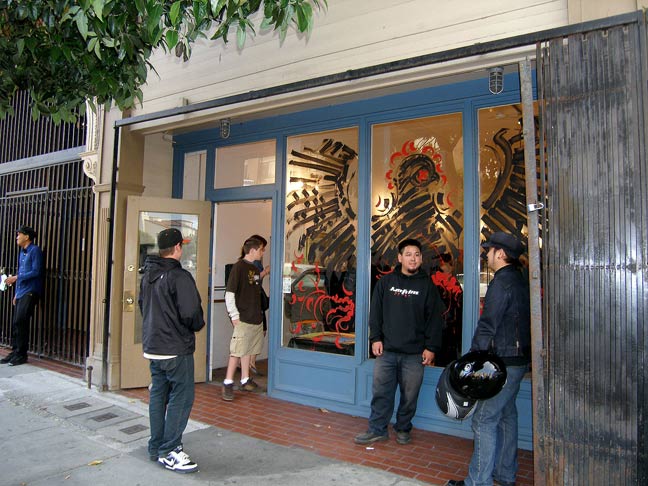 Spillway.


***
Garage Biennale: Four in One - Curators Create, Artist Curates.
Comment: In a fit of dilettante insider irrelevance, curator Terri Cohn and artist Stephanie Syjuco conspire to create and unveil a constellation-like diagrammatic configuration detailing schtups, porks, hanky-panky, cuckoldry, dalliances, and related anatomical indiscretions-- both proven and purported-- between known local artsters. Semi-mercifully, the coital cohorts are identified by their initials only, no full names. So if you want the skinny on who be gettin' down, this is the tabloid to add to your collection. In case you're curious-- and I know you aren't-- my initials do not appear on the connubial cartography. It's outcalls only for me.
And so we embark on this month's installment of the elevatingly esoteric Garage Biennale featuring four consecutive shoe-on-the-other-foot shows, each lasting one week, conceived by Michael Zheng, where four different curators create art instead of curate it, and a single artist (Stephanie Syjuco) curates the curators instead of creating art. My favorite part of this mind-bending dialectic dealie-bob is that comprehensive documentation of all previous shows will be on display at each successive show. Why do I like that part? 'Cuz documentation adds value not only in terms of understanding the art, but also in terms of $$. Nobody pays much for art they can't understand, and vice versa.
Stephanie Syjuco - freshly unveiled carnal chart art.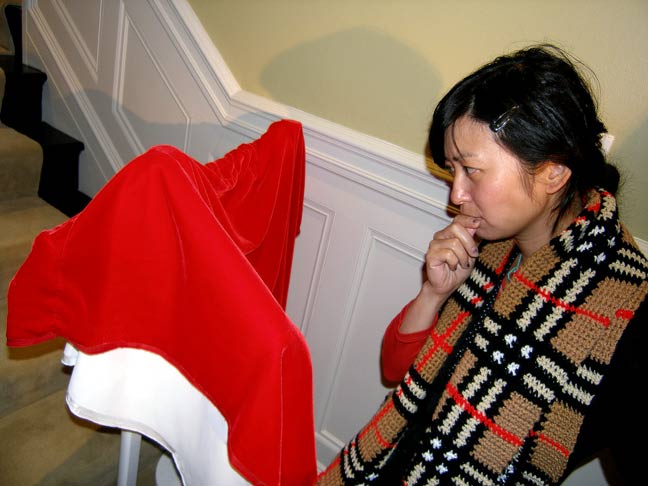 Stephanie Syjuco contemplates the post-unveiling veil.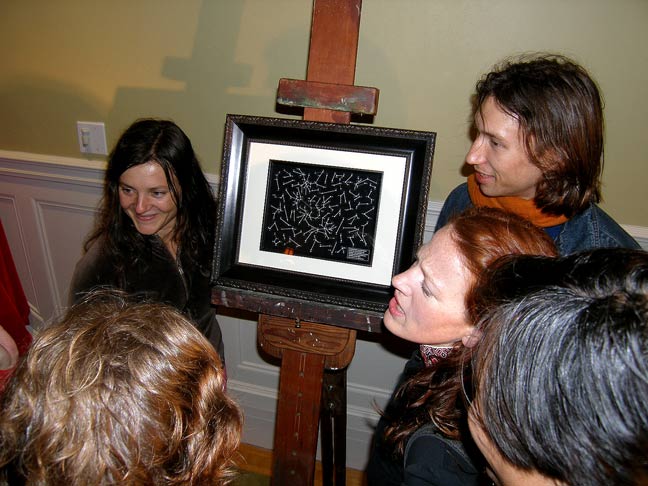 Post-unveiling discourse.


Michael Zheng, concept man.


***
Addendum: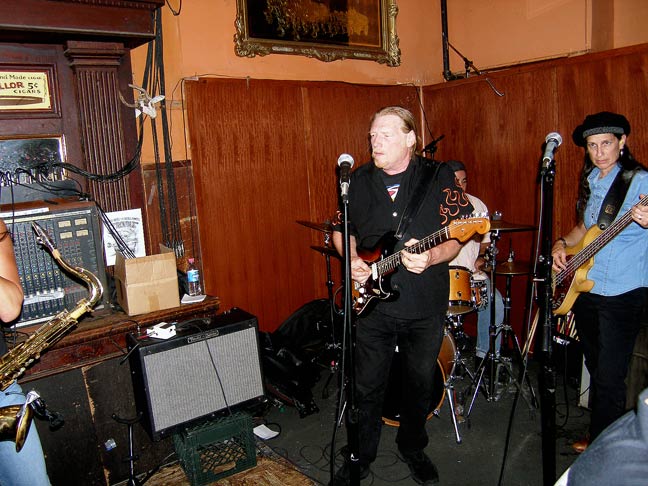 Seeing as I'm here in North Beach after the Live Worms show...
Johnny Nitro and the Doorslammers at the The Saloon
(best blues bar in town).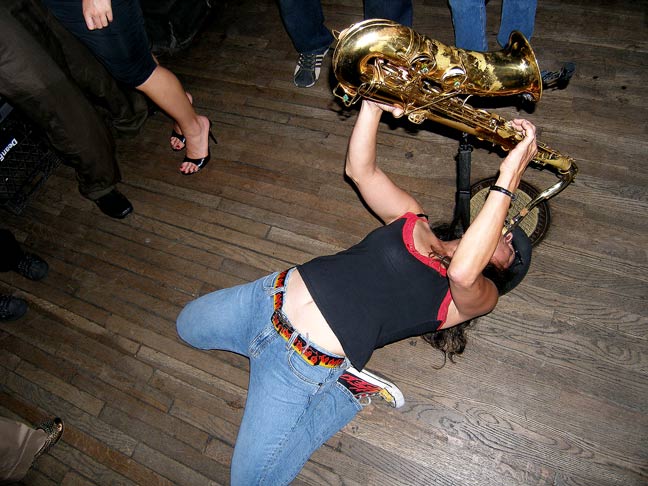 Johnny Nitro sax madness at The Saloon-- must see.


***