SAN FRANCISCO ART GALLERIES - OPENINGS
PASQUALE IANNETTI - CRUCIBLE STEEL - THE LAB
MOLLUSK - MICHAEL ROSENTHAL - RED INK STUDIOS
YERBA BUENA CENTER FOR THE ARTS - PHOTO EPICENTER
07.26-28.07
Pasquale Iannetti Art Galleries, Inc.: Les Petits Maitres - Revisited.
Artists: Paul Anderbouhr, Jacques Bartoli, Marcel Canet, Gabriel Deschamps, Albert Dequene, Louise Dupau, Pierre Grisot, C. Gordi, Pieter Gorus, Gabriel Griffon, Henri R. Herisson, Gabriel Hervé, Louis Jourdeuil, Wilhelm Kalb, Jaques Lambert, Romulus Madet-Oswald, Géo Vermeire, Daniel Pignot, Horace Richebé, Angelo Santagostino, Auguste Pégurier, Serge Kislakoff, René Genis, Robert Henry Fouques, Anatole Hillairet, Mario L. Vilhar, Durando Richard, Maximilien Luce.
Comment: A substantive sampling of Post-Impressionist paintings by a variety of artists. Post-Impressionist painters adhered to Impressionist traditions even though the "demands of the marketplace" had passed them by. Consequently, most languished in obscurity until relatively recent efforts such as this to put them back on the art map.
Art.


Art.


Art.


Art.


Art.


***
Crucible Steel Gallery at CELLspace: Roads of the West.
Ava A., Ilsa Brink, Kit Hennessy, David Huff, Beth Morris, Josephine Zarkovich.
Comment: Art, artifacts, postcards, found objects, souvenirs from tourist traps, and so on and so forth comprise this nostalgic documentary road trip ramble around the not so Wild West.
What it is.


Art.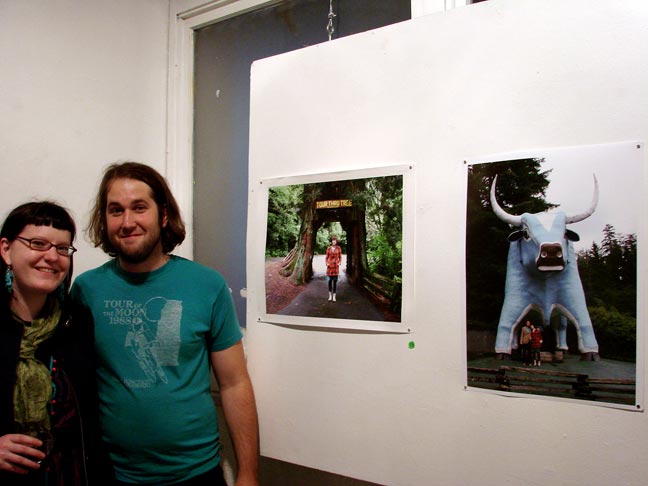 Josephine Zarkovich, David Huff & their art.


Art.


***
The LAB: Where To - Artists Implore a Cab; Ajit Chauhan - Sila ma Ligd lugo.
Artists in the cab show: Crockett Bodelson, Elias Crouch, Tara Lisa Foley, Matt Furie, Beth Gardner, Andrew Junge, Eric Landmark, Joe Roberts, Mariah Robertson, Heather Renee Russ, Niki Ulehla, Liz Walsh, Sophia Wang, Brent Weinbach, and Mary Elizabeth Yarbrough.
Comment: In the main gallery, fifteen artists accompany various cab drivers on night shifts around town (typically 10-12 hours at a time), and then make art about it including paintings, installations, sculpture, kinetics, photographs, videos, and more. The upshot? Fifteen insightful perspectives on a punishing profession. In the antechamber, Ajit Chauhan essays in a series of intricate drawings on riding bicycle rickshaws in India. Good show; worth a look. The LAB consistently presents some of the best organized and most capably curated shows in town.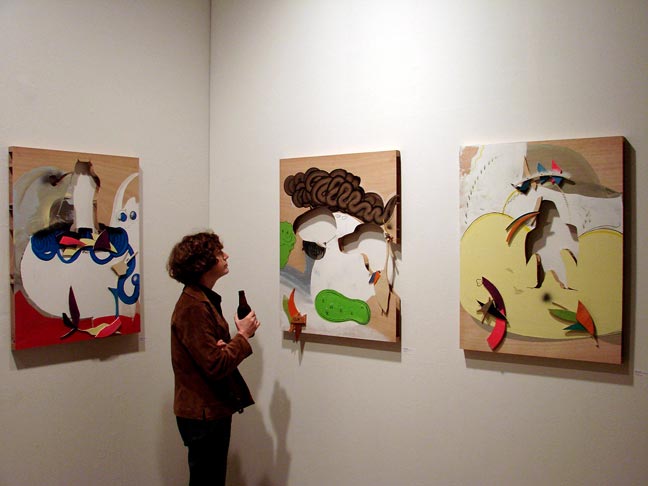 Art.


Art.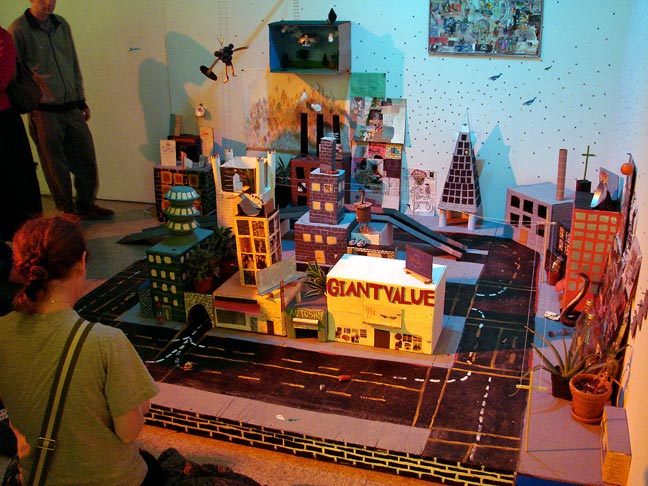 Remote control mini-cab art.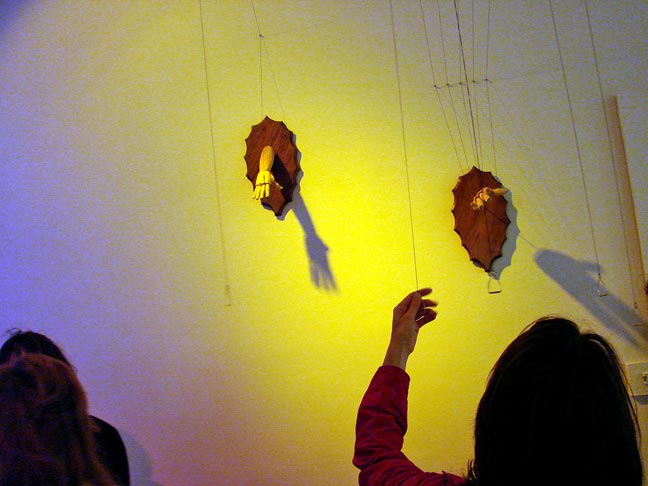 Kinetic hail-a-cab art.


Art.


Art.


Art.


Art.


Art.


Art.


Art.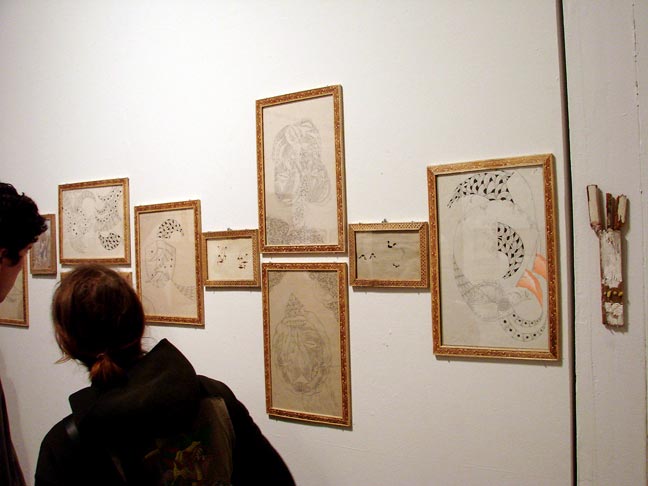 Art (Ajit Chauhan).


***
Mollusk Surf Shop: Earwaves - Matt Volla.
Comment: Matt Volla commingles the sound waves we hear (and how we hear them) with ocean waves (and how we see them) in a progression of meandering freeflow drawings anchored by two hand-painted surfboards. The opening also celebrates the release of Volla's new book, Matt Volla's Unruly Drawings, published by Front 40 Press.
Art.


Art.


Matt Volla - art.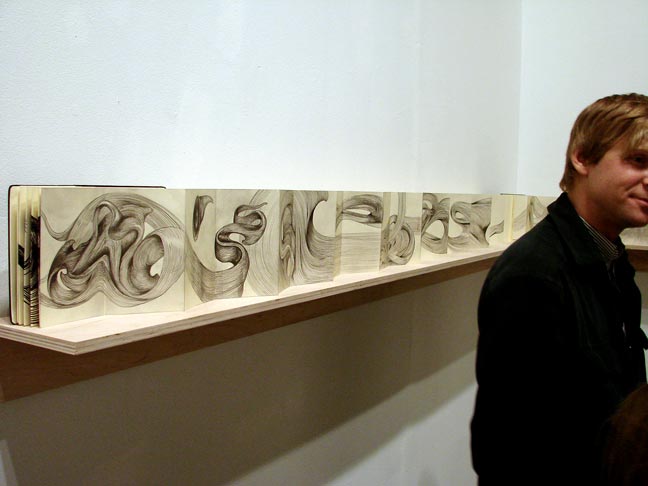 Art.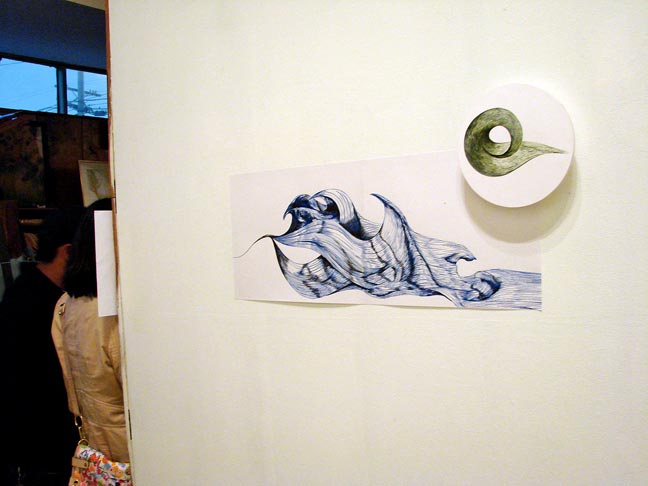 Art.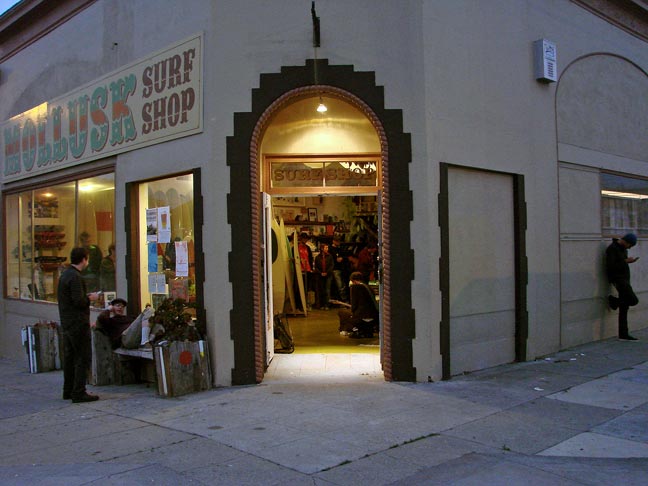 Location.


***
Yerba Buena Center for the Arts: Dark Matters - Artists See the Impossible; Joachim Schmid - Selected Photoworks, 1982-2007.
Artists in Dark Matters: Ben Rubin and Mark Hansen, Trevor Paglen, Bull.Miletic, Sergio Prego, Walid Raad, Kambui Olujimi, Alison Sant, Richard Johnson, Richard Barnes, Alex Schweder, Charles Mason.
Comment: One of the best shows I've seen at YBCA. Anchoring the Dark Matters group show in the main galleries is the remarkable "Listening Post" by Mark Hansen and Ben Rubin, a flawlessly engineered and assembled hi-tech audiovisual mediawork that data-mines chat rooms in realtime and then instantly transforms that chat into art. Also on my favorites list are stacked panoramic view videos taken from rotating highrise restaurants around the country by Bell.Miletic, hypnotic videos filmed from perspectives that rotate rapidly around controlled indoor explosions by Sergio Prego, Trevor Paglen's adventures in CIA secrecy and the War on Terror, and studies in swarming starlings by Alex Schweder, Richard Barnes, and Charles Mason. And more. It's all good here.
Upstairs you'll find a momentously extensive 25-year retrospective of photoworks by Joachim Schmid. Not only is he a consummate photographer, but he's also an outstanding collage artist, his most ambitious examples consisting of sliced strips of photographs reconfigured into complicated commentaries on various social and political issues. Equally impressive, though far more elemental, is a series of found photographs, torn faded abused discarded images that Schmid finds in cities around the world and meticulously reconstructs, thereby transitioning them from oblivion to sensitive reflections on what others deem unwanted. Plus much more. Schmid's work is technically transcendent, thoughtful, inventive, and intellectually challenging-- a relatively rare combination for an artist-- and always a winner.
Technology art (Mark Hansen and Ben Rubin - pick).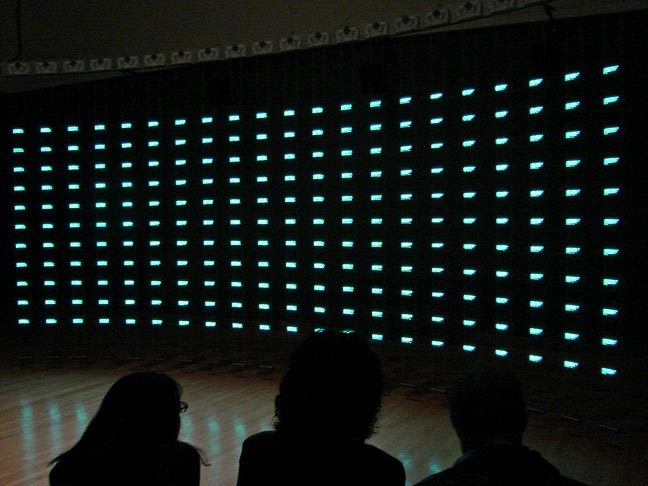 Technology art (Mark Hansen and Ben Rubin).


Technology art (Mark Hansen and Ben Rubin).


What? You're not sure? Either it does or it doesn't.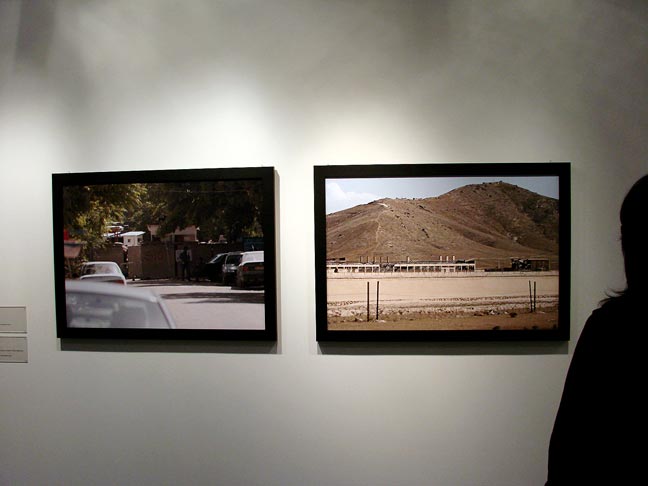 War on Terror art (Trevor Paglen).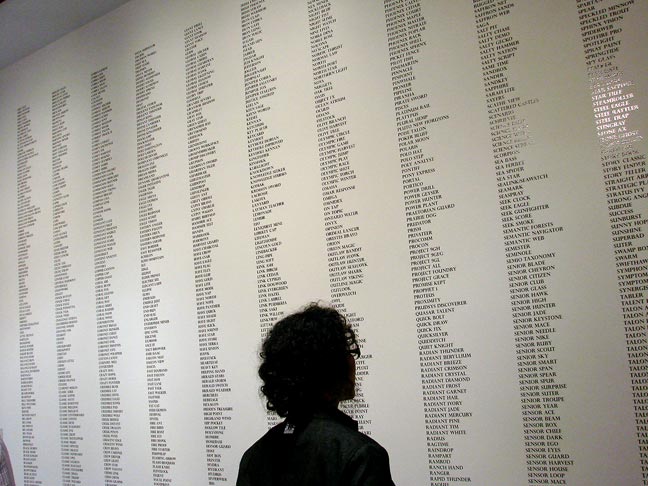 Covert operation code name art (Trevor Paglen).


Corroded cremated remains container art (David Maisel).


Dynamic controlled explosion art (Sergio Prego).


Swarming starling art (Richard Barnes, Alex Schweder, Charles Mason).


Swarming starling art (Richard Barnes, Alex Schweder, Charles Mason).


Swarming starling installation (Barnes, Schweder, Mason).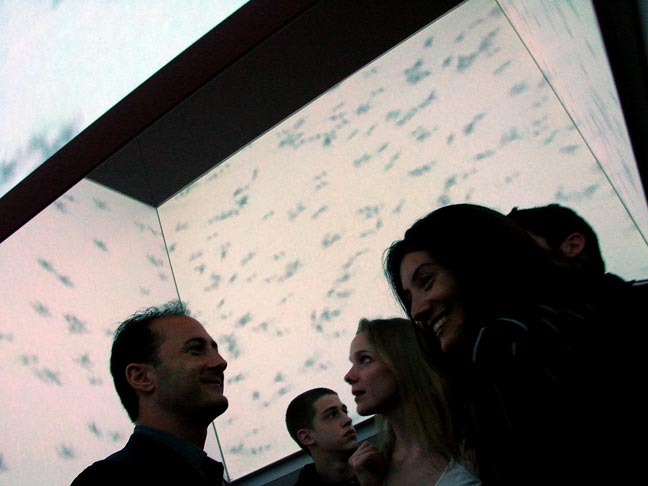 In the eye of the swarm art (Barnes, Schweder, Mason).


Rotating restaurant panorama art (Bull.Miletic).


Art.


Art.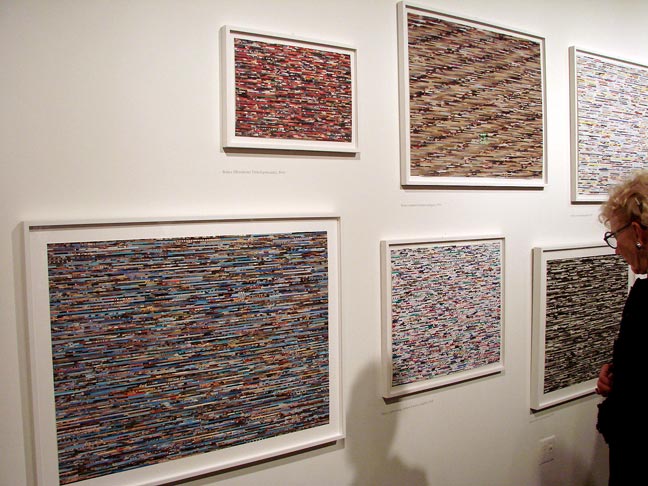 Collaged sliced photograph art (Joachim Schmid).


Found photograph art (Joachim Schmid).


Found photograph art (Joachim Schmid).


Reprocessed found photographic negative art (Joachim Schmid).


Photoworks (Joachim Schmid).


Photoworks (Joachim Schmid).


Photoworks (Joachim Schmid).


***
Brown Bear, 289 Divisadero St., San Francisco, CA 94117; 415.626.5779: Matthew Palladino - Tragic Magic.
Comment: Here's a surprise-- passionate confident sure-hand gouaches and watercolors by Matthew Palladino, mainly commenting on life's unsavory lowlights including the notorious Jim Jones, plane crashes, drive-by shootings, and the like. Palladino tells me he attended CCA for a couple of years, hasn't shown his art much, and works a dead-end job. Well, maybe that'll change 'cuz I think his best stuff is more than capable of holding it's own at most any gallery in town-- engaging, incisive, impactful, and polished. Check it out.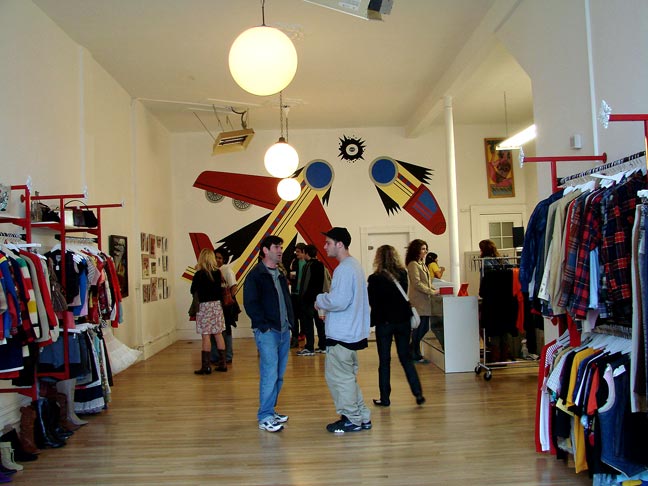 Floor plan - art & vintage fashion.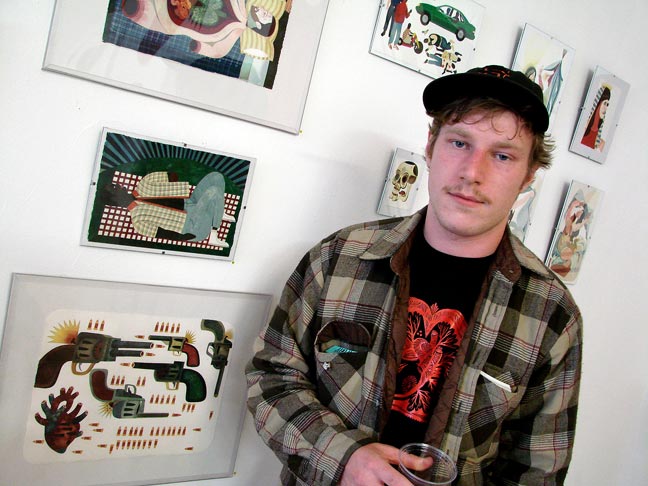 Matthew Palladino - art.


Art.


Art.


Art.


Out front.


Across the street.


***
Photo Epicenter: Swan Songs.
Artists: Robert Gendler, Mark A. Horton, Yvonne Mouser, Fideelia-Signe Roots, Sham Saenz, Aaron Sandnes.
Comment: Modest yet cogent and effective show about those crowning moments colloquially known as swan songs-- endings for some, beginnings for others. The art encompasses writing, video, photography, mixed media, installation, etc. Notable here, curator Chris Fitzpatrick met and subsequently convinced a number of the artists to participate primarily via online communications. Worth a look.
Cosmic photography art (Robert Gendler).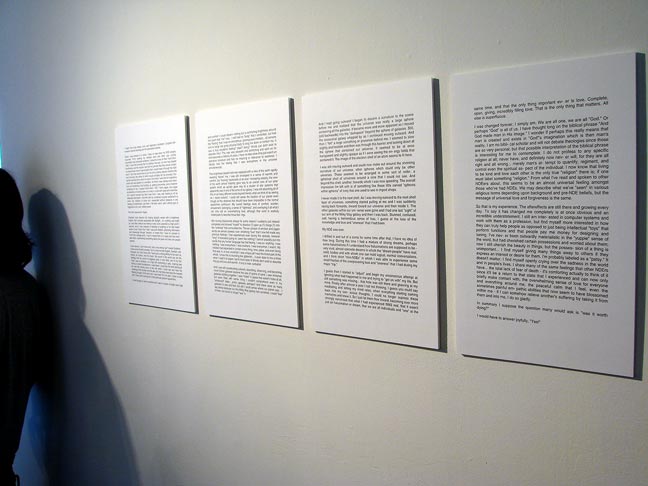 Near death experience art (Mark A. Horton - deceased).


Singed furniture art (Yvonne Mouser).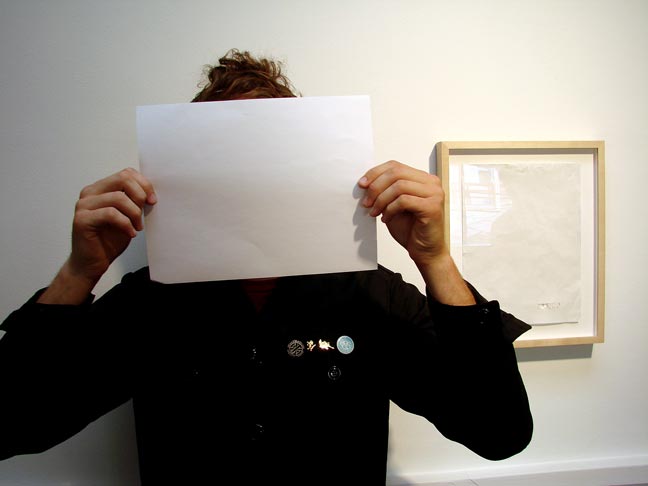 Erased artist (Aaron Sandnes) next to erased birth certificate.


Art (Sham Saenz).


Video art (Fidelia-Signe Roots).


***
Michael Rosenthal Contemporary Art: An Affair With Art and Artists.
Artists: Renee Billingslea, Adriane Colburn, Inga Dorosz, Kathryn Dunlevie, Peter Foley, Katina Huston, Suzanne Husky, Kira Inglis, Evri Kwong, Sarah Ratchye, Fanny Retsek, Dickson Schneider, Sarah Ratchye, Nancy White, others.
Comment: Michael Rosenthal elects the revitalized Broadway promenade in the heart of old town Redwood City to establish not only an art gallery, but more so, a centrally located nexus for Bay Area artists, artsters, and those who love them. So far, so good-- creative constituents from the East Bay to San Jose turn out for tonight's event. "Perhaps it's a good idea we all get to know each other," muses Rosenthal. And perhaps he's right.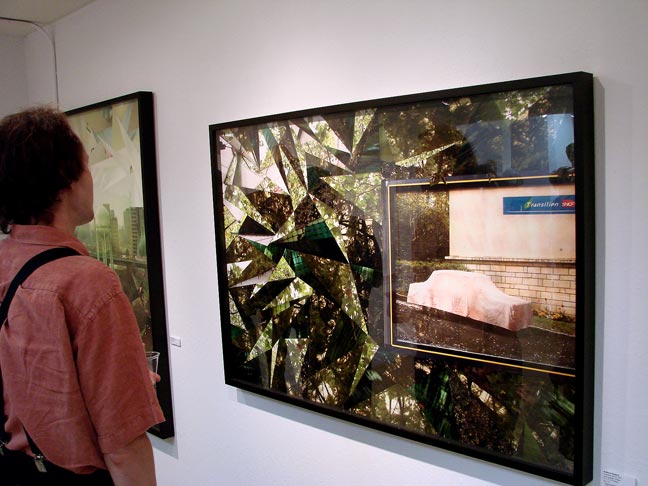 Art.


Art.


Michael Rosenthal.


Sarah Ratchye - art.


Art.


Art.


Art.


Art.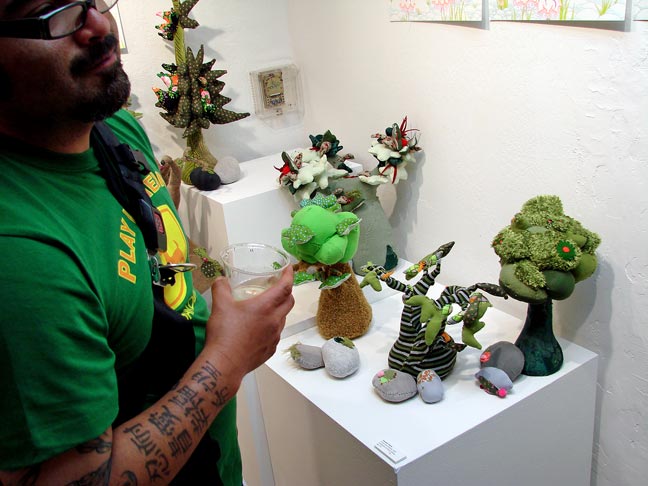 Art.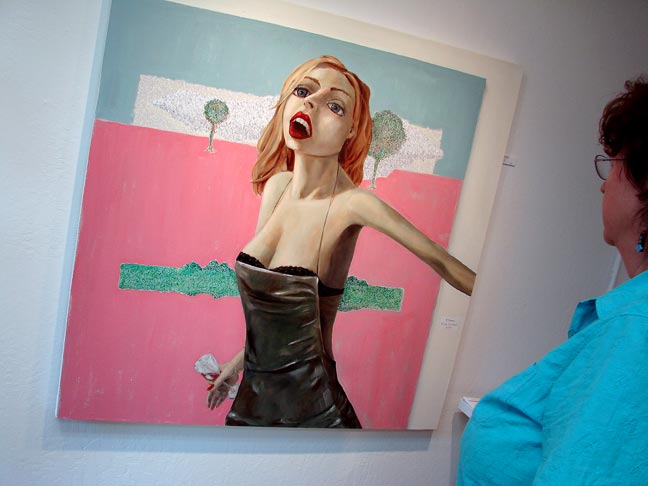 Art.


Art.


Art.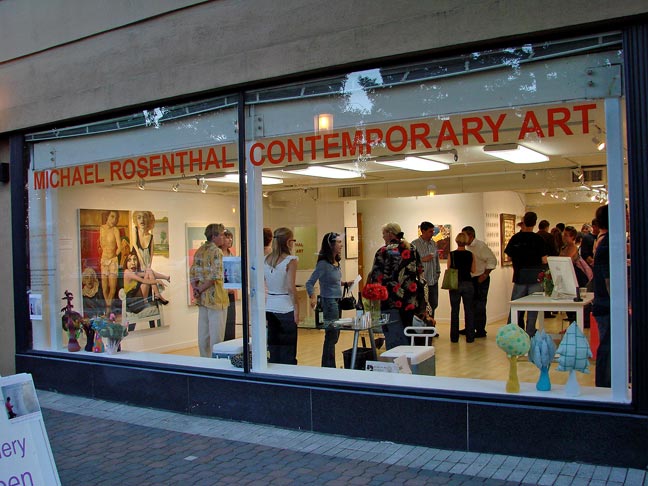 Thoroughfare.


Old Courthouse, now a local museum, down the block.


***
Red Ink Studios: Stevenson Street Soiree.
Artists: Keef Ward, Angela Willitts, John Smiddy, Jennifer Poon, David DeRosa, Alexandra Chowaniec, Brad K. Alder, Sarah McMenimen.
Comment: Mainly music, but also art, and I'm too early (so what else is new?). But here's the layout in advance of the onslaught.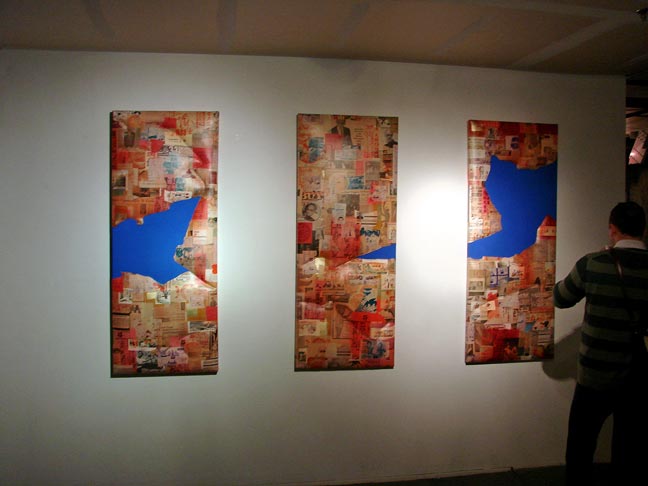 Art.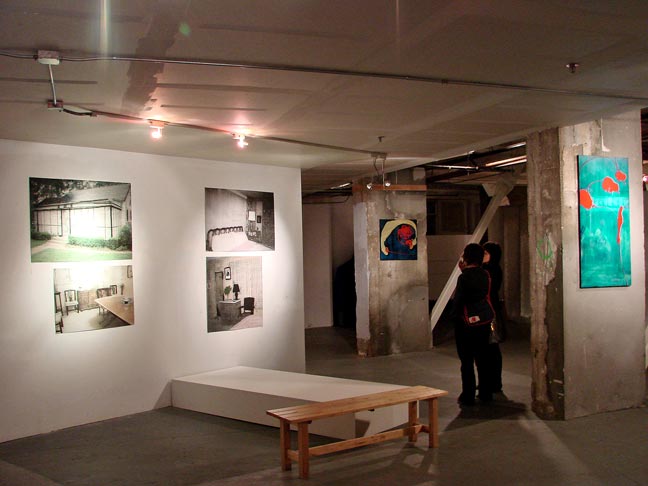 Art.


Art.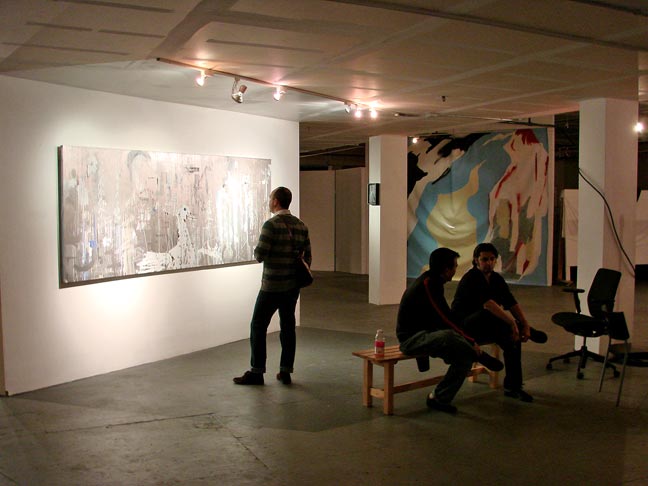 Art.


***