SAN FRANCISCO ART GALLERY OPENINGS
GEN ART - MELTING POINT - MEZZANINE
BLACK ROCK ARTS FOUNDATION
07.29-31.05
Gen Art at 2255 Third Street: Ignite! 2005.
Artists: Christine Ancalmo, Barbara Bartos, Lisa K. Blatt, Elizabeth DiGiovanni, Mike Lai, Roger Ngim, Christine Matson, Julia Page, Nate Pagel, Kal Spelletich.
Comment: Art and technology event at a large potential-full space, well down Third Street, semi-renovated. I think the show is part of the annual Gen Art new-media extravaganza called NewFangle, but I can't find any literature to confirm this hypothesis-- just a Gen Art membership brochure at the entrance-- and there's no clues on the Gen Art website. Anyway, the space is excellent upstairs (the ground floor) with a pillow area in the back to effectuate confluence; excellenter downstairs in the high-ceilinged brick-walled minimally-windowed basement that makes a superb gallery. Assorted attendees are scattered about, as is the art-- video, interractive audio/video, kinetic sculpture, photography, and a noisy mechanical testimonial to Sisyphus by Kal Spelletich.
Art.


Art.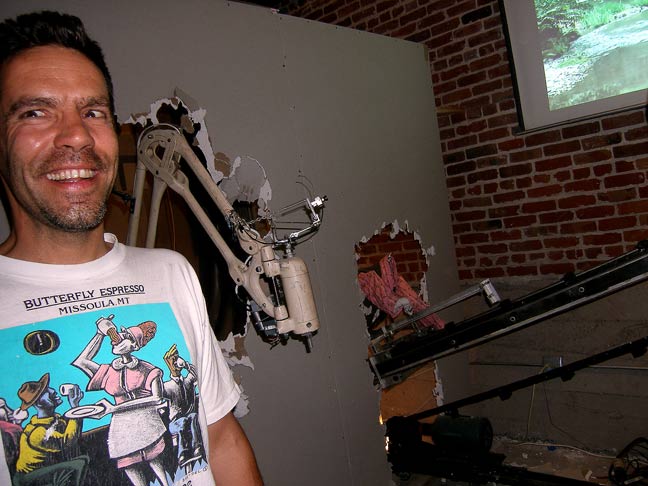 Kal Spelletich - art.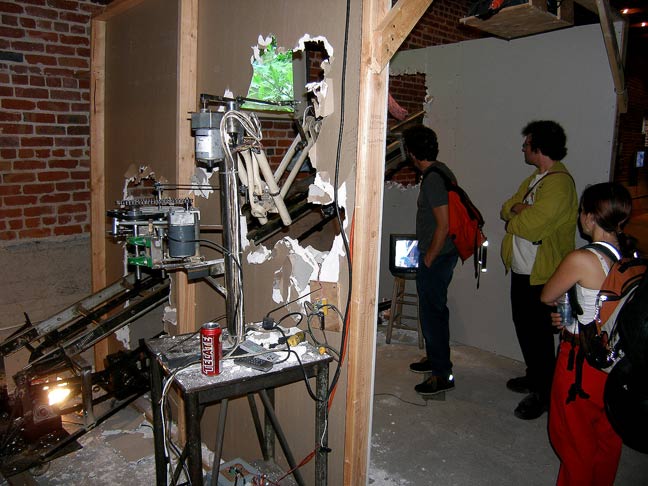 Art (Kal Spelletich) and a big-ass beer can .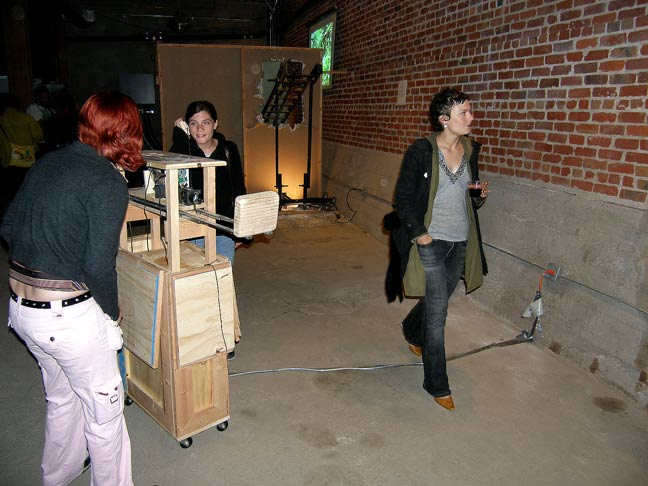 Art.


Art.


Bee and tree brain art.


Outer.


***
Melting Point Gallery, 1340 Bryant, San Francisco, CA 94103; 415.364.1806: Guilty by Association.
Artists: Brad K. Alder, Hana Bauguess, Sacha Eckes, Rene Fressola, Nils Krueger, Pierre Guettier, Trevor Ito, Helen Bayly, Ade Lun Sec, Mike Puccio, Barry Monigle.
Comment: Rene Fressola turns 40 so he gets to pick the artists and curate the show-- I think that's how it goes-- and he does a respectable job of it. The varietous selection includes a bite-size kinetic green-bucket ferris wheel, a Barbie carcass inserted into a piece of metal tubing, several engaging large abstracts (one by Fressola), some urban stuff, a dash of this, and a smidge of that. Melting Point is a rental gallery; I'm not sure what they charge, but it's a good opportunity for artists who don't regularly show at galleries to dip their art's toesies into the merciless ocean of public opinion.
Art.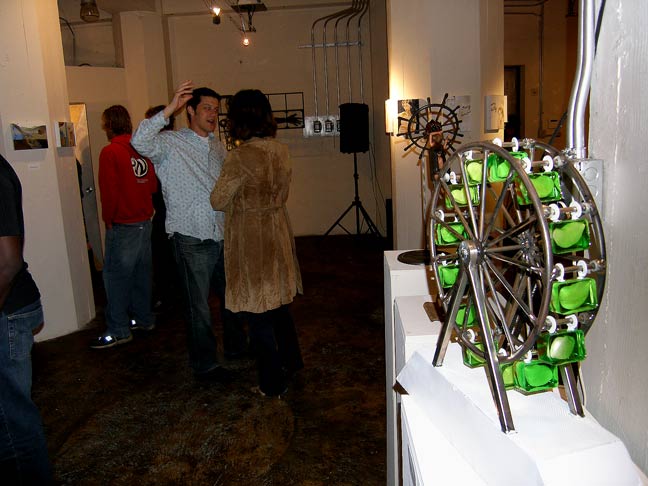 Kinetic art.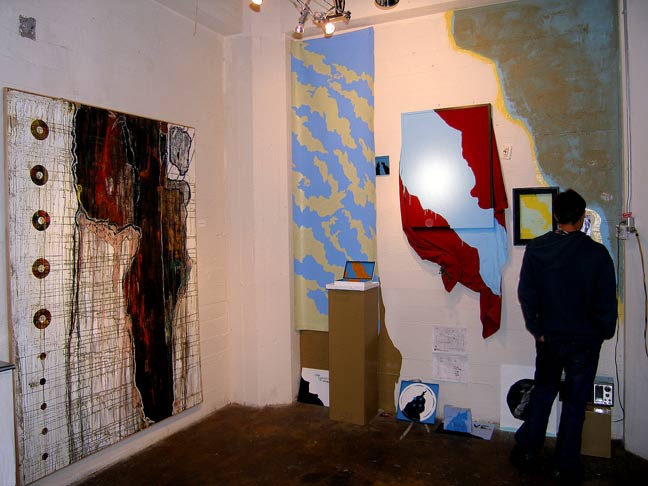 Art (Rene Fressola, left; Brad K. Alder, right).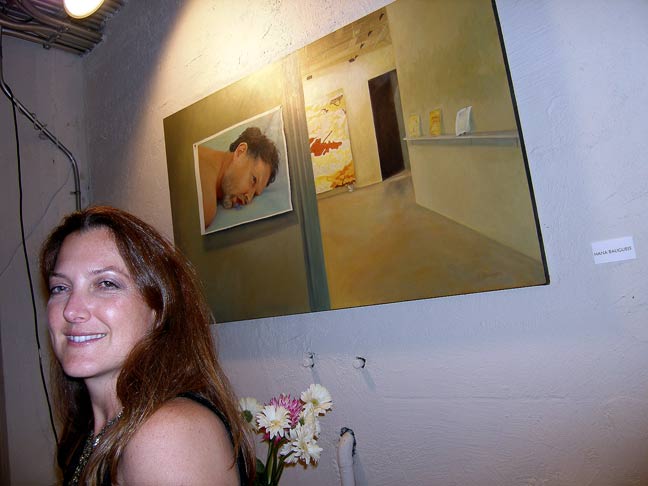 Hana Bauguess - art.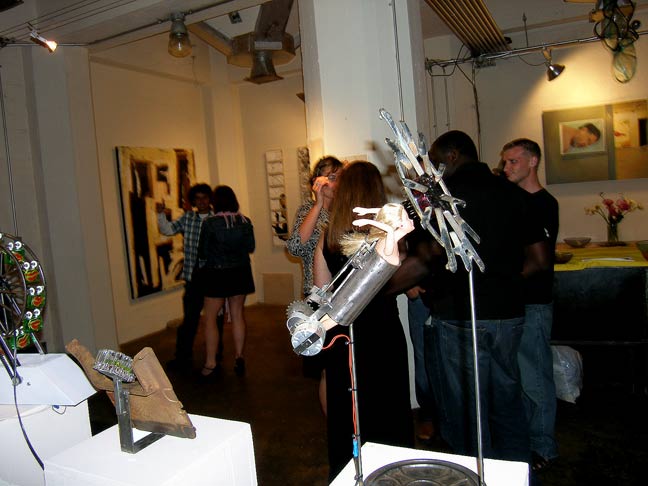 Barbie-goes-flying art.


Art.


Art.


Art.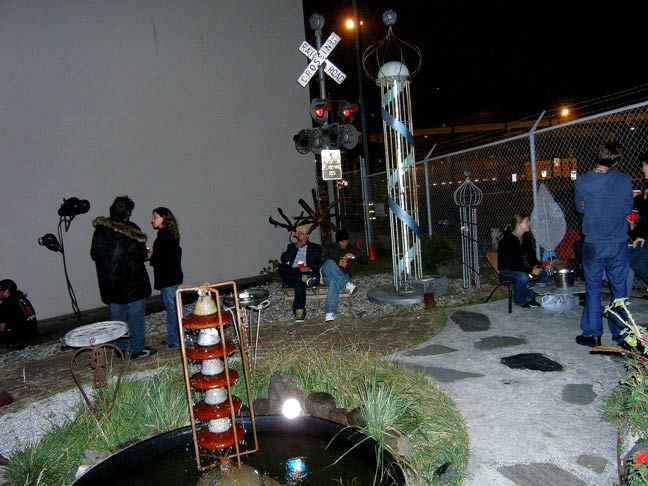 Veranda.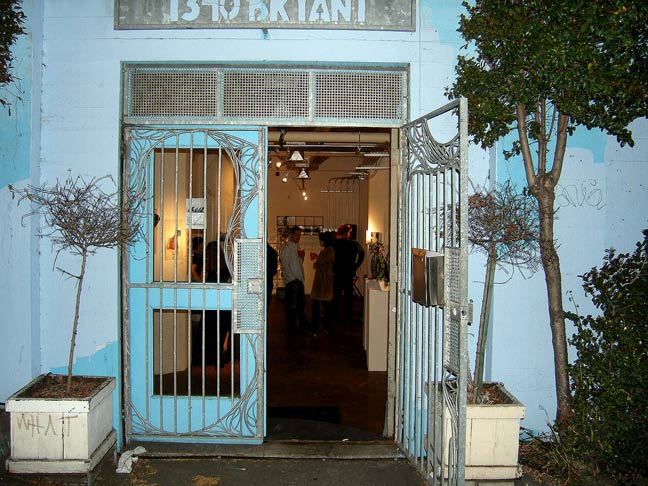 Other veranda.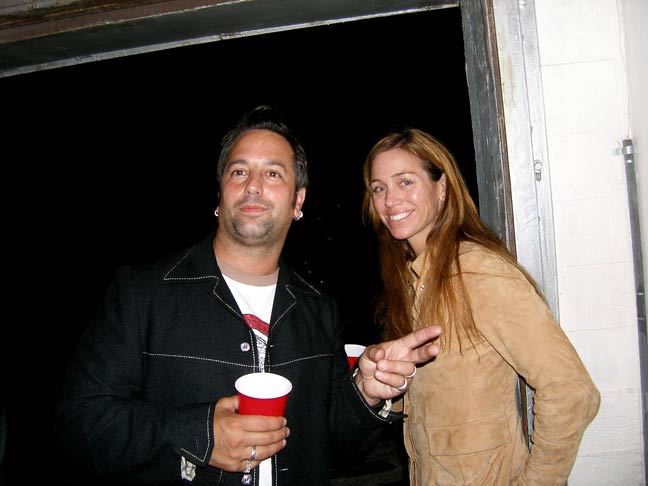 Rene Fressola and friend.


***
Chillin' Productions at Mezzanine: 60 fashion designers - 60 painters/photographers - 60 filmmakers/Microcinema International.
Artists: Oodles, but I can't copy the names off the Chillin' website (and neither can anyone else). Flash is nice as long as it doesn't diminish PR potential.
Comment: Two words for this one-- BIGGER VENUE. Let's say you're a vendor trying to sell your fashions or jewelry or art, and let's say you really need the money, and let's say 200 potential golden geese are stuck in line outside because the joint's too packed to squeeze 'em in. Who knows how many more geeses gave up and left when they saw the wait? The reason for the overflow-- the event's worth it-- and we all wanna go see it, right? We sure do. As an aside, the invitation features an attractive young woman smoking a cigarette. Have you ever seen a lifelong smoker with advanced emphysema, shackled to oxygen, gagging for air, unable to control her bowels to the point where she shits on the floor while she walks? I have.
Art.


Art.


Art.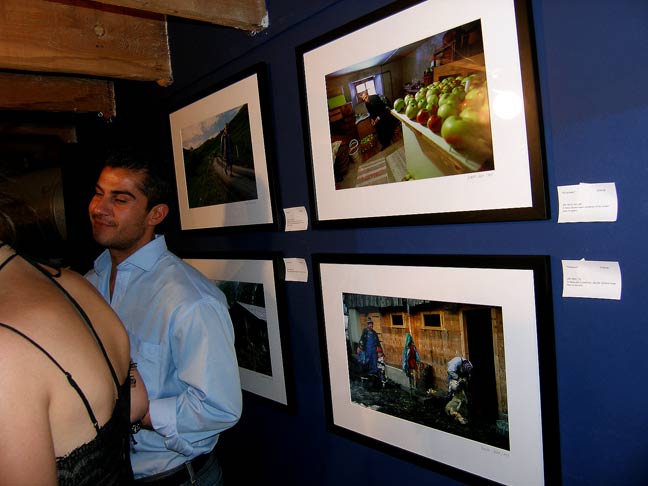 Art.


Valkyrie formal wear.


Art.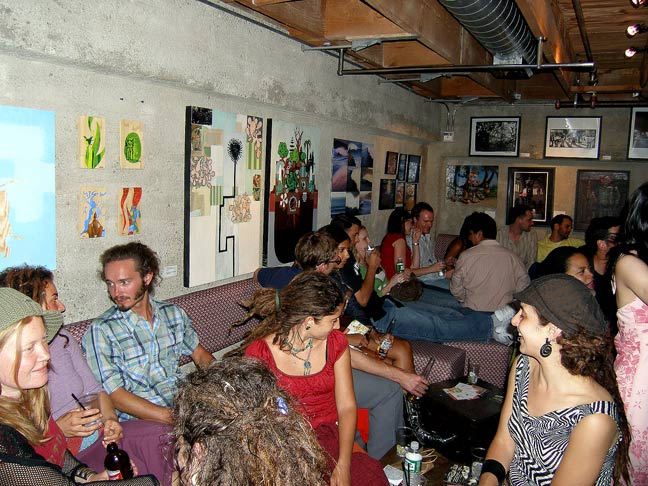 Art.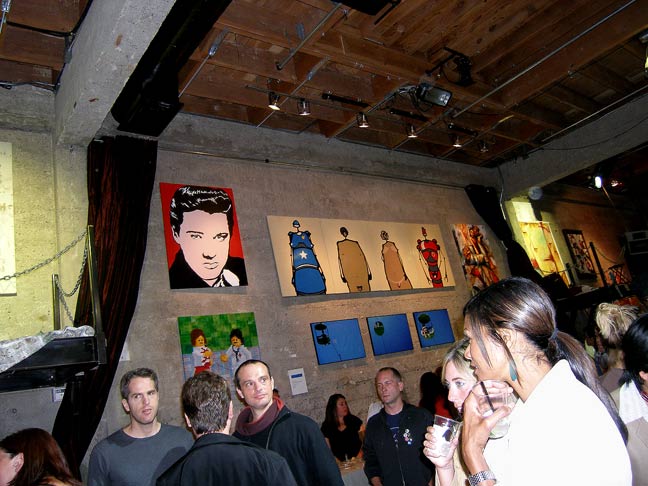 Art.


Art.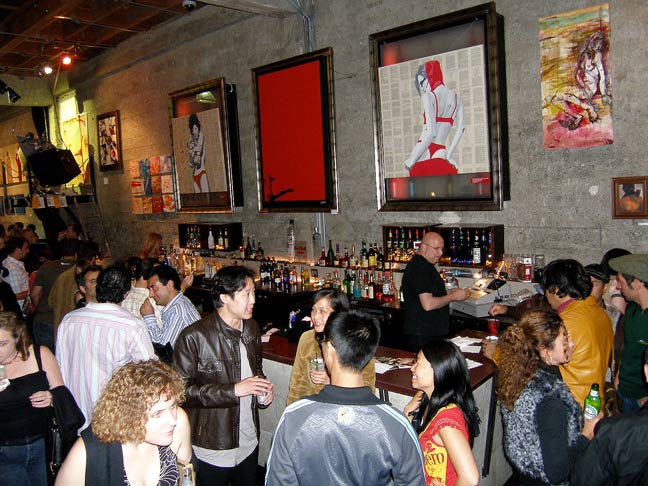 Art.


Partial.


We wanna show you the money, but we can't.


Neither can we.


***
Black Rock Arts Foundation: First Annual Community Arts Carnival at Hayes Green.
Comment: Only in San Francisco, with Black Rock encouragement, can you dress how you want, do what you want, love what you want, create what you want, express what you want, experience the joy, smile, be a part of what you want, simultaneously bask in individuality and community, and cherish every minute of it. Special added bonus-- nobody tries to sell you anything. There's nothing like it and it's all OK. If only life imitated this. I've never been to Burning Man, by the way (can you spell r-o-o-m s-e-r-v-i-c-e?), but I'm a huge fan of its values.
Melted gun casket art.


Joe Mangrum mandala art.


Joe Mangrum mandala man.


Ambience.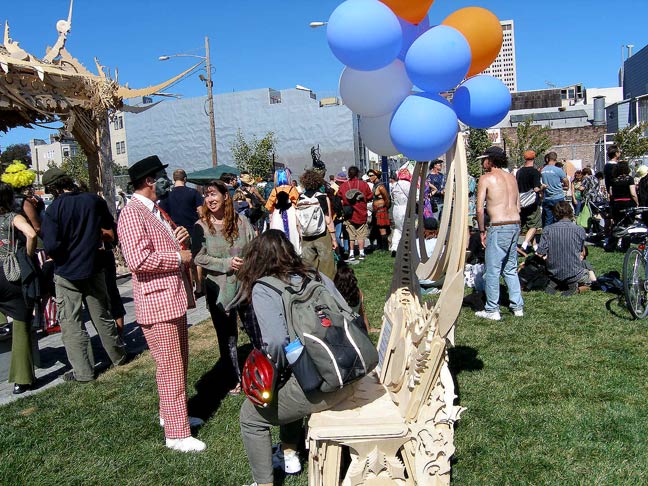 Atmosphere.


Burner bus.


Burner jeep.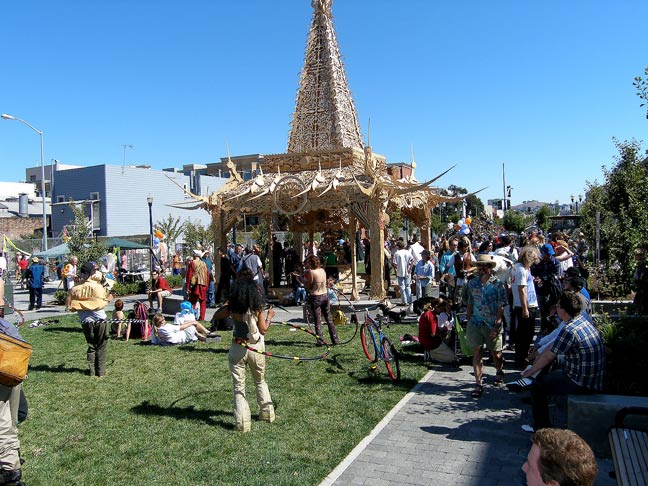 Quad.