SAN FRANCISCO ART GALLERY OPENINGS
HOTEL DES ARTS - 08.03.05
Hotel des Arts and STARTsoma: Painted Rooms 4.0.
Artists: Dave Kinsey, Jeremy Fish, NoMe Edonna, Buff Monster, Casey O'Connell, Brian Ermanski, Scatha G. Allison, Mark the Cobrasnake, Tes One + Bask Collaboration, Jonathon Keats.
Comment: Best show yet of artist-painted rooms at Hotel des Arts. You really oughta come see this place where almost every room is a complete work of art. Even the New York Times did a story on it in early July, so I guess it's OK for our local papers to cover now. Tonight, I gotta give the big pick to Anthony Skirvin for his wacked out tribute to the Unibomber, complete with working record player, vintage records, map-plastered bathroom, and packrat crap crammed crates (say that one ten times, dood). Also noteworthy is a Jeremy Fish skullathon, a soft smooth amorphous agglomeration by NoMe Edonna, one-eyed girlies by Casey O'Connell, Buff Monster reminding us that people from LA say stuff like "Lick It Up Bitch," and for the highbrow crowd, a conceptual pinhole camera taking a 100-year exposure by Jonathon Keats.
Speaking of Jonathon Keats, commendations for stepping up, bridging the art gap, and showing solidarity with the Urbanites. One of my major art world beefs is the way that various factions completely and totally ignore each other-- no, wait-- disavow each other's existence. This insipid sitdown strike drastically hampers exchange of ideas, sharing of techniques, joining of forces, collaborating in potentially extraordinary ways, and just plain getting to know one another as fellow creative human beings. C'mon kids; stop pouting and play nice.
Room art (NoMe Edonna).


Room art (Dave Kinsey).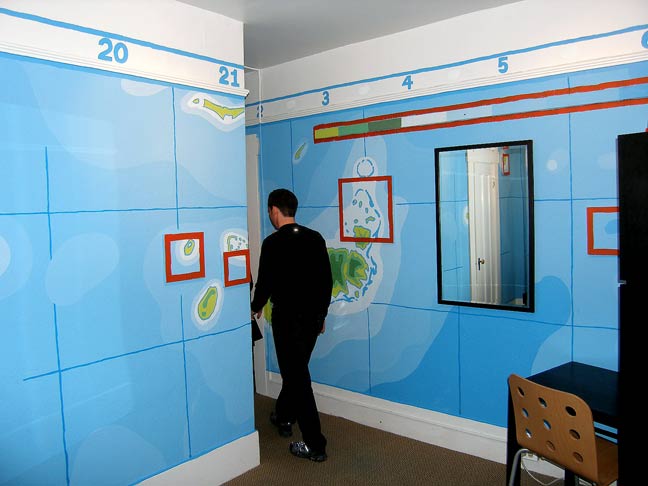 Room art (Norman Korpi).


Room art (Brian Ermanski).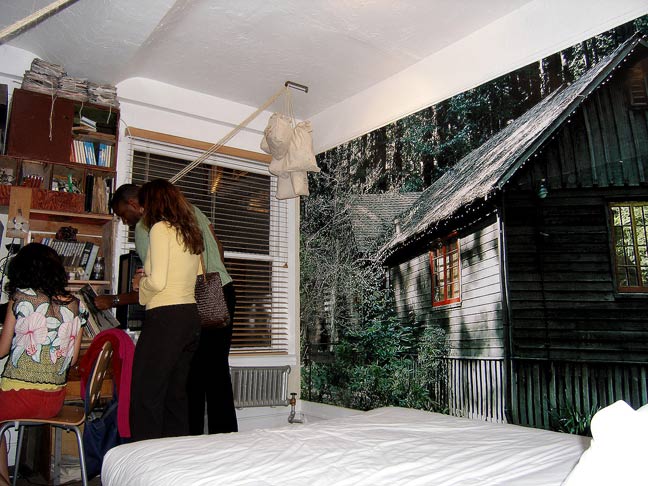 Unibomber room art - pick (Anthony Skirvin).


Unibomber room art (Anthony Skirvin).


Unibomber room art (Anthony Skirvin).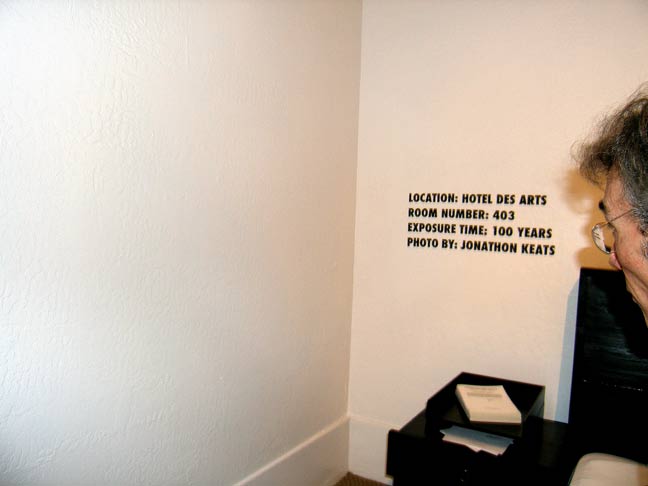 Room art (Jonathon Keats).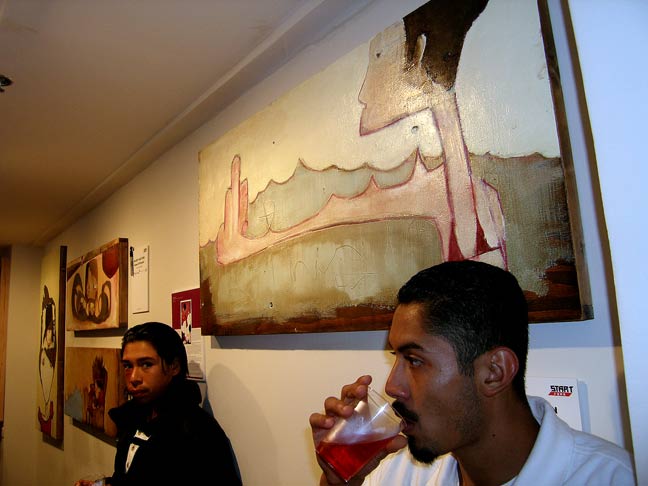 Art (Casey O'Connell).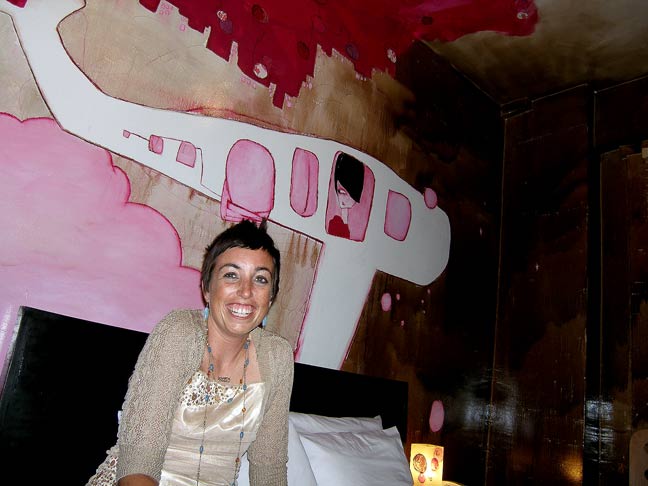 Casey O'Connell - room art.


Room art (Bask and Tes One).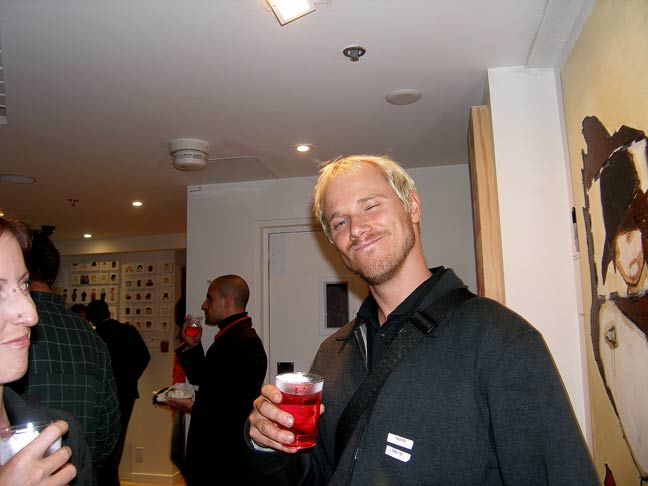 SF Chronicle art man Matt Petty.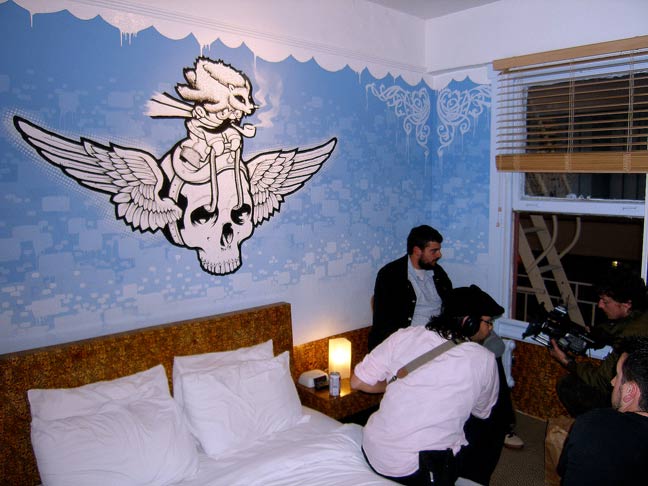 Room art (Jeremy Fish).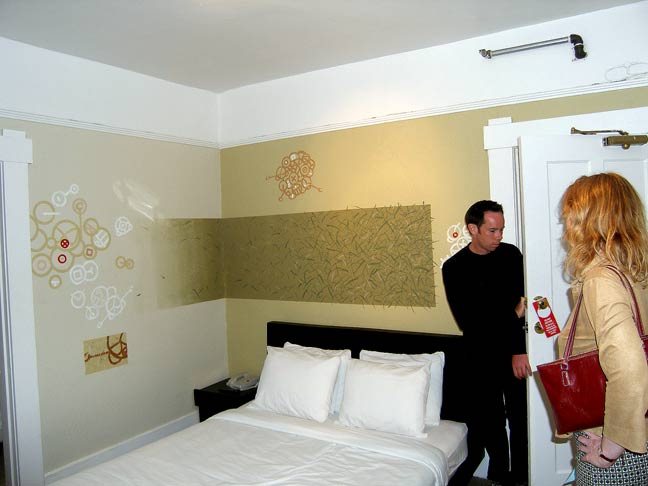 Room art.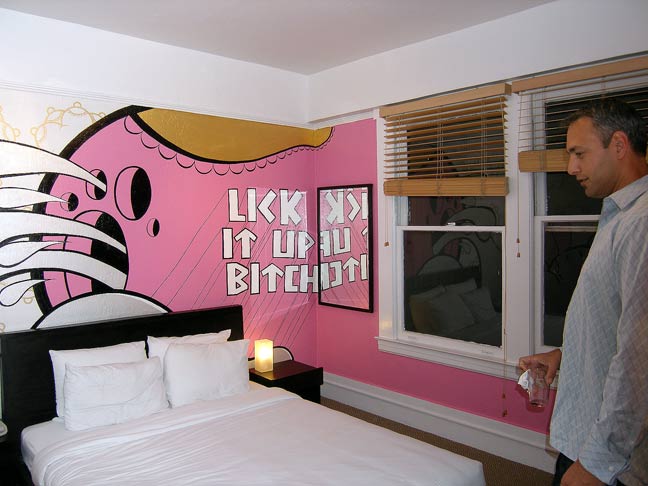 Room art (Buff Monster).


Room art.


Outer - Ice Cream Man gives it away.