SAN FRANCISCO ART GALLERIES - OPENINGS
JACK HANLEY - NEEDLES & PENS - BIBLIOHEAD
ELEANOR HARWOOD - QUEEN'S NAILS ANNEX
08.03.07
Bibliohead Bookstore: Kristin Farr - You Could Be Home By Now.
Comment: Agreeable upbeat paintings line the upper walls just shy of the ceiling in this densely stocked bookstore. Neck craning is in order for proper viewing, but you can use the yoga, right? A catalog accompanies the show.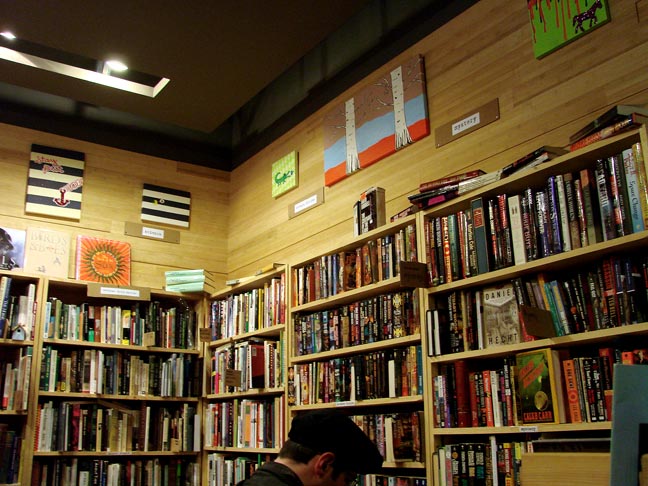 Art - up.


Catalog.


Kristin Farr says hello.


***
Jack Hanley Gallery: The Innocent Gaze.
Artists: Hisham Bharoocha, Leslie Shows, Chris Sollars, Erika Somogyi, Ted Riederer, Edmund Wyss.
Comment: Artists address various aspects of war, disaster, and tragedy from their safe-distance perspectives, the endeavor curated by Dina Pugh. That simple and no more complicated. This is one of those themed group shows where meshing the art with the agenda gets verbally circuitous at times (especially with the pieces completed well in advance of the show). Helpful artist hint #835, paragraph 2, sentence 4, clause B: The longer it takes to explain, the less time is left to look.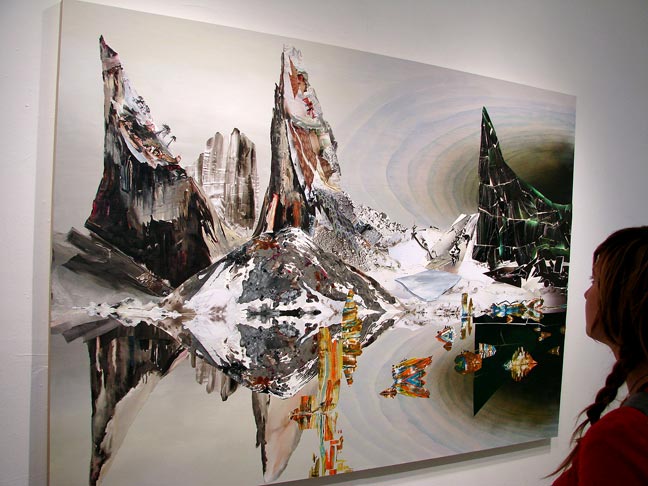 Art.


Art.


Art.


Jack Hanley - Dina Pugh.


Art.


Art.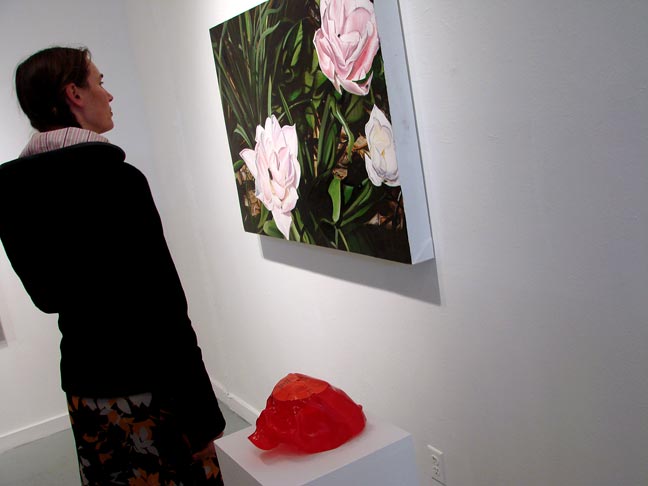 Art.


Art.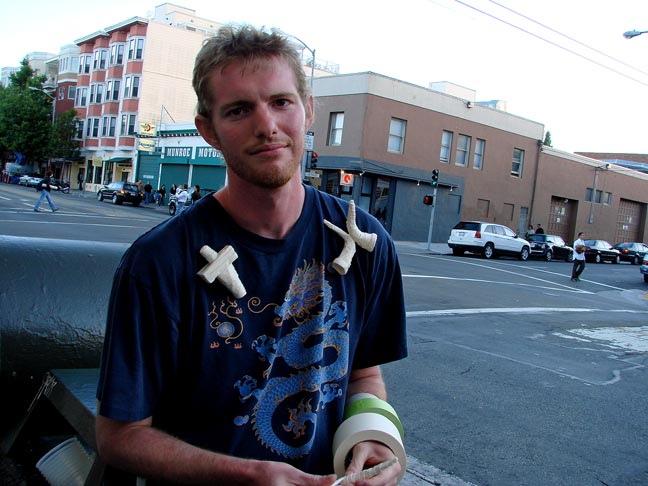 Masking tape artist creates oeuvres out front.


He works with strap ties too.


Door delta from a distance.


***
Needles & Pens: Mike Brodie aka Polaroid Kidd - Ridin' Dirty Face.
Comment: C-prints of Polaroids by Mike Brodie aka Polaroid Kidd ring gritty and true, documenting low-end and alien-edge lifestylers in various parts of the country. It ain't necessarily pretty, but it's pretty revealing.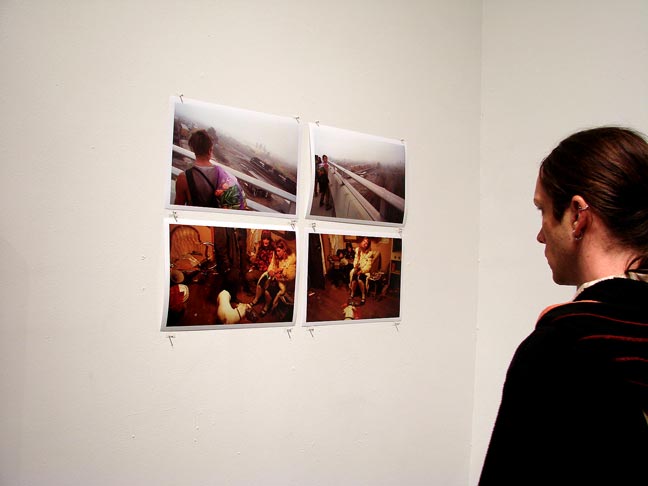 Photography.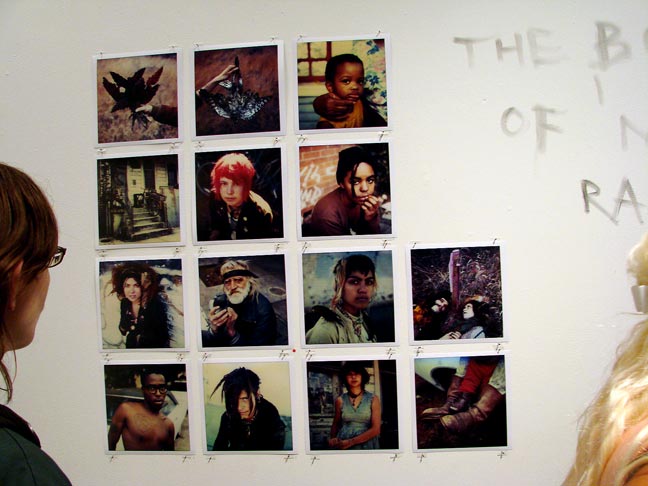 Photos.


Photographs.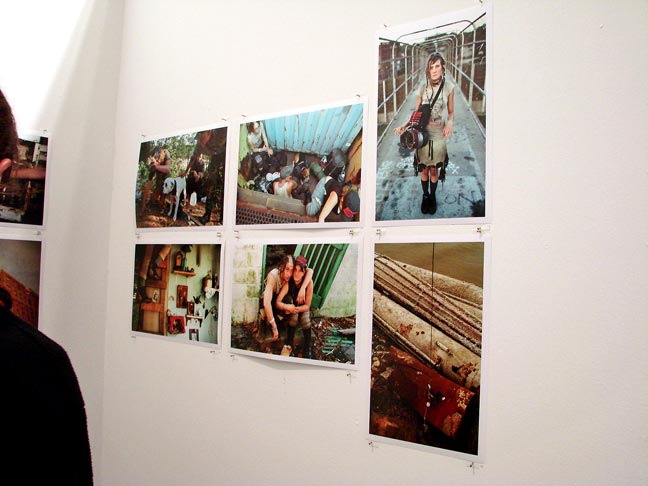 Images.


***
Eleanor Harwood Gallery: Mat O'Brien - Release.
Comment: Mat O'Brien employs stylistic elements of illustration in his tight weave drawings, some with collage. The composite compositions, usually part portrait, and perhaps part materialized thoughts or memories, trend reflective and personal. But wait; there's more. O'Brien's new book, Hug the Gray, limited to 1000 copies, debuts here tonight, and is available at the gallery for a mere $16.
Art.


Art.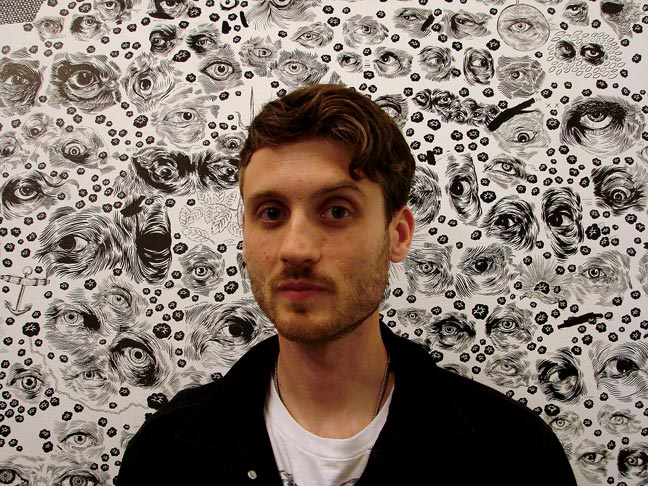 Mat O'Brien - art.


Mat O'Brien book; Eleanor Harwood.


Art.


Art.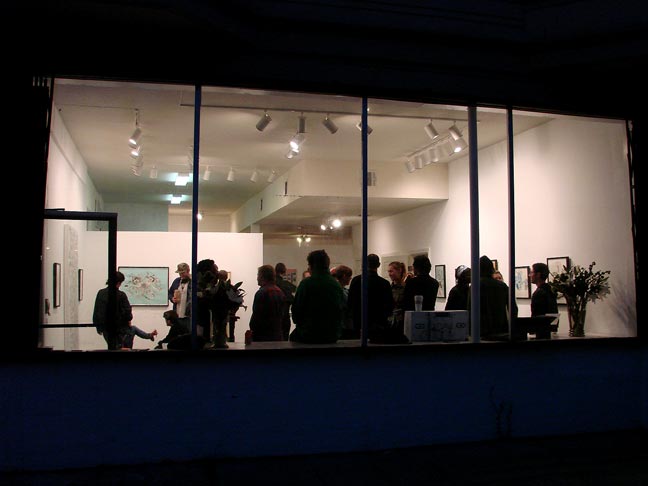 Outside looking in.


***
Queen's Nails Annex: Juan Luna-Avin - Estamos Vivos! -- John Dwyer - Super Poor Friends.
Comment: Juan Luna-Avin installates the front gallery with a combination homage, Mexico style, to Punk Rock and Heavy Metal, two rather strange bedfellows, but not so much once Luna-Avin gets through with them. Meanwhile, in the midriff and hindmost sectors of the gallery, John Dwyer whips up an autobiographical melee of paintings, drawings, and dimensional pieces. Knowing Dwyer's capacity for care and attention to detail, some of the works wax a mite muddled for my delicate sensibilities.
Here we are.


Art (John Dwyer).


Faux throw with a frightful face (John Dwyer - like it).


John Dwyer.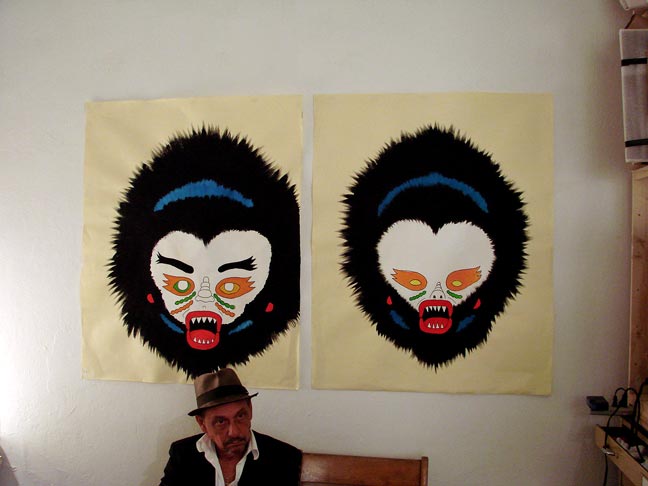 Art (John Dwyer).


Art (John Dwyer).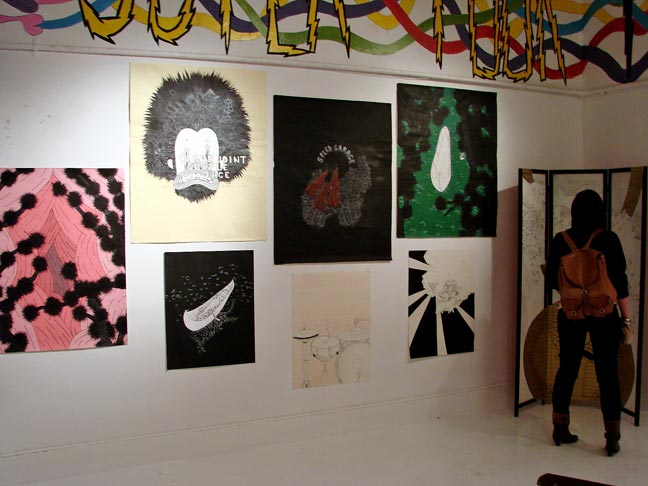 Art (John Dwyer).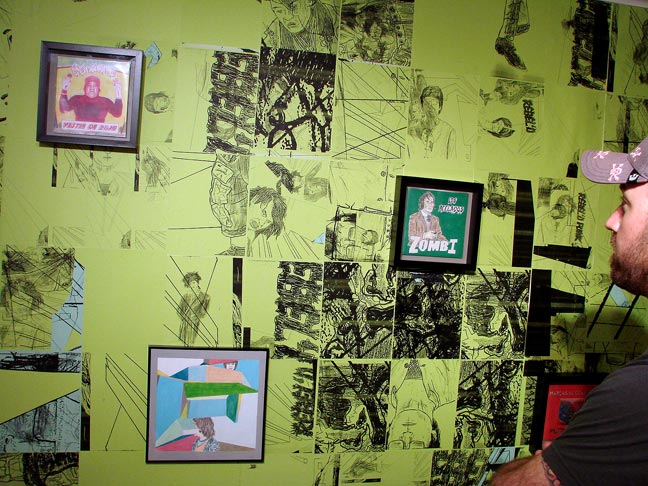 Art (Juan Luna-Avin).


Art (Juan Luna-Avin).


Juan Luna-Avin - art.


Layout (Juan Luna-Avin).


Art (Juan Luna-Avin).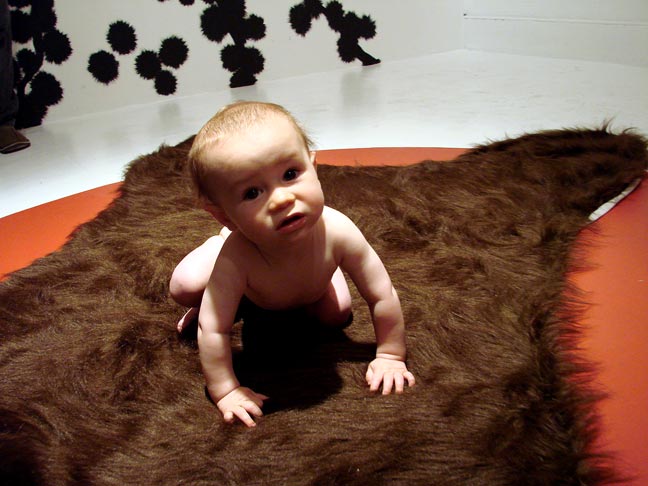 Obligatory baby shot.


***
Addendum:
Anthony Skirvin at his shop, around the corner from Jack Hanley.


***