SAN FRANCISCO ART GALLERIES - OPENINGS
BRAUNSTEIN/QUAY - WESTERN PORTRAIT & FIGURE GROUP - BLUESPACE
2ND FLOOR PROJECTS - GALERIA DE LA RAZA - MILLION FISHES
MISSION ARTS AND PERFORMANCE PROJECT (MAPP) - FRANKEE UNO
08.04.07
Braunstein/Quay Gallery: Coming Attractions - Gallery Group Show.
Artists: Kimberly Austin, Robert Brady, Patricia Tobacco Forrester, Gyöngy Laky, Grace Munakata, Paul Pratchenko, Jane Rosen, David Ruddell, Jeff Adams, John Altoon, Jeremy Anderson, Tom Bolles, Paul DeMarinis, Bean Finneran, Robilee Frederick, Will Holub, Dennis Luedeman, Michael McConnell, Craig Nagasawa, Arthur Okamura, Aaron Petersen, Beverly Rayner, Kyle Reicher, Ursula Schneider, Richard Shaw, Nell Sinton, Mary Snowden, Michael Stevens, Peter Voulkos, Susan York.
Comment: Summer recess, group show, all quality. And very quiet-- just me and the art.
Art.


Art.


Art.


Art.


***
Western Portrait & Figure Group: Visions of the Figure.
Artists: Morgan Conolly, Steve Kessler, Allyn Saroyan, Lorie Tinfow, Quae Vide.
Comment: Portrait, glamour, and figure photographs, mainly female nudes, often in classic poses, photographed by members of the Western Portrait & Figure Group, and shown at the studio of ceramic artist John Whitmarsh.
Here we are.


Photography.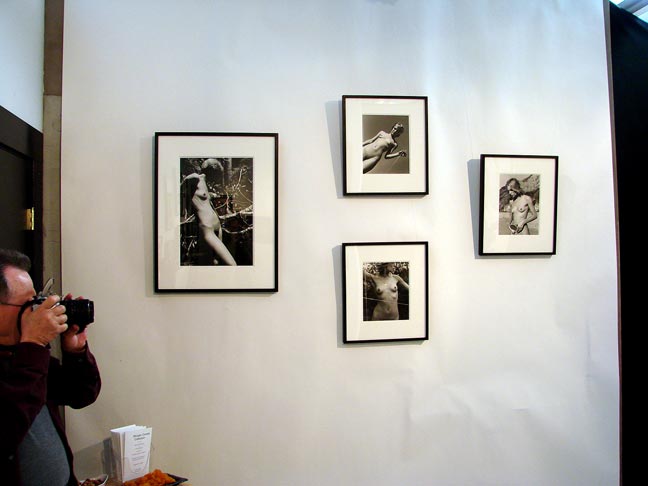 Photos.


Photographs.


Images.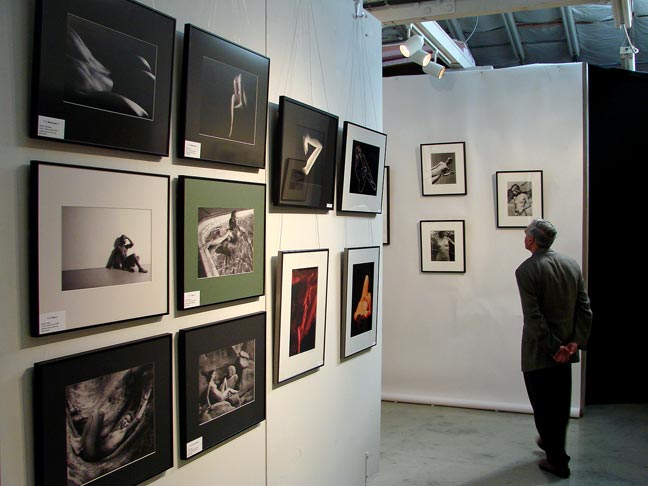 Photography.


***
Bluespace: Herman Volz - Works From 1930-1970.
Comment: Modest but engaging retrospective of the work of San Francisco artist Herman Volz (1904-1990), includes regionalist and social realist lithographs from the 30's and 40's, abstract works from the 40's or 50's, blockprints from the 60's mainly referencing African American social and political upheaval of the era, and pleasant late-career watercolors with European subject matters.
Art.


Art.


Art (nice).


Art.


Art.


Art.


Art (kinda like it).


Healthy turnout.


***
2nd Floor Projects: Two Amandas.
Artists: Amanda Kirkhuff, Amanda Eicher.
Comment: 2nd Floor Projects is a one-room gallery space administered by artist/curator Margaret Tedesco. The venue's current episode presents the art of two Amandas, one of whom is out of town, so I talk to Amanda Kirkhuff, the one who's not. She tells me her sensitively rendered ink drawings address the multifaceted personalities of contemporary mass media icons of the female variety like Ophrah Winfrey, Dr. Laura, Dolly Parton, and former porn-star-turned-pastor, Barbie Bridges (Pastor Melissa Scott), who married and was subsequently ordained by TV minister Dr. Gene Scott, and who, since Scott's death, has carried on his ministry. So there you go.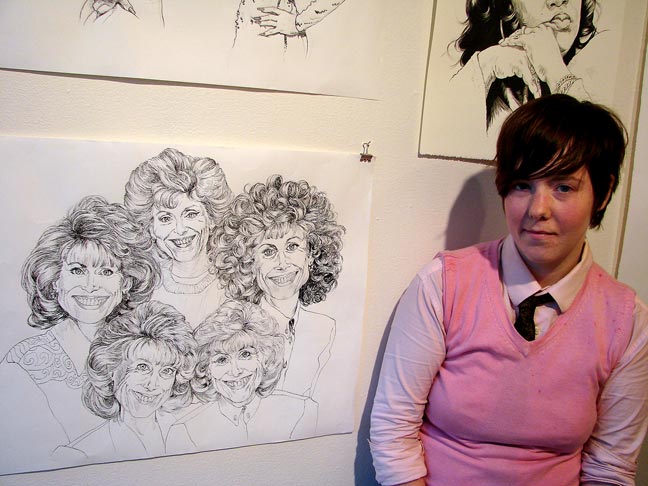 Amanda Kirkhuff - Dr. Laura art.


Art (Amanda Eicher).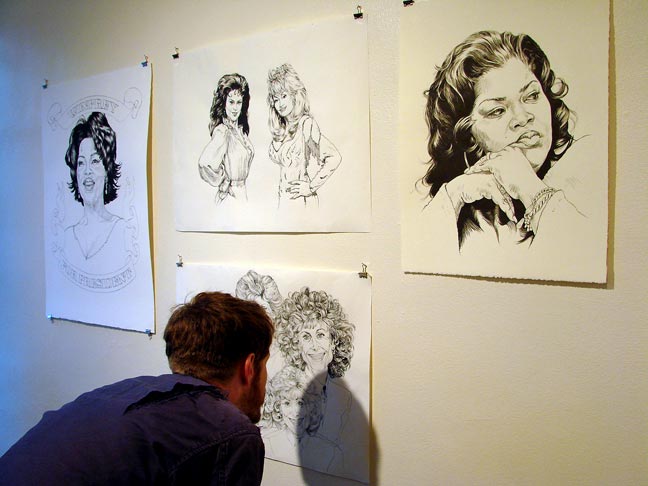 Art (Amanda Kirkhuff).


Loge seating.


***
Galeria de la Raza: No Distance is More Awesome.
Artists: Ana Adarve, Enrique Chagoya, Liz Cohen, Jamex & Einar de la Torre, Sergio De La Torre, Andy Diaz-Hope, Francisco Dominguez, Ana T. Fernandez, Dolissa Medina, Jaime Mendoza, Julio Cesar Morales, Dulce Pinzon, Alex Rivera, Favianna Rodriguez, Luz Maria Sanchez, Camilo Ontiveros, and Shannon Spanhake.
Comment: The show's title references that distance between Mexico and the United States commonly referred to as The Border. Here, artists from either side of that line in the dirt compellingly essay on what the demarcation signifies depending on who you are, which side of it you live on, which side of it you want to live on, what your politics are, and whether or not and according to whom you belong on the side you happen to be on at the moment. Highlights include Jamex & Einar de la Torre's imposing Mayan-style installation representing the sun and commenting on the irony that many traditional Mexican arts and crafts are now being manufactured by cheap labor in China; Dulce Pinzon's photographs of Mexican immigrants on the job and dressed in costumes of Mexican and American superheroes, pointing up the heroic nature of their lives; Andy Diaz Hope's enlightened analysis of terrorists and terrorism; and more.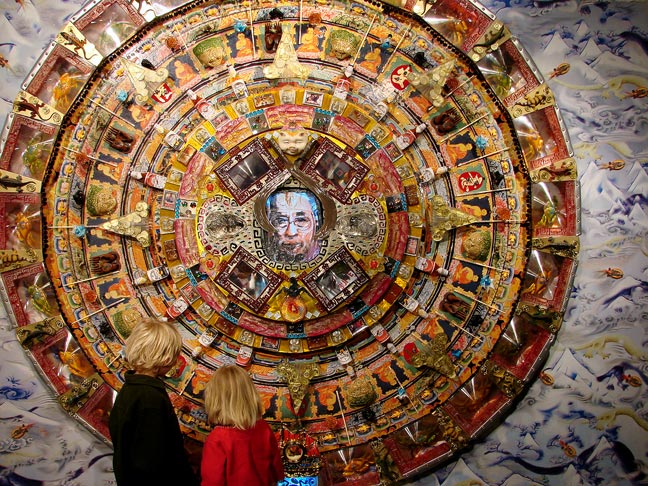 Solar art (Jamex & Einar de la Torre - pick).


Solar art detail (Jamex & Einar de la Torre).


Photography (Dulce Pinzon).


Photography (Dulce Pinzon).


Everyone's a terrorist art (Andy Diaz Hope).


Everyone's a terrorist art (Andy Diaz Hope).


Ana Fernandez interviewed by Univision.


Disposable Starbuck-esque cup art.


Starbuck-esque cup art detail.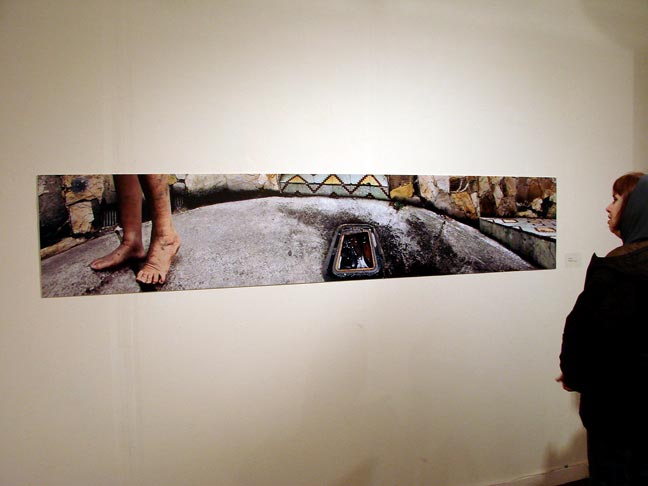 Art.


Art.


Art.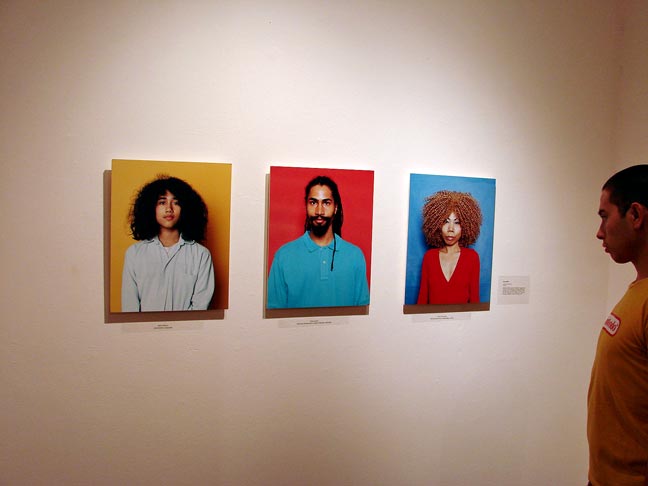 Art.


Art.


Art.


***
Million Fishes Arts Collective: Campbell Whyte & Elizabeth Marruffo - Lost in a Fog.
Comment: Touching intertwine of a collaborative by recently transplanted Australian artists Campbell Whyte and Elizabeth Marruffo embodies wispy magical imagery based on their travels, energies, and relationship to each other. The event is part of the Mission Arts & Performance Project or MAPP, a bi-monthly event featuring music, art, and performance at multiple Mission District venues, all within walking distance of one another.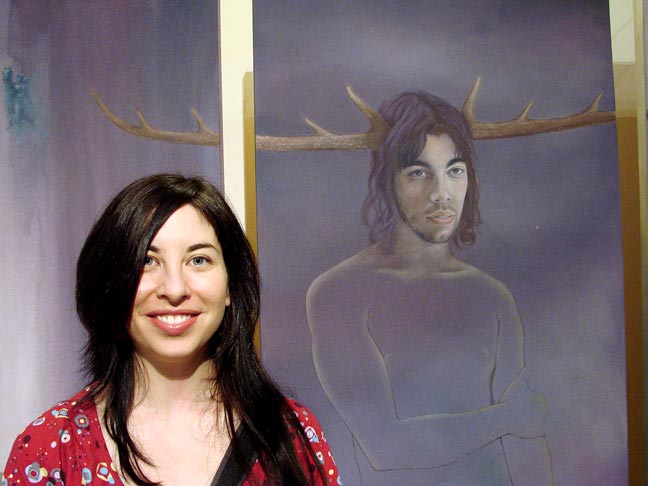 Elizabeth Marruffo - art.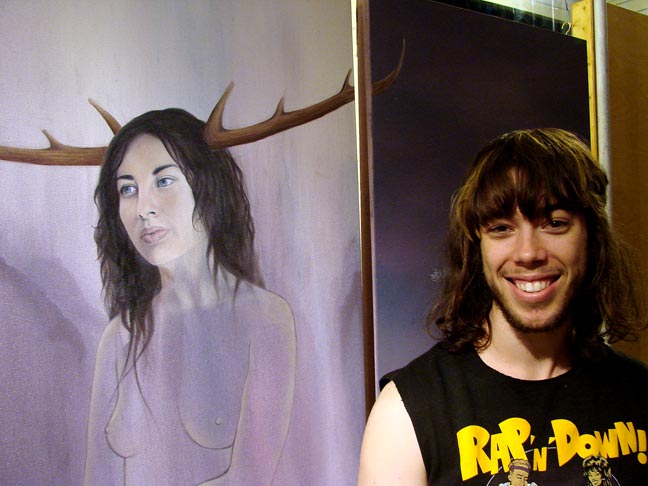 Campbell Whyte - art.


Art.


Art.


Art.


***
Ashlee's Studio, 2850 23d Street, San Francisco, CA 94110: Will Guiggio - Photography; Ashlee Ferlito - Paintings.
Comment: Another venue participating in the Mission Arts and Performance Project.
Art (Ashlee Ferlito).


Photography (Will Guiggio).


Photos (Will Guiggio).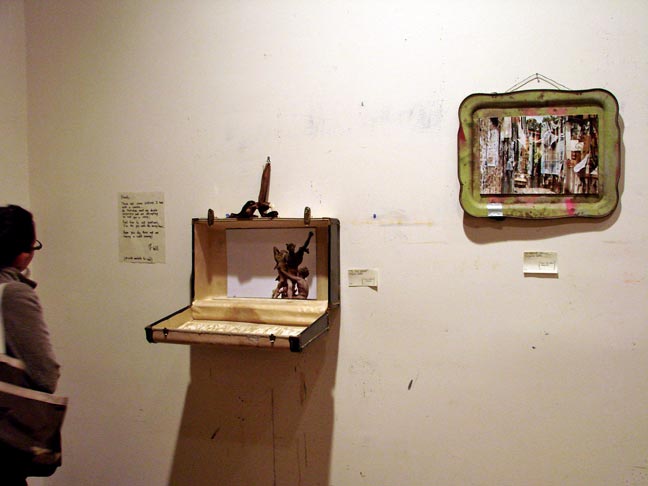 Photographs (Will Guiggio).


***
Hidden Alley Works, 2555 Bryant Street, San Francisco, CA 94110: Morgan Flores - Painting; Sloan Swartz - Mixed Media.
Comment: Mission Arts and Performance Project continues with an atmospheric journey down the alley and into the yard. Another embodiment of tonight's MAPP-- eleven separate venues, an entirely delightfully congenial occurrence. Check out the next installment-- you'll be glad you did.
Down the alley.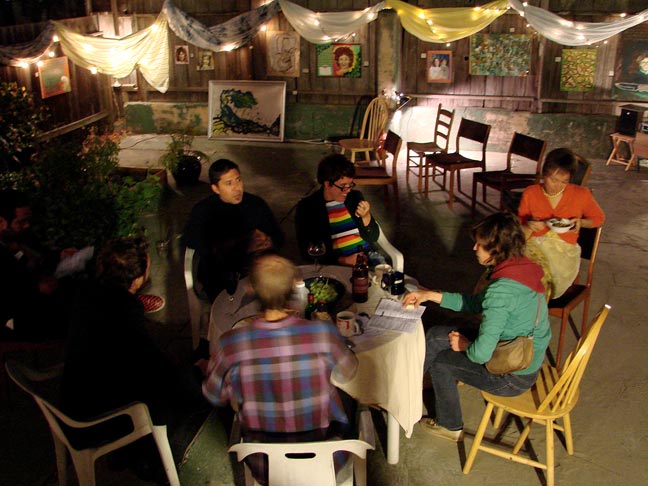 Into the yard.


Art.


***
Frankee Uno Salon + Gallery: Warren Reppenhagen - Interpreted Patterns.
Comment: Successful architectural interior designer Warren Reppenhagen reduces and then transmutes conceptual interior environments like floor plans and elevations into appealing abstract pattern paintings.
Art.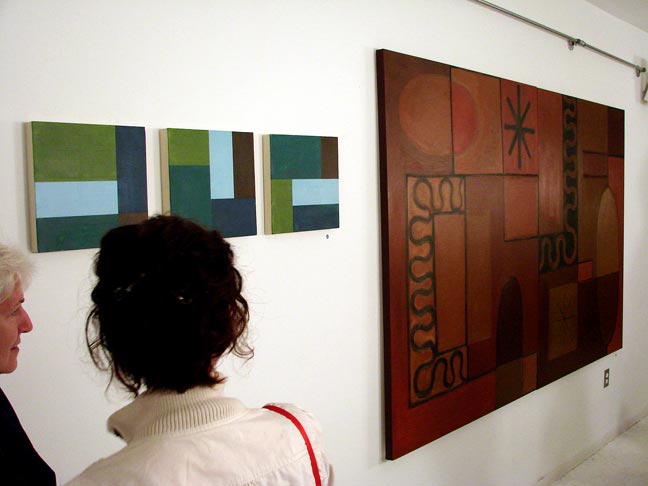 Art.


Art.


Frankee Uno - art.


Art.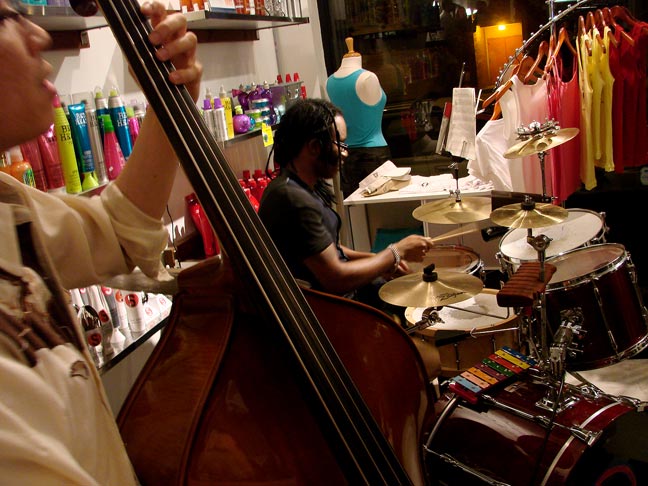 Tunes.


Head count.


***