SAN FRANCISCO ART GALLERIES - OPENINGS
ARTWORKSF - SOMARTS - THE LAB
JACK HANLEY - GARAGE BIENNALE - SPACE GALLERY
RECEIVER GALLERY - EDO SALON - MY TRICK PONY
08.04-05.06
ARTworkSF at SomArts Cultural Center: 4th Annual Cafe Show.
Artists: Alexandre Koulouris, Allison Adams, Amelia Lewis, Anahid Arslanian, Anthony Achundo., Avi Deshmukh, Charlise Tiee, Chenee Fornier, Christine Cianci, David Leong, Dorian Katz, Edna Di Paula, Elisa Carozza, Faern, Fong Fai, Hillary Murray Freir, Jaqueline Paull, Javier Farias, Jennifer Morris, Jennifer Villanueva, Jennifer W. Mack, Joan Elan Davis, Kana Sekine, Karen Gutfreund, Kathryn Arnold, Kim Haueter, Kimiko Sakuma, Kristin Hashimoto, Maja Sidzinska, Margit Jones, Martha Rodriguez, Natalee Kolbrich, Nikki Schrager, Patricia France, Pauline Crowther Scott, Peter Foucault, Phyllis Rockne, Ryan Ethington, Sarah Soward, Shelley Gehlbach, Stephanie Cunningham, Susan D. Latham, Susan Roberts, Taiko Fujimura, Tamar Assaf, Telma Morais, Teresa Moore, Tony Perez, William Francis, more.
Comment: Matt McKinley of ARTworkSF explains the rules-- to participate in the Cafe Show you pay ARTworkSF 25 bucks, bring any three works of your art down to SomArts Cultural Center, and ARTworkSF does the rest-- they hang 'em salon style (or put 'em on pedestals if they're sculptures), advertise the event all over town, and get plenty of warm bodies through the door. No jury, no selection process, no requirements (other than maybe size/weight); it's all up to you. So if you wanna show your art affordably, this is one way to do it. The event includes live music and performances, lasts two weeks, and helps raise funds for Somarts.
Art.


Art.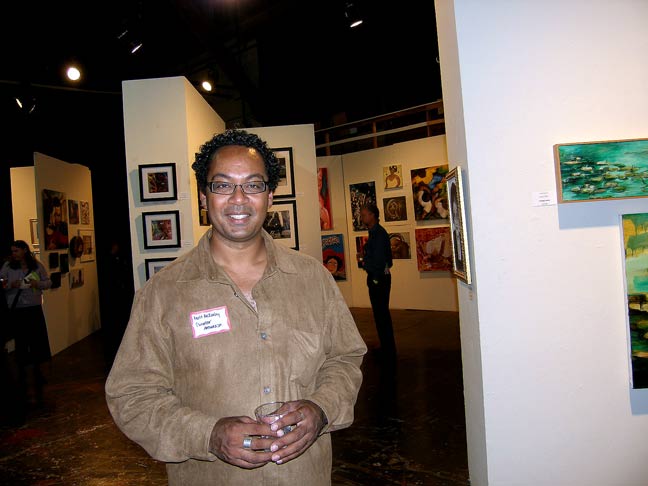 Matt McKinley of ARTworkSF.


Art.


Art.


Art.


Art.


Art.


Art.


Art.


Art.


Aerial.


***
SomArts Main Gallery: Re Show - 2 Decades of SOMA Artists - 1960-1980.
Comment: The exhibition features works by artists active in the SOMA district between 1960-1980. The official Re Show website includes a directory of "as many South of Market artists as we can find" (currently numbering around 150) along with artist bios and contact information when available-- an excellent resource for SF art history documentarians.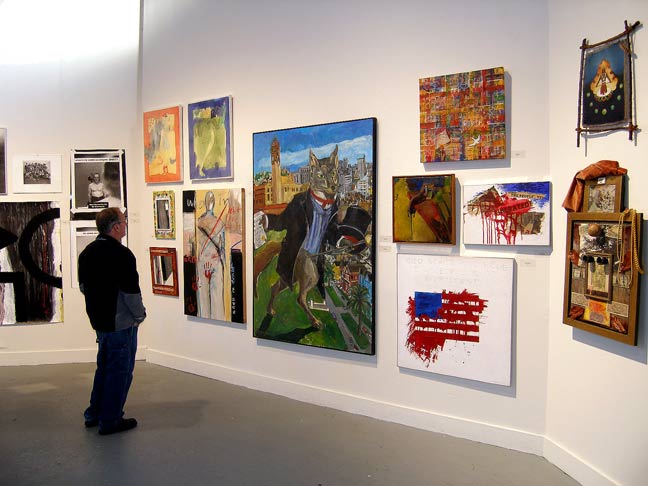 Art.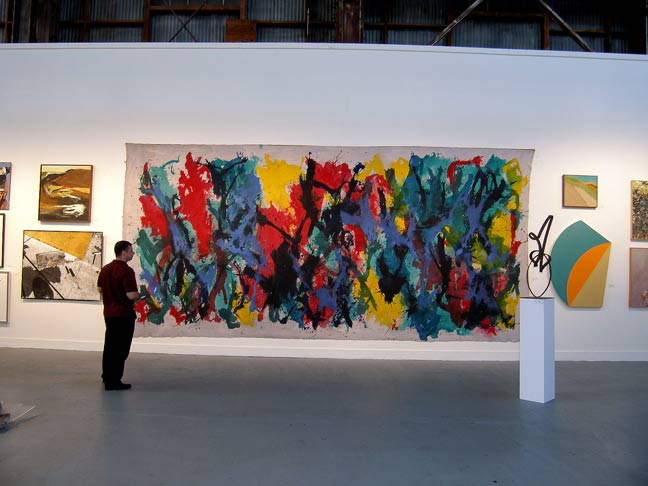 Art.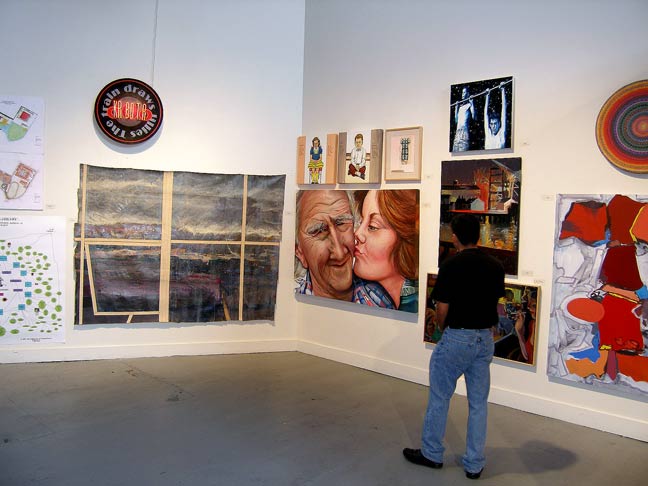 Art.


Art.


***
The LAB: The Capp St. Aeronautical and Lighter Than Air Space Program (Reaching Towards Heaven).
Artists: Kal Spelletich, Chris Johanson, Jason Broemmel, Jonathan Foote, and Jericho Reese .
Comment: Kinetic contraption convention captained by Kal Spelletich, founder of the interactive mechanical performance collective Seemen. Viewer participation is encouraged (at your own risk, of course). Devices are constructed from recycled metal, electronics, machine parts, and other reusable discards and include a flame-throwing weenie roaster, a remote control violin, a set of operable metal wings, a flyable carpet, a simulated free-fall machine, and more more more.
Fly-it-yourself carpet art.


Flap-it-yourself wing assembly art.


Kal Spelletich - devicemeister.


Jason Broemmel demonstrates his pyrocycle.


Video camera operates remotely from another part of the room.


Scorch-a-weenie art.


Explanatory.


***
Space Gallery: Brains (Send More Cops!) - Zombies both Visceral and Subtle.
Artists: Jeff Anderson, Maria Behan, David Benzler,Nate Boyce, Chase Bowman, Nathan Burazer, Kamio Chambless, Alison Childs, Ajit Chauhan, Dash, Brook Dillon, Galen Donaldson, John Dwyer, Sacha Eckes, Maria Forde, Matt Furie, James "Ganyan" Garcia, Mike Green, Leslie Hendin, Jaws, Andrew Junge, Liam Keily, Eric Landmark, Spencer Mack, Leah Martin, Sean McFarland, Jarett Mitchell, Amy Morrell, Donal Mosher, Michael Palmieri, Joe Roberts, Sham, Sadie Shaw, Gordon Shepard, Leslie Shows, Neil Stewart, Randy Lee Sutherland, Ben Valis, Paul Wackers, Porous Walker, Liz Walsh, Sophia Wang, David Williams, Mary Elizabeth Yarbrough.
Comment: Zombie art extravaganza complete with zombie pinata, zombie videos, complimentary zombie lapel pins, and a zombified Nagel print. You can even get yourself made up like a zombie.
Zombie Nagel art.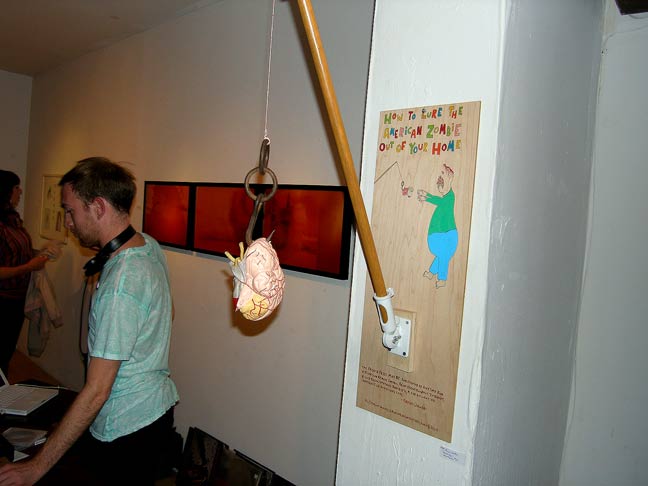 Zombie bait art (Porous Walker).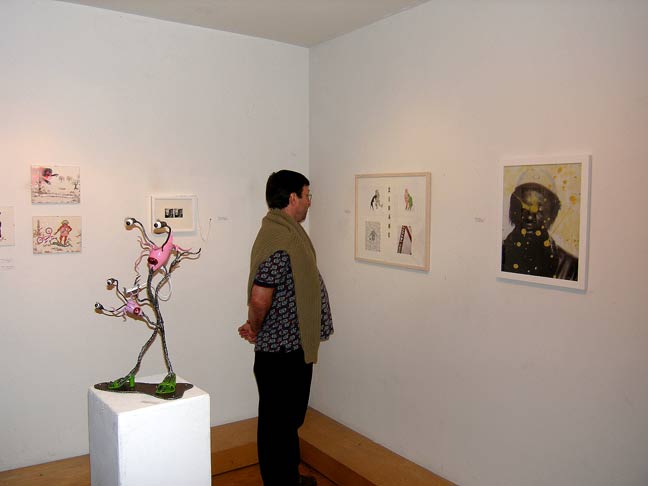 Miscellaneous zombie art.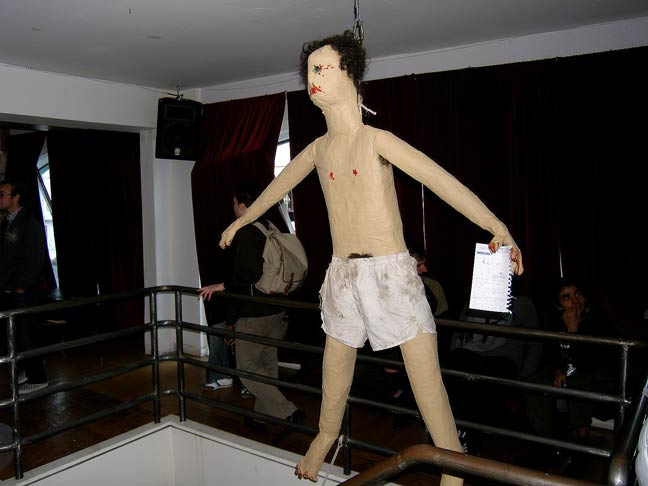 Zombie pinata art.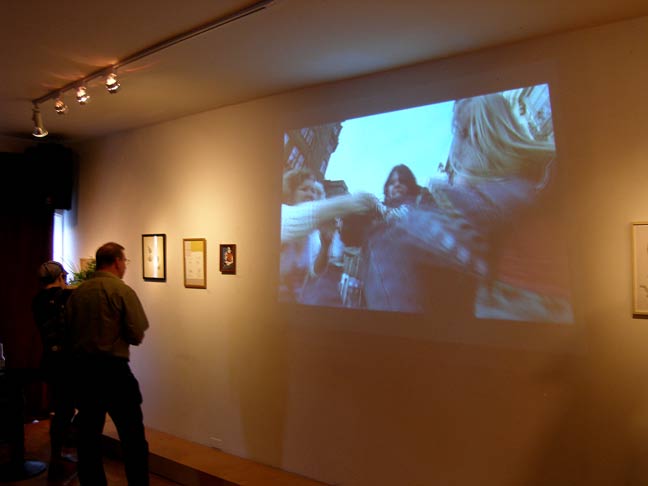 Zombie video art.


Complimentary zombie lapel pin art.


***
Edo Salon: Rocky Mountain High - New Work by Nicole Hagen and Leslie Hulesh.
Comment: I think this is some kinda wiggy ode to mountain lifestylers. There's mountain goats, spirit catchers, smores, and stuff like that.
Art.


Art.


Demonstrating proper procedure for ingestion of smores.


***
Jack Hanley Gallery: Anna Von Mertens - As the Stars Go By.
Comment: Anna Von Mertens defines time intervals around low points in American history such as the atomic bombing of Hiroshima, the Martin Luther King assassination, and the bombing of Bagdad and translates them into hand-stitched celestial time-lapse tapestries sized in wide screen dimensions. Each piece accurately reproduces the rotation of the stars and planets as it would have been viewed from earth by a stationary observer at the location of a particular event, facing a particular direction, during the actual time the event was taking place. Von Mertens tells me she maps out the images with the aid of a computer program. I reply that that's kind of technical. She tells me her father is a technical dude, and that he's in large part responsible for her scientific savvy. Good show-- and reasonably priced, considering the labor and acreage, at around $3K per piece.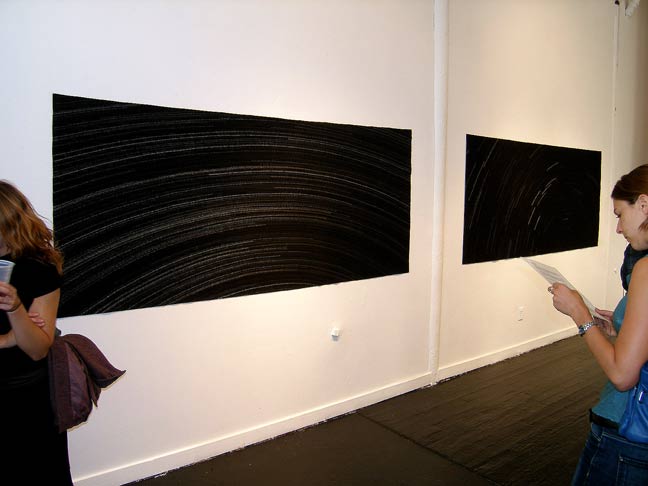 Progressive celestial chart art.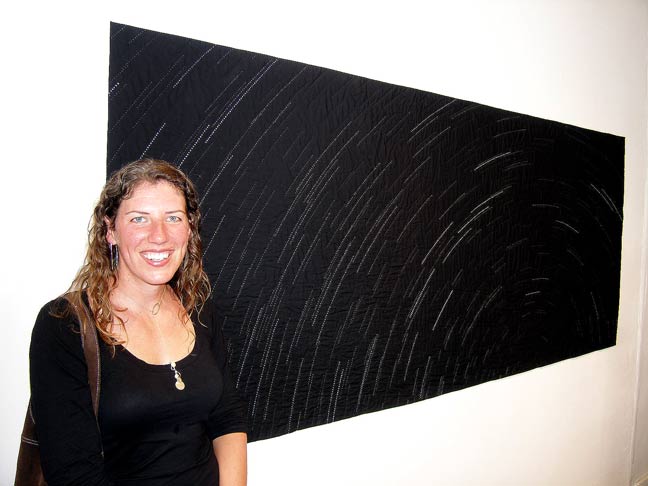 Anna Von Mertens - art.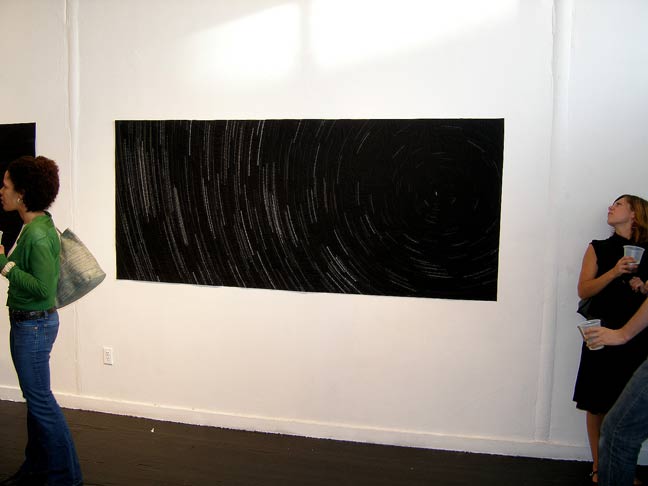 Time-lapse astronomy art.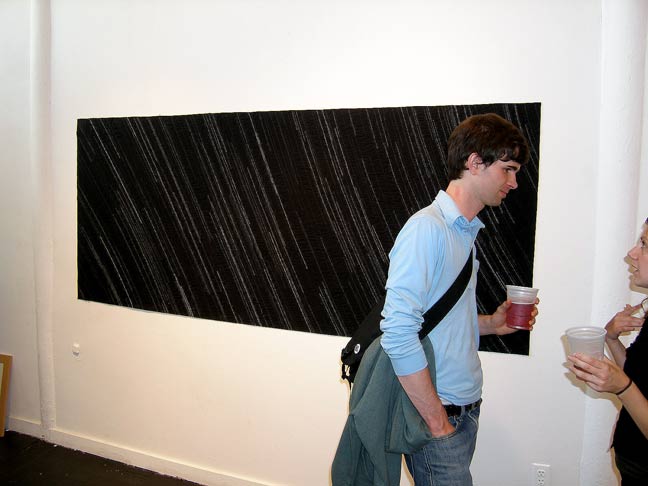 Star art.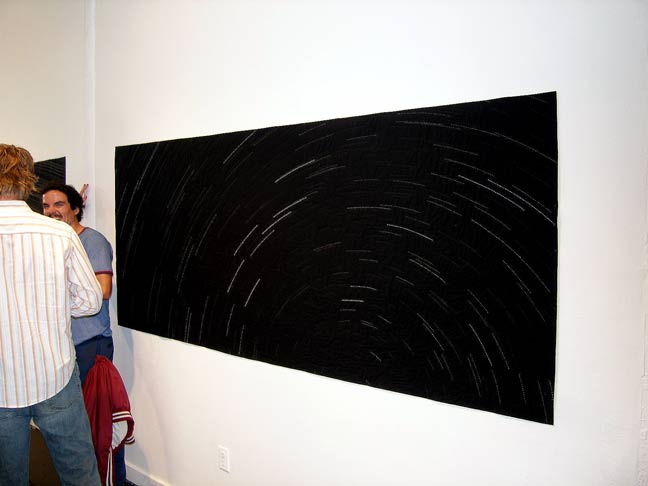 Star art.


Star art.


***
Receiver Gallery: Guest Artist Show.
Artists: Nathan Fox, James Gibson, Maya Hayuk, Ogi, Henry Lewis, Chris Pew, Kelly Tunstall, Paul Urich, Ferris Plock, Marci Washington.
Comment: Tight group show, mostly smalls, all good. Marci Washington pleases with her elemental deadpan portraiture and Chris Pew is lookin' real good with some meticulous cosmic floralesque visions on black that would totally get my goat if they didn't fish out a bit at the edges. The good news is that three of 'em are only $400 each. Always remember kids-- professional grade artsters don't just look at the compositions-- they look at everything-- front, back, top, bottom, sides, corners, bends, folds, edges, stretcher bars, stretcher bar stretch technique, frame, aura, essence, crux, allure-- everything.
Art (Ogi - nice).


Art (Kelly Tunstall).


Chris Pew - art (like it).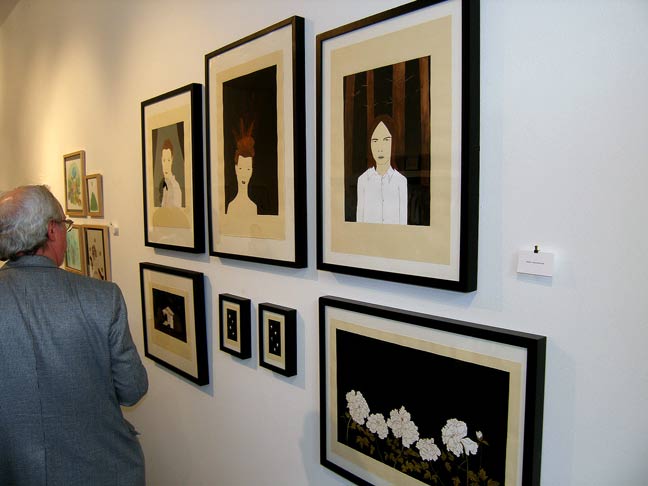 Art (Marci Washington - nice).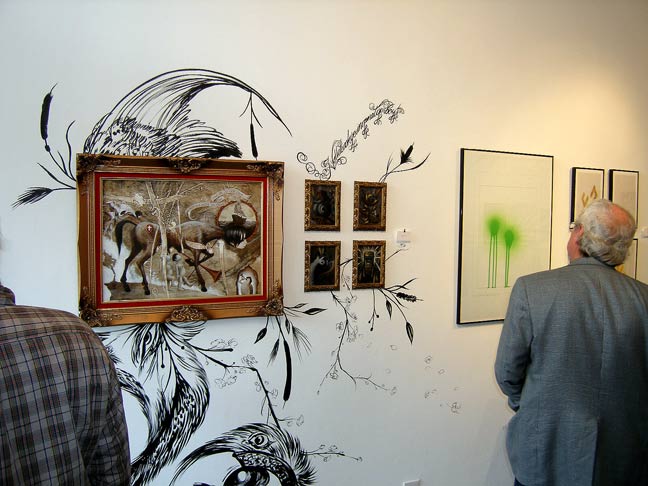 Art (Henry Lewis).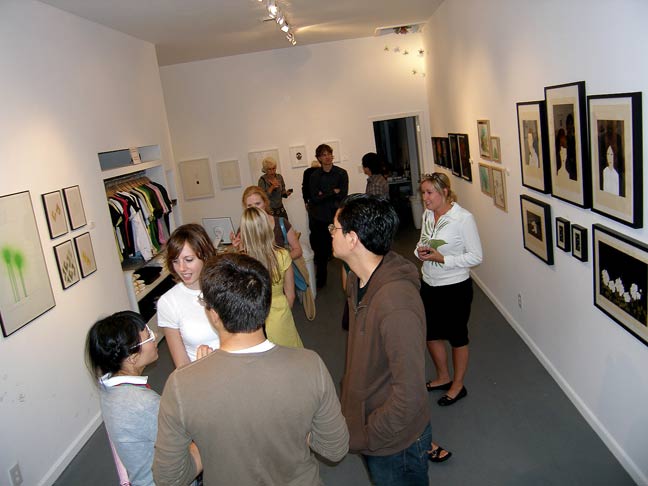 Situation.


***
Garage Biennale: Four in One - Curators Create, Artist Curates.
Comment: In segment two of Stephanie Syjoko's four-part reverse curatorial investigatatory, Clark Buckner chronicles his artventures to, from, and during his sojourn at Syjuko's studio, documentary-style, in words and images.
Documentary art.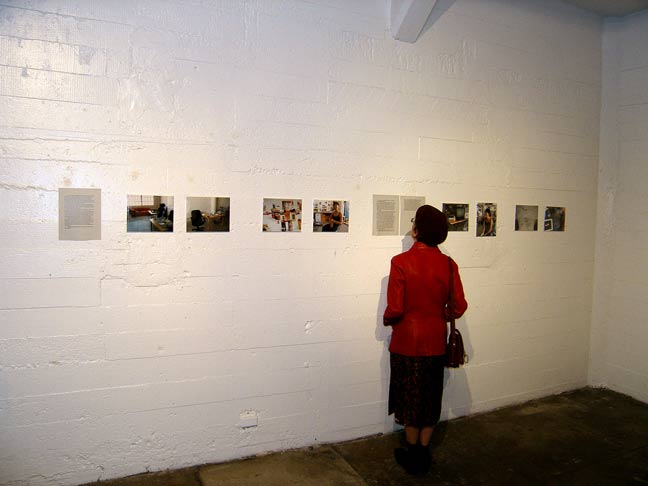 Documentary art.


Garage Biennale venue.


***
Addendum:
Rhiannon Bell - apparel designs at My Trick Pony.


***