SAN FRANCISCO ART GALLERIES - OPENINGS
DESIGN GUILD SF - LA VITA E BELLA - CHEZ POULET
REAVES - RENNER - PARK LIFE - THE HIVE
PACIFIC UNION SOUTH BEACH - EDO SALON
08.09-10.07
Design Guild SF: Open House.
Artists/Designers: Various.
Comment: This isn't technically an opening, but rather more like a collaborative office/gallery/workshop space oriented toward architecture and design. But I'm here with my camera, and you know what that means, don't you?
Art/design.


Art/design.


Art/design.


Attendance figures.


***
La Vita e' Bella & Kitchens Italia presented by ARTworkSF: Life is Beautiful.
Artists: Janet Allinger, Celestte Girouard, Grayson Yeager Malone, Natasha Dikareva, G.K. Callahan.
Comment: Select ARTworkSF artists exhibit at this showroom for modern designer kitchens, bathrooms, closets, and furniture, all imported from Italy.
Art (Natasha Dikareva).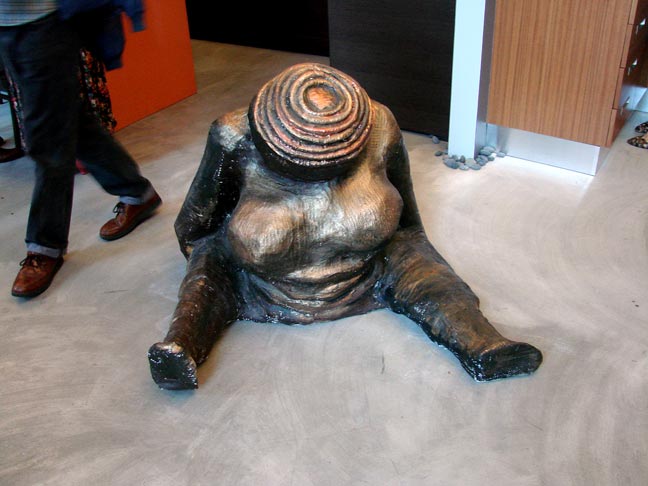 Not sure.


Art.


Alkie freeloader crams face (center).


***
Mina Dresden Gallery: Here und Dort. Artists: Serena Cole, Uri Korn, Billy Kroft, Hilary Pecis, Catherine Ryan, Sham Saenz, Zefrey Throwell, Tracy Timmins, Florian Borkenhagen, Per Shuman, Haina, Kora Jünger, Sebastian Burdach, Kersten Stoll, Marte Kiessling, FSK, Dimitri Lurie, Petr Shvetsov, Victoria Ilyushkina.
Comment: A little bit of everything at this multimedia melange-- Russian, German and American artists-- the American contingent consisting of artists from Thin Ice Collective in an encore presentation of a show originally debuted in Hamburg under the moniker "There Is No Light Without Darkness." A recently published survey of mainly Thin Ice Collective artists called "Downy Bird Art Kingdom" is on display at the show and offers up an enthusiastic selection of art.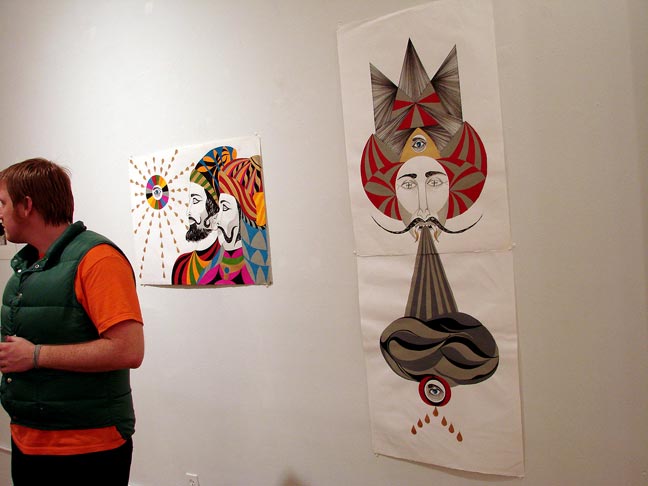 Art (Sham Saenz).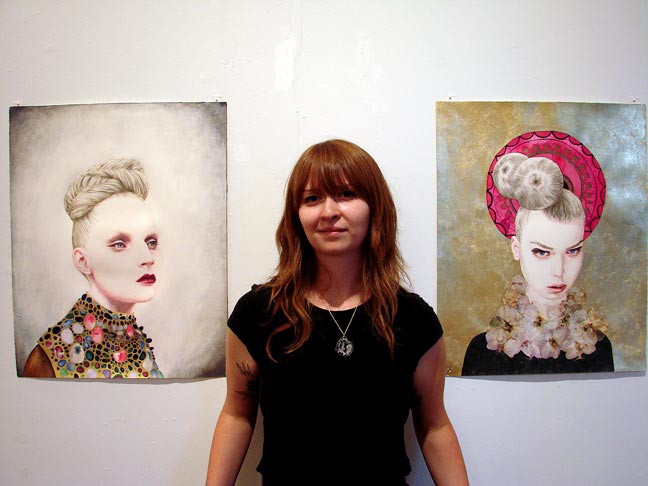 Serena Cole - art (like it).


Art (Billy Kroft).


Cemetery art (Uri Korn - nice).


Block of lettered wood with a handle art.


Video art.


Art.


Art.


Art.


Art.


***
Chez Poulet Gallery: Ani Lucia Thompkins and James McPhee.
Comment: Chez Poulet Gallery isn't officially an art gallery; it's the home of one Chicken John Rinaldi. But tonight it's a gallery because Chicken John is hosting an art show. Artist James McPhee is kind enough to introduce himself and point out our gracious host, who I subsequently manage to wrangle away from his adoring fans for a brief interview. The skinny, reports Chicken John, is that he's a "professional showman," a party partisan, a candidate for Mayor of San Francisco, and that his kicky full-service domicile is available for all manner events, so if one or more of these options are on your endgame radar, you'll likely assuage 'em here.
Chicken John Rinaldi world headquarters.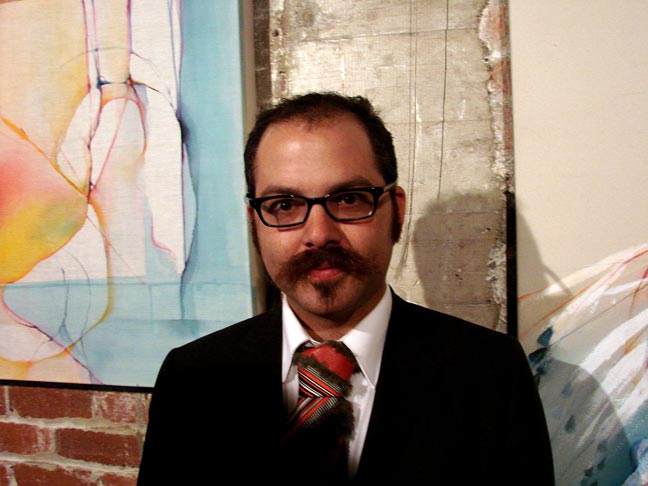 Chicken John Rinaldi, host, showman, mayoral aspirant.


Venue pan fore.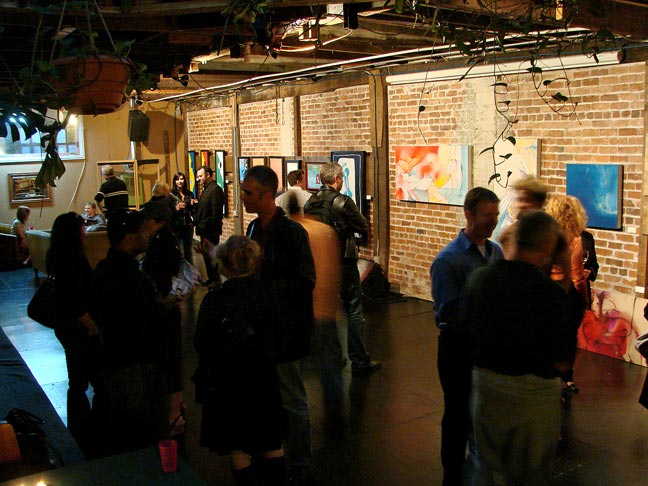 Venue pan aft.


Art.


Art.


Art.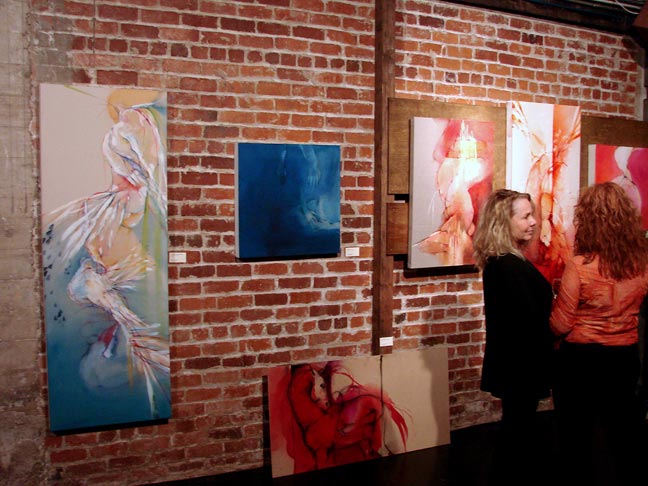 Art.


***
Reaves Gallery: Carlos Loarca - Exploration, The Color and Space of Loarca.
Comment: The prolific Carlos Loarca shows a selection of signature large semi-abstract paintings with moody symbolist overtones as well as a new series of works, brighter, peppier, and smaller in format.
Art.


Art.


Latest art.


Latest art.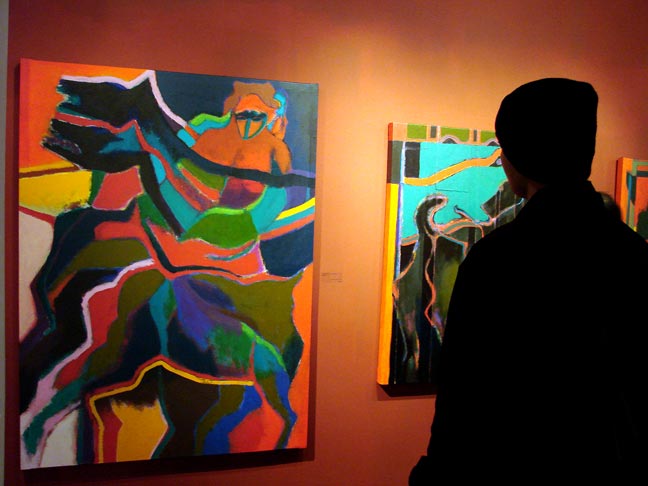 Art.


***
Renner Gallery: Mark Jenkins - Magic Reality.
Comment: Renner Gallery is located in Southern California, but tonight trundles North to share the former Warnock Fine Arts space with Reaves Gallery, here presenting a majestic selection of figure and still life photographs by San Francisco artist Mark Jenkins. They're all good, especially the chiseled figural works, but several of models posed as statues stand out in their convincing impactfulness. Prices range around $500 each, as I recall, and that's a pretty decent value. Worth a look
Photography (like it).


Photographs.


Photos.


***
Park Life: Chris Ballantyne - All You Need is a Clear View of the Southern Sky.
Comment: Chris Ballantyne paints hallucinatory suburban landscapes with clean architectural precision, extracting out expected elements like houses, swimming pools, railings, or fences, leaving those spaces blank unpainted white, leaving you to fill in those blanks about where these suburbs are, what the properties look like, what condition they're in, who lives there, what those inhabitants are like, and so on. The concept works well both visually and cognitively-- purposely unfinished by Ballantyne to be finished by you.
Art.


Art.


Chris Ballantyne - art.


Chris Ballantyne book.


Art.


Ambience.


***
The Hive: Morgan Flores - Painting; Sloan Swartz - Mixed Media.
Artists: Matt Gonzalez, Rykarda Parasol, Teddi Dean Bennet, Julie Lesperance, Brenda McLeran, others.
Comment: It's sort of a salon and sort of a secret and sort of not-- a public hideaway, as it were, a venue to meet and be met, to grease your agenda, and advance your cause-- at least that's how it's positioned in the promo. Tonight it's art and banter and mix and match, casual and congenial, welcoming and warm, featuring an aesthetic assortment headlined by Matt Gonzalez collages. It's also a space that may be available to you and your klatch, depending on how the management assesses your intentions. Inquire within.
Collage art (Matt Gonzalez).


Art.


Folded book page art (kinda like 'em).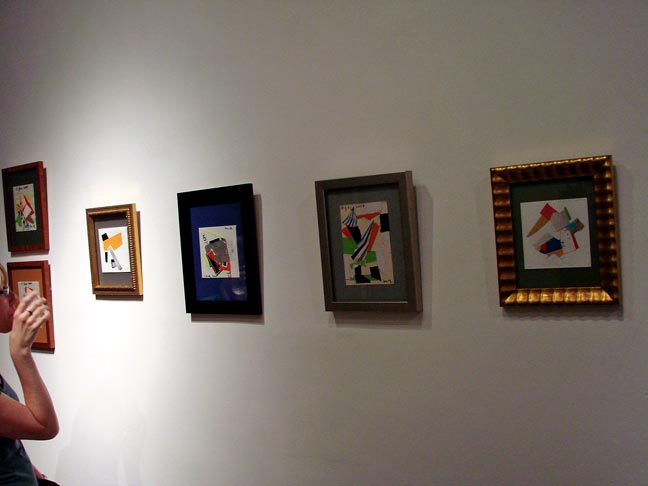 Collage art (Matt Gonzalez).


Art.


Matt Gonzalez (right).


Hive innner.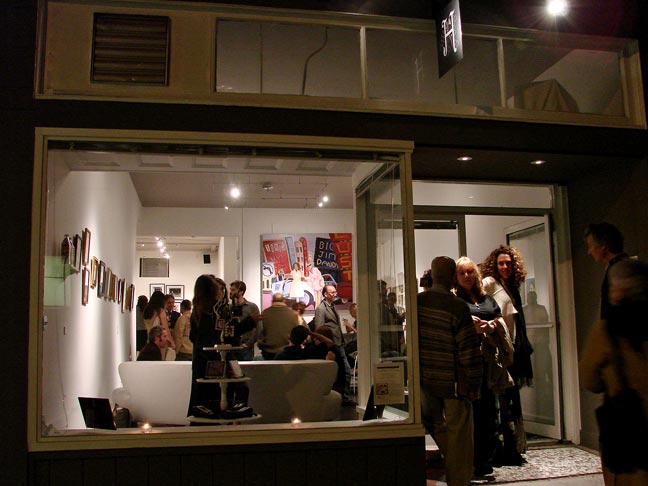 Hive outer.


***
Addendum:
Michael Krouse (right) + art at Pacific Union Real Estate, 38 Bryant St.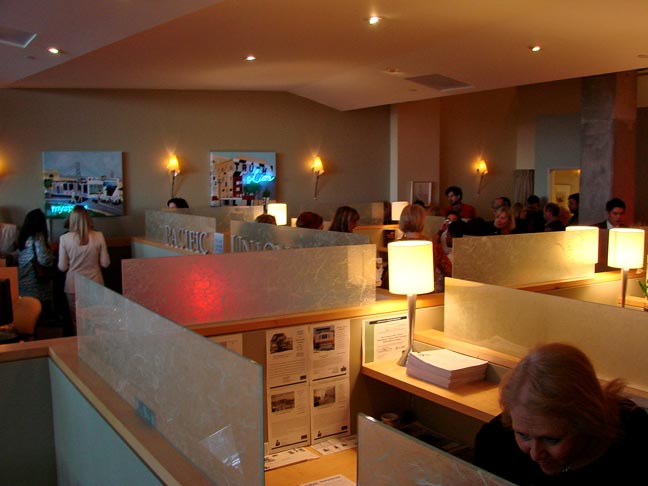 Another Michael Krouse at Pacific Union South Beach.


Final Michael Krouse at Pacific Union Real Estate, 38 Bryant St.


Jon Casey Clary paintings at Edo Salon.


One more from Jon Casey Clary show at Edo Salon.


***