SAN FRANCISCO ART GALLERIES - OPENINGS
GEORGE KREVSKY - TOGONON - BOCA GALLERY
AFRICAN AMERICAN ART AND CULTURE COMPLEX
MIGHTY GALLERY - SUPER 7 STORE - DRUG STORE GALLERY
DOGPATCH STUDIOS - CALIFORNIA MODERN GALLERY
08.09-11.06
BOCA Gallery (Bar of Contemporary Art): The Matthew Barney Show.
Artists: Richard Albeda, Barry X Ball, Matthew Ray Barney, Stephen Beveridge, Roz Chast, Michael R. Crusoe, Ryan Dale, Rico Deerring, Alan Demille, Marta Edmisten, John Allen Gibel, Sean Grilling, Ryan Humphrey, J.T. Kirkland, Nathan Kukulski, Sarah Lamont, David Langly, Matthew Larkin, Liz Magic Laser, Dan Levenson , Scott Lipman, Robert Madrigal, Charles McAndrews, Aaron McDonald, Sean Meyer, Plasticgod, William Powhida, Bradley Rubenstein, Gleb Sidorkin, Steve Silvers, Harry Smythe, Carolyn Sortor, Chris Spinelli, Gilad Stark, Kimberly Stubbins, Amanda Tamayo, Erik Tlaseca, Timothy Tupper, Odey Curbello Urquijo, Dax VanAalten, Patrick Welch.
Comment: Medley and/or hodgepodge of art inspired by Matthew Barney includes drawings, paintings, photography, videos, fashion plus "Matthew Barney memorabilia," whatever that is.
Matthew Barney art.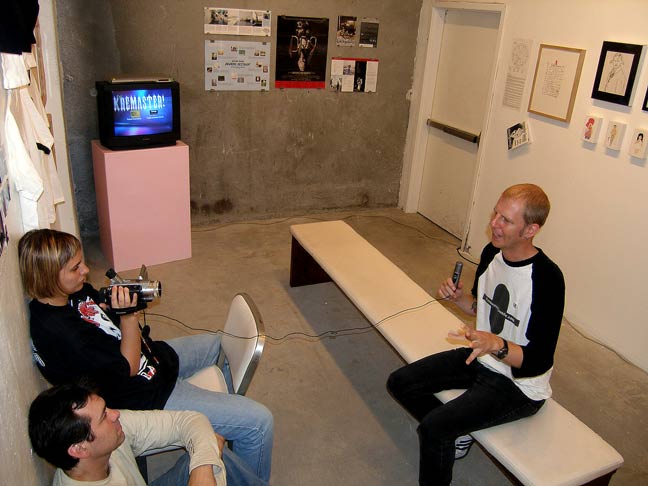 Matthew Barney interview art facing WNW.


Matthew Barney interview art facing WSW.


Matthew Barney art.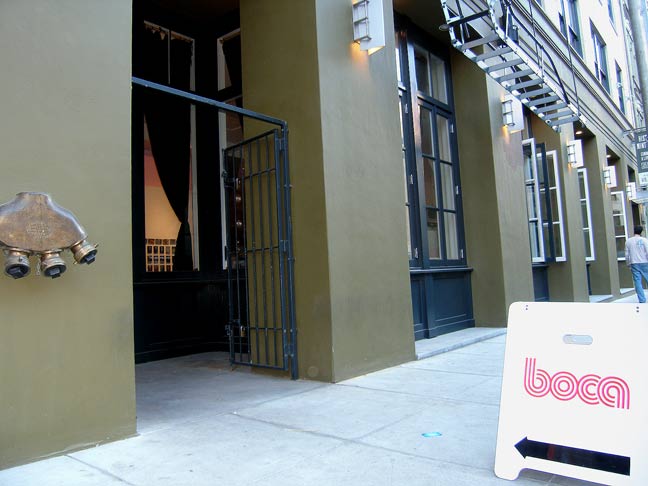 Exterial.


***
George Krevsky Gallery: Jack Levine - Works on Paper.
Comment: Jack Levine has been making art since the 1930's (a major monograph of his life and work was published by Abrams art books in 1965). This show consists mainly of works on paper (including impressive complex large-format figural etchings), most from the 1960's through the 1980's, along with several significant paintings (all the way back in the office), and according to the itinerary, a number of pieces from "the artist's personal collection and studio archives."
Art.


Art (nice).


Art.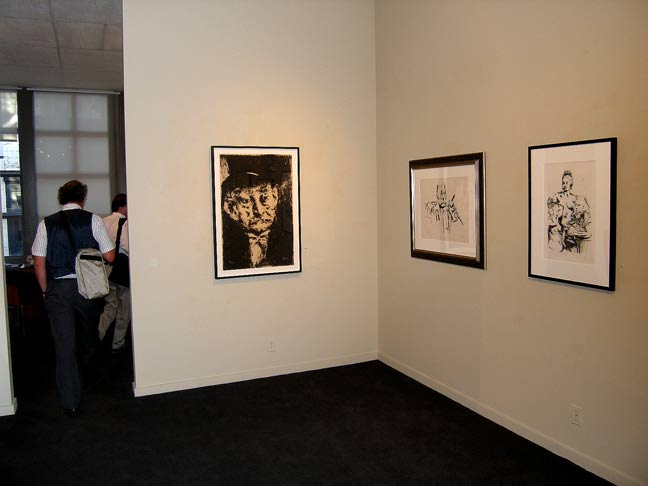 Art.


Out front (Lawrence Ferlinghetti, left - George Krevsky, right).


***
Togonon Gallery: Contemporary Paintings from Myanmar (formerly Burma).
Artists: Nann Nann, Nay Myo Say, Khin Zaw Latt, Soe Moe, Zaw Win Pe.
Comment: Every once in a while I get blindsided and this is one of those times. I had no idea what to expect from a show of Myanmar (Burmese) art and artists, but this sure wasn't it. The art is far more progressive and far easier (for an uninformed Westerner like me) to appreciate than I would have thought. So many times I see art from other countries, and people who know those countries probably get it, but I don't because it presupposes, or more accurately, requires substantive insider knowledge going in. This show is different. Sure, there's plenty about the art I don't understand, but that doesn't seem to make any difference. The compositions and subject matters transcend boundaries, both geographic and otherwise, crossing over and reaching out to all who see them. Plus the art's technically excellent-- all of it-- as well it should be, seeing as these five artists are among Myanmar's finest. So OK. Enough gushing. Check it out. You'll see what I mean.
Art.


Art.


Art.


Art.


Art.


Art.


Art.


Art.


***
African American Art and Culture Complex and AfroSolo Theatre Company: AfroSolo Arts Festival XIII - Stephanie Anne Johnson, Art and Theater, Legacy and Testimony.
Comment: Visual artist and theatrical lighting designer Sephanie Anne Johnson confronts issues of resistance, injustice, inequity, "amputated history," Hurricane Katrina, power, dominance, the horrors of war, and more in cognitively concise symbol-rich sculptures, assemblages, mixed media works, and installations. Three all-glass sculptures incorporating layered glass and glass chess pieces are particularly engaging, but it's all good here. Thought, feeling, spirit, art-- united.
Art.


Art.


Glass chess piece sculptural art.


Stephanie Anne Johnson - Hurricane Katrina installation.


Art.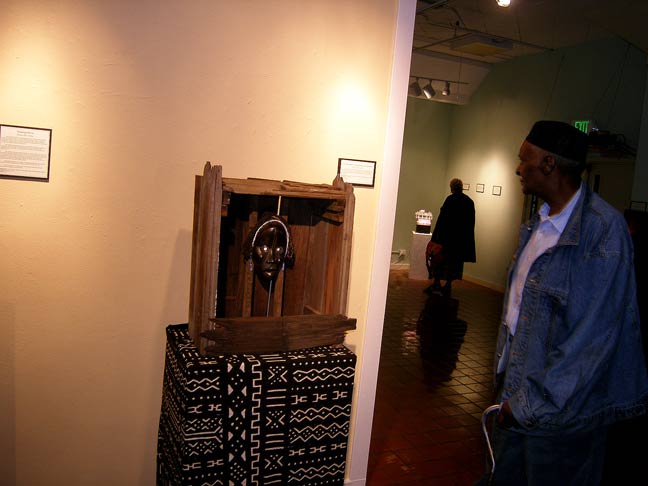 Art.


***
Mighty Gallery: Thriller.
Artists: Eric Bauer, Andrew Junge, Micah Gibson, Kevin E. Taylor, George (The Animal) Chen.
Comment: The title of the show refers to Michael Jackson's magnum opus, Thriller. Andrew Junge, Eric Bauer, and Micah Gibson pay homage to the King of Pop with a wall-sized milk-crate grid that faithfully reproduces the reclining Jackson on the Thriller album cover (you have to stand back far enough to get the full effect). Meanwhile, Kevin E. Taylor's price list states that the prices are "before retail." Not sure what that means, but the range is $35-$800.
Art (Kevin E. Taylor).


Michael Jackson Thriller art (Andrew Junge, Eric Bauer, Micah Gibson).


Art (Kevin E. Taylor).


Art (Kevin E. Taylor).


***
Dogpatch Studios: I Want It Like This - Live Screen Printing by Hit & Run.
Artists: Seedman, Slie, Flowa, ethos, Mike C., Bailey
Comment: This turns out to be some kinda marketing dealie-bob for Red Stripe beer, but it's got art (in the broader sense) so they get a link. What makes the evening interesting is that you can get free T-shirts printed right there on the spot (one per person) by artists and designers from LA's Hit & Run. The way it works is you get a blank T-shirt from the official T-shirt dude, take it over to the silkscreen area, and then have it printed with your choice of designs (limit 3) in your choice of locations on the shirt. Plus there's tasty hors d'oeuvres like shrimp with pesto, and there's tunes, and of course, there's plenty of Red Stripe beer.
T-shirt design options.


Official T-shirt dude (middle) and assistant (left).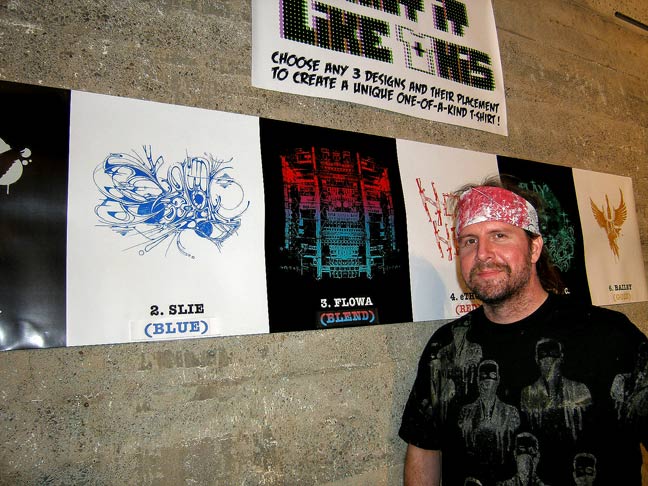 Flowa of Hit + Run and his T-shirt design.


Flowa screens a tee.


More T-shirt screening and drying.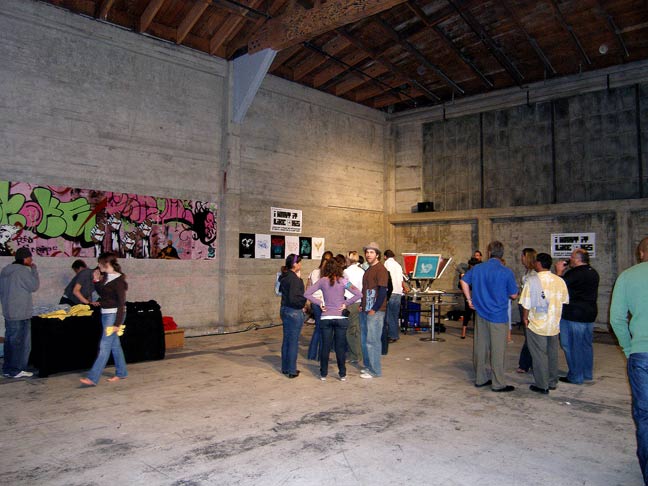 Arena partial.


***
Super 7 Store: Luke Feldman - Unaware.
Comment: Smooth polished professional illustration and skateboard art by Australian transplant illustrator and animator Luke Feldman. Priced $50-$260; good value.
Luke Feldman - art.


Skateboard deck art (left).


Limited edition print selection.


***
Drug Store Gallery: James Gleeson - A Night in the Mission.
Comment: Paintings of Mission District after dark denizens range from contemplative to ominous, all based on James Gleeson's firsthand experiences walking the streets late.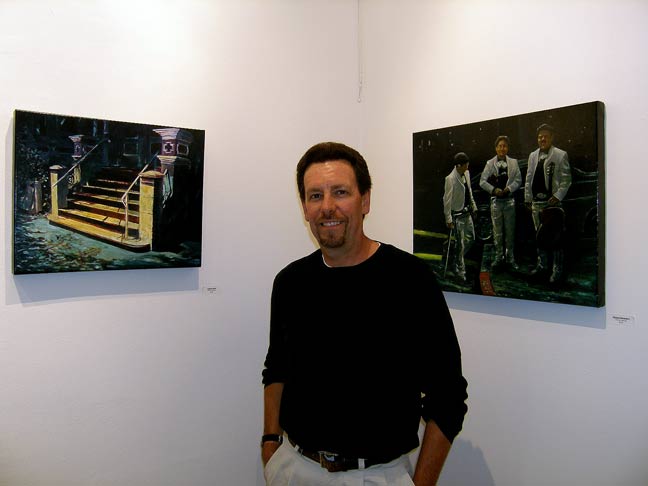 James Gleeson - art.


Art.


Art.


***
Addendum:
Mark Harris painting at California Modern Art Gallery.


Rene Fressola abstract at California Modern Art Gallery.


One more from California Modern Art Gallery.


***